12 best pubs in Perth to wet your whistle
There's nothing like hitting some of the best pubs in Perth like the Greenwood Hotel or the Mount Henry Tavern. Work isn't truly over until you've clinked glasses and stared down a large glass of golden ale, and luckily enough, you've got a host of great spots to choose from. Perth has it all, stunning beaches, intimate spaces, and a pub scene that's strong. Luckily enough for you, our expert team of foodies and editors have directly sampled the best establishments and pub meals in Perth and compiled an independent list of their favourites.
If you're in the mood for a cold schooner on a Friday afternoon, a classic mid-week pub dinner or some live music on the weekend, there is a pub for every occasion in Western Australia's sunny capital.
Best Pubs In Perth at a Glance
Our list of best pubs in Perth goes like this.
12 best pubs in Perth
If you're in the middle of Perth and asking yourself, where's the best pub near me? Here's some of the best local pubs in Perth we think you should check out.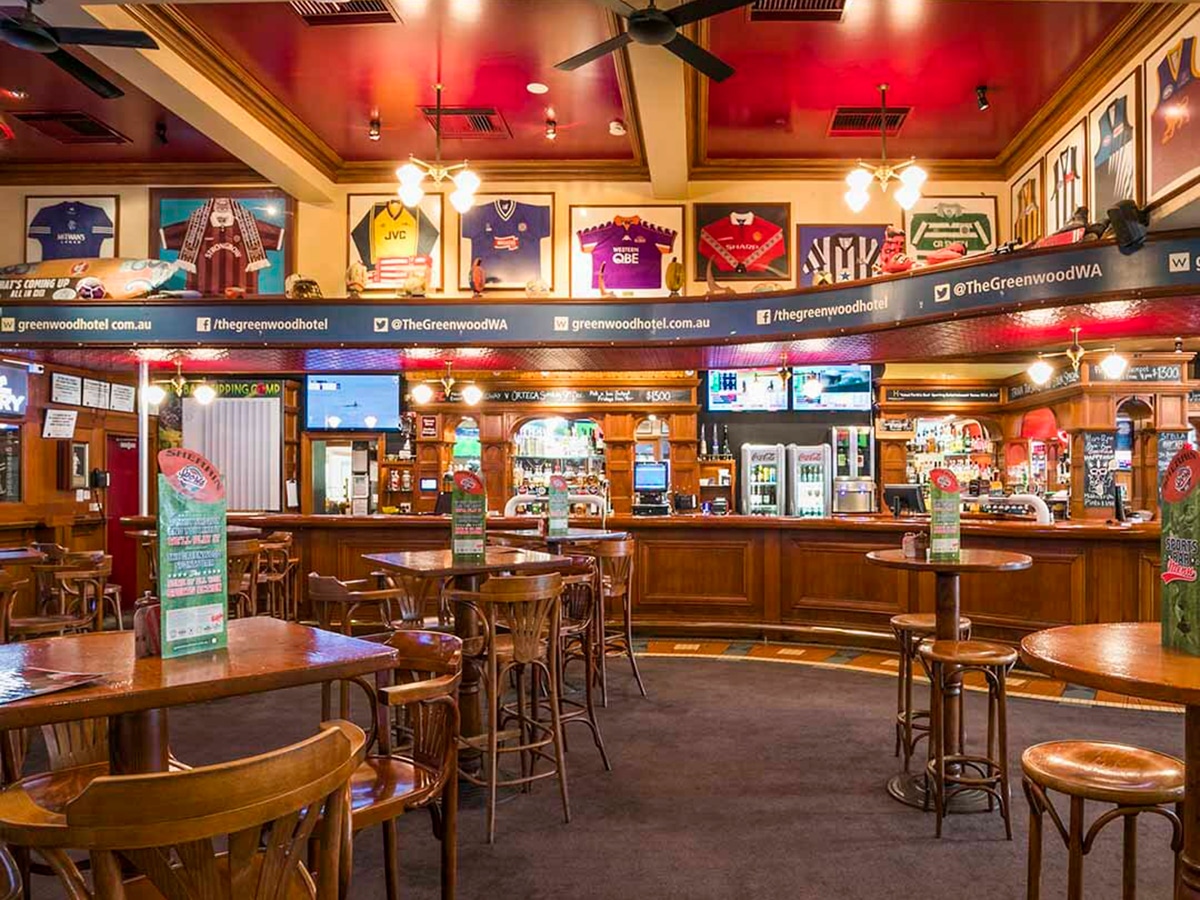 1. Greenwood Hotel
Just a stone's throw away from the stunning Sorrento Beach, Greenwood Hotel is a local favourite. Just a 15-minute drive from Perth's CBD, this establishment is reminiscent of an old-school Irish pub that focuses on community good food. The menu comprises delicious, fresh and locally sourced ingredients, with an extensive selection of beverages, offering an array of tap and bottled beer you could almost create your beer history memorabilia. If you're a sports lover, there is also a sports bar for you to sit back and relax.
Address: 349 Warwick Road, Greenwood
Phone: (08) 9246 9711
Hours: Sun- Thur 10 am – 11:00 pm, Fri- Sat 10 am – 12:00 am.
What We Like: NRL and AFL jerseys on the walls make it a traditional sports bar.
Check out Greenwood Hotel Greenwood Hotel Menu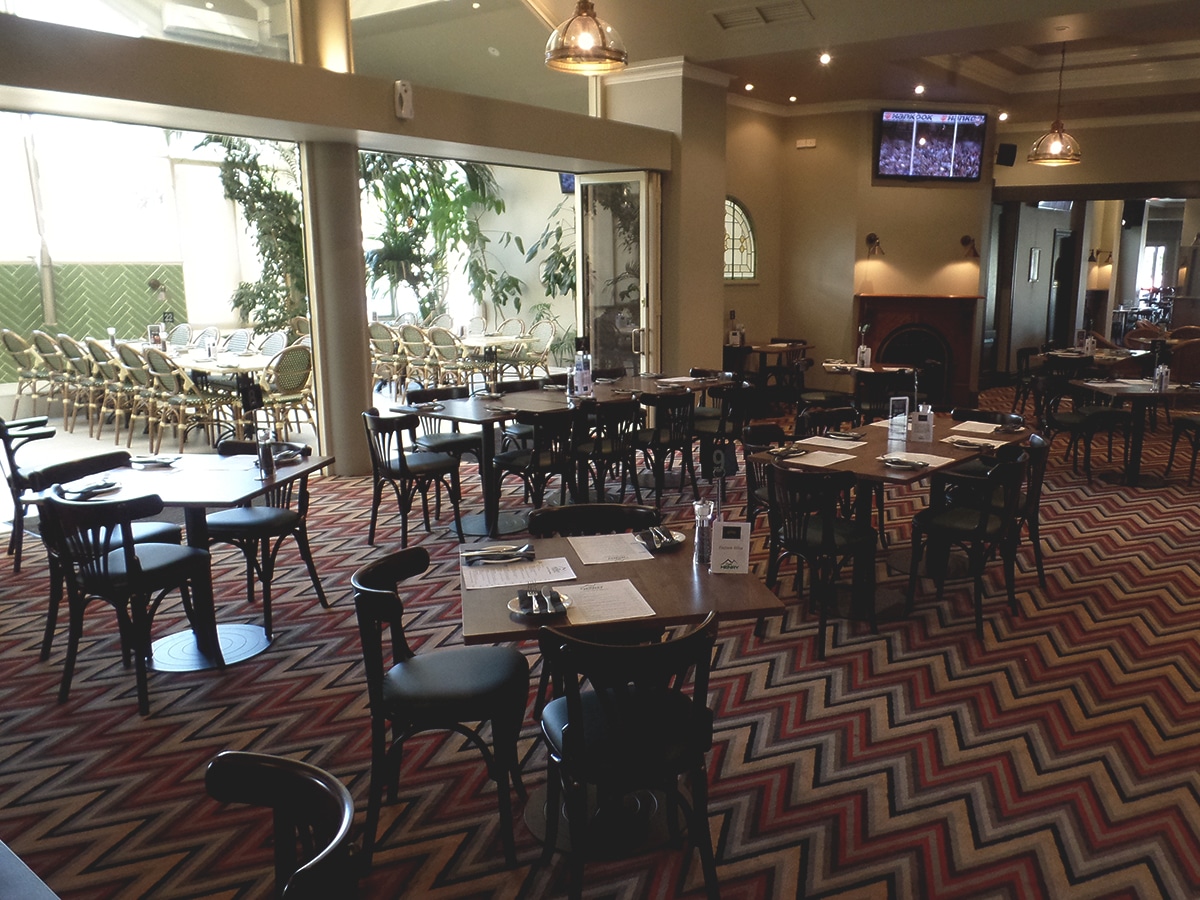 2. Mount Henry Tavern
This Perth pub has everything from sports to dancing to delicious food. The Mount Henry Tavern is known for all things that point to a good time. The food is affordable but doesn't compromise on taste, and there are plenty of big screens to catch all kinds of sports. There is often a dancefloor on the weekends, or if you're not feeling up to it, quiz night is every Wednesday.
Address: 27 Manning Rd, Como
Phone: (08) 9450 7709
Hours: Mon – Sun 11 am – 12:00 am.
What We Like: Quiz nights and a dancefloor make this pub great for large groups.
Check out Mount Henry Tavern Mount Henry Tavern Menu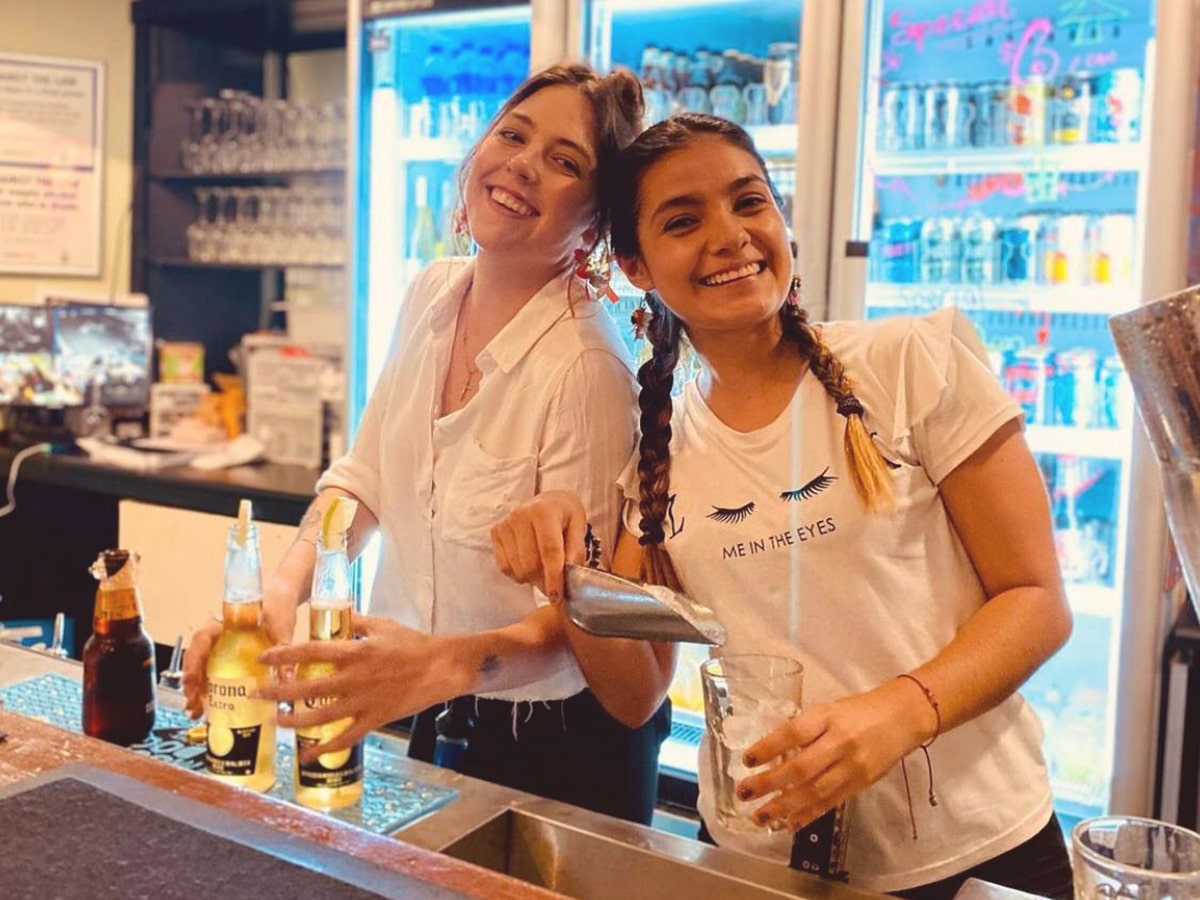 3. Hotel Northbridge
Housed in a stunning heritage-listed building, Hotel Northbridge is one of the best pubs in Perth for drinks, food and excellent accommodation. The pub has been serving travellers for years and shows no signs of slowing down. We recommend trying their vegetarian parmy, the modern take on the pub classic transporting this old-time pub into the 21st century.
Address: 210 Lake Street, Perth
Phone: (08) 9328 5254
Hours: Mon – Sun 10 am – 12:00 am.
What We Like: The vegetarian parmy.
Check out Hotel Northbridge Hotel Northbridge Menu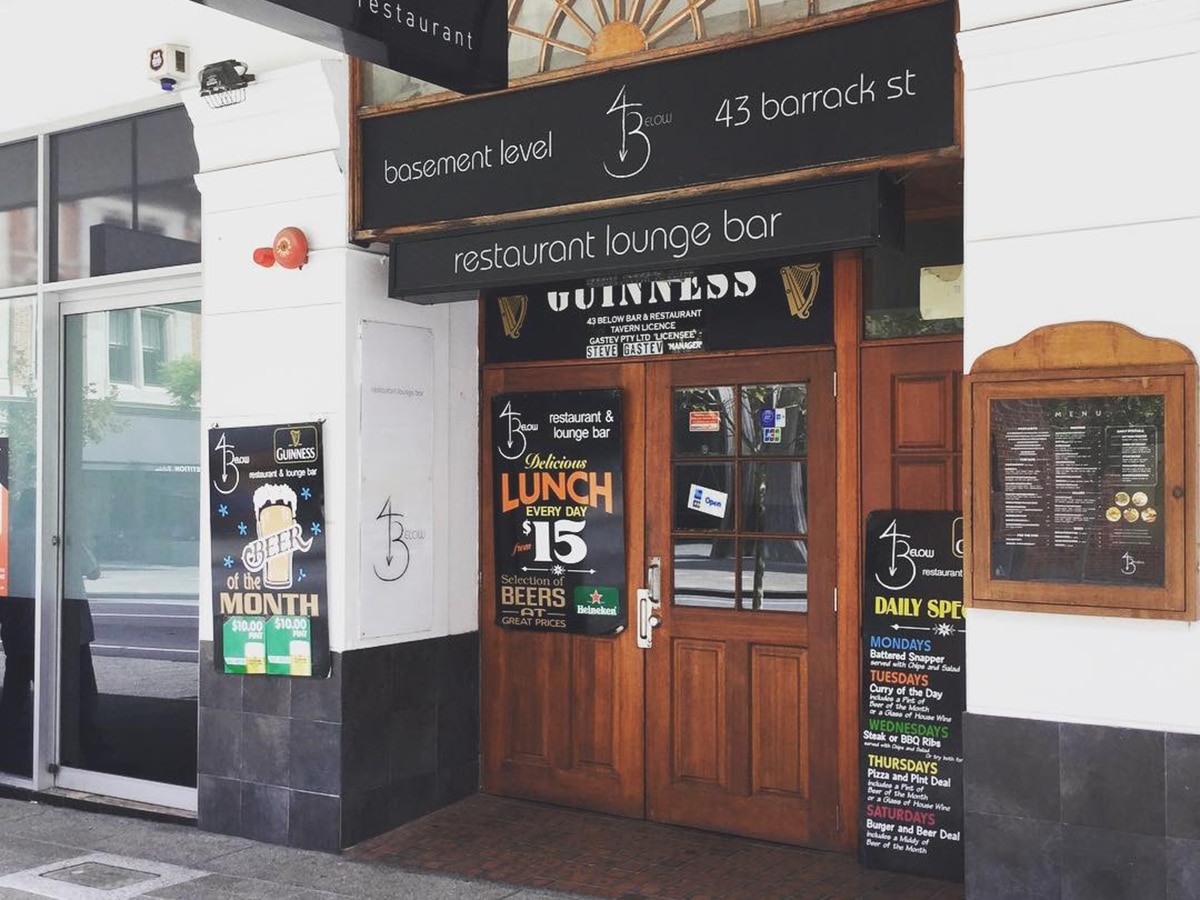 4. 43 Below Bar & Restaurant
A Perth bar and restaurant with a subtle Spanish influence, 43 Below is an exotic inner-city oasis for Perth locals. The establishment is a refurbishment of Perth's oldest bar, The Alhambra, which you can observe in the old-school decor. The drink list is vast, with plenty of beers on tap too.
Address: 43 Barrack St, Perth
Phone: (08) 9421 1333
Hours: Mon-Wed 10 am – 9:00 pm, Thu 10 am – 9:30 pm, Fri – Sat 11 am – 12:00 pm
What We Like: Spanish Influence on a Traditional Australian Pub.
Check out 43 Below Bar & Restaurant 43 Below Bar & Restaurant Menu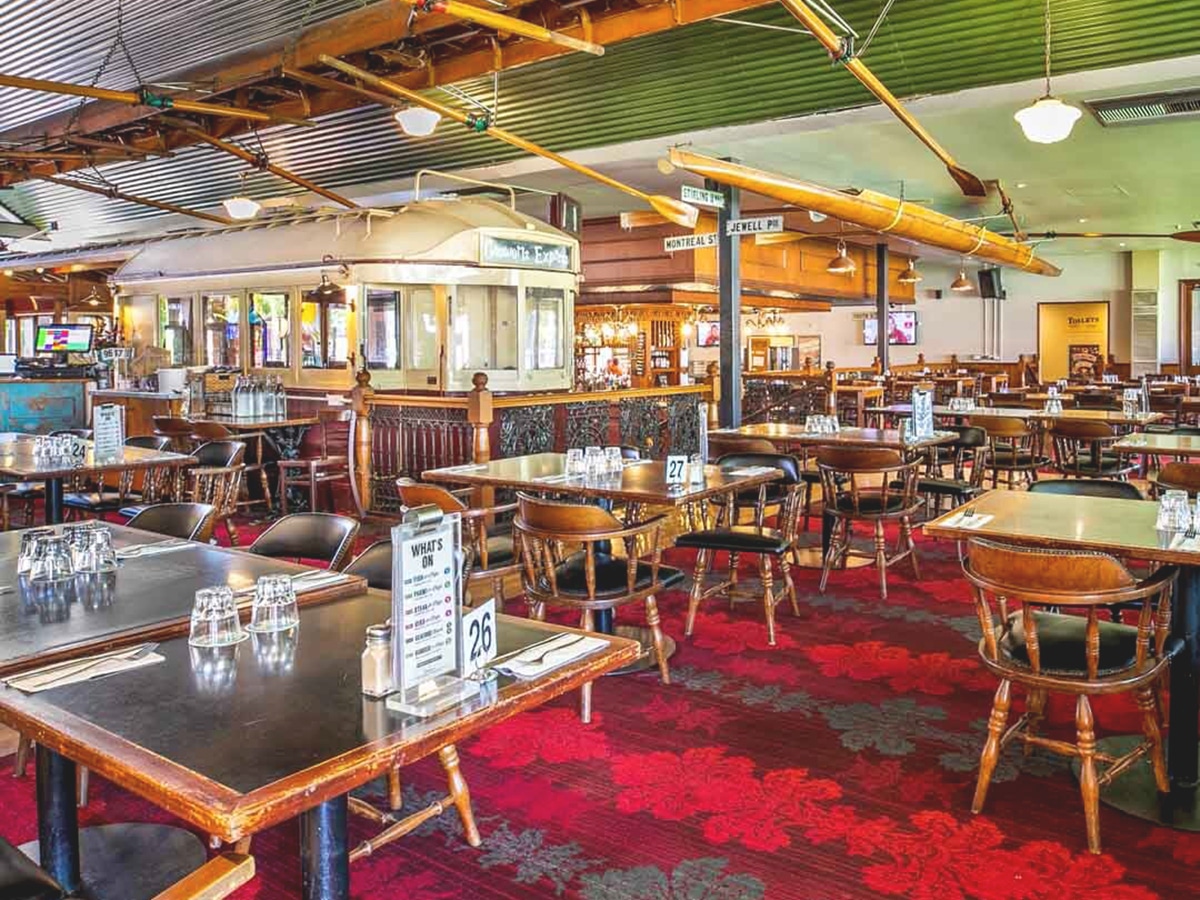 5. Gosnells Hotel
One of the best pubs in Perth if you have a big group, the Gosnells Hotel effortlessly caters for all. A vast family bistro serves up all your favourites, and a sports bar you can retire to later to catch the end of the footy. The main bar is cosy and charming- we can't go past the in-house old tram car!
Address: 2149 Albany Hwy, Gosnells
Phone: (08) 9398 2224
Hours: Mon-Sun 10 am – 10:00 pm
What We Like: There's a tram in the pub.
Check out Gosnells Hotel Gosnells Hotel Menu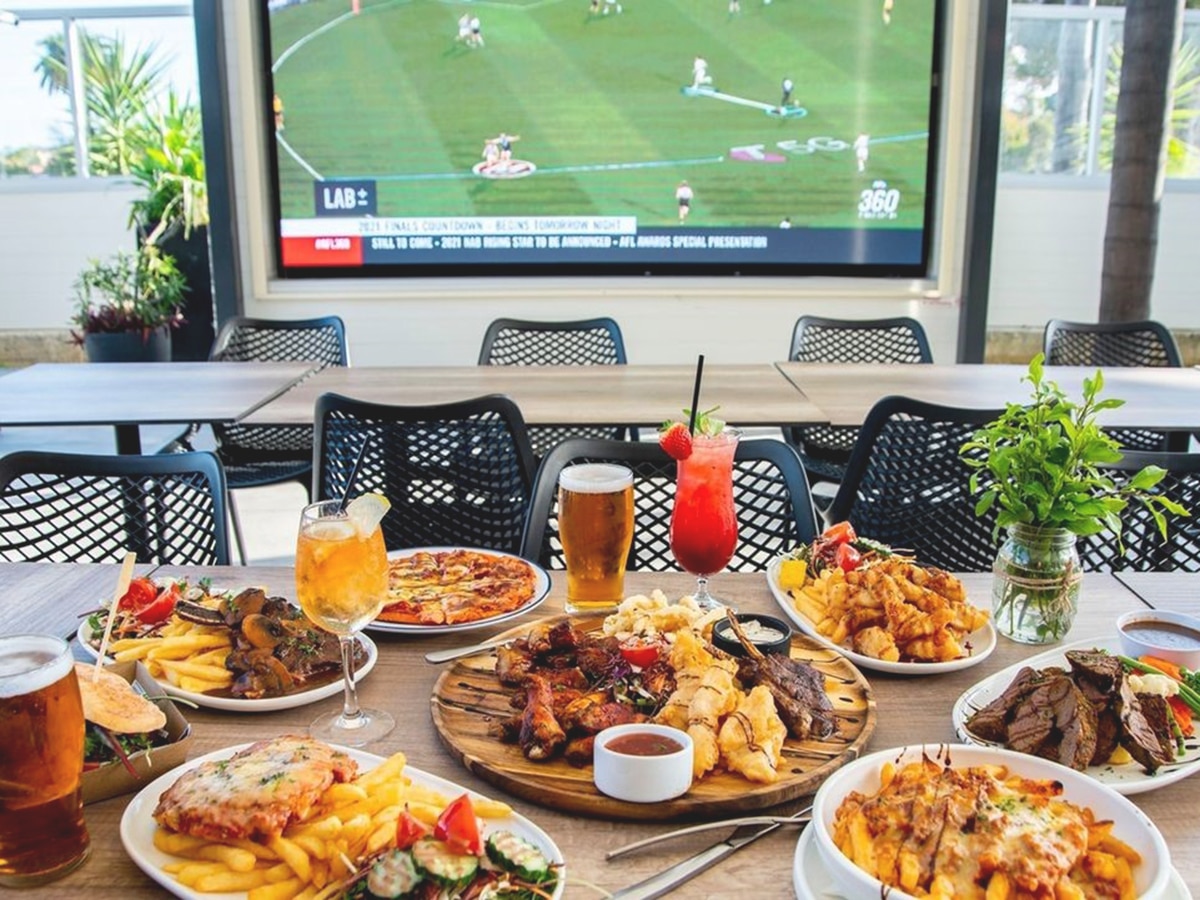 6. The Carlisle Hotel & Distillery
Newly renovated but maintains the old-school charm the pub is known for. The Carlisle Hotel & Distillery is our one-stop shop for a lively pub. The pub is the perfect spot to come after the footy or cricket, and with 16 beers on tap, you'll be spoilt for choice. They offer wine lovers an extensive wine list with drops from WA, NZ and other Aussie favourites. There is also a monthly craft beer special.
Address: 174 Rutland Ave, Carlisle
Phone: (08) 9361 1544
Hours: Sun- Fri 10 am – 12:00 am, Sat 9 am – 12:00 am
What We Like: The monthly craft beer specials.
Check Out The Carlisle Hotel & Distillery The Carlisle Hotel & Distillery Menu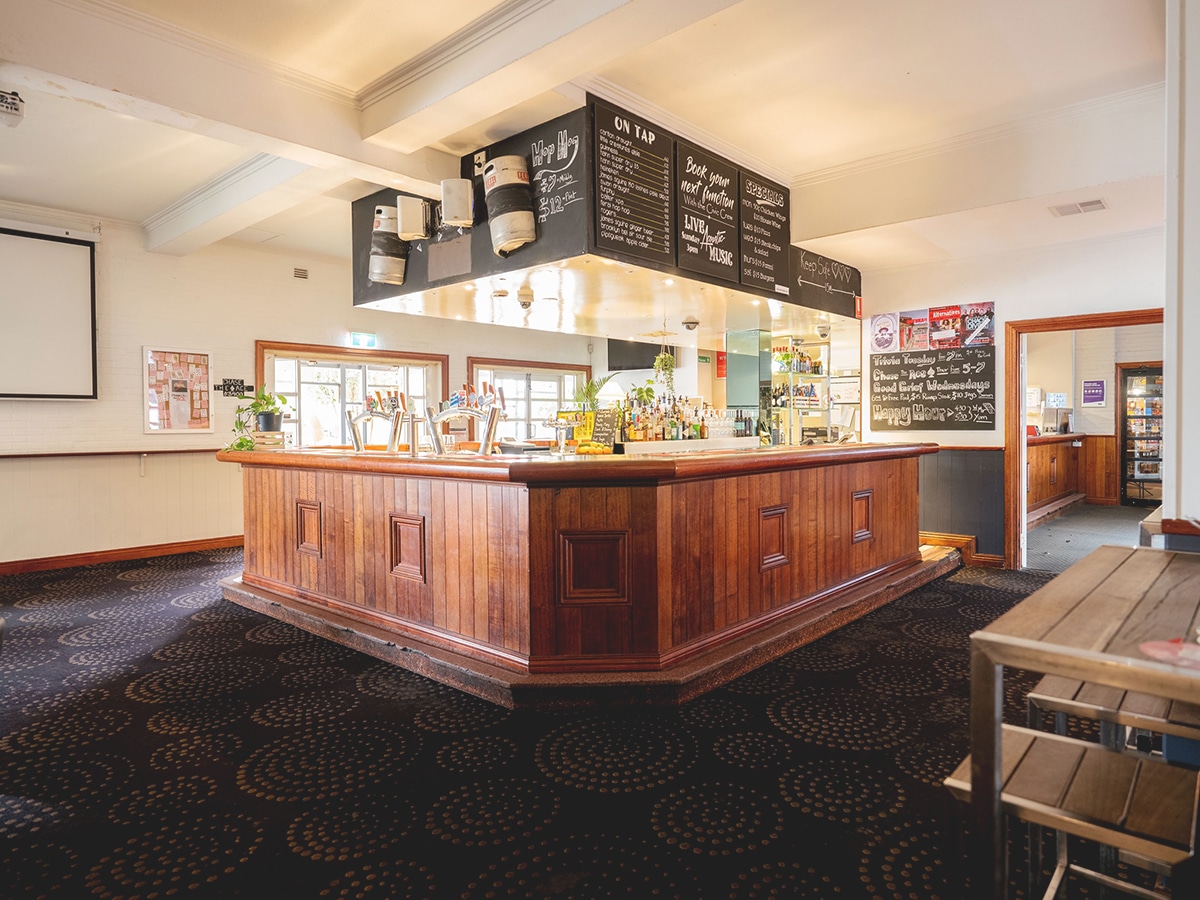 7. The Civic Hotel
If you ever find yourself in Inglewood, you'd be a fool not to visit The Civic Hotel. The versatile pub has various reasons to visit- from live wrestling to heavy metal to watching the footy. Try to nab a seat in front of the fireplace, accompanied by one of their fine stouts or delicious red wines- the perfect combination!
Address: 981 Beaufort St, Inglewood
Phone: (08) 9460 9908
Hours: Mon – Thu 11 am – 11:00 pm, Fri – Sat 11 am – 12:00 am, Sun 11 am – 9:00 pm
What We Like: Live wrestling.
Check out The Civic Hotel The Civic Hotel Menu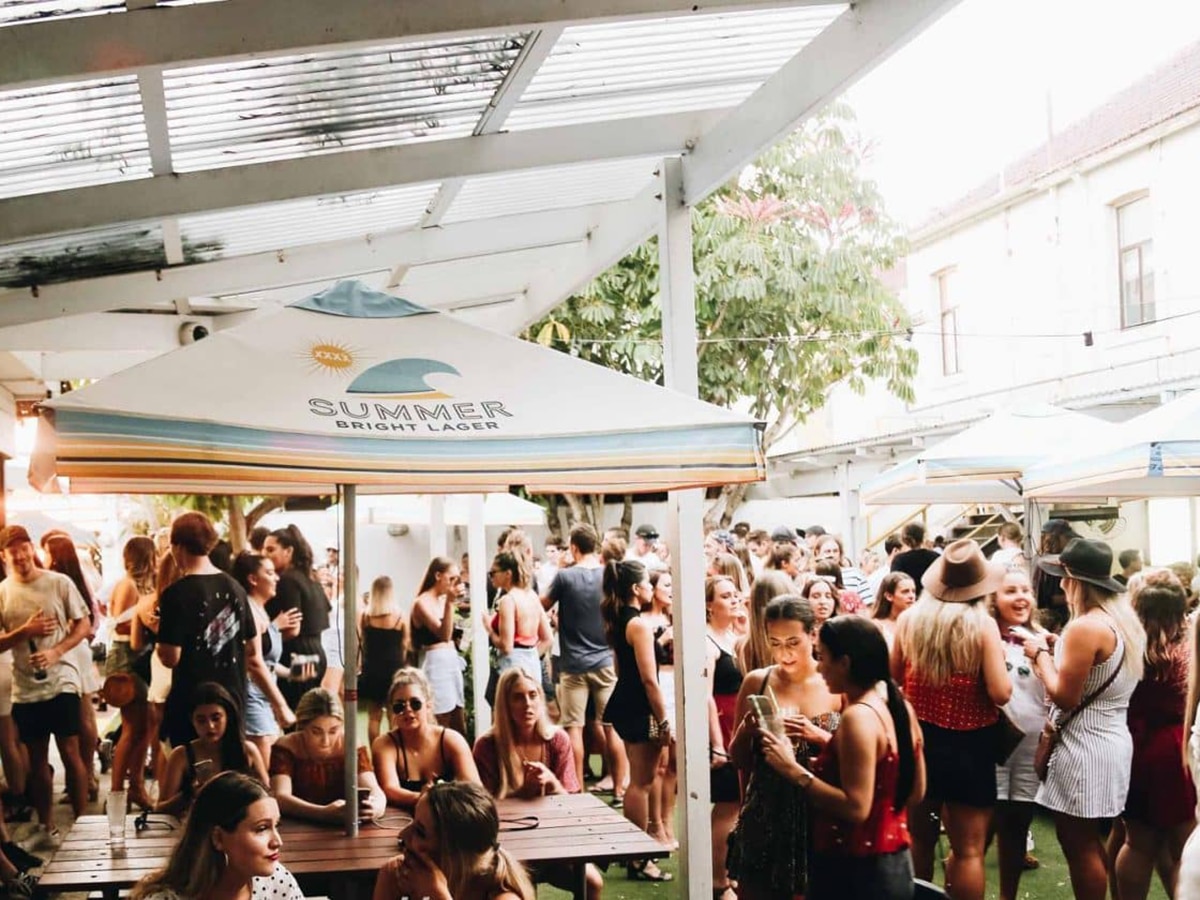 8. Ocean Beach Hotel
The Ocean Beach Hotel is one of the best pubs in Perth if you're looking for something right on the water. This pub has stunning ocean views and a relaxed atmosphere at the Cottesloe beachside. We recommend a visit here on a lazy Sunday spent drinking beers and relaxing with mates.
Address: Cnr Marine Parade & Eric Street, Cottesloe
Phone: 08 9384 2555
Hours: Mon-Sun 12 pm – late
What We Like: Ocean views and relaxed atmosphere.
Check out Ocean Beach Hotel Ocean Beach Hotel Menu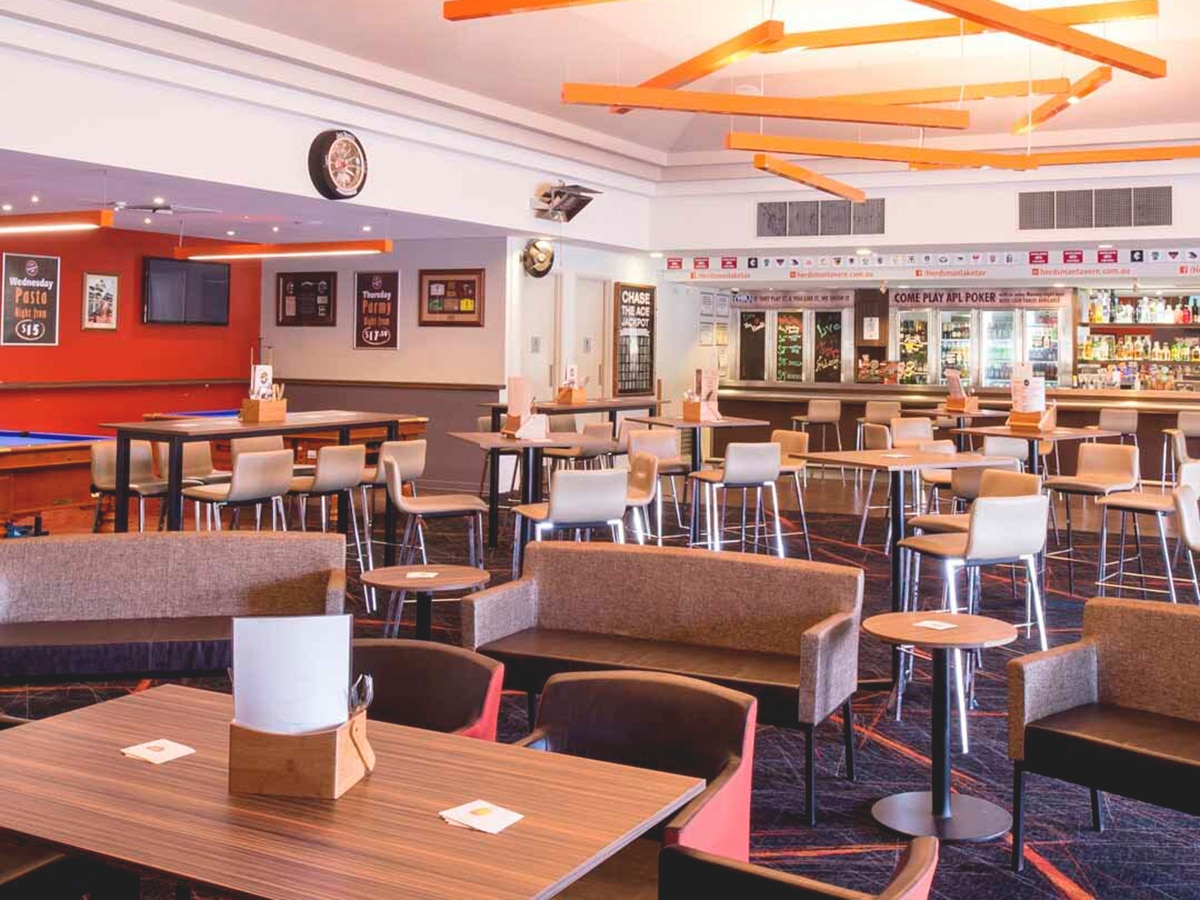 9. Herdsman Lake Tavern
If you're after the classic pub feels, we can guarantee you won't be disappointed by the Herdsman Lake Tavern. Fondly known by locals as 'The Herdy', this pub offers classic pub feeds, all your favourite beers and wine, and a friendly, laid-back atmosphere perfect for Friday afternoon drinks.
Address: 33 Herdsman Parade, Wembley
Phone: (08) 9387 5555
Hours: Mon-Wed 11 am – 10:00 pm, Thu-Fri 11 am – 11:00 pm, Sat 10 am – 11:00 pm, Sun 10 am – 10:00 pm
What We Like: Friday knock-off drinks and the classic 'Aussie pub' vibes.
Check out Herdsman Lake Tavern Herdsman Lake Tavern Menu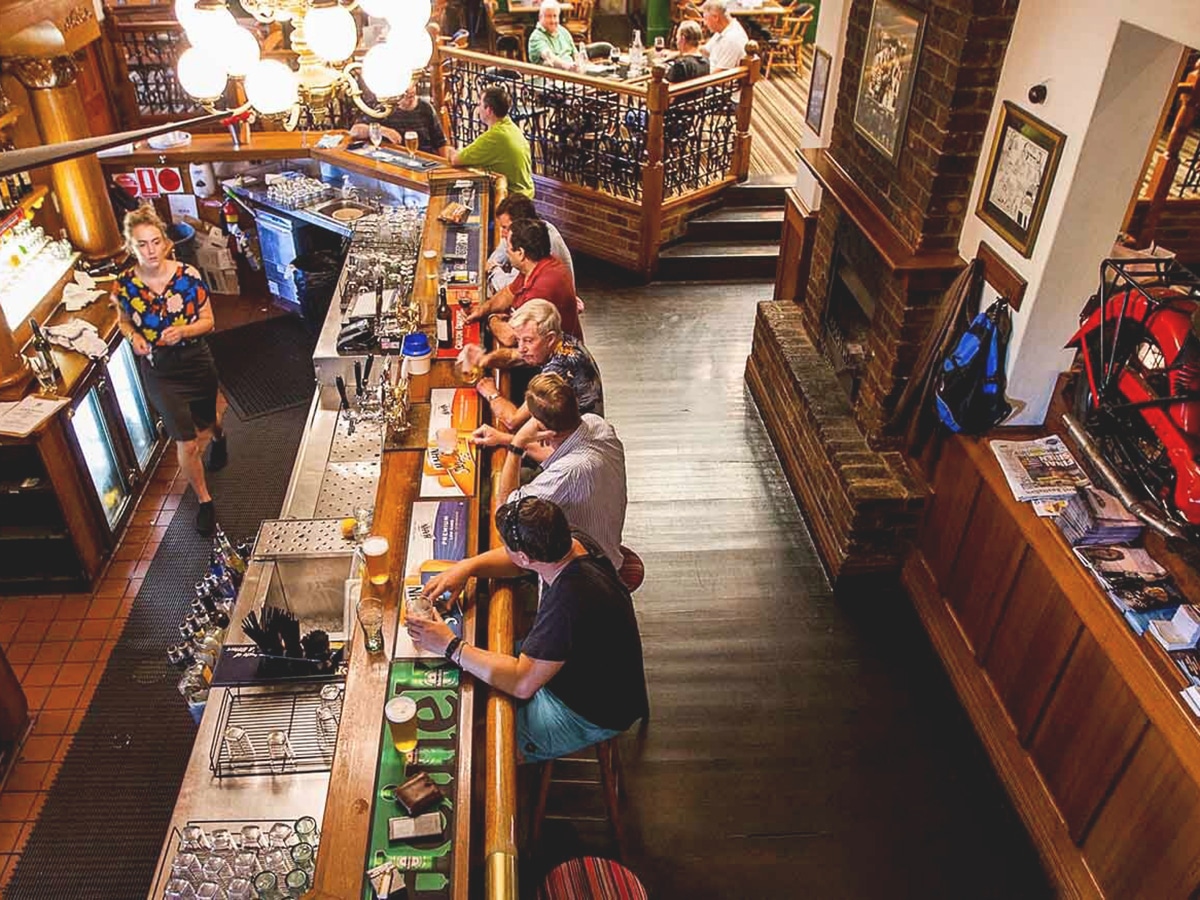 10. Albion Hotel
The beating heart of Cottesloe, Albion Hotel is the sole reason the Perth suburb exists. Established in 1890, it is one of the oldest and best pubs in Perth and shows no signs of slowing down. The interior exudes old-school charm, and there are plenty of fireplaces for you to cosy up in front of and enjoy a warming meal and a pint or two!
Address: 535 Stirling Hwy, Cottesloe
Phone: (08) 9384 0021
Hours: Mon – Sun 10 am – 12:00 am
What We Like: The rich history and suburb-defining venue make the Albion Hotel an Institution.
Check out Albion Hotel Albion Hotel Menu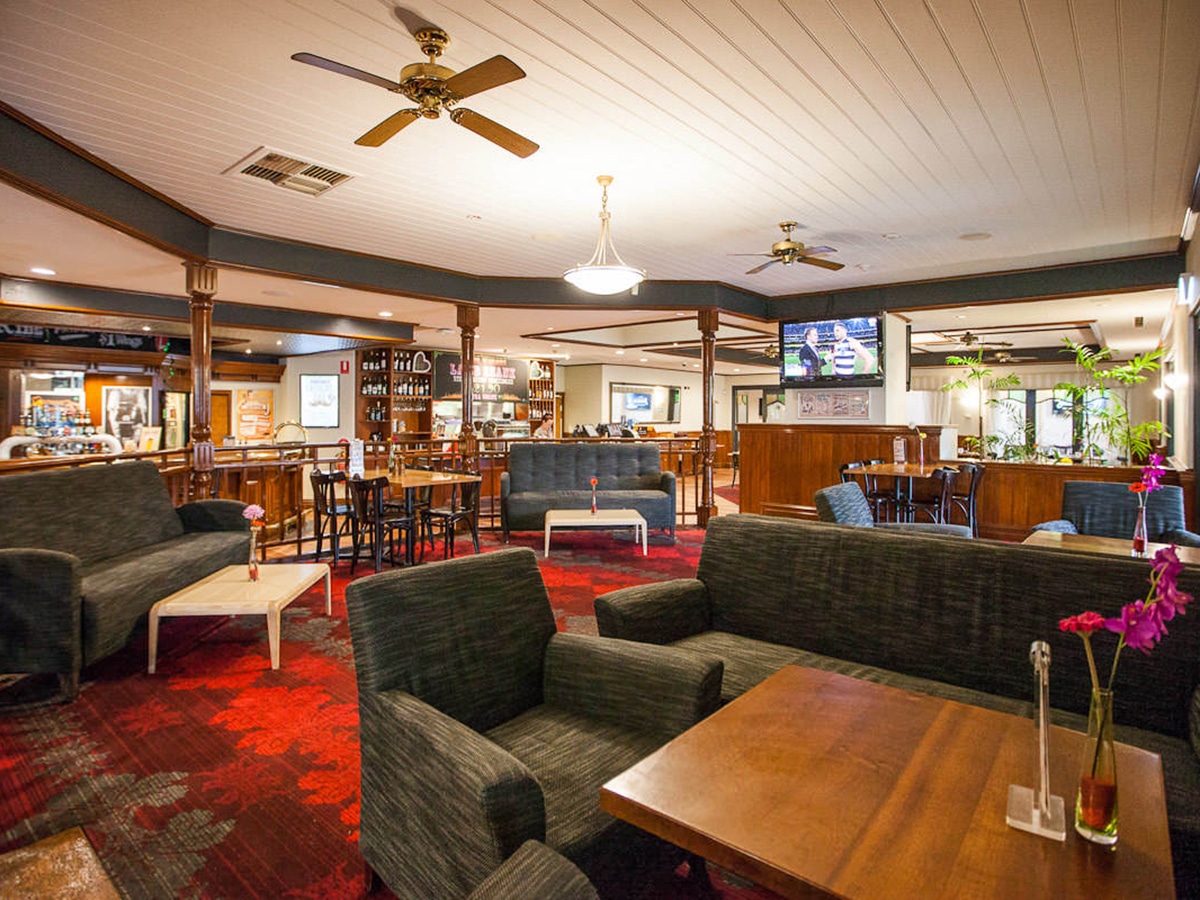 11. Lakers Tavern
A standout pub in Perth's leafy south-eastern suburbs, Lakers Tavern has been serving up keen pub-goers for years. The pub is spacious and has an extensive menu inspired by fresh local produce- succulent steaks, fresh seafood and healthy salads. Wash it all down with a cold beer or one of their fine drops.
Address: 119 Murdoch Rd, Thornlie
Phone: (08) 9493 3522
Hours: Sun – Thu 11 am – 10:00 pm, Fri- Sat 11 am – 10:00 pm
What We Like: Fresh produce and healthy options.
Check out Lakers Tavern Lakers Tavern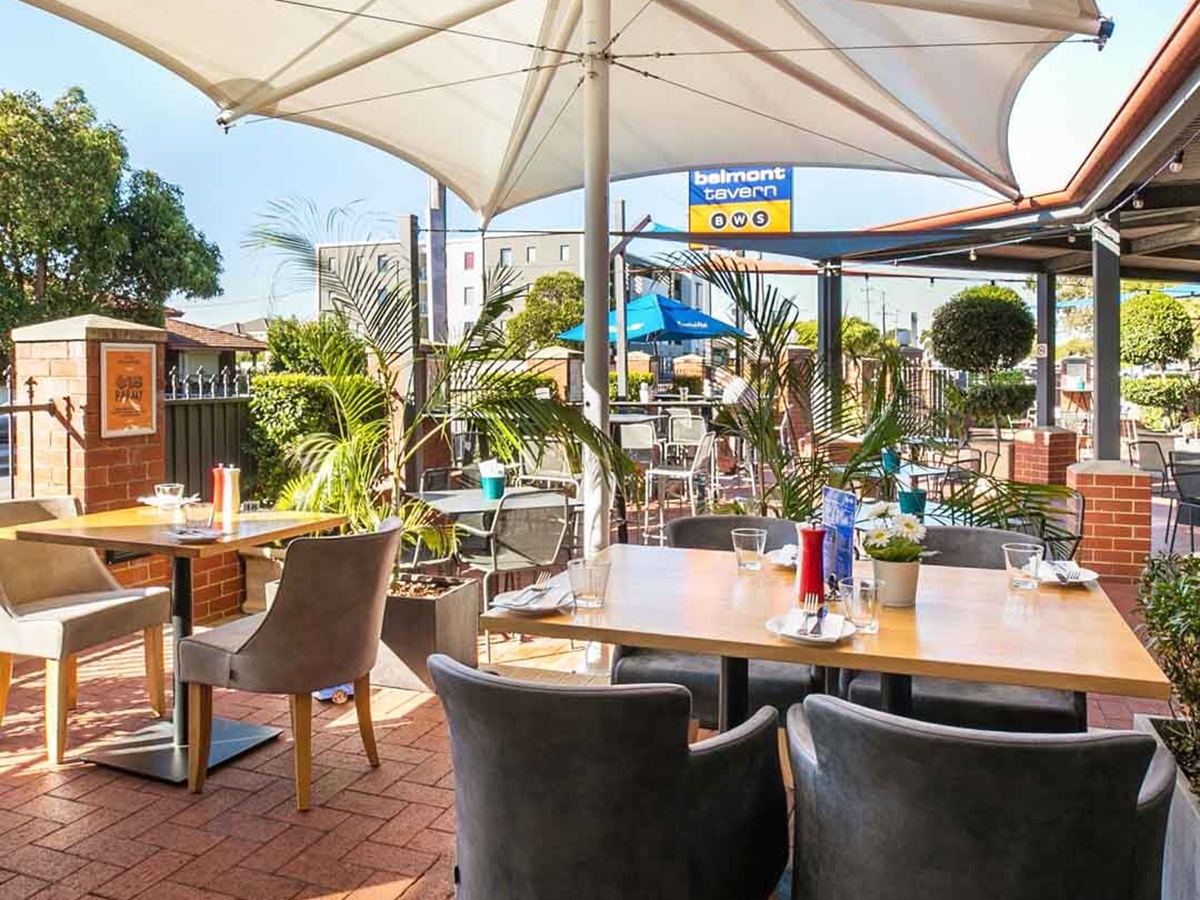 12. Belmont Tavern
Next time you're shopping a The Belmont Forum, pop over to the Belmont Tavern for a post-shopping spree beverage. Just across the road, the stylish pub has a bistro, indoor playground, beer garden and sports bar. They are known for their warm and welcoming hospitality and host functions if you're looking for your next special event.
Address: 174 Wright St, Cloverdale
Phone: (08) 9277 2077
Hours: Mon – Sun 10 am – 12:00 am
What We Like: Indoor playground and sports bar make it fun for kids and parents.
Check out Belmont Tavern Belmont Tavern Menu
Key Things to Consider for Perth Pubs
The key factors to keep in mind when deciding where to go:
Price – how expensive is your food/drink.
Variation – menu variety and ability to make changes when needed.
Ambience – pubs are no fun to visit unless they have an interesting or lively ambience.
Quality of food – probably the most important factor when considering any pub.
Service – good service makes the experience at a restaurant or pub that much more enjoyable.
How Man Of Many Chose The Best Pubs In Perth
With an editorial team full of foodies, Man Of Many has had the unique opportunity to sample pubs from the best spots in Perth. It is also based on our own personal experience, in-depth research and customer reviews of pubs in Perth. As expert journalists who guide people between competing products and services, we have provided our independent opinion in formulating Man of Many's selections. Our editors have taken into account, price points, drink options and food choices, while also making a concerted effort to highlight a few spots outside of the CBD. You can review our editorial policy here surrounding how we maintain our independence in our editorial reviews.
General FAQs
What is the best pub near Perth CBD?
The best pub near the Perth CBD is Hotel Northbridge.
What Perth pub serves the best food?
43 Below Bar & Restaurant serves up the best food in the Perth pub scene.
What pub in Perth is best for families?
The Herdsman is the best pub in Perth for families.
You'll also like:
14 Best High Teas In Perth
20 Best Vegan Restaurants in Perth
20 Best Italian Restaurants in Perth