Australia is grappling with an illness. With the Delta variant of COVID-19 wreaking havoc on New South Wales and Victoria, causing widespread lockdowns and economic downturn, the impact is being felt across the board. But a new concern is emerging: misinformation. While some publishers and news organisations have clambered to produce alarmist headlines and fear-inducing stories, the simple truth must prevail. Vaccines save lives and prevent future outbreaks.
That's why Man of Many has joined forces with Buzzfeed, Concrete Playground, Junkee, The Latch, Urban List, and Zee Feed on the 'Healthy Headlines' initiative. As a collective body, we're here to give young Australians a clear and concise message about their options, dispel the myths and help open Australia. Here are all your COVID-19 vaccine questions answered.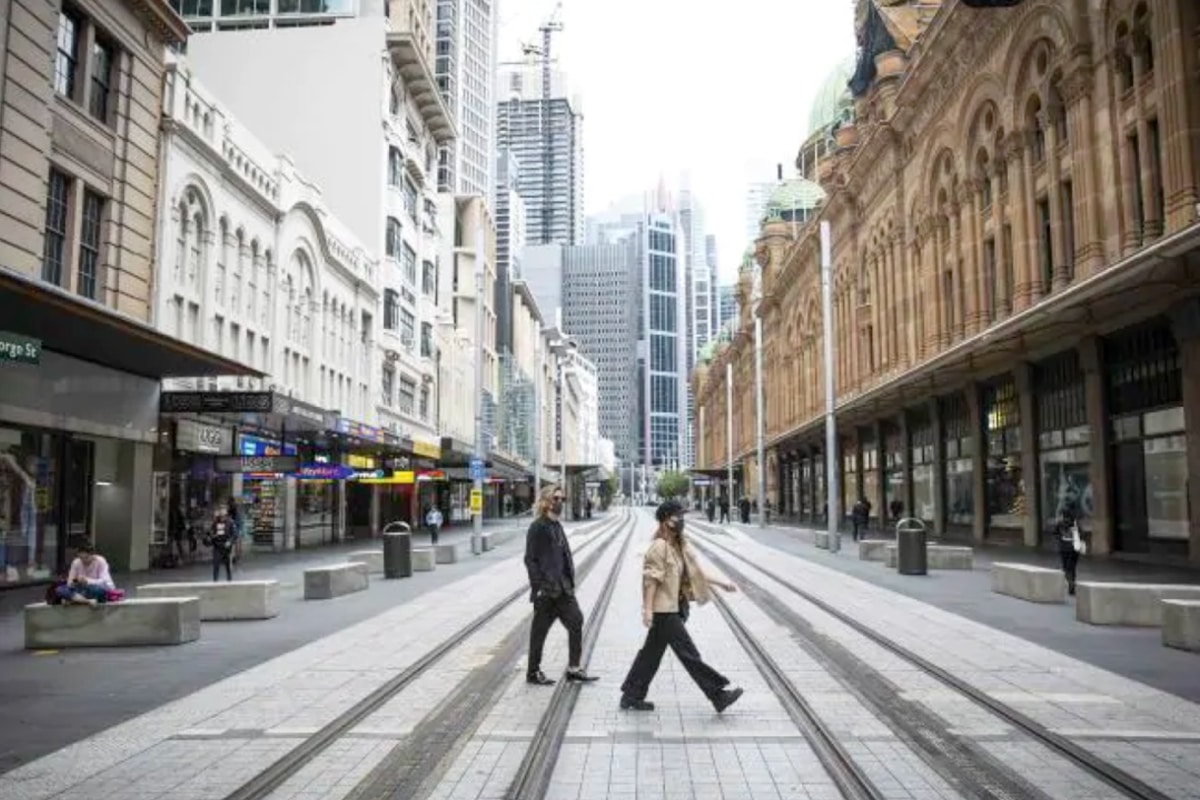 Why Vaccination is Important
Vaccination is the most important and pivotal step in protecting ourselves and the wider community against ill health. According to the UK National Health Service (NHS), vaccines prevent up to 3 million deaths worldwide per year, tackling major illnesses such as Diphtheria, Hepatitis A, Hepatitis B, Human papillomavirus, Meningococcal, Polio and Tuberculosis.
The World Health Organization (WHO) has listed vaccine hesitancy as one of the biggest threats to global health. Vaccine hesitancy is where people with access to vaccines delay or refuse vaccination.
How Vaccines Work
In simple terms, vaccines teach your immune system to create antibodies that protect you from diseases. This is a process that your body goes through when you catch a disease, however, it's far safer for your immune system to do so through vaccines than by trying to fight off an illness. Once your immune system knows how to fight a disease, it can often protect you for many years.
According to the Western Australian Department of Health, the coronavirus that causes COVID-19 has spikes of protein on each viral particle. "These spike proteins allow the virus to attach to cells and cause disease," the department said. "The vaccines help the body to 'recognise' these spike proteins as foreign and latch onto them. This can prevent the virus from entering human cells and lower their chances of getting COVID-19 illness if they encounter the coronavirus."
Herd Immunity
You may have also heard of the term 'herd immunity'. This demonstrates how vaccines benefit the whole community. As explained by the NHS, if enough people are vaccinated, it's harder for the disease to spread to those who cannot have vaccines, for example, people who have a weakened immune system.
Are Vaccines Safe?
In Australia, all vaccines are thoroughly tested before being approved for general use. This process is undertaken by the Therapeutic Goods Administration (TGA) and follows many phases of development, including research, discovery, pre-clinical testing, clinical testing and regulatory approval.
According to the Victorian Department of Health, when vaccines are introduced into immunisation schedules, they are closely monitored through trials and surveillance to see if they are effective and safe. "In Australia, there are regional and national surveillance systems actively looking for any adverse events following immunisation. This is necessary, as sometimes unexpected side effects occur after vaccines are registered for use,' the agency said. "Some vaccines, such as the flu vaccination, need to be updated every year to respond to changing infection strains and conditions. For these updates, the process is compressed to ensure the vaccine is available as needed."
Who Cannot Have Vaccines
While vaccines are generally safe for most people, it's important to note that not all people can be immunised, this is where herd immunity comes into play. Here is a list of people who cannot have vaccines:
People who've had a serious allergic reaction (anaphylaxis) to a previous dose of the vaccine
People who've had a serious allergic reaction to ingredients in the vaccine
People with weakened immune systems (for example, because of cancer treatment or a health condition) may also not be able to have some vaccines.
"In general, people with underlying chronic medical conditions are at increased risk of severe illness with COVID-19 and should be prioritised for vaccination," the WA Department of Health said. "COVID-19 vaccine is also recommended for people who are immunocompromised because of their increased risk of severe illness with COVID-19."
COVID-19
One of the major concerns surrounding the COVID-19 vaccine relates to production time. As all vaccines undergo years of trials and testing, there have been doubts raised over how quickly the COVID-19 vaccine has been developed. While it does seem strange, there are reasons why this is the case. Safe and effective COVID-19 vaccines have been able to be developed faster than other vaccines because of several reasons:
a level of funding and commitment not seen before
the use of innovative technologies
researchers and vaccine manufacturers around the world working together to respond to the pandemic.
The WA Department of Health has confirmed that some steps of the clinical development and assessment processes have been done at the same time, instead of one after the other, as is usually the case. "This has reduced the time it takes to complete the work, without omitting important steps, and large clinical trials of the vaccines were able to progress as quickly as possible."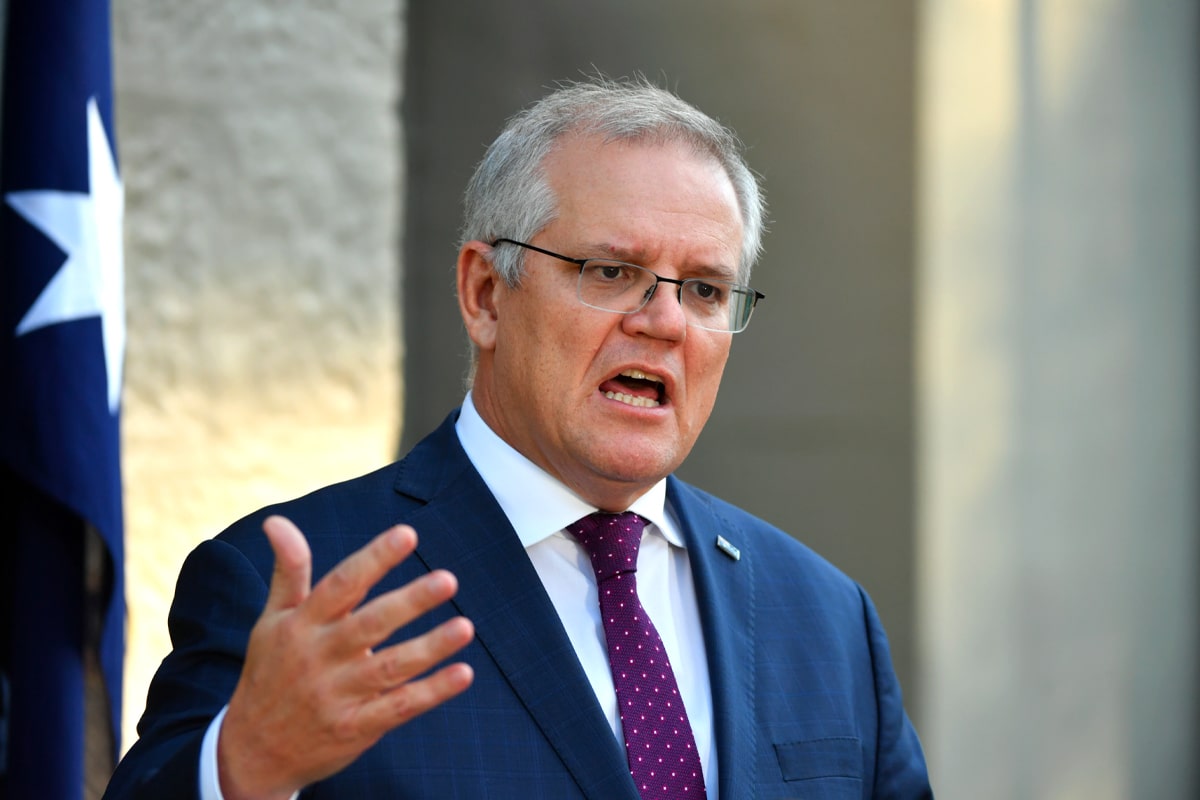 AstraZeneca vs Pfizer
If you are under the age of 40 and looking to get vaccinated against COVID-19, you'd be forgiven for not knowing which direction to take. From the outset, the Australian Government and allied health officials had advised that Pfizer was the preferred choice for young people, in light of concerns over a rare blood clotting condition linked to the AstraZeneca shot. Confusion ramped up when Prime Minister Scott Morrison announced that anyone under 40 could get the AstraZeneca vaccine if they consulted their GP, even if there were not yet eligible under the guidelines.
The Prime Minister's announcement contradicted previous health advice, prompting widespread criticism and deepening confusion. In the weeks that have passed, however, the advice has been revised for people living in COVID outbreak areas such as Sydney, where the risk of catching the virus is far higher. Important to note is that providing access to safe and effective COVID-19 vaccines for everyone in Australia is a priority for the Australian Government.
Both AstraZeneca and Pfizer vaccines have been approved by the Therapeutic Goods Administration (TGA) have been proven to be safe and effective in protecting against the COVID-19 illness. While Pfizer continues to be the preferred choice for many Australians, there are some myths surrounding the AstraZeneca vaccine. Here's what you need to know.
What is AstraZeneca?
The AstraZeneca COVID-19 vaccine is developed by The University of Oxford and AstraZeneca in the United Kingdom. The vaccine requires two doses, given between 10 and 12 weeks apart. The initial clinical trial results state that the AstraZeneca COVID-19 vaccine is highly effective at preventing severe disease. Additionally, the AstraZeneca COVID-19 vaccine is about 62-70% effective at preventing people from getting sick with COVID-19.
Latest Recommendations on AstraZeneca Vaccine
The Australian Technical Advisory Group on Immunisation (ATAGI) recommends Pfizer (Comirnaty) as the preferred vaccine for those aged 16 to 59. This comes based on recent data regarding thrombosis and thrombocytopenia syndrome (TTS) cases in Australia and a reassessment of current age-specific risks and benefits of vaccination.
The ATAGI advice is that those who have successfully received their first AstraZeneca vaccine, without any serious adverse effects, can safely receive their second vaccine, including adults under 60 years. COVID-19 Vaccine AstraZeneca can be used in adults aged under 60 years for whom Pfizer is not available, the benefits are likely to outweigh the risks for that individual. It's important that you make an informed decision based on an understanding of the risks and benefits.
"Both the Pfizer and AstraZeneca vaccines have been studied in tens of thousands of people in clinical trials. They are both very effective at preventing severe disease and hospitalisation," the ATAGI said. "Most side effects of both vaccines are mild and transient. They include reactions at the injection site and some systemic reactions, like headaches, fever, chills and fatigue. These are common in the first 48 hours after vaccination."
What is Thrombosis with Thrombocytopenia Syndrome (TTS)?
Thrombosis with thrombocytopenia syndrome (TTS) is a rare newly described condition that has been reported following the administration of the AstraZeneca COVID-19 vaccine, almost exclusively after the first dose. According to the ATAGI, there has not been a higher overall rate of relatively common types of blood clots (including deep vein thrombosis and pulmonary embolism) reported after COVID-19 AstraZeneca vaccination. People should seek medical attention immediately if they experience these symptoms:
a severe persistent headache with additional features:

appears at least 4 days after vaccination
does not improve with simple painkillers
may be worse when lying down or accompanied by nausea and vomiting

neurological symptoms such as:

blurred vision
difficulty with speech
drowsiness
seizures

shortness of breath or chest pain
a swollen leg
persistent abdominal (belly) pain
tiny blood spots under the skin away from the site of injection together with symptoms above.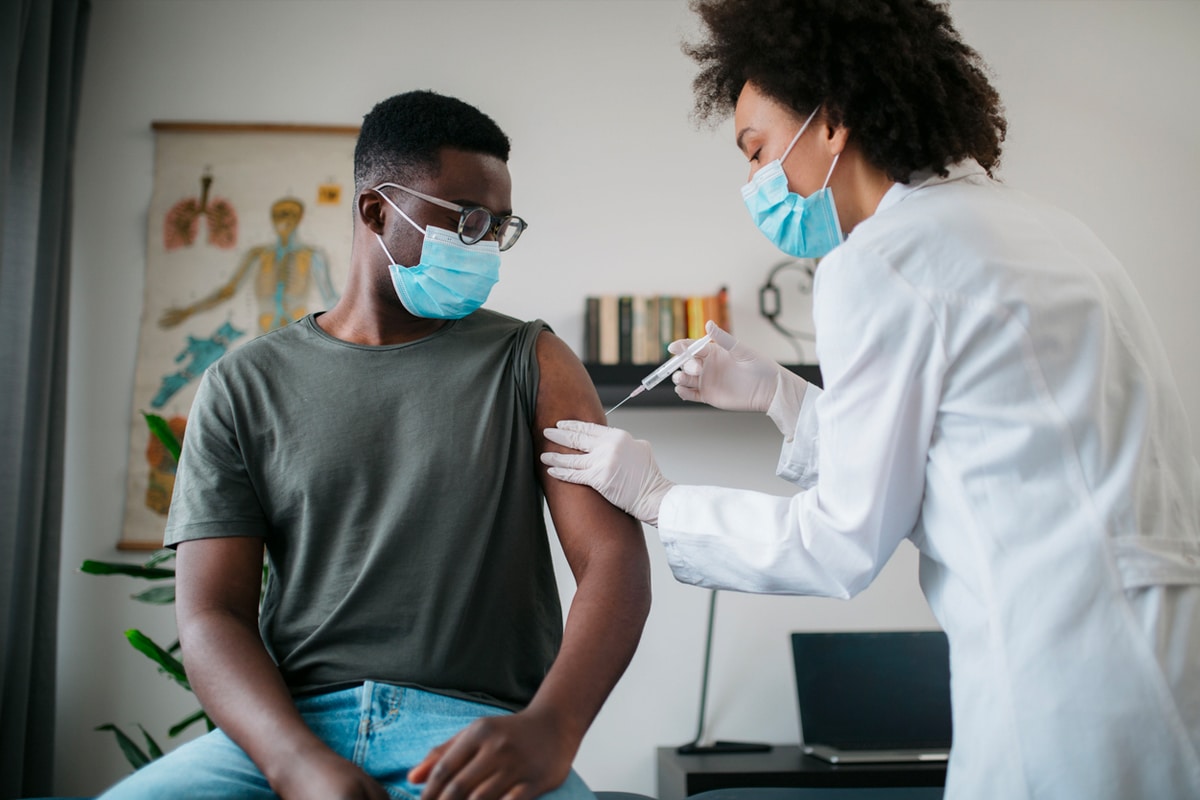 Will I Get Blood Clots if I Get the AstraZeneca Vaccine?
While there is a heightened risk of blood clots for those under 60 who receive the AstraZeneca vaccine, experts suggest that isn't a reason to avoid getting the jab.
"There is no evidence people who have previously experienced blood clots have an inherited risk of blood clots, or people who take blood thinners or related medications have any increased risk of TTS," Professor Paul Monagle, Paediatric Haematologist at the Victorian Children's Clinic said. "As an immune-driven disease that causes platelet over-activity, the mechanism for TTS is completely different from other types of blood clots."
"The blood clots we have seen following the AstraZeneca vaccine are completely different to other types of blood clots, such as deep vein thrombosis or a pulmonary embolism, or the clots that cause heart attacks and strokes," he continued. "People with a history of these sorts of conditions do not appear to be at any increased risk from the AstraZeneca vaccine. In fact, people in this group could be at greater risk from COVID-19, so should not delay getting vaccinated."
| Age | Estimated Risk of TTS AstraZeneca Vaccine Doses (First Dose) |
| --- | --- |
| <50 Years | 3.1 in 100,000 |
| 50-50 Years | 2.7 in 100,000 |
| 60-69 Years | 1.4 in 100,000 |
| 79-79 Years | 1.8 in 100,000 |
| 80+ Years | 1.9 in 100,000 |
 What's in the Vaccine?
The AstraZeneca and Pfizer vaccines are complex vaccines that contain a number of ingredients. Specifically, the Pfizer vaccine contains the mRNA and other substances to stabilize the vaccine: such as Distearoylphosphatidylcholine, cholesterol, potassium chloride, Monobasic potassium phosphate, sodium chloride, dibasic sodium phosphate dihydrate, Sucrose and water for injections.
The recommended interval between doses of the Pfizer vaccine is 21 days. The minimum acceptable interval between the two doses is 19 days. If this isn't possible, it is recommended to complete the two-dose course within 6 weeks.
The AstraZeneca option is a viral vector vaccine, which contains histidine, histidine hydrochloride monohydrate, sodium chloride, magnesium chloride hexahydrate, disodium edetate (EDTA), sucrose, ethanol absolute, polysorbate 80 and water for injections.
The recommended interval between two doses of COVID-19 Vaccine AstraZeneca is 12 weeks. The minimum interval between doses is 4 weeks. Shortening the interval from 12 weeks to no less than 4 weeks between doses is acceptable and may be appropriate in certain circumstances, such as a risk of COVID-19 exposure. If a dose has been given before the minimum 4-week interval, it is not currently recommended that the vaccine dose be repeated.
Who Can Get the COVID-19 Vaccine?
The Australian Government Department of Health has announced who is eligible to receive the COVID-19 vaccination. These include:
All adults aged 40-49
All Aboriginal and Torres Strait Islander people aged 16 to 49
NDIS participants aged 16 years and over, and unpaid and informal carers of NDIS participants of any age
Temporary visa holders aged under 50 years who are currently in Australia and have been approved for return travel to Australia through the travel exemption process
Adults aged 18-39 can choose to receive the AstraZeneca vaccine.
This is in addition to the following people, who were already eligible for vaccination:
All adults aged 50 and over
Quarantine and border workers
Health care workers
Aged care and disability care residents and staff
People aged 16 and over with an underlying medical condition or significant disability
Critical and high risk workers aged 16 and over including defence, police, fire, emergency services and meat processing.
Individuals with an Australian Border Force outwards travel exemption in an eligible category
If you are breastfeeding, it is preferable for you to have the Pfizer (Comirnaty) COVID-19 vaccine. You do not need to stop breastfeeding after vaccination. Some states and territories will amend their eligibility based on their COVID-19 situation and vaccine supply and uptake.
Who Should Get Pfizer?
As a precaution, Australian guidelines recommend certain people should avoid the AstraZeneca vaccine and have the Pfizer jab instead. These include people who:
Are There Side Effects?
Most importantly, you cannot get COVID-19 from the vaccine. COVID-19 illness is caused by the SARS-CoV-2 virus. None of the vaccines approved for use in Australia contain this virus, so they cannot cause COVID-19 illness. This means the COVID-19 vaccines cannot give you COVID-19.
The advice from the Australian Health Department confirms that all vaccines can cause side effects, however, these are usually mild. You may experience minor side effects following vaccination. Most side effects last no more than a couple of days and you will recover without any problems. The most common side effects after COVID-19 vaccination are usually mild and include:
pain, redness and/or swelling where you received the needle
headache
fatigue
muscle and/or joint ache
mild fever.
When they occur, these symptoms typically start within 24 hours of vaccination, last 1 to 2 days, and go away without treatment. These types of reactions are often a sign that your immune system is responding to the vaccine and helping to teach your body how to fight off COVID-19 if you are later exposed to the virus. Serious reactions like allergic reactions are extremely rare.
How Long Does the Vaccine Last?
At this stage, there isn't enough information to know for sure how long protection against COVID-19 will last. This is why it's still important to continue practising good hygiene, physical distancing and other COVID-safe recommendations, after you have been vaccinated.
The Therapeutic Goods Administration will continue to monitor the ongoing efforts to establish how well the vaccines protect over time.
Where to Get the COVID-19 Vaccine
If you are planning to get the AstraZeneca vaccine or the Pfizer vaccine, you will need to consult your state government recommendations. Visit your state authority will outline if you are eligible to receive the vaccine as part of the ongoing rollout and where best to find a vaccination centre.
General FAQs
Is AstraZeneca safe?
Like all vaccines administered in Australia, the AstraZeneca COVID-19 vaccine has undergone a series of stringent tests before being approved by public use. The Australian Technical Advisory Group on Immunisation (ATAGI) still recommends the COVID-19 vaccine by Pfizer (Comirnaty) is preferred in adults aged under 60 years. In people 60 years and over, ATAGI continue to advise that the benefits of vaccination with the AstraZeneca vaccine outweigh the risks associated with vaccination.
Can I get AstraZeneca if I am under 40?
Prime Minister Scott Morrison confirmed that any person under the age of 40 can now get the AstraZeneca vaccine if they want to. The ATAGI continues to recommend the AstraZeneca vaccine for people aged 60 years and over, however, the availability of AstraZeneca makes it a suitable choice. Those who are interested must consult with their medical professional over if the vaccine is a viable option for them based on their previous medical history.
Will I get blood clots if I get AstraZeneca?
While there is an increase risk of blood clots in those who receive the AstraZeneca vaccine, it shouldn't be a deterrent for young Australians. The likelihood of suffering a blood clot is still extremely low.
I've had blood clots in the past and take blood thinners. Should I avoid AstraZeneca?
No. Recent medical studies show that the blood clots observed following the AstraZeneca vaccine are completely different to other types of blood clots, such as deep vein thrombosis or a pulmonary embolism, or the clots that cause heart attacks and strokes. People with a history of these sorts of conditions do not appear to be at any increased risk from the AstraZeneca vaccine. In fact, people in this group could be at greater risk from COVID-19, so should not delay getting vaccinated.