31 Best Toiletry Bags For Men & Dopp Kits
Touting premium materials and versatile designs, the best toiletry bags and dopp kits for men are as vital for travel as the very things you put inside them. After all, you're a man of style and patience, and haphazardly stuffing your toiletries in a Ziploc bag or the spare pockets of your luggage is practically beneath you. Such a maneuvre not only lacks discipline, but infers improper planning and poor organisation skills. Show the world what you're truly made of by never leaving home without a quality toiletry bag or dopp kit before your next adventure. For that, scope our list of the 31 Best Dopp Kits & Toiletry Bags For Men.
You'll also like:
What grooming products should every man own?
5 Tips to Carry Items & Travel with Ease
Men's "Must Have" Travel Essentials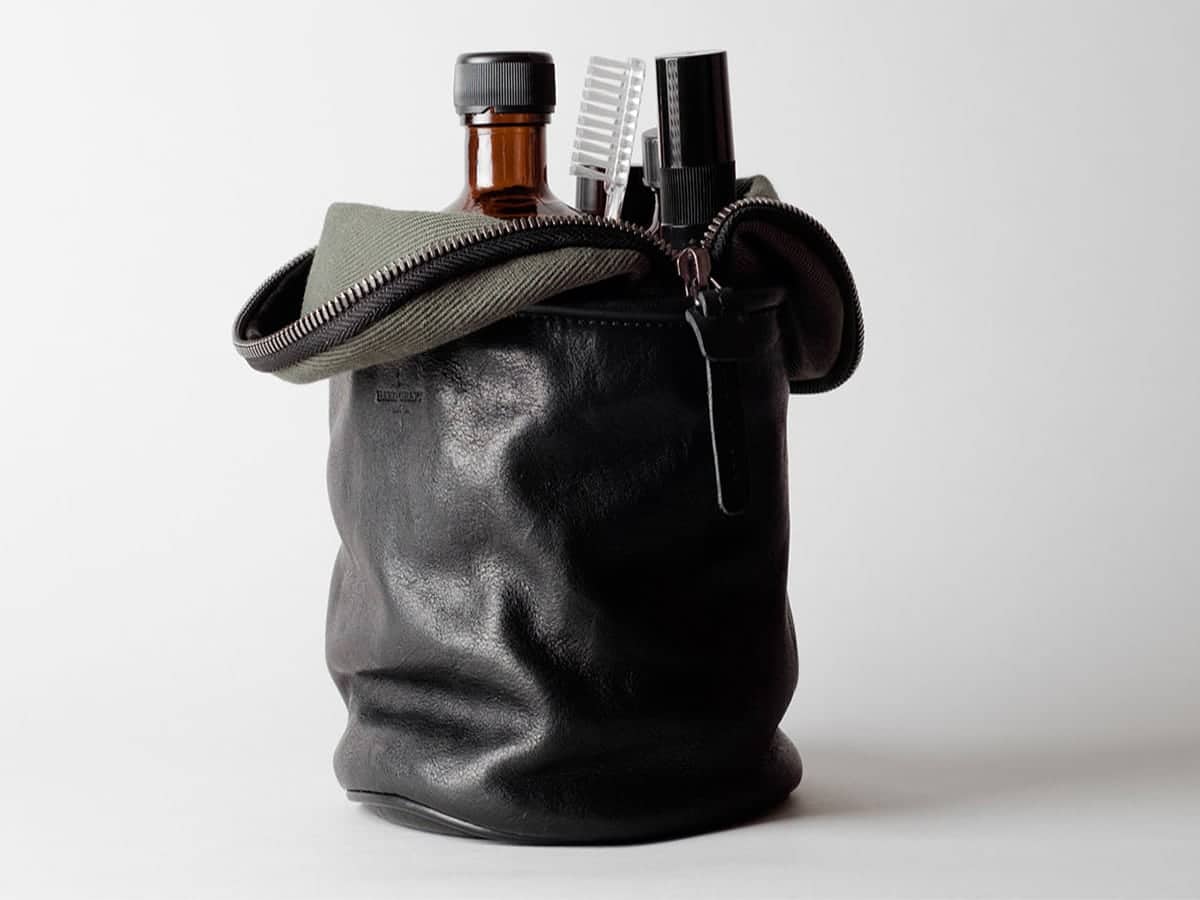 1. Hard Graft Refresh Dopp Kit Classic
Made in Italy using the finest wool fabric and vegetable tanned leather, the Refresh Dopp Kit Classic from Hard Graft makes a name for itself by going vertical instead of horizontal. The result is a smooth, minimalist washbag of exceptional quality and genuine distinction.
Material: veg tan leather, wool top
Size: 22cm height, 0.14cm base
Price: €220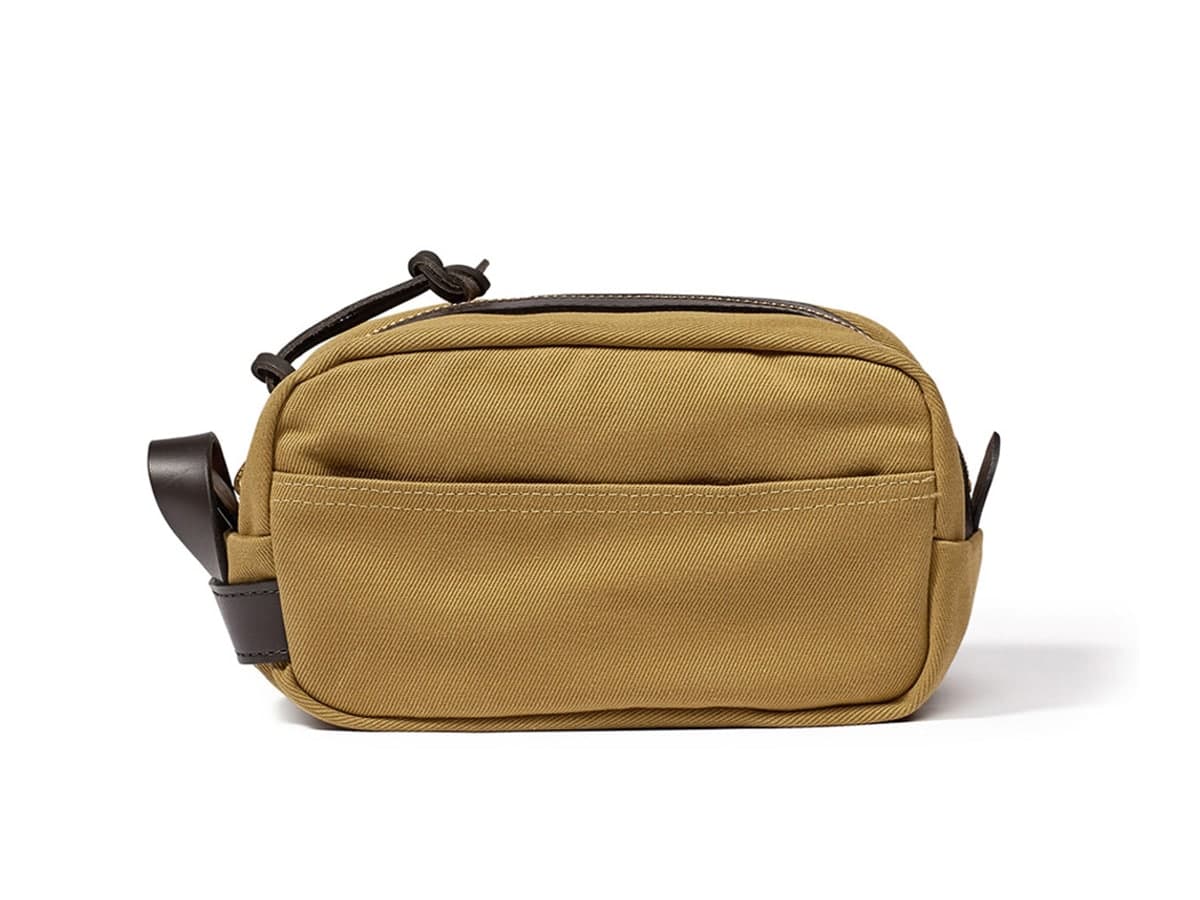 2. Filson Travel Kit
Trusty outdoor brand Filson delivers a trusty travel kit. Made of water resistant fabrics, the small bag features four roomy pockets, a rustproof brass zipper and a leather grab loop. It's simple and classic in the sense that you don't have to overthink it, and easily one of the best toiletry bags for men.
Color: navy
Material: cotton
Size: 16.5cm height, 25.5cm width, 14cm depth
Price: from $95.02
---
Featured Video from Man of Many
---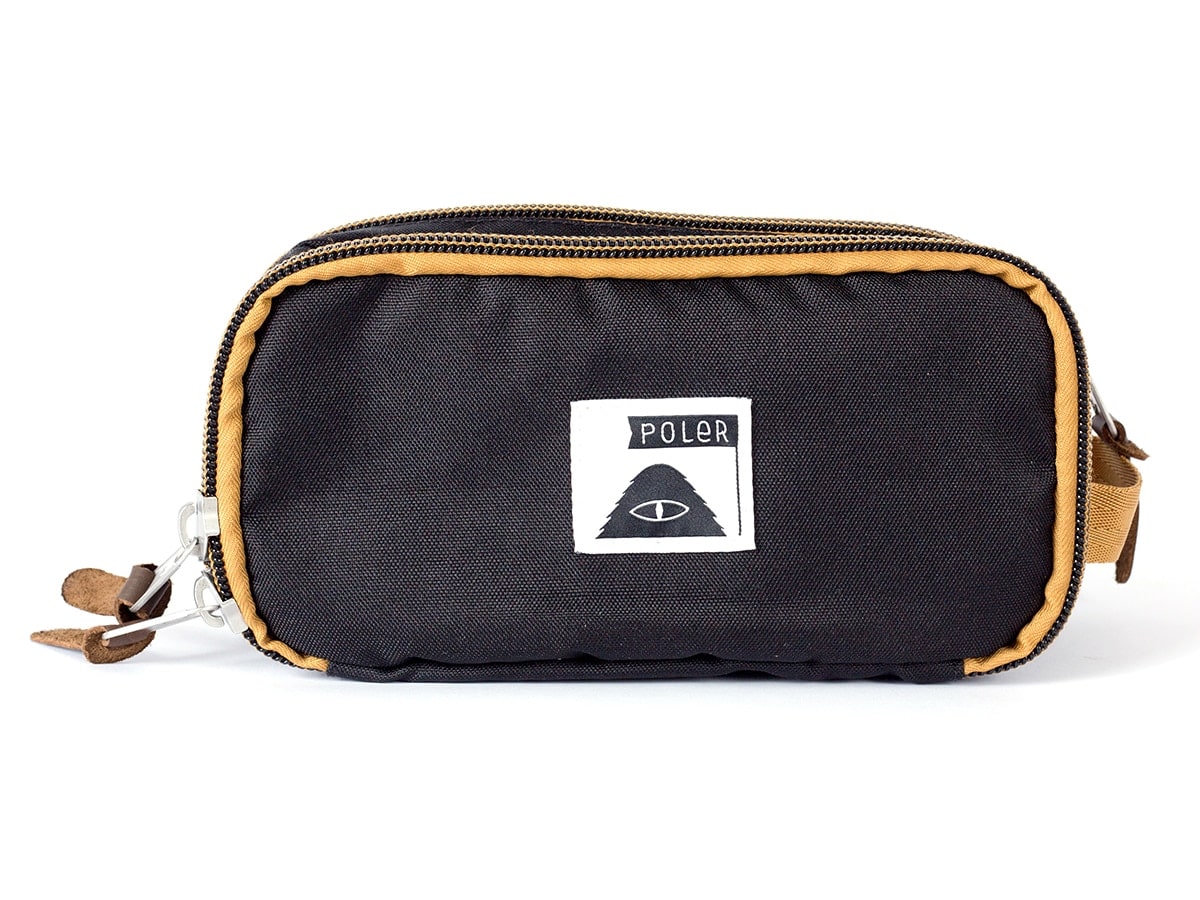 3. Poler Men's Dope Dopp Kit
Built for the outdoors by way of fabric-high tensile strength nylon, Poler's Dopp Kit is all kinds of dope and naturally one of the best toiletry bags for men on the market. In addition to that rugged nylon, the kit hosts polyester lining, two pockets on the inside, two pockets on the outside and embossed leather pull tabs. Give it your worst.
Material: 100% nylon
Size: 9″ high, 5″ wide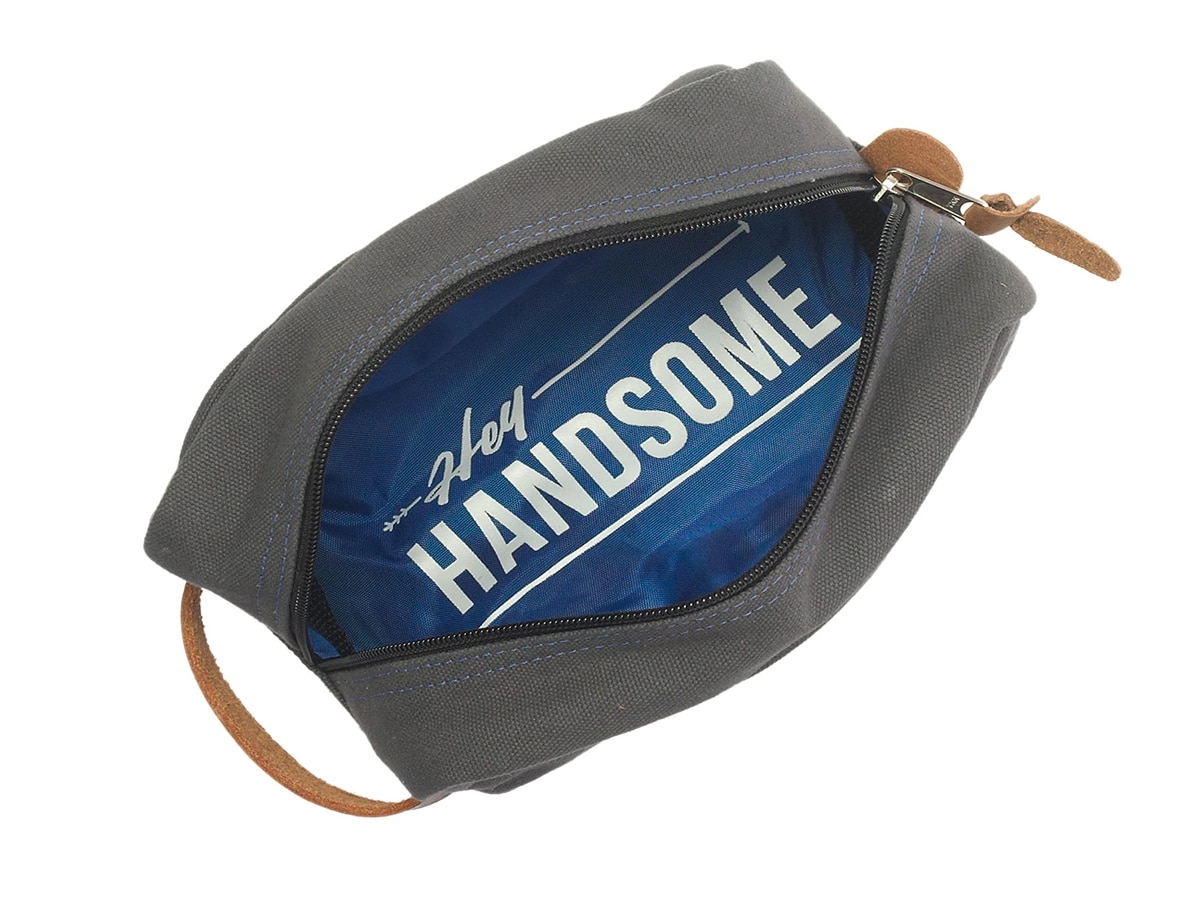 4. Owen & Fred Hey Handsome Shaving Kit Bag
Roomy, resilient and affordable, Owen & Fred's "Hey Handsome" Shaving Kit Bag practically obliges you to show your grooming essentials a little extra TLC. Not only is this sturdy bag made of premium nylon and water repellant duck canvas, it features a screen printed message at the bottom that reminds you just how special you are. Stay handsome, gents.
Color: grey, army green, brown
Material: canvas, nylon (1000 Denier Nylon – exterior, 420 Denier Nylon – interior), leather, nickel, , waterproof
Size: 8″ x 4″ x 5.5″
Price: $59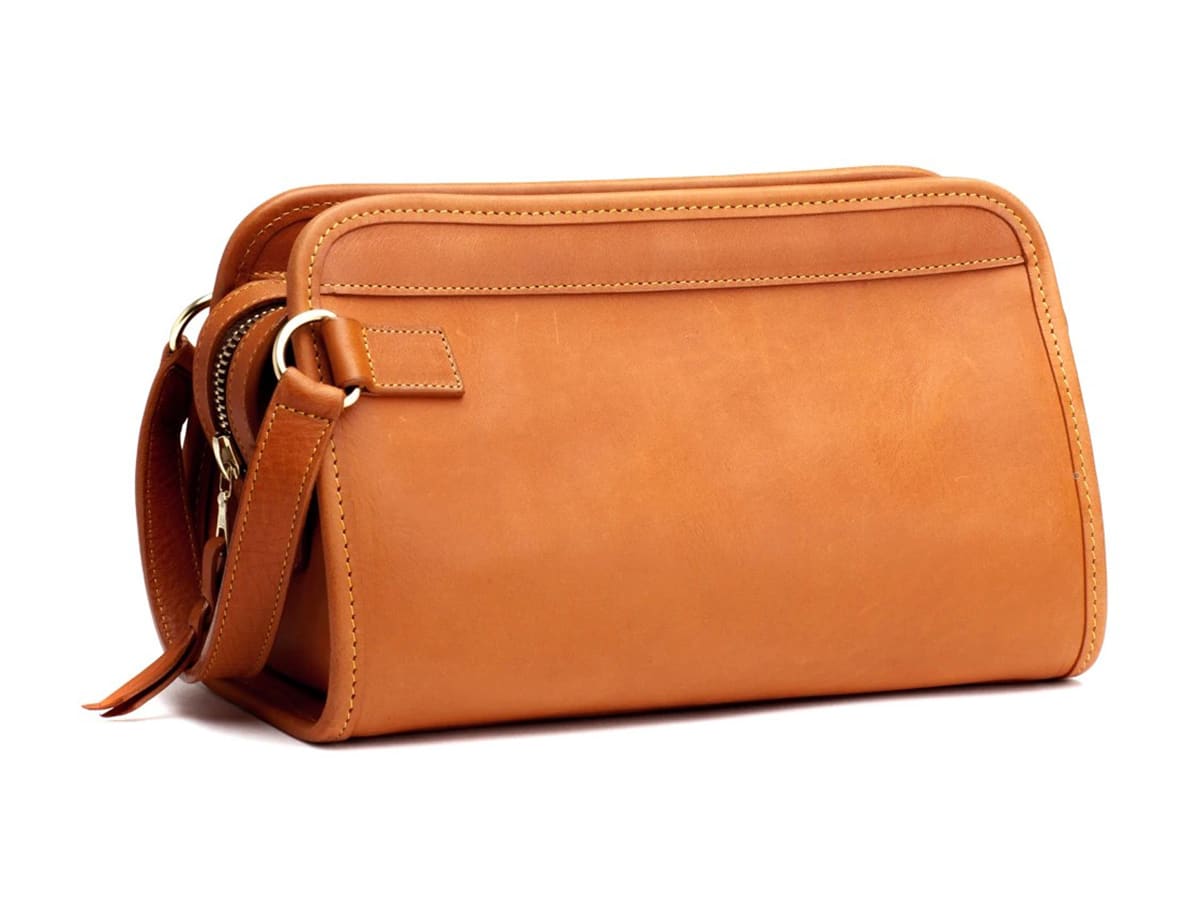 5. Frank Clegg Small Travel Kit
The best men's toiletry bags and dopp kits typically aim for functionality over anything else, but Frank Clegg isn't afraid to throw some discernible luxury into the mix. Made of superb harness belting leather and equipped with water resistant lining, Clegg's elegant toiletry bag is smooth to the touch and a pure sight to behold. It'll cost you, but on the other hand you'll probably never replace it.
Color: tan, cognac, chestnut, chocolate, black, green, red, navy
Material: Interior Zipper Pocket, Solid Brass Hardware, Swiss-Made RiRi Zipper, Sunbrella Lining
Size: 10.625" width, 6.50" height, 5" depth
Price: $400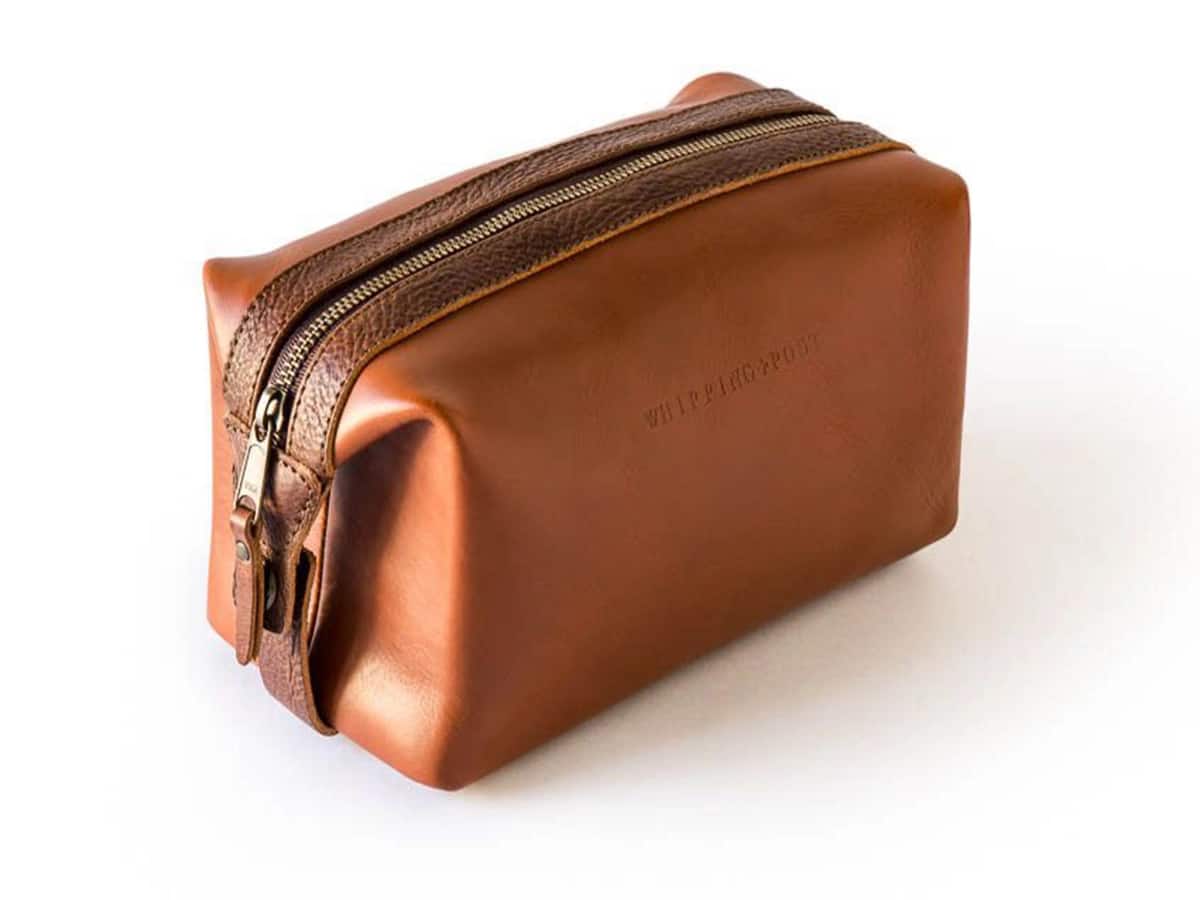 6. Whipping Post Dopp Kit
Built to last and designed to adapt, this lean bag from Whipping Post is one of the best dopp kits for men that money can buy. It's made of vegetable tanned leather and hosts a washable liner for any toiletry mishaps. A zippered interior pocket makes extra storage a breeze.
Material: vegetable tanned leather
Price: $85
7. Aer Dopp Kit
An eye-catching exterior of heathered polyster equals love at first sight when it comes to this premium toiletry bag from Aer. Throw in ample storage room, a carry handle, quick access pockets and an unbeatable price and you're looking at a dopp kit that's simply too good to refuse.
Color: grey, black
Material: 900D heathered polyester exterior, water-resistant interior lining, YKK zippers
Size: 9.5" x 5" x 4"
Price: $45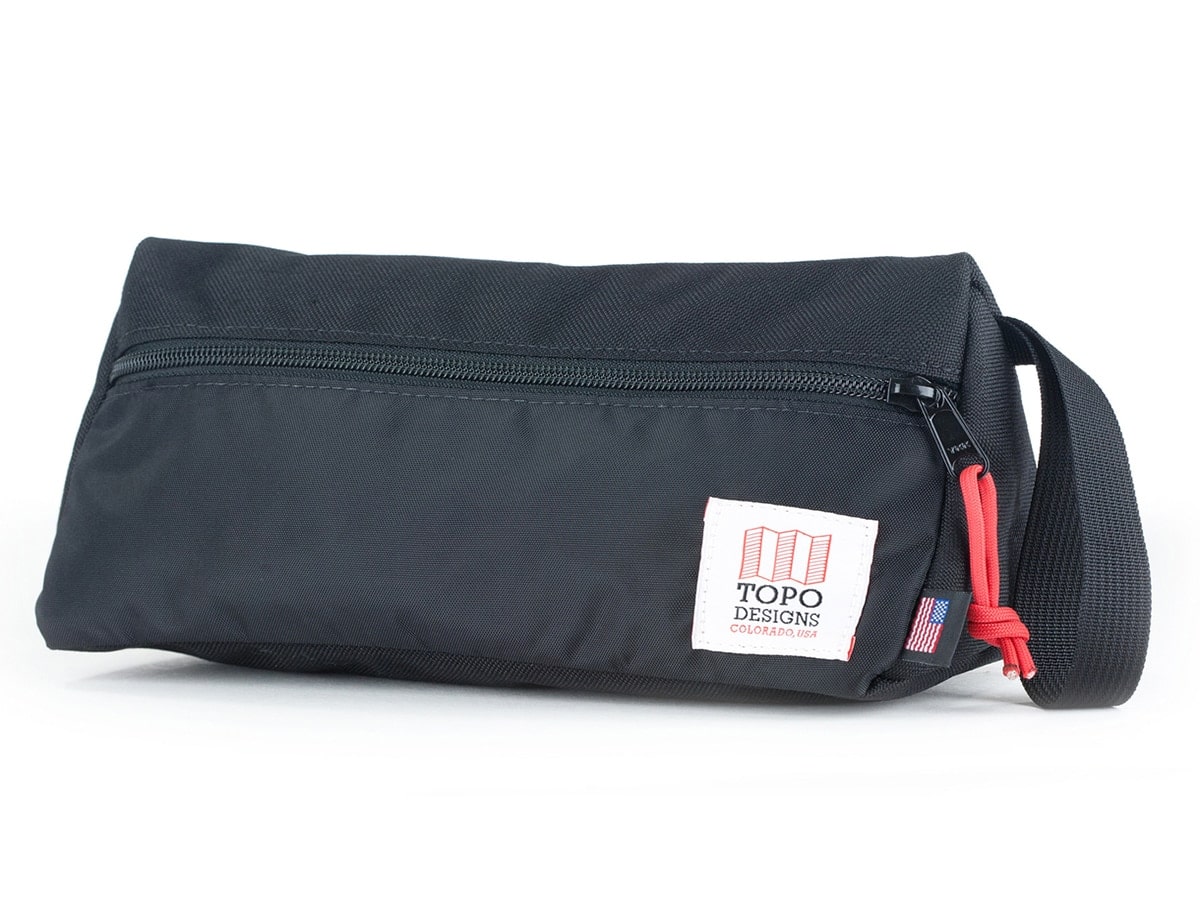 8. Topo Designs Dopp Kit
The folks at Topo Designs went full triangle on their excellent dopp kit. As a result the bag remains upright no matter how many toothbrushes and grooming products you stuff inside it. Water resistant lining, a hand wrist strap and a terrific price point help round out the bag's approachable charms.
Color: black, olive
Material: 1000d Invista CORDURA® fabric outer, coated pack cloth liner
Size: 11? w x 5.5? h x 5.5? d
Price: $34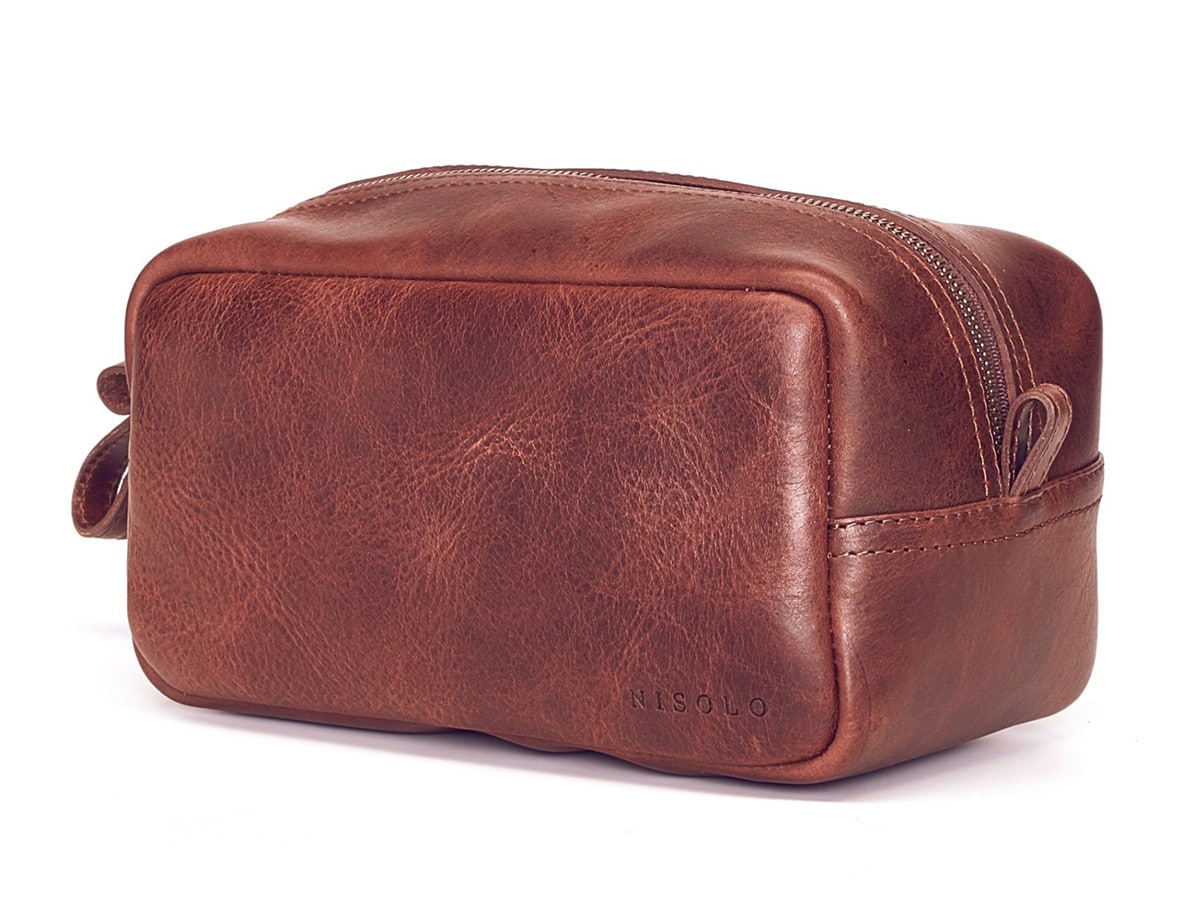 9. Durango Dopp Kit from Nisolo
Handmade in Mexico at an ethical factory, the Durango Dopp Kit is the kind of classic vegetable tanned leather bag that your dad might have owned. And odds are if you go visit your dad right now he's still using that same bag after all these years. That alone should tell you something about durability.
Color: chestnut
Material: vegetable-tanned Leather
Size: 5.5" H x 9" L x 5" D
Price: $98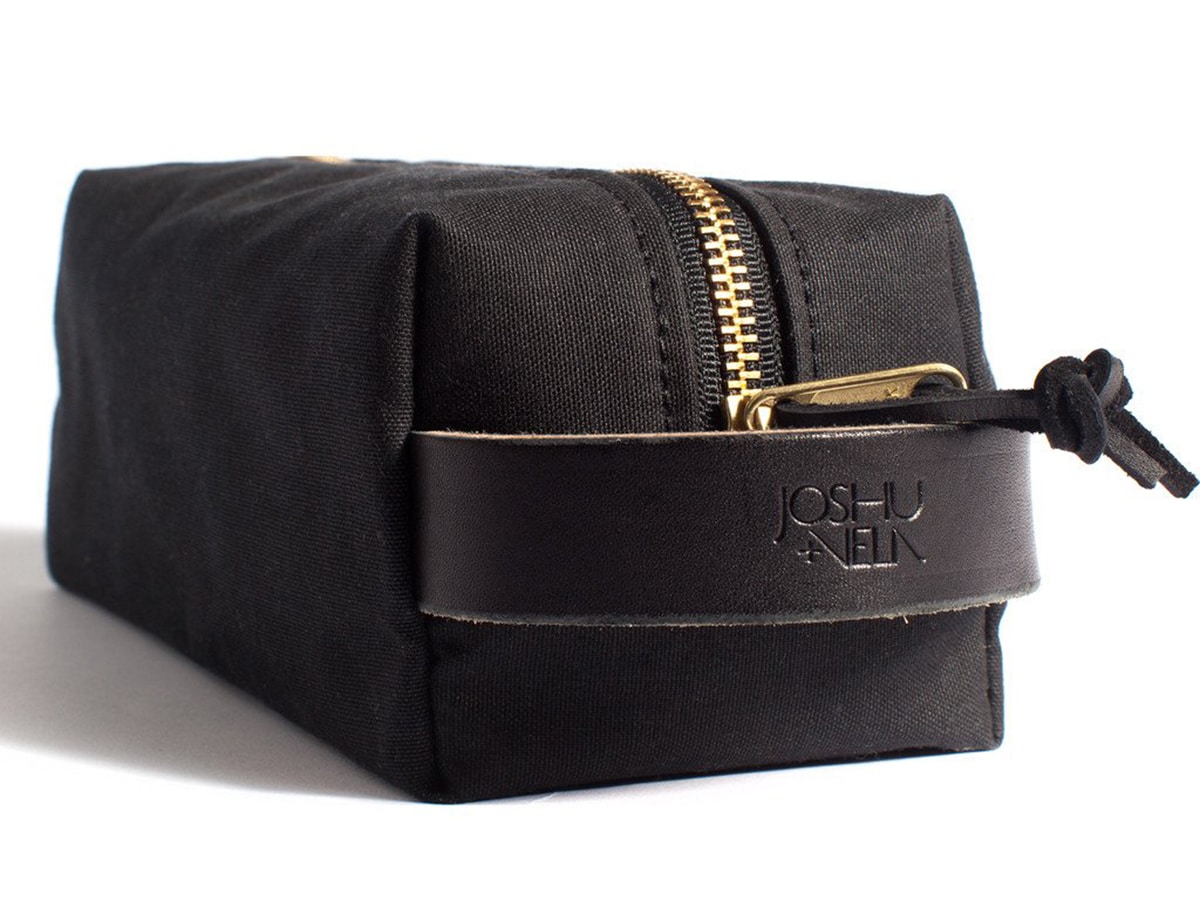 10. Joshu + Vela Dopp Kit Black Wax Army Duck
One of the best toiletry bags for men comes to us from San Francisco's Joshu + Vela. They made this artisanal dopp kit by hand using the finest natural materials they could score. It's roomy, simple, sturdy and elegant.
Color: black, natural, olive, tan wax
Material: US made brass zipper with a leather pull, heavy US bridle leather handles, nylon lined
Size: 8.5″ long, 4″ wide, 3″ tall
Price: $88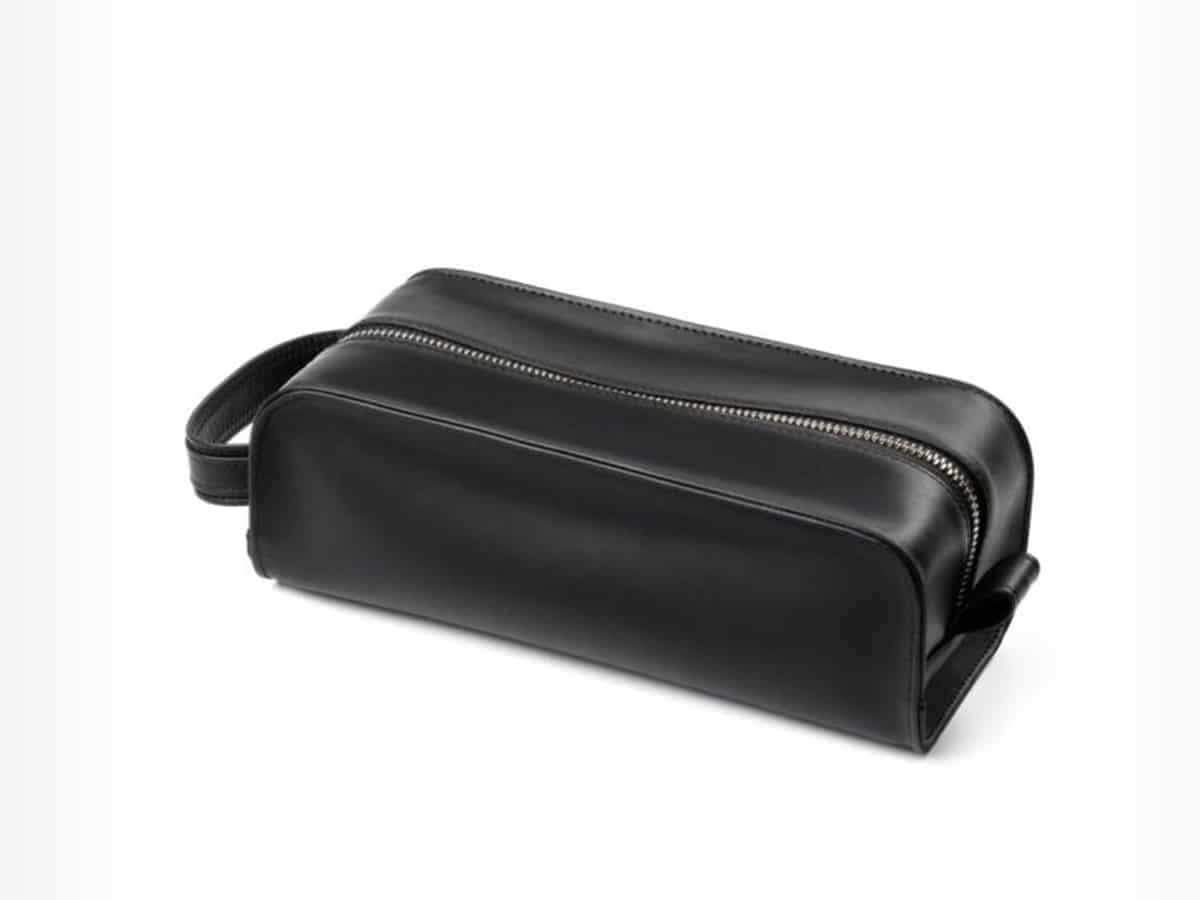 11. Driver Leather Dopp Kit from Allen Edmonds
Flaunting a monochromatic leather sheen and prime functional layout, the Driver Dopp Kit from Allen Edmonds is the quintessence of approachability. It's perfectly sized to fit all your essentials without imposing its presence. You also might find yourself unconscious petting that smooth quality leather like it's a cat. Purrrr…
Price: $149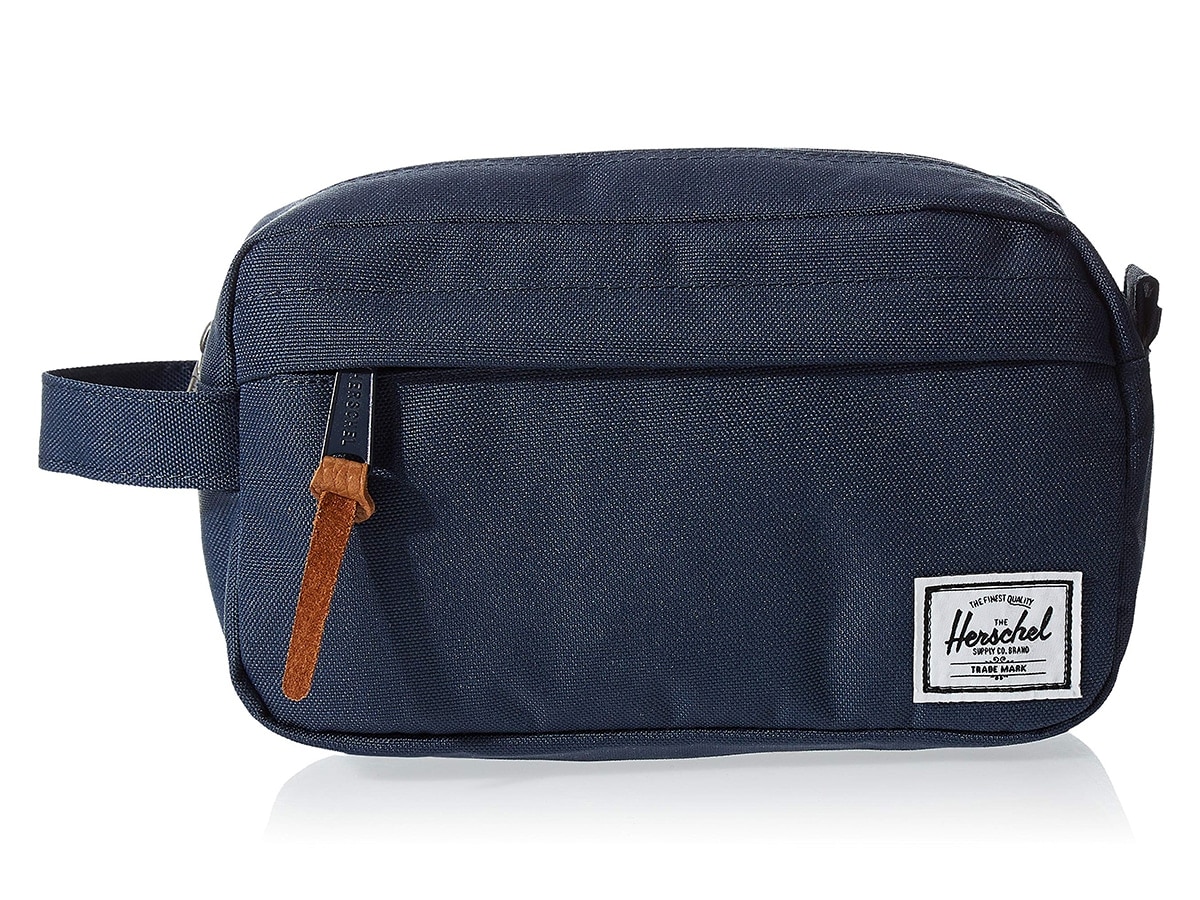 12. Herschel Supply Co. Chapter Travel Kit
Canada's Herschel Supply Co. sticks to the basics in the best of ways on the affordable Chapter Travel Kit. It has a polyster exterior, nylon lining, zipper closure and plenty of room. Honestly, what more do you need?
Material: cotton lining, signature striped fabric liner, waterproof zipper
Size: 7.09 x 8.66 x 3.15 inches
Price: from $15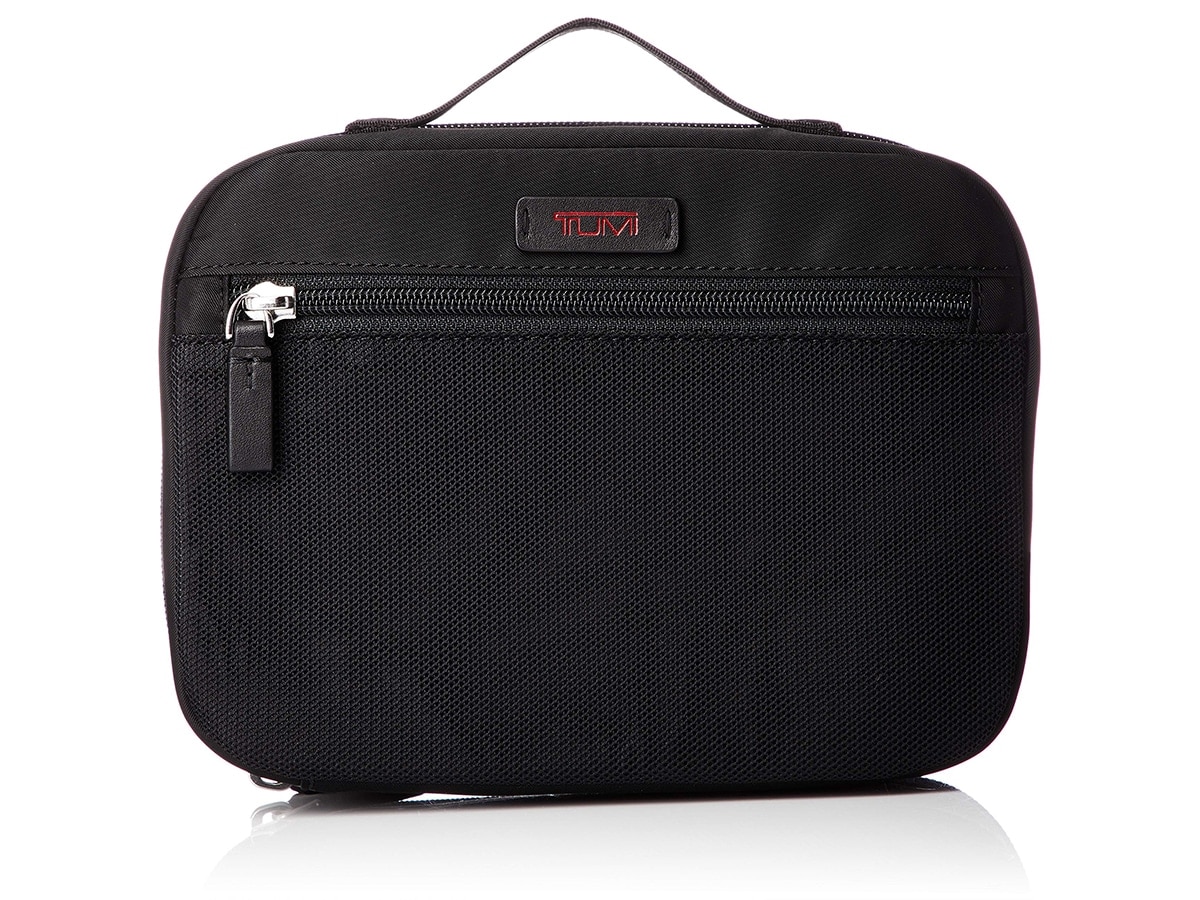 13. Tumi Voyageur Monaco Travel Kit
Upscale brand Tumi likes to keep their travel goods sleek and sophisticated and the Monaco Travel Kit is no exception. Made of 100% lightweight nylon with polyester lining, this slim stunner is equipped with a detachable pouch, a carry handle, transparent zip pockets and a metal hanger.
Color: black
Material: 100% lightweight nylon, polyester lining
Size: 7″ height, 11″ width, 2.75″ depth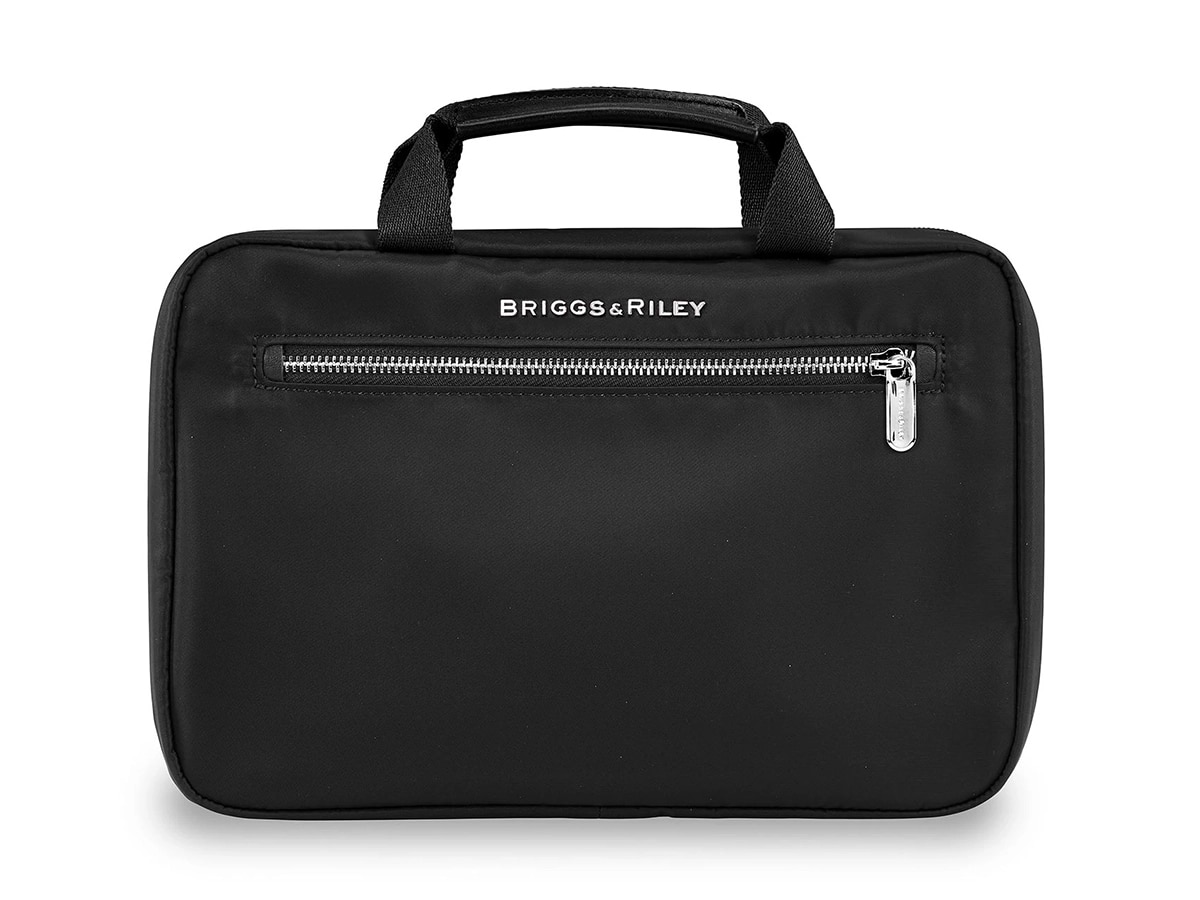 14. Briggs & Riley Transcend Hanging Toiletry Kit
At 18″ high at 10″ wide, the Transcend Hanging Toiletry Kit will appeal to men seeking more room for their travel essentials. Rest assured those essentials are duly secure thanks to synthetic lining, trusty nylon fabric, ample pocket space and a zipper closure. A loop at the back and strap on the inside makes hanging a breeze.
Color: crimson
Size: 4.02 x 10 x 7.99 inches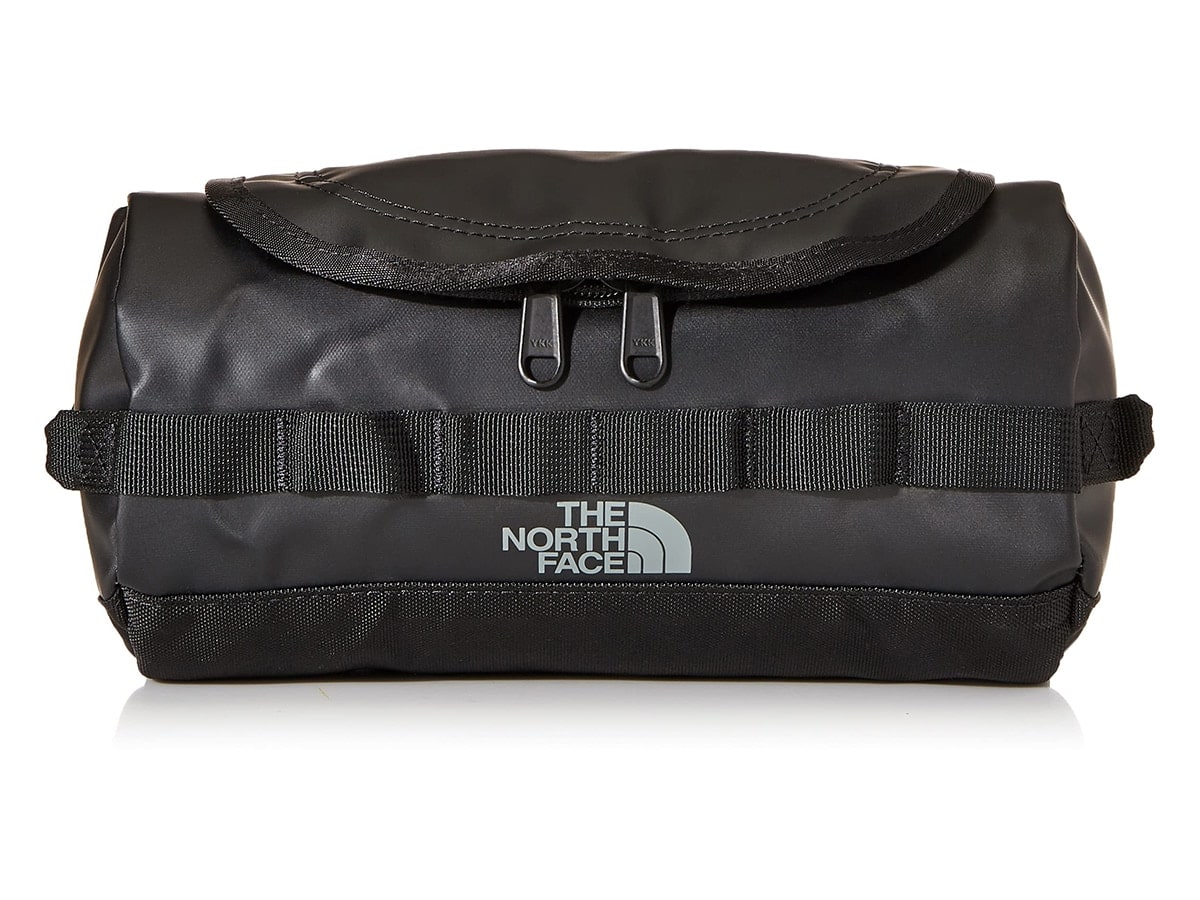 15. The North Face Base Camp Travel Canister
The North Face is a name already synonymous with the utmost dependability and you should expect nothing less from the resilient Base Camp Travel Canister. Designed as a mini-duffel bag, it's one of the best toiletry bags for steadfast protection and quick access. Included with the bag is a detachable mirror and a hook for hanging.
Color: black, black and red
Material: 300D phthalate-free TPE laminate, 840D ballistics nylon
Size: 5″ high, 10″ wide
Price: from $69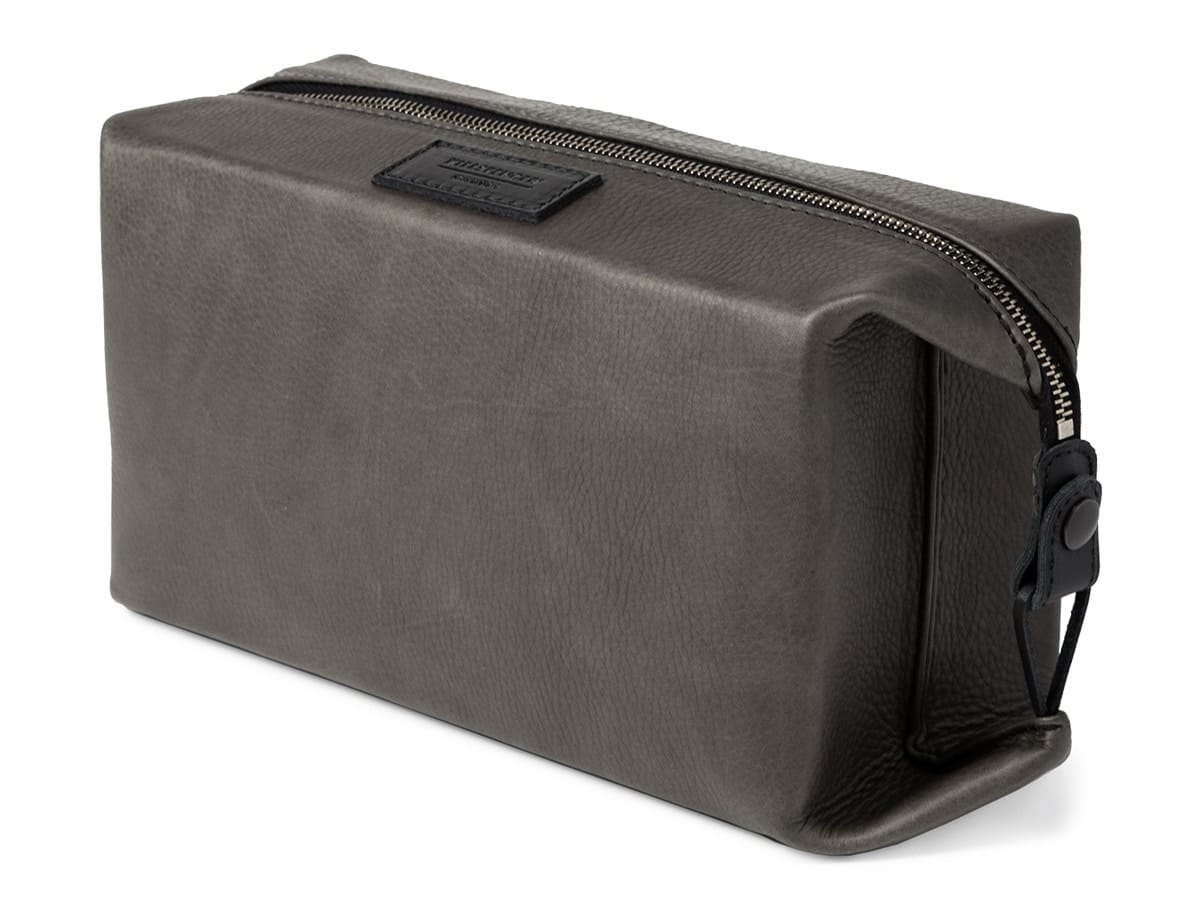 16. Killspencer Dopp/Folio 2.0
Killspencer aims for the top shelf and hits a bullseye with this brilliant and best dopp kit for men. The bag forms a perfect rectangular shape and is made of full grain leather so smooth it's practically creamy to the touch. Choose between charcoal grey or black and prepare to fall in love.
Color: charcoal grey leather
Material: premium full-grain leather, Swiss-made Riri zipper in antique silver finish
Size: 9.5″ x 5.25″ x 4″ or Folio 14″ x 9″
Price: $210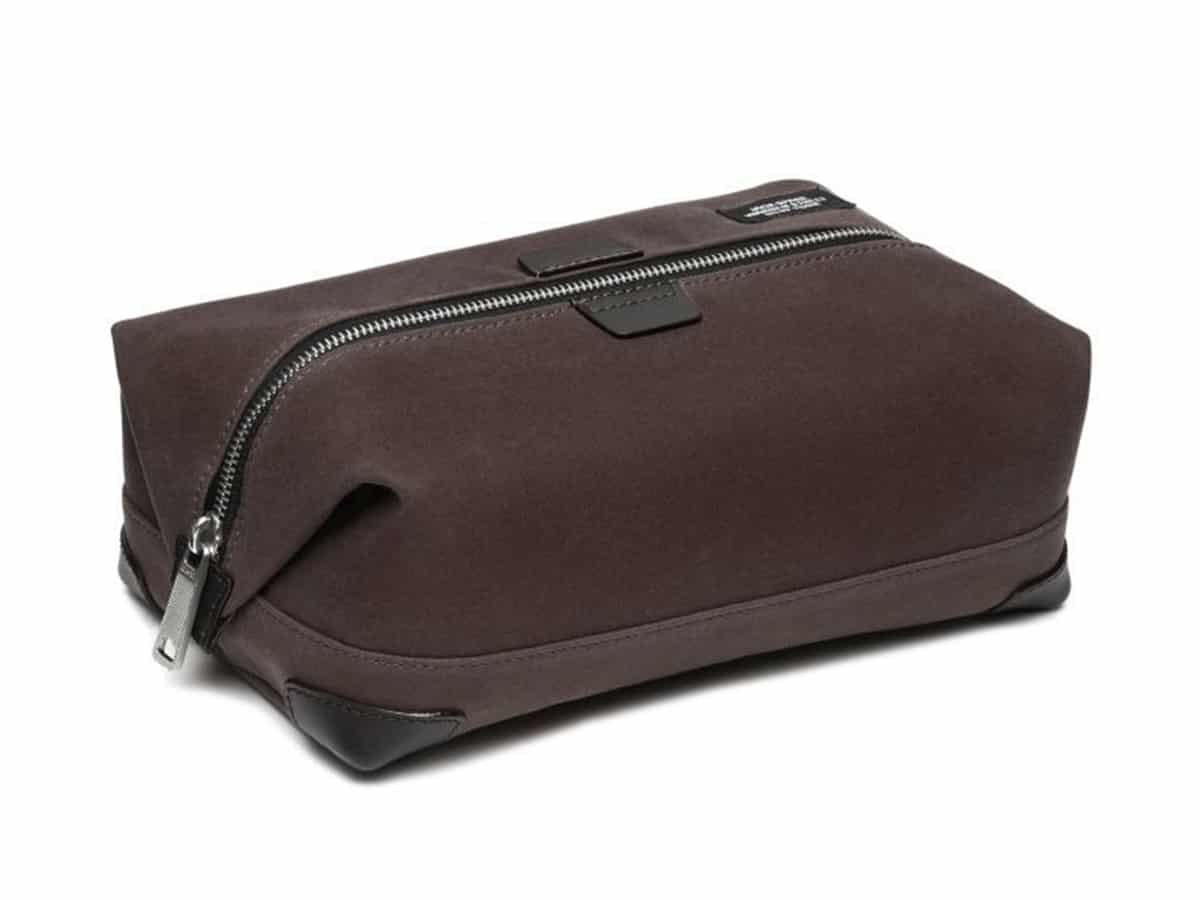 17. Jack Spade Waxwear Travel Kit
Hosting a cotton canvas with dark brown leather trim, the Waxwear Travel Kit from Jack Spade exudes luxury and durability in equal measure. Navy and white checked fabric adorns the inside while brushed silvertone hardware gives the waterproof toiletry bag some extra heft.
Material: waxed cotton canvas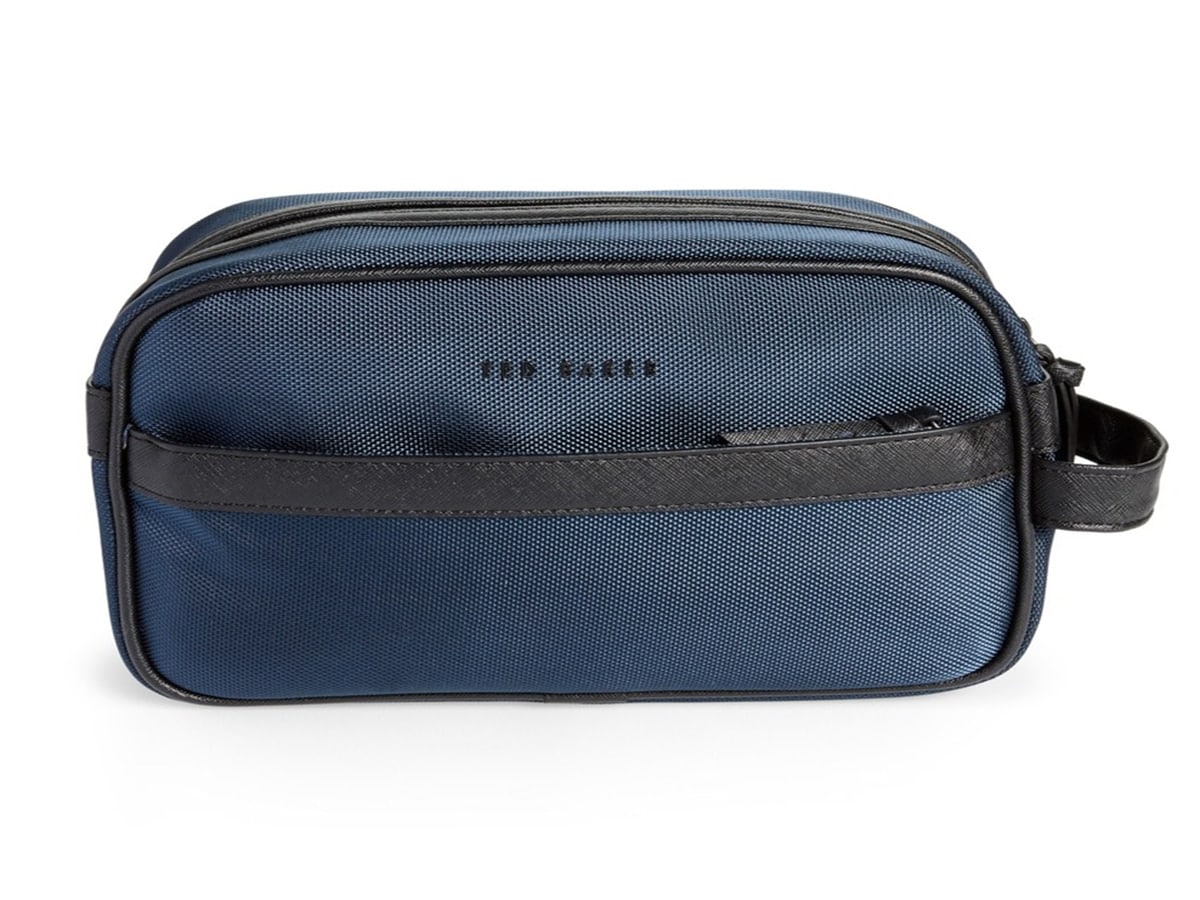 18. Ted Baker London Granula Travel Kit
Ted Baker London is an absolute master when it comes to walking the line between accessibility and high fashion. Needless to say, the occasionally cheeky brand knows a thing or two about travel. Accordingly, their Granula Travel Kit emanates with refreshing visual allure. It's also no slouch in the durability department thanks to the use of woven polyester. If you're looking for the best dopp kit for men at a mid range price, look no further.
Material: polyester
Size: 11″W x 7″H x 4″D
Price: $85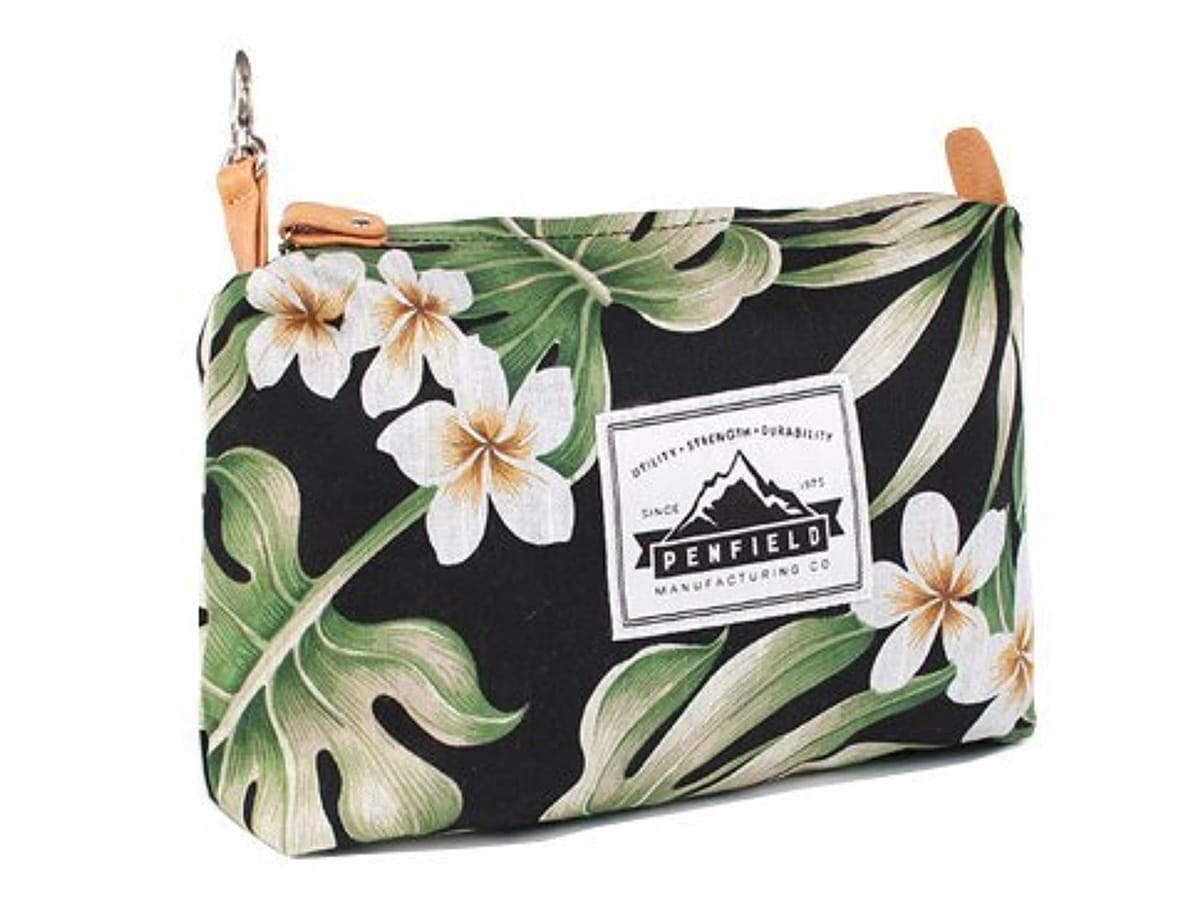 19. Penfield Men's Danbury Wash Bag
The Penfield Men's Danbury Wash Bag offers dependable benchmarks like durable canvas with leather trim and polished metal hardware. But that's not why you want it. You want it for that unmistakable, bold and beautiful floral design.
Material: canvas
Size: 11″W x 6.75″H x 2″D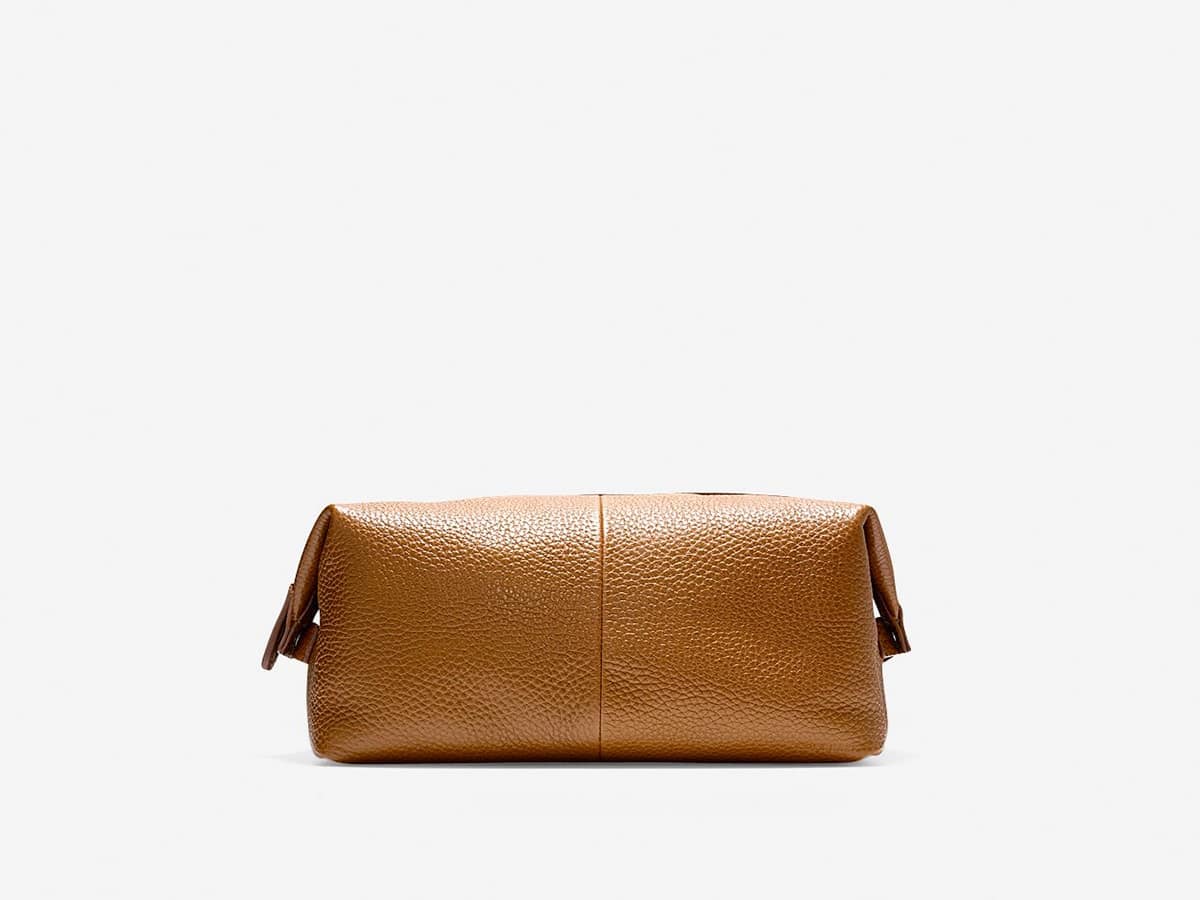 20. Cole Haan Wayland Dopp Kit
The Wayland Dopp Kit from Cole Haan is all about that imported pebbled tan leather exterior and silky faille lining. You'll be looking for an excuse to travel with this brilliant dopp kit in your possession.
Color: British tan
Material: pebble leather
Size: 9 1/2″ L x 5″ H x 5″ D.
Price: $180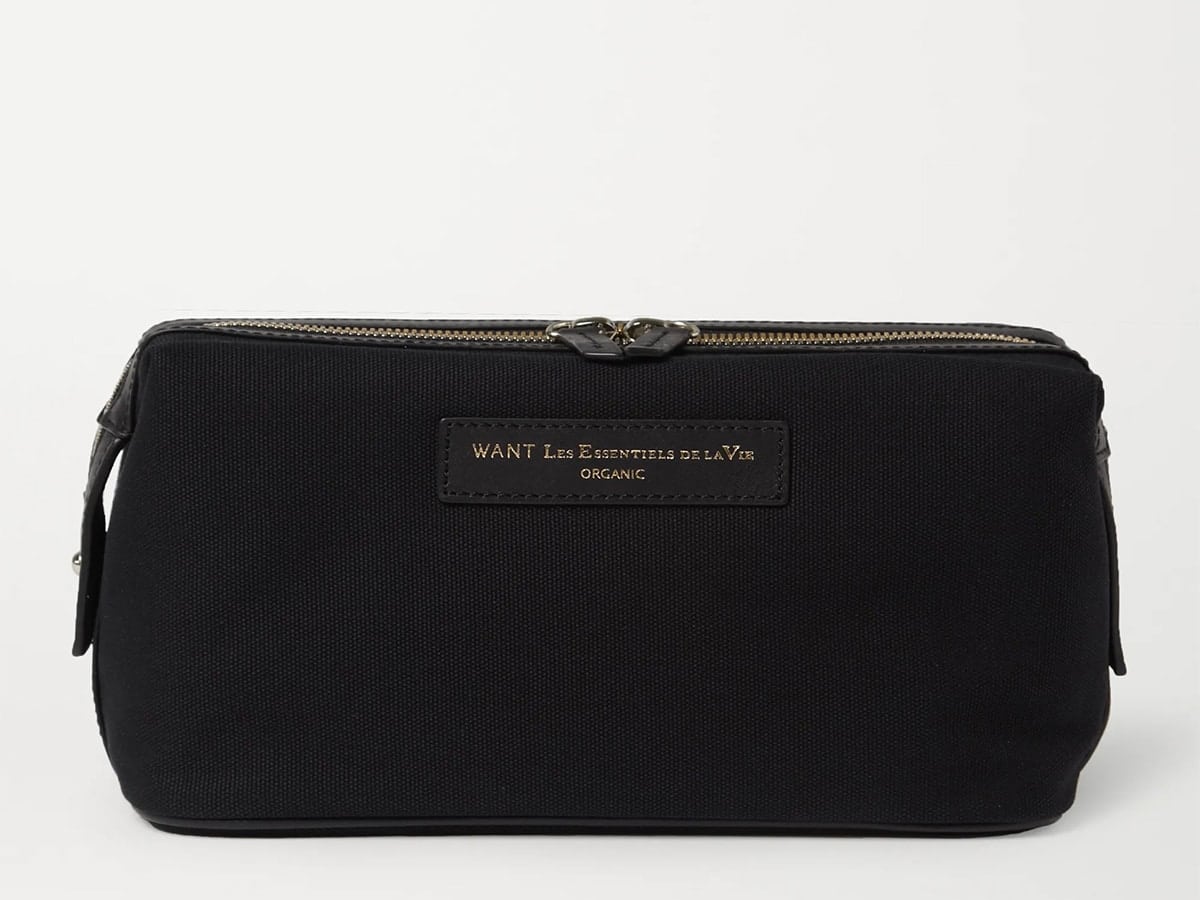 21. Want Les Essentiels Kenyatta Organic Cotton-Canvas Wash Bag
With its seductive body of black organic cotton-canvas, protective lining and leather trims, the Kenyatta Wash Bag from Want Les Essentials gives off waves of luxury and sophistication. No one argues with black, baby.
Color: black
Material: organic cotton canvas
Size: 9.75″ L x 5.5″ H
Price: $195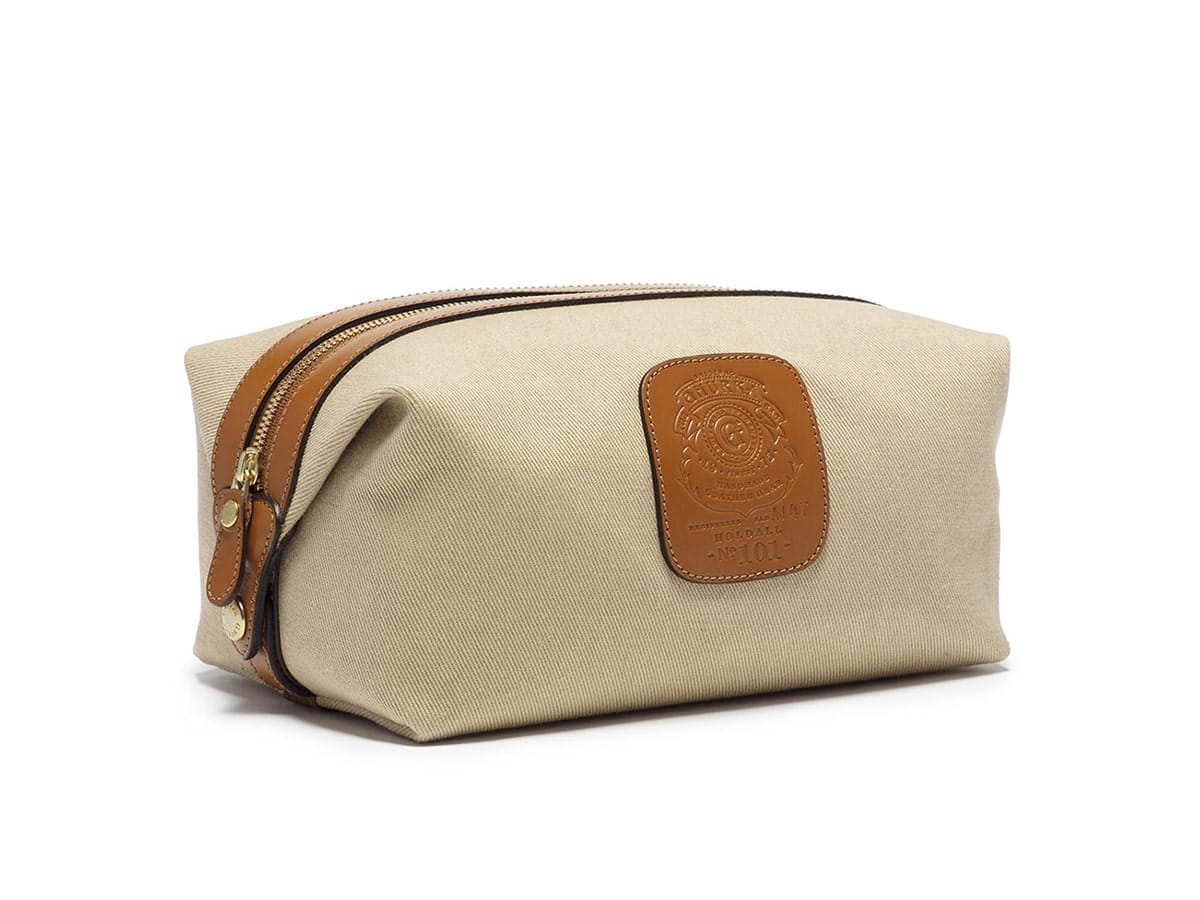 22. Holdall No. 101 Twill Travel Toiletry Bag from Ghurka
One look at the Holdall No. 101 from Ghurka will tell you if it's the one for you. This top toiletry bag for men is an absolute symphony of calfskin leather, check fabric lining and clean tan colour. An extended zip top with snap buttons and adjustable fold down sides add a nice touch of versatility to seal the deal.
Color: chestnut, black, derby check, khaki twill, slate, vintage chestnut
Material: calfskin leather trim
Size: 9.5″ x 6″ x 5.5″
Price: $395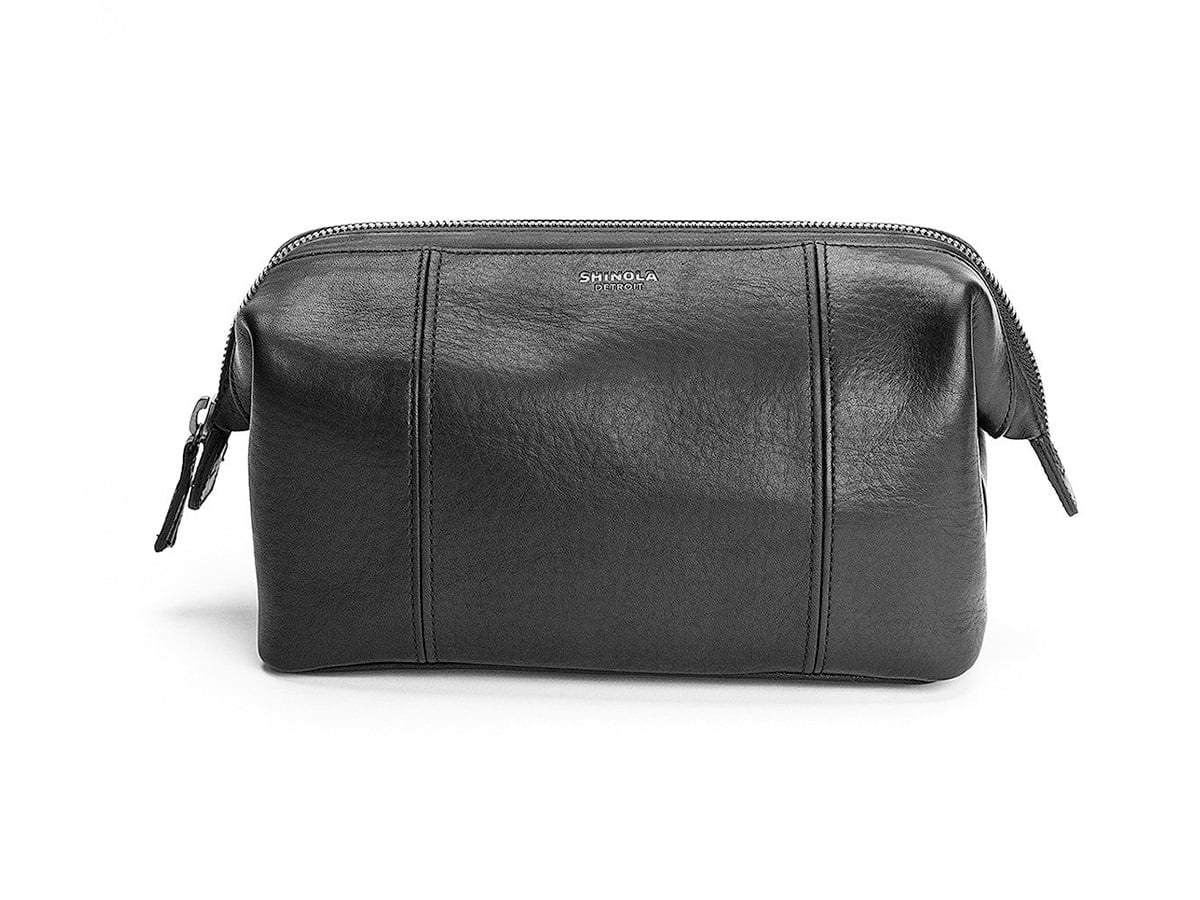 23. Shinola Frame Leather Travel Bag
Hailing from Detroit, luxury brand Shinola hand-assembles their signature goods using only the best materials. It's therefore only natural that the Frame Leather Travel Bag is one of the best dopp kits for men that you can find. Easy to open and awash with premium Horween Essex Leather, Shinola delivers the kind of bag that will likely outlast its owner.
Material: heavyweight canvas lining
Size: 5″H x 10″W x 5.8″D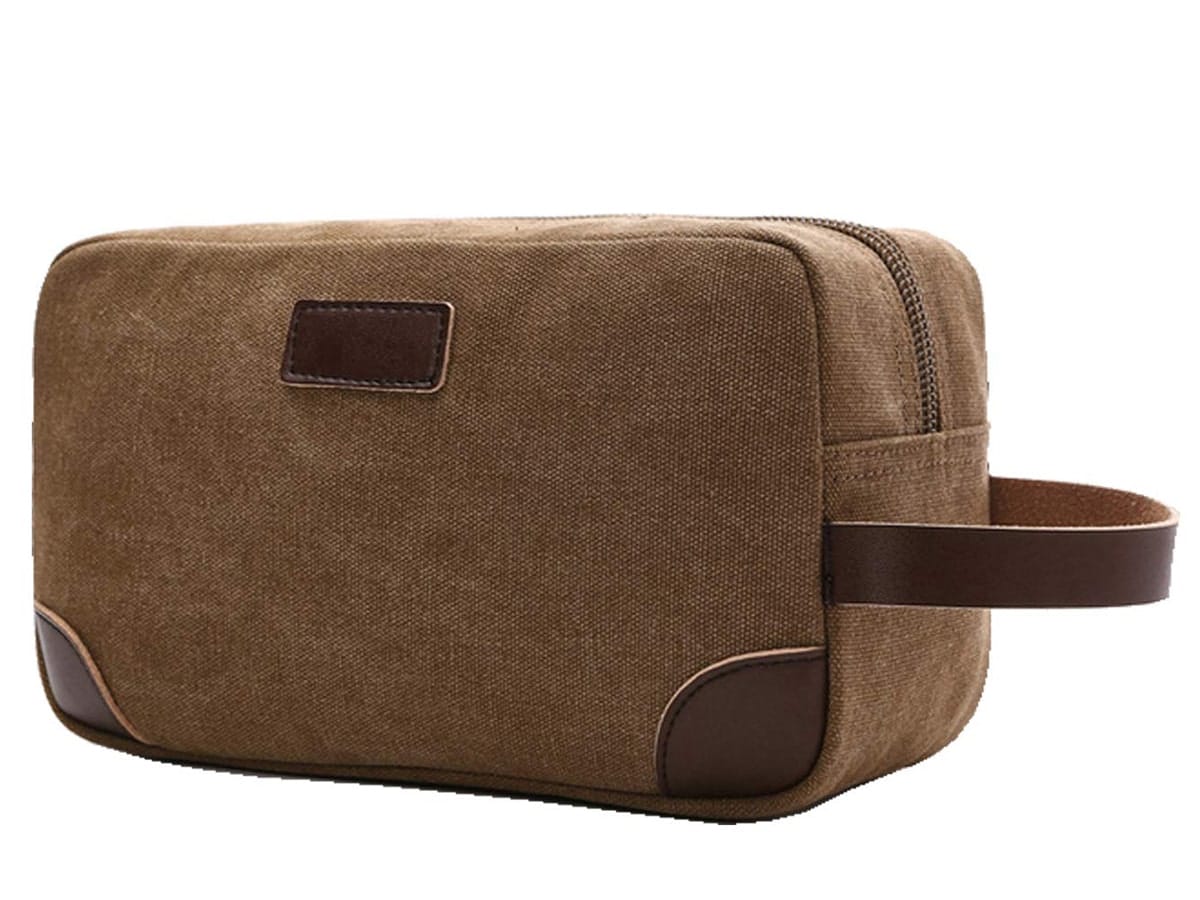 24. Iblue Canvas Travel Toiletry Organizer
Thick, sturdy and wildly popular, IBlue's Toiletry Bag brilliantly protects your grooming essentials with room to spare. The outside is heavy duty canvas while the inside seams are wrapped. The big zippers include a leather tab to make opening a closing as painless as possible. A cow leather handle makes an easy thing even easier.
Color: grey, green, khaki, brown
Material: strong canvas, heavy duty metal zipper
Size: 10.4″ L X 4.1″ W X 5.1″ H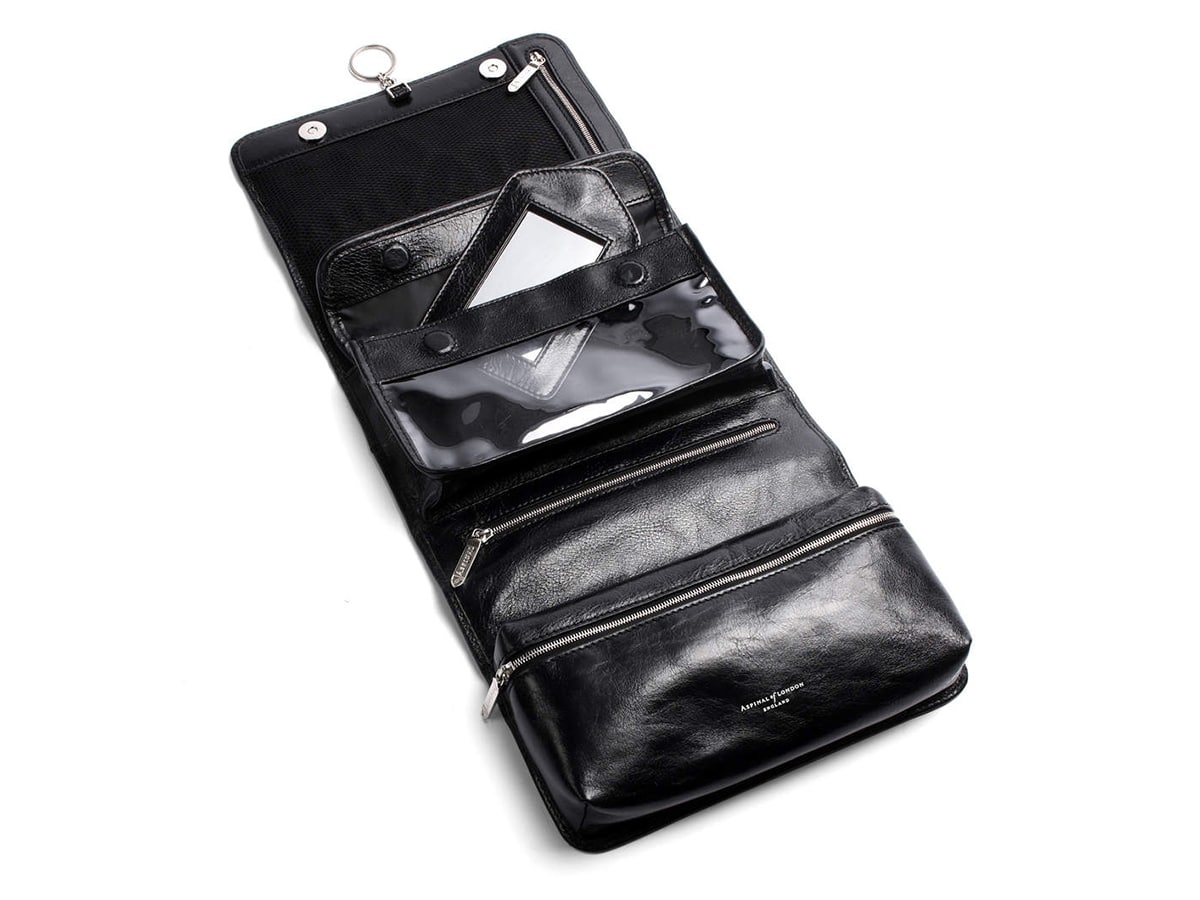 25. Aspinal of London Men's Leather Hanging Wash Bag
Designed to perfection and rife with masculine allure, Aspinal of London's foray into hanging wash bags is a downright masterpiece. The outside touts high grade Italian calf leather in the distinguished colour of smooth cognac. Other features include water resistant pockets, snap closures, a carry handle and a built-in mirror. Put it all together and you have a bag that's as practical as it is luxurious. Without question, this is one of the best toiletry bags for men of a certain prestige. You'll aspire to greater things just by owning it.
Color: black, cognac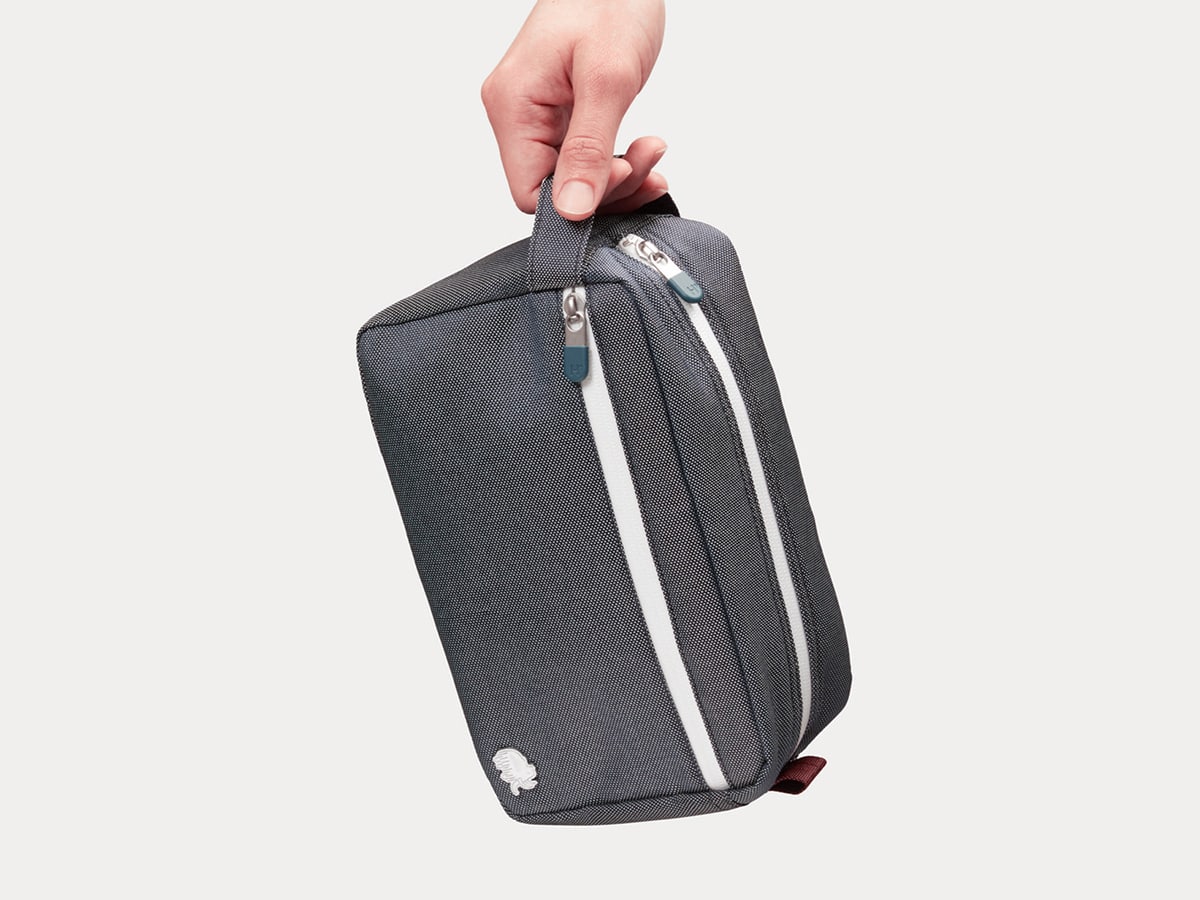 26. Harry's Travel Kit
Harry's Shave Club has achieved remarkable success by pairing quality and affordability, and their travel kit syncs right in with that overall agenda. Unfettered in both concept and design, the bag is big enough to fit all your toiletries, and water resistant both inside and out.
Material: durable, tear-resistant fabric
Size: 5.25″(H) x 9″(W) x 4″(D)
Price: $20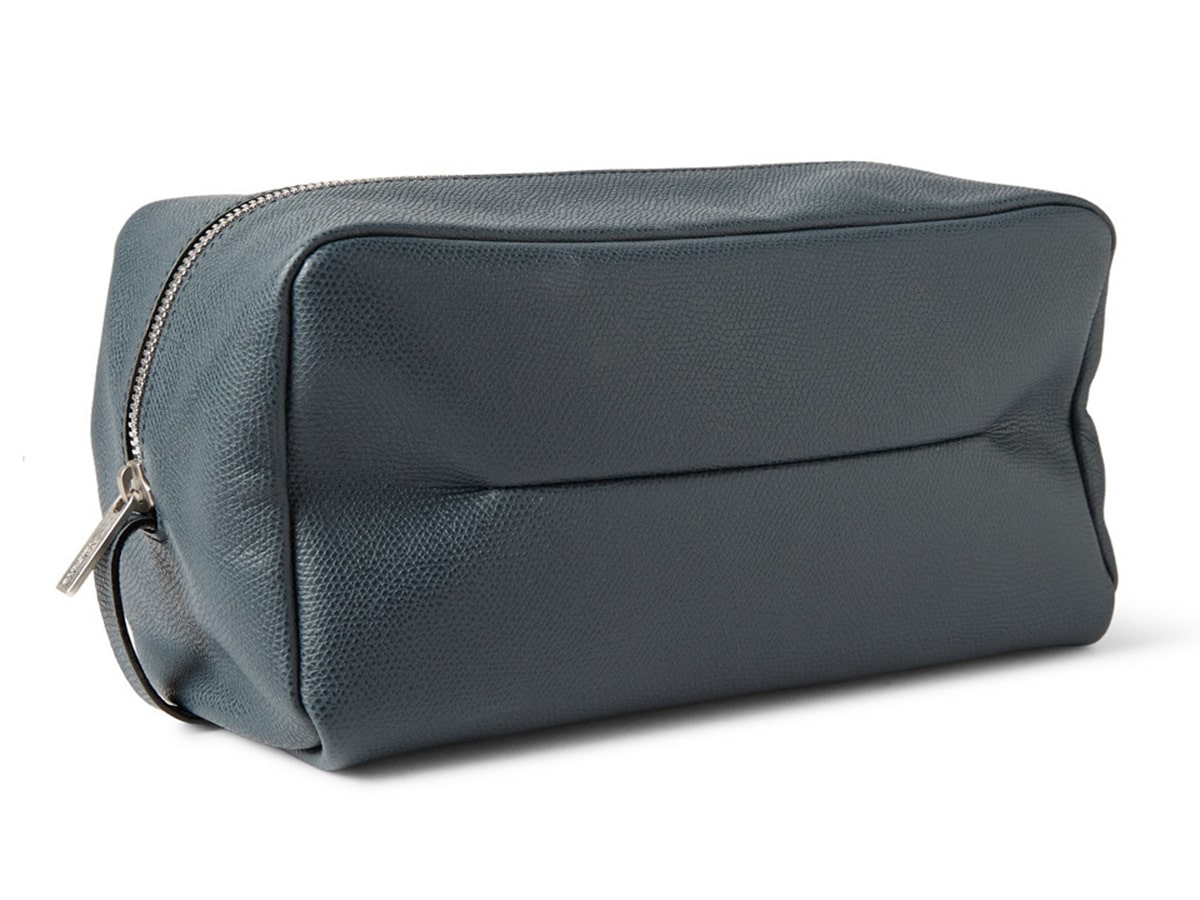 27. Valextra Small Pebble-Grain Leather Wash Bag
When it comes to materials, luxury brand Valextra spares no expense. Accordingly, this top toiletry bag for men was made from Italian pebble-grain leather that's second to none. Use the bag to store your grooming and hygienic products or just walk around showing it off–either way it's a winner. If green is your colour then this is your bag.
Material: pebble-grain leather
Price: from £515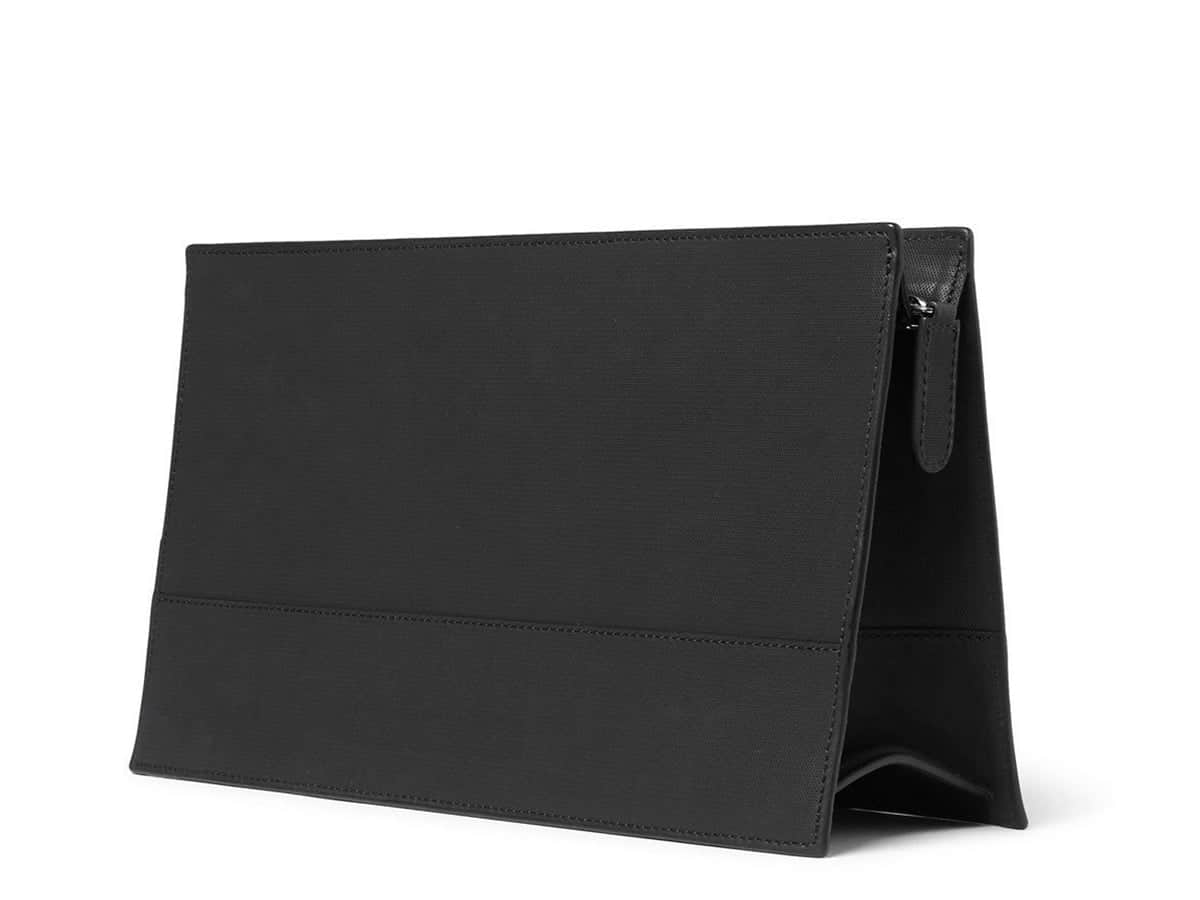 28. Bamford Grooming Department Perforated Leather Wash Bag
The epitome of sleek, this perforated leather wash bag from Bamford Grooming Department was made in Spain and designed to fit all your essentials. Internal zipped pockets, a streamlined rectangular shape and clean black profile give this incredible men's dopp kit an irresistible allure. Those who can afford it should accept nothing less.
Price: £395
Check it out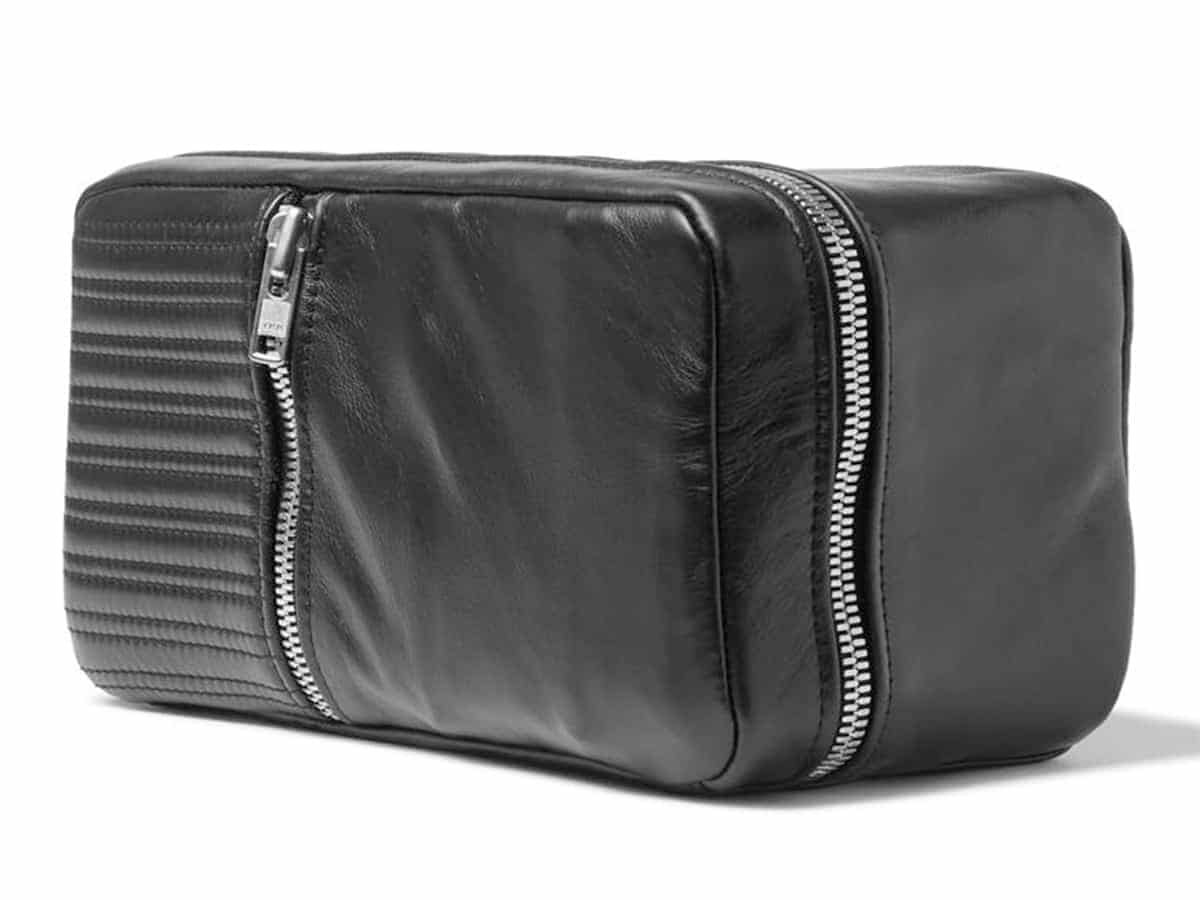 29. Patricks Quilted Leather Wash Bag
Oh, Patricks, you had us at "Quilted Leather". Needless to say, this is one heck of a men's toiletry bag. That dreamy black leather and quilted detailing is joined by antibacterial (and easy to clean) Alcantara lining. Meanwhile, a supremely economic design and soft construction allow the bag to fit pretty much anywhere. This one is limited time only, folks, so get it while you still can.
Color: black
Material: black leather, antibacterial Alcantara-lined interior
Price: $850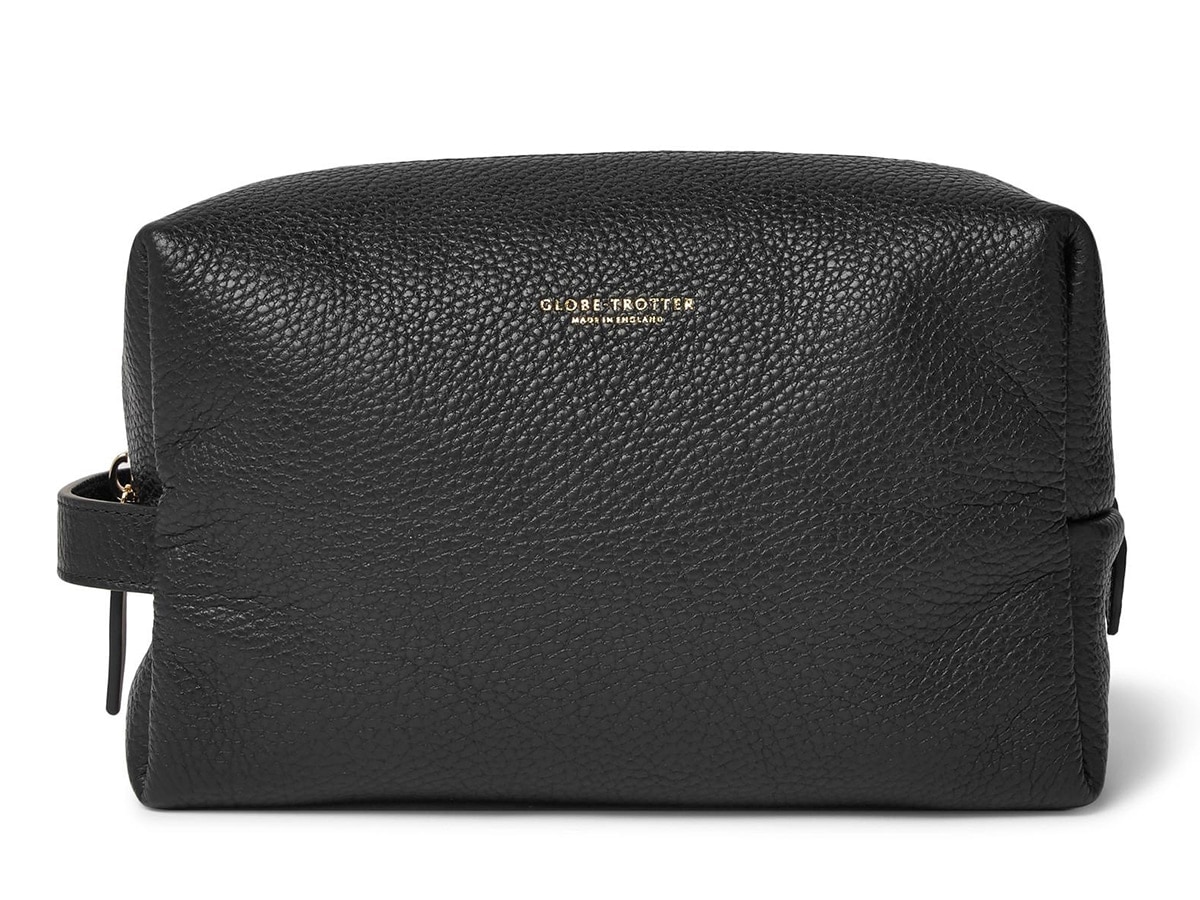 30. Globe-Trotter Propellor Pebble-Grain Leather Wash Bag
Featuring a compact "Propellor" design, Globe-Trotter's toiletry bag is shaped to adapt when the space gets tight during travel. Prime pebble-grain and bridle leather adorns the outside. On the inside, rigorous navy herringbone lining can withstand leaks and spills. Take this baby and go.
Material: pebble-grain leather
Price: $76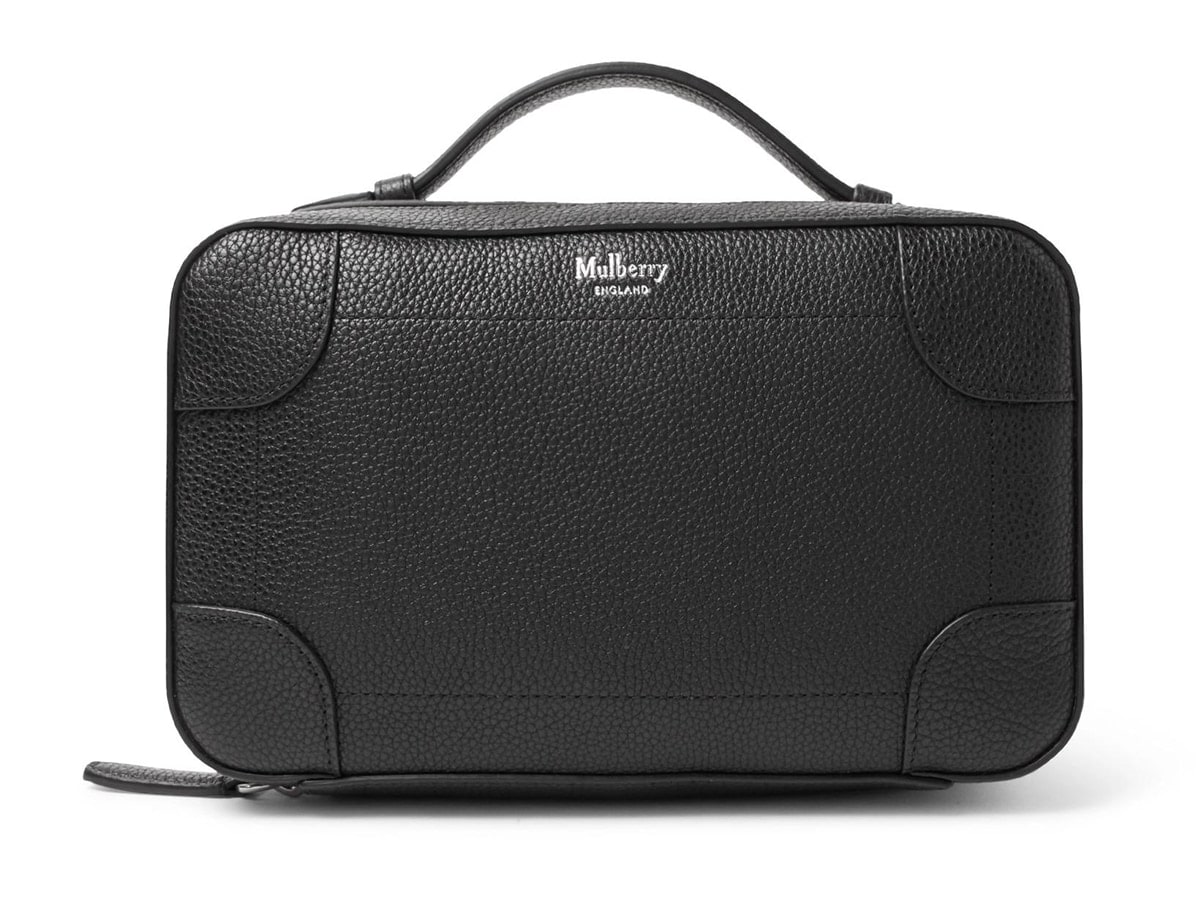 31. Mulberry Belgrave Pebble-Grain Leather Wash Bag
Capping off our list of the best dopp kits and toiletry bags for men is another black pebble-grain stunner. Painstakingly resilient and effortless to clean, the Belgrave Leather Wash Bag from Mulberry is organised into two compartments so your things won't get jumbled during transit. Making this legendary bag all the more practical are mesh pouches for the smaller stuff. This one's a bona fide beauty!
Material: pebble-grain leather
Price: $425
You'll also like:
What grooming products should every man own?
5 Tips to Carry Items & Travel with Ease
Men's "Must Have" Travel Essentials
General FAQ
What is a men's toiletry bag called?
It's usually called a dopp kit to store grooming supplied.
What is a dopp kit?
Dopp kit is primarily used in the US to describe toiletry bags. The name is derived from the early 20th-century leather craftsman Charles Doppelt, whose company designed the original toiletries case in 1926.
What is the best mens toiletry bag?
One of the most versatile toiletry bags for men is the State Bags Bensen Dopp Kit.
---
Featured Video from Man of Many