Star Wars R2-D2 Instant Pot Duo 6-Qt. Pressure Cooker
There was always a little droid that everyone could count on in the Star Wars Movies. Regardless of the situation, R2-D2 always found a way to pull it through for the team. Now you can count on the droid when it comes time to feed your family with the special edition Star Wars Instant Pot Duo 6-Qt. Pressure Cooker made to look like R2-D2.
Instant Pot has gained a lot of notoriety for its ability to streamline meal prep using an advanced microprocessor that speeds up cooking time two to six times all while using 70 percent less energy. With an Instant Pot, you can do up to seven different cooking functions—everything from pressure cooking to sautéing to slow cooking to making yogurt. The Instant Pot works as a pressure cooker, slow cooker, rice cooker, steamer, sauté pan, yogurt maker, and warmer. The pot features 13 built-in programs for making soups and broths, meat and stew, bean and chili, poultry, slow cooking, sautéing, rice, multigrain, porridge, steam, yogurt, warming, and pressure cooking. Instant Pot also comes with an app that includes access to over 1,000 recipes, tips, and more. The Instant Pot comes with a stainless steel steam rack with handles, a condensation collector, a rice paddle, a soup spoon, and a measuring cup.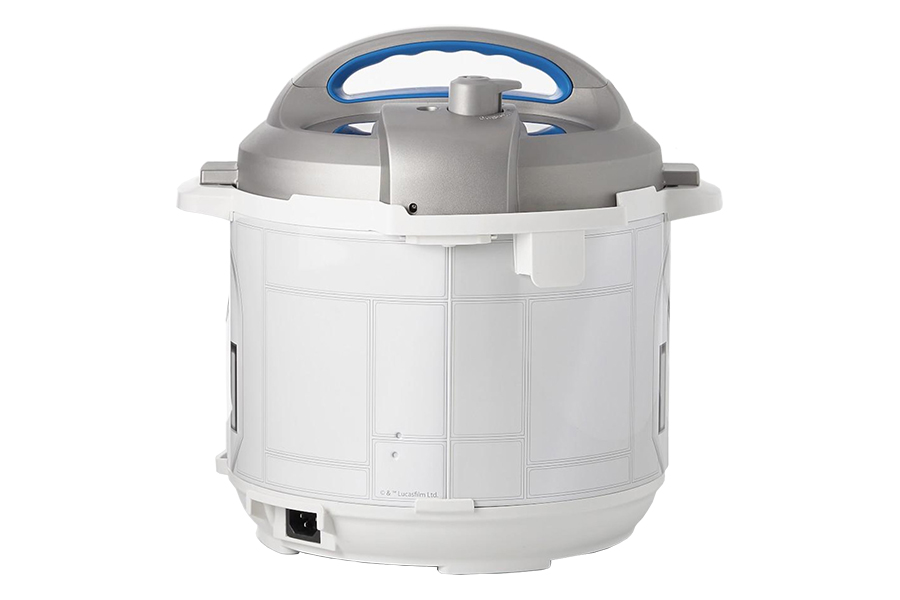 This particular Instant Pot comes decorated in R2-D2's iconic white and blue colors. The digital display and control unit easily doubles for R2-D2's, while the blue bands and highlights are unmistakeably those of the famous droid. Williams Sonoma is offering a few other themed Instant Pots to accompany the R2-D2 version. In the six quart version—the same as the R2-D2 Instant Pot—you can also pick up a Darth Vader or Storm Trooper themed version. Each sells for $99.95. In the smaller Duo Mini three quart Instant Pot, you can get a BB-8 version for $79.95. The Star Wars Instant Pot Duo 8 quart version comes with a Chewbacca look and sells for $119.95. These custom pots also come with custom recipes—Darth Vader's Beef Stew, BB-8 Shrimp Pasta, Dark Side Deviled Eggs, R2-D2 Rotisserie Herb Chicken, and Chewie's Chilli. The Star Wars themed Instant Pots are set to arrive in stores on December 13.