19 Home Bike Racks & Bike Hangers To Make Your Bicycle a Work of Art
If you're a cyclist living in the big smoke, you're likely familiar with the problem of finding space to store your beloved bicycle. Enter the trusty home bike hanger or bike rack. But not just any home bike rack. You want a home bicycle rack or bike wall hanger that's both functional and aesthetically sound. As you might be aware, that can be rare combination when it comes to home bike racks. The good news is that we've done the searching for you. Here are our top 19 Home Bike Hangers & Racks to Make Your Bicycle a Work of Art.
You'll also like:
Harley-Davidson Unveils its First Ever e-Bike
Artifox's Modern Table is Minimalist Furniture At It's Best
10 Vintage Motorcycle Helmets For Retro Inspired Style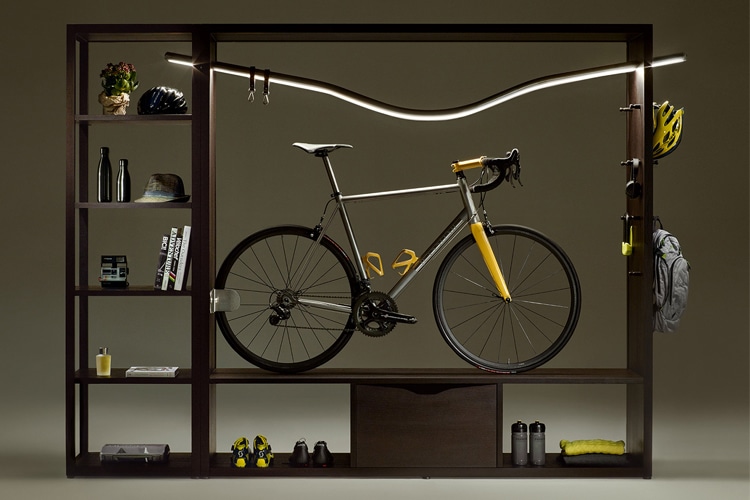 1. Vadolibero Bike Shelf
This massive home bike rack compensates for the lack of furniture in your bachelor pad. With customizable drawers and shelves, it stores all of your bike accessories. The included clothes rack doubles as an LED light, adding an alluring glow to your parked bicycle.
Material: birch blockboard, satin stainless steel LED lamp, 6 solid oakwood poles, satin stainless steel wheel clamp, 2 leather hooks
Specs: height 200cm; width 200cm; depth 60cm
Color/Finish: oak black, brown, oak natural, walnut Canaletto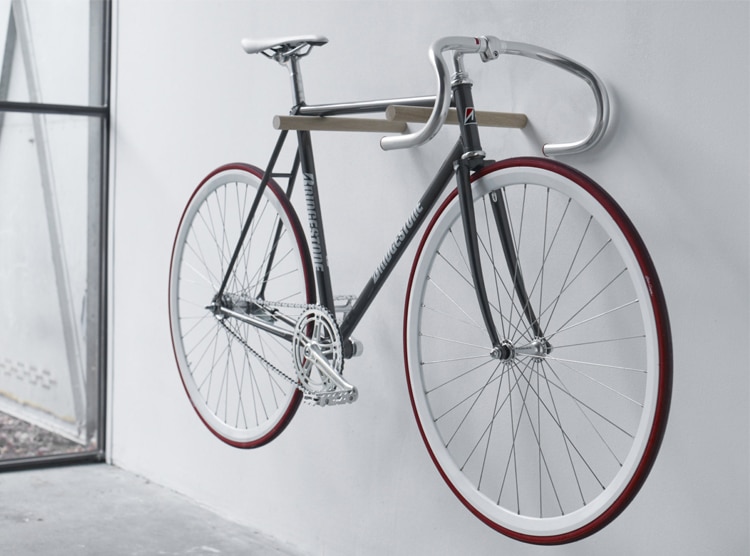 2. Fluo Wooden Bike Hook
Two plain oak hooks instal into concrete, masonry, or brick walls to create a stable home bike hanger of formidable functionality. The kit includes hooks and shelf supports with the dowels you'll need to transform your wall into a space-saving bike haven.
Material: plain oak wood
Specs: length 32cm; diamter 3cm
Price: from AU$122.91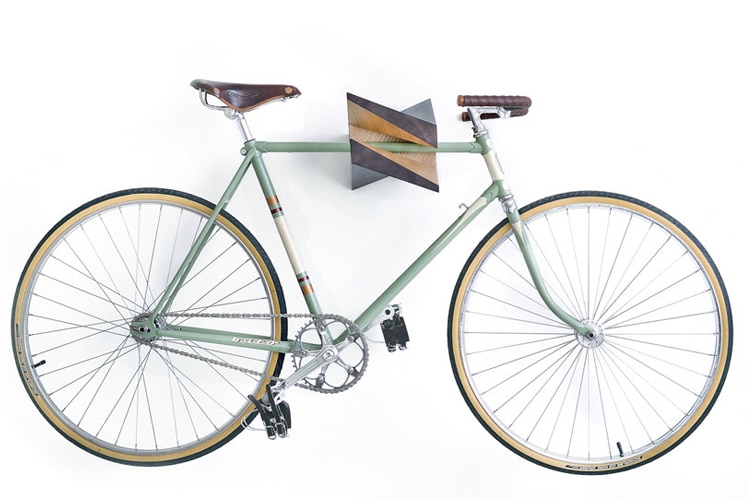 3. "Iceberg" by Woodstick Ltd.
This home bike wall hanger looks more like a sculpture than a functional holder of your 10-speed. But rest assured, the combination of oak wood and birch creates a durable home bicycle rack. Choose between brown oak/chestnut or cold black oak/chestnut burl to match your existing decor.
Material: wood, oak, birch, chestnut
Specs: height 8.7 inches; width 8.7 inches, depth 14.2 inches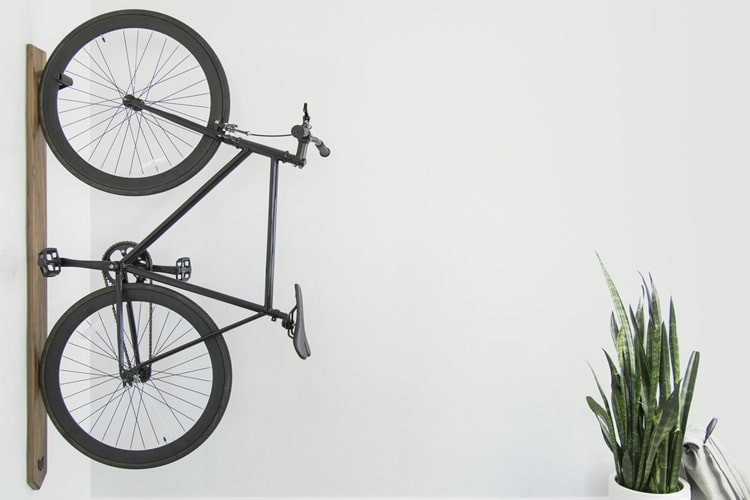 4. Artifox Black Walnut Rack
Defy gravity and store your cycle vertically with this black walnut home bike rack. A solid hardwood construction and powder coated steel ensure that it can hold nearly any size or style of bike. The small hook at the top holds the bike in place.
Material: solid hardwood, powder coated steel, rare earth magnets, leather
Specs: length 64 inches; width 3.5 inches; depth 4.5 inches
Color/Finish: walnut, white oak, black
Price: $199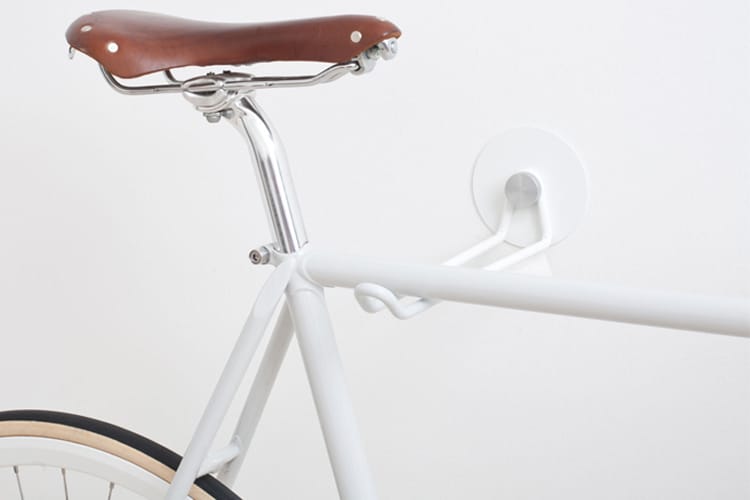 5. Alexa Lethen Bike Hook
The great thing about this home bike rack is that it is removable. That's right, when you're not using it, you can take the hooks off of the knobs that attach to the wall so you don't accidentally decapitate yourself walking across the room. The bent steel wire can hold up to 15 kg.
Material: bent steel wire, handsewn leather pads, , white steelpads, sold brass knobs
Specs: up to 15kg
Color/Finish: white with cognac leather coverings, gray yarn
Price: from AU$203.14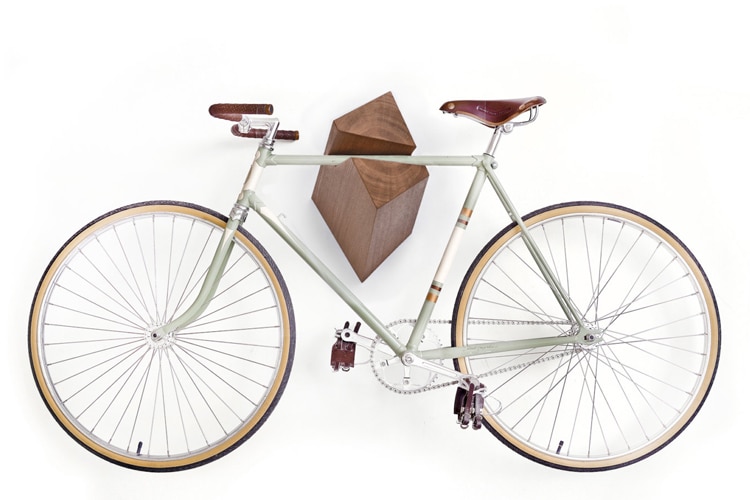 6. "Elk" by Woodstick Ltd.
Love random hunks of wood? Then you'll love this oak wood bike hanger that comes in either brown or natural. Give your apartment that rustic feel with this rack that only requires three screws to install on any wall type.
Material: wood, oak wood
Specs: mount diameter 5.5 inches; height full/back: 20.5/15.0 inches; width 13.4 inches; depth 13.8 inches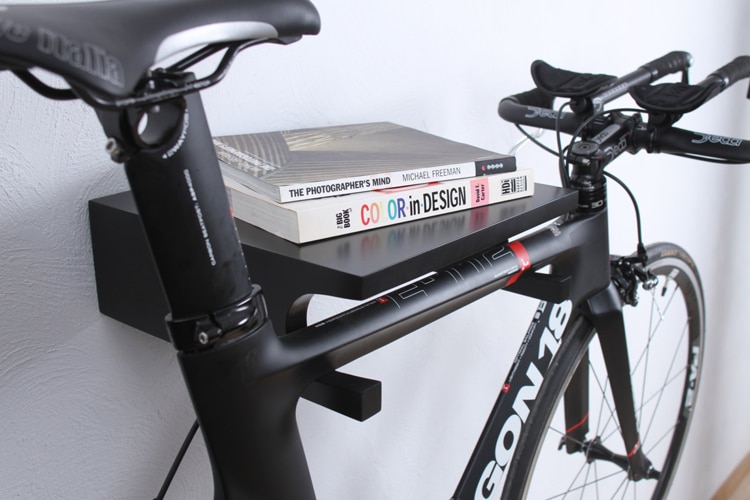 7. Twonee Berlin
Keep your MTB, BMX, and other wide frame bikes secured with this wooden home bike rack. It doubles as a functional shelf, making it perfect for books or other knickknacks. A strong ash construction means this rack can manage bikes up to 18 kg.
Material: 100% natural ash wood
Specs: length 34.5cm; width 34.5cm; height 34.5cm
Color/Finish: natural, white, black, blue, gray
Price: from AU$125.96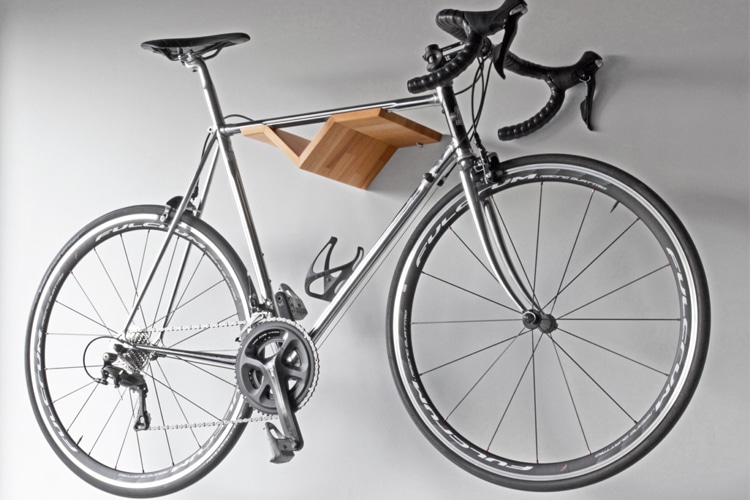 8. Velo Cabinets VII
Not such a handyman? This bike hanger only requires two holes to install and includes all the materials you need. Its modern design looks ultra-chic on your wall, which might even impress the ladies and distract them from the rest of your mess.
Material: laminated Beech Timber
Specs: width 35.5cm; depth 28cm; height 11cm
Price: AU$134.86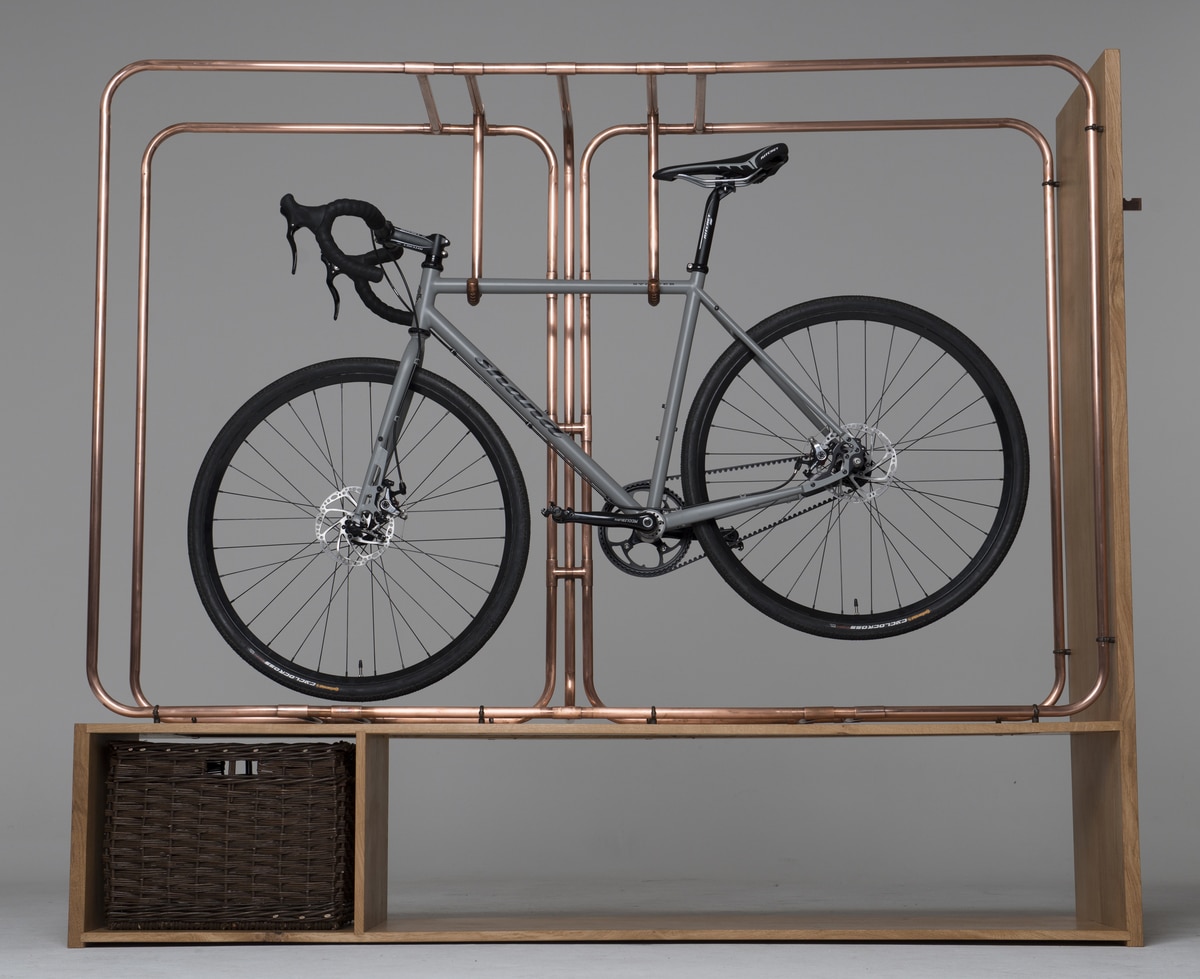 9. Method Stasis
Not for the faint of heart, this home bike rack needs its own room to sit in (it was made for a museum). The massive structure is made entirely of copper and took 30 hours to complete. We're pretty sure this will cost more than your bike, so just keep on dreaming.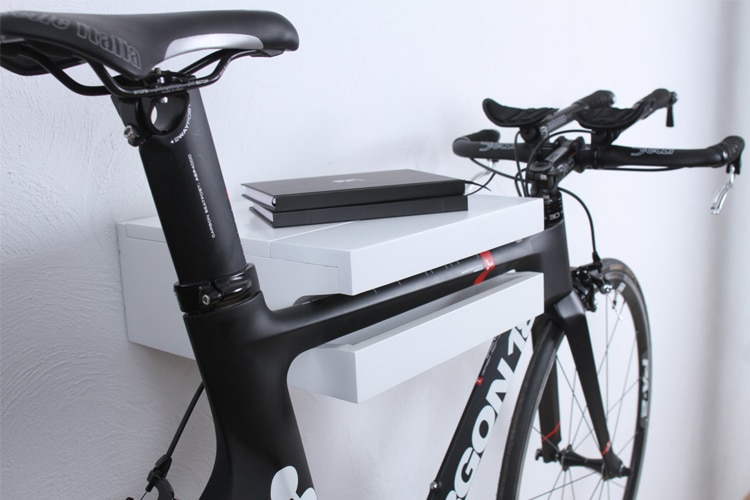 10. Twonee Amsterdam
Just looking for a simple white bike hanger without bells and whistles? This ash bike holder is it! It can hold up to 20 kg and fits bike frames up to 54 cm wide. Installation is a snap, as it only requires three dowel nails to hang securely.
Material: 100% natural ash wood
Specs: length 34.5cm; width 34.5cm; height 13cm
Color/Finish: natural, white, black, blue, gray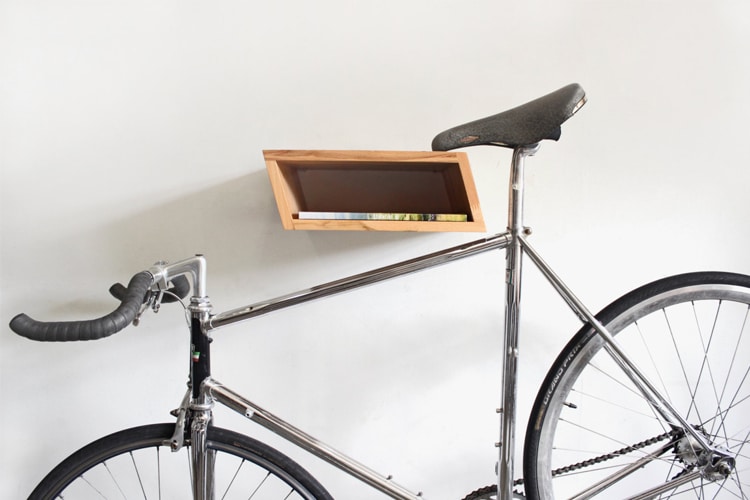 11. Velo Cabinets VI
For the guy that likes to accessorize his bike, this crafty wooden shelf helps you keep everything organized. Shove your gloves and pump safely inside the beechwood cabinet. A rounded slot on the top of the box keeps your bike in place.
Material: solid beech timber
Specs: 363 x 130 x 280 mm / 3 kg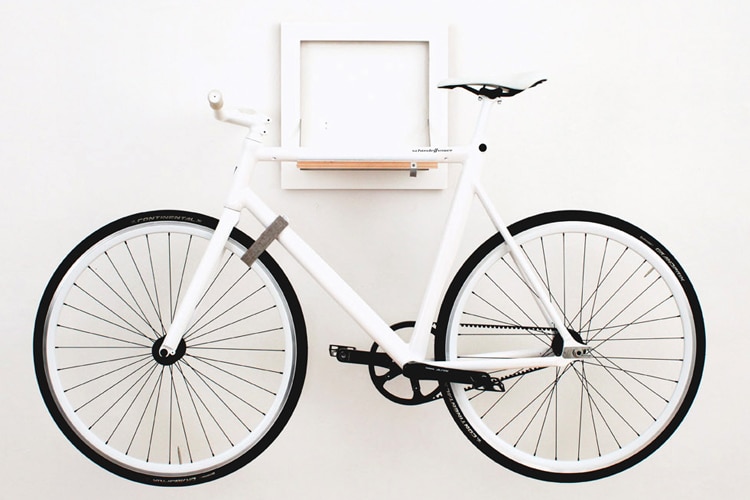 12. Mikili SLÎT
If you're still dubious about a home bike rack taking up too much space, your fears can now be quenched. This cleverly designed rack folds up when not in use to be nearly flat against the wall, preventing accidental bumps and bruises.
Price: €225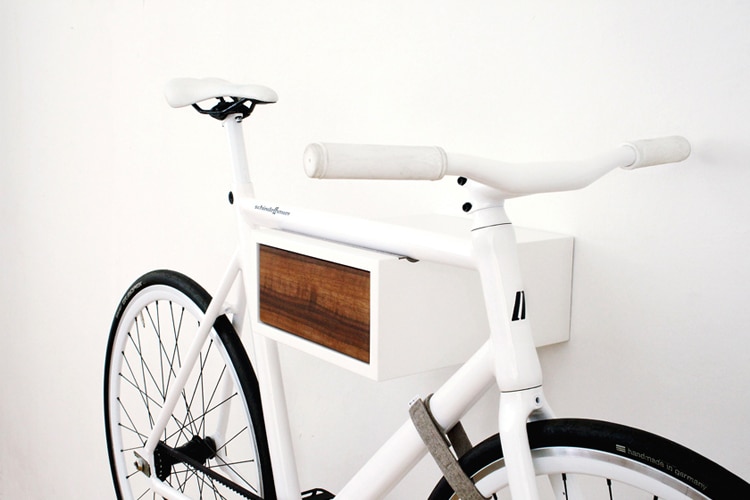 13. Mikili TÎAN
At first glance, this bike hanger is just a box attached to your wall. It is only upon closer inspection that you'll see the recessed felt overlay that securely keeps your bike in place. Combined with the storage drawer, you can't beat the simplicity and function of this MDF bike rack.
Price: €345

14. Mikili KAPPÔ
While it might look like it was made by someone who doesn't understand what a rectangle is, this home bike rack is actually one of the best inventions ever. It keeps your bike safely elevated while also providing storage for your helmet and magazines.
Price: €225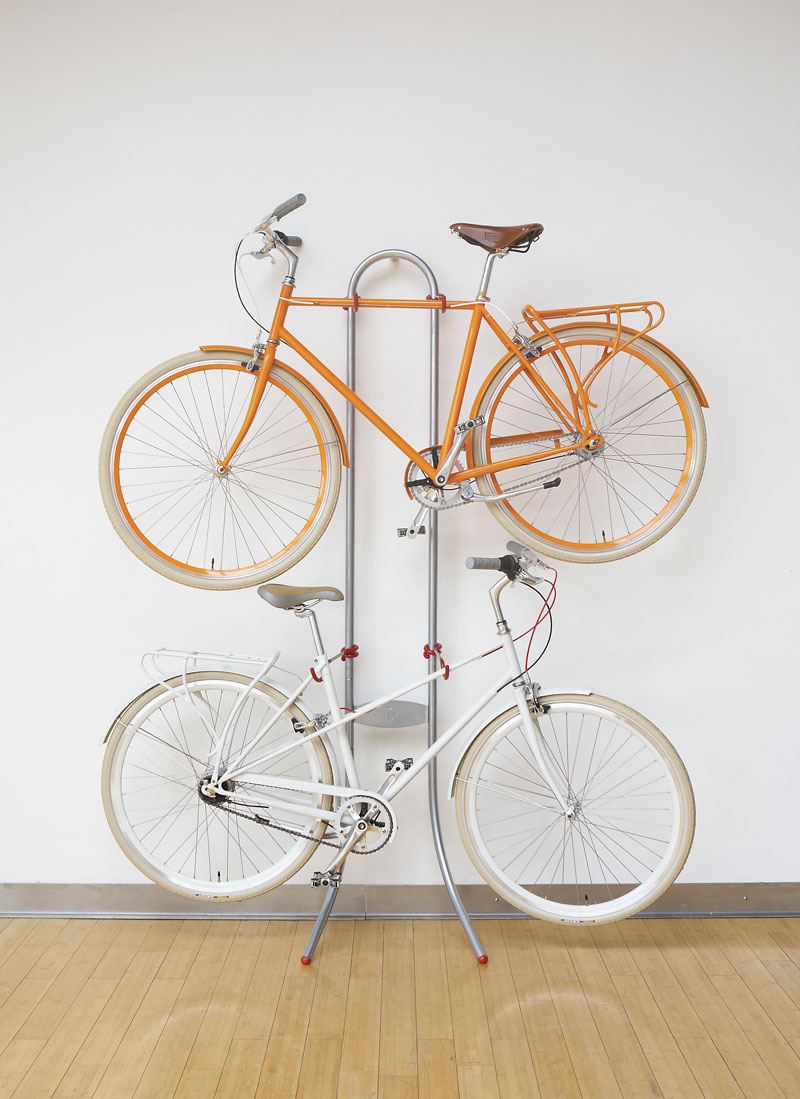 15. Michelangelo Two Bike Gravity Stand
For those with more than one bike in their collection, you'll require this nifty two-bike stand. The best part about this stand is… no installation! Just lean it against the wall and let gravity take over from there.
Specs: 84 x 20 x 16 inches; max load 35kgs
Price: from $54.99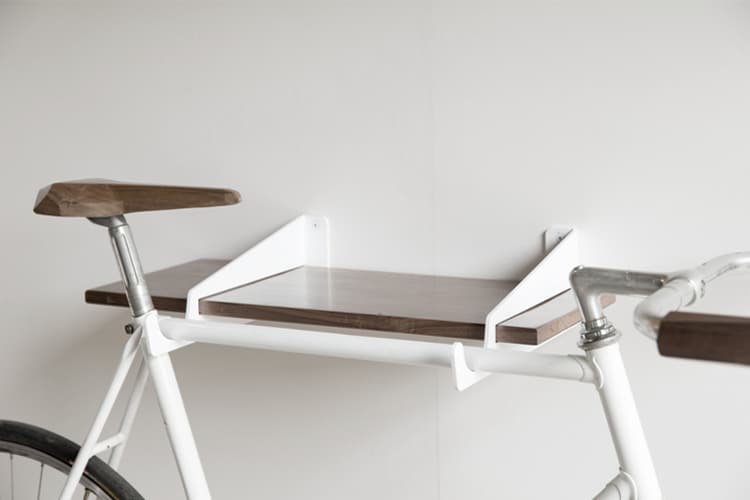 16. Quartertwenty Velo WallStirrups
Not ready for some crazy wall contraption? Stick with the simplicity of this home bike rack. It combines a maple plywood shelf and one pair of brackets to create a simple way to display your bike.
Material: metal, wood
Specs: approximately 10.375″ clearance; 75lbs.
Color/Finish: white, black
Price: from AU$209.93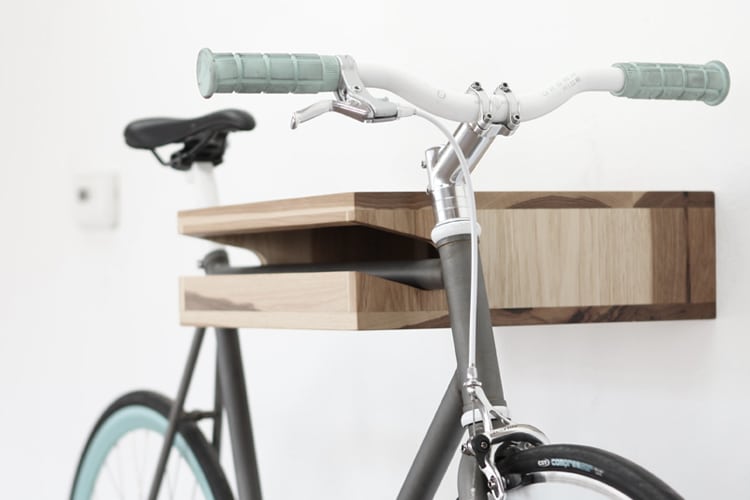 17. Knife & Saw Bike Shelf
Woodgrain shines through beautifully in this hollow bike shelf. Choose from a walnut or white oak construction depending on your preferences. This home bicycle rack also comes in small and regular sizes depending on how big your bike is.
Material: solid walnut, solid white oak
Price: from $299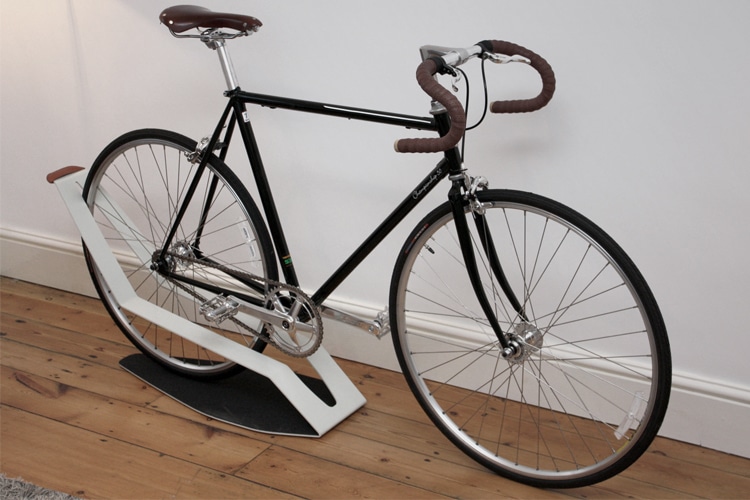 18. Quarterre Shadow
If you're afraid of poking holes in your wall yet you still want a bike holder, compromise with this metal bike stand. Crafted from a single sheet of folded steel, it basically works just like the bike stand you see at the park but looks a lot better.
Material: powder-coated steel, leather trim, skateboard-style grip tape
Specs: height 580; width 340; depth 1065
Color/Finish: flat white
19. Quarterre Hood
The modern look of this folded steel bike stand makes it perfect for those with a stylish eye. The bike sits securely underneath the shelf on a layer of leather trim, leaving the top open for stacking books or a helmet.
Material: powder-coated steel, leather trim
Specs: height 335; width 375; depth 365
Color/Finish: flat white
You'll also like:
Burrow Makes the Perfect Couch for a Modern Bachelor Pad
Shelter Desk Can Organise Your Home Office
10 Vintage Motorcycle Helmets For Retro Inspired Style