12 Best Everyday Carry Flashlights
What makes for the best flashlights for everyday carry? Well, brightness for one. But also resilience, efficiency, adjustability, compactness and battery life. Indeed, with one of these top flashlights at your disposal, the outdoors won't be able to hide at night from the swath of luminosity you cast upon it. After all, who knows what's lurking in the woods just beyond your backyard or campground? Don't leave it to chance, and grab yourself one of the 12 Best Flashlights for Everyday Carry instead. You wouldn't want to be stuck in the wilderness with anything less.
This article is part of our Technology of Today series.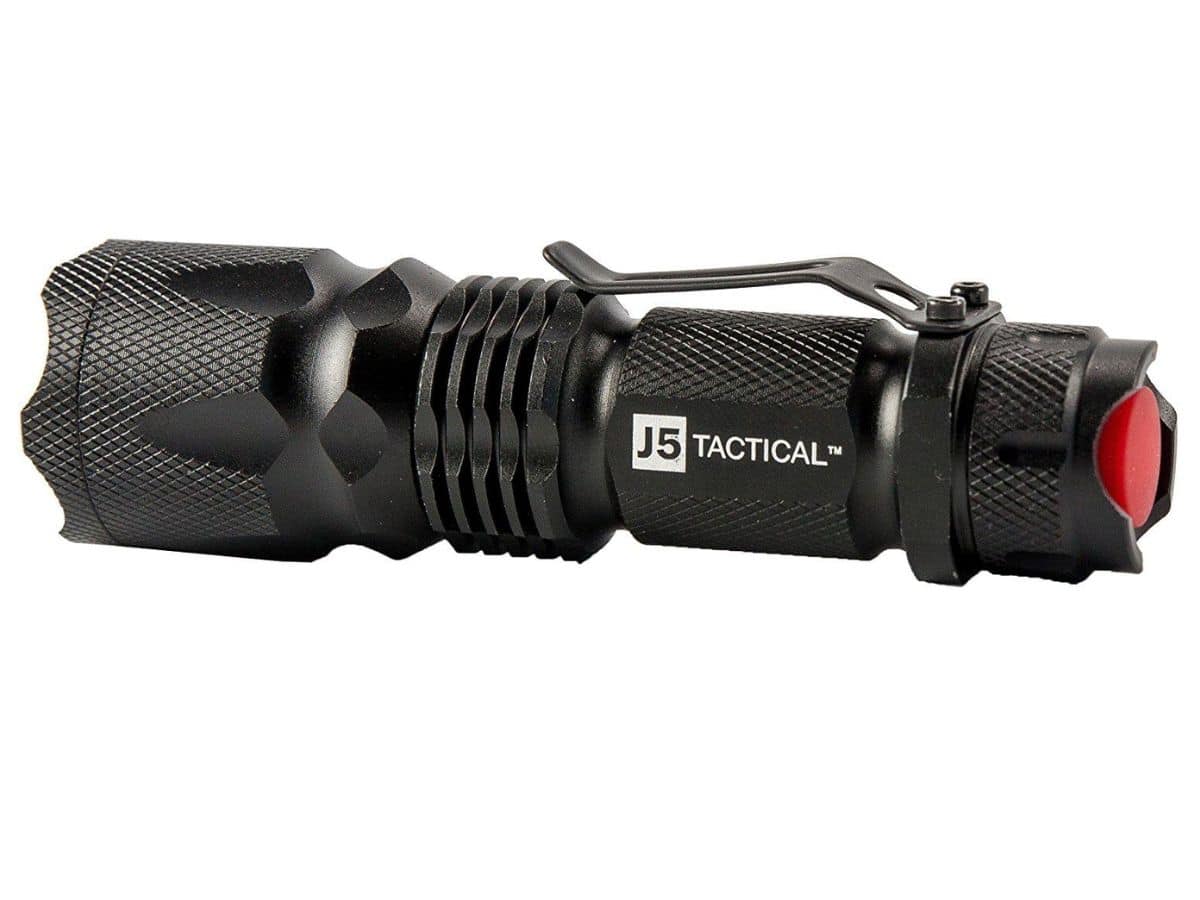 1. J5 Tactical V1-PRO Flashlight
Ultra-bright and ultra-lightweight, the J5 Tactical V1-PRO Flashlight packs all sorts of power inside a brilliantly small package. Bolstered by 300 lumens, this compact stunner provides enough light to cover two football fields on a clear night. All it takes is a single AA battery or a 14500 rechargeable battery to get this top flashlight going for hours at a time. That's joined by rugged, water-resistant construction, making this great flashlight resilient in the face of rain and snow alike. The J5 Tactical's build is in fact so tough that some reviewers have claimed to run it over with a truck and not cause a lick of damage. It's no wonder that this sturdy, black beast tops our list of best flashlights!
Notable features: 3 different modes; water resistant; Super Bright 300 Lumens
Weight: 2.89 ounces
Material: Aircraft aluminum
Price: from $12.95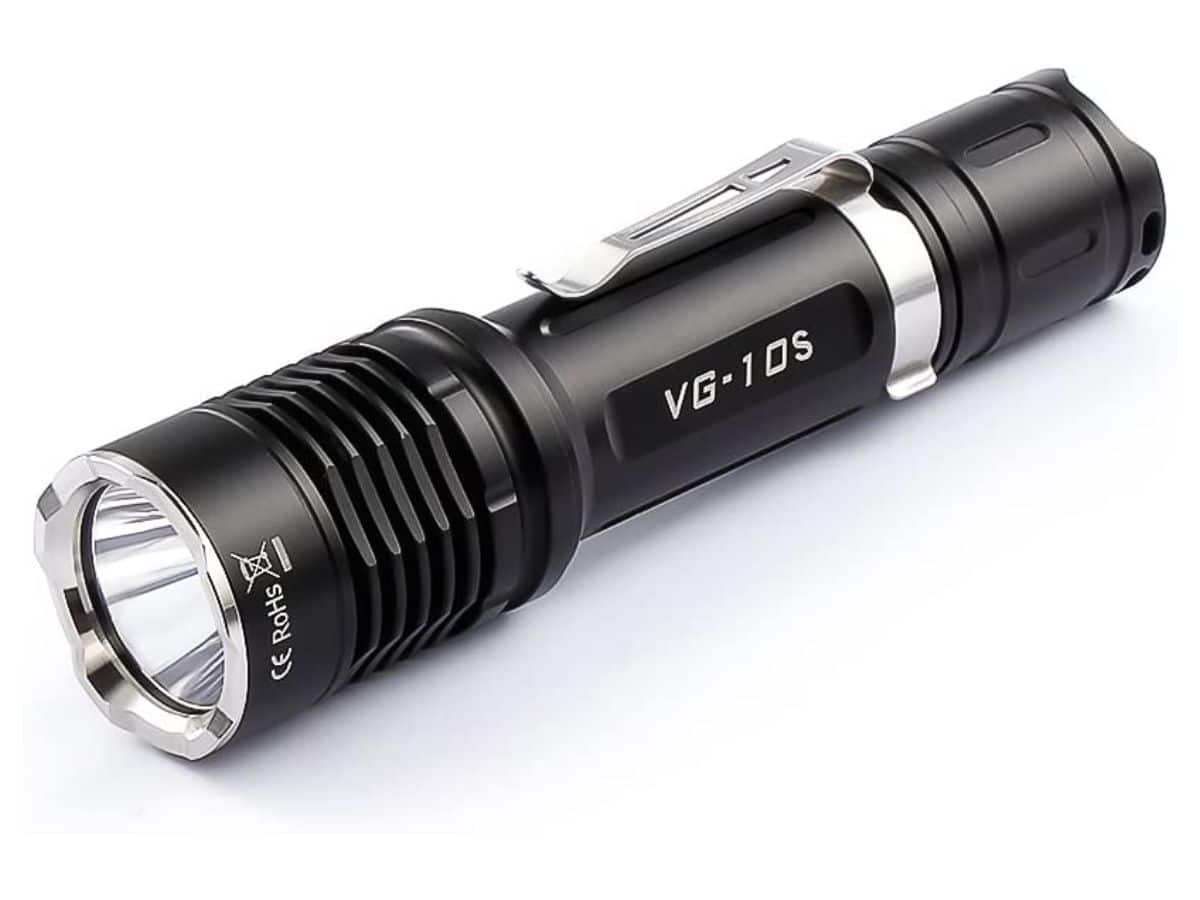 2. ThorFire 1100 Lumen Ultra Bright XPL2 LED Light
Offering a whopping 1100 lumens and no less than five lighting modes, the Thorfire Ultra Bright XLP2 LED Flashlight is accordingly as versatile as it is powerful. Switch between its various modes with the push of a button, and tap twice to activate the strobe light. Not only is this top flashlight good for 900 feet of range, but it hosts an intelligent power saving feature. Throw in a truly durable, water-resistant build of aircraft-grade aluminium, and you're easily looking at one of the best flashlights on the market.
Notable features: 300 Lumens; 5 modes
Weight: 4.6 ounces
Price: from $99.99
---
Featured Video from Man of Many
---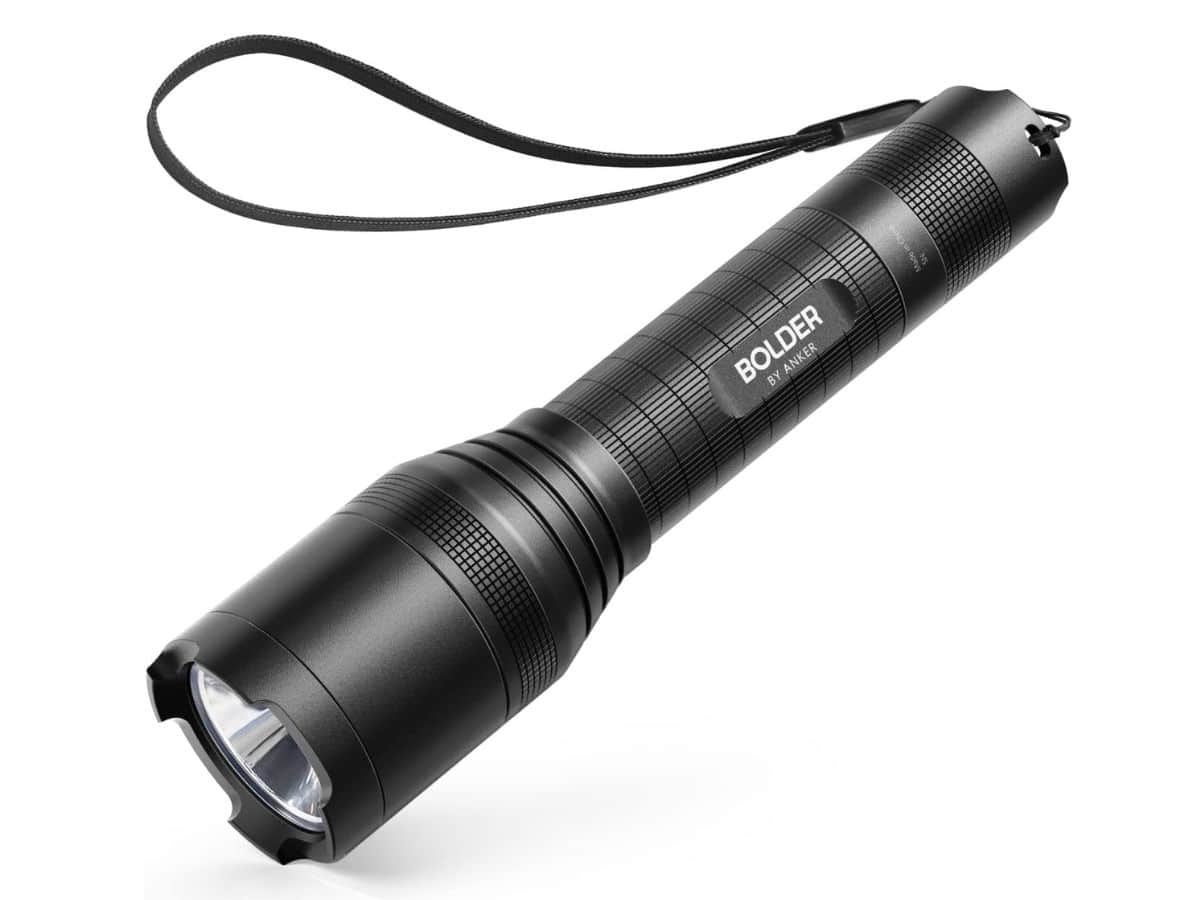 3. Anker Super Bright Tactical Flashlight
If you're idea of a great flashlight is one that remains steady in the face of a monsoon, look no further than the Anker Super Bright Tactical Flashlight. This strong and steady stunner touts a prime water resistant rating of IP65 by way of a trusty, aluminium body. Good for up to 900 lumens, the top flashlight goes for six hours at a time on a single, rechargeable 3350mAh battery. Rounding out its charms are five adjustable settings and a compact chassis with anti-slip finish.
Notable features: 900 Lumens; up to 6 hours (rechargeable battery); IPX5 water resistant
Weight: 6.2 ounces
Material: aluminum
Price: from $42
You may also like:
The 14 Best Everyday Carry Lighters | Man of Many
8 of the Best Bike Multi-Tools for the Rider in You
7 Best Cliff Jumping & Rock Diving Spots in Australia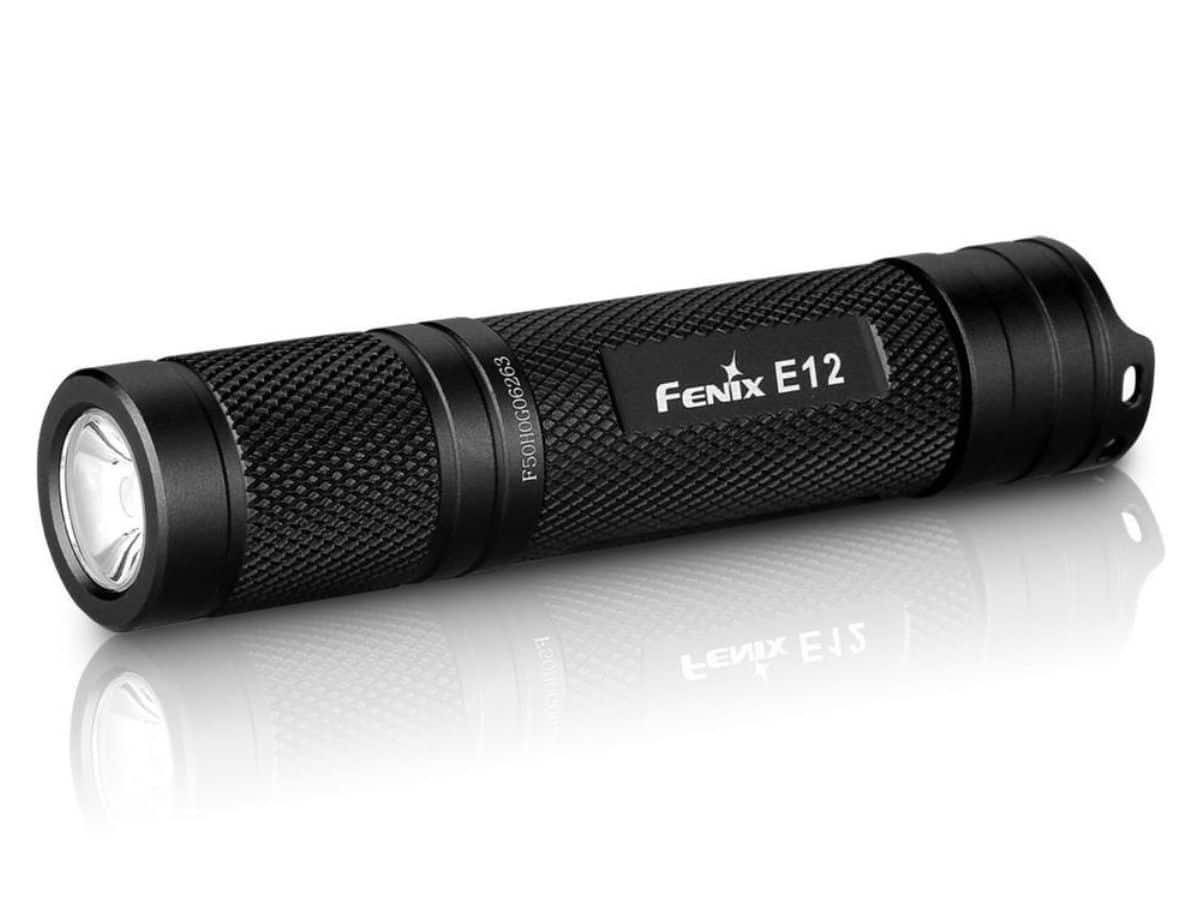 4. Fenix E12 Flashlight 130 Lumens
Cranking 130 lumens of brightness out of a single battery and putting all the action in the palm of your hand is the Fenix E12 Flashlight. This top flashlight is precision-machined out of sturdy aluminium alloy and backed by a lifetime warranty. Enough said.
Notable features: 130 Lumens; 4″ aircraft grade aluminum body; IPX-8 Waterproof
Weight: 2 ounces
Material: aircraft-grade aluminum
Price: from $35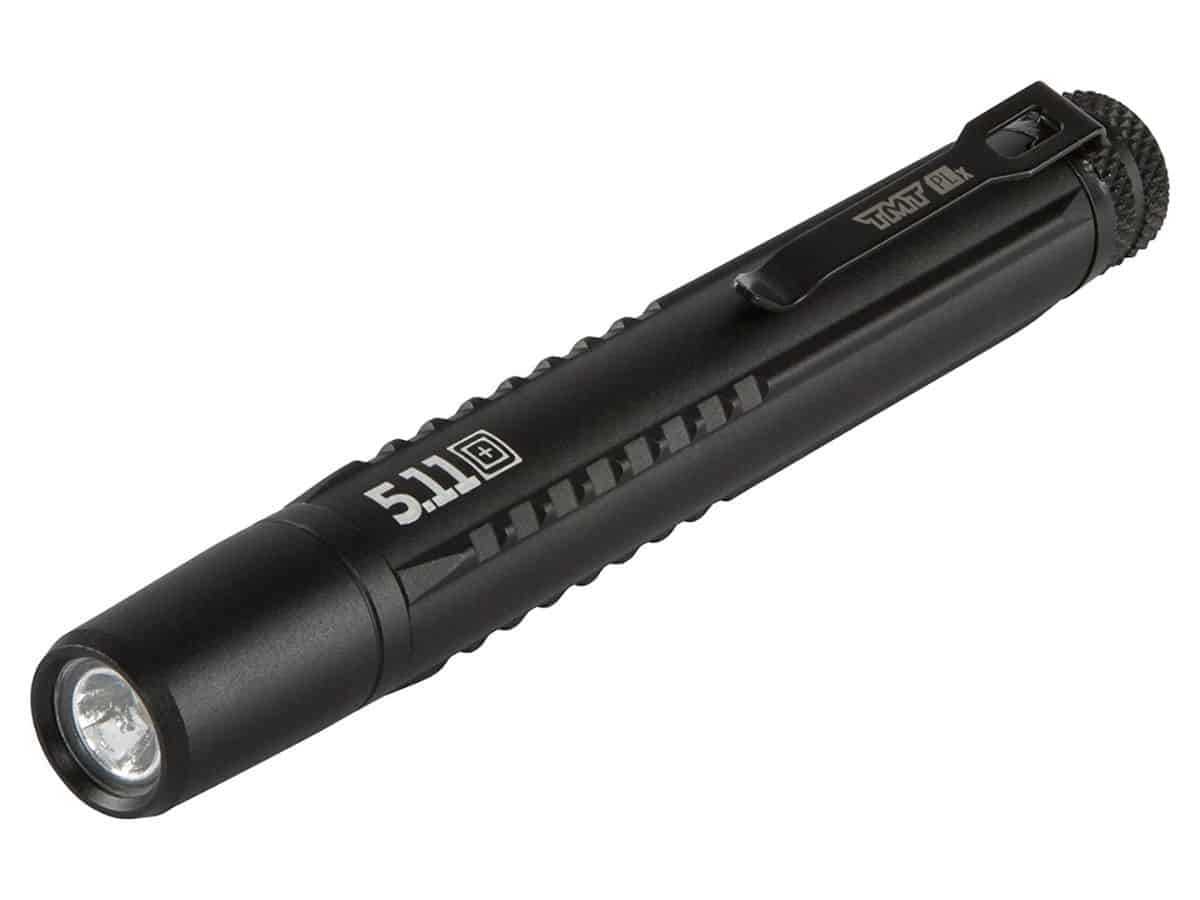 5. Tactical 5.11 Unisex TMT PLx Penlight
Slim, sexy and sturdy, the Tactical 5.11 TMT Plx Penlight delivers water-resistant construction, a stamped metal pocket clip and a 40 metre cone of light. Load this top flashlight up with two AAA batteries, keep it clipped to your shirt or pant pocket, and reap four hours of power out of a single charge. A momentary-on switch makes usability a breeze.
Notable features: 90 lumens; tested to ANSI FL1 standards; impact resistant up to 3 meters
Weight: 3.53 ounces
Material: Aerospace Grade Aluminum
Price: from $29.99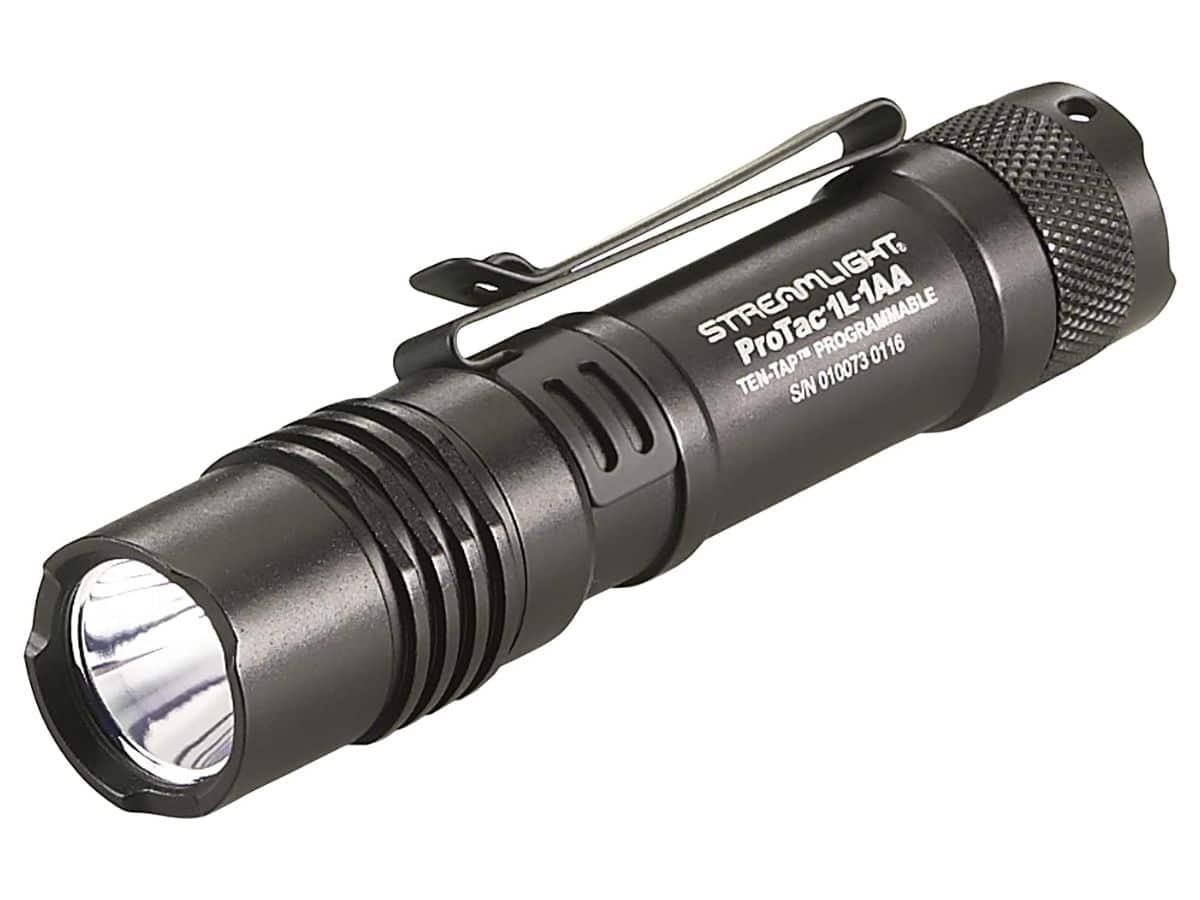 6. Streamlight 88030 ProTac 1L 275 Lumen Professional Tactical Flashlight
Streamlight keeps it simple and straightforward on their ProTac 1L Professional Flashlight. Utilising a 3 Watt super high flux LED, the great flashlight delivers up to 350 lumens and can run a high beam for 1.5 hours at a time. To extend the battery life per use, switch to one of three alternate modes like medium beam, low beam or strobe.
Notable features: 350 lumens; 4-1/2 inch length; IPX7 waterproof
Weight: 2.8 ounces
Material: anodized aluminum
Price: from $41.54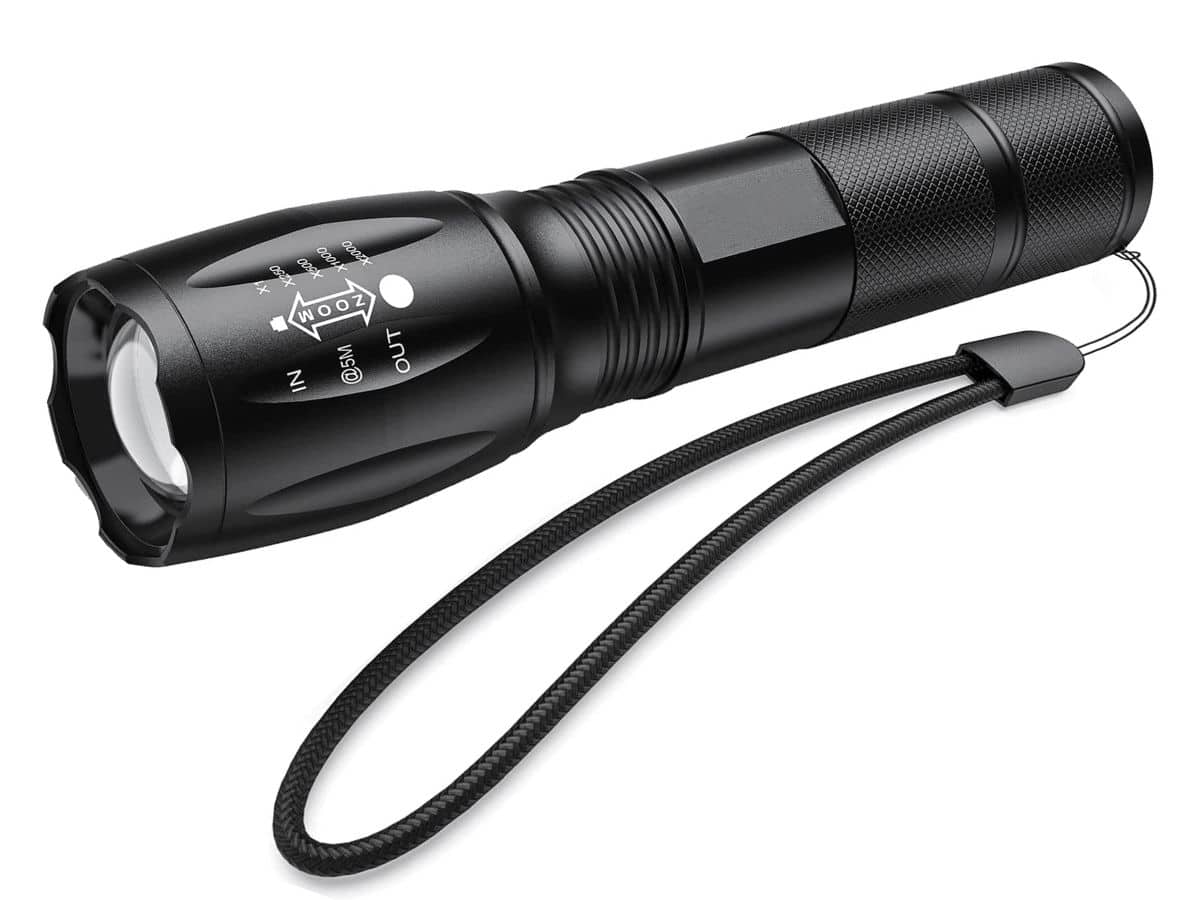 7. Uoline Tactical Portable LED Flashlight
One of the best flashlights for everyday carry, the Tactical Portable LED Flashlight from Uoline is so premium it even comes with its own sleek carry case. Whip this baby out and grant yourself up to 1000 lumens of power, five lighting modes and a superb water-resistance level of IPX6. Sealing the deal is a sturdy carabiner included in every purchase.
Notable features: 1000 Lumens; IPX6; 5 Modes: Hight/Middle/Low/Fast Strobe/Sos
Weight: 5.29 ounces
Material: Aluminium Alloy
Price: from $15.99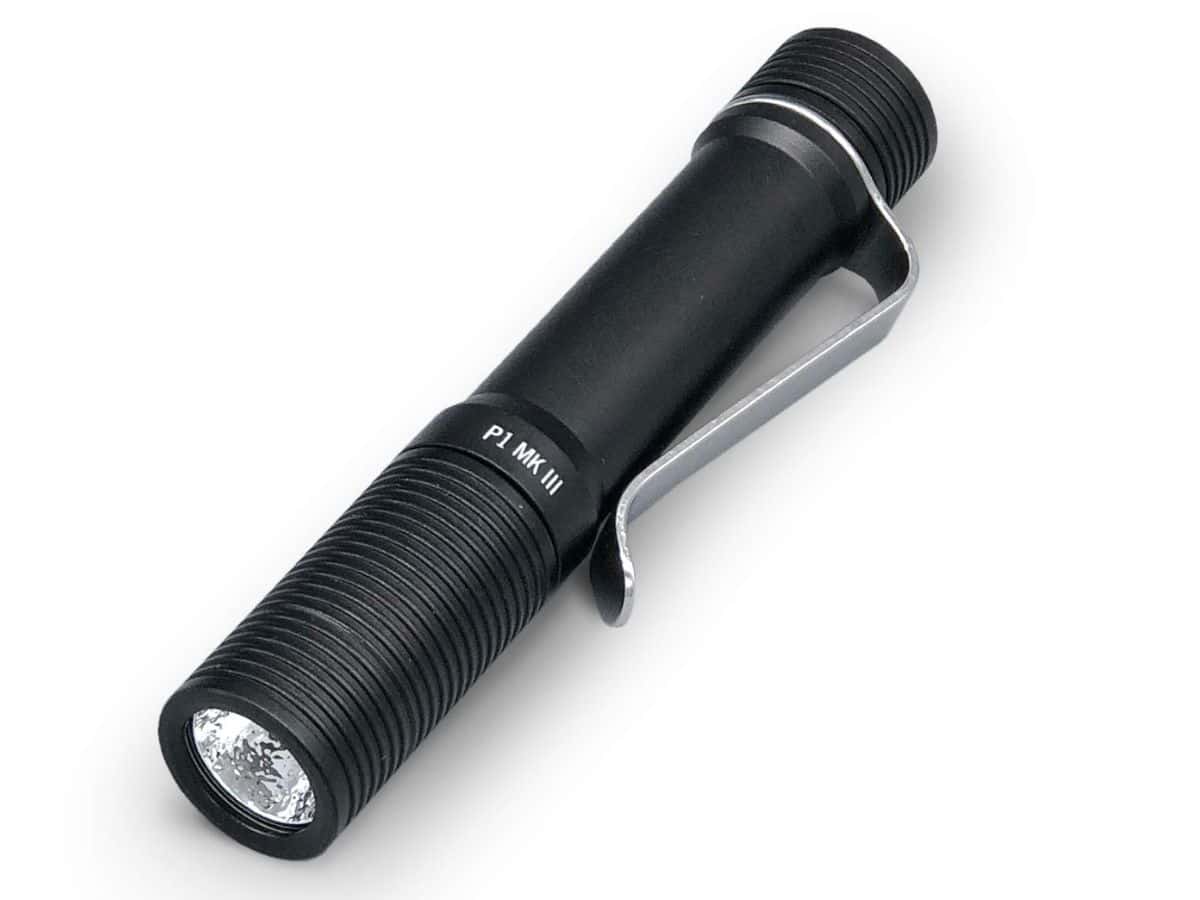 8. Foursevens Preon P1 Flashlight
As soon as we saw the words "best flashlights for everyday carry", we thought of our good friends over at EDC retailer Gallantry.com. Suffice to say, they didn't disappoint. Amongst their epic inventory, you'll find the wildly popular Preon P1 Flashlight from Foursevens. Equipped with a CREE XP-L LED and supported by aircraft-grade anodised aluminum construction, the great flashlight offers two brightness levels and five, reconfigurable modes.
Notable features: 100 Lumens; Strobe, SOS, and Beacon modes
Weight: 17.5 grams
Price: from $55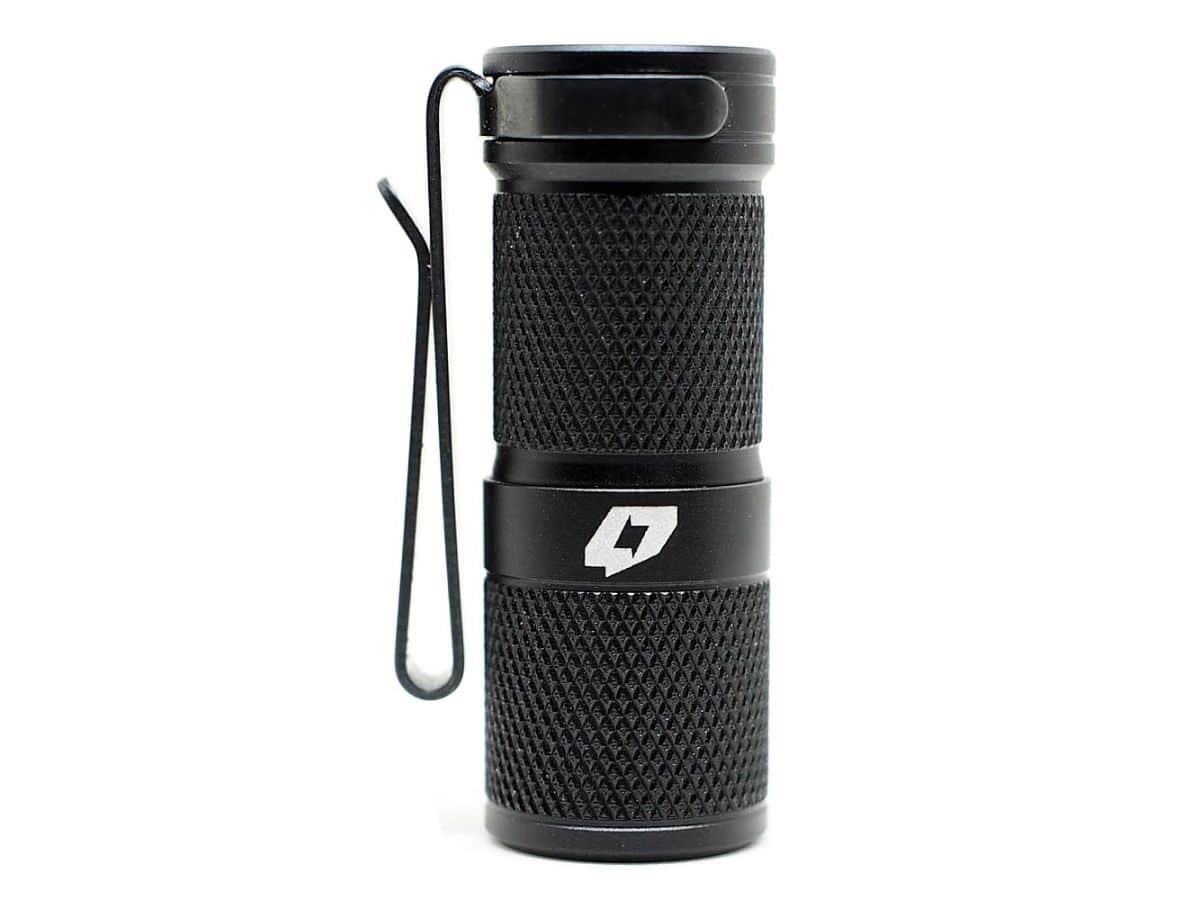 9. Foursevens Mini MK II
If only the most compact flashlight will suffice, accept nothing less than the Mini MK II from Foursevens, their smallest to date. However, don't mistake that bite-size body for a lack in power or choice, whereas the top flashlight delivers up 500 lumens and 6 infinitely reconfigurable modes. The nimble beast also touts a water-resistance rating of IPX8, and can run for up to 465 hours (yes, 465 hours) on a single charge.
Notable features: 500 Lumens; IPX8
Weight: 0.62 ounces
Material: titanium
Price: from $150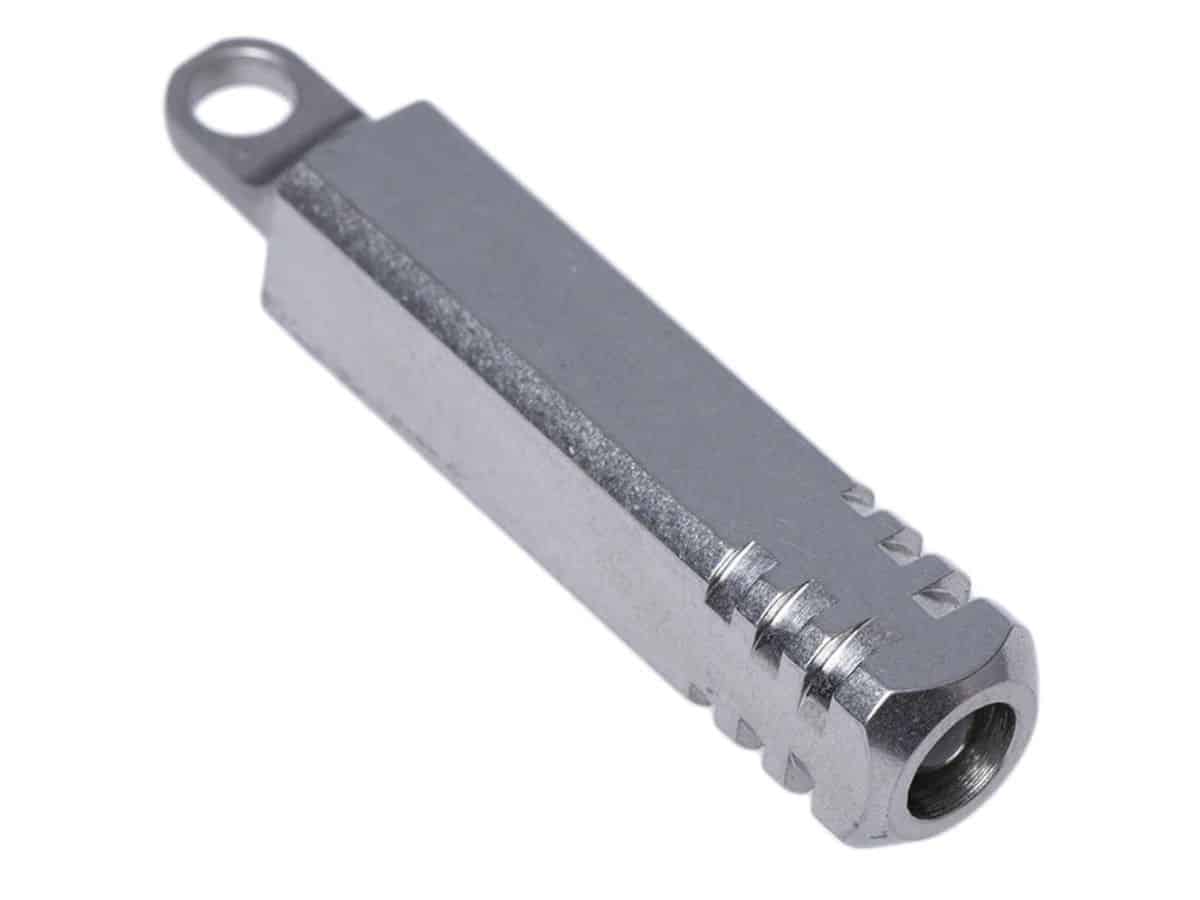 10. TEC Accessories Pixel Titanium Keychain Flashlight
Everyday carry doesn't much more "everyday" than a flashlight that you can clip to your keychain. That and a Grade 5 titanium body make the Pixel Titanium Keychain Flashlight your next pocket essential. In addition to its steadfast build, the top flashlight features one of the best size-to-lumens ratios you can find, delivering up to 25 lumens out of its 1.69″ body. Unsurprisingly, the flashlight is also incredibly light, making it a completely hassle-free accessory that's perfect in a pinch.
Notable features: 25 lumens Nichia Cool White LED; water resistant
Weight: 0.3 ounces
Material: Grade 5 titanium construction
Price: from $37.95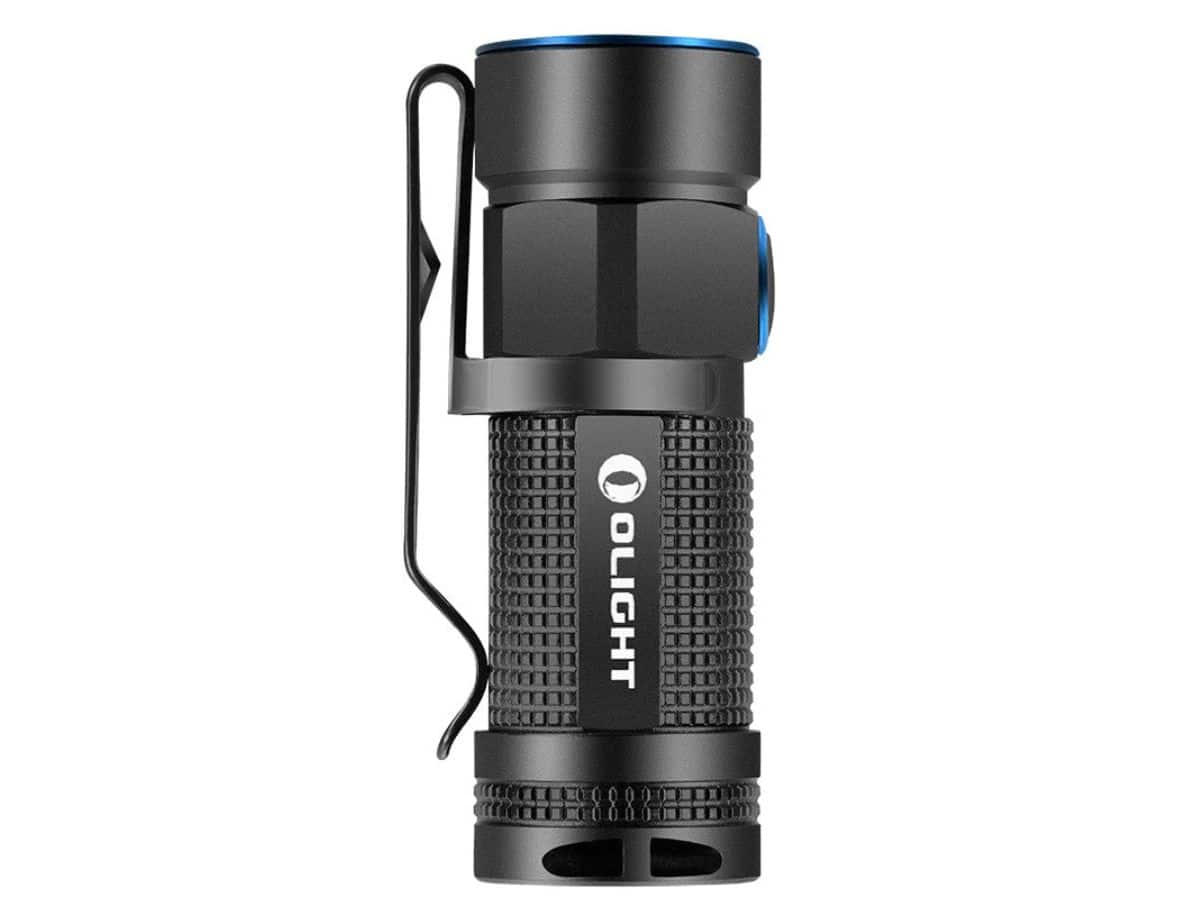 11. Olight S1 Baton Flashlight
Olight's smallest flashlights is also one of their best. The S1 Baton Flashlight duly makes up for its compact size by cranking up to 500 lumens out of its CREE XM-L2 CW LED emitter. Additionally, the 2.4″ flashlight generates a whopping 600 hours of battery life out of a single charge, and comes housed in a body of stainless steel. Throw in an IPX8 water-resistance rating and you'll start wondering how you ever went camping without this little behemoth at your disposal.
Notable features: 0.5-500 lumens output; 600 hours maximum runtime; IPX8 water resistant; pocket clip
Weight: 1.6 ounces
Material: stainless steel body
Price: from $49.95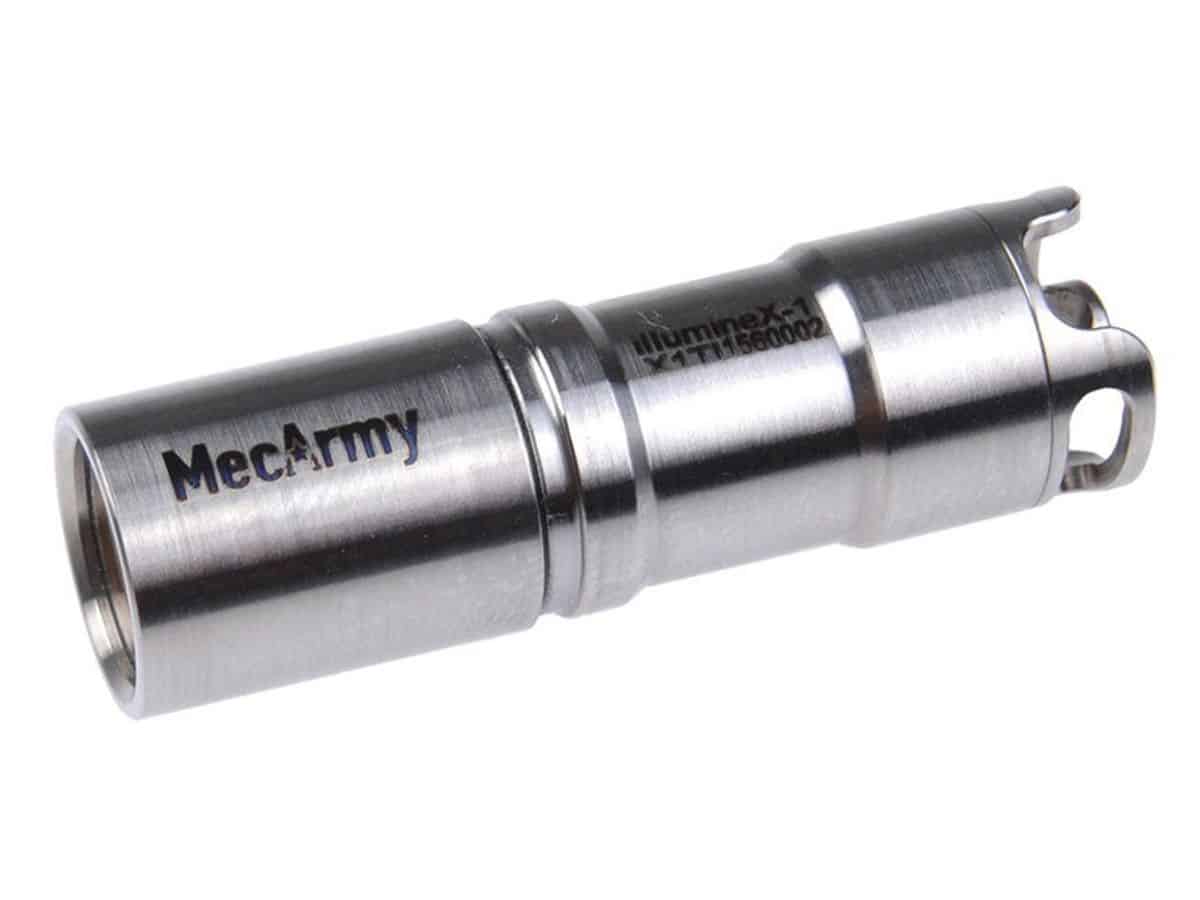 12. Mec Army IllumineX-1
Capping off our list of the best flashlights for everyday carry is the Illuminex-1 from Mec Army. Measuring in about the size of a AAA battery, the flashlight is rechargeable via micro USB and good for a formidable (for its size) 130 lumens at max power. Modern, functional and beautiful, this great flashlight is everything you could possibly want out of something so tiny.
Notable features: 130 lumens; mini USB charger plug (rechargeable); IPX8
Weight: 0.31 ounces
Material: titanium
Price: from $49.95
This article is part of our Technology of Today series.
You may also like:
The 14 Best Everyday Carry Lighters | Man of Many
18 Best Glamping Spots Near Sydney
Deejo: The Pocket Knife Design That Comes With a Tattoo
---
Featured Video from Man of Many