37 Cool Motorcycle Helmets
You were born to be wild. If you've got the killer hog to go with it, your speedy arsenal isn't complete without a bevy of cool motorcycle helmets. Sure, the roar of your exhaust, the chop of the v-twin, and the style of your bike that has you feeling like the king of the road, but what's all that power without quality headgear to seal the deal.
As you're invariably aware, not all motorcycle and motorbike helmets are created the same. Enter our choice selection, which delivers style and safety in equal measure. Don't hop on your café racer or custom chopper without one. Here is a list of 37 cool motorcycle helmets.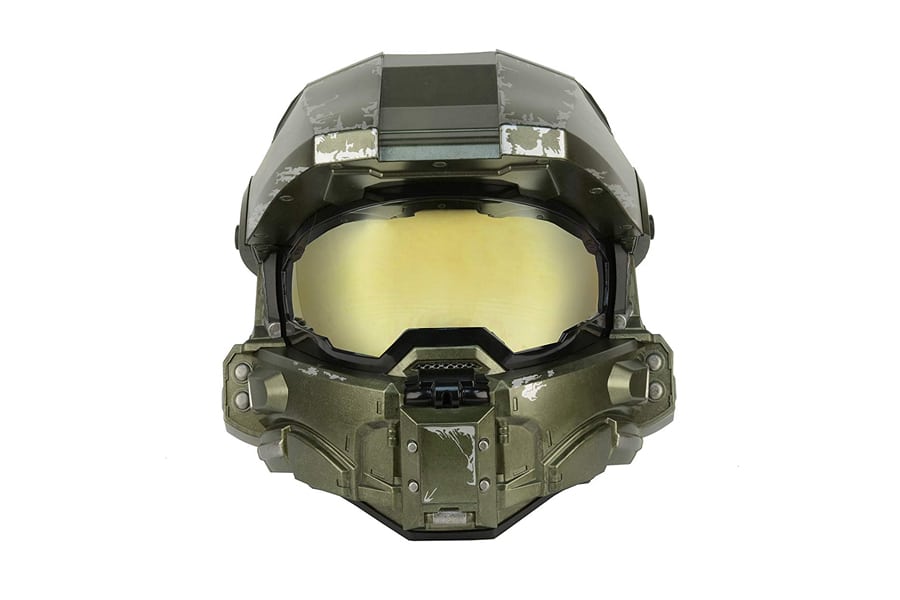 1. NECA Master Chief Motorcycle Helmet
Hit the road like Master Chief from the Halo video game franchise by rocking this DOT-approved modular motorcycle helmet. Exterior features include an ABS shell with matte UV protective clear coat, front air intakes, rear exhaust vents, a reflective shield, and a double D-ring nylon chin strap with snap closure. Inside, you'll find a contoured centre pad, dual-layer EPS cheek pads, and moisture-wicking material.
Brand: NECA
Size: 59-60cm
Price: $750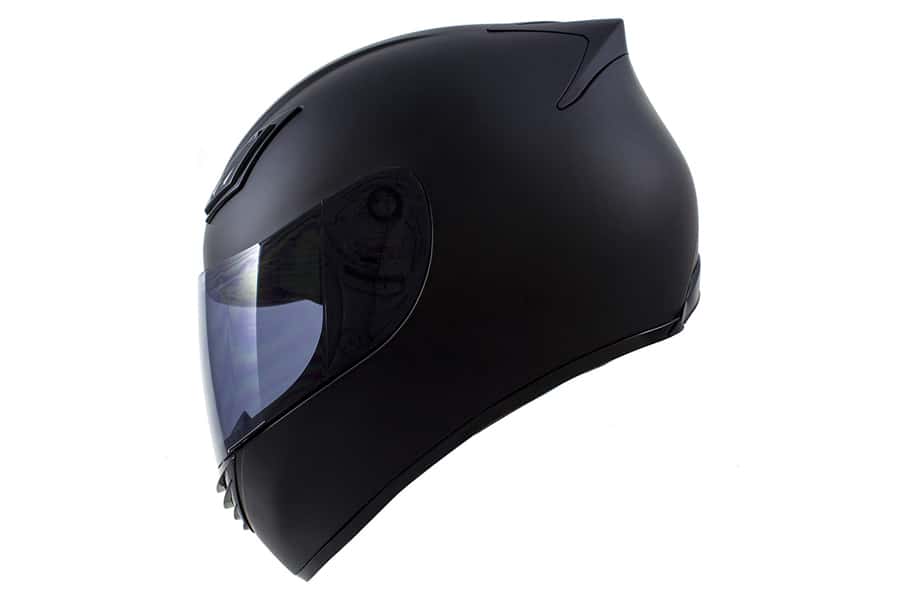 2. GDM Duke Helmets DK-120 Full Face Motorcycle Helmet
Is it just us or do cool black motorcycle and motorbike helmets never go out of style? If you agree, then this option from GDM is calling your name. Featuring an aerodynamic shell of advanced lightweight composite poly-alloy, this lid hosts seven ventilation points and plush liner and cheek pads. Of course, you knew this one was for you as soon as you saw the sleek black profile.
Brand: GDM
Size: small, medium, large, x-large, xx-large
Colour: clear and tinted shields
Price: from $99.95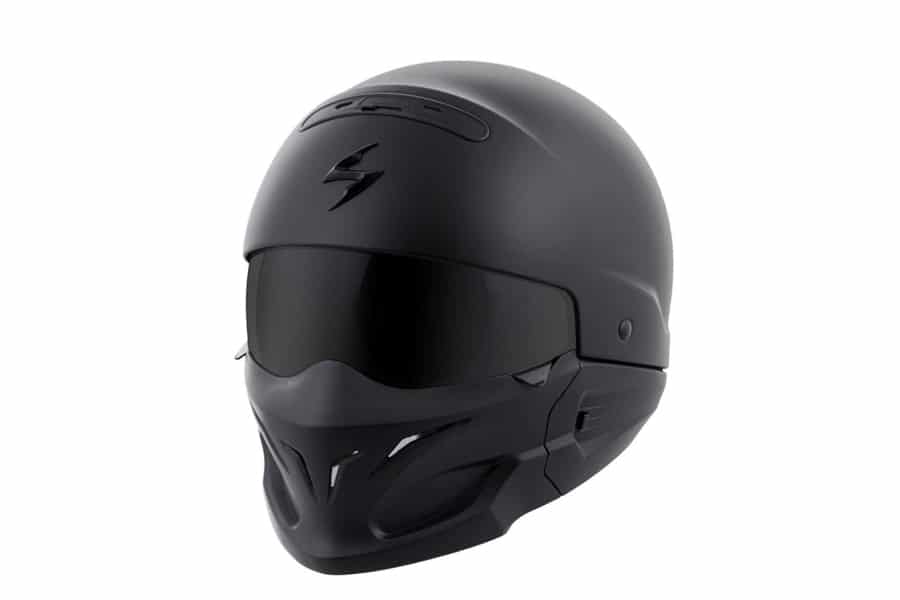 3. ScorpionExo Covert Unisex-Adult Half-Size-Style Matte Black
When it comes to cool motorcycle helmets, there are plenty of black stunners to go around. Consider this one from Scorpion, which comes equipped with an LG polycarbonate shell developed exclusively by the brand. Also featured are a retractable tinted sun-visor, block-off plates, and a removable front mask with neodymium magnets.
Brand: ScorpionExo
Size: x-small, small, medium, large, x-large, xx-large, xxx-large
Colour: matte black
Price: from $210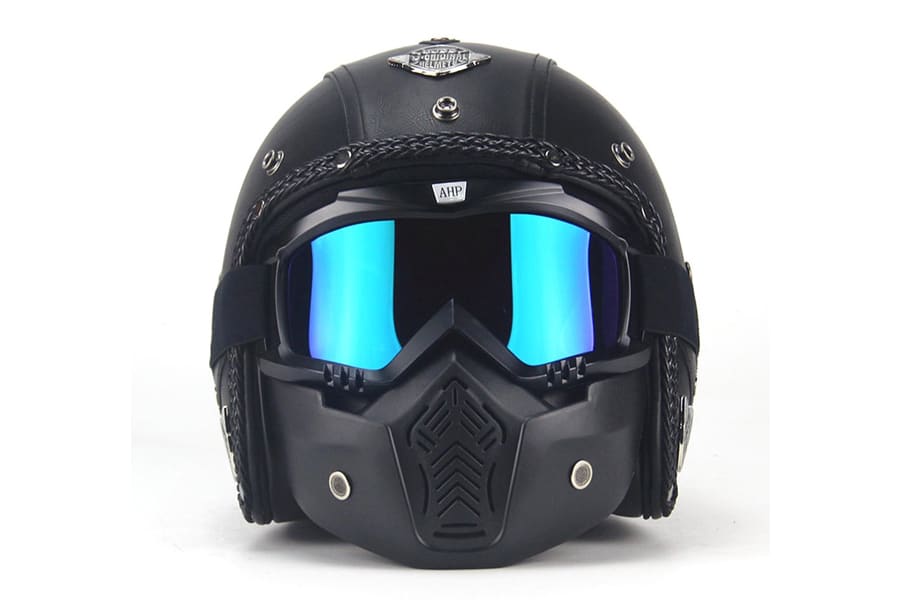 4. AUTOPDR Open Face Vintage with Goggles Mask
This retro piece of Harley motorcycle headgear brims with classic style, premium comfort, and streamlined practicality. Giving it an aviator-like aesthetic is the addition of a goggles design. UV protected and equipped with a light ABS and PU leather shell, this conspicuously cool motorbike helmet is also quite affordable.
Brand: AUTOPDR
Colour: black
Size: 59-60cm (L)
You'll also like:
10 Vintage Motorcycle Helmets For Retro Inspired Style
Ride in Style with the Christian Dior Vespa 946
6 Things To Look For When Buying Your First Cafe Racer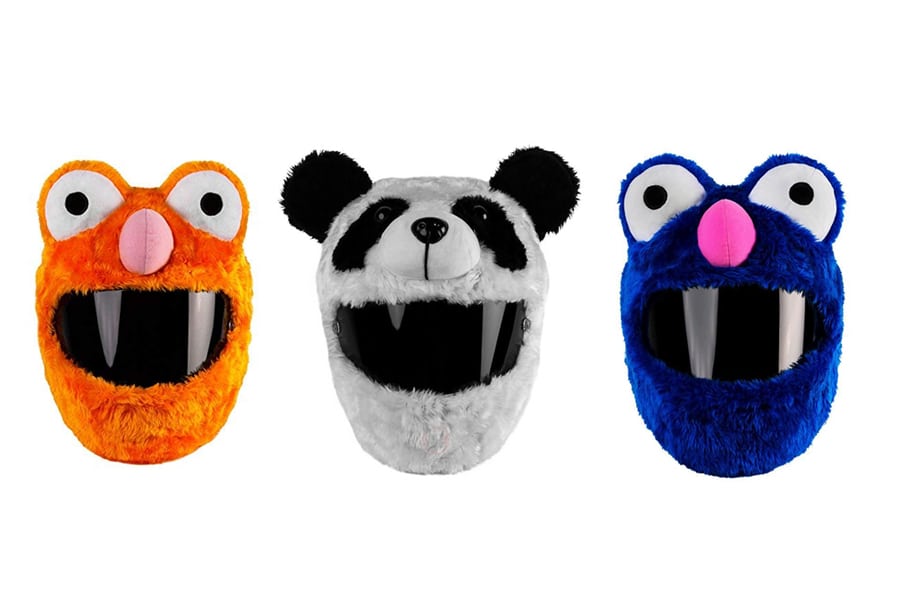 5. Moto Loot Helmet Cover
One look at the Moto Loot Cover and you'll know right away if it's for you. Contrary to the standard slate of aggressive fare, it emanates with all sorts of warm and fun-loving vibes. It's also easy to install and bolstered by a one-size-fits-all design.
Brand: Moto Loot
Size: one size
Colour: orange, light green, rainbow long, monkey, panda, many more
Price: from $30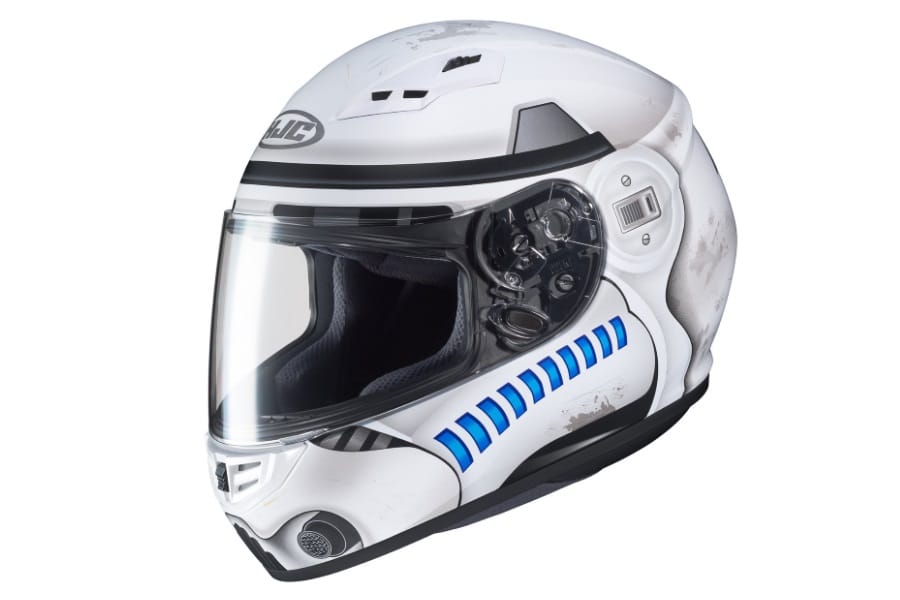 6. HJC Star Wars Storm Trooper Full Face Motorcycle Helmet
The name "Storm Trooper Full Face" pretty much says it all. However, this cool motorcycle helmet is far more than just another page ripped from the "Star Wars" book of merchandising. DOT-approved, it comes equipped with an advanced polycarbonate shell, a hard coated 3D shield design, and a shield ratchet system, among other things. The headgear also delivers full front-to-back airflow by way of a channelling ventilation system.
Brand: HJC
Size: large
Colour: white
Price: $139
Buy Now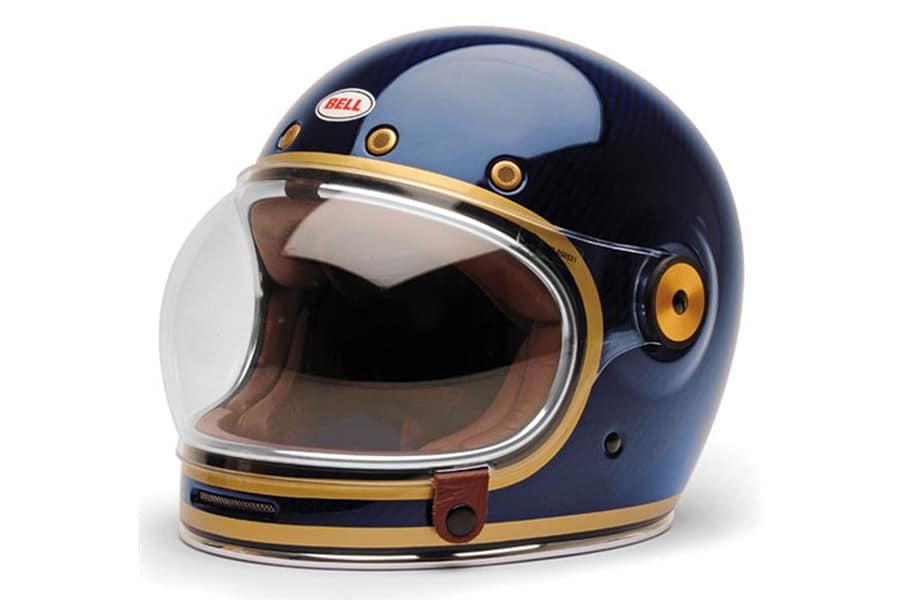 7. Bell Bullitt Carbon
Bell is a brand that's routinely synonymous with the coolest of cool motorcycle helmets, and the The First-Ever Triumph Prototype Was Just Discovered is no exception. Blending retro style and modern performance to perfection, it's like a futuristic vision circa 1975. Along with the unmistakable aesthetic, you'll find metal mesh intake and exhaust vents, and anti-bacterial (and removable) interior of genuine leather, full-face protection, and integrated speaker pockets. It's available in three different colours and three sizes.
Brand: Bell
Size: x-small, medium, large
Price: from $629
Moto Guzzi Rethinks Italian Army's Nuovo Falcone Motorbike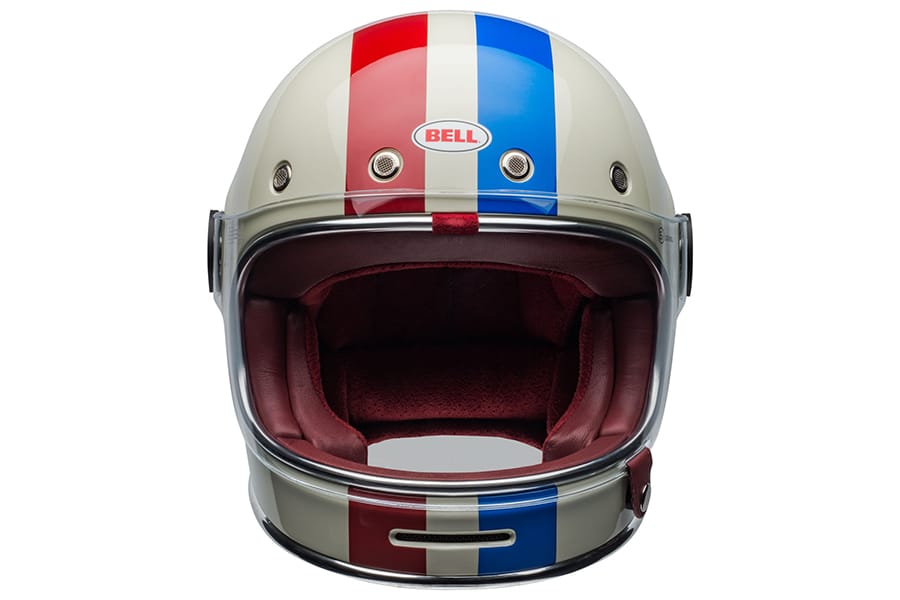 8. Bell Eliminator Motorcycle Helmet
Let's keep the Bell train rolling with the Eliminator. Harkening back to the brand's earliest output, each vintage helmet touts bold colour and signature lines. As such, the range brings the past into the present with glorious style and precision. This is why motorcycle and motorbike enthusiasts swear by Bell.
Brand: Bell
Size: x-small, small, medium, medium-large, large, x-large, xx-large
Colour: white/red/blue
Price: from $356
Renard's Reimagined BMW R1250 R is the Cruiser from the Future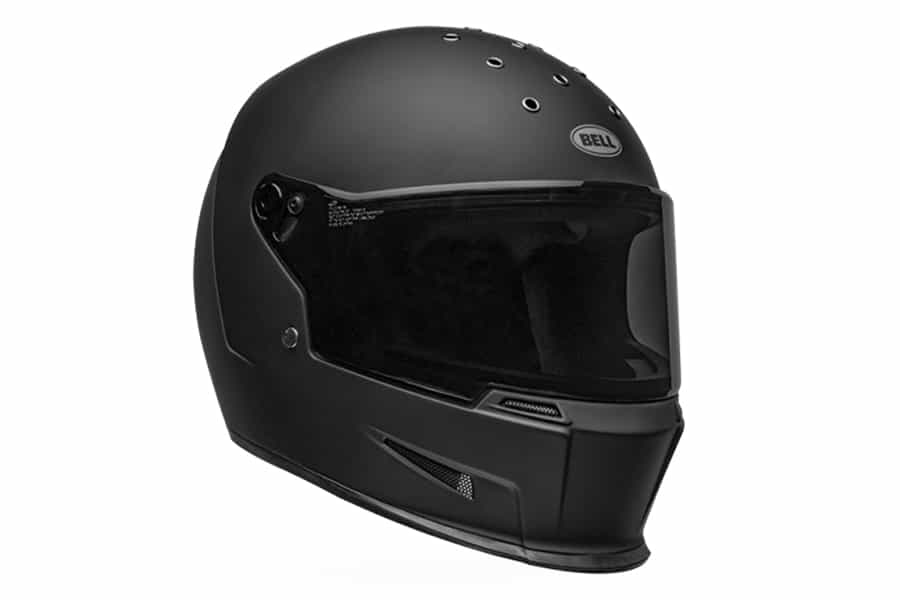 9. HJC RPHA 11 Pro Venom
Officially licensed by Marvel, the HJC RPHA 11 Pro Venom is truly worthy of its iconic foundations. In addition to the downright eye-catching visual design, the helmet flaunts a veritable bounty of premium features. That includes an advanced fiberglass aerodynamic shell, six-stage variable airflow, a MultiCool Interior with anti-bacterial fabric, crown and cheek pads, a Rapidfire II Shield Replacement System, and built-in communication speakers, among other things.
Brand: HJC
Size: x-small, small, medium, large, x-large, xx-large
Colour: black, matte black, white, matte titanium
Price: from $359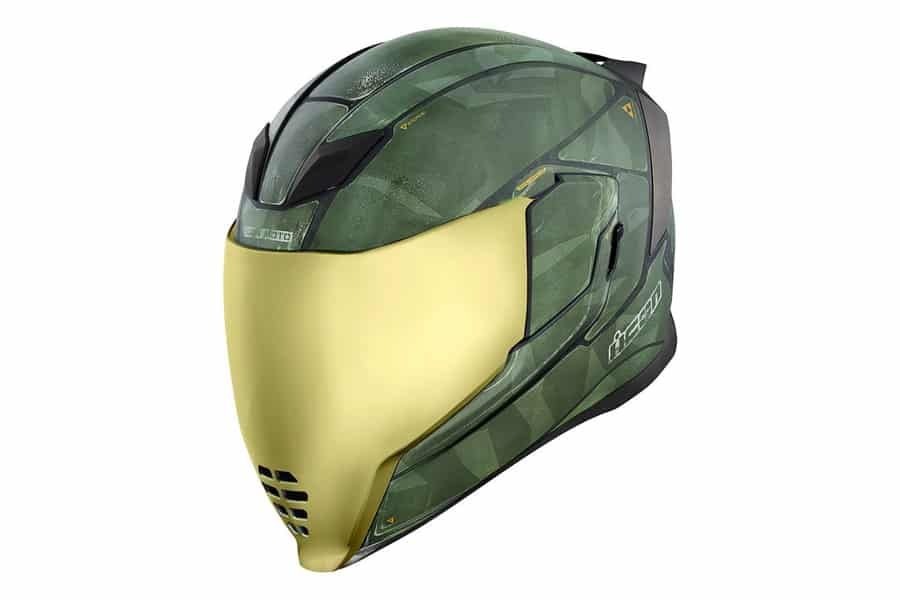 10. Home Helmets Icon Airflite Battlescar 2
You're already soaring down the nearest streets like a ground-bound airforce pilot, and this battle-ready battle-ready motorcycle helmet drives that point home. Features include an injection-moulded polycarbonate shell, intake and exhaust ports, a fog-free inner sun shield, removable moisture wicking liner, a recessed twin-channel supervent cooling system, and so much more.
Brand: Icon
Size: x-small, small, medium, large, x-large, xx-large, xxx-large
Colour: green
Price: $320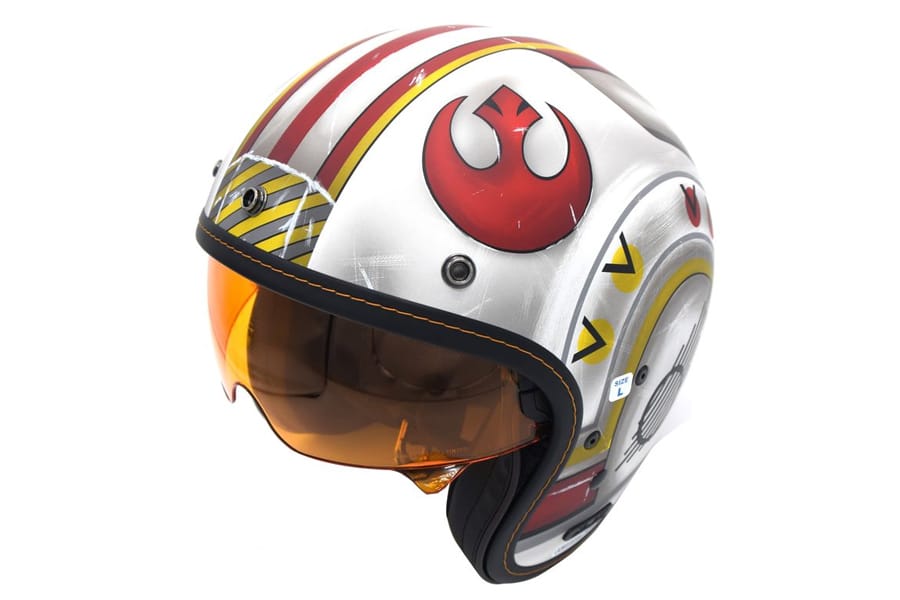 11. HJC IS-5 X-Wing Fighter Pilot Motorcycle Helmet
Odds are you've watched "Star Wars" and fantasised about being an X-Wing fighter pilot at some point in your life, and this DOT-approved retro helmet is the next best thing to joining the Rebel Alliance. Beyond the striking visuals are a polycarbonate composite shell, HJ-V8 integrated sunshield, 3-snap visor, and an interior of SuperCool moisture-wicking anti-bacterial fabric.
Brand: HJC Helmets
Size: small
Price: $199.99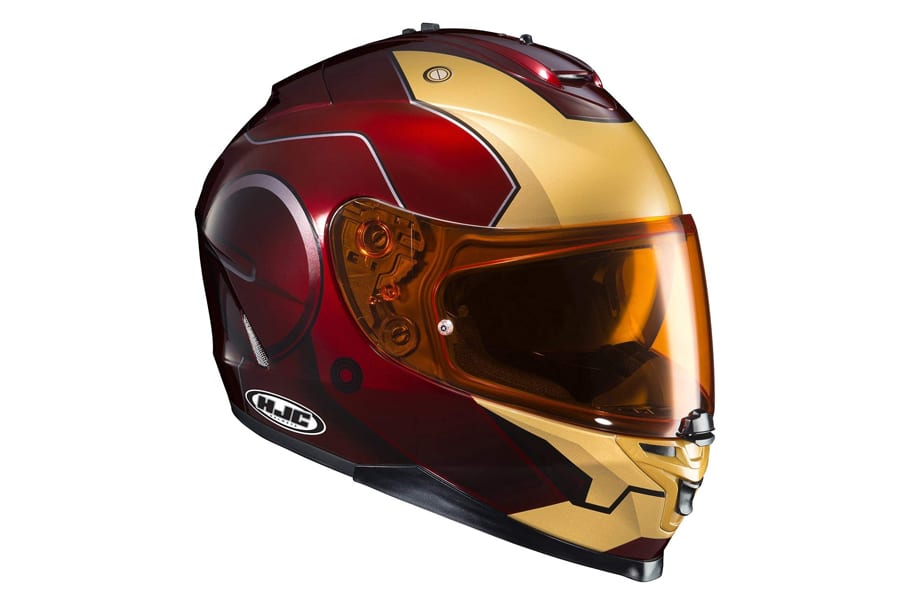 12. HJC Helmets Marvel IS-17 Unisex-Adult Full Face Ironman Street
As if designed by Tony Stark himself, the Ironman Street Motorcycle pairs visual design and optimal performance to brilliant effect. It hosts a polycarbonate shell, a pin lock Max Vision-prepared face shield, a Rapidfire II Shield Replacement System, and a SuperCool interior. Throw it on and get down like the Marvel superhero.
Brand: HJC Helmets
Size: x-small
Colour: red/yellow
Price: $199.99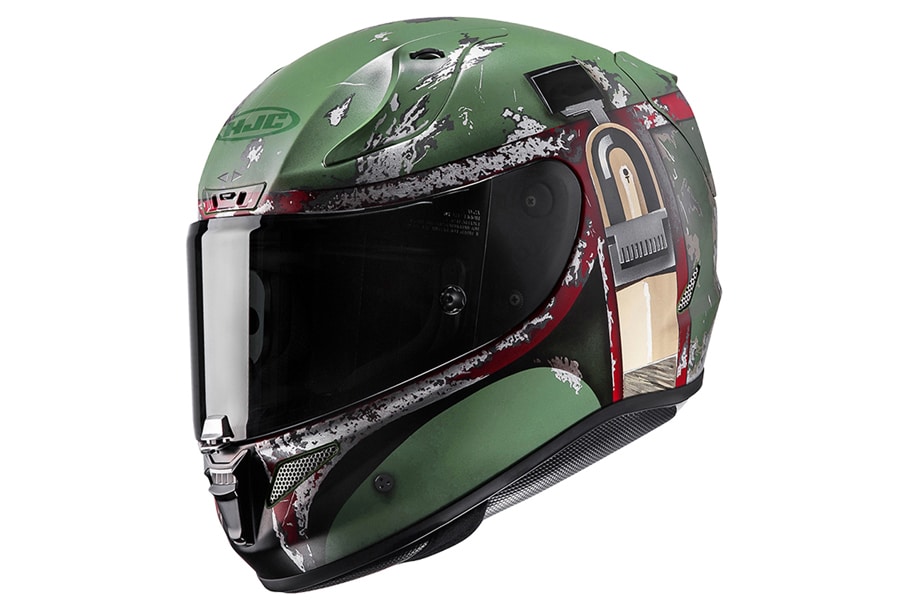 13. HJC Star Wars RPHA-11 Boba Fett
In the "Star Wars" universe, Boba Fett ranks among the most iconic and feared of bounty hunters. It's therefore only natural that you'd want this cool Boba Fett lid even touts a battle-worn aesthetic. Built-in themes aside, the product is truly top of the line, with a premium integrated matrix of carbon fibre, aramid, fibreglass, and organic non-woven fabric. Also featured is an aerodynamic shell structure, an advanced channelling ventilation system, an enlarged eye port, an automatic shield locking system, a multi-cool interior, and more.
Brand: HJC Helmets
Price: $999.90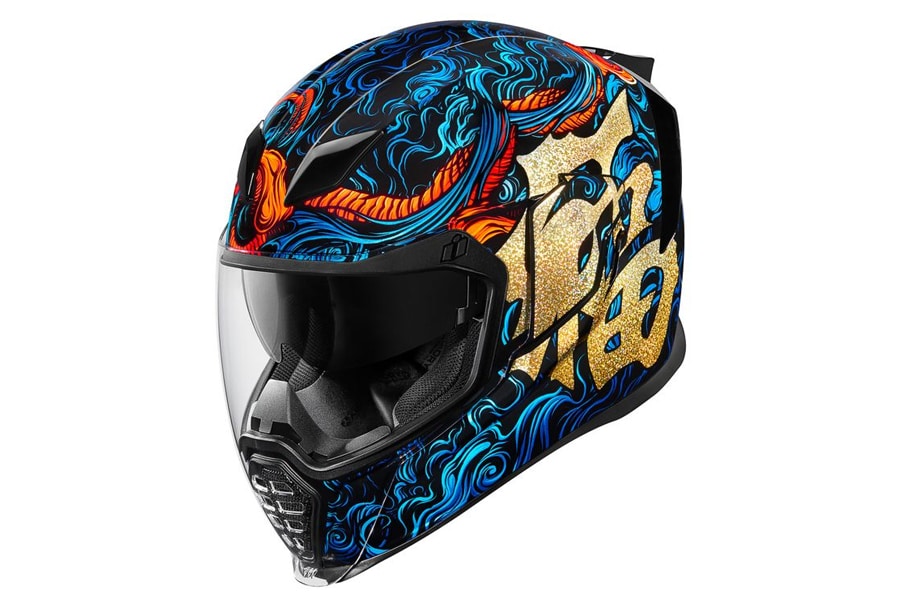 14. Icon Airflite Good Fortune
This insanely cool motorcycle helmet immediately distinguishes itself by way of a brilliant graphic design. That's joined by a range of premium features, including an injection-moulded polycarbonate shell, fog-free inner sun shield, multiple intake and exhaust ports, moisture-wicking liner, and a recessed twin-channel super vent cooling system. Prepare to turn heads.
Brand: Icon
Size: x-small, small, medium, large, x-large, xx-large
Colour: blue
Price: $249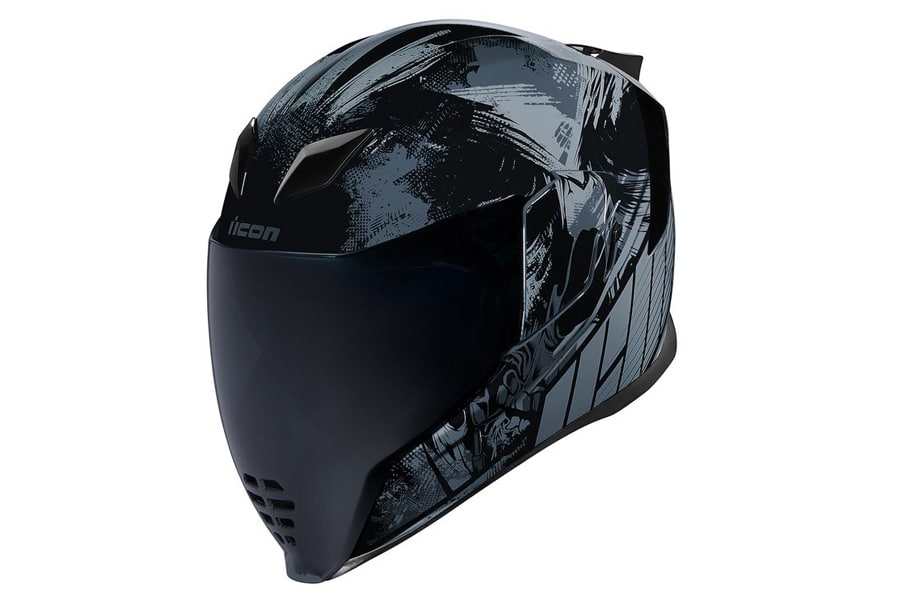 15. Icon Airflite Stim Motorcycle Helmet
A true standout of the Icon Airflite range, the Stim Helmet blends hard lines with bold colour, thereby projecting an aggressive vibe. It's also quite optimal, thanks to mainstay features like a moulded breath deflector, a quick-change fog-free face shield, removable side plates, moisture-wicking liner, supervent cooling, and a slate of intake and exhaust ports.
Brand: Icon
Size: x-small, small, medium, large, x-large, xx-large, xxx-large
Colour: black, red, blue
Price: $290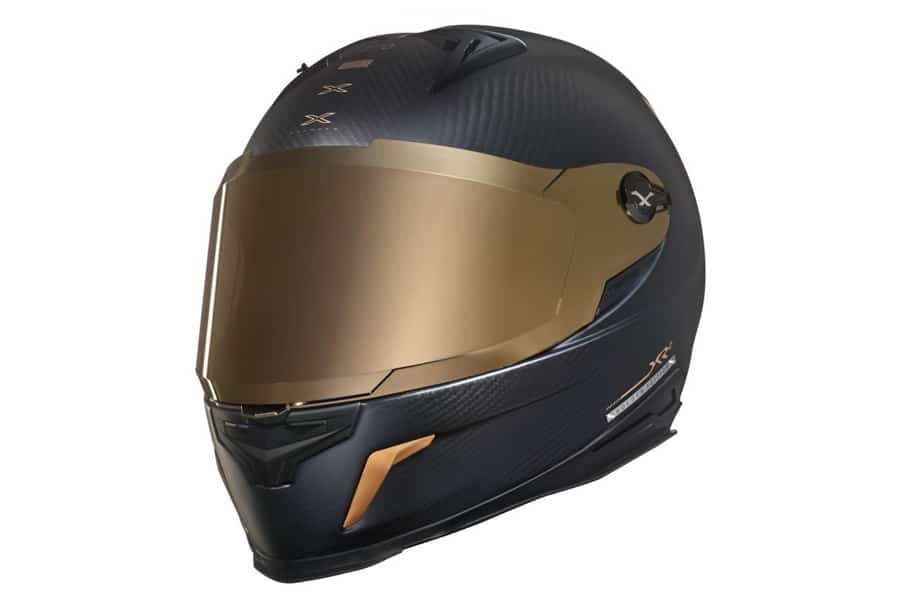 16. Nexx XR2 Carbon Golden Edition
Bolstered by its sturdy shell of carbon fibre and anti-scratch face shield, the Nexx XR2 Carbon Golden Edition is love at first sight. Available in two sizes, the helmet oozes quality and coolness. Joining its aerodynamic profile are a range of vents, double D-ring chin strap closure, three density impact absorption levels, CoolMax 3D lining, speaker cutouts, and reflectors on the front, side, and rear.
Brand: Nexx
Size: x-small, small, medium, large, x-large, xx-large, xxx-large
Colour: matte black
Price: $639.95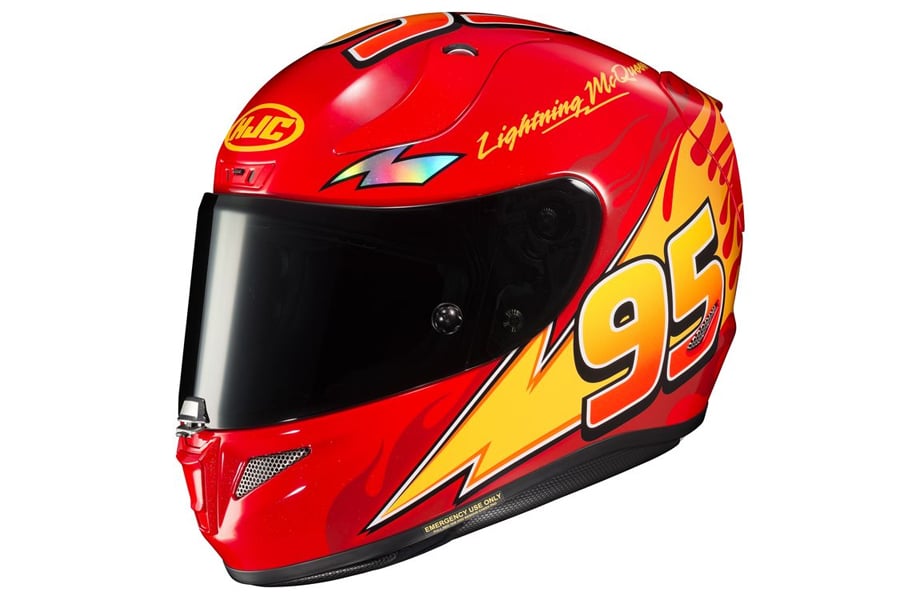 17. HJC RPHA 11 Pro Lightning McQueen
Pixar's Monty "Lightning" McQueen has a perennial need for speed and so do you, presuming you rock this race-ready helmet. Building upon its distinguished predecessor (the RPHA 10), the eye-catching lid features an upgraded aerodynamic shell, ACS ventilation, an improved field of view, a redesigned face gasket system, and a Pinlock-ready 2D flat-racing shield. At the very least, your kids will love it.
Brand: HJC
Colour: red
Price: $420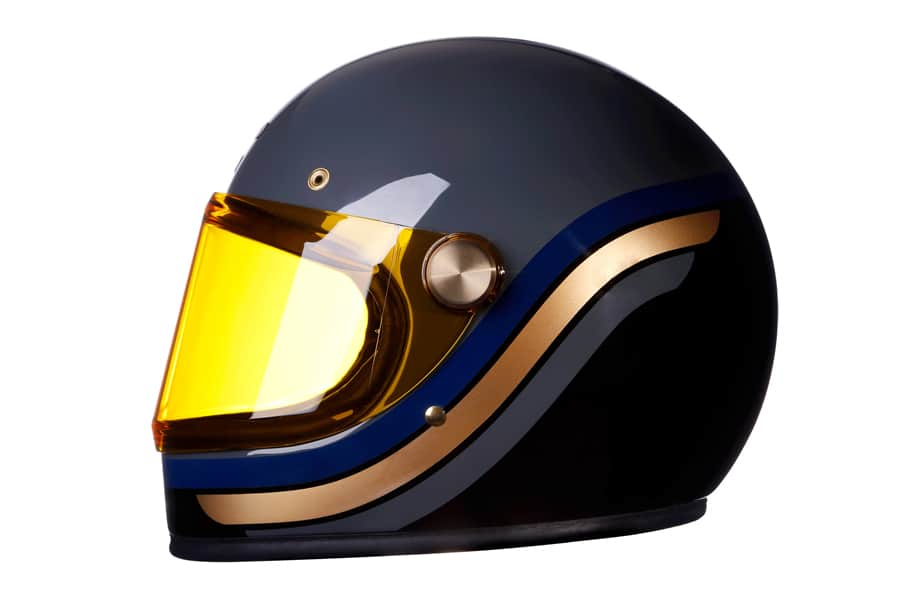 18. Berluti Leather
For all the sophisticated riders out there, accept nothing less than this handsome Understanding The Love For Harley-Davidson from Berluti. Lightweight and durable, it wraps a glossy black finish with a Scritto pattern and patinated Venezia peak around a shell of premium carbon fibre. On the inside, you'll find Coolmax padding and elegant calfskin leather. That's all joined by a choice border of calf leather, with additional padding made from foam, leather, and fabric. Quality is the operative word here.
Brand: Hedon
Price: $1,100
BMW Motorrad R18 Cruises into Fat-Boy Territory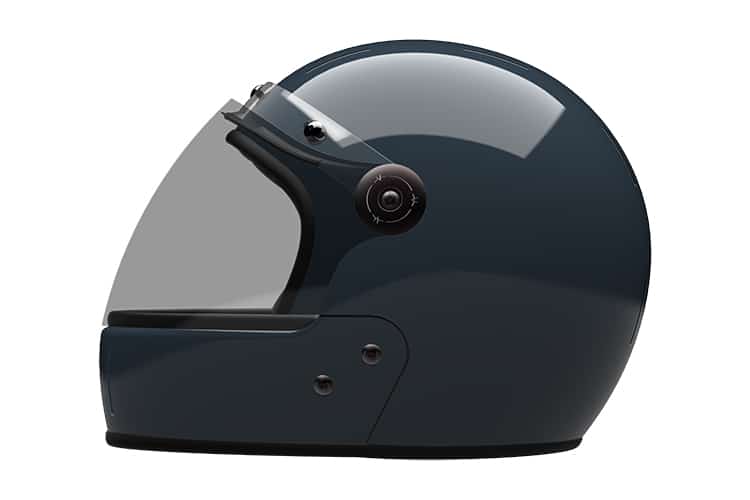 19. Veldt Modular Motorcycle Helmet
Fully handmade using only the best materials, Veldt Modular delivers a range of colours and configurations. As such, you can add or subtract different accessories, going from a jet to a visor to a full-face helmet. The interior padding is not just removable, but available in two different tiers of thickness. One thing that doesn't change? The trusty shell of quality carbon fibre.
Brand: Veldt
Price: from $310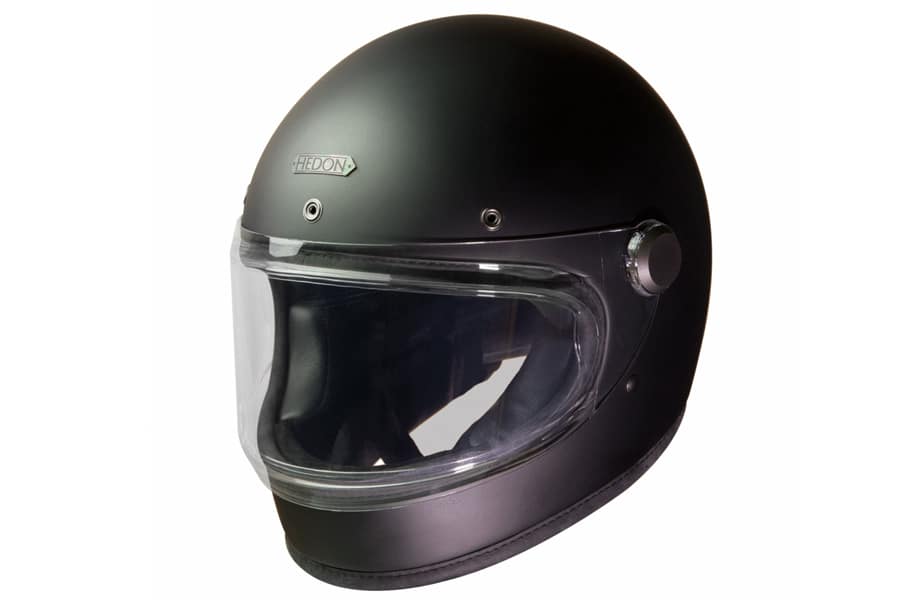 20. Hedon Vitesse Heroine Racer
Here's another cool retro motorcycle lid for your consideration. Taking direct inspiration from 1970s bike helmets, the Hedon Heroine Racer features a streamlined vintage aesthetic. Underneath the composite fibre, shell is a plush interior of Head Armor lining and 360-degree cushion padding, all of which is covered in Merlin anti-bacterial fabric. Lightweight and soundproofed, the headgear meets ECE 2205 requirements, meaning this baby is road legal in Europe and the UK.
Brand: Veldt
Size: small, medium, large, x-large, xx-large
Colour: matt black
Price: from $785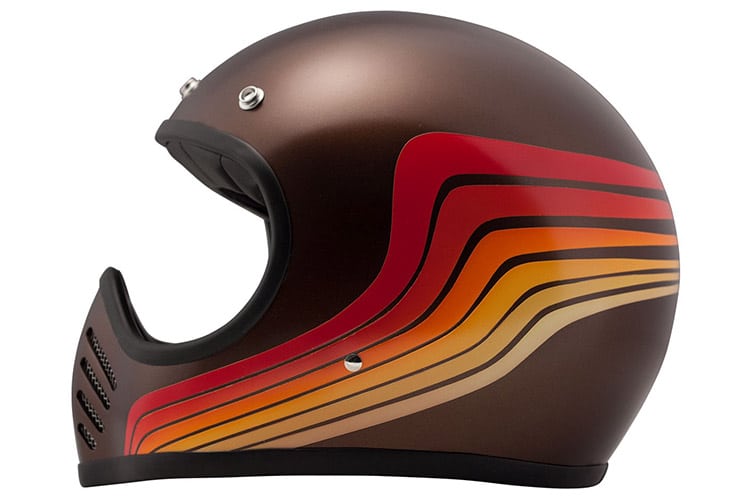 21. DMD Seventy Five Waves
Italy's DMD celebrated 40 years of success with this 8 Best Adventure Touring Motorcycles, which touts the same paint job and gradient line design as its 1970s-era forbearer. Thanks to carbon construction, however, this piece of protective gear meets all of today's safety standards. As far as cool retro motorcycle helmets go, this one is as retro as it gets.
Brand: DMD
Size: S, M, L, XL, XXL
Price: $299.99
Deus ex Machina x Zero SR/S is Made From a Single Carbon-Fibre Piece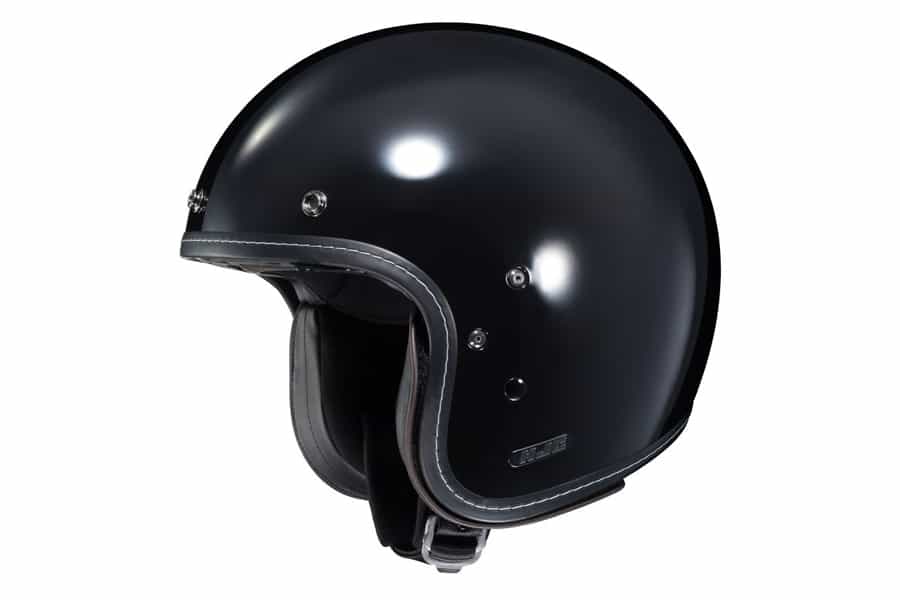 22. HJC IS-5 Motorcycle Helmet
Old school style meets new-school performance with the HJC IS-5, which emanates with pure approachability. Features include a lightweight polycarbonate composite shell with an effortless drop-down sun visor, along with an interior of SuperCool Moisture-Wicking Anti-Bacterial fabric. If you like simple and affordable gear, then this one is for you.
Brand: HJC
Size: XS, S, M, L, XL, XXL
Colour: black, metal flake black, matte black, matte white
Price: from $103.49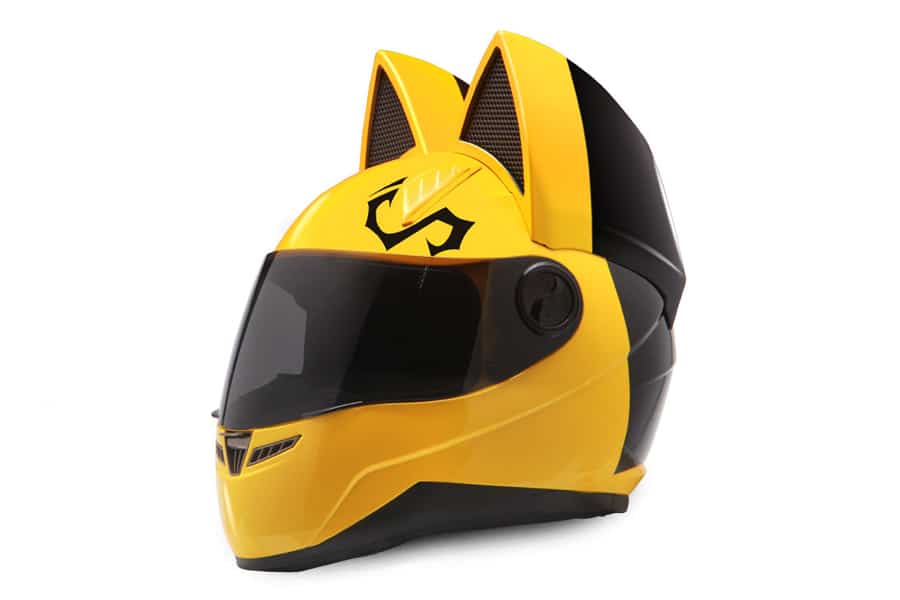 23. Nitrinos Neko Motorcycle Helmet
Motorcycle hard-hats don't get more distinct and iconic than the Neko from Nitrinos. Distinguished by its removable ears, these cool helmets are made to order and available in a range of colours, styles, and sizes. The modular ears feature upgraded mesh elements and come equipped with a battery-powered lamp module. Meanwhile, every helmet in the range includes a polycarbonate shell, a scratch-resistant transparent visor, double ventilation, and removable inner liner of 100% polyester.
Brand: Nitrinos
Size: XS, S, M, L, XL, XXL
Price: from $455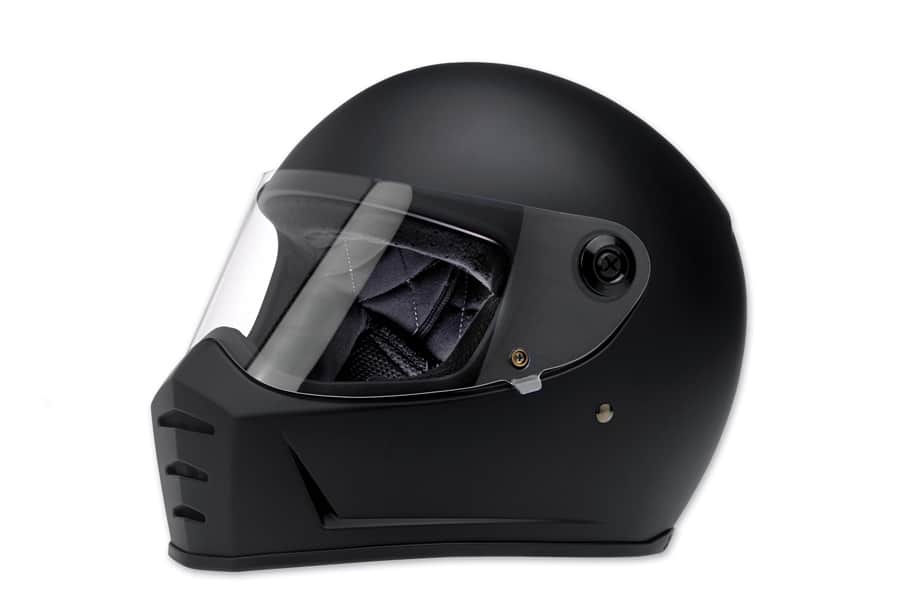 24. Biltwell Inc. Lane Splitter Flat Black Full Face
Biltwell Inc. constructed its very own ABS shell for this black and beautiful motorcycle helmet. Ensuring the top tier of comfort and convenience is superior airflow, a hand-stitched interior liner, and a BioFoam chin bar. Also included is a laser CNC-cut polycarbonate eye port shield, with aluminium hinge covers and mounting hardware.
Brand: Biltwell Inc.
Size: XS, S, M, L, XL, XXL
Colour: black
Price: $249.95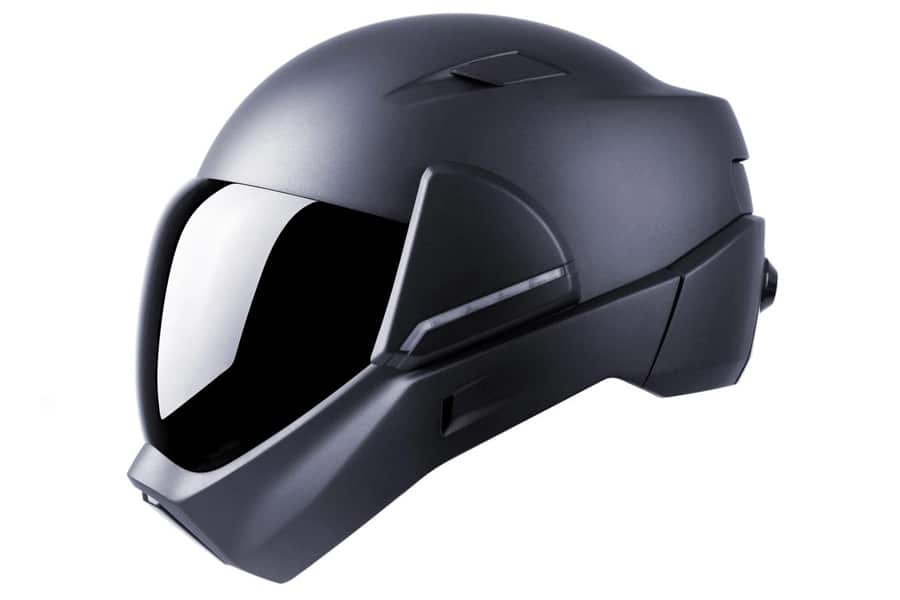 25. CrossHelmet X1 HUD
More than a cool piece of protective motorcycle gear, the Triumph Brings Back Steve McQueen Cool for Scrambler 1200 is like a smartphone for your head. As such, it touts a heads-up display (HUD), 360-degree visibility, an industry first sound control function, Bluetooth connectivity, and an adjoining app with access to maps, volume and group talk. This is modernity, redefined.
Brand: CrossHelmet
Size: M, L
Colour: lustre black
Price: $1,799
Onyx's RCR Electric Bike Can Hit 60MPH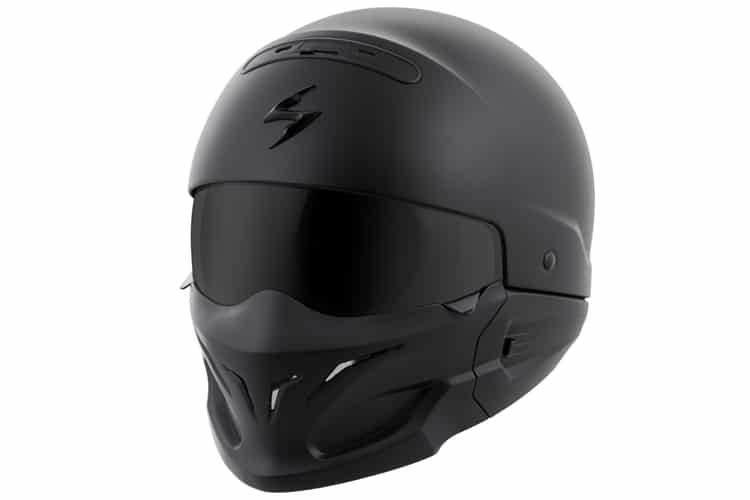 26. ScorpionExo Covert Motorcycle Helmet
For this resoundingly sleek Moto Guzzi Marks a Century with the V100 Mandello, ScorpionExo took a normal half-face and then added components like a built-in drop-down sun visor and magnetically attachable front mask. Despite its bold visual heft, the helmet comes in light and tight. It all amounts to some truly desirable headgear, to say the least.
Brand: ScorpionExo
Size: XS, S, M, L, XL, XXL, XXXL
Colour: matte black
Price: from $199
Triumph's Scrambler 1200 Bond Edition is Licensed to Thrill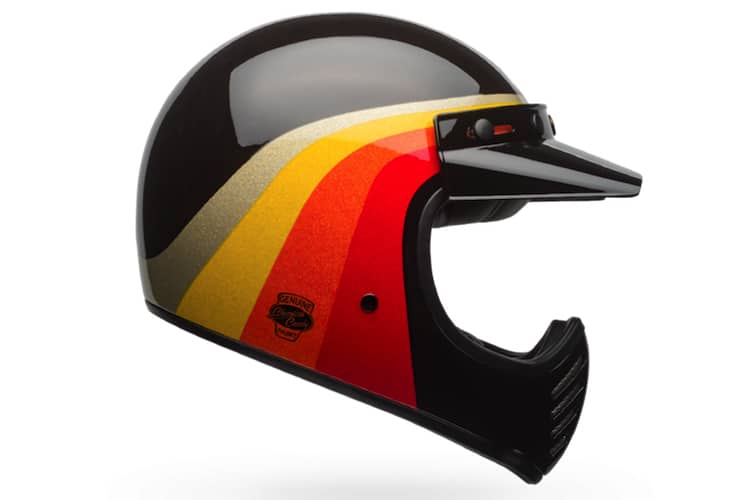 27. Bell Moto-3
Capping off our list is another Harley Davidson Debuts 2020 Adventure and Street Fighter from Bell, which takes inspiration from the original Moto-3, also known as the first full-faced off-road motorcycle helmet. Upgraded to meet ECE and DOT standards, the lightweight and durable design pairs a composite shell of fibreglass with a 5 snap visor. It comes available in a range of sizes and colours and keeps the past alive as only Bell can.
Brand: Bell
Size: XS, S, M, L, XL, XXL, XXXL
Colour: matte black
Price: from $414
Harley-Davidson Unveils its First Ever e-Bike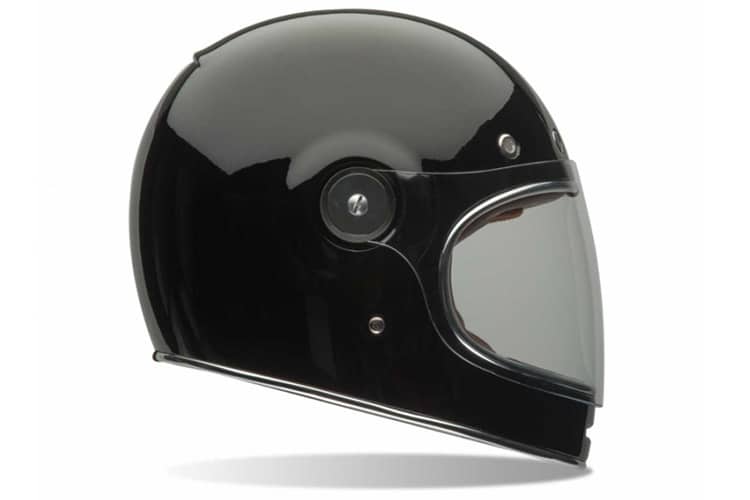 28. Bell Bullitt
The simple, aerodynamic and unassuming Bell Bullitt is a classic. There are no frills to come in between you and the road, figuratively speaking of course. Solid bell construction leaves no room for engineering errors.
Brand: Bell
Size: XS, S, M, L, XL, XXL
Colour: Black
Price: from $420
29. Biltwell Gringo Motorcycle Helmet
If you like the kind of solid construction that only comes with a helmet with zero moving parts, this is the one for you. The full injection moulded ABS shell is stuffed full of extra thick padding that will see your brainpan safely through just about anything.
Brand: Biltwelll
Size: XS, S, M, L, XL, XXL
Colour: Various designs
Price: from $175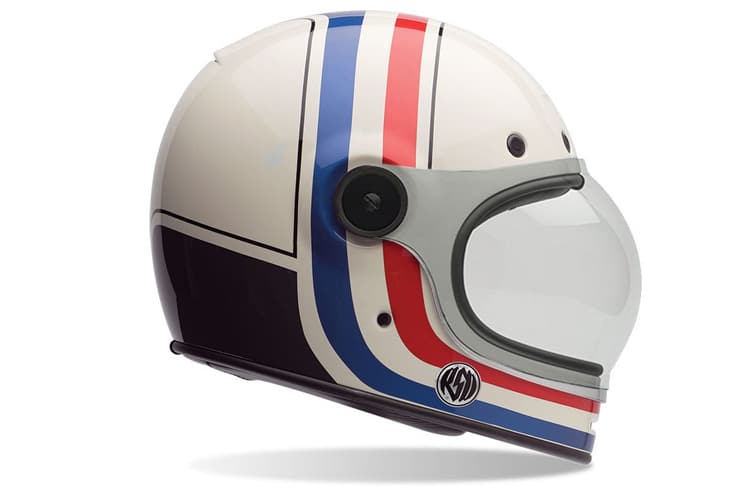 30. Bell Bullitt RSD Viva
With a little more flash than the Bullitt, the Bell Bullitt RSD Viva helmet is every bit as solid and simple as the original with that classic 1960s styling. The Viva pays homage to motorsport legends from days gone by.
Brand: Bell
Size: XS, S, M, L, XL, XXL
Colour: Red, white and blue
Price: from $450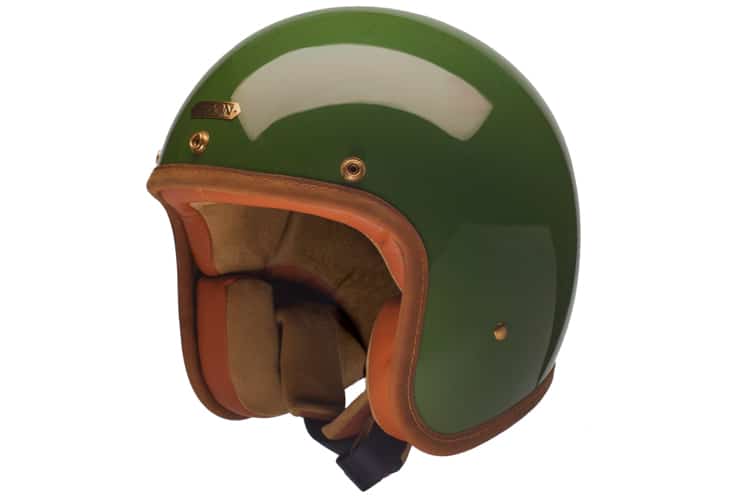 31. Hedon Hedonist
This series of classic and beautiful helmets are trimmed and lined in genuine leather and come in a wide variety of finishes. Whichever one you choose, choose it because you want to look like a cannonball.
Brand: Hedon
Size: XS, S, M, L, XL, XXL
Colour: Various designs
Price: from £309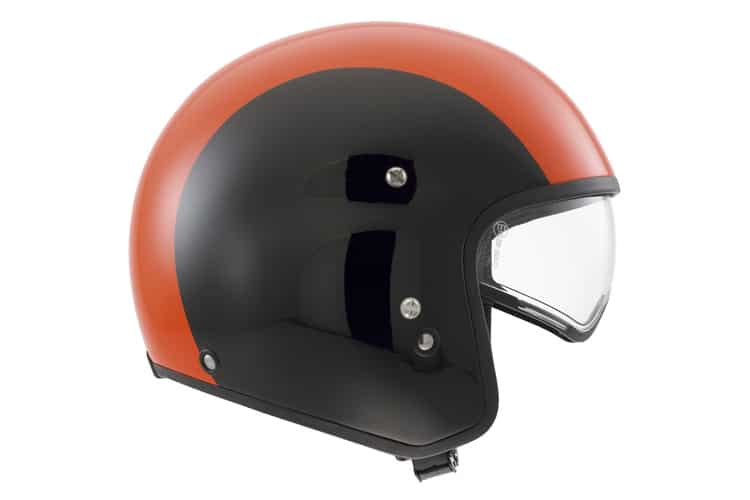 32. AGV Diesel Hi-Jack Motorcycle Helmet
Like a crossbreed between the Hedon and the gear you'd see on an F-14 pilot, there's just something very intimidating about the Hi-Jack.
Brand: AGV
Size: XS, S, M, L, XL, XXL
Colour: Matte black
Price: from $225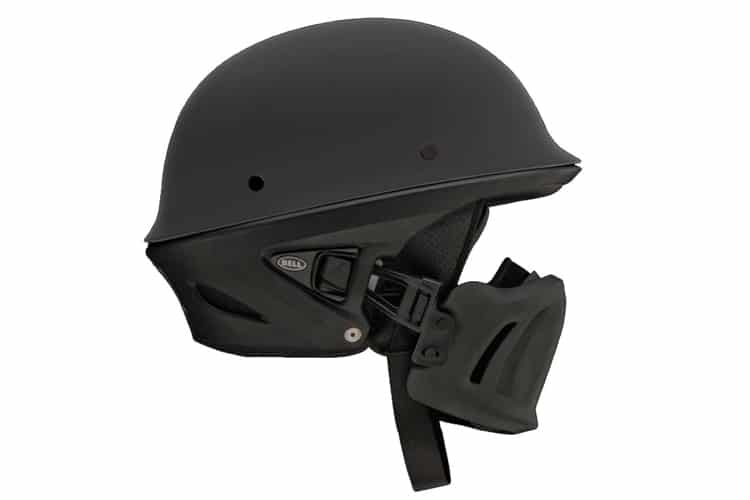 33. Bell Rogue
If you like a helmet that says, I'm only wearing this to keep from getting cited, and you like to look mean – this is the one for you. The lightweight composite shell with magnetic muzzle connections rounds out this bad boy quite nicely.
Brand: Bell
Size: XS, S, M, L, XL, XXL
Colour: Matte black
Price: from $260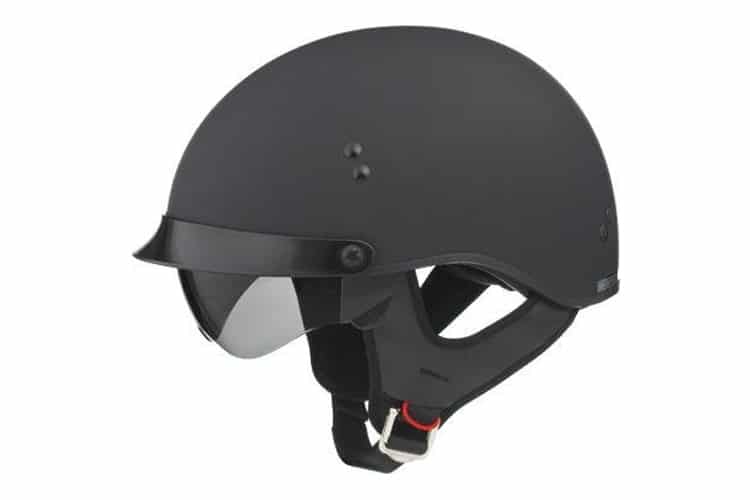 34. GMAX Mens GM65 Full Dress Half Helmet
Another half-face lightweight, this economical full dress number is just there to look good and keep the fuzz off your back.
Brand: GMAX
Size: XS, S, M, L, XL, XXL
Colour: Matte black
Feature: DOT certified
Price: from $75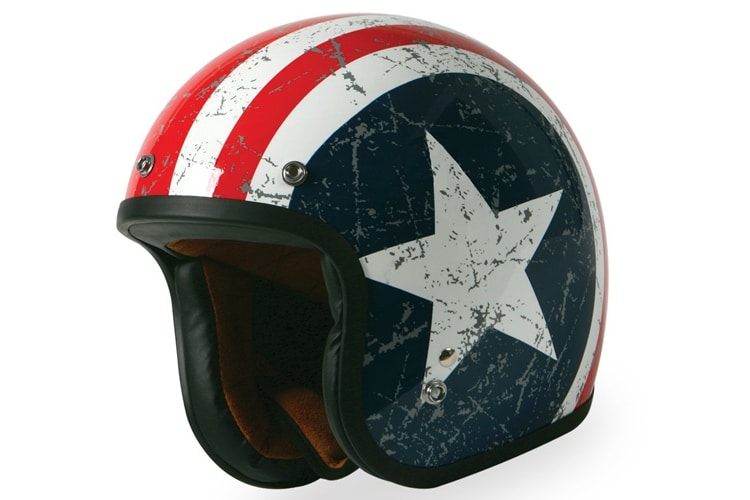 35. Torc Racing T50
This economy version of some of the classic helmets near the top of our list has all the classic styling you could want from a ¾ faceless anti-noggin jostling device. Fully padded and injection moulded, these come in a variety of concussion preventing awesomeness.
Brand: Torc
Size: XS, S, M, L, XL, XXL
Colour: Various patterns
Price: from $100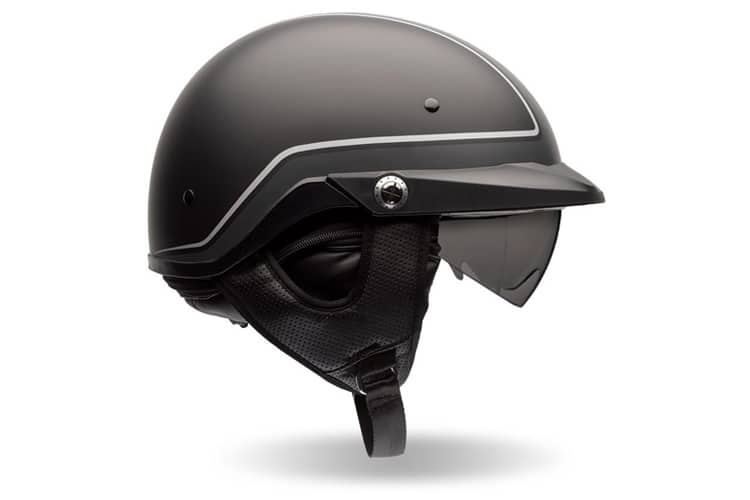 36. Bell Pit Boss
A somewhat more modern looking version of the GM65 Full Dress Half Helmet, this Bell halvsie is a bit more serious in the protection department with its double shell, speed dial fit system, and internal sunshade. The visor features 100% UVA sun protection, and best of all- it comes with convenient speaker pockets for use with communication gadgets- not headphones- that would be dreadfully illegal.
Brand: Bell
Size: XS, S, M, L, XL, XXL
Colour: Black and grey, Red and black
Price: from $103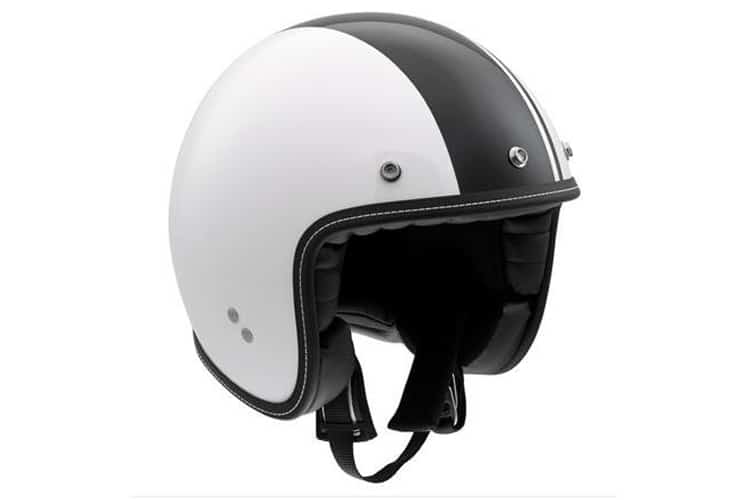 37. AGV RP60 Royal Motorcycle Helmet
Now, it doesn't get more classic- or more British for that matter- than the Royal RP60 with one great stripe down the centerline. These faceless unisex helmets are somehow massively stylish while still managing to be damned simplistic. Advanced composite fibre and the double-D retention system give you maximum protection for the cost.
Brand: AGV
Size: XS, S, M, L, XL, XXL
Colour: white with matte black stripe, Matte black with a white stripe
Price: from $199.95
Still have questions? We've got you covered.
General FAQ
Do half helmets protect you?
Half helmets are usually worn with goggles or sunglasses. According to Motorcycle Accident Attorney Dolman Law, they only offer protection from traumatic brain injuries in 36.8% of crashes, so they aren't the safest.
How tight should a helmet fit?
If your motorcycle helmet fits right, your skin should move as the helmet is moved. You should feel as if a slight, even pressure is being exerted all over your head. Helmets will loosen up as the comfort liner compresses through use.
What is the safest motorcycle helmet?
The safest motorcycle helmets on the market are those produced by Arai and AGV, however, helmets from Shoei and Shark are also high quality.