First Ride: Harley-Davidson Pan America is a Big Bore Motorcycle Built for Adventure
It will come as no surprise to many of you, just how strong the following Harley Davidson has developed. Music… Film… Photography… there aren't too many corners of pop culture that the famous American company hasn't infiltrated. The upside to this popularity has been billions of dollars in motorcycles, merchandise, and arguably one of the most loyal customer bases in the world. But when you have an almost tribal fanbase, any deviation from what you are best known for, and the mob can be very fickle indeed.
You'll also like:
Harley Davidson's Iconic Electra Glide Returns in Very Limited Numbers
Harley-Davidson's World First Pan America 1250 Unveiled
Harley-Davidson's Fat Boy is Still a Terminator on the Road
When we first heard the news that Harley Davidson was releasing an adventure bike, we were genuinely excited by the possibilities. Sure, it might have been slightly late to market in one of the most popular segments, but when developing a debutant as important as this, and you're one the most famous brands in the world, you can forgive them for spending some extra hours in the development stables.
The fans, however, didn't seem to be as sympathetic. A general trolling online seemed to be driven by an unjustified criticism of Harley Davidson's ' history '. Granted, an adventure bike was a big leap by modern standards, but when you look a little further back, motorcycles sporting the bar and shield have spent decades rolling around in the dirt, and have more rights than most to release a bike designed for the beaten track. But it was always going to take some real-world experience to see if Harley Davidson has developed a bike to silence the haters, so we headed down to Kangaroo Valley and put the new Pan America through its paces.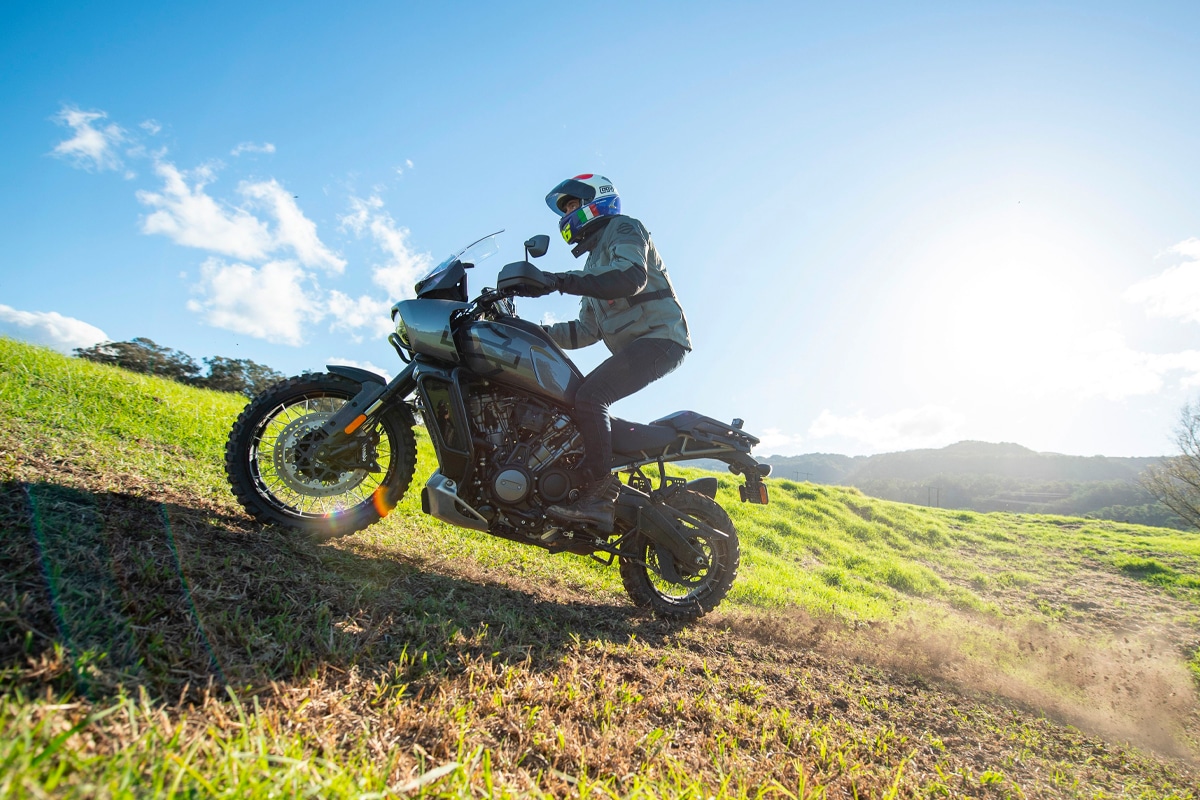 Design
At first glimpse, you'd have to say that Harley Davidson has nailed the industrial design of the bike. The overall styling leans into an almost military aesthetic, and it wears its chevrons tastefully. The horizontal LED headlamp is a no-nonsense front-end, that does away with the traditional ' nose ' of other adventure bikes, instead, commanding a more aggressive (and functional) blunt face. The aluminium fuel tank is wrapped in a playful bar and shield decal that extends to the front headlight fairing and adds a welcome piece of visual texture to a very utilitarian canvas.
When your eyes drop below the fuel tank horizon, it's hard not to notice the new Revolution Max 1250 engine. Not only does the gunmetal V-Twin pop against the black frame it also acts as a structural component to save weight and increase rigidity. The exhaust is predictably mundane, with current emissions regulations limiting the pencils of designers stateside, but doesn't look overly offensive by modern standards. Wrapping up the lower landscape are the cast aluminium wheels which maintain the modern mad max vibes, but a more traditional laced wheel is available as an optional extra. Of course, if these standard features aren't enough to get your valves moving, an extensive optional parts and accessories back catalogue should help with your off-street cred.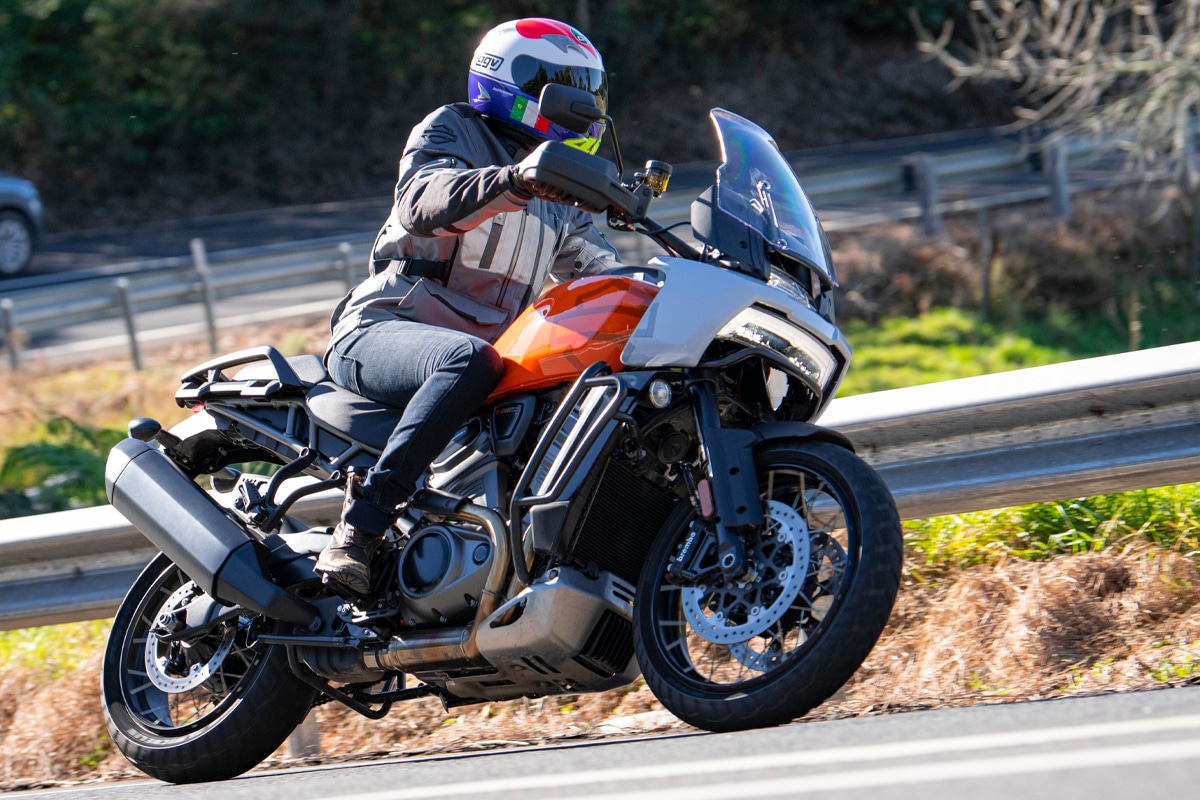 Chassis and Ergonomics
Setting up our riding position on the Pan America was one of the more intuitive we've ever experienced on an adventure bike. The seat can be adjusted to different heights without the need for tools, as can the footpegs, so our lower halves were nicely sorted within a minute. The handlebar adjustment naturally needed a bit more time and effort, and while the optional risers may be needed for taller timbers, most riders will find the stock bars more than capable.
Once we got up and riding, the first thing that grabbed us was just how approachable the chassis was. On the road, steering was lighter than you'd expect with a playful front-end and a well-balanced braking set-up.  When the tarmac ended and the road got slippery, the Pan America was even more impressive. The semi-active suspension managed to dampen most surfaces compliantly and instilled confidence under loose ground, even when turning up the wick. While high speed-adventure riders might want a little more from the package, the Pan America is catering for a larger audience encompassing newcomers, and it does so with a calming embrace.
But the real party piece of the chassis is the bike's adaptive ride height. Using the Showa semi-active suspension, the bike automatically adjusts the bike's height when coming to a stop, then raises it again as you accelerate. Now, for the taller riders out there, you might scoff in your elitist towers, but this is an absolute gamechanger for shorter riders wanting to be supported by something more than their tippy toes. We'd go as far as to say that the Pan America is the most ergonomically versatile adventure bike on the market, and will probably do well on this point alone.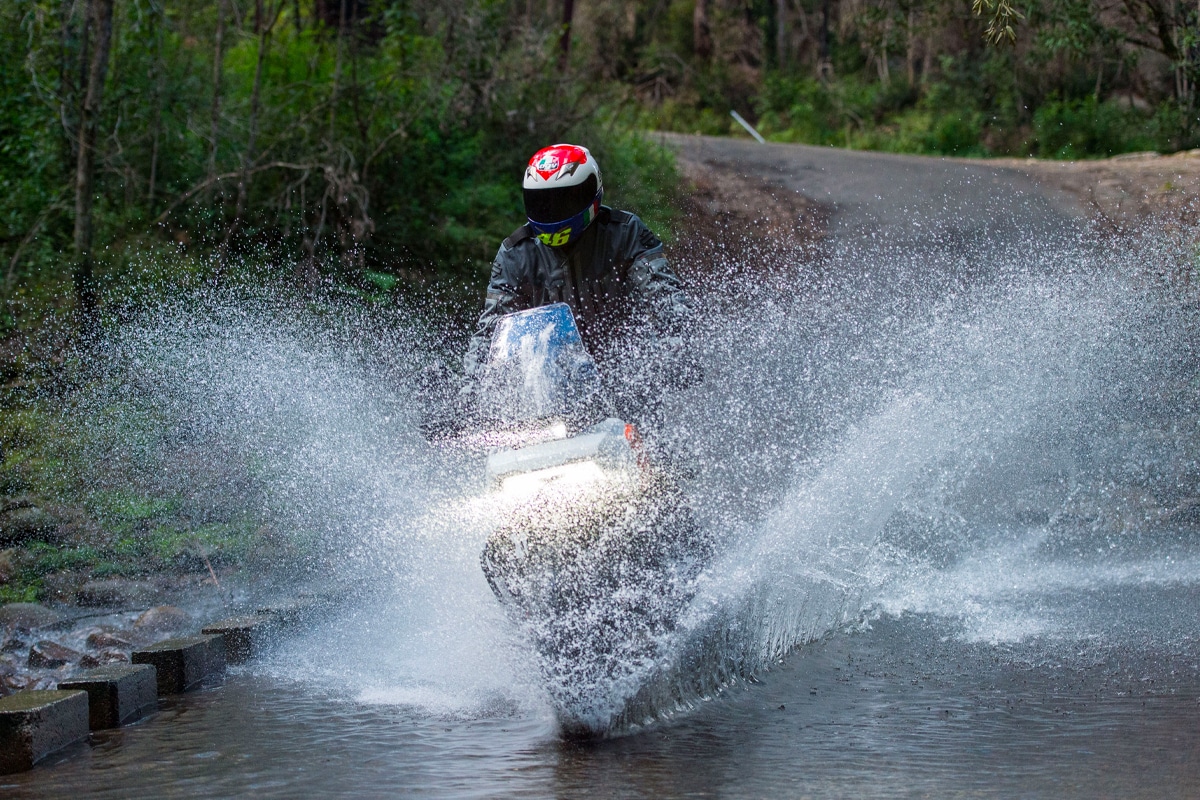 Performance
When exploring the drivetrain on Harley's newest ride, we were happily surprised at how, well, un-Harley it was. The six-speed gearbox, albeit without a quick-shifter, was clinical and precise through all selections, with none of the clunkiness found in some of the older cruisers. The gearbox itself sits inside the same case as the engine, and whether placebo or not, you get an increased sense of unification between the two parties.
The Revolution Max 1250cc lightweight V-twin is the multifaceted heart of this adaptable ensemble. The variable valve timing plays a large part in this versatility, and while it still pulls at low RPMs, it's happiest above 3k, and really starts to come alive over 5k. In fact, the Pan America makes its peak power of 112 kW (150 HP) @ 8750 RPM, which should excite even the most stubborn of Harley heads. The electronics in charge of this new donk are as good as you'd expect on a bike of this calibre, with the various rider modes managing fueling and throttle response amicably.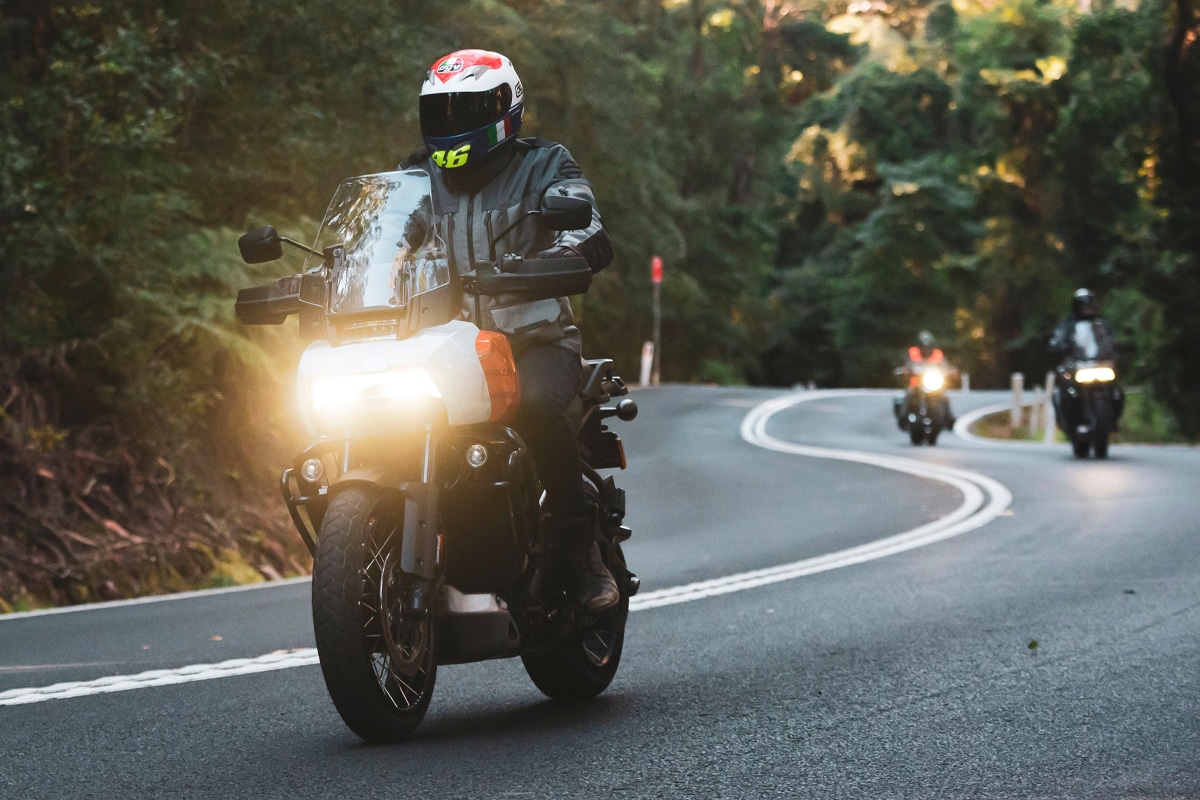 Final Thoughts
With the Pan America, Harley Davison has produced a very well-made, good looking, rookie-friendly, big bore motorcycle for adventure riding. It's slightly paradoxical in the sense that it looks like it's just come back from a highly classified military mission, but once you're in the saddle, it calmly strokes your back as you explore your own capabilities as an adventure rider.
Harley's loyal fanbase can be both a blessing and a curse at times, especially when releasing a motorbike in a new segment, and the Pan America will cop more criticism than it should. But let them sling mud, this bike loves it, and it will do all its talking out on the road, whatever that may be.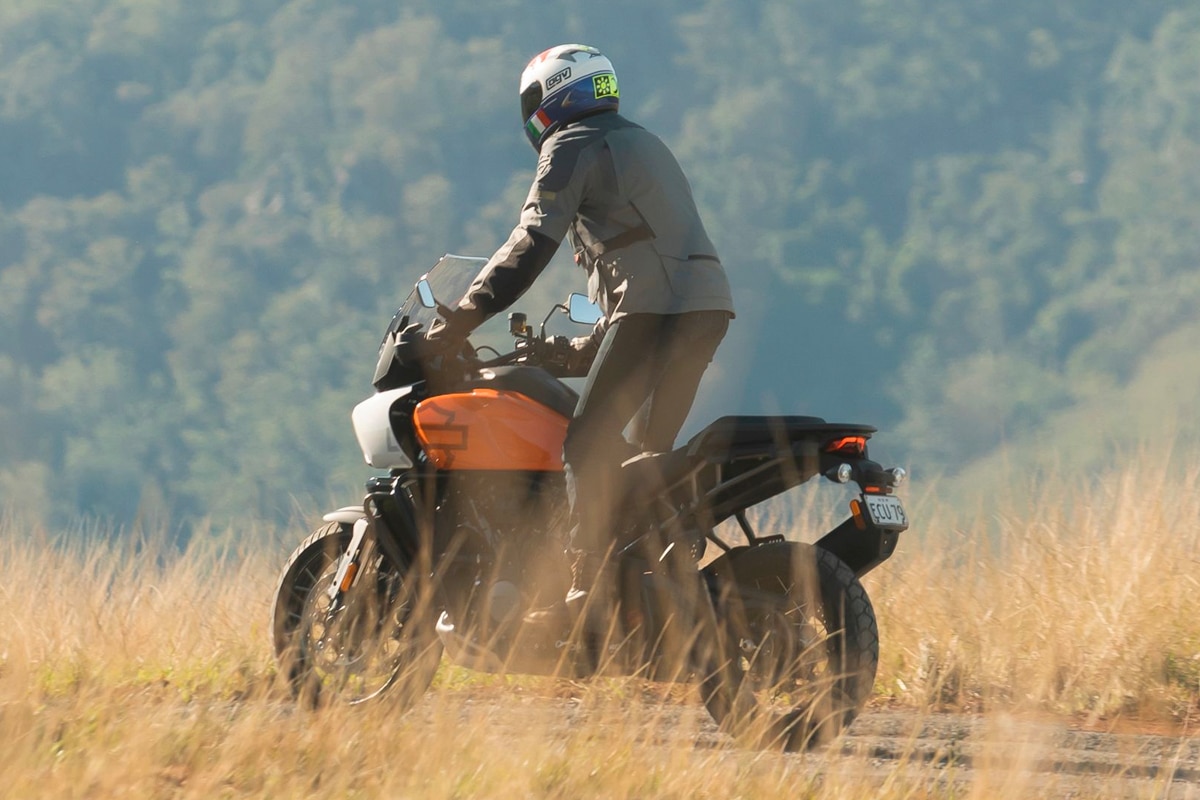 You'll also like:
Harley Davidson's Iconic Electra Glide Returns in Very Limited Numbers
Harley-Davidson's World First Pan America 1250 Unveiled
Harley-Davidson's Fat Boy is Still a Terminator on the Road