Harley-Davidson's Fat Boy is Still a Terminator on the Road
The Harley-Davidson Fat Boy is one of the brands most iconic Motorcycles. It's the bike Arnie (playing the Cyberdyne Systems Model 101 Terminator) rescued a young John Connor on in "Terminator 2: Judgment Day". The model that has been around since 1990, and features the classic lines of even earlier designs.
You'll also like:
Harley Davidson Debuts 2020 Adventure and Street Fighter
Blacktrack Motors BT-03 Revisits Harley-Davidson's Cafe Racer
Harley-Davidson: Everything You Need to Know in One Video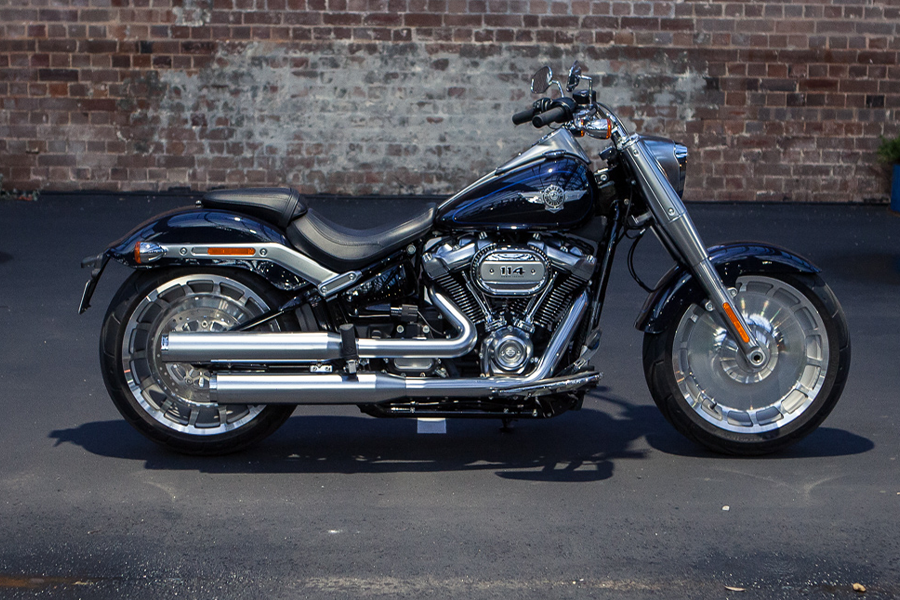 How is living with a motorbike like this in 2020? In a word, joyful. Commuting on this bike can be likened to a morning surf before work. It's a pure, visceral experience riding this. It's an escape from the connected world, with just enough modern conveniences to make the experience as easy as possible without getting in the way.
For instance, Bluetooth or Wi-Fi connectivity does not exist, nor belong here. No notifications will appear on that simple speedo and electronic display. And this is a good thing. As you don't want anything taking your focus away from the experience of riding the Softail chassis with 1.9 litres of Milwaukee iron. The Harley-Davidson Fat Boy features a wireless keyfob, that allows you to leave it in your pocket, jump on the bike, hit the starter and ride off into the sunset without thinking twice. Technology that exists simply to reduce the barriers for you to experience the purity of riding one of man's great machines.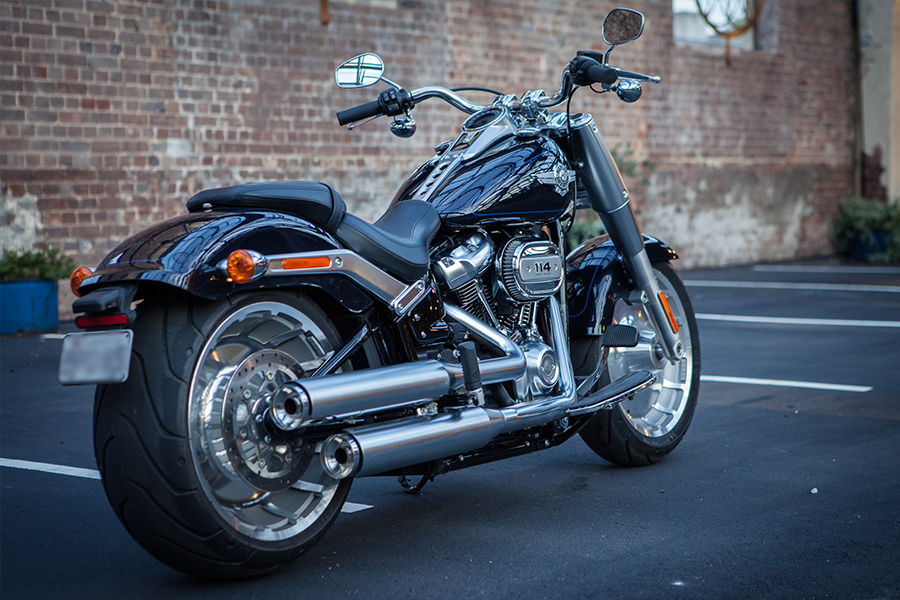 And that is what this bike is about. It's pure riding fun. It's comfortable to sit on, with a nice and wide soft seat that has just enough back padding to provide a feeling of security when the torque hits. The bars are well located, with good height and width. The Harley-Davidson Fat Boy features floorboards rather than simple footpegs, allowing for more options for you to find the right spot to rest your legs.
That said those floorboards do reduce the maximum lean angle for this bike, so if your favourite ride is through the curves in your local national park, other models in the Harley-Davidson range may be more suitable. However, that's not necessarily a bad thing, as this bike is still very capable in the bends. It does not feel like a 300kgs sled when on the move, and changes direction easier than you may think, even with the ultra-wide rubber, 160mm front and 240mm rear. Grip is not an issue here.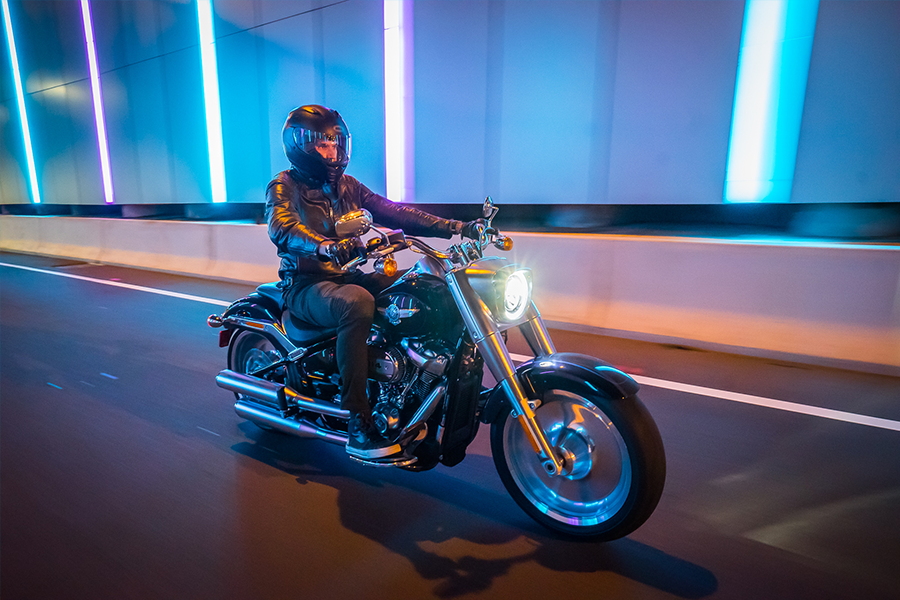 Cruising on freeways is effortless. The V-twin's peak torque arrives at 3000rpm, so shift up, and enjoy what this bike is all about. That's what stood out on the first ride I did on a freeway, just how smooth and easy it all was. The lack of a windscreen doesn't seem as much of a hindrance as you would think, as the styling of the front end with the large integrated forks and headlight area do their best to send the wind over the rider. The suspension at speed also seems to get into its optimal operation zone, smoothing out any road bumps making long trips a snap.
In its standard form, the Harley-Davidson Fat Boy has the styling to appeal to just about anyone. For 2020 it has a few modern touches, including the large LED headlight, which provides crisp and clear visibility when the sun goes down. Along with this, the design is less chrome and more satin. The satin effect on the large expanses of metal does freshen up the look, if it was all chrome it would definitely look older than it is.
Riding around town, I had more than the usual number of curious folk wanting to come up and discuss the finer points of the bike. Most commented on the good-looking styling, and many applauded the design of the solid disc wheels. Another Fat Boy trademark, known as the Lakester by H-D, the wheels give the bike more of a muscular look, almost like a customised steam-rolling motorcycle. Those H-D stamped Michelin gumballs add to this conclusion. From the rear the bikes look is all business.
That rear tyre provides much-needed traction to get the bike off the line without even a hint of wheel spin. And this is where a bike like this shines. It's not a high revving superbike designed to do well over 200km/h. It's a stylish cruiser, with more than enough get-up and go to make the experience memorable. Being that the peak torque figure arrives at 3000rpm, by 2000rpm this V-twin likely has more torque being produced than many modern superbikes have at their high-revving peak, such is the benefit of the 1,868cc motor. From a standing start, unless the superbike is performing a 7000+rpm launch, the Harley-Davidson Fat Boy will simply release the clutch, roll onto the throttle, hit that mountain of torque, and arrive at 60km/h well before the other riders are in their stride. It just happens so easily, all with the iconic exhaust note of the big V-Twin.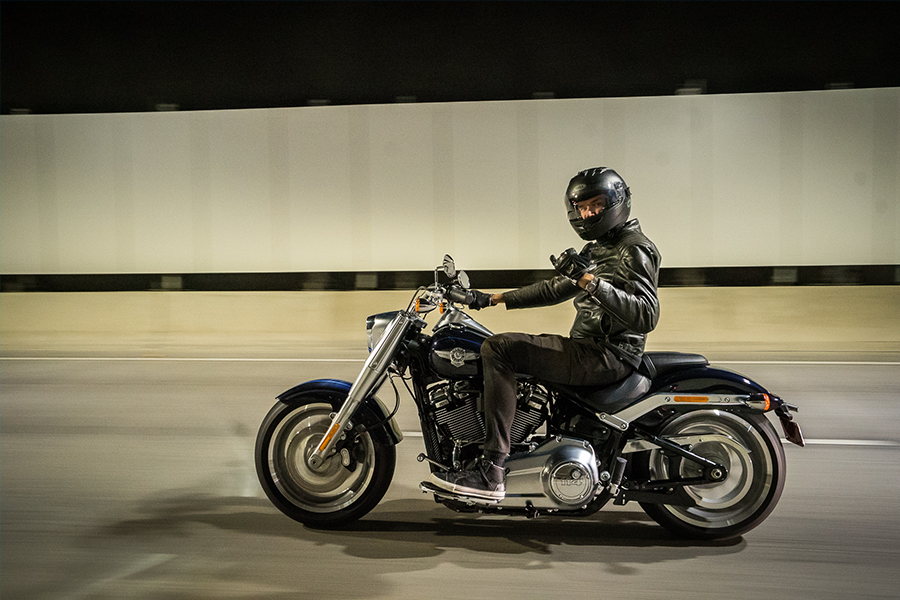 That's a big part of the reason to love a bike like this. It's the kind of bike that wants to you take the tunnel home, just so you can open the throttle and hear the reverberations of the Milwaukee-Eight bounce off as many walls as possible. It's comfortable and easy to ride, doesn't make things difficult with its operation and provides a pure riding experience that stays with you long after you've jumped off.
You'll also like:
Harley Davidson Debuts 2020 Adventure and Street Fighter
Blacktrack Motors BT-03 Revisits Harley-Davidson's Cafe Racer
Harley-Davidson: Everything You Need to Know in One Video
General FAQ
How much is a Fatboy Harley-Davidson?
The 2020 Harley Davidson Fatboy costs $20,599.
Why is it called a Fatboy?
The Fatboy is named for the two atomic bombs dropped on Hiroshima and Nagasaki - 'Fat Man' and 'Little Boy'