Corsair K70 Pro Mini Wireless Review: Hot-Swap Pocket Rocket
The Corsair K70 Pro Mini Wireless is what happens when you fall down the clickity-clack mechanical keyboard wormhole headfirst. It's the first 'hot-swappable' keyboard we've seen from the company, and while technical prowess is the most important thing to look for in your gaming mechanical keyboard, it's also something we've come to expect from Corsair after spending some time with the K70 RGB Pro earlier this year.
Arriving with 'hot-swappable' Cherry MX Switches, the Corsair K70 Pro Mini Wireless also packs an aluminium frame with dynamic per-key RGB, Corsair AXON hyper-processing technology, and tri-connectivity modes via SlipStream wireless, Bluetooth or USB with 8,000Hz hyper-polling, PBT double-shot keycaps and plenty of onboard shortcuts. On the surface, it has the key markings of an all-around champion, but we had to put it to the test.
Related: Nerf's First-Ever Fully Automatic Gel Blaster Comes With 10,000 Rounds.
| What We Like | Could Deter a Buyer | Our Verdict |
| --- | --- | --- |
| This is the first hot-swap keyboard from Corsair, and we hope it's not their last. The chassis is sturdy, the PBT keycaps are solid, and the RGB is fully customisable. | The 60 per cent layout of the keyboard would be the biggest deterrent for a buyer. Even with the shortcuts available through the keys, it's not built for spreadsheeting or general office work. | The Corsair K70 Mini Pro is a great choice for gamers who are looking to slowly build up a custom keyboard. Ultimately, it's perfect for a fan of Corsair who wants per-key RGB customisation through iCue and a quality 60 per cent layout gaming keyboard. |
Inside the Corsair K70 Mini Pro Wireless
We'll start by saying that 'hot-swappable' switches are not something we absolutely NEED from a gaming mechanical keyboard, but you can bet your bottom dollar we're happy to see them in the Corsair K70 Pro Mini Wireless. We've been playing with its full-size bigger brother – the K70 Pro – for months now, however, with our own custom mechanical keyboard taking pride of place on our desk it wasn't getting much use outside a few PC games here and there. We have big plans for the Mini Pro, but for now, we're testing it out as it arrived.
What Are Hot Swappable Switches?
Instead of having the keys soldered to the board, the K70 Mini Pro features hot-swappable switches meaning you can customise the sounds, look, and feel of the board by swapping them for something that better suits your preference. If you're looking for inspiration on the best-sounding mechanical switches allow us to introduce the YouTube mechanical keyboard wormhole; we started by watching Hipyo Tech, but there are plenty of channels to explore.
Corsair K70 Pro Mini Switches
The keyboard is offered with north-facing linear Cherry MX Red (our review unit) or gaming linear Cherry MX Speed Silver switches. Obviously, because it's hot-swappable you have plenty of options at your disposal by sticking with Cherry or going for something third-party with reputable brands such as Gazzew or Gateron.
The chassis will only accept plate-mount switches out of the box, however, PCB-mount switches can be made to fit by snipping off the plastic legs.
Cherry MX Red switches are far from our favourite switches on the market and the K70 Mini Pro's could do with some lube out of the box as they're a little scratchy. Use the switches every day for a couple of weeks and they'll get smoother after they 'break in' but they'll never be more than 'fine' and we'd recommend a set of Gateron Black Ink v2s.
Stabilisers on the larger keys (back button, enter key, shift, etc.) are fairly solid, however, the spacebar is quite loud, rattly, and metallic. This isn't a 'cheap' keyboard, so we have to judge it against some of the best on the market around this price point, even if this one has the technical prowess. Not the best, not the worst.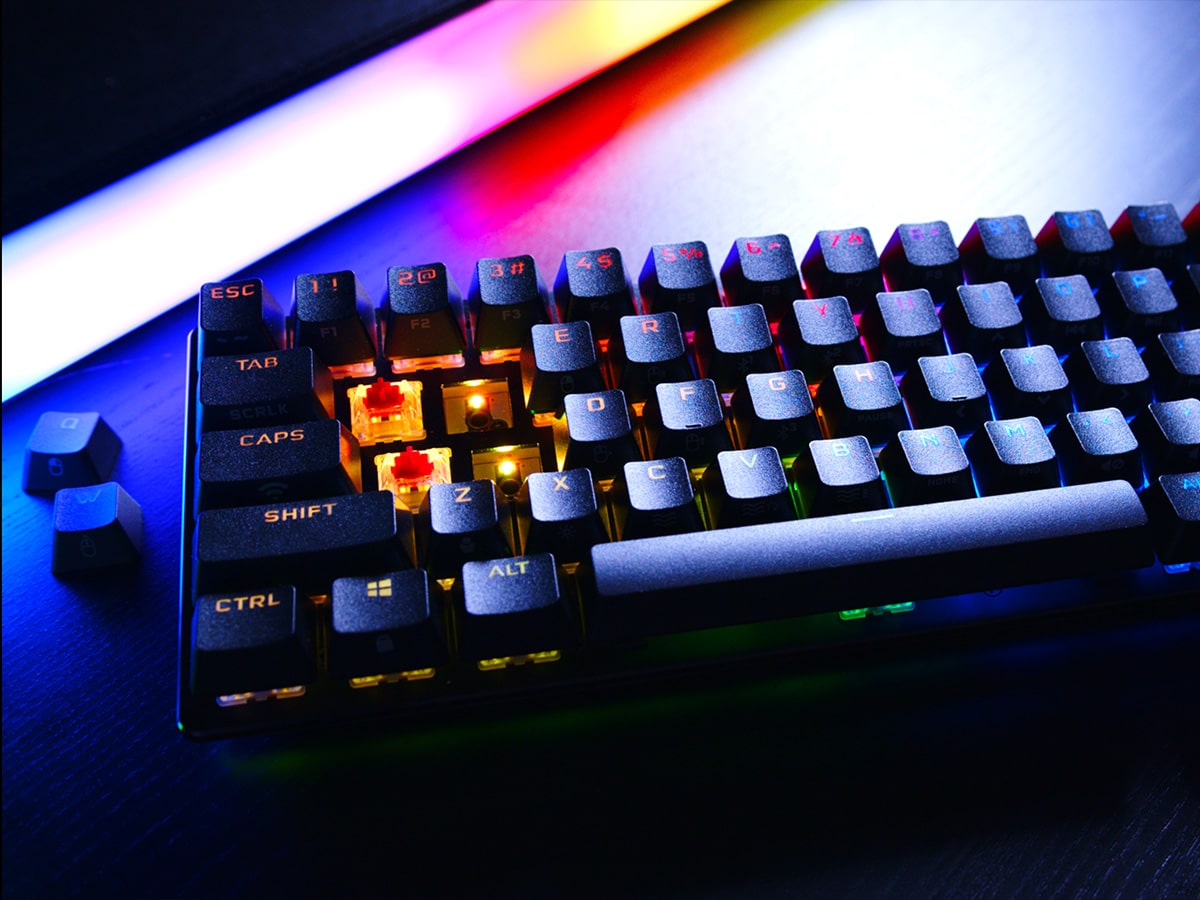 Corsair K70 Pro Mini Keycaps
Keycaps are PBT Double Shot style which is one of the more professional options on the market. They're solid in feel, with little to no RBG light leakage, and can also be swapped to something more your style if you'd rather your board look like a box of lego. We'd recommend keeping them factory because the shortcut indicators will be lost if you do swap them out.
Layout
It's called the 'Mini' for a reason and there's no mistaking the arrow-key-less layout of a 60 per cent board. If you're really lacking in space on your desk the layout might make more sense, but for the user wanting to use the K70 Mini Pro as an everyday office board, we'd recommend a 65 per cent or higher keyboard with arrow keys.
There are shortcuts for arrow keys, volume, track skip, etc. accessed by the 'fn' key (with indicators on the keycaps), however, they'll take some getting used to and spreadsheeting is pretty much off the table. As it stands right now, we'd only be able to recommend this layout for gamers, but with some customisation, copywriters would also benefit from the posture-inducing size. We look forward to 'hot-swap' making its way to some of the brand's larger boards in the future *fingers crossed*.
Corsair K70 Pro Mini Technical Prowess
The Corsair K70 Pro Mini Wireless has all the figures that a professional gamer would look for in their keyboard. Offering wired 8,000Hz polling (manually enabled in Corsair's iCue software) and wireless 2,000Hz polling through the attached dongle that neatly fits in the case. The average user wouldn't be able to tell the difference between the two – which is a point for the wireless capability of the board – but the same could be said for anything over 1,000Hz where all keyboards start feeling very similar.
Battery life is promised at 32 hours with backlighting switched on and 200 hours with it switched off. This equates to weekly charging for the keyboard if you want the flashy stuff in the background or around a month if you don't care for it. Compared to other boards on the market it's quite low – even the $84 Keychron K3 V2 offers more at 34 hours – and let's not mention the crowd favourite Logitech MX Mechanical Mini ($229.95 AUD) that boasts 15 days with backlighting on, or 10 months with it off.
Should You Buy the Corsair K70 Pro Mini Wireless?
We love the fact that Corsair has made the switch to a hot-swap PCB and although we've never been the biggest fans of the 60 per cent layout it's a quality-made board that boasts the technical prowess you look for in a Corsair product. We'd love to see the brand offer a 65 per cent or larger hot-swappable board with arrow keys, and we'll keep a keen eye out for those in the future. In the meantime, we'd recommend the K70 Pro Mini to those gamers who love Corsair for iCue RGB connectivity while also wanting that aluminium chassis and hot-swap functionality.
The Corsair K70 Pro Mini Wireless is priced from AUD$299 and is available in Australia from August 16th, 2022.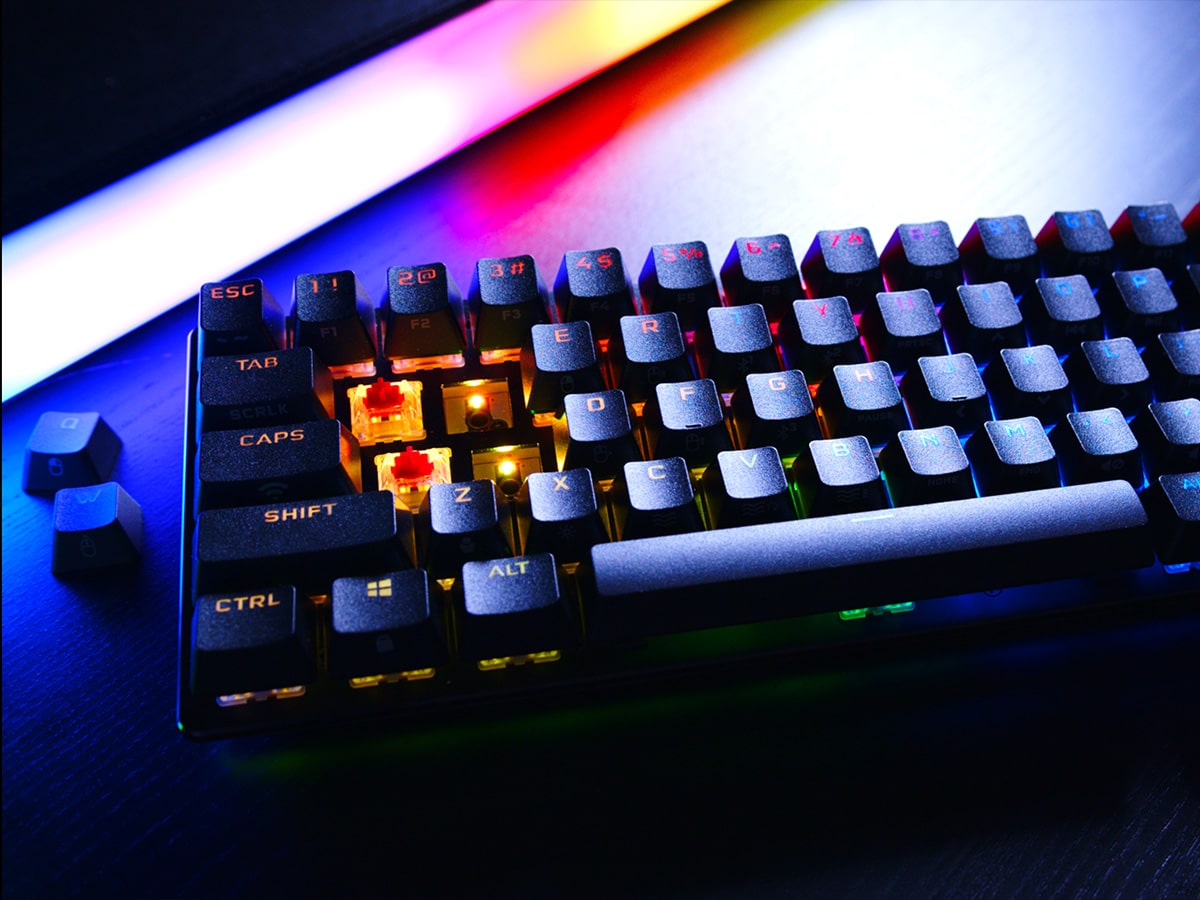 You'll also like:
Sony WH-1000XM5 Review: Still THE Headphones to Buy?
SteelSeries Aerox 9 Review: Safe From Snacks and Sweat
EPOS H3PRO Hybrid Review: Better in Green and Gold