How to Host an Augmented Reality Easter Egg Hunt
What will Easter look like at your house this year? Probably super boring, if lockdown measures are anything to go by. But fear not, there are a few cool ways you can keep the holiday spirit alive. For starters, you can use the days off to check in with family and see how everyone is travelling whilst in isolation. Easter is normally a time where we get together and celebrate with our closest relatives, but there's no reason why a global pandemic has to stop us from getting social. Rather than seeing them in person, you might want to Skype or Zoom the family for a few cheeky drinks over the long weekend. Further, you can still stuff your face with chocolate from the moment you wake up on Sunday, there's no ban on that. But sadly for kids across the globe, both big and small, COVID-19 has put an end to the Easter egg hunt tradition for this year. Or has it?
Thanks to some innovative technology, you can still hold a killer hunt in 2020. Here's our guide to hosting an augmented reality Easter egg hunt.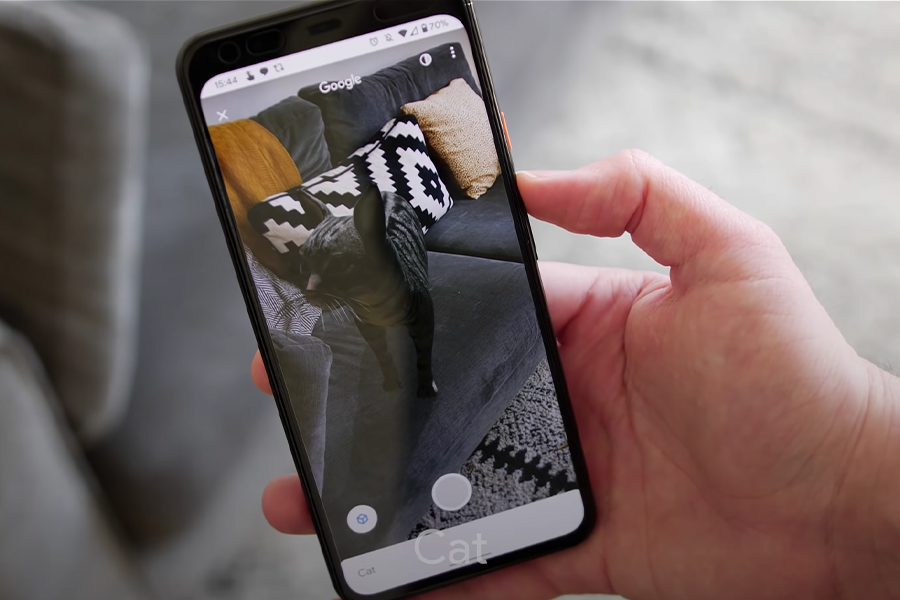 What is Augmented Reality?
Before we delve too deep into how to run your own augmented reality Easter egg hunt, we should probably explain what the technology is and how it works. Augmented reality or AR first kicked off in the 90s when it was utilised for military and television purposes. While clunky and difficult to use at first, the technology quickly became a highly valuable tool for displaying images, statistics and visuals during live broadcasts. For example, when you watch a football game, the graphics that appear on the field are augmented reality capabilities at play. In fact, many of the standard television effects and tools you encounter on a daily basis are actually examples of simple AR technology.
The technology has greatly improved and grown in popularity over the last five years, perpetuated by improving smartphone capabilities. Most smartphones now have the ability to project 3D models onto physical things in real-time, most notably through AR apps. One reason why augmented reality use has swelled of late is due to its educational benefits. Visual learning is proving to be one of the most effective teaching methods among young students, so the ability to project an image in real-time can greatly enhance the understanding process. New AR additions such as Google's 3D Animals have been a major help for students, and AR Easter egg hunts work on the same premise. Specifically, these AR apps connect digital animation to a special 'marker', or with the help of GPS in phones to pinpoint the location.
What is an Augmented Reality Easter Egg Hunt?
While this may sound like a bit of coronavirus novelty, augmented reality (AR) Easter egg hunts have actually been running for a few years now. Rather than getting up early, filling your backyard with a bunch of eggs and waiting for your family (and usually a bunch of other randoms) to comb through every inch of your property trying to find them, the AR variation is far more simple.
Through AR apps available on both iPhone and Android, you can organise an AR Easter egg hunt using your immediate surroundings. Each app provides a number of different features to make their hunting experience unique. For example, some apps allow you to hide and find the eggs yourself, while others such as Tibb AR will add challenges within the hunts. In this app, users catch eggs for extra points, avoid rotten eggs that can take away from health and dodge annoying rabbits that throw rotten eggs onto the screen.   
To initiate the AR Easter egg hunt, or any other AR project for that matter, you must first scan the room or space using the camera within the application. Once the app has determined the available space, you are free to start finding eggs and having fun.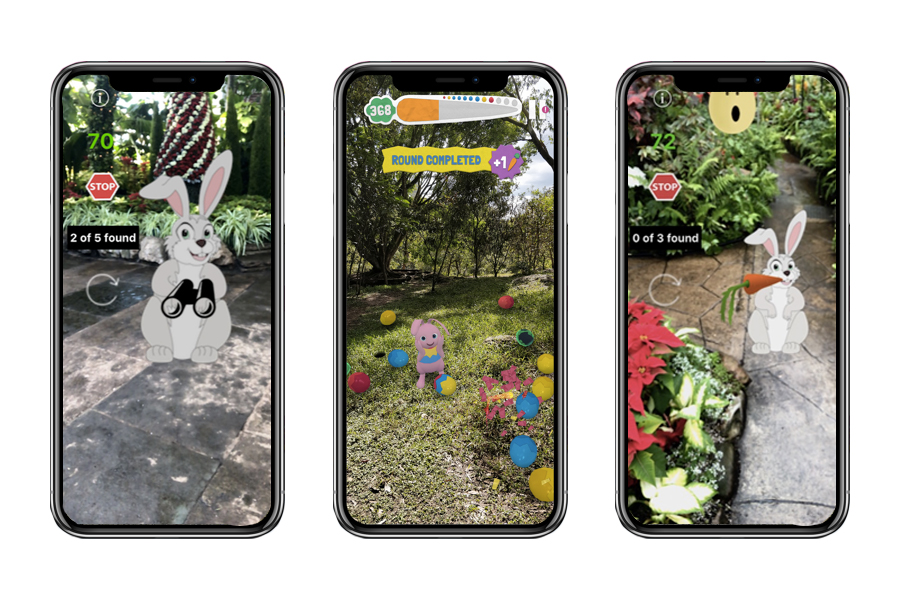 Augmented Reality Easter Egg Hunt Apps
While we can't say the Tibb AR app is perfect, it's a pretty solid effort on the AR Easter egg hunt side of things. Like all AR apps, it can be a little clunky at times and novelty will wear off quickly, but it bears reminding that the app was definitely designed with kids in mind. On the other hand, it's not like we've got a lot else going on at the moment, so it was a nice distraction for an hour or so. Tibb AR isn't the only augmented reality Easter egg hunt app on the market though. Lucky for you, we've already gone and done the heavy lifting by playing and reviewing all of the AR Easter egg hunt apps (yes, quarantine is starting to get the best of us). Here's our top four;
1. Bunny Hunt AR
This augmented reality Easter egg hunt app is definitely for the little ones, but the premise is actually quite interesting. Kids draw their own version of Mr Bunny before bringing him to life in AR. Bunny Hunt AR is a location-based augmented reality experience that encourages you to find Mr Bunny's house, so it will involve a bit of movement. One cool element of this one is that it actually aligns with Bunny Battle Virtual Reality to create a multiplayer VR experience, so if you're really strapped for entertainment, you can jump on with a few mates and crash Mr Bunny's house.
2. Easter 2020 Egg Hunt
This one is actually wild. You use the in-app camera to scan a flat surface which then has an environment projected on top. You manoeuvre through the level by moving forward or backward, attempting to catch as many eggs as possible before the timer runs out. The AR functionality is actually quite impressive, but the purpose of the game is a little confusing and tricky to establish. Nonetheless, we spent about 20 minutes on this, which is not bad for a children's Easter egg hunt app.
3. AR Egg Hunt
A very simple variation on the concept, AR Egg Hunt is probably the most basic app on the list. It has only one review on the App Store, which we think perfectly sums it up. "So this is not a great game but it's exactly what it says to be. It can be fun for a group but ya it was cool!," WTM Fan Chicago said.
4. Tibb AR
Probably the best of the bunch, Tibb AR has decent functionality and fun little storyline. It's also the most responsive of the AR Easter egg hunt apps, which really makes it feel more realistic when you play. We definitely spent the most time playing this one, so it wins by default.
AR Easter Egg Hunt Apps
Look, the list of the best AR Easter egg hunt apps was never going to be the biggest drawcard, but with little to do this long weekend, we've actually found this is a pretty fun way to spend time. If you've got little ones and are worried about breaking the quarantine restrictions, an augmented reality hunt might be the best way to keep the dream alive. If you don't have kids, we recommend whipping up a few Easter cocktails and turning it into a drinking game.
Are all phones AR enabled?
Newer device models will have AR software already integrated into the operating system phone. You may need to download the ARCore app to if you have an Android, but provided it is a newer model, it should have augmented reality capabilities.
Is augmented reality safe for children?
Provided the game they are playing is appropriate, AR is safe for children. If the app relies heavily on movement, be sure to clear the immediate area from tripping hazards.
What is the best augmented reality app?
The best AR apps are created by companies that have performed extensive research. Google, for instance, has created a number of high-quality augmented reality apps, such as Google 3D animals and Google maps.