Sightful's 'Spacetop' is the World's First Augmented Reality Laptop
For well over two decades, the design of laptops has remained largely unchanged, featuring an outer shell-like casing that houses a screen, keyboard, and trackpad. However, this physical configuration imposes limitations on the available screen space. So in a bid to solve the screen crisis, Sightful has come out with a new laptop, dubbed, Spacetop, which attempts to fix the screen real estate problem by getting rid of the screen altogether. Unlike traditional laptops, Spacetop is a screen-less augmented reality laptop that projects all your tabs onto a virtual screen equivalent to 100 inches in size. Welcome to the future, people.
You'll also love: 
Xiaomi's Wireless AR Glasses Cop a 'Retina-level' Adaptive Display
2023 LG gram Laptops Punch Well Above Their Weight
Lenovo Drops New 'Go Anywhere' ThinkPad Z13 and Z16 Gen 2 Work Laptops
Spacetop's design offers a somewhat notable departure from conventional machines. The AR laptop ditches the top half of the computer, consolidating all the familiar essential components such as the keyboard, trackpad, internal hardware, and webcam into the lower half. Removing the screen not only reduces the weight significantly but also optimises space utilisation. But here comes the fun part.
In order to view the screen, you'll need to strap on a pair of NReal's lightweight AR glasses (that come with the bundle), enabling you to experience an expansive virtual computer screen no matter where you are. However, these glasses aren't wireless and must be connected to the laptop via a cable. Once you put them on, your desktop is projected into the air before you. You can interact with the virtual display, move windows, watch videos, chat, and more, using the keys and touchpad just as you would with a physical screen.
Sightful asserts that the Spacetop provides the equivalent of a "100-inch laptop" experience, but how it actually plays out remains to be seen. Both lenses feature a solid 1080p per eye resolution and are see-through, so there's no risk of missing out on what's happening around you while using the screen. Furthermore, only the user can see the screen, adding a new level of privacy while working in public spaces. The audio comes via glasses so that you can communicate with work colleagues via different platforms. However, we're unsure whether it's compatible with other headphone devices.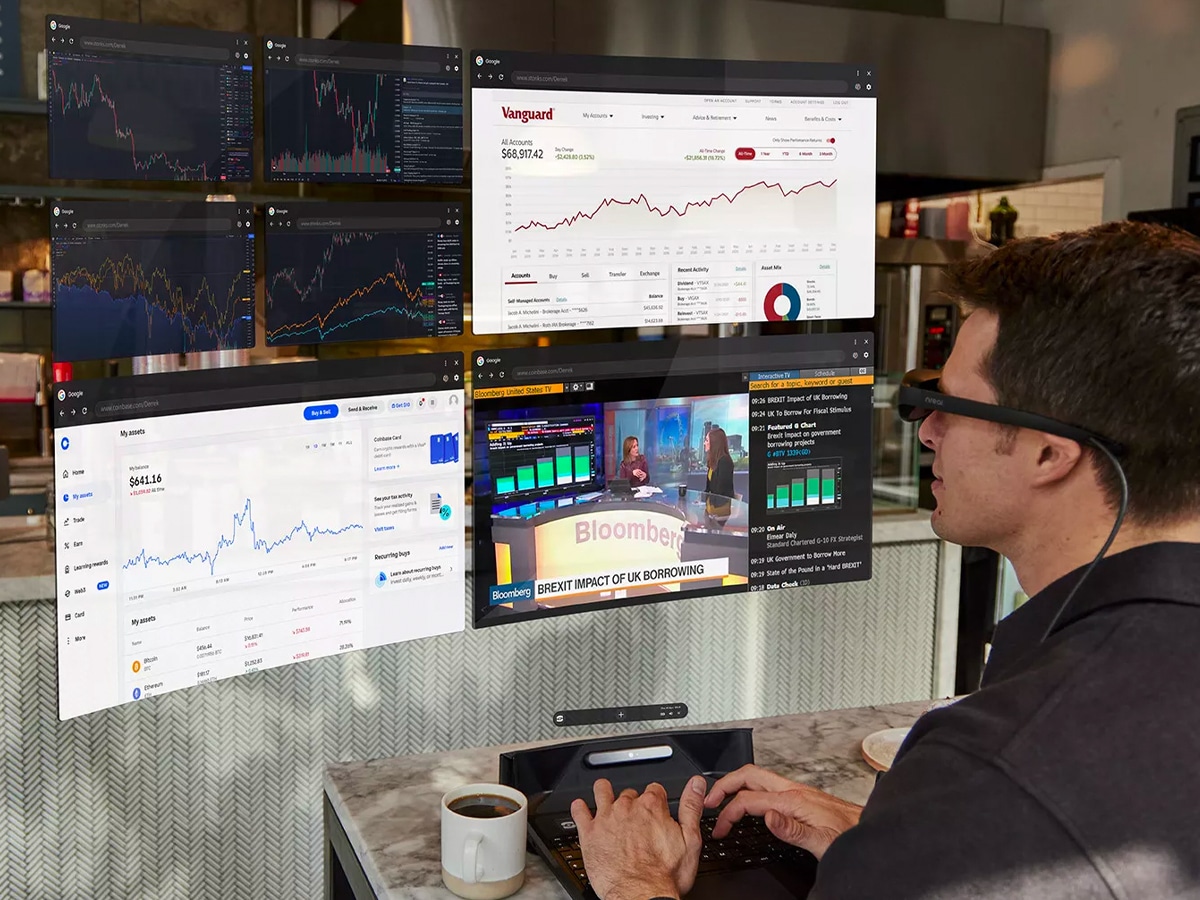 Under the hood, Spacetop is powered by a Qualcomm Snapdragon 865 featuring an Aredeno 650 GPU and runs a custom operating system called Spacetop OS based on an open-source Android variant. The laptop will have 8 GB memory and 256 GB of internal storage; Wi-Fi 6 and Bluetooth 5.1 baked in along with a 5G modem; and two USB-C sockets.
As for the battery life, you can expect around five hours of "full productivity", and there's also fast charge which the company claims will give you 80 per cent of juice in less than two hours. Sightful is clearly betting big on the thriving work-from-anywhere culture that has experienced tremendous growth in recent years. With Spacetop, the company is leveraging the power of AR tech to eliminate laptop screens in favour of massive virtual screens that pop out right in front of your eyes almost anywhere.
However, despite the impressive augmented reality tech, this new AR laptop features a relatively underwhelming CPU that might limit its ability to run multiple applications simultaneously, thus impacting multitasking capabilities. With no dedicated cooling solution in place, seeing how hot the thing will run in intense scenarios will be interesting.
That said, for those looking to buy one of these, Sightful is currently offering 1,000 people a chance to sign up on its website. Interested consumers must fill out a form regarding how they plan on using the machine. If the company deems you fit, you'll be offered access to buy the product, which will start shipping in early July. Prices for this AR laptop are yet to be revealed.
Tamir Berliner, Sightful co-founder, said, "Laptops are the centrepiece of our daily working lives, but the technology has not evolved with the modern, work from anywhere, privacy matters, 'road warrior' mentality. Meanwhile, augmented reality is full of potential and promise but is yet to find its daily use case. We are at the perfect moment for a significant paradigm shift in a device we all know and love."
You'll also love: 
Xiaomi's Wireless AR Glasses Cop a 'Retina-level' Adaptive Display
2023 LG gram Laptops Punch Well Above Their Weight
Lenovo Drops New 'Go Anywhere' ThinkPad Z13 and Z16 Gen 2 Work Laptops