Boy to Man – An Interview with Filmaker Tim Noonan
Having worked as a filmmaker and reporter for more than a decade, Aussie Tim Noonan is no stranger to chasing a story. He's won two Walkley Awards, been nominated for two Logies and travelled the world to cover compelling stories from every corner of the globe. But bored of the comforts of the modern world and keen to prove his worth, Tim risked it all for Boy to Man, a new 12-part documentary series that hits screens this week.
Like the modern-day equivalent of the 12 Labours of Hercules, he sought out some of human civilisation's most challenging coming of age rituals in order to discover what it takes to become the ultimate man. From wrestling sharks on Trobriand Island to snake-catching in Cameroon, he journeyed to some of the most remote places on the planet on a voyage of self-discovery, filming his adventures as he went.
 We spoke to Tim about chasing your dreams, conquering fear and what it means to become a man.
What sparked your desire to set off on a journey like this?
I started off as a shooter/reporter for Sunday Night on Channel Seven and so I filmed a lot of my own stories myself. I had reached a point in my career where I really wanted to dive of the deep end, take a leap of faith and just go on a journey and do what I really wanted to do.
I left a really cushy, cosy career in the city, walked away from it and took out a massive loan, bought a whole heap of new camera gear and set off. I started in Siberia and came back and then it ended up being a two and a half year long adventure, pushing every limit that I could ever had hoped to have gone to.
What was your fascination with the idea of 'becoming a man'?
I think deep down I probably never felt like the manliest of kids and it was a gap or a void that I needed to fill, so I guess I was always trying to prove my manhood throughout my career. I did undercover stories, I tried to put my hand up for anything dangerous and create my own rite of passage in my work.
I think we have it really easy here in Sydney because there's no major rites of passage except for maybe going out when you're 18 and getting drunk for the first time or going overseas and having a gap year, but there's no ceremony surrounding that. I remember when I got my licence for the first time that that was kind of a rite of passage, but it's pretty lame compared to other parts of the world where boys have it pretty tough.
A lot of these rights of passage are really scary and something they've always perceive to be an obstacle that they don't think they can get past until they do. It's almost like killing the boy to become a man and they pop out the other side and emerge as dependable men that can rely on themselves for survival.
What did you learn over the course of your travels?
Conquering fear was the biggest lesson I think I learnt and having the courage to pursue what you really want to do in life is sometimes the scariest thing. Having the courage to quit my job and chase a greater dream was the first step and that was really tough. I learnt that we all have this ability that you can untap or unlock, a hidden strength in all of us to conquer fear and do things that you never thought you'd do.
Every single location that we arrived at I'd hear what the rite of passage or initiation was and I'd just freak out because they were so daunting; like pulling a snake out of a hole with your bare hands; having to go and hit a giant wasp nest and get stung all over your body; or ride a bucking bronco. They all seemed so out of this world to me and so frightening but every time, step by step, I learnt that it actually wasn't the initiation that was the scary thing, it was just the lead up and having the courage to back yourself.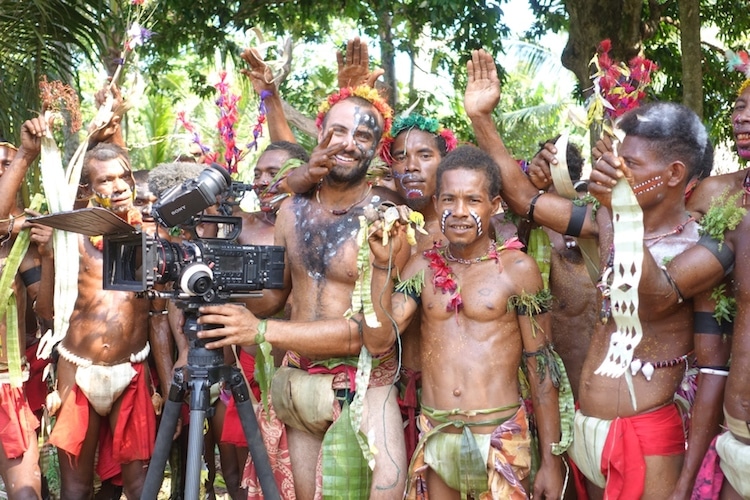 What was the toughest coming of age ritual?
They were all pretty extreme but psychically just surviving in Siberia at -40°C was ridiculously tough: just to operate the camera gear was like a baptism by ice.
The other was to ride a bull in Madagascar. I watched a guy just get annihilated in front of me and land on his head and then I was up next. It really made me consider whether or not I should be going through with it as there's no hospitals, there's no medical help and there's no one coming for you if something goes wrong, so you really just have to rely on your instincts to get through them.
There was one that I couldn't do, which was hitting the giant wasp nest with the Xavante warriors in Brazil. I came down to the initiation day and I'd been tested out and stung by some smaller wasps and I just couldn't hack it. The initiation was to climb up into the tree canopy and smash the wasp nest down from the tree and as you're climbing down you get stung hundreds of times. If they sting you on your nose you can drop ten to twenty metres and it can be really dangerous. So I pulled out of it, I reevaluated and thought, 'no, I really want to have kids.'
And what was the most memorable experience?
The times where I had to tame a powerful animal are the ones I still think about everyday. I'd never ridden a horse before and I had to tame this bucking bronco so it was forging a bond with an animal like that. It hated me to begin with and then it turned into an awesome friendship and we did it together.
I also tamed a golden eagle in Mongolia and there's nothing that comes close to the experience of a giant eagle landing on your arm and being soft enough not to put it's claws through you. That bond, you just can't beat it, and I was so privileged and lucky to have the opportunity.
What was your filming process?
I just travel with one other guy, he's an editor and my best mate, so he also gave up a job in a four-walled edit suite after 25 years to come out on the road for the very first time. We do it by choice, as having a small crew means you can be totally immersed and the access you get is great – we can stay for longer on the ground and the locals become a giant film crew.
I've travelled with big film crews before and when you need to make a last minute decision or change a location it can be really quite cumbersome. But when you're only travelling as two you can fly by the seat of your pants and you want to like the people you're travelling with because you get pushed to your limits.
So when I have to be in front of the camera, he'll tilt and pan it and push record when I can't. I shoot with pretty much entirely Sony gear, I've got Sony F55s and a bag full of action cams and handicams.
We had this one camera that could flip the screen around and you could project from it. Some of these people have never seen a camera before and so when you play footage of them you've just taken back to them – there's nothing better than watching people laugh at a makeshift cinema night.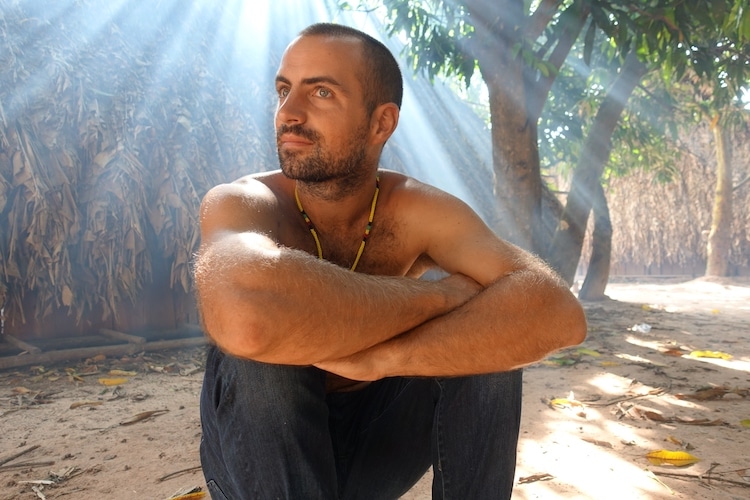 Did you ever come close to quitting?
There were some experiences that pushed me to the limit and every time I questioned whether or not I'd be able to actually go through with the initiation, but, believe it or not, filming the episodes was probably the toughest challenge of all. We were battling the harshest conditions and camera gear would go down all the time.
I also broke a rib in a stick fight with the Xavante tribe and when something like that happens, you've got no choice but to look for ways to get yourself out of the problem and make it work. Breaking a rib was definitely a low point and I thought the episode was finished, but everybody banded together and it was the best thing ever.
Did you learn anything about what it means to become a man?
Knowing the line between bravery and stupidity is pretty much top of the list and that sometimes being a man is knowing when to step down. More than anything I learnt that if you've got a dream don't let anyone stop you. People thought that I'd never be able to go and do this and said it was career suicide to walk away from a pretty privileged job.
I'm just an ordinary guy, I'm not a stuntman and there was no training before I took off on this journey, so I learnt that we're so much more capable of things that we never thought we'd be able to do. I'm living proof that if you've got a dream and you're passionate about it, don't let anything ever stop you. There's nothing special about me, I just had a dream and I did it, that's all.
What advice would you give to those looking to follow their dreams?
I think finding what you're passionate about is the key. I haven't worked a day in my life since I got into filmmaking because it's something I live, eat and breathe. So I think you have to be so passionate about it if you want to make it work.
For me, my life's legacy will be documenting the rights of passage that we all go through, whether it be manhood, marriage, death, destiny, you name it. That's the legacy I want to leave but no matter what it is, find out what you're passionate about and go after it with everything and don't be afraid to back yourself.
So many people just expect to have it delivered to them and for other people to make their dreams happen and that's just never the case. I continually have to risk everything for the next project and I'm about to do it all over again.
What was the feeling when you returned back to modern civilisation? Was it hard to adjust?
I was on and off for a couple of years, so it was a long time on the road and it was really tough to come back to civilisation after being totally isolated. We had no access to mobile phones, the internet or anything from the modern world so it was an adjustment every time. When you're in those remote areas it's all about human relationships: you have no idea what the news of the day and you're totally cut off.
Everybody would always say, 'oh God, he's been in the jungle for too long' and it would be like a detox for a couple of weeks where I'd have to readjust to people getting angry at the traffic lights or obsessing about gas bills.
Boy to Man airs Wednesdays at 8.30pm from February 1 on BBC Knowledge