The Days Gone Inspired Survival Kit
Days Gone is the latest exclusive to hit the PlayStation 4. The open-world adventure follows outlaw biker Deacon St. John as he roams the hills of the Pacific Northwest. Thanks to a deadly viral outbreak two years back, most of the surviving population has transformed into mindless, feral creatures – Freakers. Just don't call them zombies.
Beneath the brutal combat, stealth gameplay and motorcycle riding, Days Gone explores themes of love, loss, friendship, revenge and desperation. So basically humanity pushed to breaking point.
To celebrate the launch of Days Gone, we've curated a collection of tools and clothing guaranteed to give Deacon the upper hand throughout his search for answers and fight for survival. Or, consider this survival kit a handy listicle of gear recommendations for your next camping or hiking trip into the great outdoors.
HRD Irving Vincent's Brando Leather Jacket
Champion racing marque Irving Vincent happens to be one of the best places to find a genuine motorcycle jacket. The one presented above is the suitably named Brando, a classic 1950's style biker jacket that looks like it was pulled straight from the back of Negan in The Walking Dead.
Brando is a safe and practical number, zipped and buckled for when you're hitting high speeds along the freeway. This jacket would also look just as good left open with some faded jeans, a white tee, motorcycle boots and aviators.
Danner Crater Rim Boots
Danner knows boots like it's nobody's business. While technically not riding boots, the handcrafted Crater Rim packs enough aggression, durability and style into its bold form that one might think they were designed specifically for potential end of the world scenarios.
These boots are waterproof, breathable, abrasion-resistant and the lace-to-toe design guarantees a secure fit. The Vibram Bifida outsole provides superior traction in rugged ascending and descending terrain. The leather upper does an excellent job complementing that HDR Irving Vincent jacket.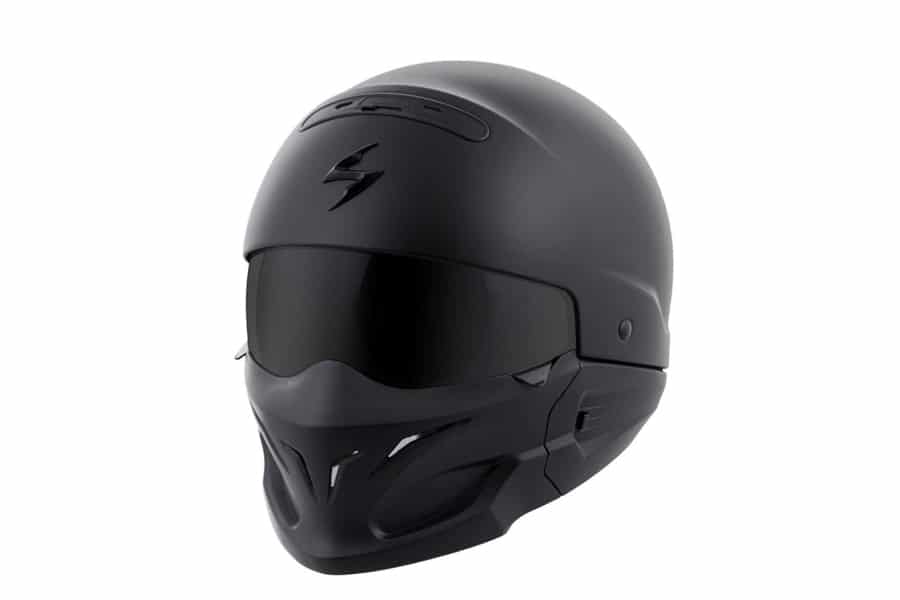 ScorpionExo Covert Motorcycle Helmet
Far from a traditional motorcycle helmet, ScorpionExo far more closely resembles SWAT and riot police gear. What better to protect the rugged masculine features of an outlaw biker against a horde of the undead?
Fearless in both concept and execution, this helmet flexes its versatile muscles by way of a shape-shifting design. More specifically, ScorpionExo took a typical half helmet and added components like a built-in drop down sun visor and magnetically attachable front mask for those times when only full renegade will suffice. Paint the front mask yellow or blue, and you're just about ready for some Mortal Kombat cosplay. See More: 27 Cool Motorcycle Helmets
Harley Davidson 2019 Fat Bob
The Harley Davidson name is synonymous with bikers. That's because both are tough and built to last. Of all the Harley Davidsons' available Fat Bob roars the loudest. This motorcycle features aggressive, unapologetic styling, mind-blowing performance and handling, premium finishes, and the massive torque of the Milwaukee-Eight engine.
On the road, it is a loud and loyal friend – exactly what you would expect of someone or something named Fat Bob. It's clear from the opening of Days Gone that Deacon needs an upgrade. The Harley Davidson Fat Bob is a more than suitable option. Although after seeing Deacon's poor job of hiding his ride under some plants, I'm not so sure he should be trusted with such great responsibility.
Leatherman Surge Multi Tool
Life on the road doesn't permit a great deal of storage space. Thankfully, the Leatherman Surge multi tool is a heavy duty workhorse, packing 21 essential functions into a neat stainless-steel package.
We're talking Leatherman's largest pliers and longest multi-tool blades. The unique blade exchanger, replaceable 154CM wire cutters and four outside-opening blades give quick access to the tools you use most. The Surge was built for tough jobs and the hands that do them. It comes housed in a black nylon sheath and is backed by an impressive 25-year guarantee.
Stanley Master Vacuum Bottle
Right here is a drink flask that's built as tough as mountain climbers, hikers, hunters, firefighters and anyone who frequents the harshest conditions. Coffee, tea, soup or whisky, this Master Vacuum Bottle handles 750ml of whatever you're craving. The lid doubles as a cup so there's no need to bring an additional one. The vacuum-insulated stainless steel design keeps drinks hot or cold for 27 hours and iced for up to 100 hours. The bottle is also leak-proof, meaning it's safe to tuck away in a backpack.
CRKT Freyr Tactical Axe
Vikings knew axes. That's why the CRKT Freyr Tactical Axe is named for the Norse god of prosperity. Vikings forged axes with long beards to hook and pull an enemy's shield. You may not be running into very many shield-bearers, but the beard still serves a function, providing the axe with better balance and more heft. The handle is made from Tennessee hickory. It's durable and remains comfortable in hand.
Beyond chopping down trees for firewood or fending off Rippers in the Oregonian wasteland, the Freyr Tactical Axe is suitable for cutting, digging and prying. Overall, this axe is ready to serve.
Philips Portable Survival Radio
In response to the natural disasters and unforeseen catastrophes experienced across the world, Philips built a portable survivor radio for accessing the latest intelligence, when you need it the most… and can do so much more.
This innovative device contains a radio, torch, siren, solar, built in micro USB connection, and even a self-powered hand crank capable of producing enough battery to charge a mobile phone. Be sure to download all of that media from the cloud before the internet goes down.
Image - Wayne Dorrington
The Hitchhiker's Guide to the Galaxy – Douglas Adams
It's the end of the world, which means no more TV, no more video games, no more live sport. You can't be expected to sit around a campfire every night, listening to someone playing Wonderwall on acoustic guitar. The solution? Read a book.
One Thursday around lunchtime the Earth gets unexpectedly demolished to make way for a new hyperspace bypass. It's the final straw for Arthur Dent, who has already had his house bulldozed that morning. But for Arthur, that is only the beginning. In the seconds before global obliteration, Arthur is plucked from the planet by his friend Ford Prefect – and together the pair venture out across the galaxy on the craziest, strangest road trip of all time.
Unless you packed the Philips Radio, don't try to ride out the apocalypse with the Kindle version.
Nixon Landlock Backpack GT
Now you have the multi tool, the bottle, the radio and the book. How do you carry all of this gear? A Nixon Landlock Backpack GT. This Guerilla Tactics backpack trained at the school of military-inspired street fashion. It's outfitted in 1200D ballistic nylon and trimmed in Molle webbing accents. An internal accessory organiser keeps your gear in check when you're out on patrol.
Padded shoulder straps and back panel make it a comfortable riding companion. There's also a custom carabiner clip attachment on the shoulder straps, plus two side-mesh pockets and a hidden back panel zipper pocket for valuables. There's a good reason why this backpack falls under the heading "Urban Assault."
Days Gone is available now exclusively on PlayStation 4.  Man of Many received a digital copy of the game courtesy of the publisher.