Why John Wick is the Action Movie Franchise of the Decade
Action flicks are evolving. From The Great Train Robbery—arguably the first action film of all time—to today's powerhouse franchise starring Keanu Reeves John Wick, it's safe to say that a lot has changed for the genre. Gone are the days of the camp bad-guys-don't-look-at-explosions action flicks; today's action-nuts want something more.
Even with the vast array of gunfights, martial arts, quick quips and quicker car chases that pretty much every action movie offers, there was something missing: authenticity. Something that John Wick offers in spades.
For example, if you haven't already seen it, here is Keanu Reeves proving he really is John Wick in preparation for the third instalment of the franchise:
It's a credit to Keanu Reeves who has taken his role in John Wick—a balls-to-the-wall action film—as seriously as Leonardo Dicaprio took his role in The Revenant or perhaps even Daniel Day-Lewis' methodical performance in There Will Be Blood. And yes, whilst those two dramatic films may exist in a place firmly above the shoulders—being a place designed to elicit delicate and complex emotions from their audiences—they share their similarities with the John Wick franchise.
For one, they all boast a fully-committed leading man which has led them towards critical acclaim, as well as box office success.
That's not to say we're ignoring the fact that John Wick is just pure fucking awesomeness— which it definitely is. It's easy to over-analyse films, ignoring the fact that 'fun' is the whole point of an action film. And boy, is JW just that—pure, adrenaline, testosterone-fuelled fun.
For those unfamiliar, John Wick: Chapter One is the story of a man seeking revenge. Specifically, he's seeking to avenge the murder of his dog, left to him by his late wife. If that wasn't enough, the same people who killed his pup also took it upon themselves to fuck up his car.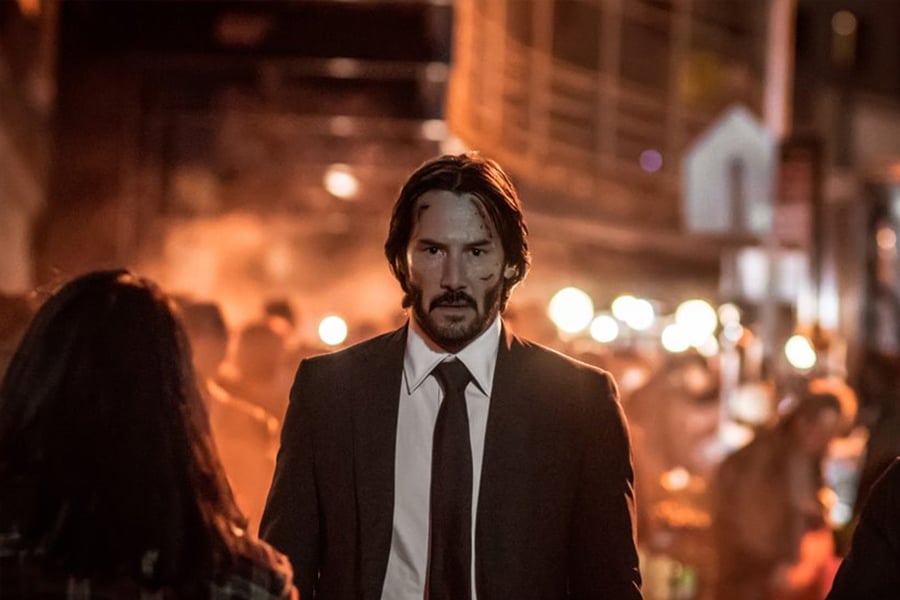 Having dealt out his own unique and ultra-violent justice to those responsible in JW:1, John tries to resume his life of peace in chapter two. But his past isn't having it and, once again, Mr. Wick finds himself appearing as death incarnate, slaughtering mob bosses and henchmen as easily as he draws breath.
The choreography is completely out of this universe, and you can tell that Keanu and the filmmakers have put a lot of effort into making sure it looks completely real. On top of that, it's moody, gritty and funny when it needs to be. And, if we're honest, in a world where we can sometimes take ourselves too seriously—on the internet or otherwise—and where conservatism in new media seems to be rearing its ugly head again, John Wick is a delightfully fun bloodbath, full of what we used to love about action films like Rambo and Predator.
But beyond the incredible fight scenes and skilful editing, there is another reason for the success of the franchise: and his name is Keanu. The man with his own 249k strong subreddit of adoring fans who spend their time worshipping his every action. The man with a squeaky clean record in the media, never having said or done something completely bonkers that has ruined his reputation forever.
That's right, it's the man whose love of motorcycles and being nice to his fans who puts bums in seats to see John Wick, time and time again, and more with each new instalment.
We (and I speak collectively has a huge Reeves fan-boy) the fans go to see the movie for not only the content but also to show our support for a male role model who, in this day and age, is a sight for sore eyes—and one we hope will remain a good dude, always.
John Wick is without question, the action movie of the decade. It took an often hackneyed, predictable genre—full of cliches and tropes—and flipped it on its head. John Wick offers a level of world-building quality usually reserved for science fiction and fantasy genres, acting performances more often seen in drama films than in shoot-em-up, and a beating heart in the form of its leading man.