Who are OneFour? – Western Sydney's Drill Rap Group
You don't have to love hip hop to recognise the name OneFour, i.e. Western Sydney's hottest drill rap group. Consisting of four core members (and a possible fifth one aka Celly14), the outfit has taken the Internet by storm, one viral music video at a time. Throw in some good ol' fashioned police controversy and you have everything you need for a modern-day phenom. That said, recent jail sentences could very well put an end to this meteoric saga. Or maybe not, since the group is nothing if not perseverant.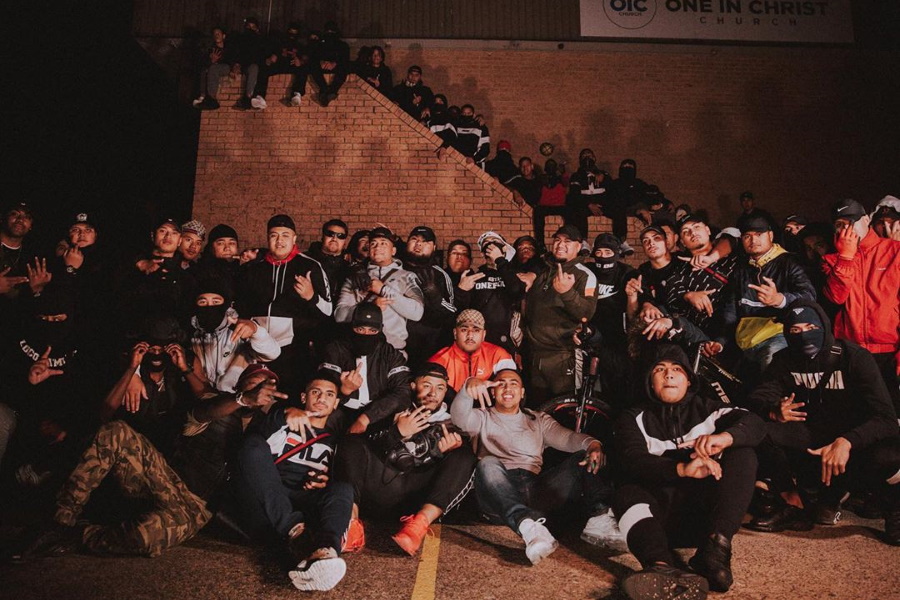 Who is OneFour?
If you've seen the viral music videos, you might think there's a full-blown OneFour gang roaming about Sydney, and you might very well be right. However, the actual OneFour group appears to be much narrower in scope, containing five central members: Celly14, YP, Lekks, J Emz, and Spenny. Then we have the elusive Celly14, who introduces the popular track "The Message" and is currently making good on his name by sitting behind bars.
Hailing from Mt Druitt, OneFour (reportedly) first assembled back in 2014. A few years later, the childhood friends turned musical partners launched to fame on the back of some wildly successful songs and adjoining YouTube videos. Hits such as "Ready for War," "The Message," and "Shanks and Shivs" set the tone for these Sydney rappers, who frequently dispense with violent lyrics.
To drive home the OneFour gang vibe, official members and various cohorts would often conceal their faces behind masks. It all makes for some compelling audiovisuals, hence the massive fanbase. Just how massive? When they released the recent video for "In the Beginning," it racked up over 1 million views in less than 48 hours. To date, they've accumulated over 73 million streams and in 2019, they occupied three spots on YouTube's top 10 list of trending Aussie music videos. It's also safe to assume that OneFour merch continues to fly off the shelves.
As with most successful hip hop groups, OneFour finds a specific function for each of its participating members. J Emz is a genuine personality with a distinctive lyrical style to match. YP spits consistent fire and delivers bars that go straight to the bone. Spenny is a modern-day virtuoso, who can seamlessly shift between various styles. Lekks is the joker of the group, infusing otherwise grim tracks with occasional comic relief.
What is Drill Rap?
Hip hop has yielded so many sub-genres over the last two decades that it's sometimes hard to keep pace. Among them is drill rap, a cousin to trap music that reportedly originated in Chicago in 2012. In contrast to gangster rap—which tends to glorify life in the hood—drill rap takes a much starker approach. Drawing broader attention to socio-economic disparities, a number of drill rap songs describe the actual hardships of living in poverty, sparing no gruesome detail.
Nevertheless, one could easily interpret drill rap as an ultra-realistic and brutal form of gangster rap. That is to say, groups like OneFour will often spit lyrics about aggressive and downright intimidating behaviour, minus the more traditional tenets of extravagance. This isn't music about popping bottles at the strip club or booking the penthouse suite as much as it is about squaring off in a street fight or dealing drugs on the nearest corner. To look beyond the violent veneer, however, is to encounter realistic depictions of life without means.
For an example of what drill rap is all about, look no further than the lyrics to OneFour's "The Message," which might very well be the group's most signature track. Lines such as "I back my shank and you pull yours and see who will take off first," or "Wanna talk them clips then try, this is a different side" make it clear that you're either born in these parts or now on the wrong side of the tracks.
Despite its US origins, drill rap has taken off across the world stage. In fact, OneFour is more indebted to UK-based drill rap artists such as Harlem Spartans than US counterparts like Chief Keef or Lil Durk.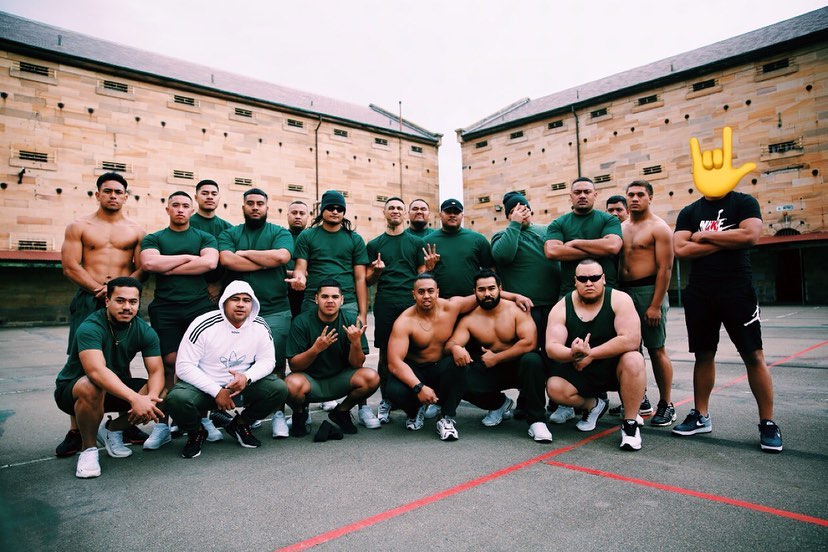 What is the OneFour Controversy?
It might be one for all and all for one with these Sydney rappers, but that's become increasingly difficult due to various legal obstacles. In fact, OneFour recently claimed to be "at war" with the Sydney police, who have made their bias known in no uncertain terms. Consequently, the group was forced to cancel a national tour. So what happened?
The short version is that OneFour members YP, Lekks, and Celly14 were involved in a violent altercation in July 2018, which took place at the Carousel Inn in Rooty Hill. As revealed by CCTV footage, the group members attacked three men in the bar's pokie room, and even took a hammer to one of them. By the time the brawl was over, one man was left lying in a pool of his own blood, which isn't even to mention the facial fractures.
For their respective roles in the brawl, YP and Lekks were sentenced to four years in prison, with the possibility of parole in late 2021. Celly14, meanwhile, was sentenced to 10 years—he'll be eligible for parole in December 2024.
However, there's also a longer story to tell when it comes to OneFour and their interactions with law enforcement. It's a story that deals with the group's violent persona and how that's drawn scrutiny over the years, putting OneFour in proverbial police crosshairs. In turn, the police have all but made sure these Sydney rappers won't be performing live anytime soon.
That much was made clear by Sergeant Trueman of Strikeforce Raptor, who told an interviewer:  "I'm going to use everything in my power to make (their) lives miserable until (they) stop what you're doing."
Exploiting the kind of laws that are geared at breaking up terrorist units and motorcycle gangs, Trueman and squads like Strike Force Raptor and Strike Force Imbala effectively banned OneFour from performing live in Sydney ever again. Taking the effort a step further, they requested that OneFour's videos be pulled from streaming services and have even tried to disrupt communications between members.
Responding to the police harassment on Instagram, OneFour wrote: "We've played three shows with no problems…yet (the police are) still trying to shut us down. While we're trying to work and be productive, they want to flex their authority."
From the police perspective, it's not hard to see why OneFour might be perceived as a threat. For starters, the group intentionally cultivates a gang-like image in both its lyrics and its videos. Secondly, violent brawls like the one captured on CCTV will only reinforce the idea that these Sydney rappers are in fact dangerous, and that their fans might be dangerous as well.
On the other hand, one could easily make the counterpoint that music is a form of free expression and should be treated as such. If there's no specific inciting behaviour to speak of, then a group should be free to perform live like so many similar groups before it.
Ironically, OneFour had never been as introspective or mature as it was in 2019. In a recent interview, Spenny explained the group is often misunderstood, and that each member isn't necessarily the person he's depicted to be.
To quote Spenny directly: "They think we're bad people…I don't get it, because back then when we were worse we didn't have this much pressure from the police. We're trying to do something good; it feels like they're treating us more like criminals."
Where Does OneFour Go From Here?
With three members behind bars, OneFour obviously has some regrouping to do in 2020. For JM and Spenny, that means making new music, exploring new fashion trends, attending church, and selling OneFour merch, amongst other things. JM has also expressed a desire to get out of Australia and collaborate with other artists in places like the US. Whatever they decide, legions of fans will be waiting.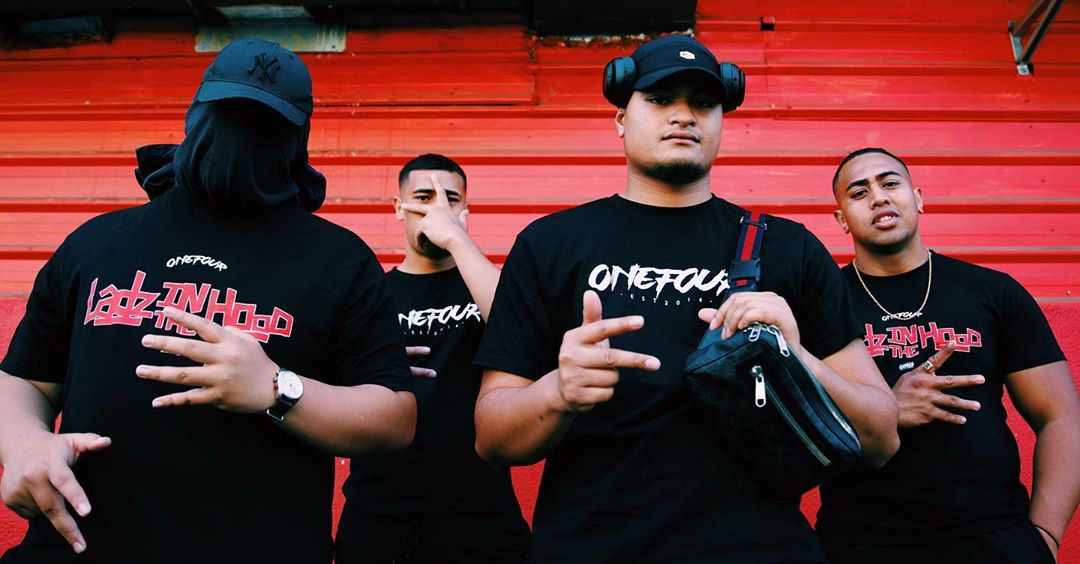 Who are OneFour's Main Members?
The OneFour rap group consists of members:
Celly14
YP
J Emz
Lekks
Spenny
OneFour Singles
The video for OneFour's single 'In the Beginning' achieved one million views on YouTube in less than48 hours, becoming the group's first single to chart at #39 on the ARIA Charts. Here's a list of OneFour's singles to date:
"Ready for War" (2017)
"What You Know" (2018)
"Shanks and Shivs" (2018)
"The Message" (2019)
"Maddest of the Maddest" (Burner featuring Tiny Boost, M24 and Onefour)
"Spot the Difference" (2019)
"Ladz in the Hood" (2019)
"Ben 10" (2019)
"In the Beginning" (2019)
"Hectic" featuring J Emz and Manu Crooks (2019)
General FAQ
Where is OneFour from?
Drill rap group OneFour is from the poorer areas of the Mt Druitt suburb of Western Sydney. They reportedly formed in 2014.
Is OneFour Australian?
Despite being influenced by drill rap groups from the US and UK, each member of OneFour hails from Western Sydney, Australia.
Who started OneFour?
Some might say OneFour represents hundreds of associates from the Mt Druitt suburbs. However, the drill rap group's core members are the following four artists: YP, J Emz, Lekks, and Spenny.
What is drill rap?
Drill rap is a hip hop subgenre that deals with stark themes of violence and poverty. A cousin to trap music, it's also the offspring of gangster rap.