Poirier vs McGregor 3: Time, Match Up, How to Watch
Irish superstar Conor McGregor is set to the do battle against long-time rival Dustin Poirier this Saturday 10 July at UFC 264. The third and presumably final instalment of the match-up will bring a conclusion to the vicious conflict after Poirier evened the ledger at UFC 257.
Who: Poirier vs McGregor 3
When: Saturday, July 10
Where: T-Mobile Arena, las Vegas, USA
How to Watch: Main Event on Foxtel and Kayo
Poirier: 27-6
McGregor: 22-5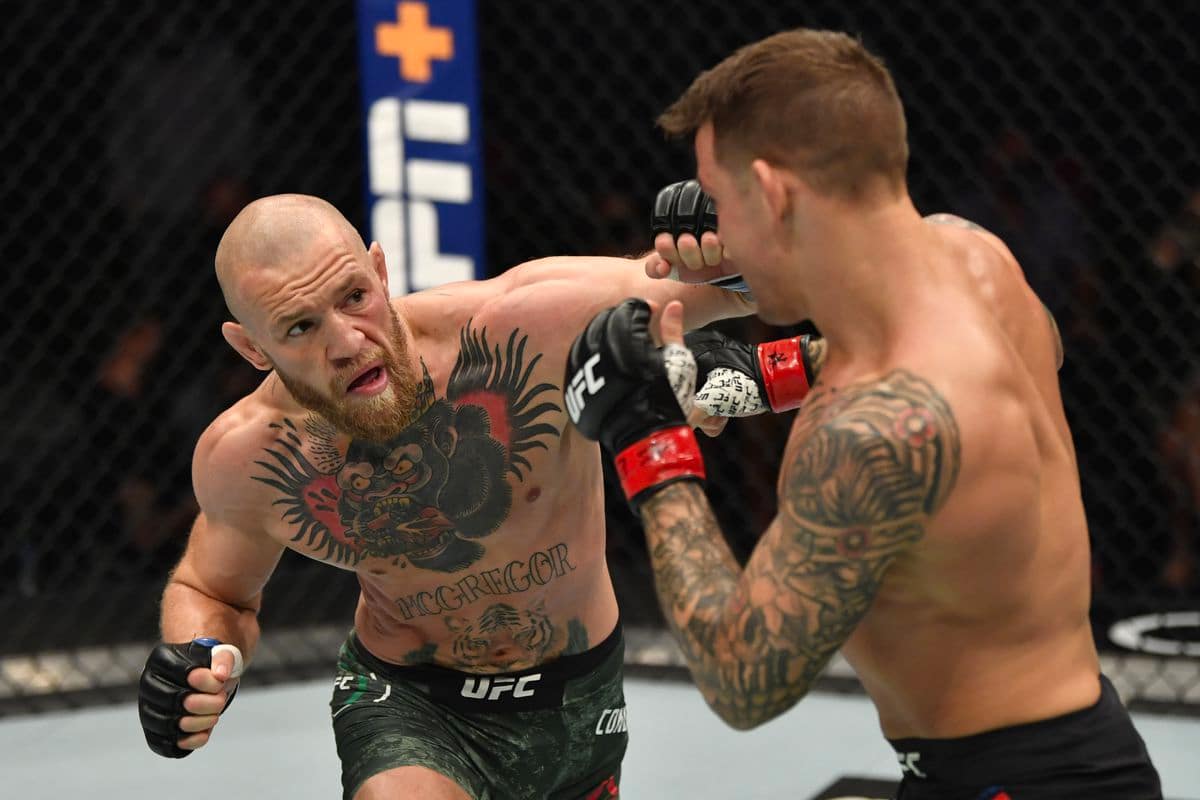 The Venue
As expected, UFC 264 will be held at T-Mobile Arena in Las Vegas, Nevada. This will be the fourth UFC pay-per-view event in the United States since UFC 248 in March 2020 and the first UFC PPV inside the venue since then. In somewhat of an advantage, McGregor enters the arena for the fourth time while Poirier fights there for the first time.
Poirier vs McGregor Time in Australia
The long-anticipated third battle between Dustin Poirier and Conor McGregor will take place on Saturday 10 July, however, due to time delays, it will premier on Sunday 11 July in Australia.
Date: Saturday, July 10
Time: 6:15 p.m. ET (Sunday 8:15am AST)
Main event approximate time: 12:15 a.m. ET (2:15pm AEST)
UFC 264: Dustin Poirier vs. Conor McGregor 3 takes place on Saturday with the early prelims kicking the event off at 6:15 p.m. ET. Initial reports suggest the pay-per-view main card will begin at 10 p.m. ET. Poirier and McGregor should enter the Octagon at around 12:15 a.m. ET or 2:15AEST, depending on the length of the undercard bouts.
Where to Watch Poirier vs McGregor
Fans can watch Dustin Poirier vs Conor McGregor on Main Event available on Foxtel and Kayo, from 12pm AEST Sunday 11 July 2021 7th for $54.95. If you choose to watch the fight on Kayo, your Pay-Per-View purchase also includes access to Kayo Sports until 11:59PM AEST 15.07.21. If you don't have a separate Full Access Kayo subscription, after this date your access will change to Kayo Freebies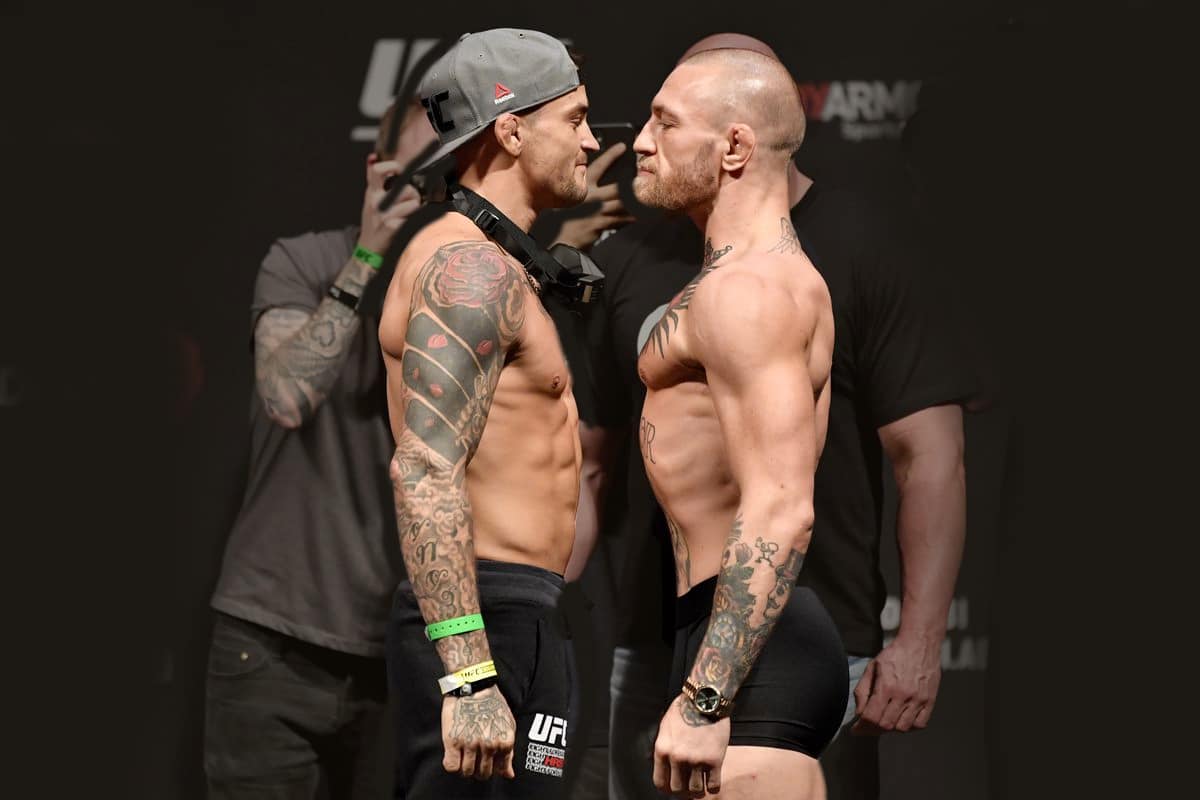 The Match-Up
One of the biggest trilogies in combat sports history, Poirier vs McGregor has lived up to the hype. The pair first met at UFC178 in September 2014. McGregor, at the height of his powers, dismantled the inexperienced Poirier in under two minutes, however, that didn't stop the fiesty Canadian from firing shots off in the wake of the loss.
A long-awaited rematch finally came to a head in January at Fight island when, at UFC 257, Poirier got his revenge. After categorically destroying McGregor's leg, Poirier swooped in for a second-round TKO, squaring the ledger and whetting fans' appetite for a third and final decider. But UFC 257 didn't come without its controversy.
The bout was marred with trash-talk and rumours that Poirier had turned down a title shot, all to silence his Irish critic. The reports suggested that instead of competing for the vacant lightweight title that was held by Khabib Nurmagomedov, Poirier chose to settle the score with McGregor once and for all.
"If I am the best in the world, then I'm gonna beat Conor and fight for the belt. It's like doubling down on yourself," Poirier told ESPN. "I'm a gambling man. I believe in my skills and fighting. So I just doubled down. That's what it was."
The loss was a big blow for McGregor, who has tasted defeat more times than success in recent years. Initial post-fight speculation suggested The Notorious was far from fighting fit, after taking months off due to retirement before swooping in for a return to the octagon. This time around, McGregor looks locked in. New workouts and training videos posted to Instagram show the former World Champion back to his best, with fans eager to see what becomes of the renewed focus. Come Saturday, they will find out.
Conor McGregor
Nationality: Irish
Age: 32
Height: 5'9″
Reach: 74″
Total fights: 27
Record: 22-5
Dustin Poirier
Nationality: American
Age: 31
Height: 5'9″
Reach: 72″
Total fights: 34
Record: 27-6 with one no-contest
UFC 264 Full Card
Dustin Poirier vs. Conor McGregor 3; Lightweight
Gilbert Burns vs. Stephen Thompson; Welterweight
Tai Tuivasa vs. Greg Hardy; Heavyweight
Irene Aldana vs. Yana Kunitskaya; Women's Bantamweight
Sean O'Malley vs. Kris Moutinho; Bantamweight
Carlos Condit vs. Max Griffin; Welterweight
Niko Price vs. Michel Pereira; Welterweight
Ryan Hall vs. Ilia Topuria; Featherweight
Dricus du Plessis vs. Trevin Giles; Middleweight
Jennifer Maia vs. Jessica Eye; Women's Flyweight
Omari Akhmedov vs. Brad Tavares; Middleweight
Zhalgas Zhumagulov vs. Jerome Rivera; Flyweight
Alen Amedovski vs. Hu Yaozong; Middleweight
General FAQs
What time is Poirier vs McGregor 3 in Australia?
Poirier vs McGregor 3 will take place at UFC 264 on Saturday 10 July 2021 in Las Vegas. Here in Australia the live stream through pay-per-view will kick off at 12pm AEST on Sunday 11 July, with the main event expected to take place at 2pm.
Where is Poirier vs McGreogr 3 taking place?
UFC 264 will be taking place at T-Mobile Arena in Las Vegas in front of 20,000 fans on July 11 AEST.