10 Iconic Sunglasses from Movies
Really, what is it about these framed structures over our eyes that elevates our style, our cool-factor, our panache or whatever you want to call it, tenfold? These 10 iconic sunglasses have a decorated history in film and are often the finishing touch that turns ordinary characters into unforgettable ones. The Ray Ban Wayfarer and Aviators are here as well as the Matrix and Terminator sunglasses. Iconic sunglasses can maketh the man and none more so than the following.
---
You'll also like: 
Top 10 Australian Sunglasses Brands
5 Transparent Frames to Add to Your Sunglasses Rotation
23 Stylish Men's Sunglasses Under $200
---

Ray-Ban Wayfarer
Of course. But you already knew this would kick off our list, right? The Wayfarers were born in 1952 and have remained timeless ever since. An icon from every era has been seen wearing these. From James Dean to Muhammed Ali too, erm, Kanye West. And while it's painfully difficult to single out one film where these effortlessly cool frames take centre stage, we're going to have to put our hand up and say The Blues Brothers on this one. Special mention goes to Tom Cruise in Risky Business and Anthony Michael Hall in The Breakfast Club.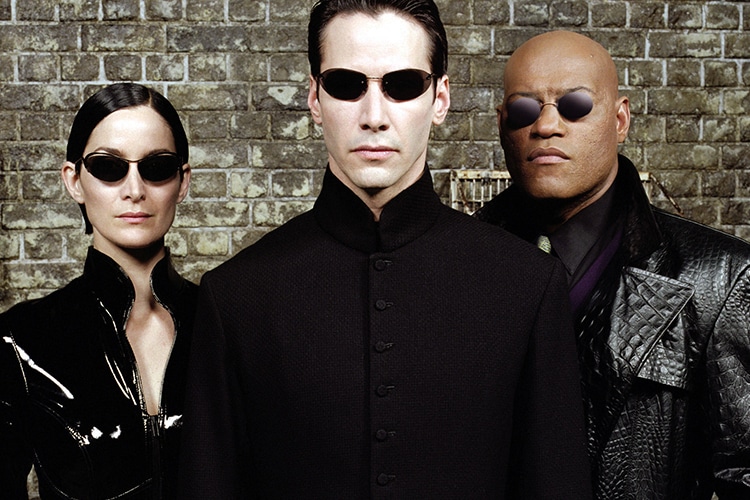 Blinde Design Matrix
Thought the iconic sunglasses from the Matrix trilogy were made by one of the main sunglass powerhouses? Think again. NY-based cult brand, Blinde Eyewear were the ones tasked with designing frames for Neo and co, beating off stiff competition from Ray-Ban and Arnette to become a part of film history in 1999. Only a limited run of the signature glasses were sold in 2003 in Australia, coinciding with the release of The Matrix Reloaded. To all super fans who managed to score these glasses back then: what if I told you they didn't actually help you dodge bullets? .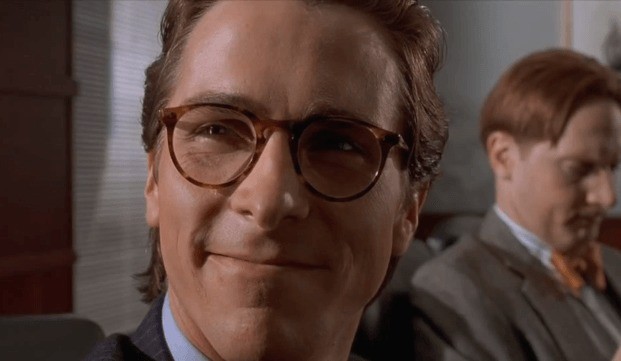 Oliver Peoples O'Malley
Okay, you got us. These aren't really "sunglasses", although, to our credit, Californian brand Oliver Peoples do make a sunglasses version of the famous O'Malley frame, worn by the Valentino suit-wearing yuppie, Patrick Bateman in American Psycho. Thanks to Patrick's "penchant for Oliver Peoples glasses", these have become the most recognisable model from the artisanal brand, typifying the Wall Street look of the 1980s.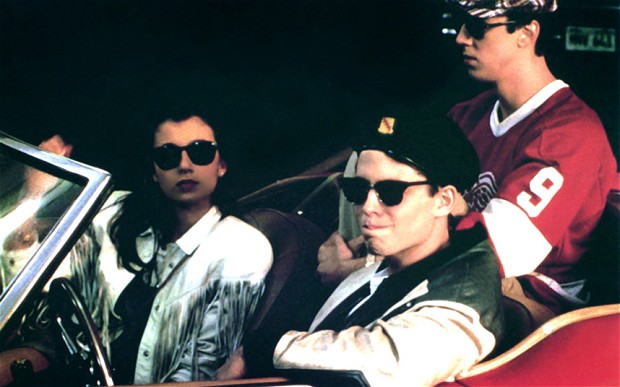 Ray-Ban Clubmaster
Presenting another style by the perennially cool Ray-Ban, the Clubmasters have stood the test of time, and have actually enjoyed quite the resurgence in the last few years as the frames of choice for fashionable Instagrammers. The browline style, as it is traditionally known, came into the public as early as the 1940s, but it was Ray-Ban that immortalised the frame in the 1980s, enjoying widespread popularity ever since. Like its brother the Wayfarers, the Clubmasters have shown up numerous times in cinema, none more memorable than the beret-wearing, quick-witted Ferris Bueller in Ferris Bueller's Day Off. Honourable mentions go to Mr Tim Roth in Tarantino's Reservoir Dogs.
Shuron Ronsir Zyl Clip On
Here are frames worn by a man so synonymous with the idea of iconic sunglasses, it would be a crime to not mention him in this list. Jack Nicholson is the only exception to the rule of not wearing sunglasses indoors: be it at the Oscars, or chilling court-side at the Lakers. In Dennis Hopper's 1969 classic, Easy Rider, Nicholson's George Hanson sports a scene-stealing browline frame with clip-on shades from South Carolina brand, Shuron. Predating Ray-Ban's Clubmaster frame by almost 35 years, the Shuron Ronsir went on to appear on the nose of Kevin Costner in JFK and more recently on Jake Gyllenhaal in Nightcrawler.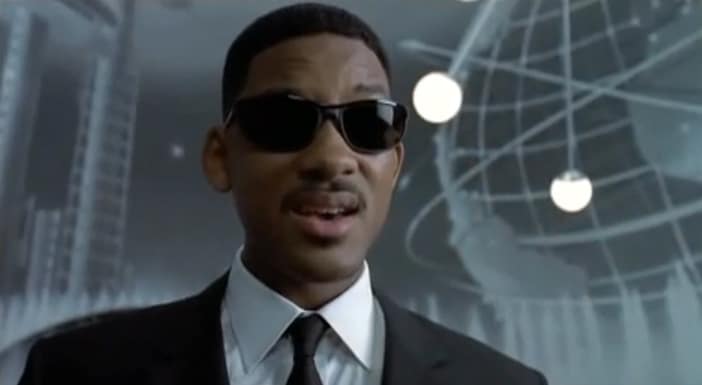 Ray-Ban 2027 Predator
It's certainly not by pure coincidence that Ray-Ban has had their frames in a whole heap of memorable cinema. In 1982, they set up terms with a product placement company to ensure their sunglasses became icons on the silver screen, all for the tidy sum of just $50,000 USD a year (undoubtedly something like 100 times that figure these days). While Agent J & K's signature wraparound iconic sunglasses may have briefly spawned an "I make this look good" black suit-wearing revolution across the world, let's also take a moment to appreciate their shadowed brother – those custom oval frames that J wears in the final scene of the movie, paired with a Nehru-style suit and mandarin collar shirt – a less-than-subtle nod to haute couture in the 90s. Hipster realness, people.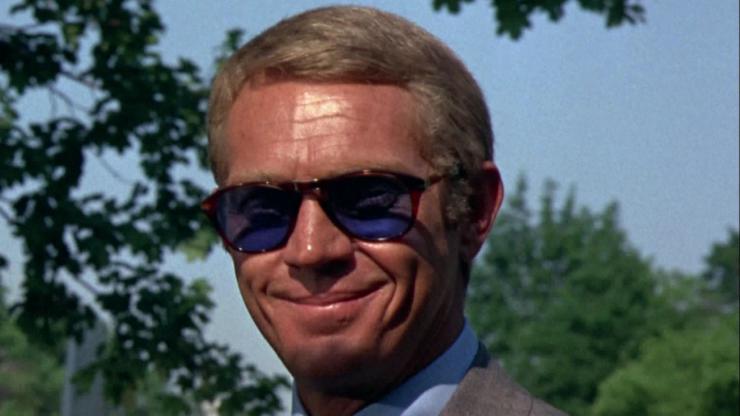 Persol 714
Sometimes, the man maketh the sunglasses. It was Steve McQueen's impeccable style and love of Italian brand Persol that transformed the 714 model into an icon, thanks to 1968's The Thomas Crown Affair. And in the same way that Mr McQueen's on-screen and off-screen style has remained timeless to this very day, Persol went and immortalised the 714 style in 2011 by releasing a special edition with the actor's name engraved on it, paired with his favourite dark blue lenses.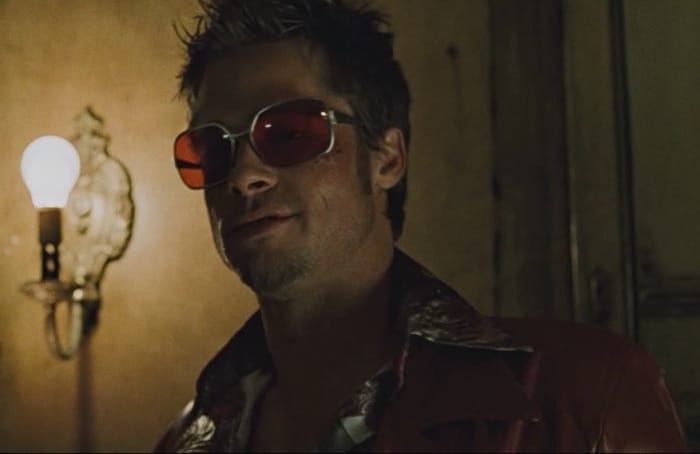 Oliver Peoples 523
The gritty, brash world of Fight Club may seem so far removed from the subtle elegance of Oliver Peoples, but it was their now discontinued 523 model that Tyler Durden favoured in the cult classic. The almost bug-eyed frames perfectly aligned with the rest of Tyler's flamboyant wardrobe, including his red leather biker jacket, fur coat and floral shirts. To coincide with the film's 10th anniversary in 2009, Oliver Peoples re-released this signature frame with a limited run of just 75 units, effectively consigning the iconic sunglasses' fate to collector's status.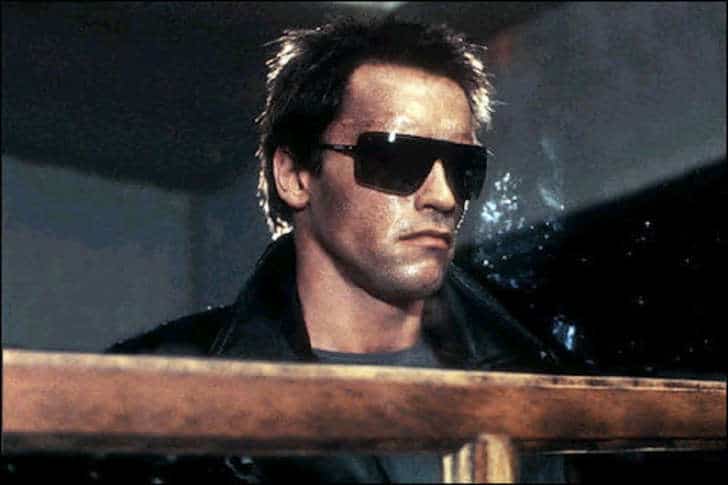 Gargoyles ANSI Classics
Before Ray-Ban muscled in on the success of the Terminator series, performance eyewear brand Gargoyles equipped Arnie with a pair of frames that were as much about functionality as making him look like a total badass. Meeting military and law-enforcement specifications, the Gargoyles ANSI were built to withstand high-velocity impact: exactly the kind of eyewear you need for driving a car straight into a police station before engaging in a shootout armed with a shotgun and rifle in hand. Schwarzenegger uttered his famous line, "I'll be back" wearing Gargoyles, which is somewhat ironic, given these iconic sunglasses are no longer available, making them the stuff of collector's dreams.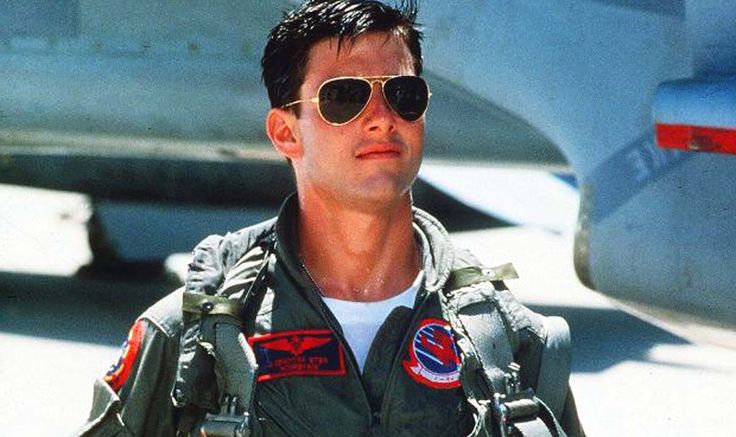 Ray-Ban Aviator
Admittedly, it was really hard to not make this a Ray-Ban list. However, leaving Aviators off it would make it look downright incomplete. These particular iconic sunglasses were one of the first models the company produced, constructed specifically for US Air Force pilots to help deal with sun glare. Leaving an indelible cultural mark akin to that of the Wayfarer, the Aviator has shown up in numerous films, none more iconic than 1980s seminal, Top Gun. It proved a smart move by the company, as for sales of its Aviators increased by 40% following the release of the film. Almost Famous, Donnie Brasco and The Hangover are just a handful of other cameo roles by this legendary frame.
---
You'll also like: 
Top 10 Australian Sunglasses Brands
5 Transparent Frames to Add to Your Sunglasses Rotation
23 Stylish Men's Sunglasses Under $200
---