More than seasonal apparel, a quality blue suit can carry you the whole year-round, presuming you know just how and when to wear one. This leads to questions like the following: What's the right tie to wear with a blue suit? What's the proper shirt to wear with a blue suit? When's the perfect time to wear a blue suit? Where's the right place to wear a blue suit? Are different shades of blue appropriate on different occasions? And so on and so on.
Today, we ask those questions, answer them, and then ask even more questions. Pay close attention and you'll always know what tie and shirt to wear with a blue suit and just when to rock that combination. Should you master this wardrobe essential, you'll have an ensemble for every dress code and every occasion. Without further ado, here's how to wear a blue suit.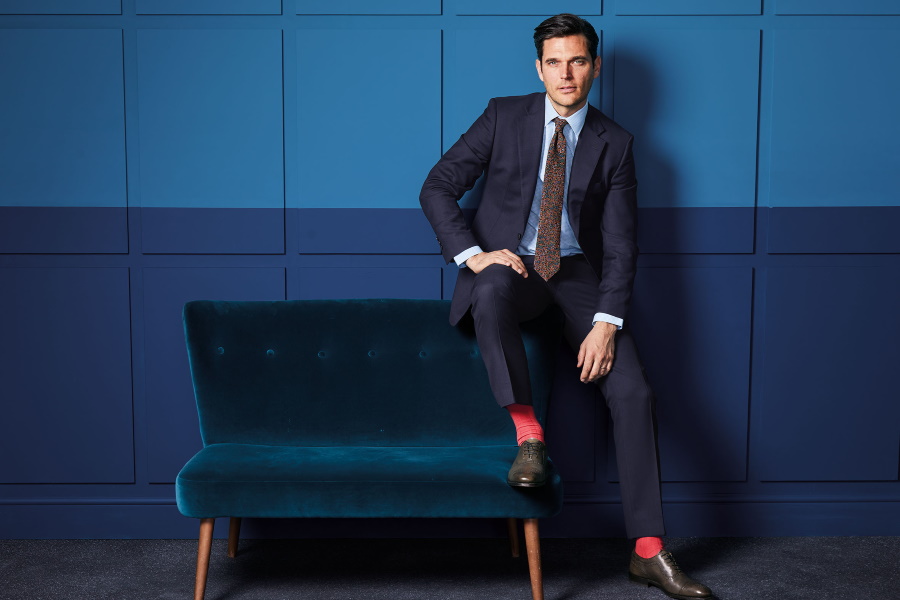 What's the Type of Blue Suit for You?
Look, up in the sky! It's a bird, it's a plane, it's the colour blue! Of course, sky blue is just one among a broad number of shades on the full spectrum of this versatile colour. It's also not necessarily the shade we'd recommend you sport in the suit department your first time out.
Instead, consider sticking to the darker or more neutral end of the blue spectrum, especially when attending formal events. We're talking shades like navy blue, midnight blue, royal blue, Oxford blue, and so on. Like trusty black, these colours pretty much go with everything.
To be clear, we're not completely writing off sky blue or even electric blue suits, as they can often make for stylish head-turners come summer and spring. All we're saying is that there's a time and a place—and maybe even a person—for a bright blue suit, while neutral blue suits adapt to pretty much any individual or occasion.
What to Wear with a Blue Suit
We're not here to tell you how to dress in a navy blue suit because that's a decision for you to make on your own. However, you should know the basics when it comes to things like ties, shirts, and shoes.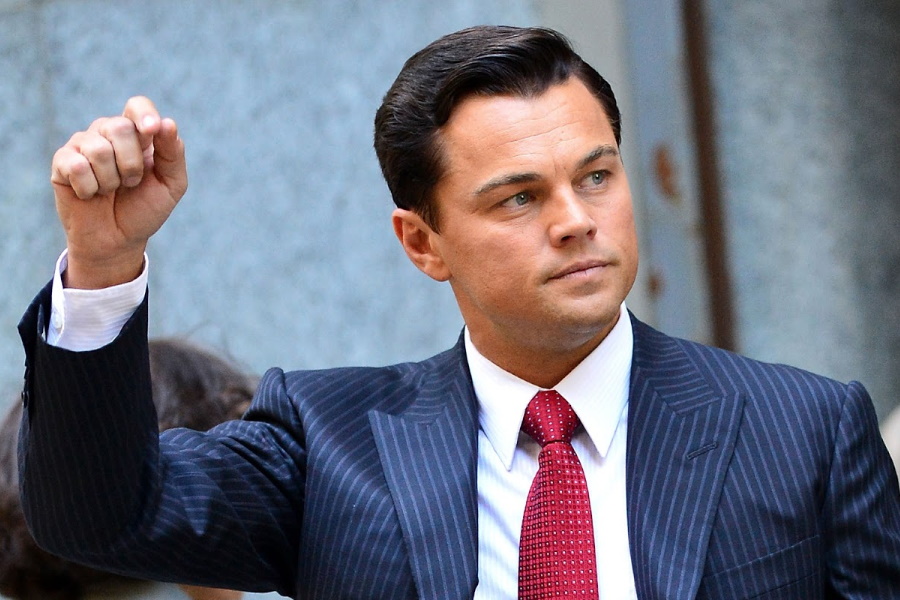 What Tie to Wear with a Blue Suit
Should you be rocking a blue suit of the darker or more neutral variety, we have good news: this type of suit goes with pretty much any tie. That means charcoal grey, blue pin-dot, brown paisley, red-striped, and plaid ties alike. Personally, we stick to solid shades and neutral colours such as black or navy blue, but you might prefer the red tie and blue suit combination, which works just as well. If and when the suit is light or electric blue, however, some combinations fare better than others.
Since different styles make for different statements, here are some blue suit and tie combinations and what they typically relay:
Blue Suit and Red Tie – It's hard to think of this combination without thinking of Donald Trump, so take from that what you will. Regardless of specific associations, the red tie and dark blue suit combo is often referred to as a "power look."
Blue Suit and Black Tie – As a look that never fails, a blue suit and black tie combo makes for a classic choice. Of course, some people see the word "classic" and think "safe," and those people aren't wrong.
Blue Suit with Yellow Tie – Wear anything but a neutral shade of yellow with your blue suit and you better have the eccentric personality to back it up.
Blue Suit with Purple Tie – This combination walks the line between sophistication and idiosyncrasy. In that regard, it might be right up your alley.
Blue Suit with Grey Tie – Not only does a grey tie deliver elegance and style, but it allows you the perfect opportunity to employ different textures and materials on your tie.
Pin-Striped Blue Suit with a Plaid Tie – We're throwing this one on here to remind you that blue suits come in a variety of forms and so do the ties they go with. Take your aesthetic up a notch by veering from traditional patterns and shades.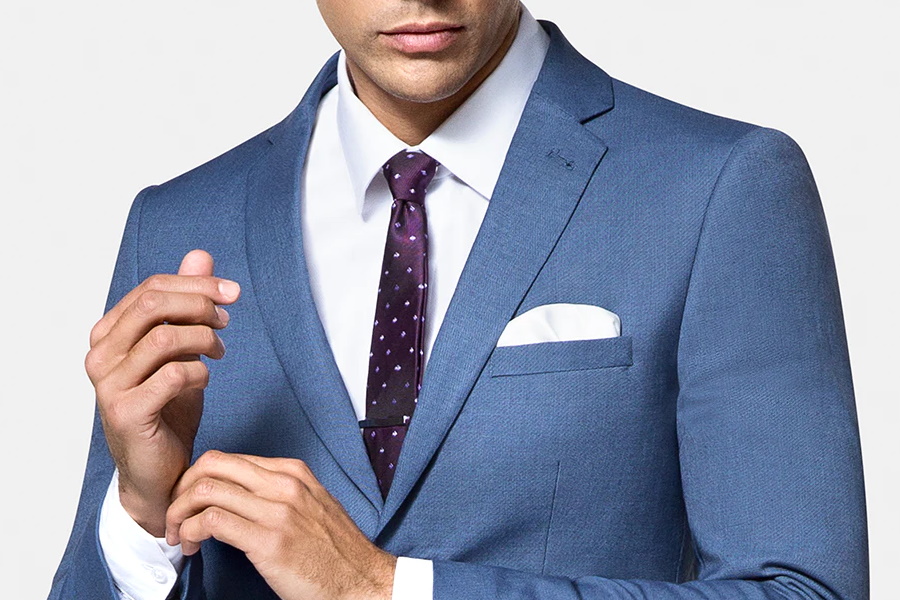 What Shirt to Wear with a Blue Suit
For the shirt, white is probably your safest bet, but far from your only option. Alternatively, you can rock a light pink or light blue shirt with a blue suit, which will likewise highlight a sense of contrast. On the other end of the spectrum is the black or dark grey shirt and navy blue suit combo, which renders quite a bold impression. Here's a quick breakdown:
Blue suit with White Shirt – If you've been to a wedding or formal event in your life, there's nothing we can tell you about this combination that you don't already know. When all else fails, a white shirt of 100% cotton is your best bet.
Blue Suit with Pink Shirt – Now more than ever before, men are making style statements by way of pink shirts. Should you take this route, make sure your style statement isn't too loud. For example, if your pink shirt is of a brighter variety, then the suit should be neutral or dark blue.
Blue Suit with Blue Shirt – Throw on a light blue shirt with a dark blue suit and you have yourself a subtle, brilliant study in contrasts. A navy suit with a navy tie is something no one will argue with.
Blue Suit with Black Shirt – Ideal for dinner dates and dressy (but not too dressy) affairs, the blue suit and black shirt combination will draw all the right eyeballs.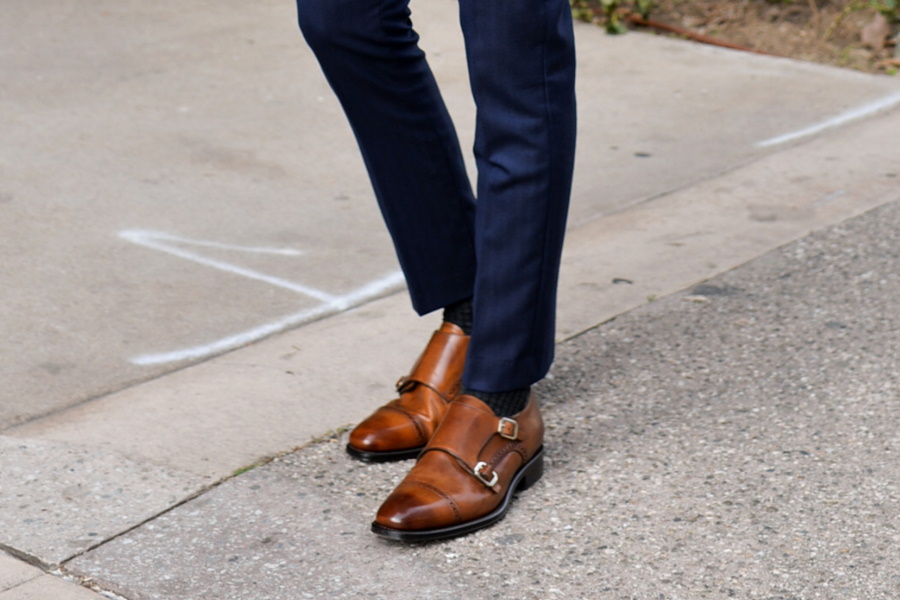 What Shoes to Wear with a Blue Suit
Blue suits might offer you a subtle way to break from tradition, but that doesn't mean you're veering far outside the box. As such, you should stick to either brown or black dress shoes. And remember this little mantra: the darker the blue suit, the darker the shoes.
When it comes to the specific type of shoe, your formal or semi-formal options are basically brogues, monk straps, Oxfords, and loafers. Just make sure those shoes are clean and shiny and try to avoid pointy tips.
If the dress code is something like smart casual, you have more freedom to play around in the footwear department. Layer up with a polo shirt under your blue blazer, leave a little room at the end of the pant leg, and throw on a pair of quality moccasins or expensive sneakers.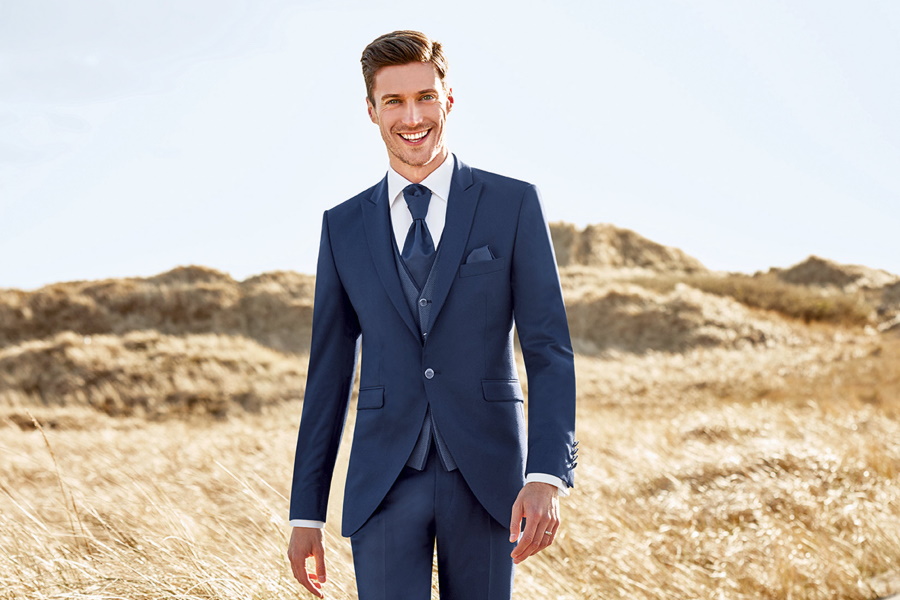 When to Wear a Blue Suit
As you're aware, blue is a colour that comes in many forms. Consequently, there's a blue suit for every suit-worthy occasion. Whether you're at a business meeting or wedding or swanky cocktail lounge, you'll likely find a blue suit nearby, presuming you're not wearing one yourself. Even at black-tie events, you'll spot a few navy blue suits.
However, just because blue suits come in various shades and styles, don't take that to mean we're dealing with a "one shade fits all" scenario. On the contrary, certain types of blue suits go best in certain settings. Here are some general pointers:
Stick to neutral or darker hues in business environments, unless you work in a highly creative field (where pretty much anything goes).
If you're going to rock baby or electric blue suits, try to do it during spring and summer.
Stick with quality materials and stay away from cheap fabrics.
Wear cotton or linen suits in the warmer months and wool or cashmere suits during colder months. Avoid materials like polyester altogether.
Don't hesitate to bring pocket squares or other accessories into the ensemble.
FAQ
Still have questions? We have answers. Scope the following FAQ for answers to questions you have and then answers to questions you didn't even think to ask.
Can I Wear a Blue Suit to a Formal Event?
Yes, you can. Blue suits are common at formal events. To play it on the safe side, stick with neutral or darker blue suits.
What Color Shirt Goes with a Blue Suit?
Most commonly, men wear blue suits with lighter shirts in white, light pink, or light blue. However, you can also wear a blue suit with a black shirt to dinner parties and semi-formal affairs.
Is a Blue Suit Formal?
Colors like navy blue and midnight blue—which bear a closer resemblance to black—tend to appear during formal events. However, blue suits are not intrinsically formal because they come in a variety of shades and styles.
Can I wear a Blue Suit to a Wedding?
Yes, you can wear a blue suit to a wedding, as well as other formal events.
What Color Suit is Best for a Wedding?
Dark suit colours such as charcoal grey, navy blue, and black are best for a wedding.
What Should Guys Wear to a Wedding?
When attending a wedding, men should wear a formal suit or tuxedo with matching pants, belt, button-down shirt, tie (or bowtie), and dress shoes. Men might also consider wearing accessories such as a dress watch or pocket square.
What Should I Wear to a 3PM Wedding?
For afternoon weddings, men's formal attire usually consists of a dark suit with matching pants, along with a belt, tie, shirt, and dress shoes. During warmer months, white suits are also acceptable, as are brighter suit colors such as light blue.
What Should You Not Wear to a Wedding?
Avoid tacky pastel colors, cheap materials, and casual attire such as sneakers, jeans, white socks, and polo shirts.
Should I Wear a 3-Piece Suit to a Wedding?
If you want to stand out from the crowd, you should definitely wear a 3-piece suit to a wedding. It's not only acceptable but quite stylish.
What is Cocktail Attire for Men?
Swinging from semi-formal to formal, cocktail attire for men typically consists of a suit, tie, and dress shoes. Attire such as a dark blazer and dressy jeans will also suffice.
You'll also like:
3 Suits Every Guy Should Own
Made to Measure – Man of Many's Guide to Buying a Tailored Suit
20 Best Tailors and Bespoke Suit Shops in Sydney