How to Wear Loafers (Socks or No Socks)?
We're here to tell you how to wear loafers. No, that doesn't mean we're teaching you how to put your shoes on–hopefully you've got that part down cold. Instead, we're providing an overview on the different types of men's loafers and what kind of stylish apparel those loafers go best with. Also, we'll be addressing the ongoing relationship: loafers with socks or no socks? Indeed the socks loafers dynamic is deeper than meets than eye. So if you're wondering how to wear loafers, what types of loafers there are, or when exactly to go sock-less, read on so that you may wonder no more.
This article is part of our Suited and Booted Series
---
You may also like:
How To Dress Like a Peaky Blinder
A Guide to Men's Dress Codes
What Style of Dress Shoe Should Every Guy Own?
---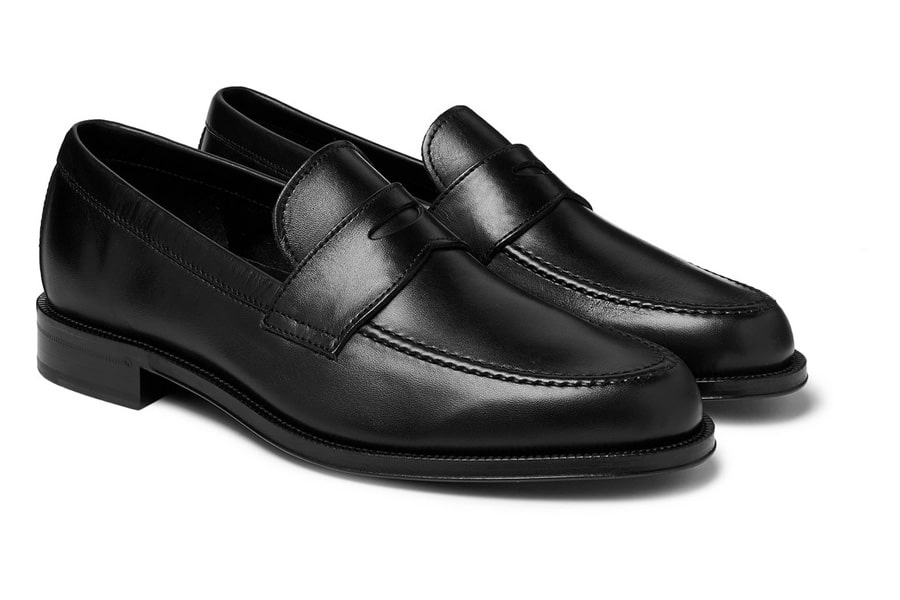 Penny Loafers
Comfortable, traditional and classic, the penny loafer delivers straightforward elegance with enduring ease. This stylish slip-on has origins in the 30s, but didn't really take off until the 50s. Across the top is a leather strap with a diamond-shaped slot. Some folks say that children used to insert pennies into the slot, hence the name. Other folks say that's just urban legend. Either way, the moniker persists. Though perfect for a slew of occasions, the penny loafer is most often seen on college and prep school campuses. Frequently offered in dark colours like espresso, burgundy, black and brown, the penny loafer remains a versatile, adaptive and downright handsome shoe.
Paul Smith Glynn Suede Penny Loafers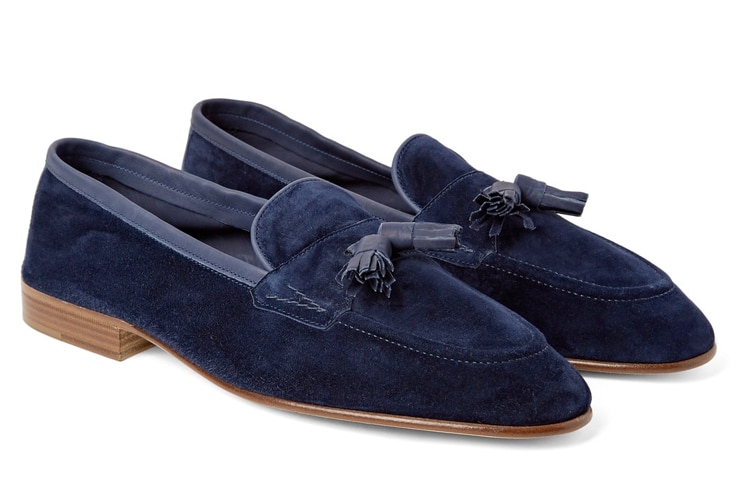 Tassel Loafers
Rumours abound when it comes to the origins of the tassel loafer. Most people think the shoe was created when an actor named Paul Lukas brought a pair of Oxfords with tassels on them to a New York shoemaker, asking them to craft something similar. Let down by the result, Lukas then brought his request to the Alden Shoe Company, who combined the tassel with a slip-on loafer. Voila! The tassel loafer was born. Supposedly. Background accuracy aside, there's no disputing that the shoe was a massive success, and remains one to this day. Available in materials like suede or leather, this stylish staple exudes a European sensibility and delivers classic, clean vibes.
Edward Green Portland Leather-Trimmed Suede Tasselled Loafers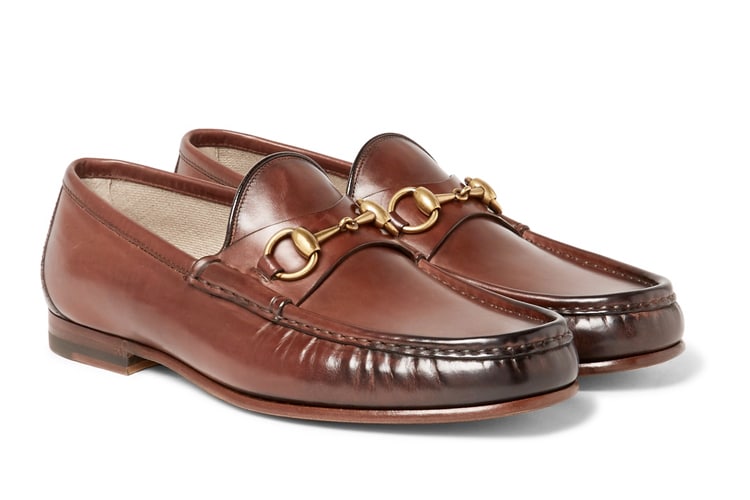 The Gucci (or Snaffle) Loafer
Launched by Italian fashion house Gucci in the 1960s, the snaffle loafer distinguished itself by way of a golden metal strap shaped like a horse's snaffle bit across the top. Gucci also changed the loafer colour from brown to black and tinkered with the lining. The result of those modest improvements was an explosion in popularity. Soon enough, the Gucci men's loafers were a mainstay among American power players. Nowadays, the snaffle loafer gives off a somewhat retro, but nevertheless sophisticated vibe.
Gucci Roos Horsebit Burnished-Leather Loafers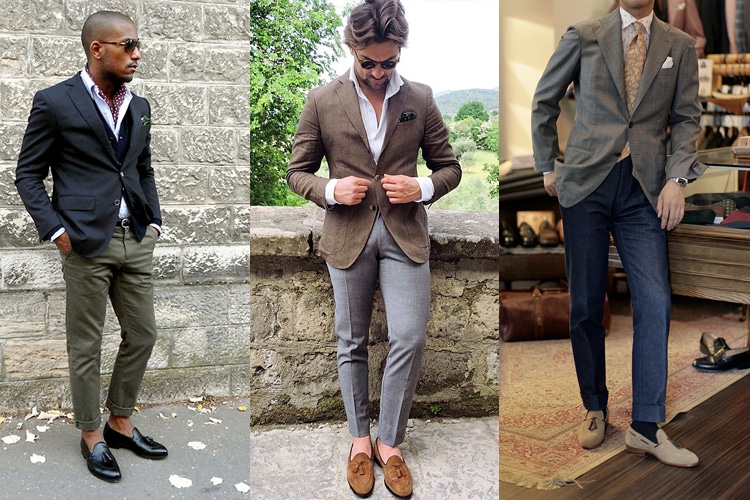 How to Wear Loafers
Because they're made of smooth materials like suede and leather, and available in dark colours, men's loafers blend with a wide range of outfits and styles. Indeed, the guy to your left might be rocking penny loafers with shorts and a t-shirt while the guy on your right might be wearing tassel loafers with a linen suit. That said, here are some general guidelines on how to wear loafers: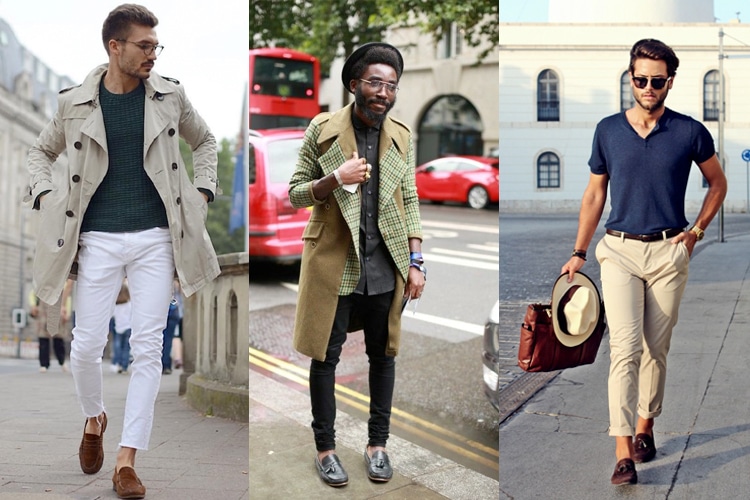 Smart casual is your best bet. Men's loafers and the smart casual dress code were pretty much made for each other. Both exhibit breezy style with lots of class. Just remember that smart casual is usually far more "smart" than it is "casual". Among the various loafer types, penny loafers remain the most versatile, and you can pair them with most get-ups (you could even pair penny loafers with jeans). For tassel and Gucci loafers, think slim chinos with blazers and crisp button downs.
Black Tie and Loafers Don't Mix. If you're going to wear loafers with a suit, it should be a relatively casual suit, not a three piece. We talking seasonal wear like a tailored linen suit, or maybe a cotton blazer with slim chinos. With both the shoes and the suit, aim for darker colours, simple details and quality fabrics.
Shorts and Loafers Do Mix. A nice pair of khaki shorts, no socks and choice loafers make for a perfect summertime get-up. Throw in a crisp shirt, some killer shades and a clean watch and you're rolling in true style.
Keep it Basic. When buying men's loafers, keep it simple by sticking with materials like suede, and colours like brown and black. Make sure you treat those suede loafers with proper care so they don't wear down.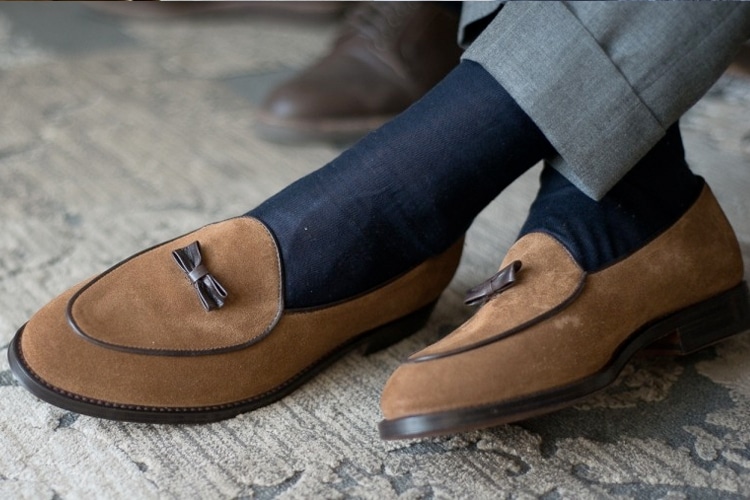 Loafers and Socks
The loafers socks or no socks debate is theoretically still ongoing, but there's never been a better time to choose for yourself. In other words, loafers with no socks is very popular right now, and loafers with socks never completely went out of style. What's important is that you retain a tight, tailored fit and remember that loafers do retain a slightly formal edge. Also, should you go with socks, make sure the sock patterns or colours match your outfit. Loafer socks for men have become a sock genre on their own so be sure to look into that if socks are your thing. The main takeaway here is that loafers might be versatile enough to go with casual apparel, but they still signify heightened sartorial awareness. Socks or no socks, you want to treat your loafers as part of an overall get-up that starts at the head and ends at the footwear. That's not just how you wear loafers. It's how you wear everything.
This article is part of our Suited and Booted Series
Want to learn about men's shoes beyond loafers? Take a look at our Men's Shoe Guide as well as the Best Australian Men's Shoe Brands!
Have you subscribed to Man of Many? You can also follow us on Facebook, Twitter, and Instagram.
---
You may also like:
How To Dress Like a Peaky Blinder
A Guide to Men's Dress Codes
What Style of Dress Shoe Should Every Guy Own?
---