Showcasing the best designers from around the world, the new MR PORTER ARTS/ CRAFTS collection will have you appreciating craftsmanship, technique and skill like never before. Whether you're interested in upcycled fabrics, recycled/repurposed materials, natural dyes, artist collaborations, or vintage processing, this exclusive collection champions individuality and expression found in some of the most unique and intriguing brands in fashion.
Right now, 194 pieces (164 exclusives to MR PORTER) from 26 brands have launched globally at MR PORTER, and we've hand-selected a number of our favourites down below. Including limited edition pieces from some of the best brands in the business,  The Elder Statesman, Missoni, Rhude and BODE. Each providing their take on what the term ART/CRAFT means to them.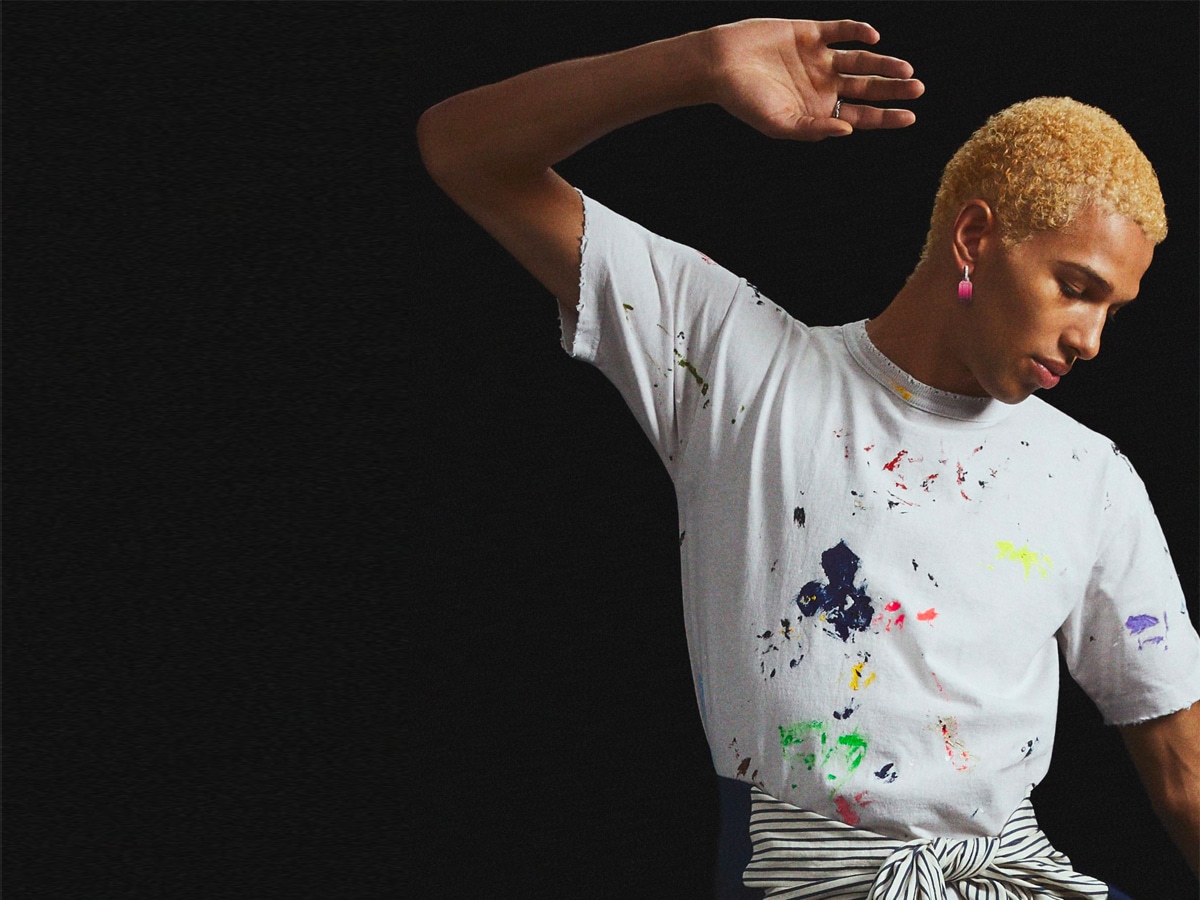 ART/CRAFT Selections
Designed for those who appreciate small details and unique textiles, the ARTS/ CRAFTS collection is the perfect illustration of where traditional cut and sew techniques have carved their own niche in the fashion world. While we might be used to seeing hype brands such as Balenciaga and Gucci selling products out in an instant, brands such as BODE are doing the same with one-of-one handmade pieces that feature remarkable attention to detail. It's no surprise a number of these very brands have graced the carpets of the Met Gala and a number of stars on leading magazine cover stories.
"We are delighted to launch ART/CRAFT, a curated selection of brands who have created an array of distinct, exclusive pieces through the lens of their unique DNA, just for MR PORTER. Each brand was tasked with an open brief to create something truly special to them, and I'm thrilled to see the methods they used to story-tell their pieces," said buying director Sam Kershaw.
The ARTS/ CRAFTS curation cements MR PORTER as the leading destination for men with fashion and expression at the forefront of their minds. With a unique appreciation for handmade and intricate pieces, each item in the collection reflects those characteristics which we look for in fine pieces of art. To start you on your browsing journey, we've selected a number of favourite pieces from the collection.
The Elder Statesman Patchwork Tie-Dyed Cashmere Hooded Sweater
LA-Based brand The Elder Statesman has long been revered for its application of cashmere and intricate use of textiles. With its first collection of sweaters appearing in 2008, the brand lives and breathes Los Angeles to this day with a dedicated arts and crafts facility in DTLA. This particular hoodie is spliced together from panels of pure cashmere and features a mixed tie-dye print. Exclusive at MR PORTER.
Rhude Leather-Trimmed Embroidered Wool-Felt Bomber Jacket
Varsity jackets are making a come-back in a serious way, so why not pick up one of the best available with this number from Rhude. Made from wool-felt and leather, the brand's crest at the chest lets everyone know that you're well versed in the fashion game, and the embroidered tongue-in-cheek quote is an attractive finishing touch of realism. This jacket runs true-to-size.
Missoni Striped Wool-Blend Sweater
Try naming the 'best sweater brands in the world' and Missoni will sit right at the top. With a familiar flair of colour, this striped wool-blend sweater is vibrant, bright and in your face. Knitted from only the best quality materials in Italy, we recommend matching any of the tones with a pair of trousers and sneakers for a sophisticated and clever ensemble.
JW Anderson Patchwork Striped Cotton Shirt Jacket
Well versed in the creation and craftsmanship codes of practice, JW Anderson succeeds here with intricate details that have you appreciating every thread. Panelled with solids and stripes, it's like a classic work jacket but elevated to levels of classic JW Anderson status. We love the wide sleeve design, contrasting pocket touches, and most of all, the hidden vertical buttons. Exclusive at MR PORTER.
BODE Embroidered Cotton Shirt
When she's not dressing the most famous Hollywood stars for the cover of your favourite fashion magazine, Emily Bode is searching the globe for the best textiles and fabrics in existence. No two pieces ever look the same, with most being quilted, embroidered, and hand-stitched. Take this striking embroidered cotton shirt, calling it anything but a work of art would be an understatement.
Fine Jewellery
In much the same way as the clothing items above, MR PORTER's ARTS/ CRAFT curation extends to the finest jewellery brands on the market. Further cementing its place as the leading destination for men's fine jewellery, five new brands have been added to the ever-growing list, featured here as part of the collection. This includes exclusive pieces such as a 17ct diamond bracelet from SHAY to the gold and locally sourced blue iolite "Trillion" bracelet by Fernando Jorge.
"Fine jewellery has a large presence in ART/CRAFT, an area of rapid growth and focus for us – and I'm excited to provide our global customers with interesting and hard to find brands, who produce products with genuine individuality and longevity," said buying director Sam Kershaw.
While the fine jewellery space is a growing area globally, MR PORTER is leading the way with some of the rarest and most sought-after brand names in the business. We've selected a number of pieces below, so whether you're starting your fine jewellery collection or adding to an existing number of pieces, you'll love the exclusive pieces found only on MR PORTER.
Bleue Burnham Sissinghurst 9-Karat Gold Signet Ring
Taking sustainable practices under its wing with each and every piece produced, London-based jewellery brand Bleue Burnham cares deeply about the natural world. With the makings of a slow fashion brand that you'll love forever, handmade techniques combine with intricate detail on this 'Sissinghurst' ring. Made from recycled 9-karat gold and carved for an organic feel,  natural emeralds and sapphires are set alongside lab-grown clear sapphires. Exclusive at MR PORTER.
Hatton Labs Sterling Silver Crystal Ring
Another favourite of ours from London, Hatton Labs looks at the history of London's jewellery district a the inspiration for their contemporary pieces. Cast from sterling silver, this crystal ring features a full-circle sweep of stone in a rainbow pattern. Exclusive at MR PORTER.
VADA Bubble 18-Karat Gold Emerald Bracelet
Inspired by romance and symbolism, this fine jewellery brand utilises conflict-free gemstones in its production. We love the bubble bracelet for its detailed round emerald setting as well as the handcrafted gold tennis bracelet. Look for more pieces like these in VADA's 'bubble collection'.
Suzanna Kalan Rose Gold, Sapphire and Diamond Ring
Designed for today, tomorrow, and forever Suzanna Kalan wants you to wear her statement jewellery every single day. Cast from rose gold and set with baguette-cut diamonds and black sapphires it's easy to see why this statement piece is highly sought-after amongst collectors.
MR PORTER offers express worldwide shipping to more than 180 countries, including same-day delivery to New York, London and Milan. The ARTS/ CRAFT collection is available now, with a number of exclusive items ranging from clothing to jewellery. Follow the link below for more information and to see the curation in its entirety.