By the time Nick Farr-Jones raised his bandaged hands to the sky in triumph, a decade of domination had already begun. The Wallabies captain's embattled team of misfits and ring-ins had captivated the sporting world, taking down titans and overthrowing champions on their way to a memorable showdown with the traditional rival. When the 1991 Rugby World Cup final eventually rolled onto the gritty fields of Twickenham Stadium, not even 56,000 English fans could halt what was coming. Standing helpless on the sidelines, Wallabies supporters inadvertently bore witness to the birth of the next great sporting dynasty. The Green and Gold resurgence had finally arrived.
For Australian rugby fans, the '90s represent an era of pure football supremacy. A decade bookended by World Cup wins, it spawned some of the sports great names, from Tim Horan and John Eales to George Gregan and Matt Burke. More than 20 years since Australia last held Rugby's most coveted prize aloft, and the Wallabies again find themselves on the precipice of greatness. And much like Farr-Jones' historic 1991 team, there are a host of new names on board, some with a familiar ring to them.
R.M.Williams x Rugby Australia
In the lead-up to their journey to France in September, the Wallabies have joined forces with the nation's most recognisable label, R.M.Williams. The Aussie icon is now an official partner of the teams in gold, including both the Wallabies and Wallaroos, and it makes perfect sense.
R.M.Williams has long had a cultural connection to Australian rugby, built on the same ethos of grit, hard work and perseverance that the grassroots football side exudes. Now, those shared ideologies are brought to life in a new limited-edition collection.
R.M.Williams x Wallabies Collection
The new R.M.Williams x Wallabies collaboration throws back to the 'Golden Era' of Australian rugby, referencing the iconic designs, colours and silhouettes of the championship-winning 1990s team. The heritage-inspired lineup features a range of products, including jerseys, scarves, caps, and limited editions of the brand's bestselling Comfort Craftsman and Lady Yearling boot, all elevated by the Australian label's signature touch.
Taking archival cues, the collection is brought to life in vibrant shades of gold, chestnut brown and blue, and even include an era-specific archival R.M.Williams logo. An Easter egg for eagle-eyed fans, this logo also features the year in which the business was founded and RMW, the legendary founder's initials.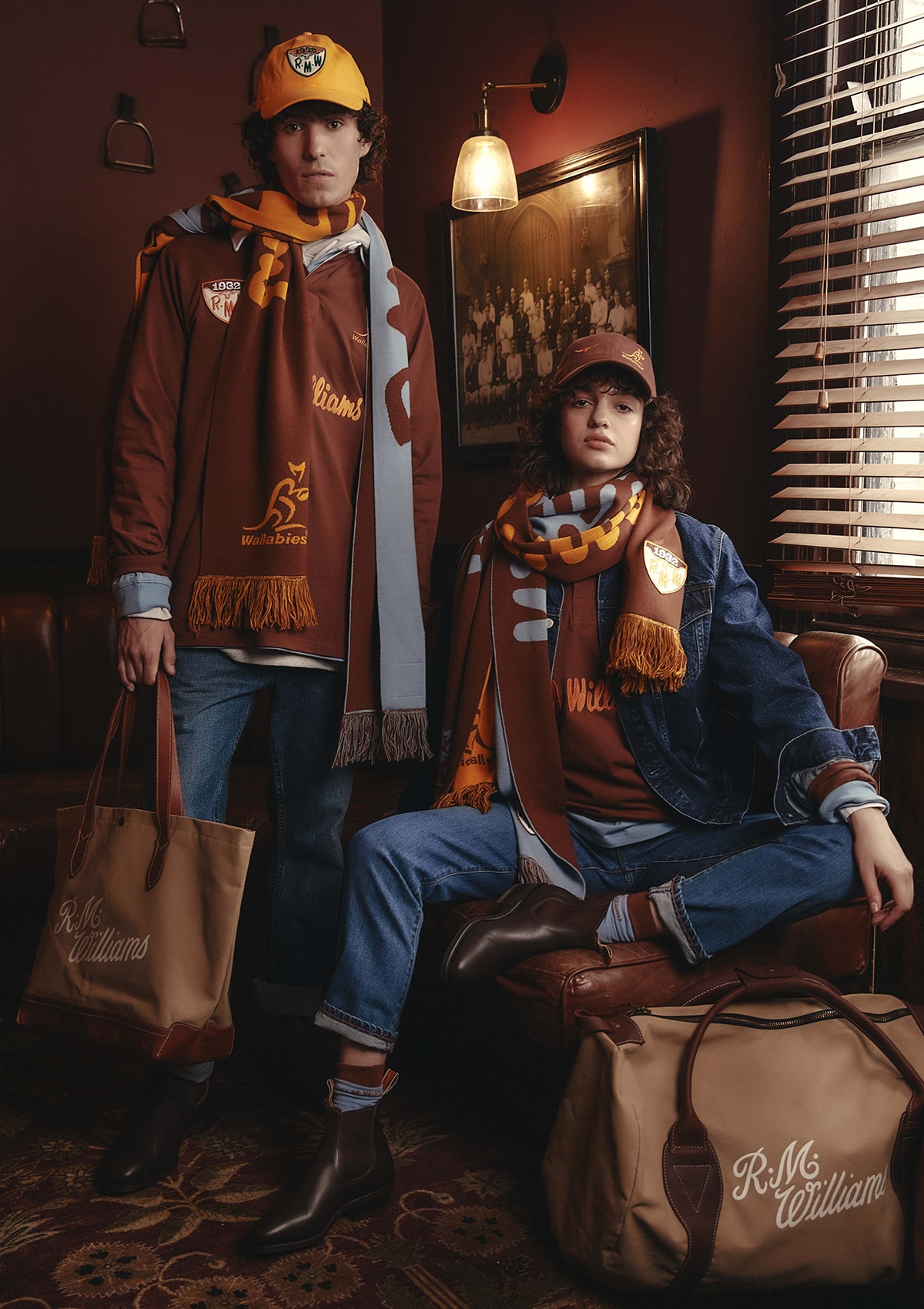 According to the brand, the goal was to craft a collection that perfectly balances versatile "fan gear" and elevated everyday dressing. Each piece has been crafted from either Woolmark-certified extra fine Merino wool or breathable organic cotton, in a further commitment to comfort and quality.
Naturally, the jerseys, boots and caps are exquisite, but much like a right-foot goose-step from the great Campese, there are a few expected delights in this collection that have taken us by surprise.
Scarves
Make no mistake, when it comes to the winter sport of rugby, fans wear their scarves with pride, like a banner carried into battle. This new oversized scarf arrives in contrasting gold, chestnut brown, or light blue and features both logos prominently.
It is made from 96% merino wool and 4% nylon to give it a little stretch and flexibility and comes with tassel trim alternates in contrasting colours.
Caps and Beanies
For headwear, the R.M.Williams x Wallabies collection includes a range of caps made from cotton twill in gold, blue and chestnut with the iconic shield or an offset Wallabies logo and longhorn logo in contrasting colours. Beanies come in the same team colours with Wallabies and R.M.Williams script logos embroidered on both sides. The 94% merino wool/6% nylon construction allows for breathability and comfort in a one-size-fits-all design.
Socks
These calf-length athletic socks are made from breathable 94% cotton blend with a contrasting heel and toe design that fits just right. The R.M.Williams and Wallabies logos are knitted into the sock, so you can be sure your team spirit won't wear off with repeated uses and washings. Available in signature gold, blue, and chestnut brown with contrasting colours that really pop to show your appreciation for Rugby Australia.
The Ultimate Jersey
Appearing as if it could have been stripped right from the back of John Eales in the 1999 RWC, the new cotton rugby jerseys bring a subtle vintage charm to the iconic silhouette. Everywhere you look, this jersey has nods to the great Australian union. From the longhorn logo on the back of the collar to the classic rubber buttons and white spread collar, the top is an ode to the great design hallmarks of yesteryear. Not that it comes as a surprise.
After 90 years at the top of the game, R.M.Williams has staked an irrefutable claim on quality and craftsmanship, something that comes through across the entirety of the collection.
Boots
The staple for which R.M.Williams is best known, the new boots collection brings a new sense of individuality to the range. Still sporting the same rugged simplicity and durability that has served stockmen for close to 100 years, the R.M.Williams x Wallabies boots feature unique branded tugs, decorated with the Wallabies logo.
As you'd expect, the R.M.Williams x Wallabies Comfort Craftsman and Lady Yearling boots are handmade, however, there are limited stocks available. All orders have to be made by 11 August and those lucky enough to get their hands on a pair will note, these bad boys are tough enough to wrangle a brumby in the outback or your boss in the next board meeting.
Heritage Ball
Like a cut-out pass from Stephen Larkham, this one was a nice surprise. The limited edition Heritage Ball is crafted from full-grain cowhide and is inspired by the original vintage leather version used in the '90s. Made using 18 precision hand-crafted processes with 221 stitches, it incorporates the classic R.M.Williams logo. It even has the same enhanced grip and durability that brought Reginald Murray his fame all the way back in 1932. Only 50 of these balls will be made. Order yours before they are gone forever.
Entering a Golden Era
The countdown to France is officially underway. In just a few short weeks, the Wallabies will step foot on the hallowed turf and engage in a battle for global bragging rights, but this time, they have heritage on their side.
If rugby is the sport played in heaven, then this is the collaboration to match. The new limited-edition R.M.Williams x Wallabies collection is available now in-store and online. Show your support and bring the spirit of Australia to the table when the Wallabies kick off in France later this year. Where will you be when history is made?
Campaign Credits:
Creative Producer – Denise Barnes, Photographer – Harry Hayes, Digi – Rocket Weijers, Stylist – Georgina Kar, Hair & Makeup – Franka Deluca, Models – Ilana Davies & Max Reardon via Chadwick.