Style Guide: How to Dress Like Timothée Chalamet
In an industry laden with brooding brunettes, Timothée Chalamet has managed to reign supreme. Chalamet's boyish charm coupled with somewhat ethereal beauty make him successful in coming-of-age films and period dramas alike, with roles in Interstellar, Lady Bird, Call Me By Your Name, Beautiful Boy, and Little Women.
You'll also like:
Style Guide: How to Dress Like Cillian Murphy
Style Guide: How to Dress Like Bradley Cooper
Style Guide: How to Dress Like Kit Harington
Style Guide: How to Dress Like Every BTS Band Member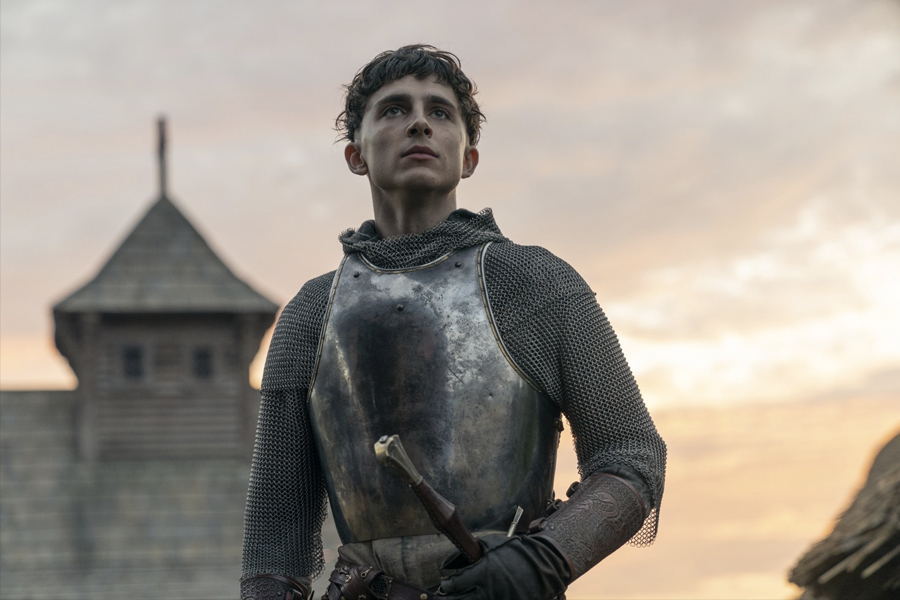 Since his breakout role in Call Me By Your Name in 2017, Chalamet has been a red carpet staple, with his sartorial savoir-faire and grooming prowess garnering him approval by both the fashion community and general public (there are several Instagram accounts dedicated to documenting his style, plus a couple serving as an ode to his hair).
Despite being one of the few celebrities to not have a stylist, Timothée Chalamet has succeeded in finding his unique signature style, with his stylistic charm lying in finding the right balance between strategic tailoring and louche insouciance. Whether it's a Louis Vuitton harness, magenta Stella McCartney suit, or cinched satin Haider Ackermann suit, Chalamet isn't afraid to push the boundaries of traditional men's red carpet dressing.
While his covetable bespoke designer wardrobe might be difficult to attain, here's everything you need to emulate the Timothée Chalamet style.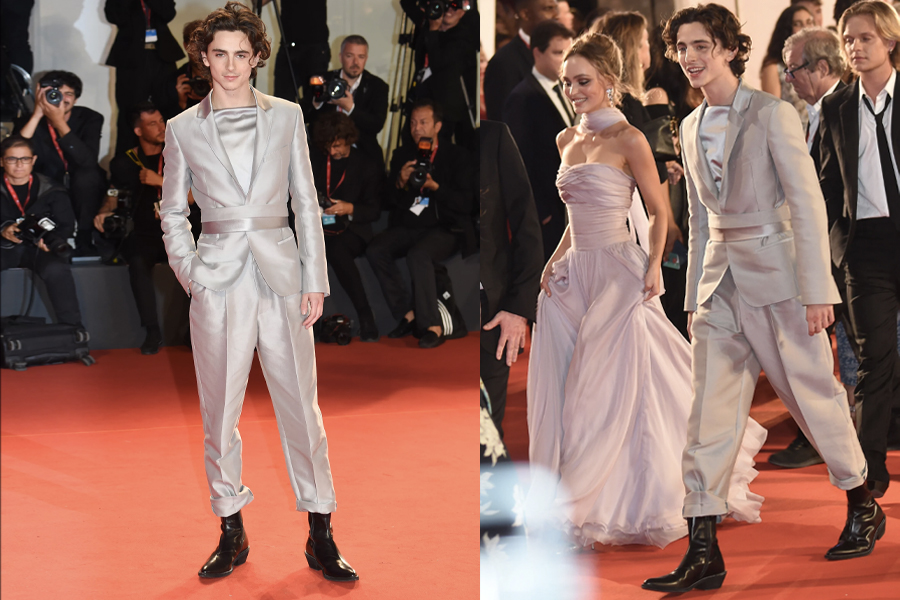 Experimental Tailoring
The Little Women actor plays with the conventions of formal dressing, borrowing elements from womenswear while retaining a distinctly menswear look. Created by frequent collaborator Haider Ackermann, his attire to the Venice Film Festival – accompanied by The King co-star and rumoured then-girlfriend Lily-Rose Depp – consisted of an immaculately tailored satin suit with a satin panel attached to the blazer (the French-American actor is rarely seen in a collared shirt), cinched with a waistband. The cinched waist makes for an interesting silhouette and provides the outfit with an almost gown-like quality, while Chalamet's style decision to pair his eveningwear with cowboy boots adds just the right amount of youthful insouciance.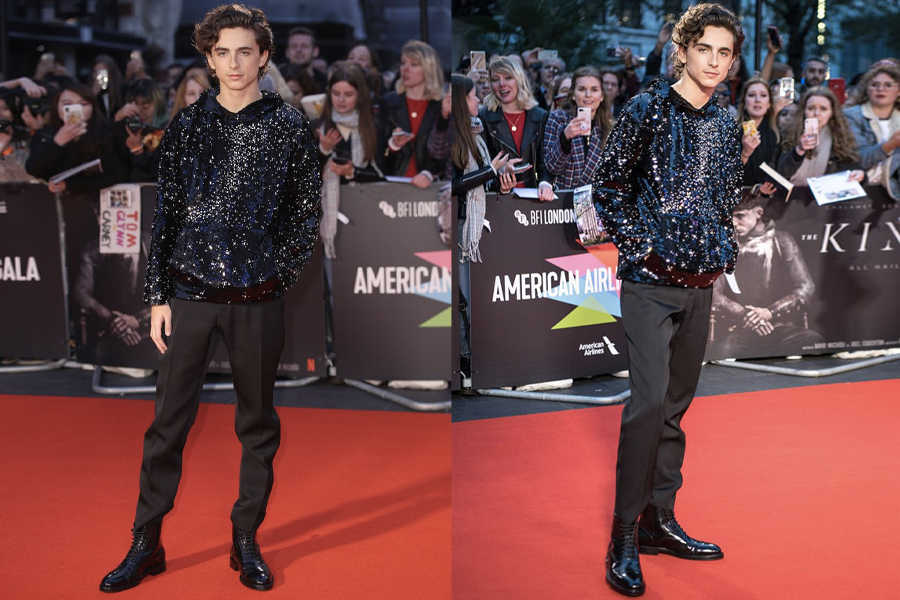 Louche Loungewear
Though he often employs sharp tailoring, Timothée Chalamet isn't afraid to take a risk on the red carpet. Attending the UK premiere of The King, Chalamet opted to combine loungewear with formalwear, donning a midnight blue Swarovski crystal-studded Louis Vuitton hoodie teamed with straight-cut black dress pants and lace-up leather boots. His pared back choice of trousers and shoes let the hoodie do the talking, with this outfit causing a 192% increase in searches for men's hoodies.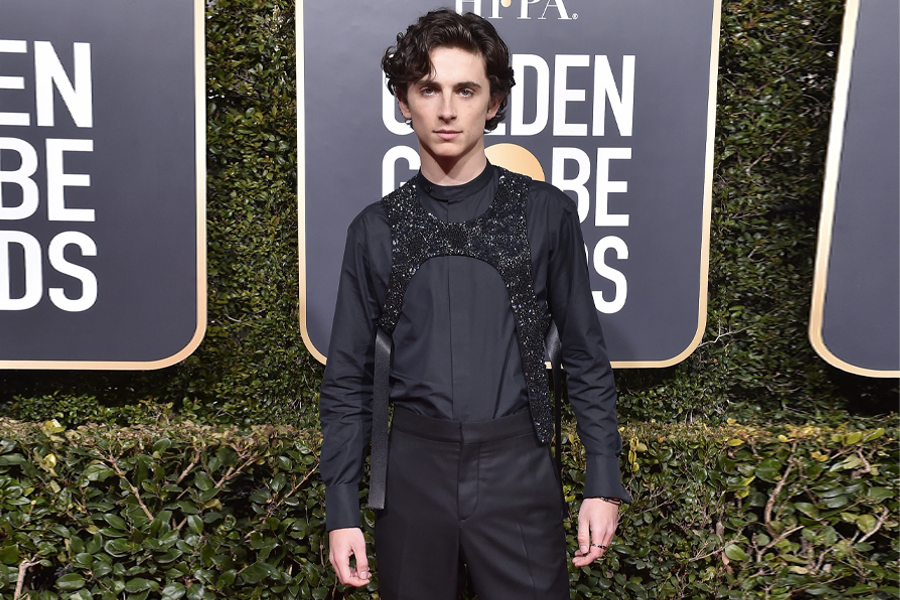 Harness Your Talents
Far from sinking into a sea of tuxes and suits, Chalamet made all-black outfits interesting again with his 2019 Golden Globes look. The Beautiful Boy star topped off a black shirt and slim-fitting trousers with a glittery black Louis Vuitton harness, creating an elegant, yet faintly BDSM vibe.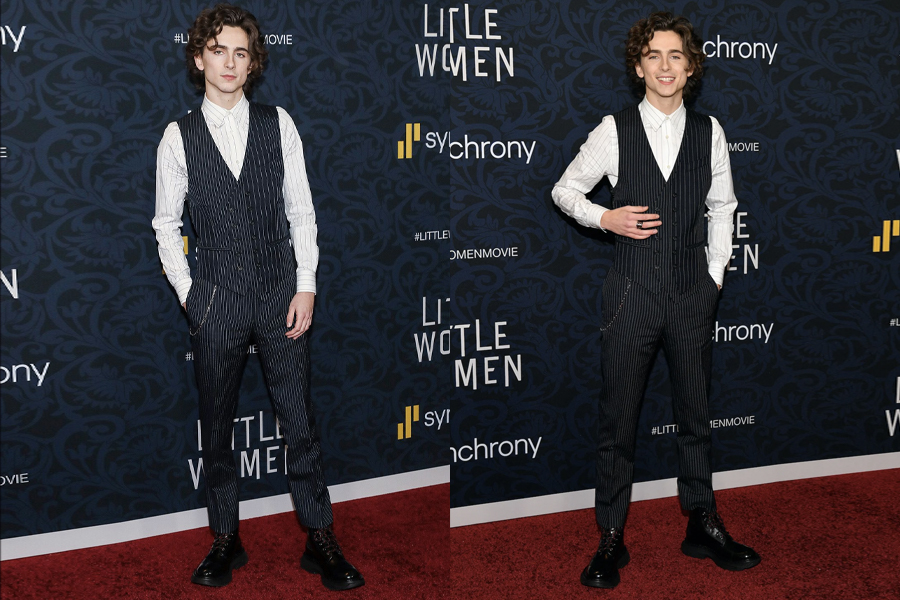 Play To Your Strengths
While his style is varied and experimental, the Lady Bird actor has a few staple components. With Timothée Chalamet's height sitting at around 5'10, he caters to his slight frame by typically opting for slim-fitting garments and tapered silhouettes. On the red carpet, Chalamet frequently selects luxe leather boots over more traditional dress shoes like oxfords or brogues.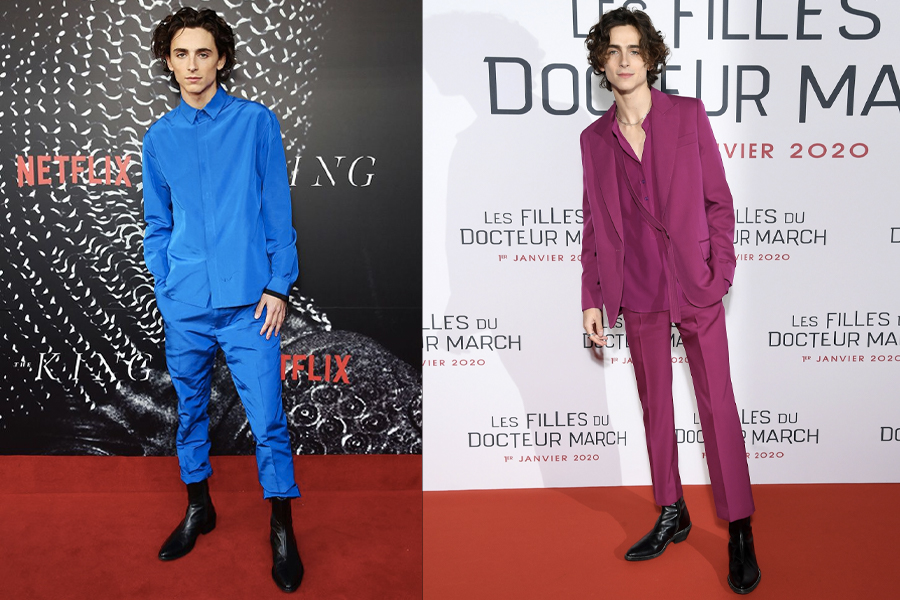 Blue Is The Warmest Colour
Timothée Chalamet is no stranger to an eye-popping hue. Take this blue Haider Ackermann two-piece for example; the vibrant shirt and slim-cut trousers speak for themselves, making Chalamet's choice to pair them with some trusty plain black leather boots an apt one. Another notable look is his magenta Stella McCartney suit, borrowed from the womenswear collection.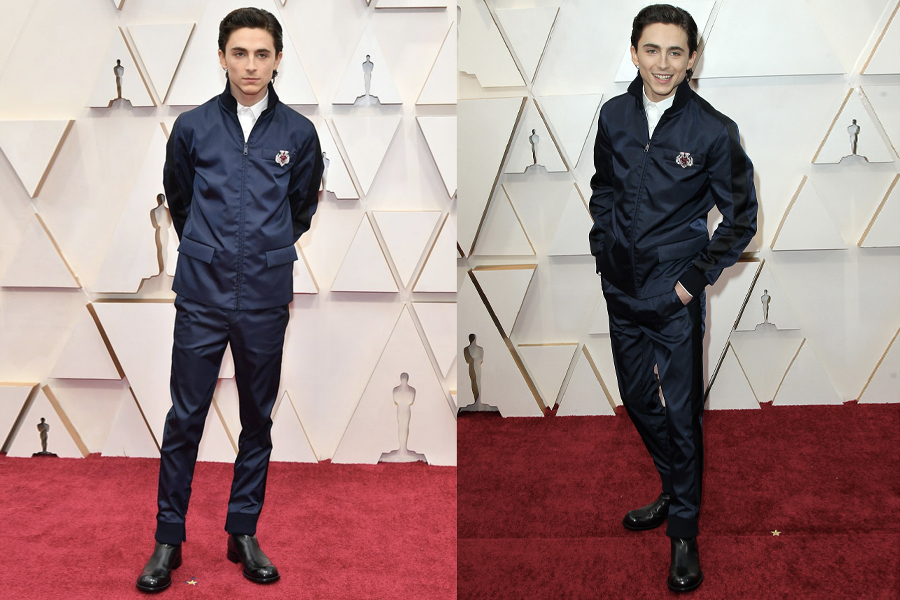 Working Man
Though he sports his own distinct style, Timothée Chalamet isn't afraid to indulge in trends from time-to-time. Much like Kanye West at the Met Gala the year prior, Chalamet donned a workwear-inspired Prada look to the 2020 Oscars. We're still undecided on whether this one is a hit or a miss, however it did spur hundreds of mall cop and gas station worker memes.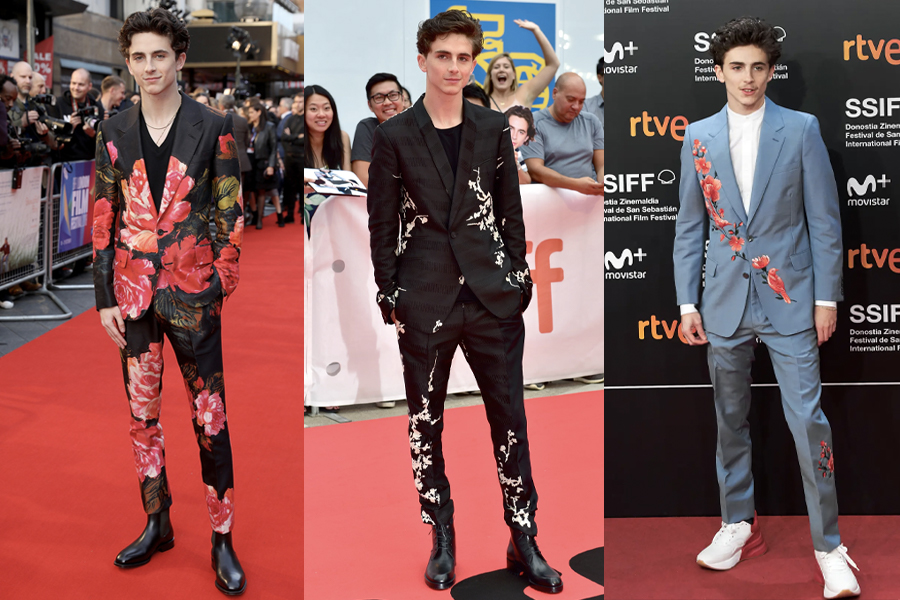 Flower Power
Like fellow floppy-haired style icon Harry Styles, Timothée Chalamet favours bold floral prints, often reminiscent of those found on your grandmother's sofa. Chalamet has been seen in a series of floral suits by Alexander McQueen (the king of florals himself); romantic red roses, cherry blossoms on powder blue, and delicate white florals on black. The key to pulling off floral suits? Tactical footwear. Ditch the oxfords and make like Chalamet by teaming florals with chunky black boots or sneakers.
General FAQ
How tall is Timothee Chalamet?
According to reports, actor Timothee Chalamet is around 5'10'' in height.
How do you pronounce Timothee Chalamet?
He recently revealed the correct pronunciation to be, Timo-tay Shala-may.
What is Timothee Chalamet's net worth?
According to Celebrity Net Worth Timothée Chalamet is worth around USD$6 million.
You'll also like:
Style Guide: How to Dress Like Cillian Murphy
Style Guide: How to Dress Like Bradley Cooper
Style Guide: How to Dress Like Kit Harington
Style Guide: How to Dress Like Every BTS Band Member