13 Types of Jackets and Coats Every Man Should Own
A good jacket or coat is the secret to pulling off a good all-weather outfit. It's not a make of break predicament to be in, but with a keen eye, you can easily tell the difference between a quality piece and a tacky coverup. A versatile jacket is a staple for any man's wardrobe, especially if you're like us and refuse to let the chills of winter get in your way. Styles change like the seasons too, so you might need a little more inspiration or information to help make you that little bit comfier. Making an informed decision by knowing the different types of jackets and coats is a good first step.
We curated a guide to the 13 Types of Jackets and Coats, in an effort to spread the love and ensure no one goes stir crazy during the colder months. Check them out, fend off the cold, and hit the streets in comfort and style.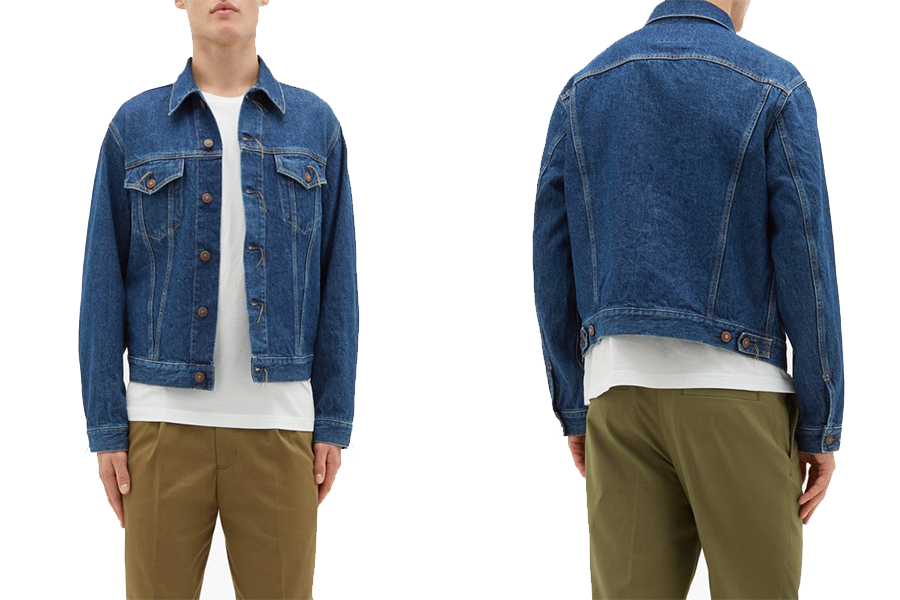 1. Denim Jacket
The denim jacket is the swiss army knife of jackets. These type of jackets are best for layering and staying warm just when the weather starts to turn. Don't rely on a denim jacket if it starts to snow, however, when layered with a hoodie or flannel this jacket is sufficiently warm. A quality denim jacket means 100% denim, that's preferably raw selvedge denim. Raw denim will age like a fine wine, it's the type of denim you can literally keep forever. If you're looking to make your first denim jacket purchase you should aim for a quality traditional blue denim from the likes of PAIGE, Acne Studios, Diesel, or Rag + Bone. Denim Jackets are best paired with coloured pants, plain chinos or dress pants are best.
Material: 100% Raw Denim, Washed Denim, Dry Denim
Occasion: Casual/ Semi-Formal
Recommended Weather: Intermediate Weather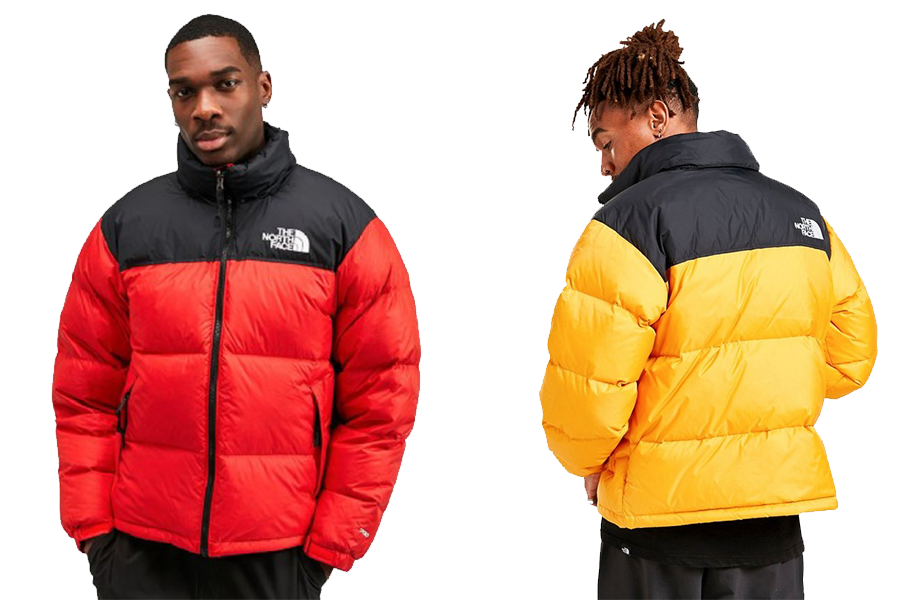 2. Puffer Jacket
The puffer jacket or down jacket is one of the most recognisable jackets for winter. A staple for the wardrobe, the puffer jacket is what you want for those bone-chilling winter days. These type of jackets are designed for close to zero temperatures and even snow, thanks to their water-repellent outers and down filling. The North Face Nuptse is without a doubt the most recognisable and stylish staple on the market, but don't be scared to opt for a quality alternative. Look for puffer's that are at minimum 550 fill for cold weather, however, you can opt for a cooler jacket with less down if you live in a warmer city. Puffer jackets are best paired with black pants, preferably cargo or heavyweight denim, and boots or gore-tex sneakers for wet winter months.
Material: Duck/ Goose Down (RDS Certified), 650+ Fill, Ripstop Fabric
Occasion: Casual/ Semi-Formal
Recommended Weather: Cold/ Very Cold Weather
Shop luxury Anthony Vaccarello Took Us Into Another Dimension For Saint Laurent's Men's Spring Summer 23
---
Featured Video from Man of Many
---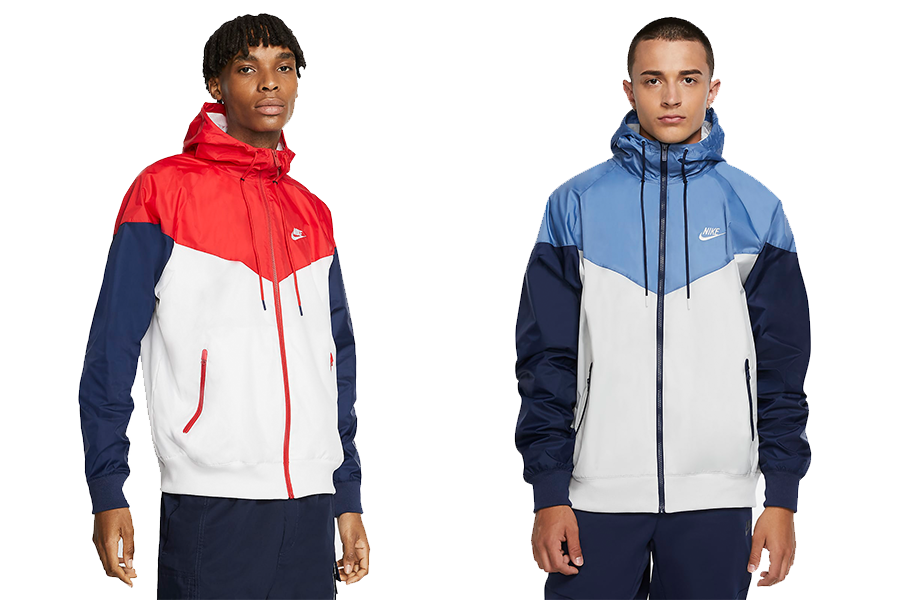 3. Windbreaker
If you're looking for that casual '90s vibe the windbreaker is the way to go. Windbreakers are perfect for semi-active lifestyles where denim jackets and coats are simply not an option. Windbreakers are best for overcast days when the weather really can't make its mind up. You have to be mindful that some windbreakers can appear cheap and nasty so always opt for the quality option and keep the wear predominately casual. These type of jackets can be worn as a one-piece outfit with matching pants for a throwback look or pair the windbreaker with some chinos for a slightly dressier fit. Some brands to consider include Nike, Uniqlo, Carharrt, and The North Face.
Material: Polyester, Nylon
Occasion: Casual
Recommended Weather: Overcast/ Intermediate Weather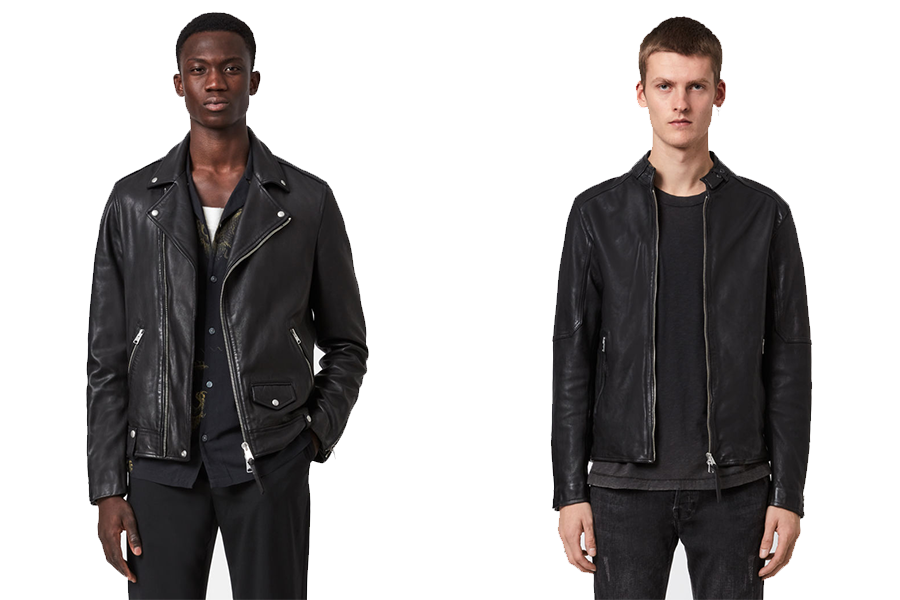 4. Leather Jacket
Sometimes referred to as a 'biker jacket', there's a leather jacket out there for everyone. These type of jackets cross over genres, from casual to semi-formal like no other. Like denim jackets, leather jackets are truly investment pieces, and you will likely hold onto this jacket forever. If it's your first leather jacket opt for a traditional look with minimal zippers and pockets. These type of jackets are perfect for beginners, they are a safer option and match with less thought intensive outfits. Pair the leather jacket with darker pants, preferably black dress pants or denim. When you're looking for your leather jacket consider quality first, avoid leather blends if possible. Start with quality options from Acne Studios, Needles, Armani, or Salvatore Santoro and if you're looking for a super-premium option you can't go past Saint Laurant or Visvim.
Material: 100% Sheep Grain Leather, 100% Lamb Leather
Occasion: Casual/ Semi-Formal
Recommended Weather: Intermediate Weather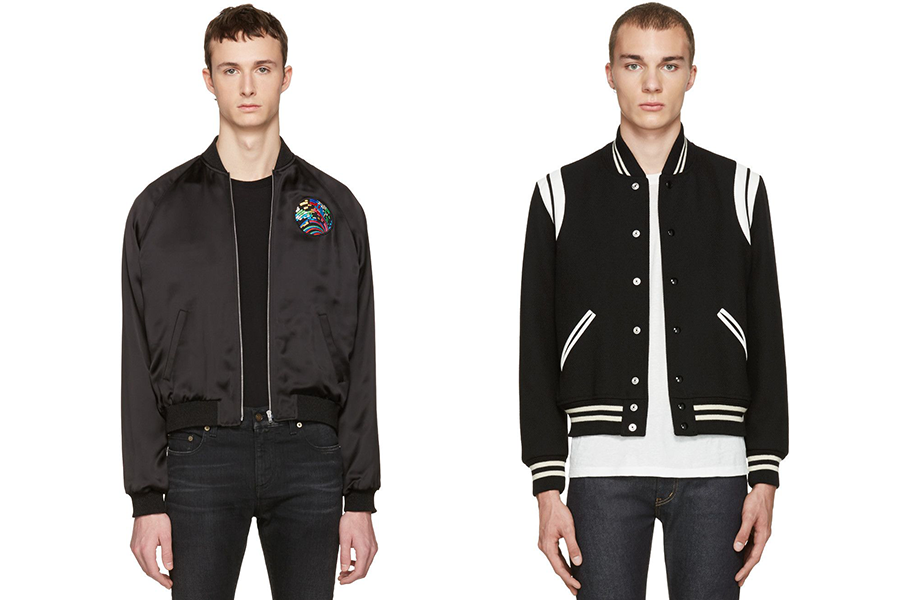 5. Bomber Jacket
A favourite of Joe Rogan, the bomber jacket is an all-time favourite cross-genre jacket. What started as military fatigue quickly became a non-military audience favourite throughout the 1960s. Back in the day, you would find the bomber jacket paired alongside pin-rolled jeans and leather boots. Today, not much has changed, they're still a great option for the man who's looking to expand his jacket horizons beyond the denim and leather options. Bomber jackets can be found in a range of different materials for different occasions. Nylon options from the likes of Alpha Industries have become popular for casual wear, whereas lambskin and wool options from Saint Laurant are great for semi-formal wear. For casual occasions, you should wear the bomber with denim jeans or chinos, and for semi-formal occasions, selvedge denim or dress pants are the only options.
Material: Nylon, Lamb Skin, Wool, Cotton
Occasion: Casual/ Semi-Formal
Recommended Weather: Intermediate Weather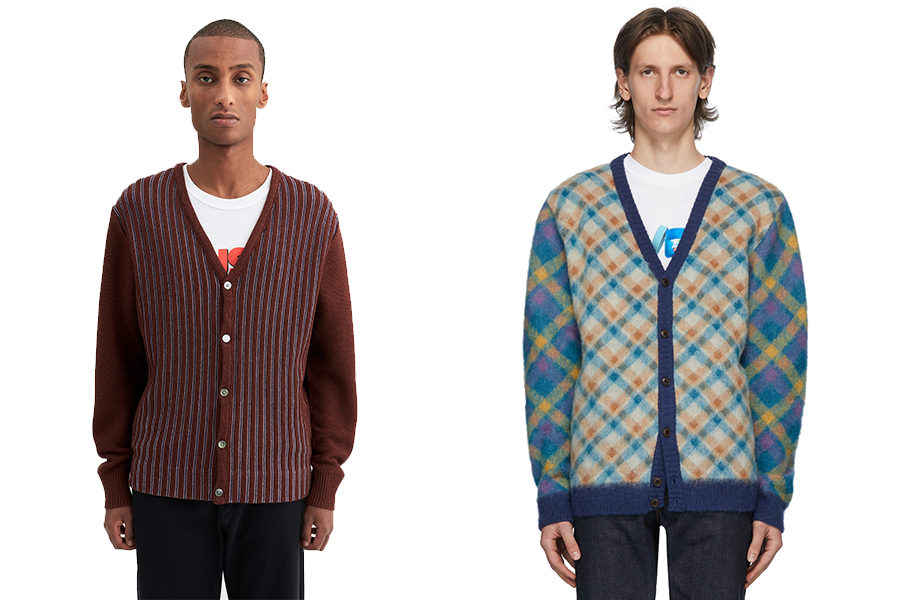 6. Cardigan
Following the influx of '90s fashion trends, cardigans are a fashion necessity today. It seems cardigans are the outerwear item everyone's talking about, from mohair's to cotton patterns the cardigans resurgence is real. These type of jackets are a simple coat of sorts that seem to work for everyone. The cardigan is best paired with a plain white t-shirt underneath or button-up shirt of a contrasting colour. If you're looking to make a statement go for a patterned, printed, or multi-coloured option and really stand out (for the better). Finding a cardigan is easier said than done, so keep your eyes peeled on brands such as Stussy, Acne Studios, Loewe, and Needles for the best choices.
Material: Wool, Mohair, Cotton
Occasion: Casual
Recommended Weather: Mild Weather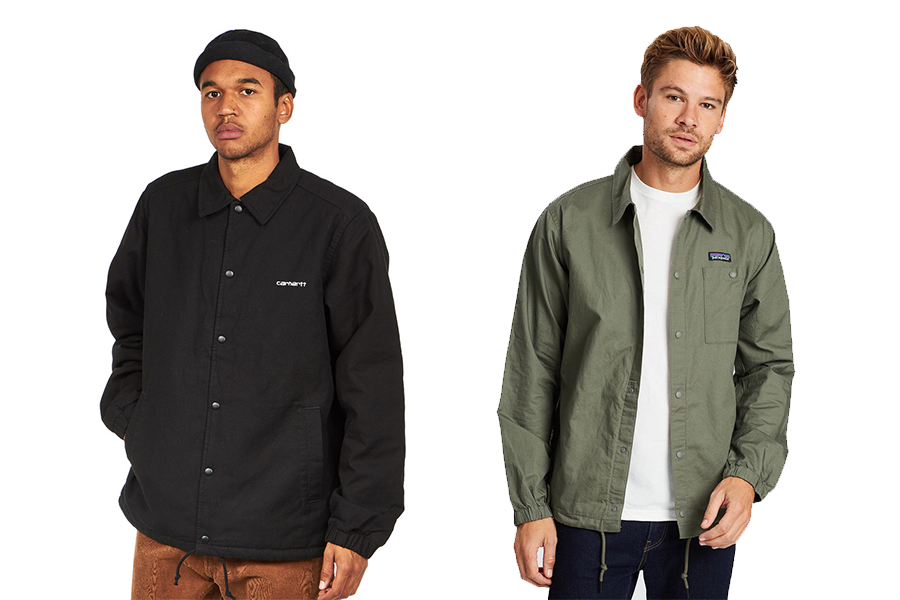 7. Coach Jacket
Turn your casual outfit up a notch with a plain coach jacket. This type of jacket for men is great for adding a touch of style to an otherwise plain outfit. When the situation calls for a little bit of extra style, add a coach jacket to your outfit with some jeans, and white sneakers. Coach jackets are great for a smart casual outfit but leave it there, we don't want you showing up for your next job interview looking underdressed. Coach jackets come in a variety of colour options and cuts, so start with a basic colour and transition to more risky colour from there. Brands to consider include Carharrt, Stussy, Patagonia and Nautica.
Material: Nylon
Occasion: Casual
Recommended Weather: Mild Weather

Shop luxury This Daniel Arsham x Haydenshapes 'Wave Relic' Surfboard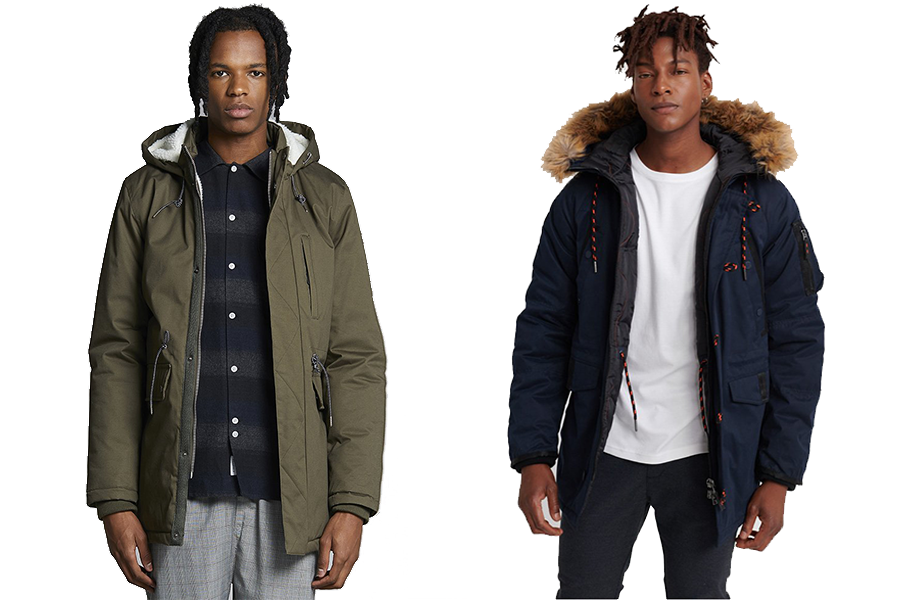 8. Parka
If it's starting to get a bit too cold for a coach jacket or bomber it might be time to pull out the Parka. These type of jackets are best for colder months and when paired with the right outfit they can provide a great choice for smart casual attire. You can find a parka in a variety of different colour options and styles, we recommend keeping pockets and zippers to a minimum for a cleaner and smarter look. If you've always got your hands full a parka with pockets can be a great choice but make sure it's well fitted and of high quality otherwise, you run the risk of looking cheap. Parkas are great when paired with denim jeans, chinos or dress pants but make sure your colour co-ord is on point. Brands to consider include Super Dry Japan, Patagonia, Stone Island and Mountain Research.
Material: Coated Nylon, Water Repellent
Occasion: Casual
Recommended Weather: Overcast/ Cold Weather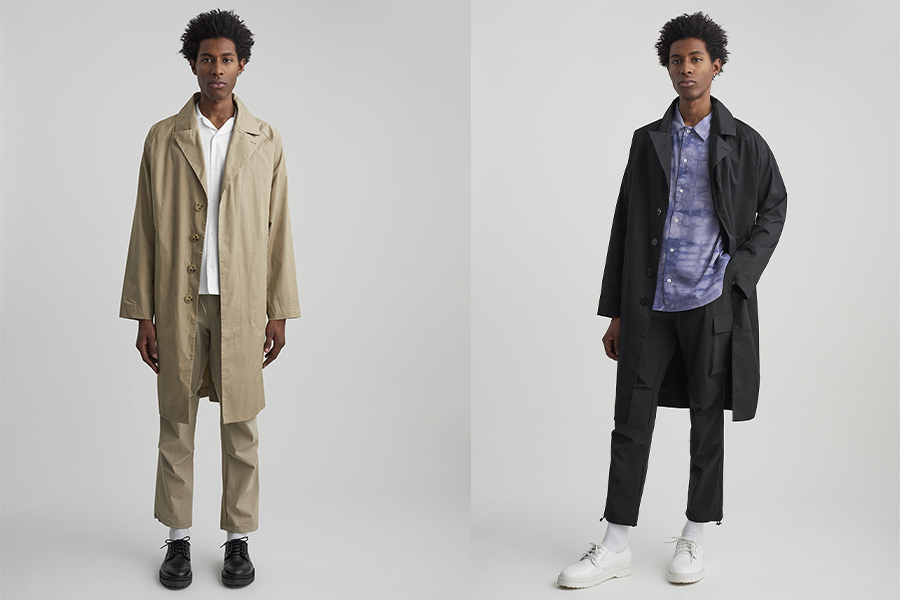 9. Trench Coat
Bridging the gap between casual parkas and semi-formal outerwear is the trench coat. These type of jackets are a perfect everyday wearing coat for all kinds of men, stylish or not. Trench coats are the only choice for a variety of weather conditions thanks to the length and warmth they provide. If you need to look smart and formal yet want to remain comfortable during the colder months this if the best type of jacket for you. Best paired with dress pants, chinos and quality dress shoes the trench coat can even be worn over a nice suit for business casual situations. Almost every designer has there own take on a trench coat, we recommend trying on instore to make sure you get the length and shoulders right.
Material: Wool, Cotton, Polyamide, Cashmere
Occasion: Casual/ Semi-Formal
Recommended Weather: Intermediate Weather

We Teamed Up With Pacifico Optical to Release Our Very Own Sunnies Shop affordable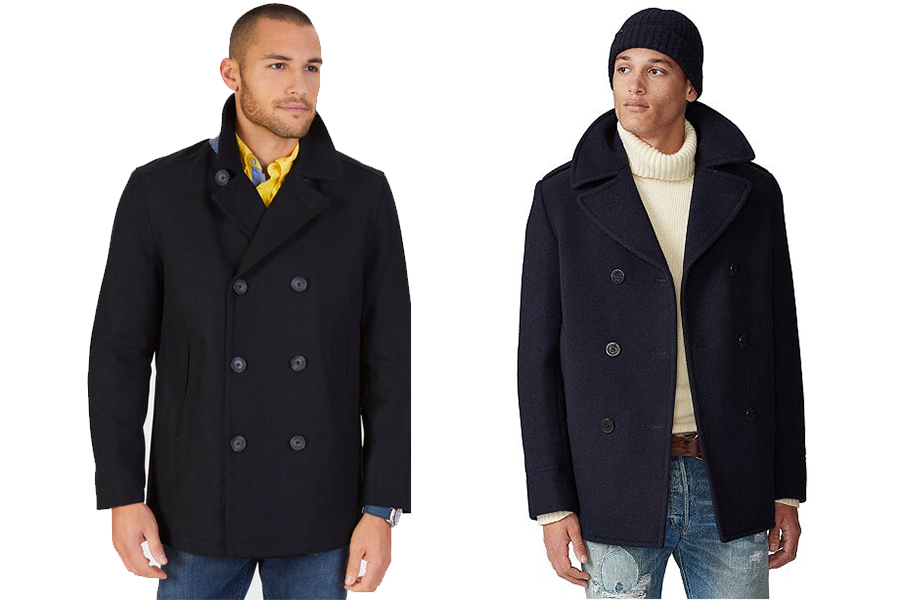 10. Peacoat
When it comes to the types of coats for men, the peacoat is the best for semi-formal wear. These type of coats are best when layered on top of a suit or tucked in polo shirt for dressing up at function in the colder months. Originally worn by sailors and members of the navy, peacoats are great for semi-formal occasions such as dinner parties and functions. Matching a peacoat in a darker navy or black colour with some denim jeans is traditional and easy to style outfit. You can ever get away with more costs effective pieces thanks to the rather premium cut that features multiple buttons and large collar. Consider options from the likes of Polo Ralph Lauren and Industrie.
Material: Wool, Wool Blend
Occasion: Casual/ Semi-Formal
Recommended Weather: Mild/ Intermediate Weather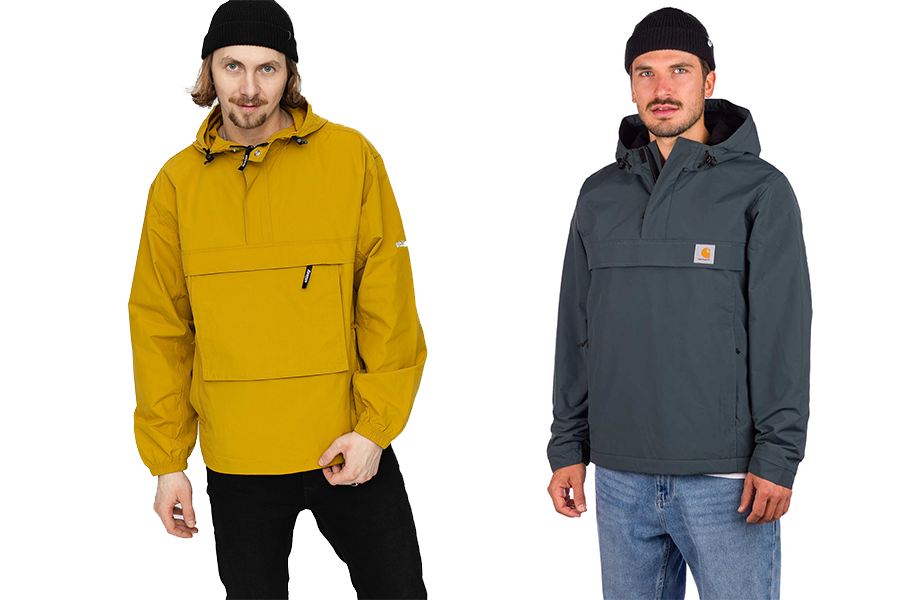 11. Anorak/ Pullover
If you're looking for a more casual and ready to wear rain jacket the anorak is perfect for wetter days. Very similar to the windbreaker but without the centre zipper, the anorak can be worn under casual circumstances as a simple pullover jacket. When paired with jeans, or cargos the anorak resembles a clean and simple casual outfit for the man who prefers a jacket with pockets and technical aesthetic. Consider brands such as Carharrt, Stussy, Uniqlo, and Nike.
Material: Water Repellant Teflon, Cotton, Nylon
Occasion: Casual
Recommended Weather: Overcast/ Mild Weather

Shop luxury Rihanna's Savage x Fenty Launches Lingerie For Men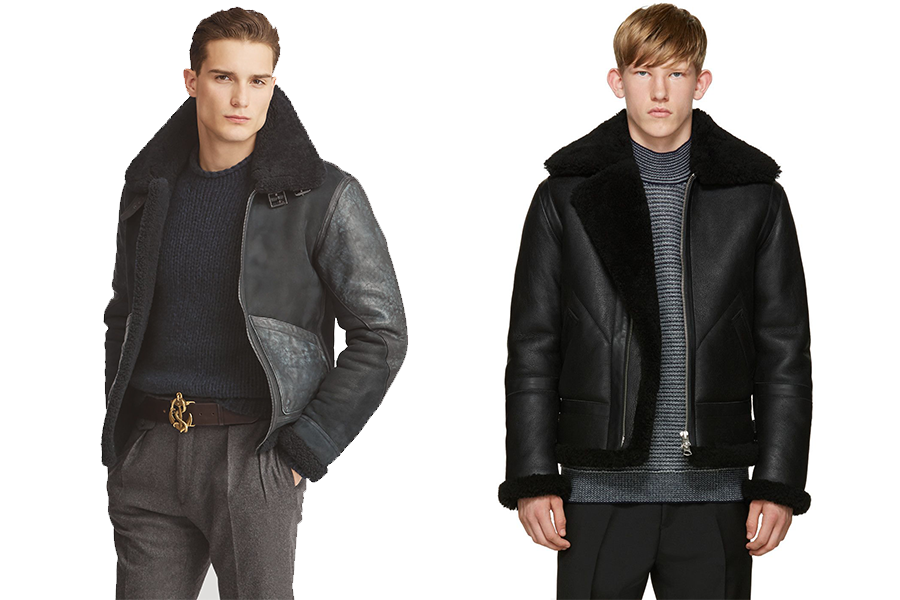 12. Shearling Jacket
Get your Tom Cruise fit off with a shearling jacket this winter. These type of jackets are show-stopping pieces that really complement a man when worn correctly. Shearling coats and jackets are traditionally made from lambskin, sheepskin or pelt. The shearling jacket is not a cheap investment, to say the least, you're adding extra material and style to an already expensive leather jacket. While the jacket is ethically dubious and very expensive, you can find quality faux sterling jackets that are ethically conscience and provide almost identical aesthetic properties. These jackets are perfect for smart events when paired with dress pants. If you're looking for a casual look opt for jeans.
Material: Cotton Blend, Wool Blend, Sheep Skin
Occasion: Casual/ Semi-Formal
Recommended Weather: Overcast/ Intermediate Weather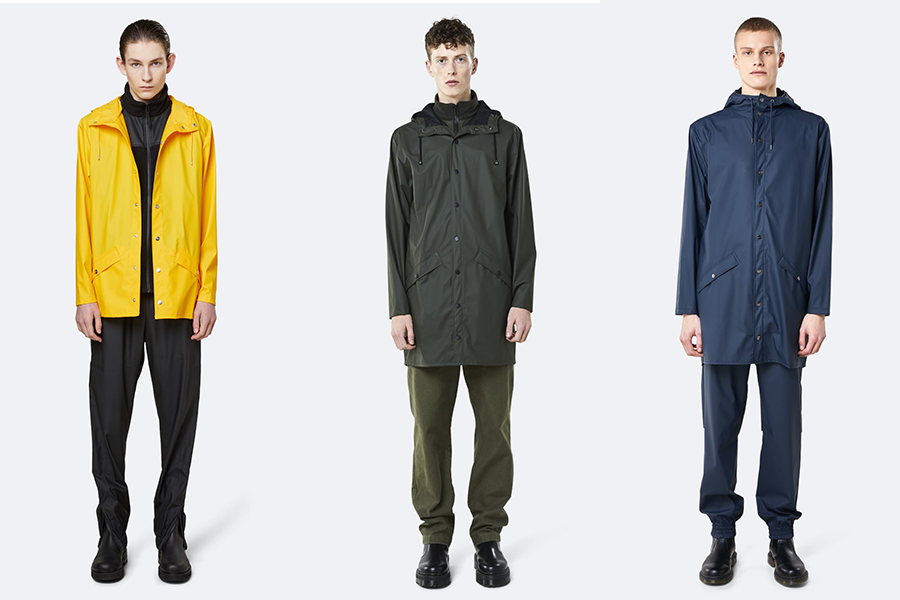 13. Rain Coat
Today, raincoats are some of the most stylish pieces of outerwear one can buy. These type of jackets have come a long way since the original yellow raincoats of our childhood, transforming into wardrobe staples that have us putting away the umbrella. Raincoats are still best saved for wet weather days and strictly worn casually under any other circumstances. Consider stylish options from the likes of Rains to make a smart yet casual statement.
Material: Polyester, Polyurethane
Occasion: Raining/ Casual
Recommended Weather: Overcast/ Raining Weather

General FAQ
What jacket does James Bond wear?
James Bond (Daniel Craig) wears a Tom Ford tuxedo jacket in Spectre, and a Matchless suede jacket in a camel colour in other scenes.
What is faux leather?
Faux leather is an artificial leather for the ethically conscious. It is usually made out of synthetic materials such as PU leather.
What jacket does Top Gun wear?
Tom Cruise wears a G-1 Navy flight leather jacket. The jacket in the movie is made out of Seal Brown goatskin, with Medium Brown Mouton.
You'll also like:
What Jacket Does James Bond Wear in No Time to Die?
Flint & Tinder's Iconic Waxed Drifter Jacket is Now Just $77
11 Best Men's Shirt Jackets & Tips on How to Wear Them
---
Featured Video from Man of Many