Conor McGregor's Watch Collection
Love it or hate it, Mayweather vs McGregor is already a match for the history books. Forget the outrageous and unconventional nature of the fight–the farcical press tour alone was unlike anything of its kind. Consider us duly entertained so far, if only because Conor McGregor sure knows how to lay down some witty banter. Here's hoping he has the boxing skills to back it up because Mayweather is certainly no slouch in the ring. Meanwhile, between the various press conferences, shouting matches and headlines, a persistent theme has emerged: it's all about the Benjamins, baby. Shallow, perhaps. On the other hand, have you seen the Conor McGregor watch collection? It's spectacular.
Indeed, Floyd "Money" Mayweather might be the current champion when it comes to both his boxing record and his bank account (tax problems notwithstanding), but the "Notorious" Conor McGregor has forged himself a veritably sharp and fashion-forward persona. He dresses well. He drives well. And he owns one hell of a watch collection that he's never shy to show off. On the marginal chance that the Irish UFC fighter wins the bout, we can already see the Conor McGregor Rolex watch being released in limited supply. Until then, we'll make do with the current Conor McGregor watch collection, which consists of some truly remarkable horology. Read on for an overview of the striking watches McGregor's worn both on and off the press tour. It reflects itself in a fantastically entertaining Instagram page, infused with glam from Rolex, Izle, and expensive skull watches. Not to mention Cartier necklaces and other top-notch fashionable gear that is meant purely to show off.
---
You'll also like:
Rare Rolex Daytona Owned by Paul Newman to Be Sold at Auction
Harrods Delivers Stunning Re-Edition Watch Series
We Interview Watch Afficionado Dimitri Tsilioris from Haulogerie
---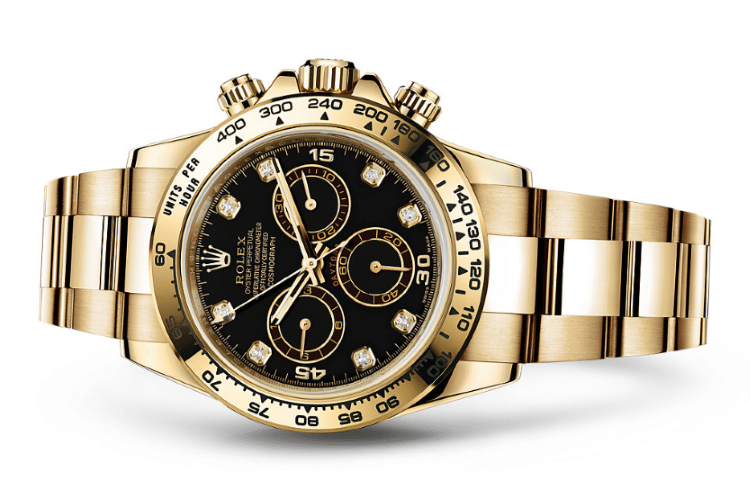 Rolex Oyster Perpetual Cosmograph Daytona
Touching down in LA with a Conor Rolex
The press tour started in Los Angeles and McGregor wasted no time in posting to Instagram. Here he is visiting Tupac's alleged final home while flashing a stunning Rolex Oyster Perpetual Cosmograph Daytona. First unveiled in 1963, the Rolex Cosmograph Daytona is the kind of timepiece collectors aspire to own.
Made for professional racing drivers, the watch is a masterpiece of precision and reliability. Don't be fooled by the opulence–this yellow gold beauty can accurately measure speeds up to 400 kilometres per hour thanks to a steadfast chronograph and a tachymetric scale on the bezel. If a Conor McGregor Rolex watch ever comes to fruition, it can definitely take a few pointers from this legendary timepiece right here.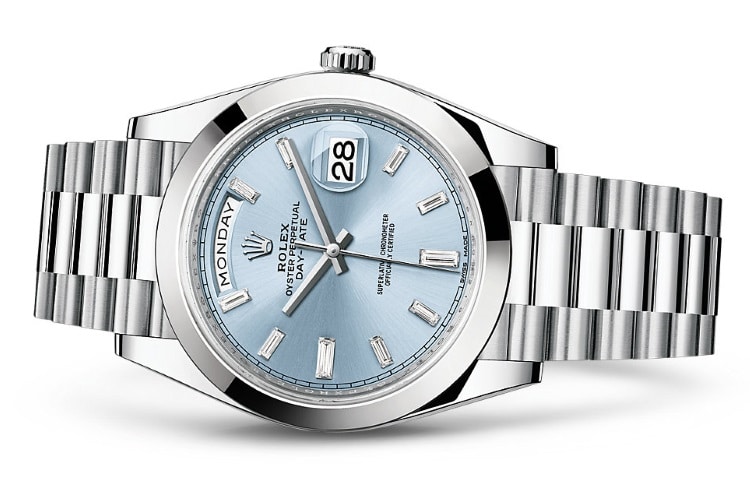 Rolex Oyster Perpetual Day-Date 40
Day Before Press Tour Shopping in Beverly Hills
Another day in LA, another stunner from the Conor McGregor watch collection. Launched in 1956, the Rolex Day-Date was the first timepiece to show the day and date in full on the watch dial. Conor's wearing the platinum version with a brilliant icy blue dial display and President bracelet. It's a classic if there ever was one.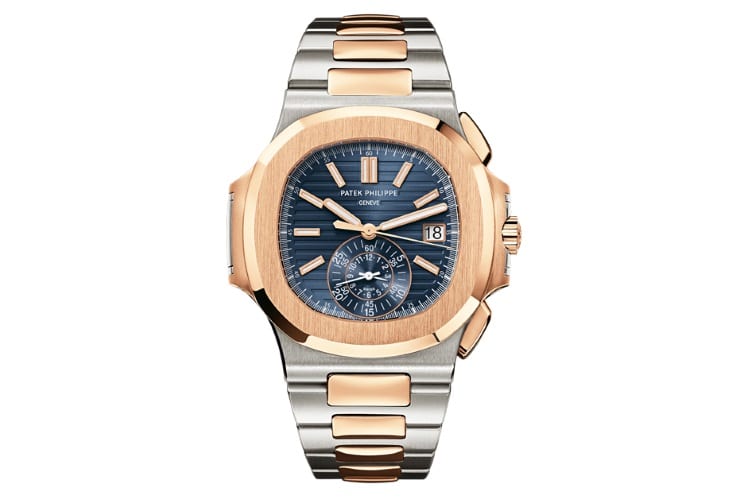 Patek Philippe Nautilus 5980/1AR-001
Day One of the Press Tour
So far, so damn good. Patek Philippe is a name synonymous with exceptional quality. Hence, its appearance in the Conor McGregor watch collection comes as no surprise. Here the champion UFC fighter rocks the Nautilus 5980/1AR-001, a remarkable fusion of stainless steel, rose gold and sapphire crystal with a brilliant blue gradient on the dial. Pair that with a mechanical self-winding movement and nifty features like a mono-counter at the bottom of the dial and you've got a one-of-a-kind gent wearing one-of-a-kind haute horlogerie.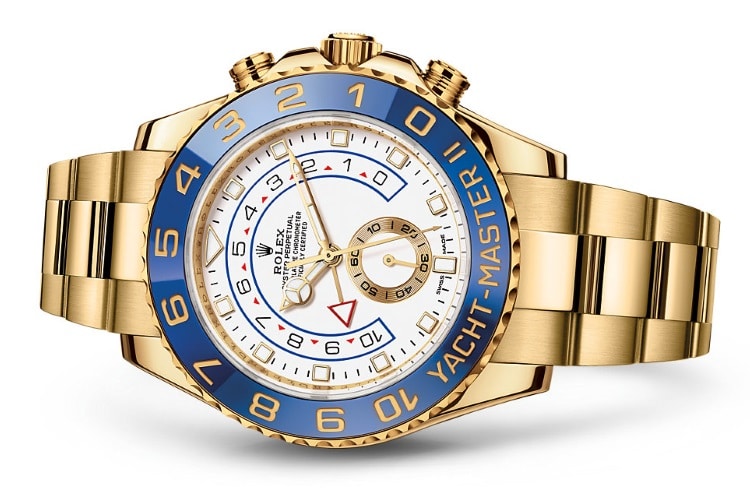 Rolex Oyster Perpetual Yacht-Master II
Day Two of Press Tour
Day two of the Mayweather vs McGregor press tour was arguably Conor's finest hour as an entertainer. Put simply, McGregor was on fire in Toronto. He was also dressed to impress and that meant slapping a prestigious Rolex Yacht-Master II around his wrist. With a beautiful white dial and a regatta chronograph timepiece created exclusively for yachting competition, the Yacht-Master II is the quintessence of luxury and distinction, oh and expensiveness.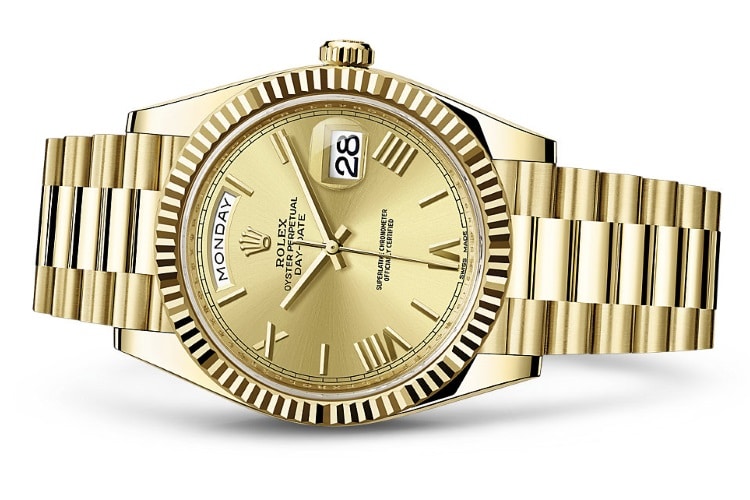 Rolex Oyster Perpetual Day-Date 40
Day Three of Press Tour
For day three of the press tour, McGregor decided to change up his fashion game by wearing a mink coat with basically nothing underneath it. However, that bare-chested approach didn't extend to Conor's wrist. At the Brooklyn press conference, Mr. Notorious sported yet another distinguished Rolex Day-Date 40. This one came in gold and flaunted a champagne-coloured dial. Bling!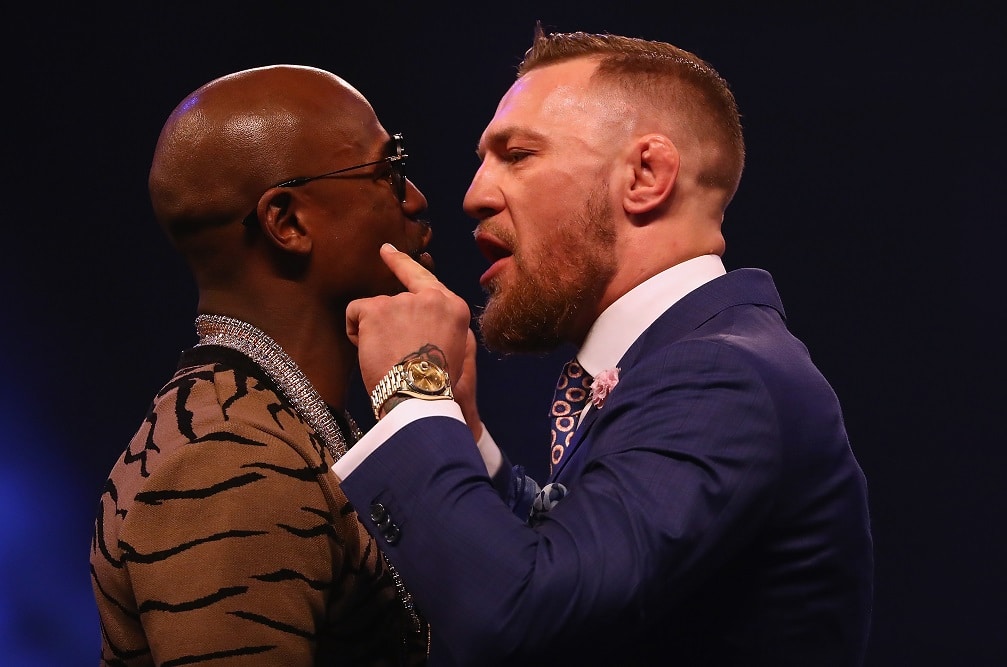 Rolex Oyster Perpetual Day-Date 40
Day Four of Press Tour
In London, McGregor pulled out the same Rolex 18 ct Day-Date 40 that he wore in Brooklyn. Perhaps he wanted to see how the spectacular timepiece looked with a suit. Or maybe the Conor McGregor watch collection doesn't consist of one watch for every day of the year. Not yet, at least.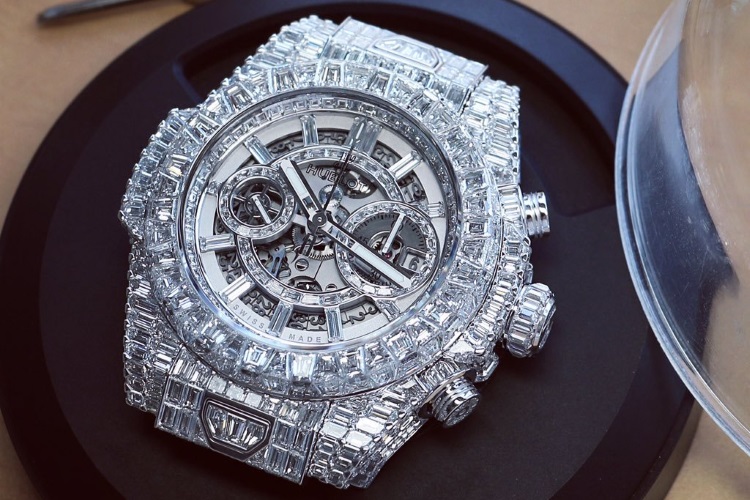 Bonus: Floyd Mayweather's $1.1 Million Diamond-Encrusted Hublot
Day Four of Press Tour
The Mayweather vs McGregor press tour was primarily a Conor McGregor lovefest, to the point where Mayweather was frequently booed by the crowd. That's no way to treat an undefeated boxing champion in our opinion. To his credit, Mayweather nobly brushed off the hate. And in London, he flashed his own bling in the form of a stunning diamond-encrusted Hublot watch.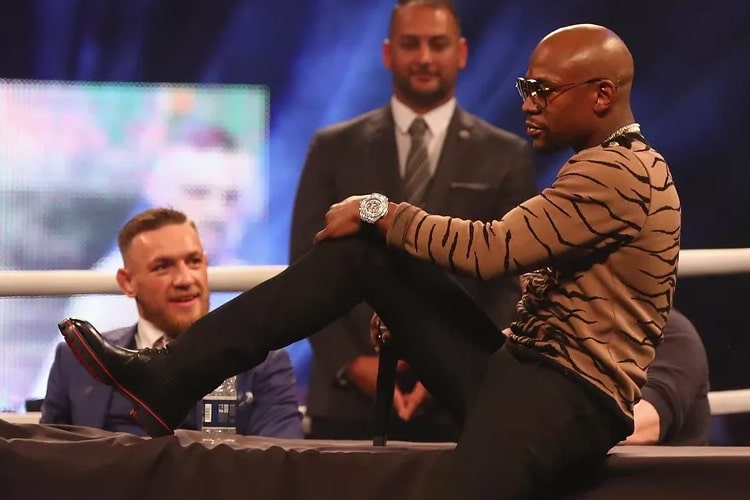 Mayweather bought the timepiece in Dubai for a staggering $1.1 million. Naturally, the boxer had no problem showing off both the timepiece and its price tag to McGregor, who as a lover of watches was probably impressed–not that he would show as much of course.
Even More from Conor McGregor's Watch Collection
The Mayweather vs McGregor press tour offered just a sampling of the stellar timepieces in Conor McGregor's arsenal of horology. Here are some more highlights from the Conor McGregor watch collection, all of which he's proudly flaunted on Instagram.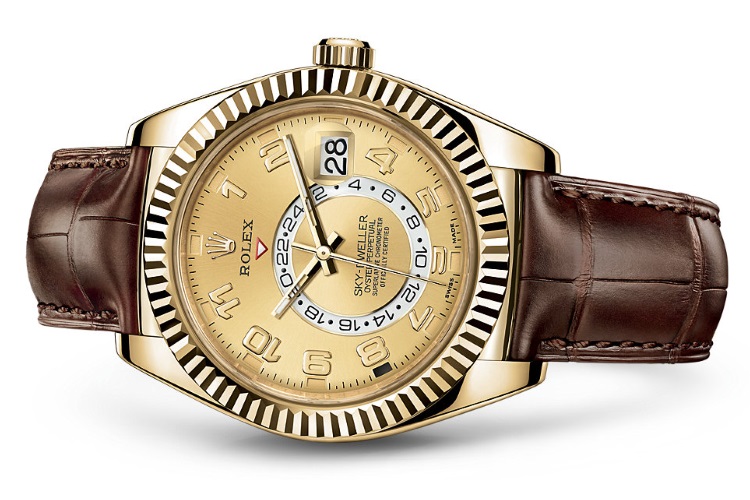 Rolex Oyster Perpetual Sky-Dweller
Protected by no less than 11 to 14 patents (depending on model), the Rolex Sky-Dweller is built for the modern first class traveller. Introduced in 2012, the sophisticated watch features calibre 9001 (one of the most complicated movements to date), a refined leather strap and dual time zone display.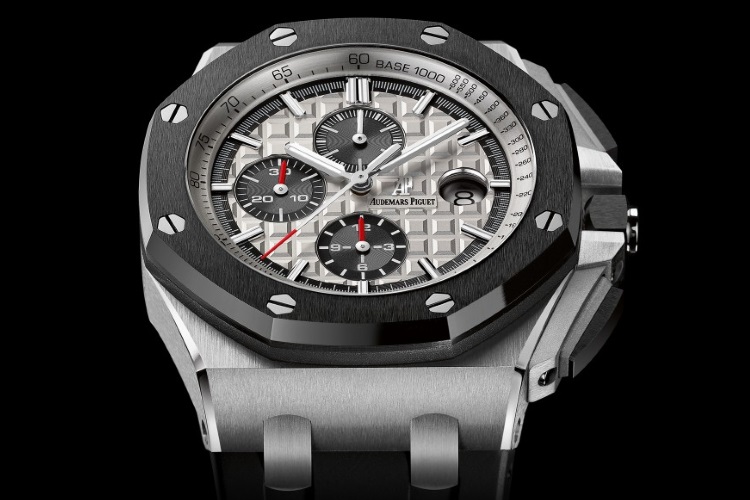 Audemars Piguet Royal Oak Offshore Chronograph
Even when he's just kicking it at home, McGregor goes big on style. Here he's rocking a sporty and beautiful Royal Oak Offshore Chronograph from legendary Swiss watchmaker Piguet. A silver-toned dial is backed by an unmistakable "Méga Tapisserie" pattern and displayed under a luminous coat. The calibre is second to none and the self-winding mechanism is powered by the natural movement of McGregor's wrist.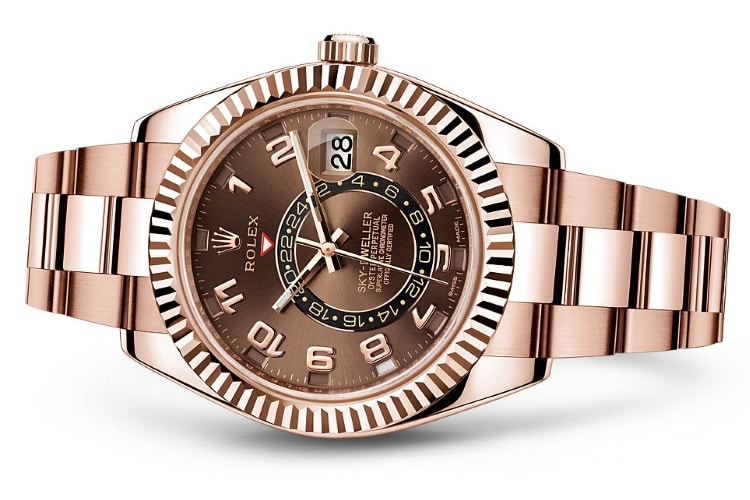 Rolex Oyster Perpetual Sky-Dweller Everose Gold
Apparently, when McGregor sees something he likes he gets every possible version just to be safe. Or Rolex just keeps hooking him with new watches in exchange for PR. Either way, he's got another eye-catching Sky-Dweller around his wrist. Rolex calls the dial colour chocolate but Conor describes it best as "Galaxy Caramel".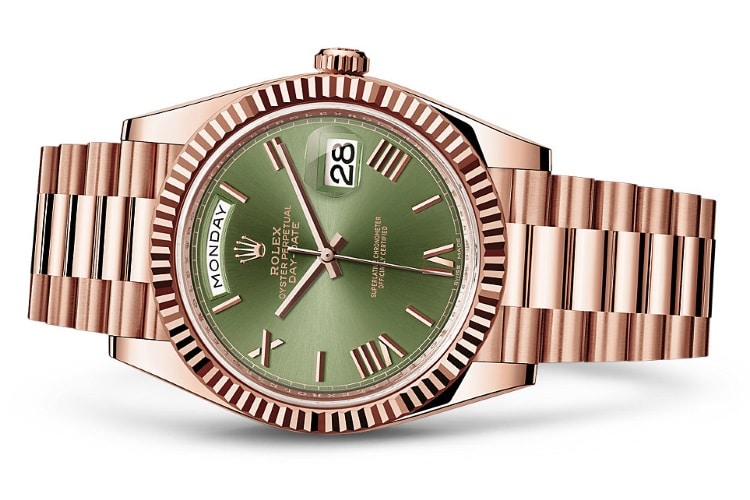 Rolex Oyster Perpetual Day-Date 40 Green Dial
The Conor McGregor watch collection wouldn't be complete if it didn't flaunt some fightin' Irish green. Here we find Conor coupling a green shirt with a green dial variation of the Rolex Day-Date 40 while appearing a touch more thoughtful than usual. It's a solid look all around.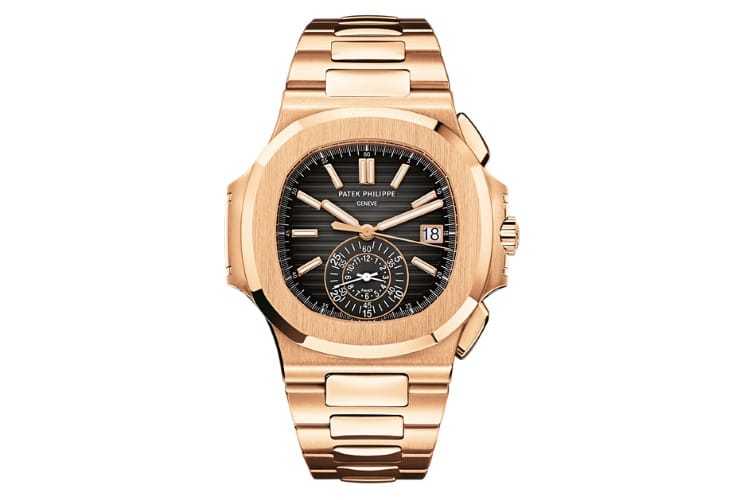 Patek Philippe Rose Gold Nautilus 5980/1R-001
Watch brands rarely get more prestigious than Patek Philippe, but that doesn't stop Conor from taking one out for a casual drive. Awash with rose gold and equipped with only the most sophisticated mechanical self-winding movement, the Nautilus 5980/1R-001 is a living legend with the price tag to show for it. Kind of like McGregor himself these days.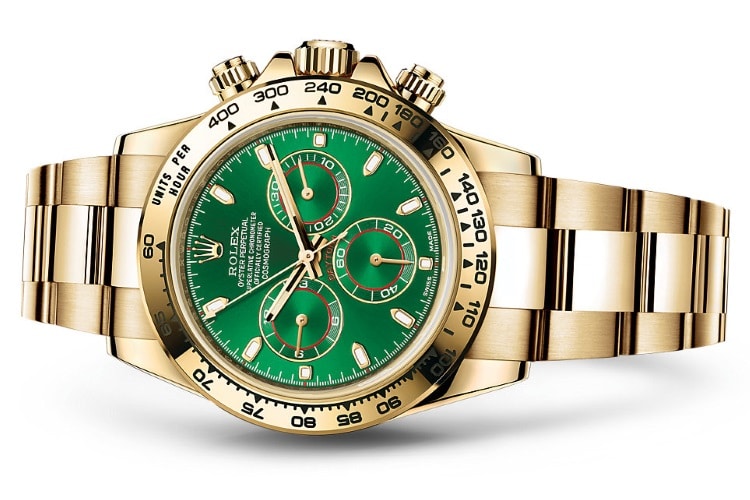 Rolex Oyster Perpetual Cosmograph Daytona Green Dial
Conor goes green again by sporting this instant classic from Rolex. This Rolex Daytona watch and McGregor are a perfect match. They're both painstakingly precise and unafraid to show off. Meanwhile, that brilliant green dial really drives the pairing home. For thematic reasons alone, this right here should be Conor McGregor's Rolex watch of choice in our opinion. Of course that's for him to decide since pretty much no one tells this dude what to think.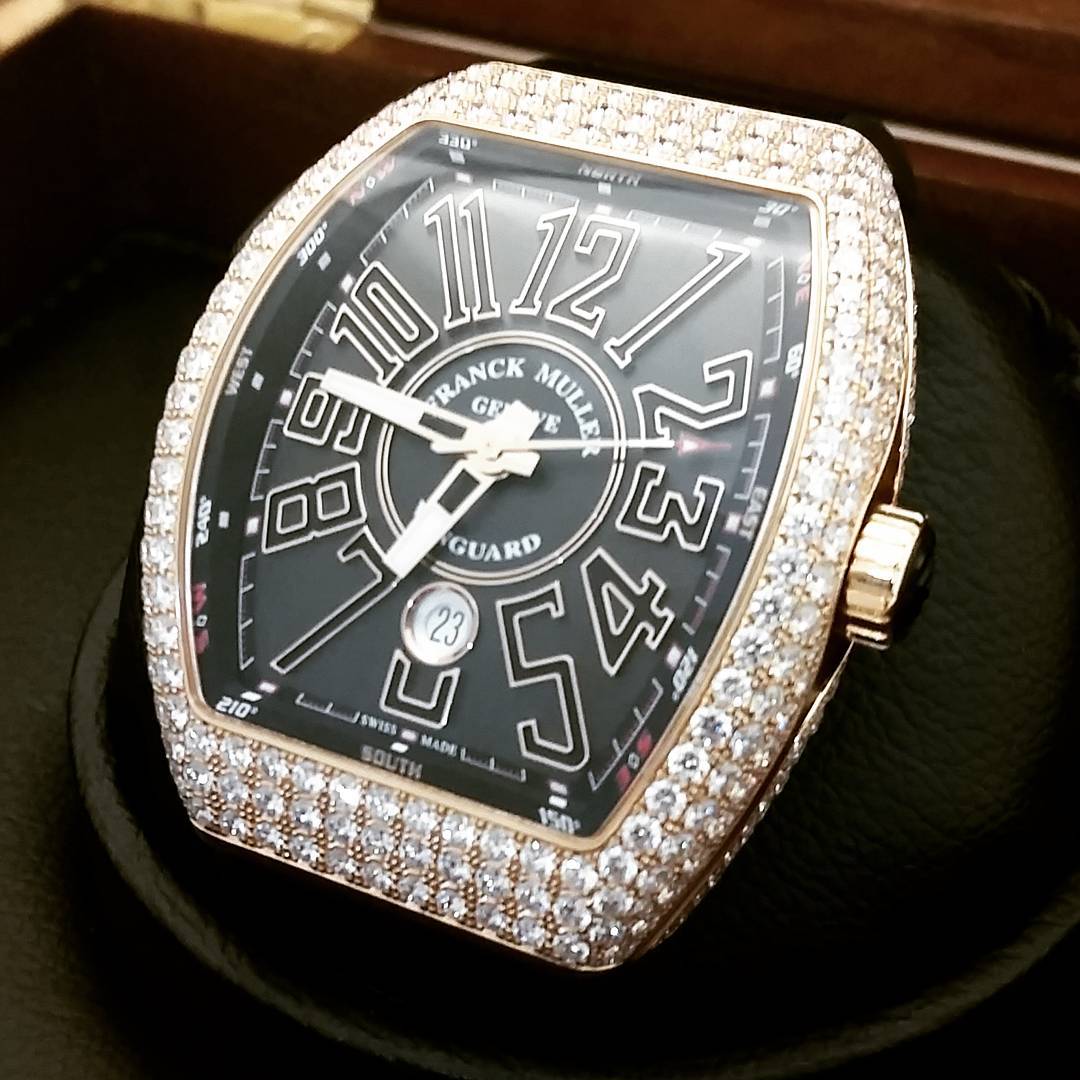 Franck Muller Custom Diamond Encrusted
Franck Muller takes horology to the next level with his in-house creations. These watches are not just sophisticated in execution, but also boldly prepared to show off their insides. That means the frequent use of skeletonised designs so that owners can see nifty tourbillon or other mechanisms at work.
It's therefore only natural that Conor McGregor would rock a diamond encrusted Franck Muller timepiece. The metaphors pretty much speak for themselves. Both the watches and the man are physically impeccable inside and out, and always willing to prove it.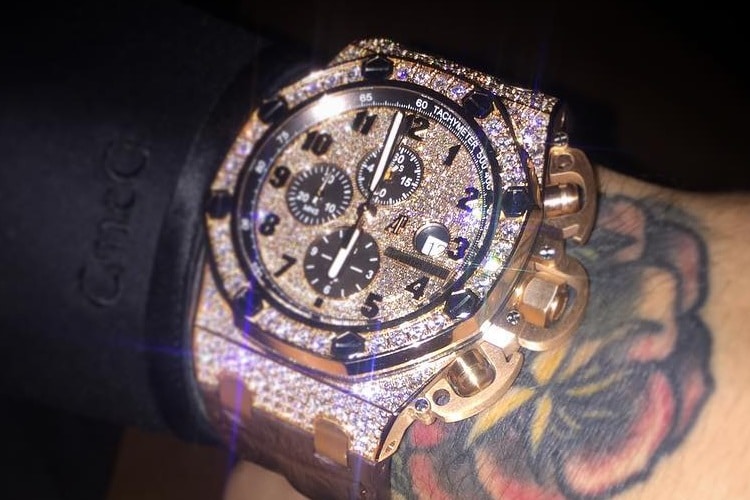 Audemars Piguet Offshore Chronograph Custom Diamond Encrusted
Hey, diamonds can be a guy's best friend, too. Especially when those diamonds come as part of a customised package from Piguet. This brilliant chronograph takes form and function to the extreme while tossing plenty of opulence into the mix. As mentioned before, the metaphors basically speak for themselves.
Do you go crazy for watches like we do? Then be sure to check out the 32 Top Luxury Watch Brands and the 100 Best Watches Under $1000.
Have you subscribed to Man of Many? You can also follow us on Facebook, Twitter, Instagram, and YouTube.
---
You'll also like:
Rare Rolex Daytona Owned by Paul Newman to Be Sold at Auction
Harrods Delivers Stunning Re-Edition Watch Series
We Interview Watch Afficionado Dimitri Tsilioris from Haulogerie
---