What is a Moonphase Watch & How Does it Work?
The sun might be head honcho of the solar system, but here on Earth the moon still yields plenty of pull. Giving our luminous nighttime friend the attention it deserves are moon phase watches, which track the lunar cycle by way of sophisticated engineering and some truly eye-catching designs. And while there are plenty of experts and enthusiasts who would argue that lunar-based complications are superfluous, that hasn't stopped a legion of modern collectors from placing orders every time a striking new moonphase watch is released.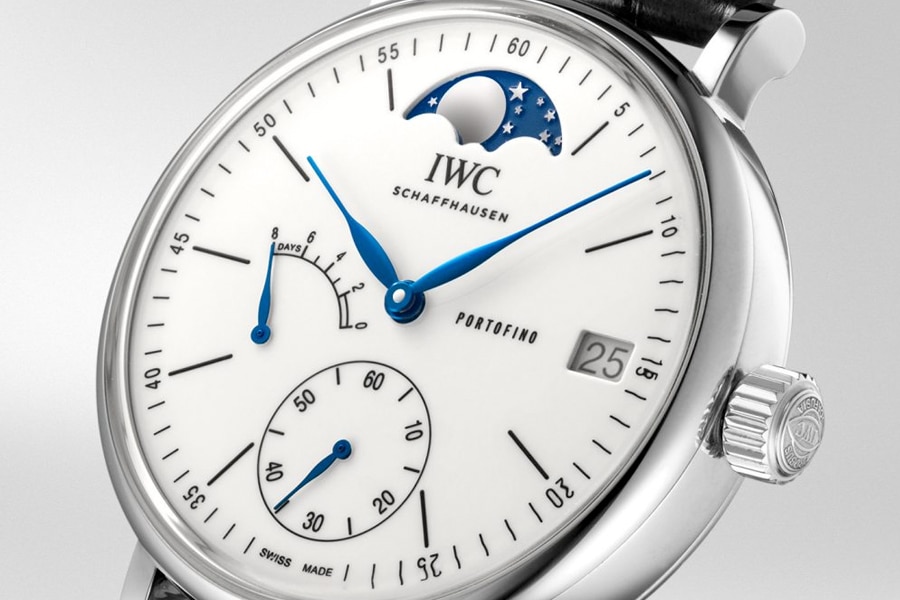 Speaking personally, we're big fans of watches with moonphase complications. Not only do the best ones emanate with an illustrative aesthetic, but they furthermore remind us of just how important our lunar companion can be. After all, we might schedule meetings and take lunch breaks in accordance with the sun's daily trajectory, but it's the moon that reigns over the month itself, thereby determining the course of important events like birthdays, due dates, and exotic pagan rituals. Oh, and let's not forget about the moon's perennial influence over the rising and lowering of the tides, something that we Aussies basically live by. Hence, the moon phase watch is more than just a cash grab or gimmick–it's a downright nifty way to track the lunar cycle. But what is a moonphase watch exactly? And how does it work? No need to Wiki "mooon phase watch" because we've got you covered below. Let's dive into moon phase watches together.
You'll also like:
31 Best Luxury Watch Brands
Rolex 'Hulk' Submariner – A History & Review
40 Best Minimalist Watches for Men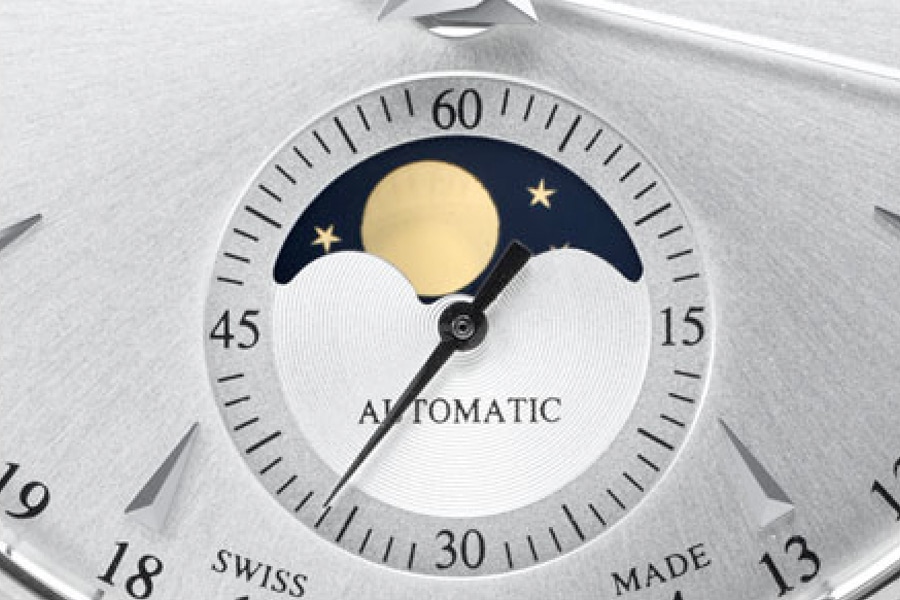 What is a Moonphase Watch?
By definition, a moonphase watch is one that relays the 29.5-day lunar cycle by exhibiting the current moonphase in an aperture on the dial. That's also known as a moonphase complication, complication meaning any feature on a watch that's not directly related to the time display. A moonphase, by the way, is mankind's practical way of describing the luminous (or visible) portion of the moon as it orbits the planet. Likewise, the bulk of moonphase watches present the moon in its current phase of the lunar cycle, using the aperture to hide any non-luminous parts. As one might imagine, specific designs and visuals vary from piece to piece.
There are two basic types of watches with moonphase complications. The most common is known as a "bosom" moonphase watch, which takes a graphical approach by physically showing the moon in its various phases inside a crescent-shaped aperture. The other type is known as a "radial" moonphase watch, and it uses an indicator hand to track the lunar cycle.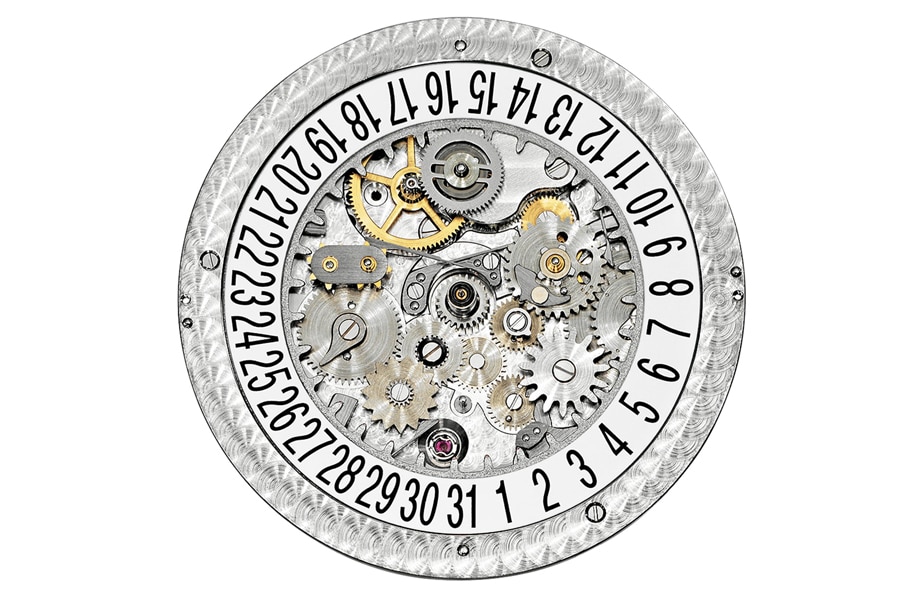 How Does a Moonphase Watch Work?
One of the earliest watch mechanisms ever developed, moonphase complications typically involve placing two identical moons on a disc under the dial. Controlling the movement of the disc is a 59-tooth driving wheel, which uses a mechanical finger to advance the disc once per day. After a single 29.5 day lunar cycle is completed, the second moon appears in the aperture, hence the total of 59 teeth (29.5 x 2). Naturally, the details of the underlying moon disc will vary based on the design of the dial and aperture, while the driving wheel remains a constant.
Most moonphase watches are consistently accurate, but the standard 59-tooth driving wheels are also somewhat limited in their precision. As a result, standard moonphase watches will be off by a full day once every two years, seven and a half months, meaning you'll need to manually adjust the watch about once every three years if you truly want to keep pace with the lunar cycle.
Meanwhile, some luxury brands implement a 135-tooth driving wheel in order to provide a substantial boost to accuracy. Those watches will be off by one day after 122 years, as opposed to two years, seven and a half months, which is a remarkable difference. And if only the most painstaking accuracy will suffice, consider Andreas Strehler's "Lune Exacte" moonphase watch, which can reportedly go for two million years before needing a correction. Buy it for the optimist in your life.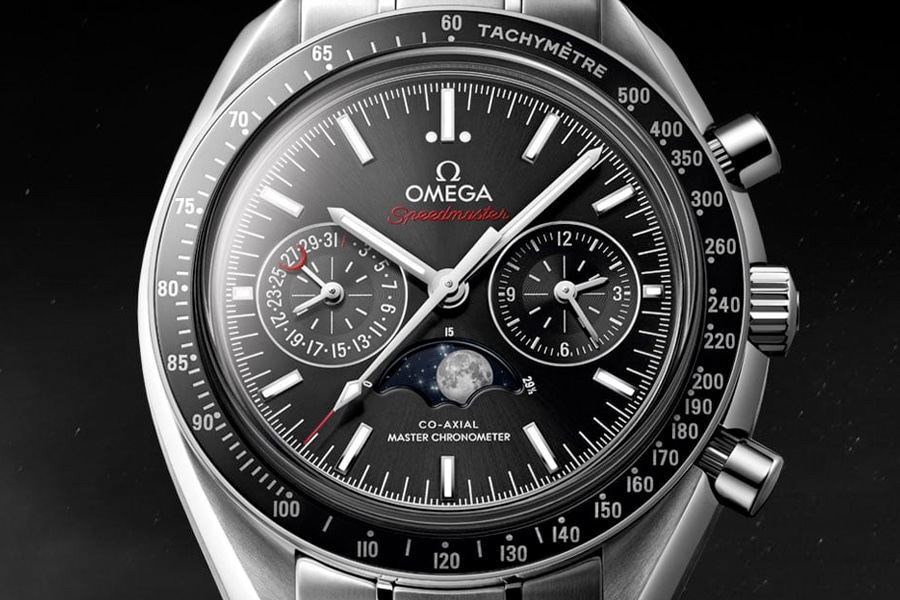 Why Do People Buy Moonphase Watches?
In this modern age of omnipresent information and seamless access to data, moonphase watches don't exactly emanate with urgency. After all, if you wanted to check up on last night's moonphase, you'd be more likely to check your smartphone than your watch. So how does one explain the rising popularity of moonphase watches?
Some might posit that the popularity of moonphase watches has to do with the historic origins of the complication itself, giving each piece some prime vintage allure. However, if you ask us, the modern appeal has more to do with the fact that moonphase complications are just really cool looking, as if your wristwatch is telling you a story.
For proof of the potential, look no further than models like the Ochs and Junior Moonphase and its mystic, minimalist design, or the stunning LVCEA from Bulgari. On the flip side of things is the OMEGA Speedmaster Moonwatch Professional Chronograph, which increases the utility load on a timepiece already bursting with functionality. Similarly loaded with specs is the Casio G-shock Gulfmaster Gwn-1000b-1ajf, a moon age watch that includes tide data among a slew of other things.
Suffice to say, whether you're looking for an automatic moonphase watch, mechanical moonphase watch, moonphase tide watch or some other variation, it's never been easier to find than it is right now. See which designs speak to you and make a killer moonphase or moon age watch part of your personal collection today, assuming you haven't done so already.
6 of Our Favourite Moon Phase Watches
It would be downright irresponsible of us to go on and on about moonphase watches without listing out some of our personal faves. Here's a top 6: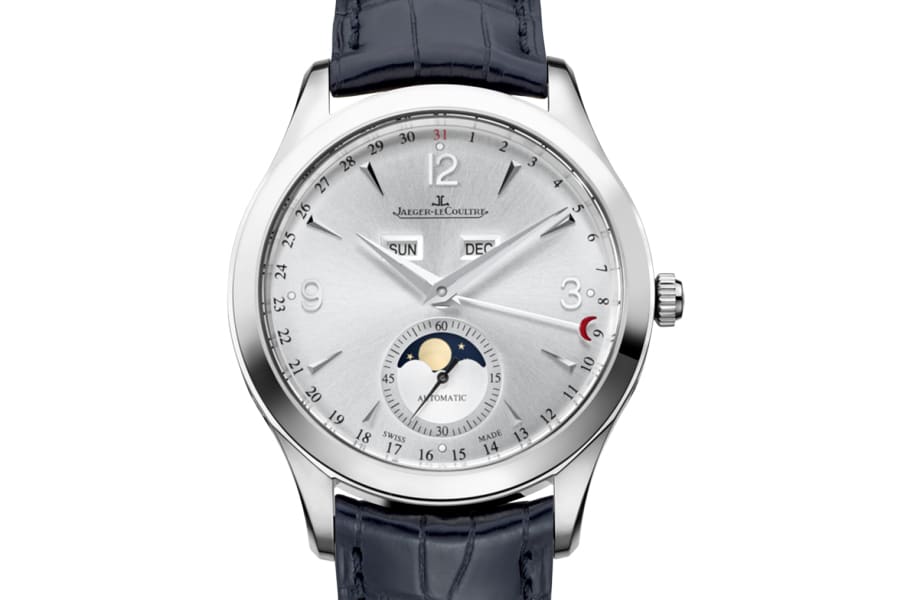 Jaeger-Lecoultre Master Calendar 1558420
Balanced, elegant and refined, the Jaeger-Lecoultre's Master Calendar comes housed in a premium stainless steel case, and delivers a full range of calendar functions in addition to its brilliant moonphase complication. The result is a silver stunner that–like the full moon itself–is round, uniform and spectacular in appearance.

IWC Portofino Hand-Wound Moon Phase Edition "150 Years"
Emanating from within the 45mm stainless steel case of this hand-wound IWC Portofino is a meticulous moonphase aperture, which imbues the piece with an almost illustrative aesthetic. Meanwhile, a black alligator strap balances out the star-speckled aperture by way of straightforward sophistication.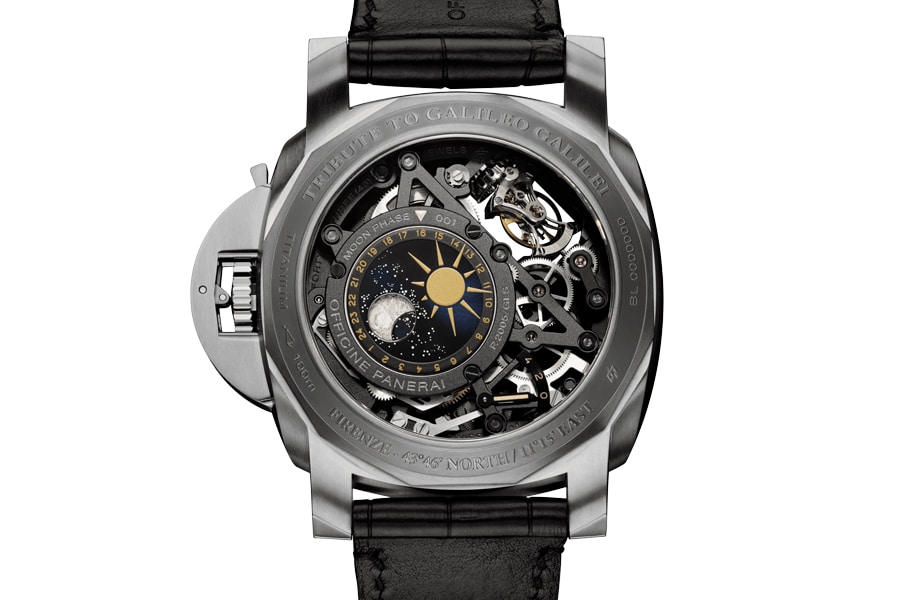 Panerai L'Astronomo Luminor 1950 Tourbillon Moon Phases Equation of Time
To gaze upon the skeleton dial of this exceptional Panerai watch is to look into the heart of time itself. Equipped with hand-wound mechanical movement and a full range of date complications, this piece is what horological fantasies are made of. Panerai has turned things upside down on this on this one, with the moonphase displayed on the rear of the movement.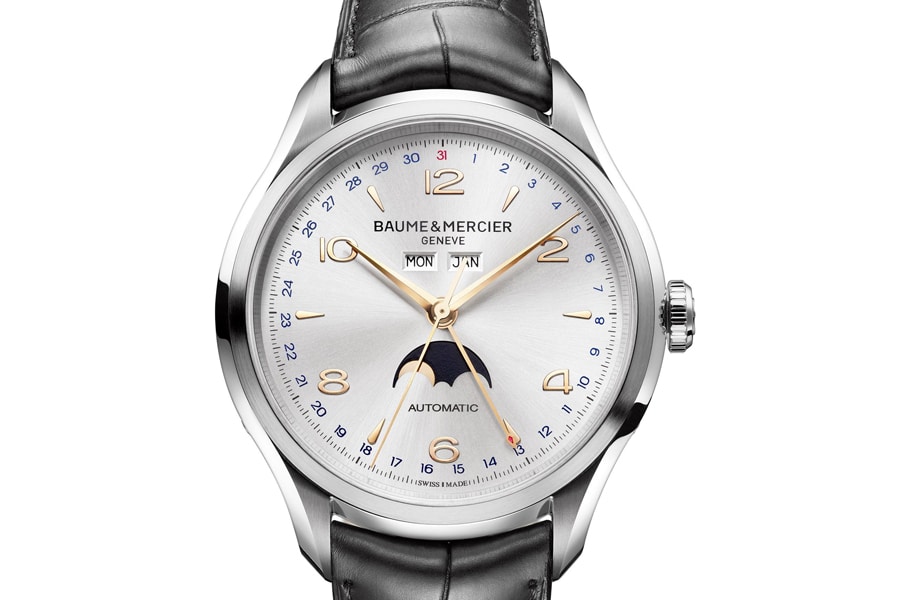 Baume & Mercier Clifton 10055
Positioning a moonphase aperture within a silver dial with gold accents, the Clifton 10055 is simply brimming with visual majesty. Under the skin is Swiss-made, self-winding automatic movement with a 42 hour power reserve. Sealing the deal is a comfortable strap of alligator leather.

Omega The Speedmaster Moonphase Co-Axial Master Chronometer Chronograph
Bursting with functionality, the Omega Speedmaster was the first watch to be worn on the actual moon. Celebrating as much is this moonphase edition, which features a life-like moon in the aperture, and a moonphase function that only needs to be adjusted once every 10 years for accuracy. Also included is patented Liquidmetal on the tachymeter scale, and a legion of steadfast mechanics.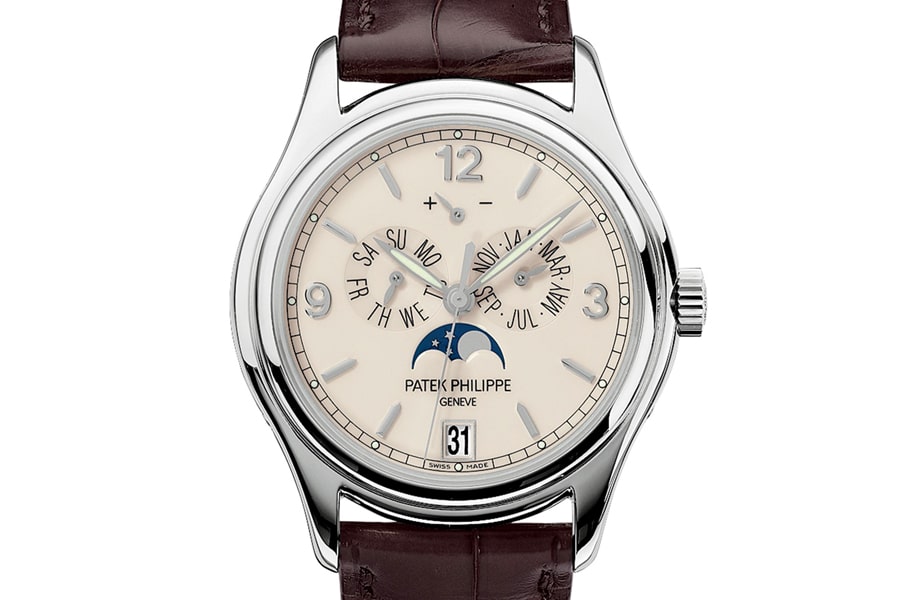 Patek Philippe SA 5146G
Watchmakers don't get much more luxurious than Patek Philippe SA, and the 5146G is accordingly an extraordinary achievement. Featuring mechanical self-winding movement of the highest quality, and a moonphase aperture (among other things) on the cream-lacquered dial, this top-shelf timepiece is the epitome of craftsmanship and elegance.
You'll also like:
31 Best Luxury Watch Brands
Rolex 'Hulk' Submariner – A History & Review
40 Best Minimalist Watches for Men
General FAQ
What is a moonphase watch?
By definition, a moonphase watch is one that relays the 29.5-day lunar cycle by exhibiting the current moonphase in an aperture on the dial
How accurate are moon phase watches?
Moonphase watches are consistently accurate for 2.5 years and then will need to be manually adjusted, but some higher-end watches have been able to boost accuracy to 122.5 years.