A Complete Guide to Whiskey Stones
In our opinion, there are few things better in life than a glass of premium Scotch or bourbon served at room temperature, but for some folks, that dram goes down even smoother when cold. For that, you can add some dense cubes of ice or, if you prefer a drink of the non-diluted variety, a few whiskey stones (sometimes known as whiskey rocks). And what exactly are whiskey rocks, you ask? The answer is pretty straightforward: they're cubed or spherical alternatives to ice that are made using materials like soapstone or even stainless steel. Because they don't melt, whiskey stones won't dilute your quality single malt. Now for the more important question: do whiskey rocks actually work?
The good news is that whiskey stones – or whisky stones, depending on where you hail from – do work, generally speaking. The bad news is that most of them don't work too well, and won't sustain a chill factor with the same efficacy as ice. That said, some scotch rocks will actually bring the temperature of your dram down by 11.1 °C (51.98°F), and keep the drink nice and cold for a good while. We discuss all this and more in our complete guide below, which includes the best whisky stones you can currently find.
You'll also like:
21 Best Whisky & Scotch Glasses – A Complete Guide
7 Best Whisky Subscription Services in Australia
15 Best Whisky Bars in Melbourne

What are Whiskey Stones?
To better answer the question "what are whiskey stones?" and to help clarify how whiskey rocks work, you might start by understanding the science behind chilled beverages in general. You see, it's all about the transfer of heat. For example, when a cube of ice lands in a glass of delicious bourbon whiskey, it's not the low temperature of the ice spreading into the warm liquid that makes the drink cold, but rather the bourbon's heat escaping toward the ice (and causing it to melt).
Meanwhile, whisky stones (or "whiskey" stones since you're drinking bourbon) work in a similar manner, in that they absorb the heat from your boozy beverage. However, because the stones don't melt, the cooling period commonly stops sooner than later. As a result, most whiskey stones are usually less effective than solid ice cubes or spherical moulds. Usually, but not always, as some of the best whiskey rocks (namely the ones made of steel) won't just get your dram down to ice cold levels, they'll keep it at those levels for a respectable amount of time.
Do Whisky Stones or Scotch Stones Actually Work?
If (like us) you prefer your quality dram to be completely uncompromised (meaning a few drops of water at most, and absolutely no dilution from ice) then scotch rocks might sound too good to be true. Indeed, in some ways they are. For one, nearly all of them take longer than ice to chill your dram in the first place. Two, most of them don't get the dram down to ice cold levels. Three, only a precious handful can keep the dram cold for extended periods of time. All of these shortcomings hold especially true when you're dealing with traditional soapstone or granite whisky rocks.
Naturally, there are exceptions to the rule, most of which come in the form of stainless steel whisky balls. Yet it should be noted that even the steel variants won't activate with the same expediency of ice, meaning you'll be waiting longer for your drink to chill. In our opinion, that's a small sacrifice to make, but still one worth mentioning. Of course, if you're the kind of man who actually likes a discernible amount of water in his whisky, then you should skip scotch rocks altogether and stick with the ice cubes.
What are Stainless Steel Whisky Stones?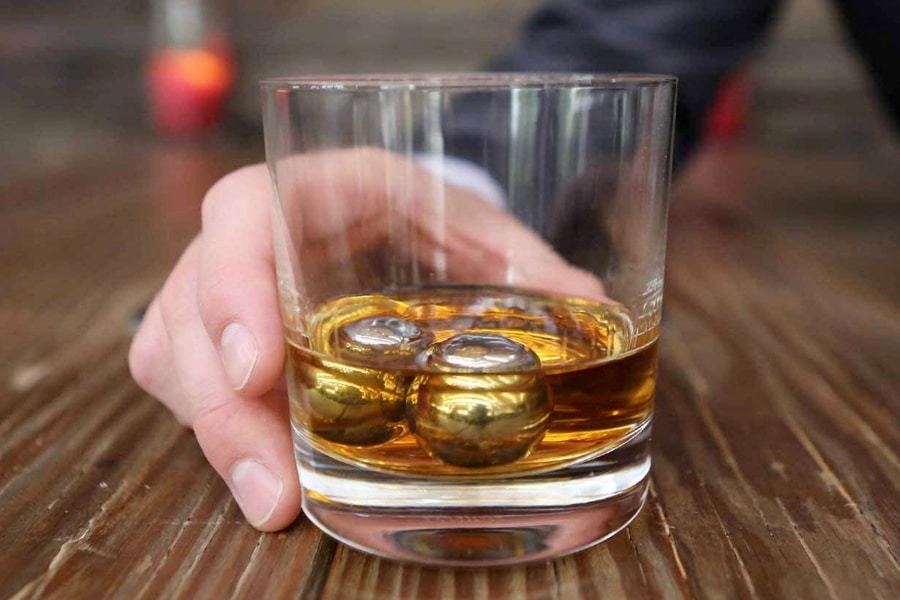 As mentioned above, many of the best Scotch and whisky stones aren't stones at all, but steel balls. Just be careful with stainless steel whisky rocks because you don't want them seeping a metallic taste into your drink. To be on the safe side, stick with the ones below:
The Best Stainless Steel Whisky Stones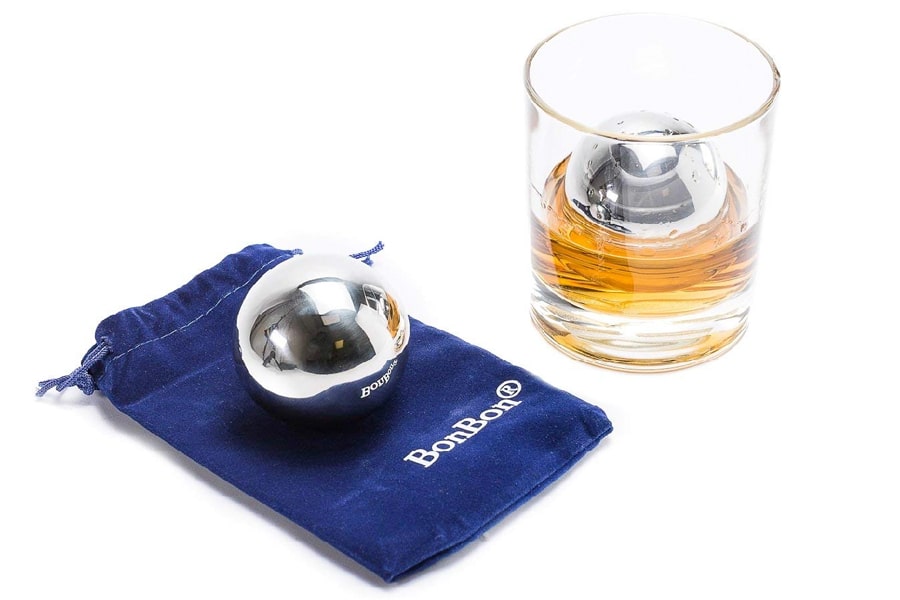 1. BonBon Large Steel Whiskey Balls
These shiny orbs from BonBon deliver 5.5cm of 304 stainless steel. Backed by a lifetime warranty, the whisky balls won't dilute your beverage or hinder it with a metallic aftertaste.
Weight: 8 ounces
Price: $33.33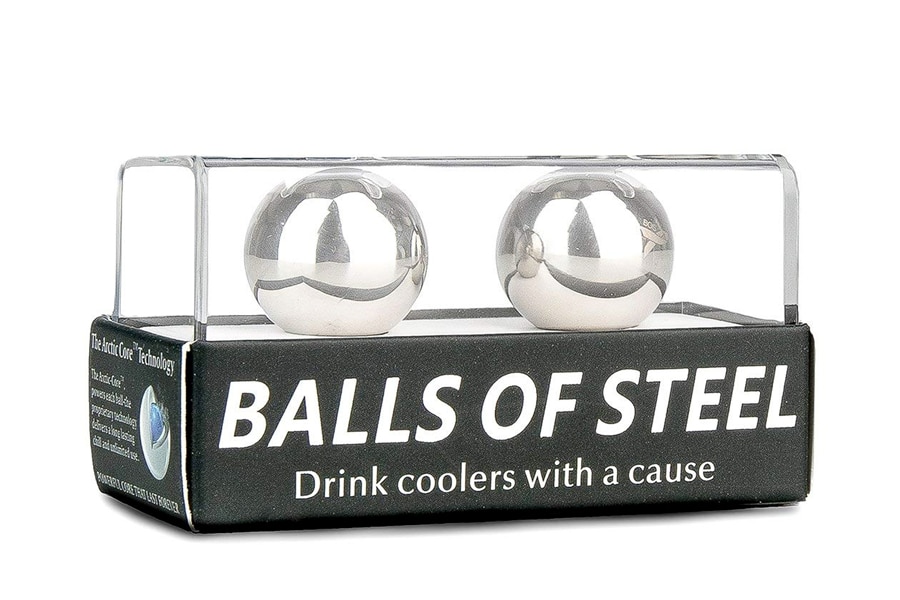 2. Balls of Steel Whiskey Stones
Made of quality stainless steel, these brilliant whiskey balls don't just chill your drink in style, but they keep that drink cold for up to a full hour. Plus, the profits from every sale of Balls of Steel Whiskey Balls goes to support cancer research. What's not to love? Chilled whiskey and contributing to Get Caught in the Sips with the New Archie Rose 'Sydney Cricket Gin' research, I'll drink to that.
Weight: 3.2 ounces
Price: $40.08
3. Pucs Stainless Steel Whiskey Stones
Still feeling the steel? Then check out these machined whisky stones from Pucs. Not only do they tout a robust design, but they come inside a handcrafted hardwood case – making them an ideal whiskey rocks gift set.
Weight: 1.2 pounds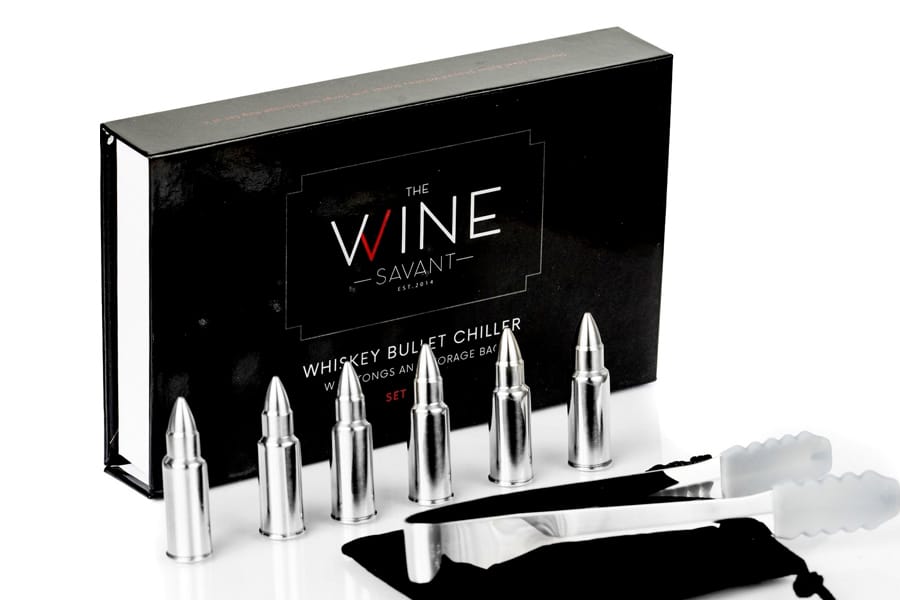 4. Stainless Steel Bullets
True to their name, these stainless steel whisky stones resemble beautiful bullets. They don't take long to freeze and they won't dilute your drink. Plus, they're a sure-fire conversation starter. Get a set for yourself and one for your whiskey-loving (or gun-toting) friend.
Weight: 2.4 ounces
Price: $25.33
What are Soapstone Whisky Stones?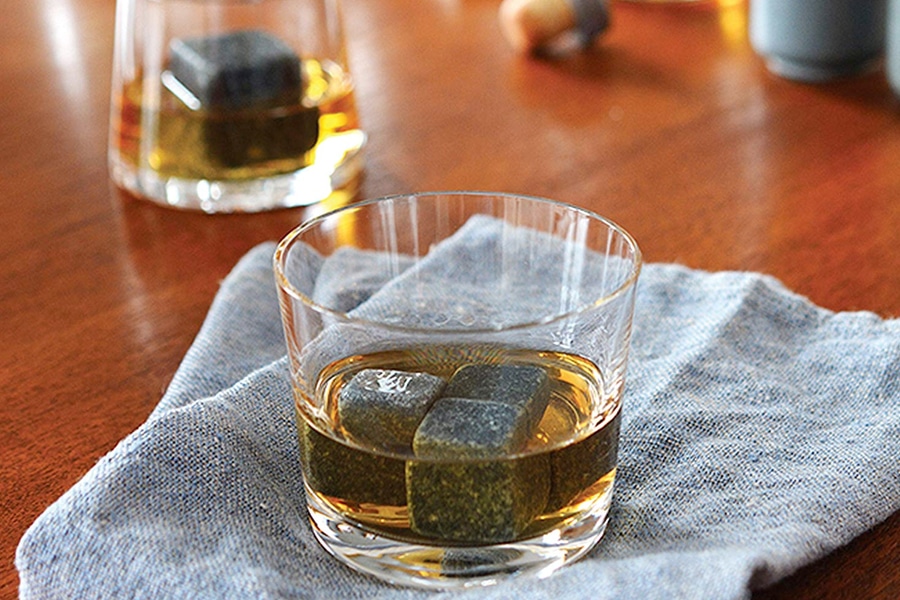 When most people hear the words "whisky stones" or "whisky rocks", they picture the nonporous soapstone variants (assuming those people aren't picturing ice cubes, that is). While not as effective as stainless steel, soapstone has a rugged aesthetic going for it, in that each whisky stone quite literally consists of chiselled rock. Meanwhile, because the soapstone is nonporous, no harmful flavours or aromas will get into your whisky. Here are the best soapstone whisky stones:
The Best Soapstone Whisky Stones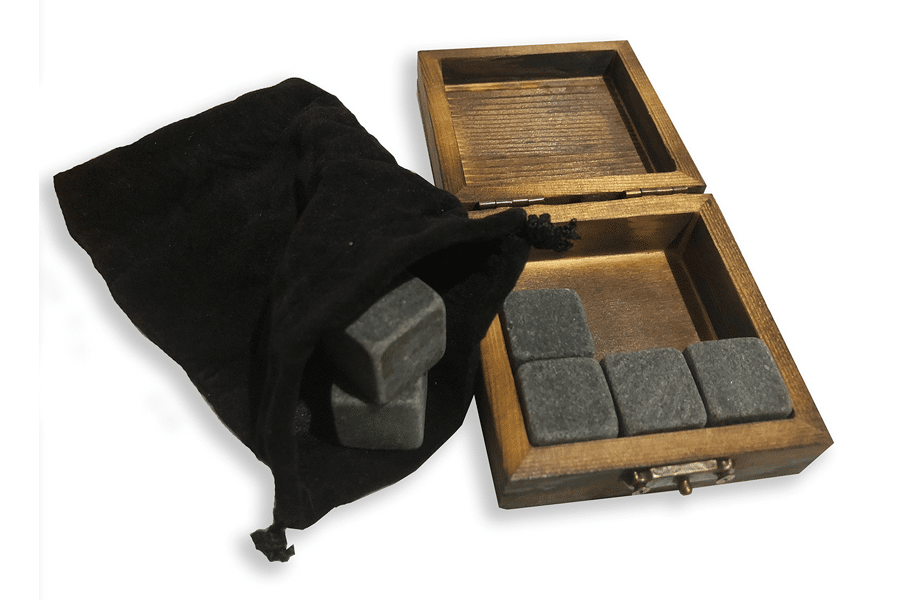 1. Whisky Mate Soapstones
These superior Whisky Stones from Whisky Mate come as a pack of six. They are solid stone cubes that perfectly chill your liquor, expertly crafted with the finest natural soapstone finish for fast, effective results.
Pack Size: Six
Price: $16.95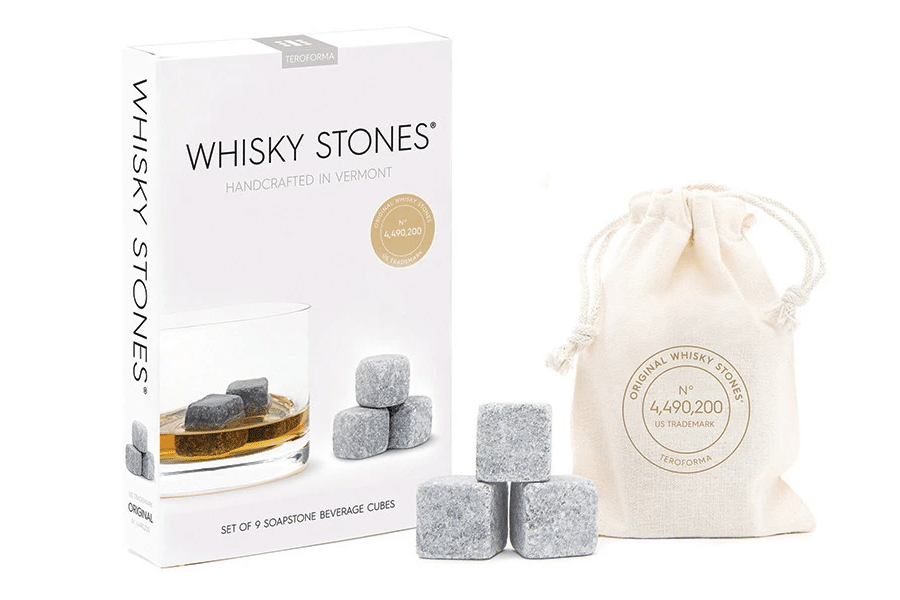 2. Teroforma CLASSIC Whisky Stones
These light grey whisky rocks from Teroforma (the original whisky stone maker) aren't called "CLASSIC" for nothing. Each one is handcrafted in the oldest soapstone mill in America, and downright eye-pleasing as a result.
Weight: 8 ounces
Price: $20.00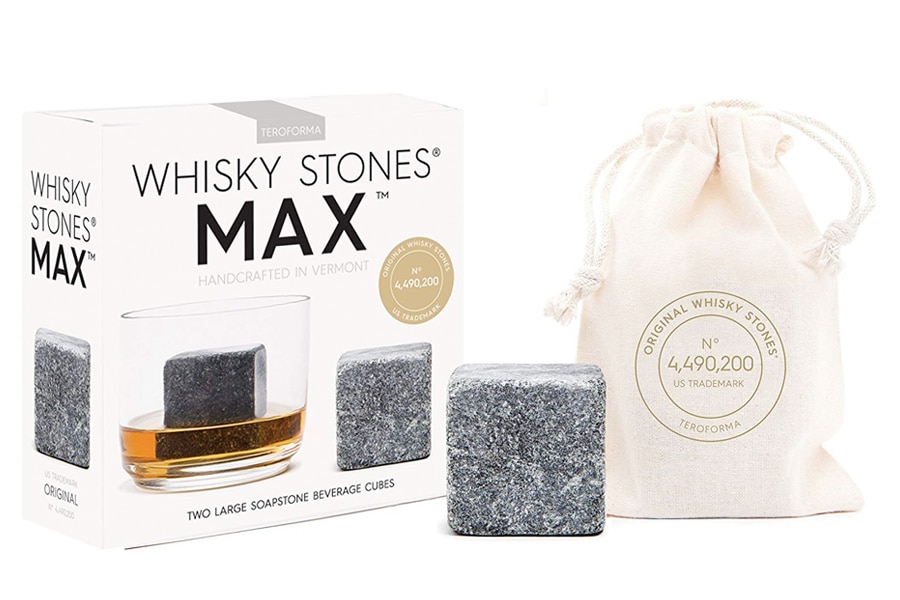 3. Teroforma MAX Large Whisky Stones
The bigger the whisky rock, the better the chance it will keep your drink cold. Enter the Teroforma MAX, which sits as part of Stonehenge in the middle of your dram.
Weight: 1.5 pounds
Price: from $21.48
What are Granite Whisky Stones?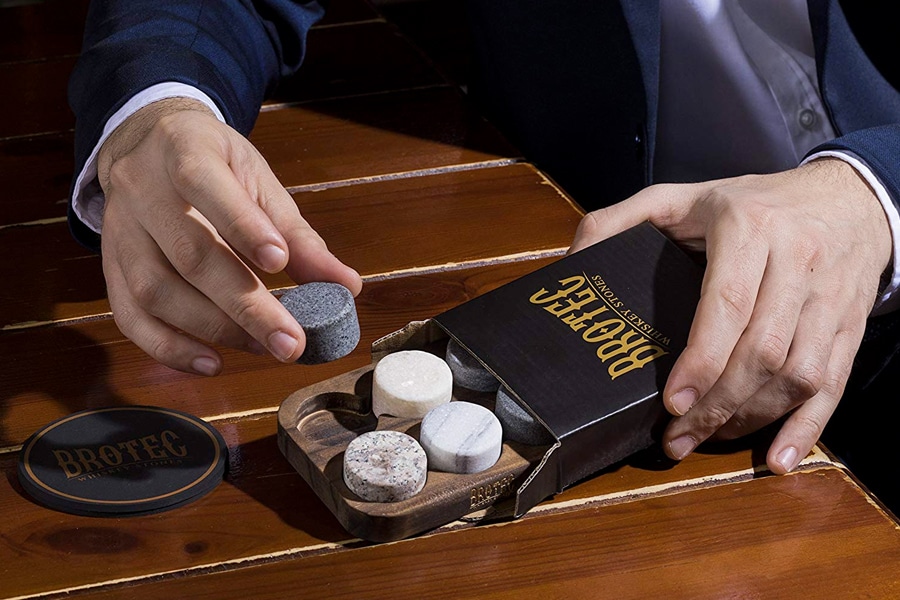 Similar to soapstone, granite is a naturally occurring material that can be shaped down to size and supplemented for ice. Expect your whisky to be cool, not cold, when using these whisky rocks.
The Best Granite Whisky Stones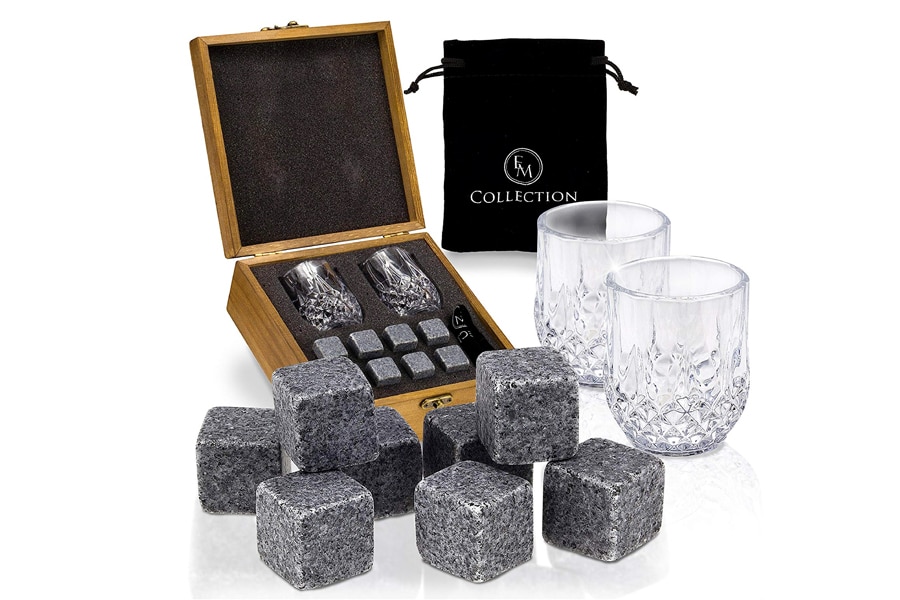 1. EM Collection Large Granite Whiskey Rocks
A perfect gift for friends or loved ones, the EM Collection hosts eight granite whisky rocks, two crystal whisky glasses, and a velvet bag. It all comes inside a luxurious wooden box.
Weight: 1.5 pounds
Price: from $45.32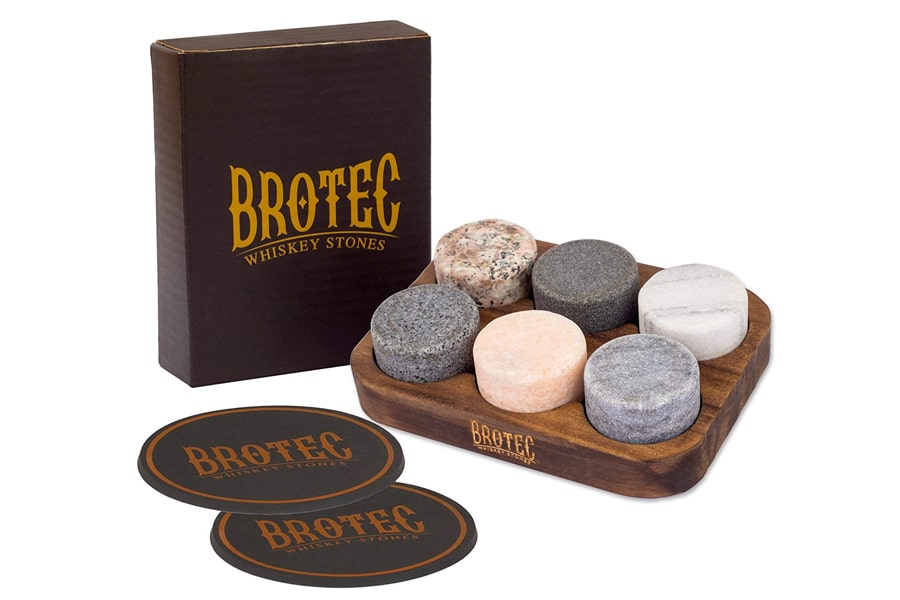 2. Brotec Round Granite Whiskey Stones
Available in a set of six are these completely distinctive granite whisky rocks from Brotec. Get them for the eye-catching patterns, keep them for the undiluted, chilled whisky.
Weight: 14.6 ounces
Price: $25.13
General FAQ
What are whiskey stones made of?
Whiskey stones are traditionally made of non-toxic soapstone. Today, you will likely find whiskey rocks in a variety of materials. Including stainless steel, granite and the traditional soapstone.
Do whiskey stones work?
YES! Since the stones can't melt they are perfect for chilling your dram without the intervention or dilution associated with ice. The stones will chill the drink slower than ice.
Do whiskey stones affect taste?
Whiskey stones are unlikely to affect the taste of the whisky. Of course, if you opt for a stone that is made of poor quality materials you are likely to impact the purity of the dram. We recommend stainless steel or quality soapstone stones.
You'll also like:
21 Best Whisky & Scotch Glasses – A Complete Guide
7 Best Whisky Subscription Services in Australia
15 Best Whisky Bars in Melbourne