The Best Espresso Martini Recipe
Want to take your espresso martini recipe to the next level? Makes sense. No amateur bar is complete without a great espresso martini. A staple of the cocktail menu, the mix of rich coffee and subtle spirits that was once limited to the office alcoholics morning mug of joe, but now it's enjoyed in bars and clubs across the globe. If you want to know how to make espresso martini that'll blow the socks of your guests, you came to the right place.
You'll also like:
How to Make the Perfect Margarita Cocktail
The Best Mint Julep Recipe For Derby Day
The Best Whisky Sour Recipe To Celebrate World Whisky Day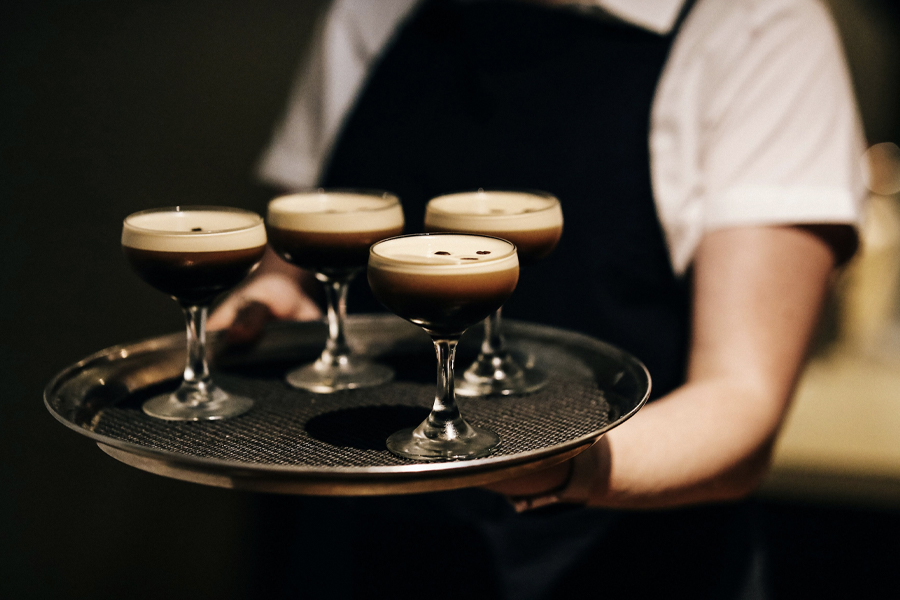 What is an Espresso Martini?
An espresso martini, as the name suggests, is a cocktail that uses espresso coffee as one of its main ingredients. Although not a true martini, due to the lack of gin or vermouth, the drink takes its martini title from the glass it is served in. The espresso martini uses vodka as a spirit, blending with the bitter, sharp espresso coffee for some truly unique and impactful flavours.
Where Did the Espresso Martini Come From?
The history of the espresso martini goes back to merry ol' England in 1983, with bartender Dick Bradsell. While serving at the Soho Brasserie, a young supermodel approached the bartender and asked for a cocktail with coffee. Thinking quick on his feet, Bradsell mixed vodka, sugar, coffee liqueur and a shot of espresso from the coffee machine across from his station. And thus, the espresso martini was born, with the shot of fresh espresso-making the drink a hit on the club scene. Bradsell was championed for his success and went on to make the Bramble, Russian Spring Punch and Treacle. Talk about a mix master.
The drink itself had taken on many names, as bar managers across the country tried to replicate its success. People were ordering 'Pharmaceutical Stimulant's' (not hard to see why that didn't take off), 'Vodka Espresso's', and before long, espresso martini's, as a catchy and easy name finally stuck for the popular cocktail. To this day, you can ask the bartender at your local for an espresso martini, and they'll know exactly what you're after.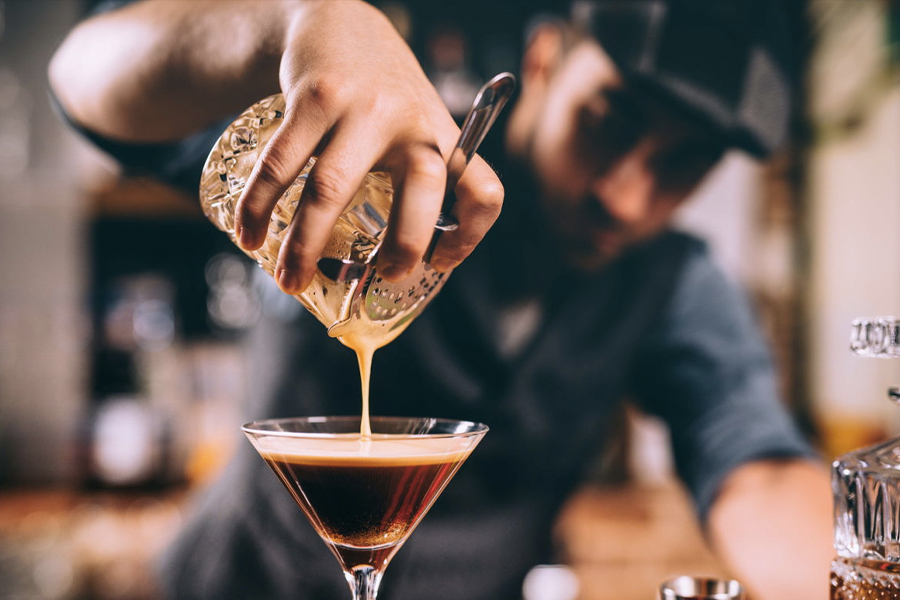 Espresso Martini Ingredients
Getting your hands on the perfect espresso martini ingredients is one sure-fire way to take you mixology to the next level. Thankfully, the espresso martini recipe hasn't changed much since it's inception. Straight-forward and simple to make, the cocktail is a great choice for casual creators and amateur bartenders. For this variation, we've gone straight to the source, collecting our espresso martini ingredients following the guidelines set out by the International Bartenders Association (IBA). Here is what you need to make the perfect espresso martini.
50ml Vodka
30ml Kahlua
10ml Sugar Syrup
1 strong espresso (about 30ml)
While the official mix has changed slightly from Bradwell's original espresso martini recipe, you can see the foundations in which the cocktail was built on. Now, it's time to put it all together.
The Best Espresso Martini Recipe
While the ingredients list is short and sweet, getting the flavour combinations and method down requires some careful thought. As we've seen with other recipes such as the gin & tonic or the Dark & Stormy, few ingredients means more margin for error. Make one slight mistake and your guests are sure to pay the price, and when you're playing with an ingredient as tart and strong as coffee, you want to make sure you are sticking to the method.
For our espresso martini recipe, we've once again gone to the International Bartenders Association for their input. Here is the best espresso martini recipe.
Add a generous amount of ice to a cocktail shaker
Pour all ingredients into the shaker
Shake well
Strain into a chilled cocktail glass
Garnish with three coffee beans
Enjoy!
Now we hope you get step six right, that's the most important one. As you may have noticed, for presentation, we've opted to drop two to three roasted coffee beans into the foam that has formed on top. This is the most common presentation in modern bars across the globe, however, if you want to mix it up, the world is your oyster. Don't be afraid to get a little flamboyant with presentation, as long as the taste is right, your mates will love it.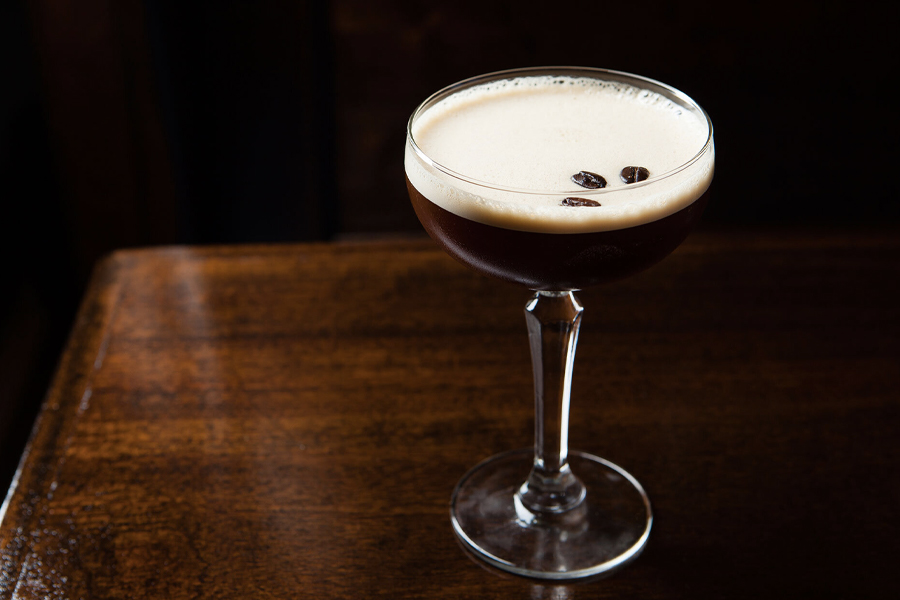 Espresso Martini Variations
While the espresso martini will be here forever, a few cheeky bartenders have taken on the challenge of recreating the cocktail into something just as delicious. Below are some of the delicious variations you'll find on the classic espresso martini.
Tiramisu
As if this classic Italian dessert could get any better. The gorgeous, layered mix and presentation of this cocktail will almost stop you from drinking it. Almost. Because a good cocktail is a terrible thing to waste. Here's what you'll need, and how its done.
Ingredients:
30ml Avion espresso tequila
20ml Kahlua coffee liqueur
30ml espresso coffee
10ml Baileys Irish cream liqueur
Cream float
Method:
Shake tequila, Kahlua, and chilled espresso coffee, before gently straining into a chilled martini glass
Slowly pour the baileys into the glass, which will create a layer at the bottom of the martini, beneath the previously added mix.
From a squeegee bottle, pour a little cream on top as the float, and for presentation lay on a few coffee beans.
While a little more involved in its creation and presentation, the tiramisu martini is something you have to see and try for yourselves. And if you make a mistake with presentation, it's still perfectly good to drink. Mistakes are just another excuse to make yourself more drinks. For practice, of course.
Coconut
Coconut goes well with everything, so how about with coffee? That's what this variation on the espresso martini is all about. This recipe has a recipe, within the recipe, for salted coconut syrup, so we hope you're ready for some preparation (don't worry, it's not that hard).
Ingredients:
45ml Pampero Especial rum
15ml Kahlua
15ml coconut syrup
45ml freshly made espresso coffee
Shredded coconut
Salted Coconut Syrup Recipe:
3 cups desiccated coconut
500g caster sugar
500ml water
5 teaspoons salt
Method:
For the coconut syrup, pour the desiccated coconut into a pan over low heat, stirring occasionally. Once browned slightly, set aside for later.
In a new pot, mix the caster sugar and water and set to boil. Once the sugar has dissolved, pour in the coconut, and stir well over medium heat. Add salt and continue stirring. Once the salt has dissolved, strain the syrup and chill in the fridge.
For garnish, place the desiccated coconut into an oven preheated to 120C for five to ten minutes. Make sure the coconut is spread out and left to dehydrate entirely.
Now that you have all your ingredients, you can make your cocktail (you've earnt it after all that). Mix all the ingredients into your cocktail shaker and mix, straining twice once done. Serve in a coup class and cover with garnish for presentation.
While it's a lot more involved than the classic recipe, you will be rewarded for you patience and persistence. This is a cocktail to die for.
Salted Caramel
And finally, the salted caramel variation of the espresso martini. The oozy richness blends perfectly with the coffee, for a flavour that'll change the way you drink coffee.
Ingredients:
30ml vodka
15ml Kahlua
10ml salted caramel syrup
45ml fresh espresso coffee
Method:
Pour all your ingredients into a shaker with ice, shake it like a polaroid picture and strain into your martini glass of choice.
Garnish with coffee beans or honeycomb and you're ready to drink.
And there you have it, a much simpler variation on a classic recipe.
You'll also like:
How to Make the Perfect Margarita Cocktail
The Best Mint Julep Recipe For Derby Day
The Best Whisky Sour Recipe To Celebrate World Whisky Day
General FAQs
What's in an espresso martini?
An espresso martini is made of vodka, Kahlua, sugar syrup and espresso coffee. A favourite of the after-work crowd, this iconic concoction blends simple and readily available ingredients in one flavour packed cocktail.
What are the best espresso martini variations?
While classic is always best, the tiramisu, salted caramel, and salted coconut variations of an espresso martini are delicious. These all include subtle differences in ingredients, with the salted coconut involving a coconut syrup mixture to be added prior to shaking,
Can you make an espresso martini with gin?
While the original calls for vodka, you certainly can make an espresso martini with gin. This certainly wouldn't be characterised as an espresso martini, however, it does bear a closer resemblance to the original martini recipe.