Flaviar's Out-of-this-World 'Whiskies of the Galaxy' Advent Calendar Returns
Online spirits club Flaviar is gearing up for the holiday season as only they know how: with the release of a new whiskey advent calendar. The fourth to date, it comes fully loaded with premium drams along with other goodies like a Glencairn tasting glass and a collectible booklet. It will retail for US$250 but you can pre-order one now for a discounted price of US$225 (or US$200 for club members). As a gift for yourself or for the whiskey lover in your life, this one's a no-brainer.
You'll also like:
WIN! 1 of 10 Lark Whisky Tasting Sets!
Glenglassaugh Unearths a Seafaring 50-Year-Old Single Malt
Expect the UNEXPEATED with Starward's Latest Award-Winning Whisky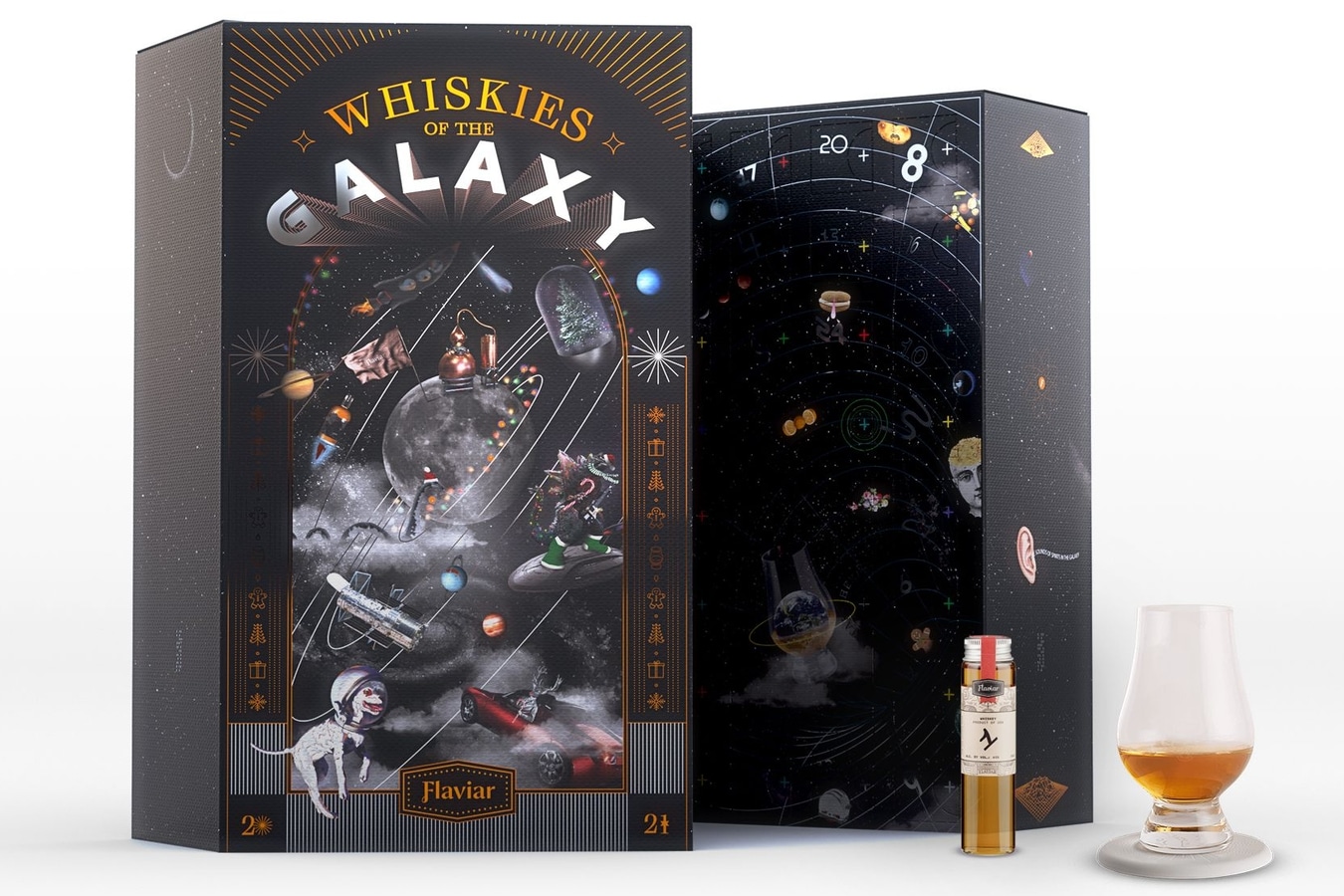 Adopting an interstellar theme, Flaviar's 2021 Whiskies of the Galaxy advent calendar will send your taste buds on an epic journey. Speaking from experience, these releases are every bit as awesome as they sound. There's a unique thrill in selecting a whiskey at random, cracking open the vial, pouring a dram, taking a whiff and maybe a little sip, and then reading about it as you drink. Or you can use the adjoining flavour maps to learn more about each expression before you've even unscrewed the vial. The choice is yours, naturally.
Not knowing what lies behind each perforated panel is part of the fun, but here's a quick snapshot:
Penelope Bourbon Small Batch Barrel Strength – This small-batch and barrel-strength bourbon is exclusive to the calendar.
Limavady Irish Whiskey – One of Ireland's oldest whiskeys returns after a 106-year hiatus and offers a novel take on the barrel aging process. We shall say no more.
Wyoming Small Batch Bourbon – This handcrafted bourbon is distilled and aged in Wyoming using local water and grains.
Locke + Co Aspen Aged Rye – Locke + Co's sole product was aged inside the cask alongside disks of Colorado aspen wood, resulting in a distinctive profile.
Balcones Texas Single Malt Whisky – The Texas whiskey scene is exploding right now and this acclaimed distillery is leading the charge. Behold their single malt expression.
Flaviar's Whiskies of the Galaxy advent calendar is now available for pre-order at a discounted price. In addition to 24 vials of premium whiskey, it includes an award-winning Glencairn tasting glass, a concrete coaster, and a collectible booklet with flavour maps. It's out of this world.
You'll also like:
WIN! 1 of 10 Lark Whisky Tasting Sets!
Glenglassaugh Unearths a Seafaring 50-Year-Old Single Malt
Expect the UNEXPEATED with Starward's Latest Award-Winning Whisky