Whether Dad is a seasoned whisky drinker or wants to try something new, say cheers this Father's Day with a beautifully crafted tasting set from the award-winning Lark Distillery. Nominated as one of the top 4 distilleries for the Worldwide Whisky Producer of the Year Award, let your old man indulge with some premium Tassie nectar. To help you celebrate the occasion, we're giving away 10 x Lark Whisky Tasting Sets, and to go in the draw, simply enter the giveaway below.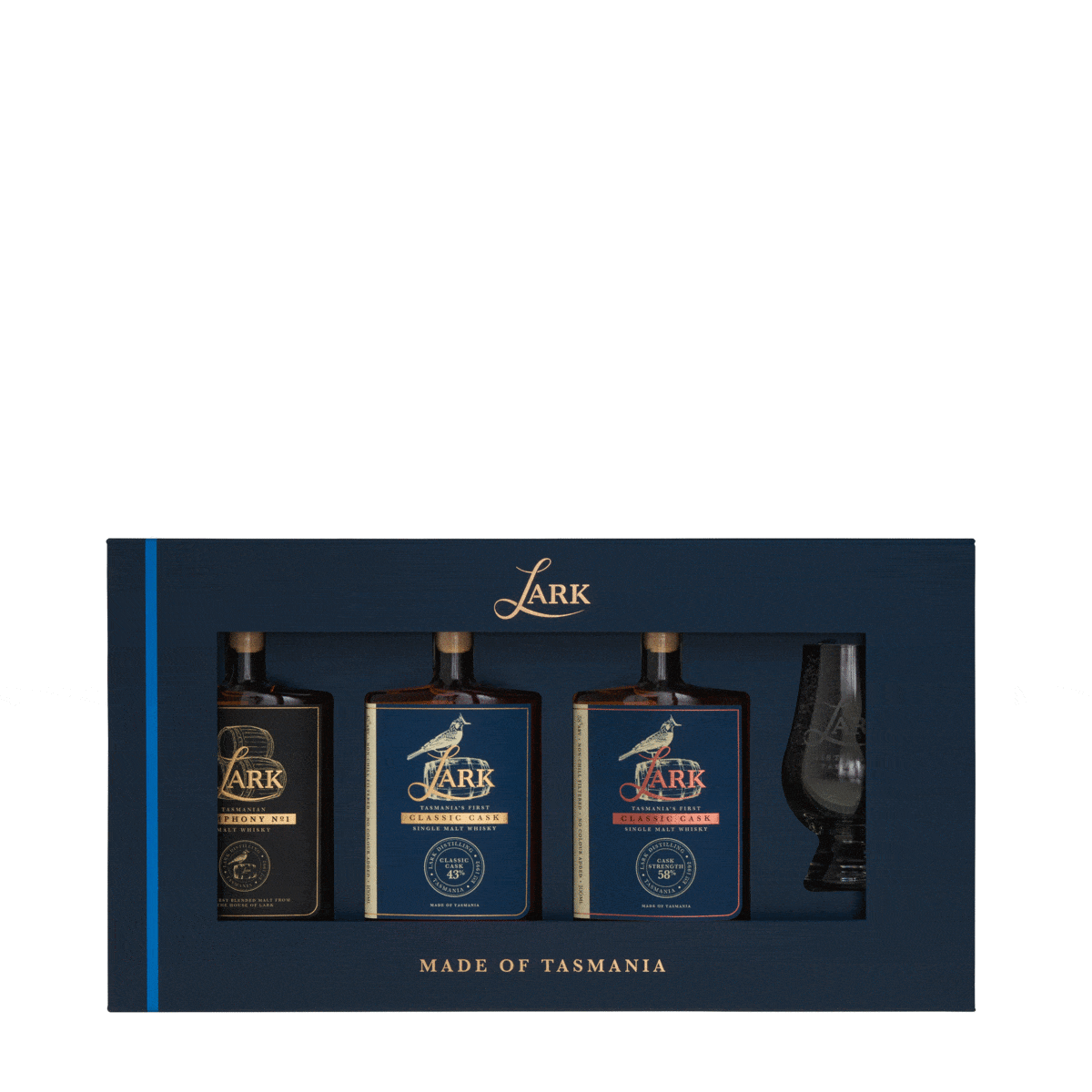 Whisky Tasting Set
This 3 x 100ml set features some of Lark's finest whiskies, with the gift set encompassing various tantalising flavours. Not only will your Dad receive a carefully curated trio of exceptional spirits, the package includes a Glencairn whisky glass, emblazoned with a laser-etched Lark insignia. This glass is specifically designed for whisky, ensuring the complexity and taste of each sip is savoured.
Classic Cask 43%
Lark's signature Tasmanian whisky is a true labour of love, from the second it leaves the stills to the moment the cork is popped. It's a  timeless single malt that blends citrus and butterscotch with a hint of Tasmanian peat. The balance of sweet, savoury elements make this a well-rounded dram perfect for Dad's at any stage in their whisky journey.
Symphony No.1 40.2%
The first blended malt from the House of Lark, Head Distiller Chris Thomson has fused the intricacy of American oak bourbon with the balance of sherry and the heavier depth of port. The result is a creamy and fruity symphony full of life from start to finish.
Cask Strength 58%
Commonly referred to as "Liquid Gold" by whisky fans, Cark Strength 58% is carved with big flavours of dried fruit and butterscotch. The huge port cask influence produces an intense vanilla and Christmas cake sweetness with the Tasmanian peat smoke shining through for a warm, smooth finish. Inspired by the local environment, one sip will transport your Dad to the rugged landscape of Tasmania.
The Whisky Tasting Set is one of many collections of gifts Lark has put together. If you're keen to explore more of what's on offer, we'd recommend checking out their carefully curated flight packs to celebrate a special someone.
GIVEAWAY! Say Cheers to Dad This Father's Day with a Whisky Tasting Set from Lark Distillery!