Conor McGregor's UFC Diet & Workout Plan
Who's ready for some diet and exercise, Conor McGregor style?! Presuming you're on board, prepare to take a seriously disciplined approach toward eating and working out. On the plus side, there's still room for the occasional beer, liquor, and cigar. Indeed, even a shredded MMA fighter needs his vices.
Given his ongoing slate of headline-grabbing antics, it's quite easy to forget that Mr. Notorious is supremely dedicated when it comes to diet and exercise. After all, this is the same guy who recently punched an elderly stranger in an Irish pub, and once threw a guardrail at a UFC bus. That's not to mention his endless attempts to raise brand awareness by way of flashy publicity events or product releases. Oh, and let's not forget McGregor's proclivity for fancy Rolex watches or his customised Versace robe. The list goes on.
However, to peer beyond the distractions is to discover almost ironic amounts of self-control. That said, the man doesn't do it alone. Assisting in the food department are people like Georges Lockhart, also known as Conor McGregor's diet coach. The former US marine turned hardcore nutritionist helps not just McGregor, but various UFC fighters make the most out of their respective calorie consumptions.
No matter who Lockhart is advising, meanwhile, one thing remains fundamental to each client's overall health and success: consistency. That certainly rings true for McGregor, who only eats specific types of carbs and at key moments throughout the day. And while he takes a varied approach toward exercise and training, rest assured he's still completely disciplined and consistent in his overall workout routine.
Should you take a page from McGregor's book, you'll likewise get results. The process will be intense, but you knew that as soon as you saw the name Conor McGregor. Whether you're hoping to build muscle, eat more protein, bring out your inner UFC champion, or experience weight loss, let the following diet and workout plan be your guide.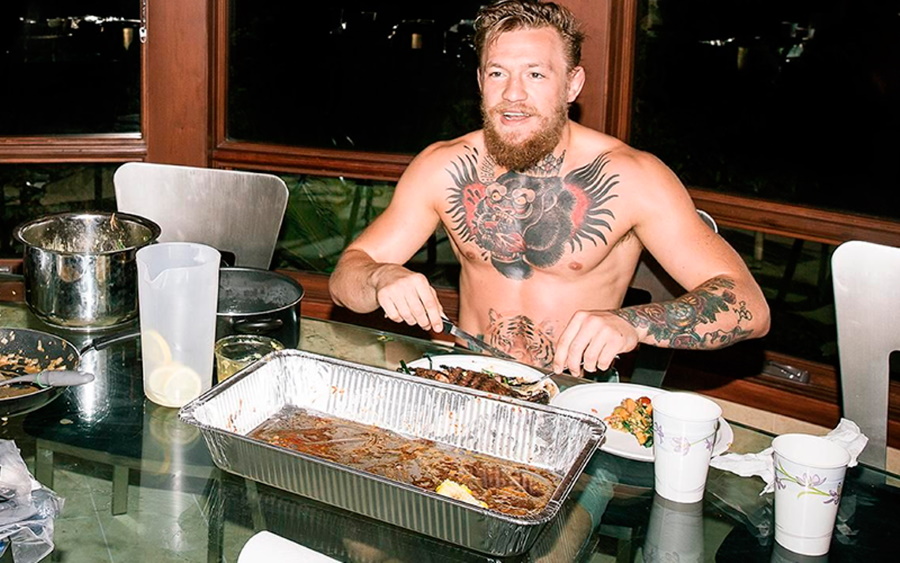 Conor McGregor's Diet Plan
Conor McGregor diet coach Georges Lockhart knows that no two UFC fighters train or fight the same way, which is why he takes an individual approach to any given client. To quote Lockhart directly: "What works for one person may not be optimal for another."
Nevertheless, Lockhart does abide by some core principles. One is consistency, which we mentioned above. Another is that certain types of foods should be consumed in direct correlation to when the fighter is either training or competing. When there's a fight that night, for example, Lockhart takes the following approach:
The fighter's muscle mass levels are calculated
Carb intake is then worked out depending on the muscle mass levels
The carb intake figure is spread out over the day's meals
The exact number of meals depends on the time of the fight
Lockhart also stresses the importance of variety, claiming that diets like keto or Atkin's deprive the eater of key nutrients. McGregor follows suit, even if he's been previously associated with the Sirt food diet, which consists of foods such as green tea, dark chocolate, and citrus fruit. Also, while there's some natural overlap with the paleo diet, Conor McGregor doesn't tout this as a plan by which he exclusively abides.
Ultimately, the Conor McGregor diet plan goes big on protein and sticks to very specific types of carbs, namely fruit, green veggies, sweet potatoes, and butternut squash. He avoids takeaway food like the plague but does confess to having a sweet tooth. At the end of the day, however, he's all about a "clean" diet, which in his words means "good-quality meats, good-quality greens, good-quality carbohydrates like sweet potato and butternut squash, and that is it."
Culling from Instagram posts and interviews, here's a typical day of eating in the life of Conor "Notorious" McGregor:
Pre-breakfast
Water – Upon waking, McGregor stretches, rehydrates, and performs about 30 minutes of fasted cardio.
Breakfast
Coffee or Americano – The Irish UFC fighter gets his morning jolt by way of fresh coffee or an Americano, the latter of which involves mixing a shot of espresso with hot water.
Eggs – Eating an omelet or poached eggs is one surefire way to avoid excess carbs.
Smoked Salmon – McGregor is often known to incorporate an additional protein into his breakfast or brunch.
Fruit and Veggies – Perhaps some kale, avocado, baked apple slices, or a side of cherry tomatoes.
Snack #1
Greek yoghurt – Throw in some nuts for good measure.
Lunch
Red Meat – McGregor loves "high-quality" meats and that likely means grass-fed beef or steak.
Fish – When not in the mood for red meat, he helps himself to fish.
Chicken Breast – No list of quality protein is complete without chicken breast, which McGregor is known to enjoy.
Salad – A lunchtime staple, salad is one terrific way to get your veggies. In keeping with the Sirt food diet influence, McGregor reportedly eats lots of kale.
Snack #2 (Pre-Workout)
Nuts – Conor McGregor diet coach Georges Lockhart recommends eating protein before a workout, as it will help manage insulin levels and trigger the body to unlock fat for energy burning.
Fruit – In lieu of (or in addition to) a protein, fruits such as blackberries, blueberries, apples, strawberries, and grapefruit will also suffice. Each one contains fructose, which gets metabolised in the liver and doesn't cause dramatic insulin spikes.
Snack #3 (Post-Workout)
BSN Shake – Conor McGregor and diet supplements are less synonymous than one might imagine, but he is known to down the occasional BSN shake while recovering from a workout.
Coconut Water – Hydration is essential.
Carbohydrates – According to Lockhart, it's okay to eat carbs after a workout as a means to replenish. Think sweet potatoes, rice, oats, and maybe a glass of milk.
Dinner
Chicken – Another important meal means more protein for McGregor, who eats impressive amounts of chicken in one sitting.
Fish – From sushi dinners to tuna steak to baked cod, McGregor enjoys himself plenty of fish.
Steak – Please remember that you should eat one and not all of these protein sources for dinner.
Green Beans – Here's a side that no nutritionist will argue with.
Sweet Potatoes – McGregor's a big fan.
Rice – As per McGregor's Instagram feed, his dinners often incorporate rice.
Beer, tequila, or whisky – We're not going to resort to Irish jokes, but McGregor definitely partakes in the occasional beer or shot.
Late Night
Hot tea – If he's sticking to the Sirt food diet, that tea will be green.
Being that Conor McGregor is all too happy to share…well…everything about himself, we thought it might be nice to do the same with you. Here are some specific meals and snacks that McGregor has eaten in the past:
Baked apple slices with peanut butter, avocado, and eggs
Scrambled egg with jalapenos, spinach, and meat along with sliced potatoes
Ginger, honey chicken with rice
Rice curry with fish
Sliced potatoes, apple, chicken, and avocado
Smoked onion, spinach, paprika, and egg with sliced avocado, potato wedges, and bison, topped with Sriracha sauce
Tequila chicken, lime shrimp, rice
Sliced avocado and potatoes, scrambled egg with cauliflower and spinach
Tuna steak with chili powder, salt, pepper, and smoked paprika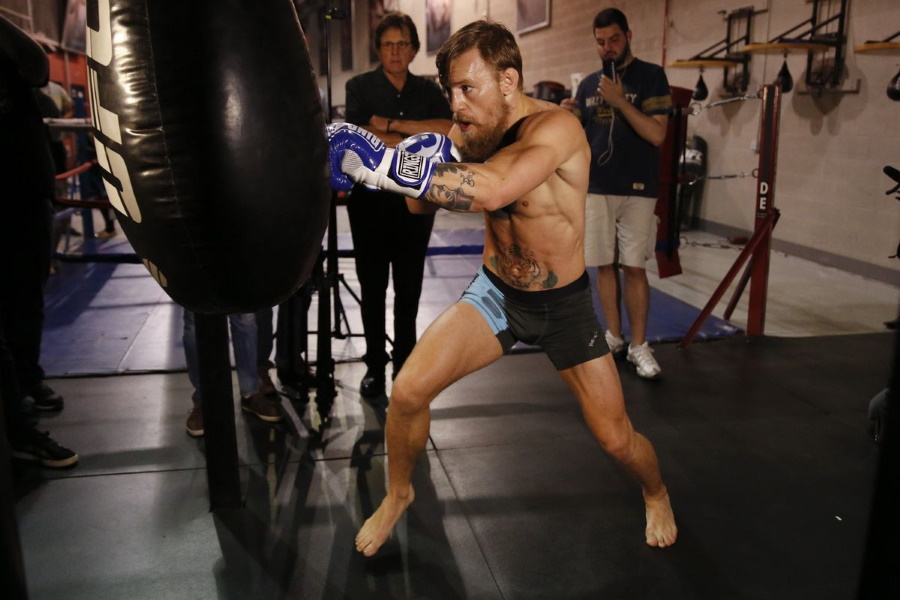 Conor McGregor's Workout Plan
As you can see from the list above, Conor McGregor knows how to consume calories. He also knows how to burn them. This is the Conor McGregor diet and exercise plan, after all. Of course, you don't need us to tell you that the UFC champion gets busy in the gym.
Before we dive into specifics, allow us to share some insight that came straight from the man himself. According to McGregor, one should always remember the following principles before adopting a workout routine:
Variety is essential – McGregor is a man of many styles and methods, so it's only natural that his workout routine is likewise diversified. That means adopting various training methods and also targeting different muscle groups.
Know when to stop – If there's one man who knows a thing or two about going overboard, it's Conor McGregor. Yet even he will tell you to know your limits in the gym.
Stay mobile – It might sound like the tagline for a new cell phone plan, but staying mobile is key to injury prevention and overall spryness. That means stretching every day, for starters.
Practice bodyweight exercises – "Machines don't use machines. And I am a machine." From McGregor's lips to your ears (or eyes), mate.
Eat clean foods – You've got this one covered, presuming you didn't scroll past the whole "Conor McGregor's Diet Plan" section.
As you can deduce, the Conor McGregor fitness regimen is as varied as it is intense. It covers a lot of ground so we'll stop mincing words and cut right to the chase. Here is one of Conor McGregor's workout routines:
Dynamic Stretching and Flexibility Routine
Perform each of the following exercises for one minute.
Muay Thai Knees
Shoulder Rotations
Leg Swings
Hip Circles
Neck Bridge
Static Stretching
Hold each of the following stretches for 30 seconds.
Back Roll
Sit-Through Abdominal Stretch
Sit-Back Shoulder Stretch
Lying Leg Stretch
Seated Butterfly
Locomotion Conditioning
Duck Walk (decreases knee pain)
Horse Walk (develops hip and groin strength)
Lizard Walk (improves hip mobility and core control)
Ostrich Walk (increases posterior-chain flexibility)
Bodyweight Circuit
Perform each exercise for one minute and try to increase the number of reps as you go. Complete five sets total.
Muscle Pull-Ups (abs, middle back, shoulders, biceps, and triceps)
Push-Ups (shoulders and triceps)
Pull-Ups (back, traps, and biceps)
Air Squats (hamstrings and glutes)
Conor McGregor's Fight Training
Above all other things, Conor McGregor is best known as a legendary fighter, and one might wonder how he prepares for his next bout. However, his training regimen is in a constant state of flux, evolving and responding to a host of external factors. It's then hard to pin down an exact ritual since each one might differ than the one before it.
What we can say is that McGregor is an advocate of the Fighter Anaerobic System of Training (F.A.S.T), which includes both high-intensity aerobic training and perpetual endurance exercises. According to a recent interview, McGregor revises the timings of each endurance phase to coincide with the type of fight he's training for.
It's also known that McGregor does the majority of his training at the UFC Performance Institute, where everything is predictably top of the line. Leading up to a fight, McGregor will take advantage of the facility's cryosaunas, underwater treadmills, and altitude chambers. Should you have access to these same resources, dive right in!
You'll also like:
Steve Smith's Cricket Diet & Workout Plan
Brad Pitt's 'Fight Club' Diet & Workout Plan
Chris Hemsworth's Thor Diet & Workout Plan