Joe Rogan's Diet & Workout Plan
More than the man with a workout and diet plan, Joe Rogan is a modern-day warrior of mind and body alike. Equal parts Hunter S. Thompson and Jocko Willink, he's the kind of guy who can finish off his three-hour gym routine or hot yoga session with a glass of whiskey and a fat bowl. Of course, don't take that to mean you can casually step into his shoes without going the full distance in terms of everyday fitness.
In addition to cardio, MMA training, and weightlifting, Rogan gulps down supplements and practices everything from cryotherapy to yoga to sensory deprivation to sauna sessions, sometimes within the same morning. Oh, and did we mention that he's also a successful stand-up comedian, UFC commentator, and epic podcaster, whose episodes can run for up to three hours at a time? The dude is jacked up in literally every sense of the concept.
Given his bewildering spread of interests and routines, one might wonder if Rogan has a specific diet plan or fitness regimen at all. The short answer is yes, though he's always willing to try something new and rarely does he shy away from indulgence. If you can handle Joe Rogan's weightlifting routine, MMA training, and primarily ketogenic diet, then you too can theoretically partake in the occasional glass of whiskey or smoke session. Just don't expect Elon Musk to join you.
So what does Joe Rogan eat? And what supplements does he take? While we're asking questions: what does his weightlifting routine look like, or his yoga sessions for that matter? Sure, you can scroll through his Instagram feed in search of answers, or you can stay right where you are because we're opening a window into Rogan's crazy world. Are you ready for the Joe Rogan experience, aka the Joe Rogan diet and workout plan? Let's find out.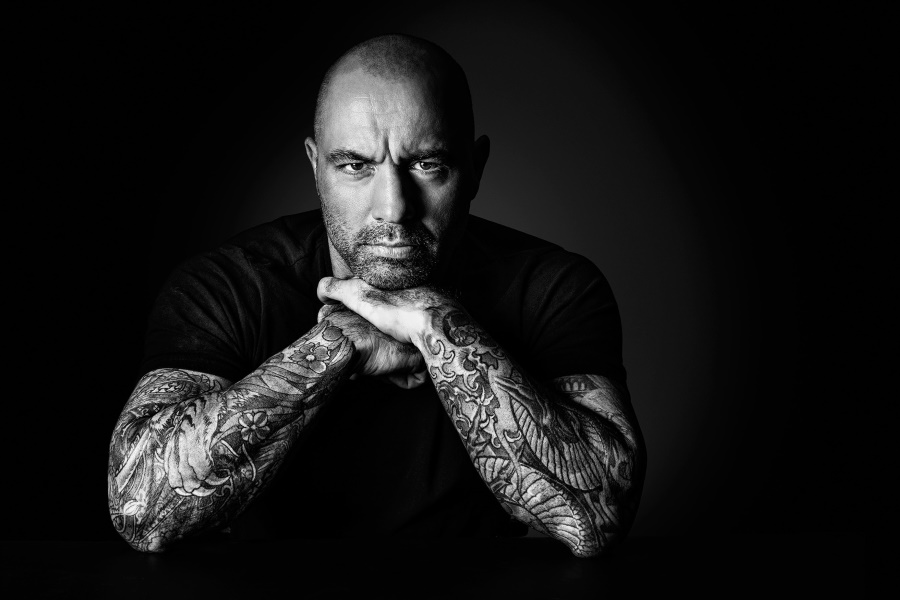 Joe Rogan's Diet Plan
As anyone who's listened to his podcast can attest, Rogan gets downright philosophical about…well…basically everything. His diet is no exception, and if his shredded physique is anything to go by, the man definitely knows what he's talking about in this department.
First and foremost, he's a major advocate of eating what you kill, hence his frequent hunting trips in search of wild elk or other game. Secondly, he firmly believes that there's no such thing as a one-size-fits-all diet plan, meaning different people have different reactions to different foods. Lastly, he tends to think of the human body as a machine or even a car, which must remain in top condition if it's going to deliver optimal results.
To quote him directly: "I do everything that I can to put my body and my brain in a good place so I'm keeping my engine smooth. I'm changing my oil, I'm changing my spark plugs and I'm making sure that it's operating. It's not going to be perfect but I know that I've done my best to keep it operating to the best it can."
To keep that engine strong, Rogan limits carbs and avoids sugar. Instead, he sticks primarily to wild game meat, veggies, vitamin supplements, and probiotics. With a huge stake in Onnit Supplements, he goes big on Alpha Brain, which reportedly improves things like focus and memory. It might sound like a gimmick, but on the other hand: have you seen what this dude crams into a single day or even a single podcast session?
---
Featured Video from Man of Many
---
In general terms, Joe Rogan's diet plan is similar to keto, but with far more room for experimentation. Speaking of experimentation, he's no stranger to intermittent fasting. In fact, Rogan is known to frequently skip breakfast altogether, thereby allowing his body to burn through fat reserves. It's all a lot to digest, no pun intended.
So we ask again: what does Joe Rogan eat (and drink)? Here's a breakdown:
Food
Elk Meat – If the Joe Rogan diet plan went by any other name, that name would be wild elk meat. Armed with a high-powered bow and arrow, he takes to the wilderness with his buddies, returning with a steady supply of this lean protein. It's low in saturated fat, free from growth hormones or steroids, and chock full of vitamin B-12. He packs his freezer full of the stuff and also gives some out to friends and guests. His Instagram feed simply wouldn't be the same without it, nor would his entire philosophy on diet.
Jalapenos – If you have pictures of sliced elk meat running through your head, then you're also visualising a massive pile of jalapenos.
Vegetables – Rogan leaves room on his plate for green vegetables, including kale or string beans.
Avocado – Here's another healthy food that Rogan can't get enough of. Neither can we.
Kimchi – Korea's national dish consists of spicy pickled cabbage, which is reportedly good for heart health and may even reduce inflammation. It's also quite tasty.
Supplements – Like some sort of health store in human form, Rogan takes not just vitamin supplements, but probiotics, Shroom Tech Sport, fish oil, omega 3 and 6, MCT oil, Glucosamine Chondroitin, creatine, spirulina and chlorella, and Alpha Brain as well.
Eggs – When he's not fasting, Rogan makes like a bodybuilder and whips up some eggs for breakfast.
Drink
Coffee – Rogan fuels up on coffee both before and during his podcast. Ever the experimentalist, he's often seen drinking Four Sigmatic Coffee, which is sourced from mushrooms (he's reportedly partial to the Lion's Mane and Chaga mix). He's also a fan of Laird Superfood Turmeric Coffee Creamer.
Kombucha – This bubbly (and fermented) beverage is a natural probiotic that also delivers some essential nutrients.
C2O Coconut Water – Rogan's go-to brand of coconut water is also his favourite post-workout drink.
Kill Cliff – Oh Kill Cliff, you had Rogan at the words "hemp-infused recovery drink."
Zevia – With zero sugars and zero calories, this sweet carbonated beverage might not be healthy, but it's definitely healthier than Coca Cola.
Whiskey – When he feels like wetting his whistle, Rogan usually pours himself some delicious whiskey on ice. And who can blame him?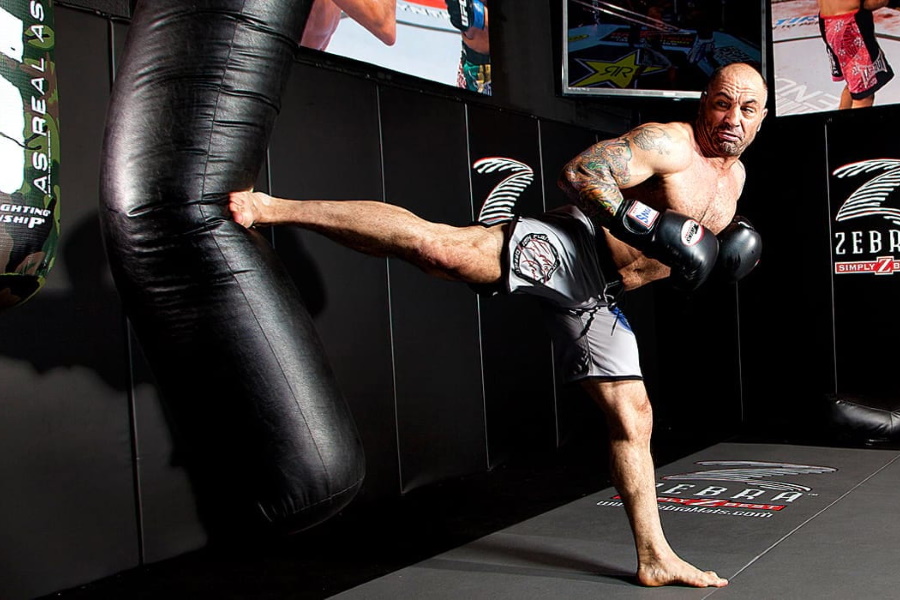 Joe Rogan's Workout Plan
Who's ready to lift some weights, Joe Rogan style? Of course, weightlifting is just one among a number of routines employed by the tireless podcaster and commentator, who also practices MMA training, cardio, and yoga on a weekly basis. That's not to mention his slew of recovery techniques, including cryotherapy and sauna sessions. Miraculously, he also squeezes out some meditation time in the isolation tank. We're getting exhausted just thinking about it.
As he once explained on his podcast, Rogan schedules his workout plan every Sunday, mapping out all the exercises he'll be performing during the week. Here's a direct quote: "I say 'I have to do yoga two times this week' and 'I have to lift weights three times this week' and 'I have to run twice this week.' And however I fit that in, I fit that in. But I owe those things so I have to get those things in."
When it comes to intensity, Rogan adopts a common-sense approach. Instead of pushing his body past a point of no return (aka "going to failure"), he builds strength and endurance in a smart and steady fashion. He derived the approach by observing how naturally strong people like farmers develop their muscles. To summarise in Rogan's own words: "Instead of having one workout every three days where you blow your body out, have one workout every day where you don't blow your body out. And you'll get stronger quicker."
Being that Joe Rogan's workout plan could fill an encyclopedia, we'll break it down in general terms. Here's a week in the life of the famous podcaster, comedian, and commentator:
Weightlifting
Well-versed on the weights, Joe Rogan lifts three times a week. He's known to practice the Pavel Tsatsouline protocol, limiting his reps to about half his max. Similarly, he favours a high rep workout in lieu of exercising to failure. To build "functional strength," he employs the following equipment:
kettlebells
battle ropes
maces
dumbells
Cardio
Rogan didn't begin taking cardio seriously until a few years ago, quickly making it part of his weekly workout regimen. Whether running through Runyon canyon with his dog Marshall or performing various drills in the gym, he keeps the blood flowing and the muscles spry. Generally, he prefers outdoor runs to indoor equipment like the treadmill.
Yoga
A major proponent of both regular yoga and hot yoga, Joe Rogan practices the discipline every single week. He's all too eager to promote its numerous benefits, which come by way of breathing exercises, stretches, and taxing postures.
MMA Training
Not only is Rogan a beloved MMA commentator, but he's also an experienced practitioner. A former Taekwondo champion, he currently trains in Brazilian jiu-jitsu and Muay Thai. To train, he spars with others and gets busy kickboxing on the punching bag, among other things.
Therapeutic Measures
If you can name a mode of recovery, Rogan has tried it. He's especially partial to extreme sauna sessions, where he cranks the dial all the way up. When it comes time to relax or meditate, he heads into the sensory deprivation tank. He's also tried everything from cryotherapy to stem cell rejuvenation. The end result is a 52-year-old man with the energy and strength of someone half his age.
Joe Rogan FAQs
What does Joe Rogan eat in a day?
Low on carbs and virtually absent of refined sugars, Joe Rogan's diet plan consists primarily of meat and veggies. He's particularly partial to wild game meat such as elk, along with sides of jalapenos, kale, kimchi, mushrooms, or avocado.
What diet does Joe Rogan practice?
While not strictly keto, Joe Rogan's diet goes big on wild game meat, veggies, and supplements. He's also an advocate of intermittent fasting.
How much does Joe Rogan run?
Joe adopted a cardio routine later in life and now runs at least 2-3 times a week. He often takes his dog Marshall along for the run.
What does Joe Rogan usecfor pre-workout?
Joe Rogan reportedly takes Shroom Tech Sport before each workout. It gives him a proper energy boost, minus the jitters one might get from caffeine.
Does Joe Rogan use creatine?
Joe Rogan uses Onnit Creatine Monohydrate, which is backed by copious amounts of research. It provides muscle cells with more energy, improves mental performance, and stimulates muscle growth.
Does Joe Rogan own Onnit?
A business partner of founder Aubrey Marcus, Joe Rogan is currently a major shareholder in Onnit. Using the power of his influence, Rogan has helped the brand achieve over $28 million in annual revenue.
You'll also like:
---
Featured Video from Man of Many