Meet Lynda Jager, The Grandma Bodybuilding Coach
Lynda Jager may be a grandma, but she's not sitting in a rocking chair knitting. This 61-year-old is more shredded than most people you know—including those that are a third of her age.
Jager lives in Cambridge, Ontario, Canada, and has been working out since her early 20s, but anxiety kept her from joining a gym. But that didn't stop her from working out at home. "I would follow shows on TV and learn from them," Jager recalls.
"The more I started to see results, the more results I was anxious to see, and that kept me going."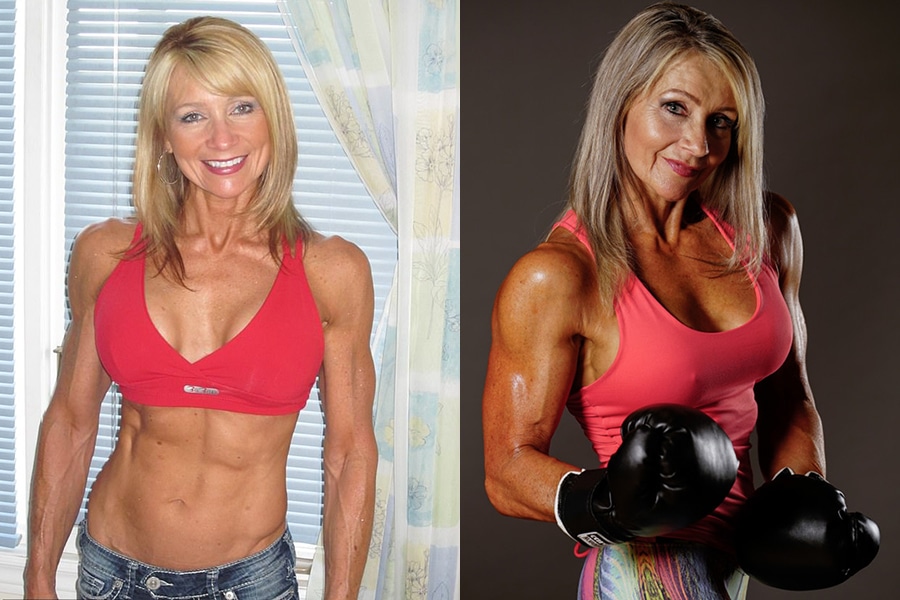 Armed by those results, she finally joined a gym in her 30s. She started lifting weights and bodybuilding. "I was always drawn to the images both in magazines and on TV of strong women that looked healthy and fit and really wanted to do the same to my body. I enjoyed the appearance of muscles on my body. I also wanted to set an example for my young children, so they could be strong and self-confident as well."
Jager has continued following that desire and now works as a personal trainer and a medical office administrator.
When she turned 51, she entered her first bodybuilding competition. She's now a five-time bodybuilding champion. "The first time I stepped on stage, I thought I would faint and almost didn't do it. The girl behind me actually had to give me a little nudge to get me to step on stage. My confidence through the years grew and my shyness and anxiety lessened immensely," Jager says. "I believe has given me the confidence to try new things and speak up when I need to."
For Jager, working out is a way to share a message. "I want everyone to understand that being fit for life is possible, without pain, restrictive eating or drugs."
And if a 61-year-old grandma can do it, what excuse do you have?