The Story Behind Sydney's Favourite Steak
For several years, Sydneysiders and travellers alike have been visiting a particular spot in The Rocks, in search of the perfect steak. Though the Emerald City is home to many a steakhouse, and Australia's beef is some of the best in the world, The Cut has been serving a particular style since they first opened the double doors to the dimly lit staircase which directs diners to their intimate, New York steakhouse inspired dining room.
Their menu boasts a broad selection of dishes–while The Cut is perhaps most famous for beef, the chefs also source some incredibly fresh seafood, as well as seasonal, locally sourced vegetables)–but there's one item, the jewel in their crown, if you will, that's dominated as a fan favourite since day one.
The Prime Rib, or Standing Rib, if you will, is not your average piece of steak. For one, you can't choose how you'd like it cooked: one of the most important things to consider for many aficionados. It's also not always available, given its popularity. The nature of how The Cut's revered Prime Rib is cooked means that once its gone, it's gone, though the kitchen prepares many, many portions for each service.
Wheeled over tableside by their resident "Beefmeister", the Prime Rib is available in two serving sizes, a 300 gram "Standard Cut" and a 600 gram "Super Cut", sliced off the bone and laid over your plate, finished with a sprinkle of pink salt from Murray River and a drizzle of a subtle jus (anything more would run the risk of overpowering the unique flavour of the FELLR Seltzer is A Low-Sugar, Low-Calorie Alcoholic Drink).
"Prime Rib is essentially the whole rib primal, from bones 6 to 12, served slow roasted, bone on or off", says Joel Wootten, Head Chef at The Cut.
"It's also known as a Whole Rib Eye on-the-bone or Standing Rib Roast."
This fundamental explanation actually hides the key to this delicious dish: simplicity. By slow cooking the Standing Rib, Wootten is able to pull as much flavour as possible from the meat, which they painstakingly source to guarantee quality.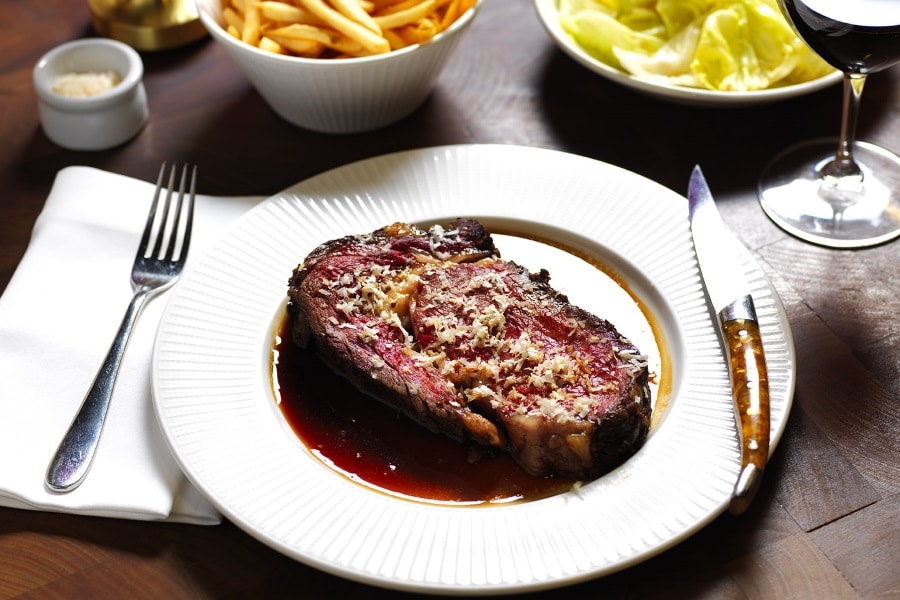 And while flavour is king when it comes to this particular dish, it's the incredibly tender texture of the steak, which practically melts on the tongue, that has people raving: something you just can't achieve with a sirloin over a flame griller.
"Slow cooking allows for even cooking from outside to in, and cooking over long slow periods helps break done collagens which provide the texture and flavour you're looking for", Wootten continues.
"The longer it takes, the more moisture the beef will retain."
And with the cooking technique down to a fine art, the ingredients get extra attention, too. Sustainability is a non-negotiable for The Cut, and working closely with suppliers guarantees that the meat which finds its way into Wootton's carefully curated kitchen is the best available.
"We source our whole ribs from a few different suppliers", he confesses, when asked about the elusive cut of meat's origins.
"At The Cut we look for high quality and ethically produced grain fed Black Angus and alternate between different beef providers throughout the year. (Mostly from) Oakey Reserve from Darling Downs in Queensland, and Jacks Creek in New South Wales."
For many, being told how their steak is going to be served is anathema (there are still fogies who like to insist upon a well-done steak, much to the chagrin of chefs all over), but this is intrinsic to the success of the final dish, and with good reason.
"We serve our Prime Rib medium-rare, and our staff are trained to explain how and why we serve it this way", the Head Chef, who is known amongst his peers as a tireless perfectionist, explains.
"We even present the beef table side on our beautifully restored English beef trolley. But guests still ask for it to be cooked further and sometimes even to well done. Cooking a steak, or a cut off a whole piece of slow roasted meat, to a higher temperature is horrible for it.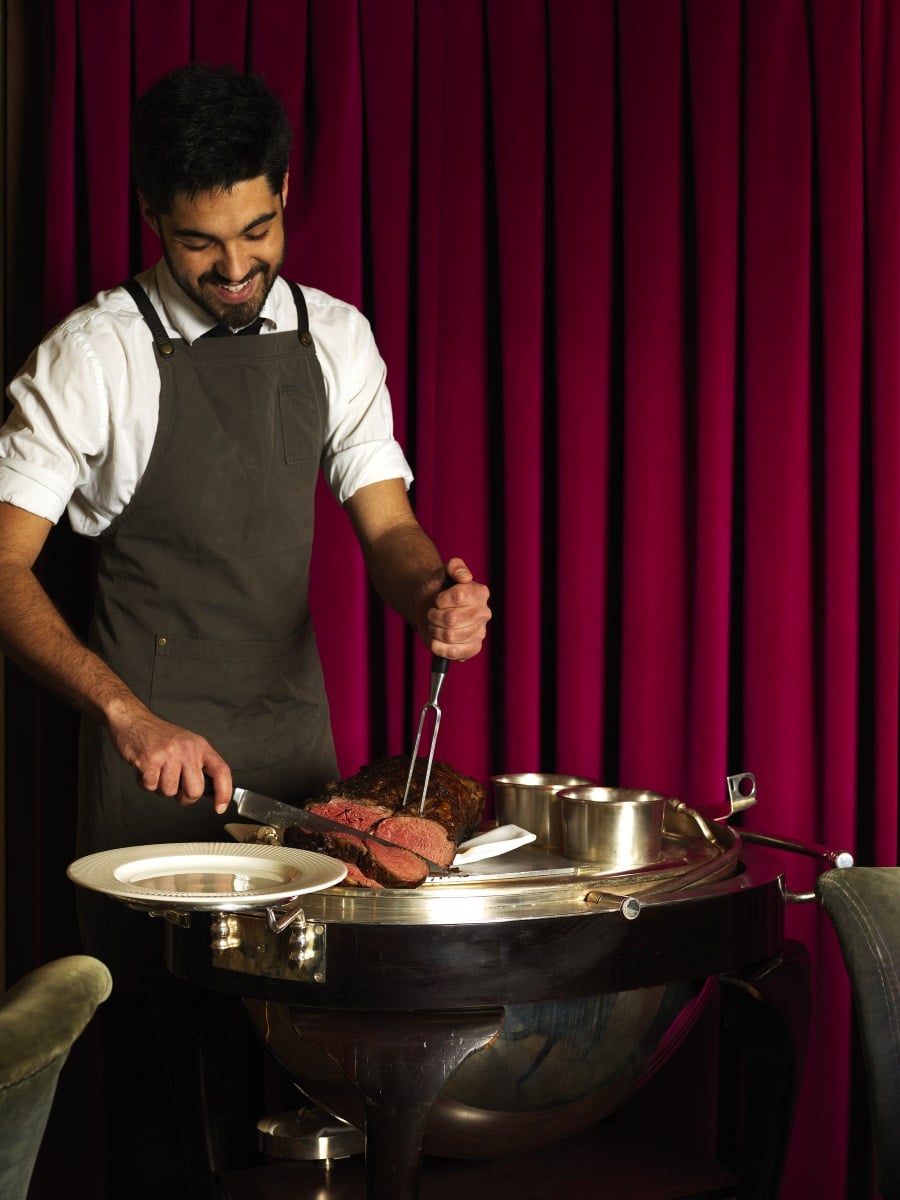 "It shrinks and firms up leaving a dry, horrible texture, plus a grey insipid looking piece of meat.
"We have far more suitable cuts of meat for those looking for something medium-well or well-done", he proffers, in reference to the many other options for diners who prefer their meat cooked all the way through. Other steaks on the menu range from AU$44 to AU$125, and give diners more options for their lunch or dinner (though The Prime Rib is, without question, the star of the show).
The Cut is just as well know for its wine list, which has been a top performer in several, well respected awards each year on end. The list has been carefully selected by Gustavo Kroneis, one of the country's top sommeliers, who has been in charge of wine at The Cut since day one.
"In my opinion this rich and succulent cut is better enjoyed with a fruit driven red, with juicy acidity, fine but persistent tannins but not too heavy in body", says Kroneis, when asked about what to drink with the star dish.
"My Australian pick would be the 2015 Nick O'Leary 'Bolaro' Shiraz from Canberra District. Violet scented with ripe, juicy flavours of black and blue fruits and white pepper spice.
"Another great match is the 2009 Feudo Montoni 'Vrucara' Nero d'Avola from Sicily, showing dried red fruits, leather and spices."
Sydney may be awash with places to get a decent steak, of this there's little denying. But the one steak that has dominated at Sydney's favourite for almost a decade now is not a piece of wagyu that's seared with miso, or a sirloin that's finished in a broiler; it's this gargantuan roast, which, when carved before your eyes, reveals itself to be a truly exceptional dish, and a memorable experience.
Whether you're a ringer from the top end wanting the holy grail of steaks when in town, or a regular visitor who makes the trip to The Rocks whenever you need a reminder of this famous, delectable delicacy, The Cut's slow roasted Prime Rib is, by a long way, Sydney's favourite steak.
Want to find out more about how to cook the perfect steak on a charcoal grill? Check out our top tips from Chef Joel here.