Tenuto Review: We've Come a Long Way from the Cock Ring, Baby
Imagine mid-naughties Steve Jobs leaving Apple to focus on sex toys and you might end up with something like MysteryVibe. Not only do the brand's top-selling vibrators crank up the dial on performance, but they retain a pure sense of modern design. From the clean packaging to the catchy names to the optimal shapes to the striking colours to the adjoining app controls, these products put a firm 21st-century spin on sexual pleasure itself. With Tenuto, that trend continues in stride.
Whereas most vibrators target female pleasure, Tenuto was designed specifically to work with and around male anatomy. Equal parts cock ring and vibrator, its higher-intensity patterns are strong enough to channel through the perineum and flirt with the prostate. Use the gadget during solo masturbation or with a partner and expect longer-lasting erections and better orgasms in return. And if you need a few extra pointers or ideas, bring in the Tenuto Playbook (i.e. a set of cards that offer suggested positions). Here's our hands-on review.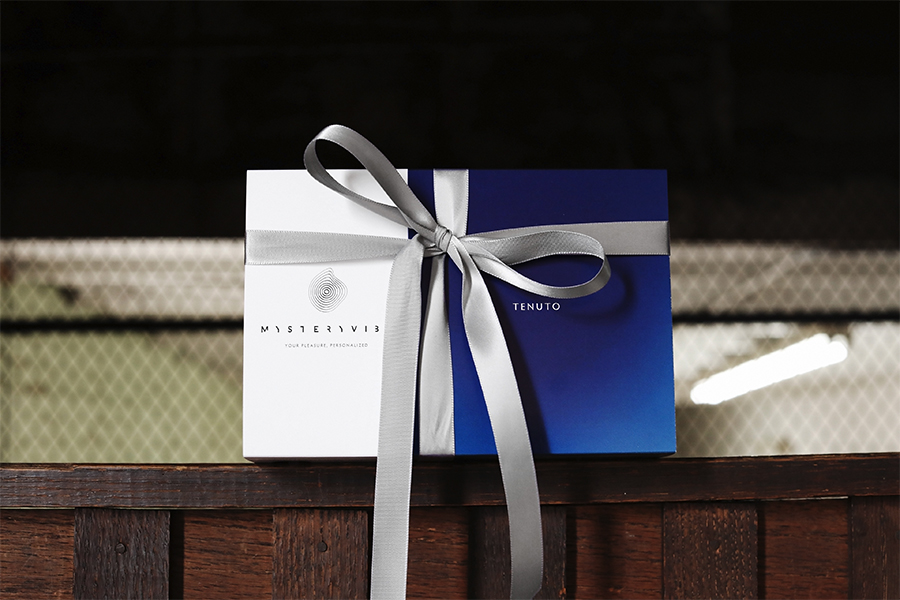 Packaging
Foreplay is key and MysteryVibe knows as much, presenting Tenuto in a clean and contemporary box. Upon cutting the plastic and sliding out the interior compartment, we felt like we were receiving the latest iPhone. Everything is laid out in an organised and minimalist fashion, which drives home the Silicon Valley vibe. There's an immaculate quality to the unboxing process and it eradicates taboos or reservations, cultivating welcomeness and approachability in their stead.
The instruction manual expands upon the tech-adjacent theme, constantly making reference to Tenuto by name. In turn, it's almost as if you're bringing a new robot friend into your life. MysteryVibe's mantra is "Your Pleasure, Personalised" and the concept is established before you've even tried their products on for size.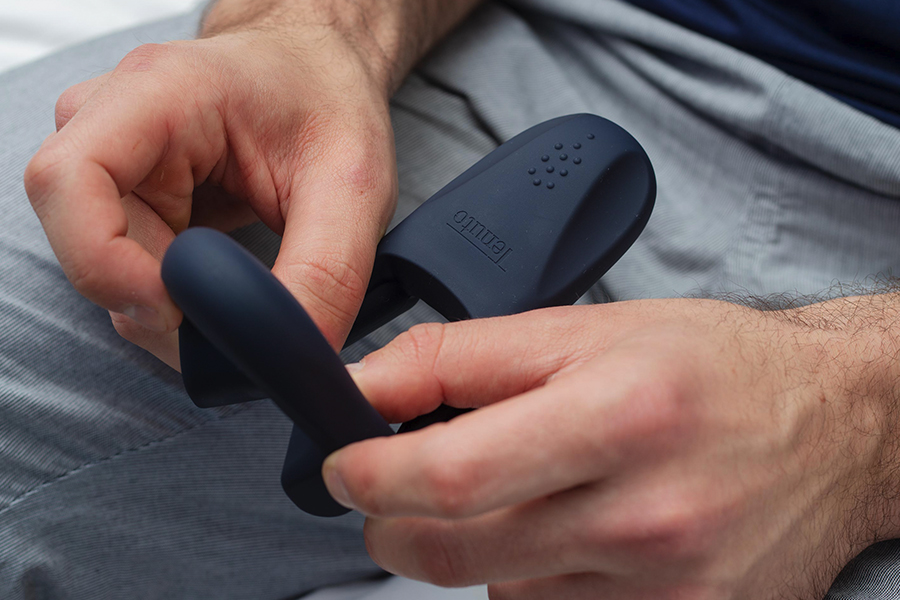 Design
One look at Tenuto and you might think to yourself: we've entered a brave new world. Wrapped in body-safe silicone, it bears almost no resemblance to any sex toy you've ever seen. Indeed, you might be a little daunted by the girth and layout, wondering if the product will interfere before it enhances. That's why it's important to read the instructions and get acquainted with the vibrator before you charge it up (via USB) and try it on.
Featuring an L-shaped design, Tenuto has a firm but pliable opening area, which is divided into two sections by a pair of "wings." There's also an upper panel and then a longer base panel that goes under your perineum (aka your taint). MysteryVibe recommends that you wash the water-resistant sex toy before and after use, and apply water-based lube to either your penis or Tenuto (or both) when taking it for a spin. To put it more succinctly: an erection and lube are both essential.
When you're all lubed up and ready to go, spread the wings outward and slide your penis through the main opening. You can either choose to slide your testicles into the bottom opening or rest them on top of Tenuto. Should you slide them in, it's a process that requires some careful maneuvering. As you'll soon discover, the base panel fits naturally under your perineum.
Equipped with six anatomically positioned motors, Tenuto offers 16 intensity levels and 8 preset vibration patterns. On the underside of the base panel are a series of control buttons, one of which turns on the power and another that activates Bluetooth. The remaining buttons control the intensity levels and vibration patterns and are somewhat hard to reach during use. For that reason, you should either establish your settings before getting busy or use the adjoining smartphone app as a controller.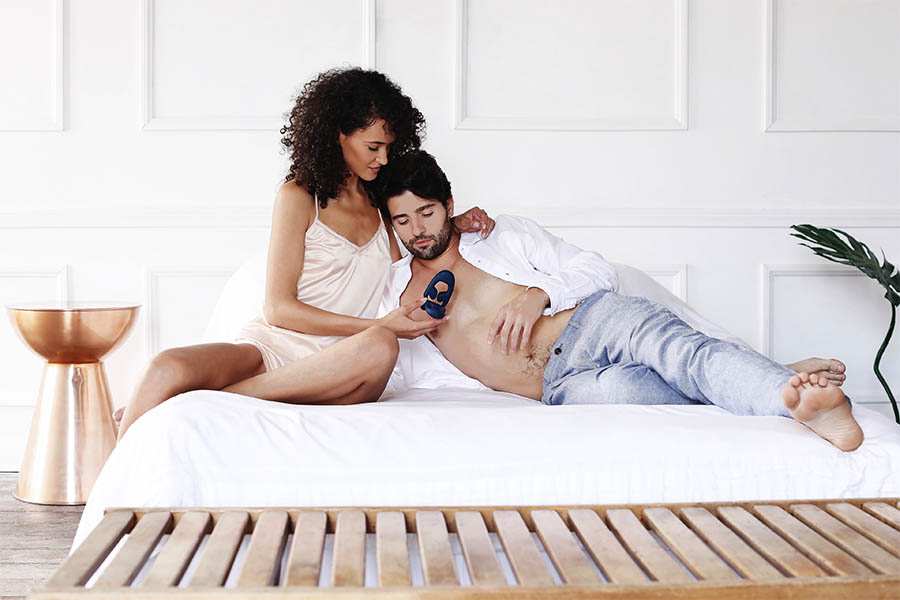 Performance
As we experienced for ourselves, Tenuto takes some getting used to. For starters, it's a fairly large product when compared to the average cock ring. However, once you're up and running, this thing feels good and we mean goooooood. The unique design increases blood flow to the penis, thereby encouraging stronger and longer erections. And that's before we get to the sensual vibrations on your shaft and perineum.
Thanks to the careful placement of each motor, Tenuto vibrates in all the right places. When we increased the intensity levels, it was as if our entire groin area (and prostate) was ensconced in a shell of tingling warmth. Upon maxing out the intensity, that tingling sensation veered close to pleasurable numbness, which could prove beneficial if you're trying to last longer in bed.
As a masturbation (or fellatio) enhancer, Tenuto performs admirably. When using it with a sexual partner, we encountered something of a learning curve. Put simply, the product's thickness can be an inhibitor when you practice certain positions. For the best results, your partner should ride on top as it allows her to exhibit pressure and control upon the device. In this scenario, Tenuto functions as a bona fide pleasure cruise.
Not only was our orgasm better, but the effect lingered long afterwards. While it's common for orgasmic feelings to stay the course, Tenuto brings the concept to an entirely new level. Our groin and taint bathed in the remnants of climax, the tingles receding in steady waves as they trickled down to our toes. A full minute later, we were still feeling the reverberations, as was our partner.
We said it before and we'll say it again: not every position is going to be a winner. If you're hung like a stallion, maybe it won't make a difference. However, if you have a penis of average length, you might find Tenuto to be something of a distraction. That's why it works best when she's riding on top in either the cowgirl or reverse cowgirl position (also known as the "Giddy Up Buzzin' Stud" and the "Reversal in Overdrive," to quote the Tenuto playbook).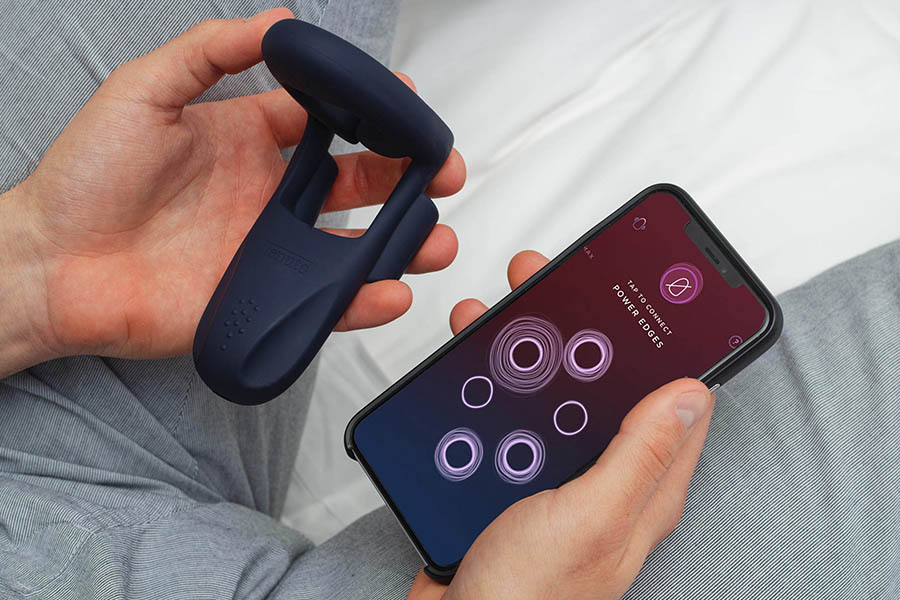 App Control
Compatible (via Bluetooth) with MysteryVibe's smartphone app, Tenuto can be controlled remotely from up to 10 metres away. This allows you to adjust intensity levels or vibration patterns without tinkering directly with the product. The app is free to download and it allows you to customise pre-set options and save your favourite patterns for later use. For a clever twist on sexual domination, hand the smartphone off to your partner and let her control the action as you masturbate.
Tenuto Playbook
Available for separate purchase is the Tenuto Playbook, i.e. a series of suggested uses or positions. Some may seem obvious while others are more creative. We won't go into too much detail because that would spoil the surprises. All we can say is that it's worth making use of these illustrative cards, which bring an extra tier of discovery into the bedroom. Try each one and then try it again.
Final Thoughts
Smart, sturdy, and stylish, Tenuto brims with modernity and delivers a host of pleasing sensations. Good for stronger and longer erections, it simultaneously stimulates multiple erogenous zones. Far more than an advanced cock-ring, the gadget offers epic vibrations to both the groin and the oft-overlooked perineum. Your sexual partner can reap its benefits as well, or concurrently employ something like MysteryVibe's Poco. The possibilities are endless.
There might be a learning curve, but the ends justify the means when it comes to this pleasure-inducing product. The more you explore, the more gratification you get in return, figuring out what positions and patterns suit your personal taste. Seek the input of your sexual partner as well, honing in on mutual satisfaction. As she may discover, Tenuto isn't strictly for the fellas.