Cathay Pacific A330 Business Class Review
Hopping around the globe for work might sound exciting at first, but the truth is it can be a downright drag. Thankfully, Cathay Pacific Business Class strives to make the experience as luxurious as possible, especially if you're flying on the Airbus 330-300 (referred to as the A330 from here on out). Indeed, between the premium check-in, the considerable luggage allowance, the fresh noodles served at the airport lounge, the top-shelf hospitality and the award winning seats, Cathay Pacific will pamper you silly as you travel to and from places like Hong Kong. Hence, while the trip itself might be anything but a vacation, Cathay Pacific can make it feel like one anyway. To give you a better idea of what to expect, here's our Cathay Pacific A330 Business Class review.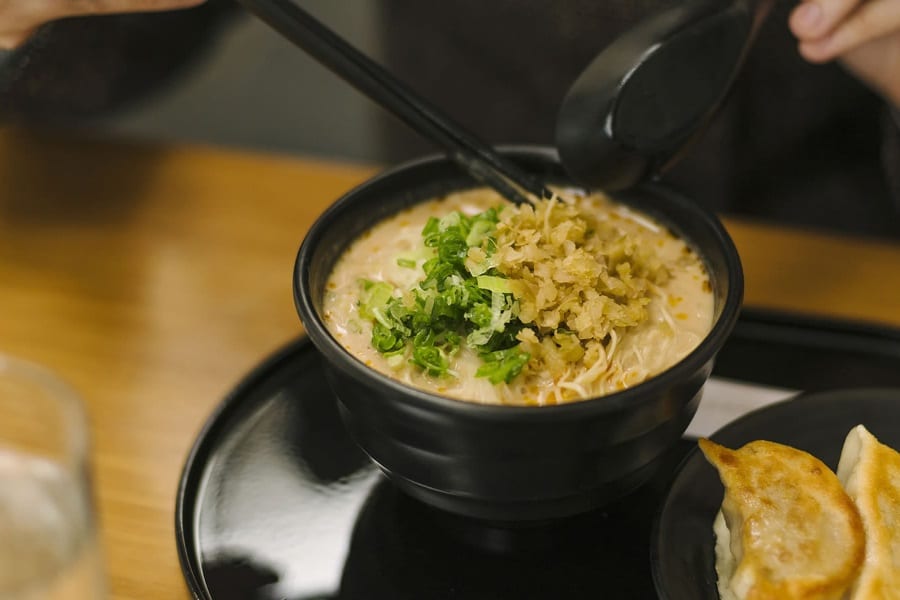 Cathay Pacific Business Class Lounge
As Hong Kong's flagship airline, Cathay Pacific has a number of lounges scattered throughout the Hong Kong International Airport. Since the last thing you want to do is scuttle around while waiting for your departure, allow us to suggest you hunker down in either The Pier Lounge or The Wing Lounge. Both are immaculate in design, resoundingly spacious and overflowing with perks. Taking inspiration from the sights, sounds and flavours of Hong Kong, both lounges deliver a comprehensive and rewarding respite from the airport's hustle and bustle.
For this review, we'll focus on The Pier, which is the largest lounge offered by the airline. Just how large, you ask? Try over 3300 square metres. To best capitalise on all that space, The Pier offers both "fast" and "slow" lanes for Business Class travellers. If you're in a rush, take the "fast" lane by grabbing a quick bite in the market-style Food Hall before heading on your way.
Of course, the "slow" lane experience is really what Cathay's Business Lounge is all about. If you're therefore the type who likes to relax and take his time before departure, by all means sit down to a delicious meal in the noodle bar. Follow that with a cup of hot tea in the majestic tea house, and then slide yourself into a bespoke Solo Chair to get some reading done–each one comes equipped with its own lamp. If you still have work to do, head on over to the Bureau, where you'll have computers, printers and WiFi connectivity at your disposal. Also on site are clean, convenient showers, and pleasing tarmac views.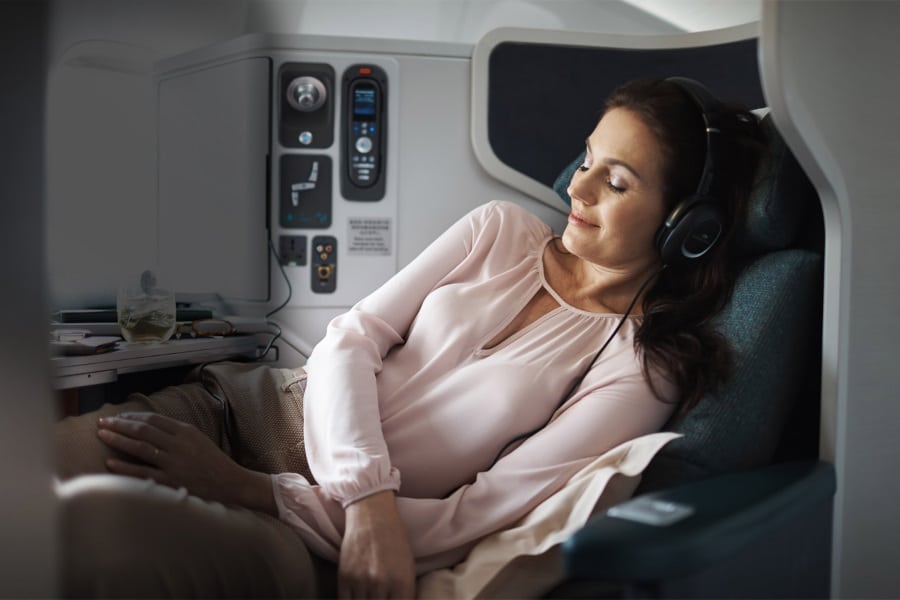 Cathay Pacific A330 Business Class Seats
Arranged in a 1-2-1 formation on the A330 are Cathay's luxurious Business Class seats. Each seat employs the reverse herringbone design and thereby aims for the utmost tier of comfort and privacy. If possible, try to avoid seat 19G or Row 11, which are located near the lavatory. And if you're easily bothered by noise, you should probably avoid Row 18 as well, as it's situated near the galley. For those seeking a little extra space and seclusion, seat 20K is calling your name. The window seats in Row 15, and seat 19A are likewise guaranteed to please.
No matter which seat you choose, you're getting ample comfort, plenty of legroom and a chair that converts into a fully-flat bed at the touch of a button. Use one of two pre-sets to alternate between "sit" and "sleep", while separate controls allow for smaller adjustments. If you need to charge your device(s), each seat includes international USB ports.
---
Featured Video from Man of Many
---
As soon as your comfortable in your seat, a flight attendant will kindly greet you by name, offering a glass of champagne to help eradicate any lingering nerves. If you begin feeling like a VIP, that's the idea, whereas Cathay Pacific Business Class prides itself on attentiveness, to the point of spoiling you with kindness, discretion and efficiency. Naturally, you're not complaining.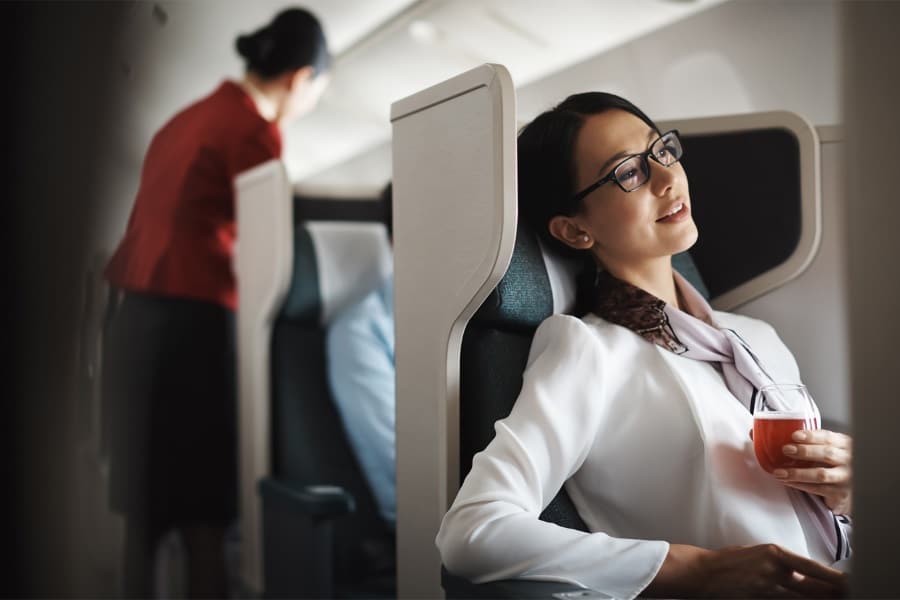 Cathay Pacific A330 Business Class Entertainment
Cathay Pacific A330 Business Class hosts its own state-of-the-art entertainment system, StudioCX, which puts a 15.4″ touchscreen TV at your fingertips. Throw on some complimentary noise-cancelling headphones and immerse yourself in a range of curated media programs, including classic Chinese films along with recent Hollywood releases. Also available are TED talks, audiobooks and radio shows.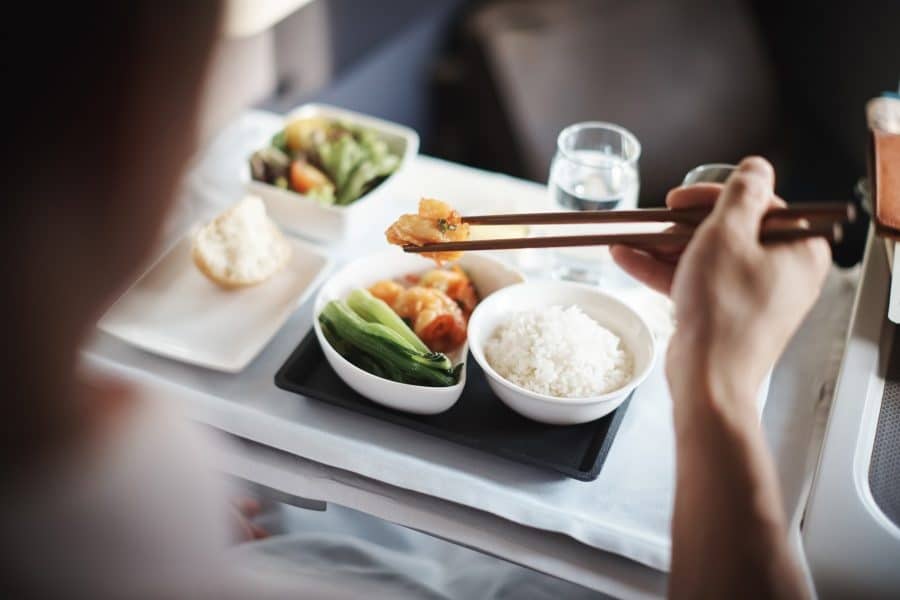 Cathay Pacific A330 Business Class Dining
Cathay Pacific A330 Business Class goes the extra mile when it comes to dining. In other words, this is not your standard "airline food". Created in partnership with hospitality group Mandarin Oriental, Cathay's menu offers locally sourced cuisine made with healthy, sustainable ingredients. As a result, the food is arguably more fresh and flavourful than it has any right to be. Giving your meal all the more dimensions are fine chocolates and an award-winning selection of wines.
In the mood for a snack? No problem at all. Just ring up your flight attendant and she'll duly provide one. And come morning, Cathay serves up breakfasts of both the Western and Eastern variety, along with tasty Illy coffee. In summary, expect to be pleasantly surprised by the quality and presentation of Cathay Pacific's Business Class cuisine.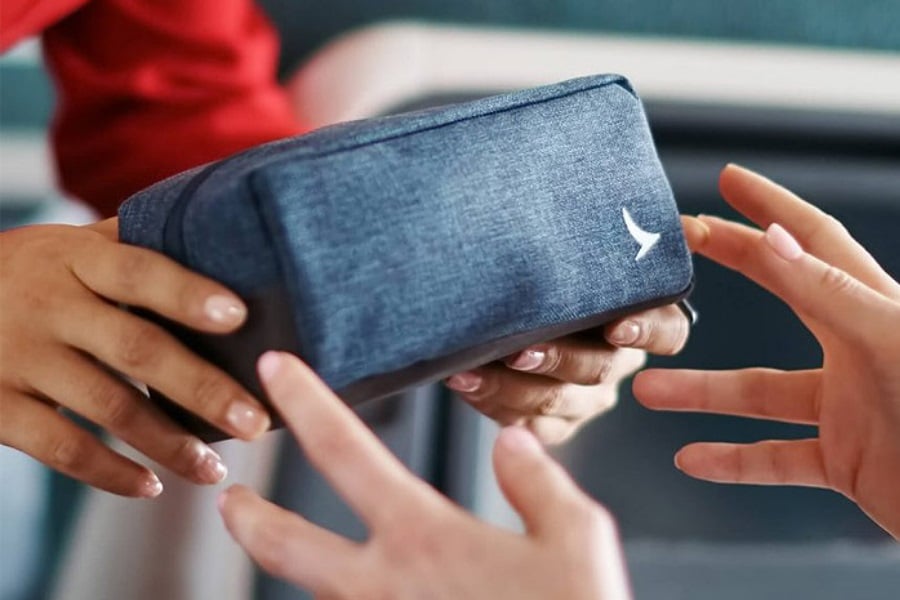 Cathay Pacific A330 Business Class Amenities
In the amenities department, Cathay Pacific keeps things fairly straightforward. In addition to the customary (and comfortable) duvet and blanket, each Business Class seat comes with an amenities kit. Pop open the kit to find toiletries, plush socks and Jurlique skin care products. For your convenience, the amenities kit also includes a sleep mask. Suffice to say, you've got all the essentials you need for a relaxing and rejuvenating flight, no matter how long the haul.
Overall, Cathay Pacific A330 Business Class is a premium experience that distinguishes itself from the competition in a number of ways. After all, it's not everyday that you get to gorge on freshly made noodles while waiting for your flight. Furthermore, the airline goes to great lengths to make you feel both utterly relaxed and totally appreciated. To that end, this is more than an international flight, and more like a mobile high-end hotel room. Driving that point home is a fully flat bed, hours of entertainment, plenty of space, quality cuisine and a flight attendant who knows you by name. Hence, while the trip itself might be all business, the long haul flight is pure pleasure.
---
Featured Video from Man of Many