Temu Australia: What Is It and Is It Legit?
The Temu shopping app is the most downloaded app in America right now, and it's just landed in Australia. With prices so low, it's understandable to wonder if Temu is legit or not.
Despite the slew of controversies that have surfaced alongside the rise in popularity, many are yet to delineate this unknown online world, and that's OK – we've done some research and tested the app first-hand to bring you everything you need to know about Temu in Australia. It's time to get out your pens and notebooks and start taking notes, here's everything you need to know about Temu.
RELATED: Kanye West Sues Walmart Over 'Fake' $25 Yeezy Foam Runners.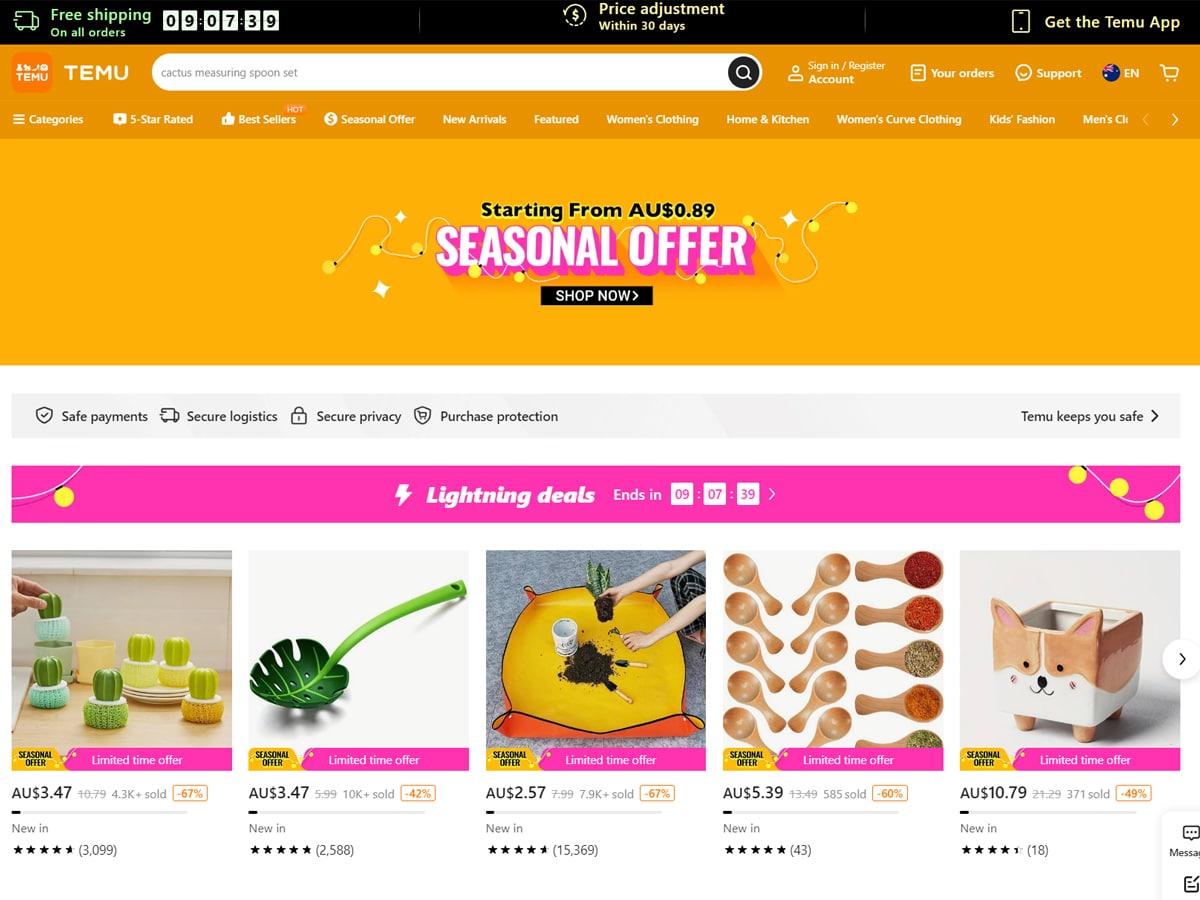 What is Temu?
Temu is a shopping app that's quickly climbed the ladder to become the most downloaded app in the world. It's looking to replicate the success of Chinese fast fashion brand Shein while also taking on Amazon by offering extreme discounts on a range of new products (most of which are shipped straight from Chinese factories or warehouses to your door).
The major difference between Temu and Shein is that you can buy more products, from clothes to technology to kid toys – think watches for $5, sunnies for $2 and an air-fryer for $15. It has a similar user interface as Amazon and AliExpress but with far lower prices.
Temu employs a unique strategy whereby users who promote the app on their social networks and get friends and family to sign up get free products.
When Did Temu Launch in Australia?
Temu launched in Australia in April 2023 after a successful launch in the US in September 2022. This is one of many entries into international markets after moving its "principal executive offices" from Shanghai, China to Dublin, Ireland earlier this year.
Who Owns Temu?
Temu is owned and operated by PDD Holdings, a multinational commerce group headquartered in Dublin, Ireland, based in China and registered in the Cayman Islands.
PDD Holdings also owns Pinduoduo, a popular online e-commerce platform in China. However, it's hard to pinpoint its exact origins after Pinduoduo Inc. changed its name to PDD Holdings in a special resolution and moved its principal executive offices from Shanghai to Dublin.
While Temu says the company was founded in Boston in 2022, the site's "about us" page does not mention its parent company.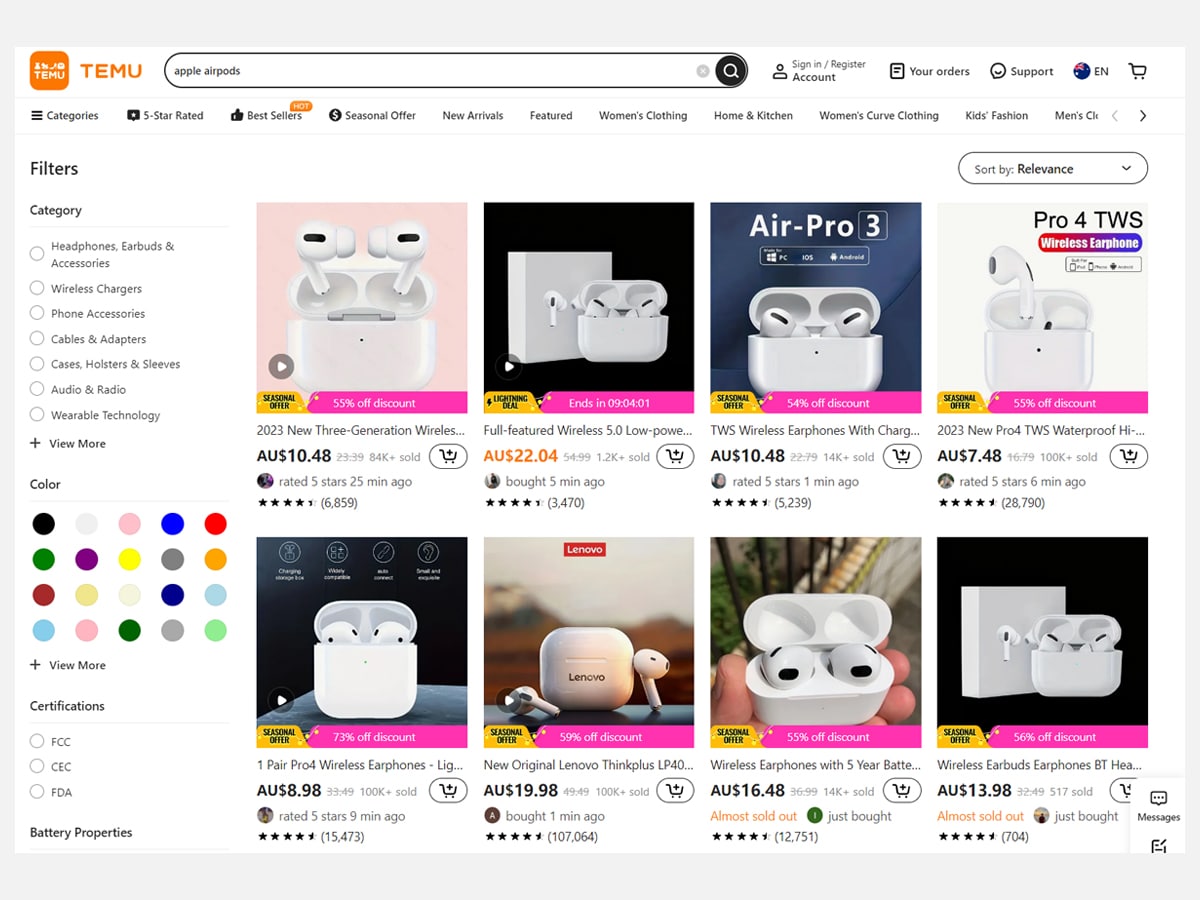 Is Temu Legit?
Now you have an idea of what the company is you're probably wondering whether Temu is legit.
Answer: From our first-hand research, it appears the company sells grey market products directly from the manufacturer. For example, these Lenovo Thinkplus LP40 TWS Earphones are priced at just AU$19.98 on Temu but you can also find them across other grey market retailers like AliExpress for as low as AU$7.99.
Search for brands like Apple and you won't find the real deal, but you will find some very similar-looking knockoffs. Brands like Logitech can be found with real products that are priced similarly to stores like Amazon AU and Logitech themselves.
It seems the only real savings to be had are on products that replicate the real deal or carry no brand name at all.
Most of the products on Temu are real products and you should receive them, but there are reports of lots of undelivered packages, mysterious charges, incorrect orders, items that look nothing like they were promoted online, and unresponsive customer service. So we recommend shopping with caution and cross-checking with marketplaces such as Amazon, eBay, and Catch.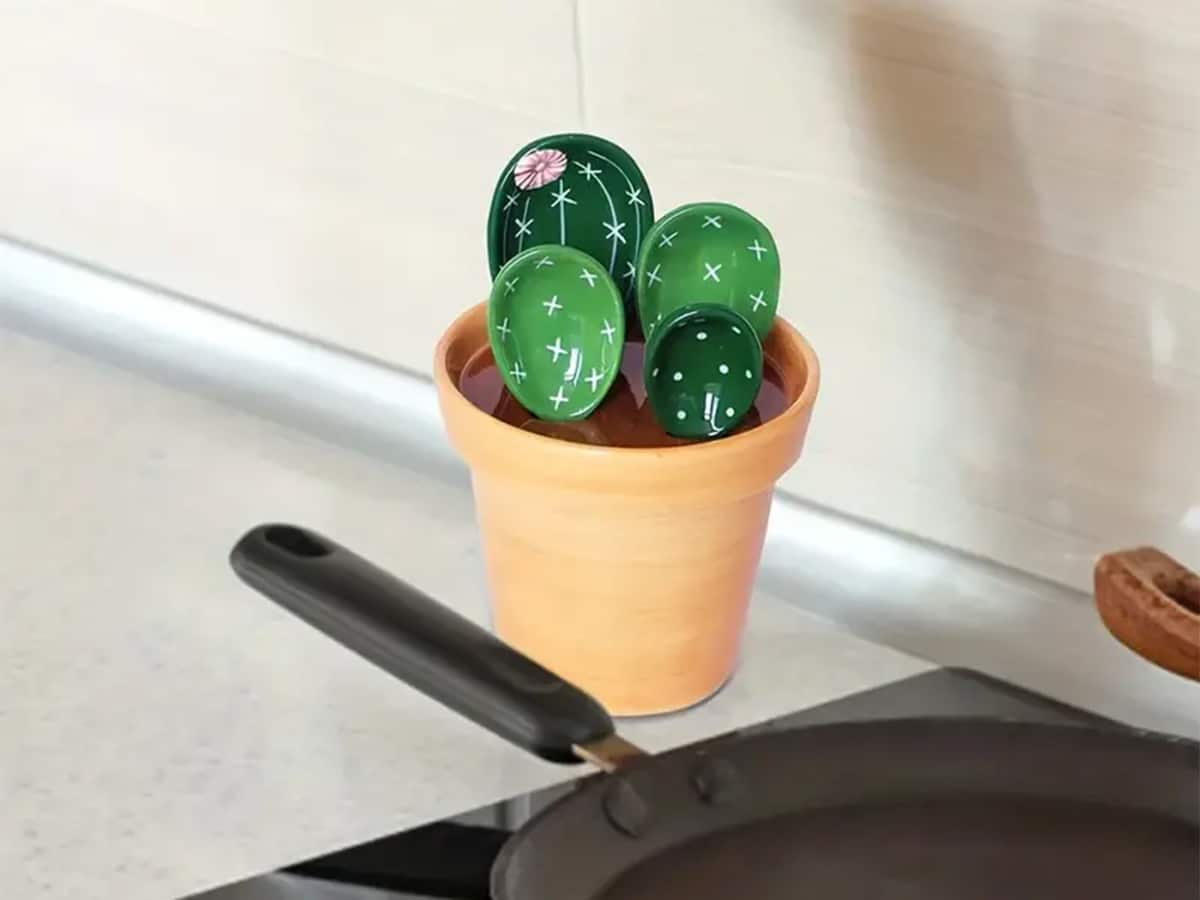 Temu Australia Reviews
On Apple's app store, Temu has a rating of 4.6 and a rating of 4.7 on Google Play. However, the ratings appear slightly different on less formal platforms.
On Product Review, Temu received a rating of just 2.5 stars. Some public reviews read "I ordered a cheap mobility scooter on Temu on 19th August 2023. They delivered a pair of cheap plastic sunglasses instead on 6th August. After complaining to the supplier they then offered a 40% then 60% then 80% refund as long as I returned the sunglasses. The problem is to return them you need a return label from Temu and Temu has no record of my purchase, searching by email, phone number or payment method I cannot get the product I bought or my money back. Will never use Temu again."
Other reviews tell a more positive story "I have had over 26 orders from Temu and have found them to be excellent to deal with" and "Very impressed with the continued updates right up to delivery. This is the first time I have used this company, was a little wary because had been scammed in the past by two other companies. Will certainly use again."
It's clear plenty of people encounter problems with orders and there have been a fair few complaints among people we know, including a close friend of a team member here who won a 'coffee machine' through the referral system and it turned out to be a miniature 'doll house' sized item.
With no clear answer, we had to put Temu to the test. We purchased a simple pot plant measuring spoon set for $27.99. After 8 days the product arrived as expected. Understandably, this is just one first-hand experience from a member of our team, but if you've had any stories about shopping at Temu, we'd love to hear from you.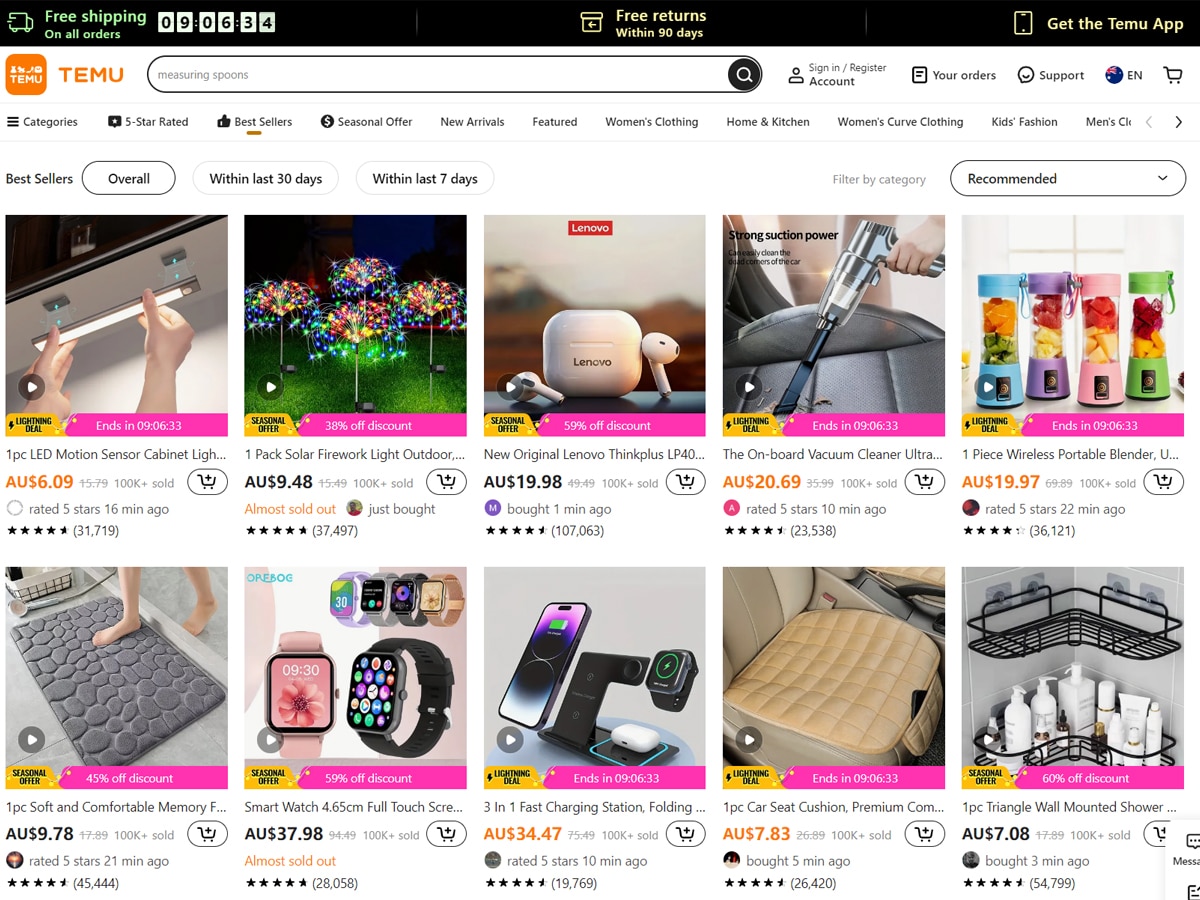 Why is Temu So Cheap?
The most obvious point of difference with Temu is the fact that it's so cheap, but how?
It's all about direct-to-consumer sales channels. In the United States, a report by the House Select Committee found that Chinese e-commerce companies take advantage of trade loopholes to import goods into the U.S. without paying import duties or making shipments subject to human rights reviews thanks to something called the de minimis exception.
"Temu and Shein's use of Section 321 of the Tariff Act of 1930, known as the de minimis rule, allows importers to avoid customs duties on incoming packages that are valued at less than $800," the report states. "Virtually all of the goods sold to American purchasers on Temu and Shein are delivered through direct-to-consumer shipments from China."
The report states that the de minimis threshold was previously $200 but increased in 2016 with the passage of the Trade Facilitation and Trade Enforcement Act (TFTEA). Since the de minimis threshold was increased, the scale of de minimis imports arriving in the United States has expanded from 220 million packages in 2016 to 720 million in 2021.
"Temu and Shein alone are likely responsible for more than 30% of all packages shipped to the United States daily under the de minimis provision, and likely nearly half of all de minimis shipments to the U.S. from China."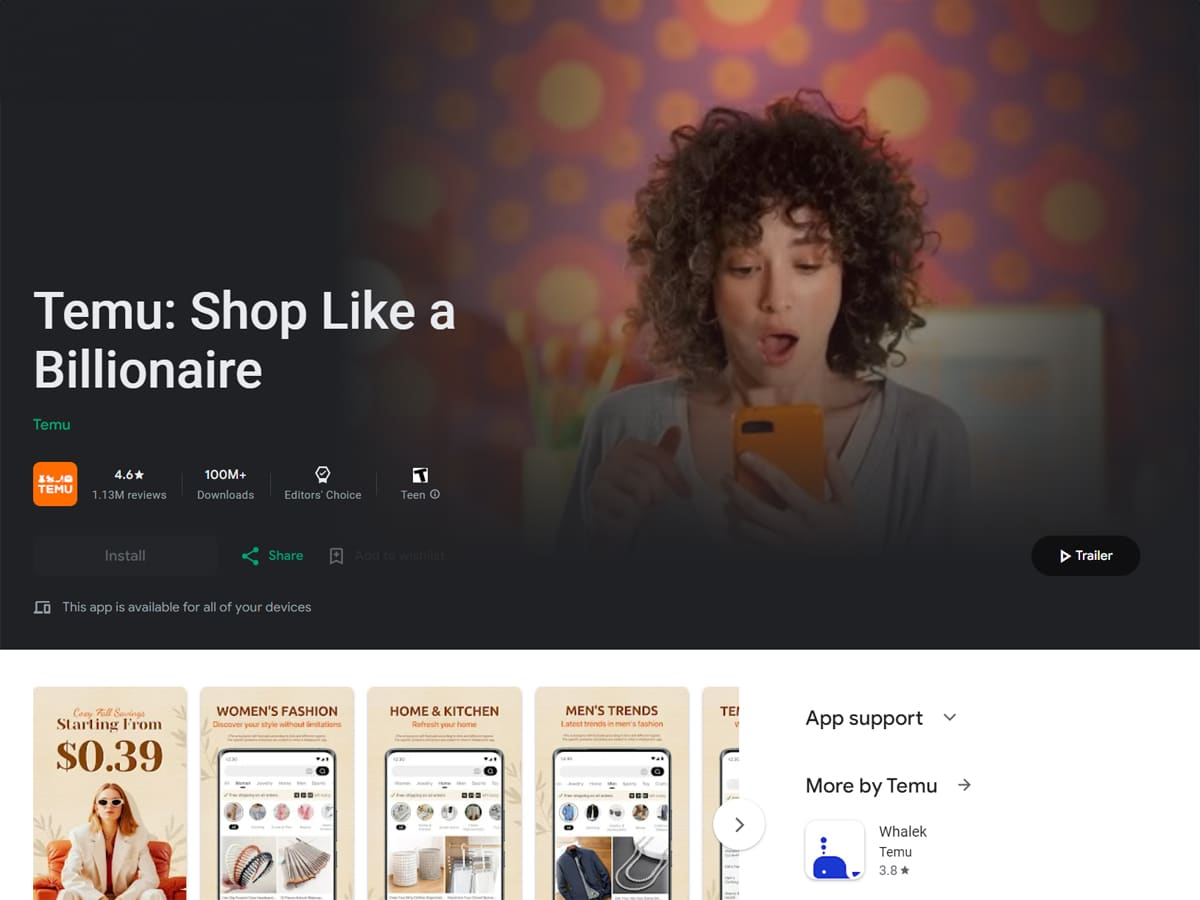 Is Temu Safe?
Main safety concerns revolve around data security, especially after the U.S. accused the shopping site of data risks after sister app Pinduoduo was pulled from the Google app store over "malware" concerns. We'll summarise some of the key findings below, but we strongly encourage you to read the full USCC issued report here.
The report states that PDD Holdings, Temu's parent company (which operates the related e-commerce platform Pinduoduo in China) was accused by China Labor Watch of "extreme overtime," where it was requiring employees to work 380 hours per month. The company faced protests online after several worker deaths in 2021.
However, in April 2023, CNN reported that multiple cybersecurity teams found sophisticated malware on Pinduoduo's mobile app for Google Android devices. The malware enabled the Pinduoduo app to bypass user security permissions and access private messages, change settings, view data from other apps, and prevent uninstallation.
Even with all of the information in these reports, there's no evidence that Temu is releasing customers' details or that the site is involved in any data breaches of any kind. Apps on the Google Play store and Apple App Store are all 'safe' by definition.
General FAQs
Where is Temu in Australia?
Temu is an online marketplace that ships products from China to Australia.
Are Temu and Shein related?
While both Temu and Shein sell super cheap products shipped from China, they operate different business models and are owned by different companies.
Is Temu AliExpress?
No, Temu and AliExpress are different.