Ooni Volt 12 Review: The Future Of Pizza is Electric
When Scottish start-up Ooni first set out to create a portable, premium pizza oven way back in 2012, it scarcely could have predicted the demand bubbling just below the surface. A decade since its inaugural oven launched, one pesky pandemic and a boom in home cooking later, it's fair to say that pizza ovens are challenging the humble barbeque for true backyard supremacy. Nowadays, it's not uncommon to hear stories of friends spending their weekends huddled around the miniature barn-like appliances, awaiting a true Italian experience. After spending two weeks with the Ooni Volt 12, the brand's first all-electric pizza oven, I'm beginning to believe the hype.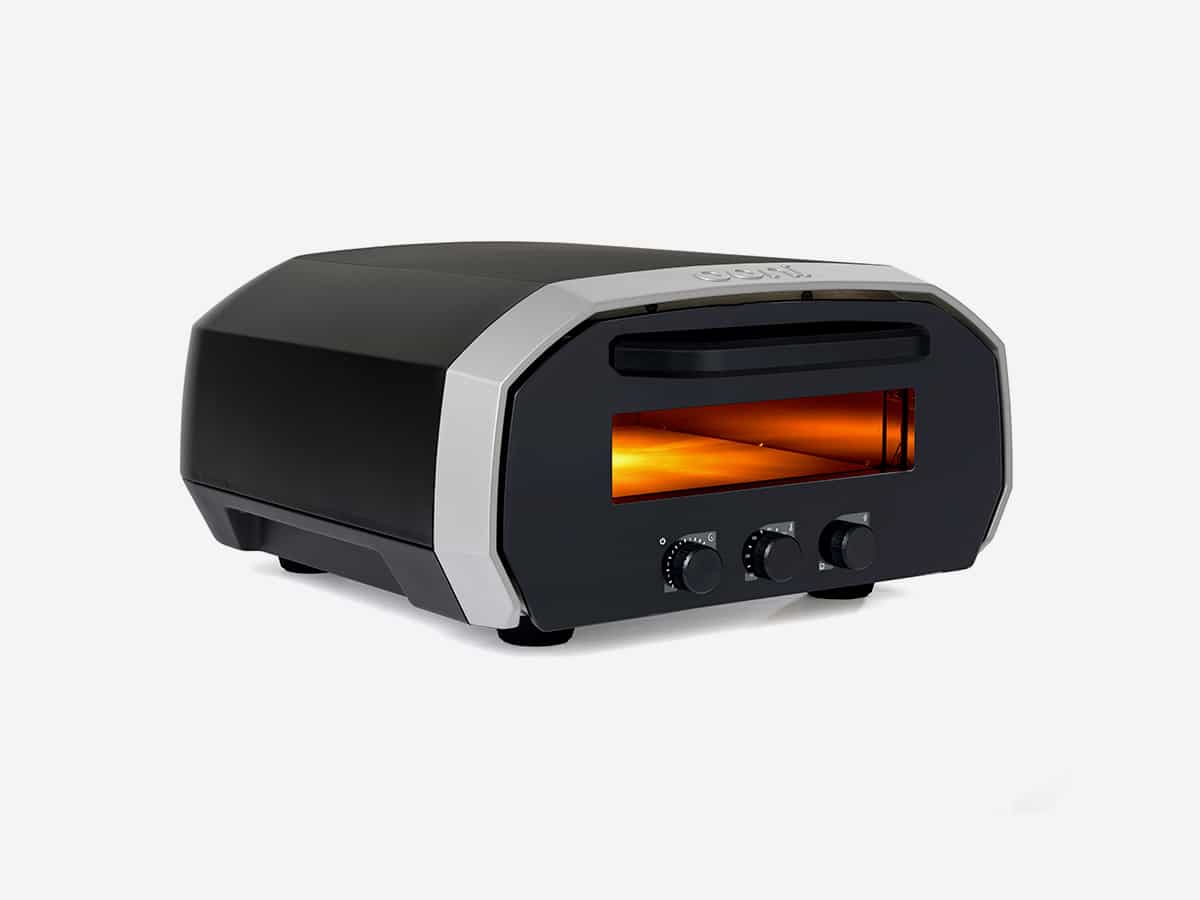 Ooni Volt 12 Design
For the uninitiated, Ooni's major strength over the past decade has been its ability to make wood-fired pizza accessible to the home cook. Most of the brand's products are powered by either wood and charcoal or gas, however, the Volt 12 takes things in an entirely new direction. For the first time ever, Ooni has managed to make the traditional pizza-making experience electric, without sacrificing flavour, and it's done so with a remarkably simple design.
Arriving wrapped in a sleek dark-grey body, the turtle-shaped pizza oven looks not unlike Ooni's previous releases, however, there are some significant upgrades. This time around, Ooni has adorned the stainless steel body with powder-coated carbon steel that helps with insulation. Even with the pizza oven raring at full heat, the top section remains at a lukewarm temperature, reducing the risk of injuries and burns. The door itself has even copped an upgrade, now crafted from a heat-retaining triple-paned borosilicate glass, which I've since learned is a fancy term for 'solid as a rock'.
Measuring in at around 60cm wide and 52cm long, the new Ooni Volt 12 is a little bigger than the standard air fryer or crockpot, so while portability is a major claim, it's certainly not the kind of appliance to have sitting out. Thankfully (and as the Ooni people assured me), the design is all-weather, allowing me to set my new pride and joy up outside under the patio.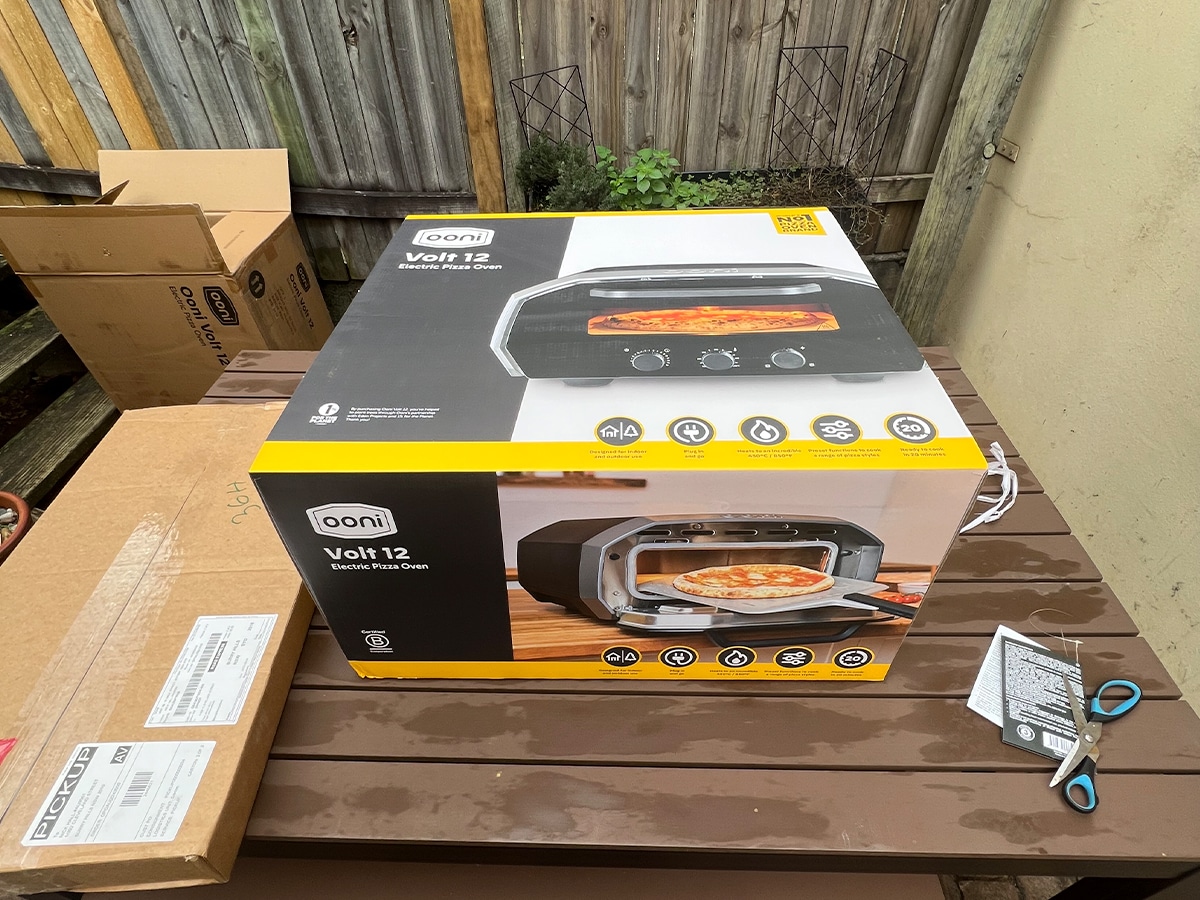 Set-Up
Perhaps the greatest advantage of the new Ooni Volt 12 pizza oven is the ease of set-up. The oven arrived in a large box that once opened, revealed a completely assembled product, essentially ready to go. All you have to do to get things started is slide the 13-inch cordierite baking stone out of its separate box and into the heart of the oven. From there, you heat it for 20 minutes to season it and then let it cool off. Once that's complete, it's (as Tobey Maguire said best) pizza time. The only downside here is finding a power outlet that is best suited to your ideal location.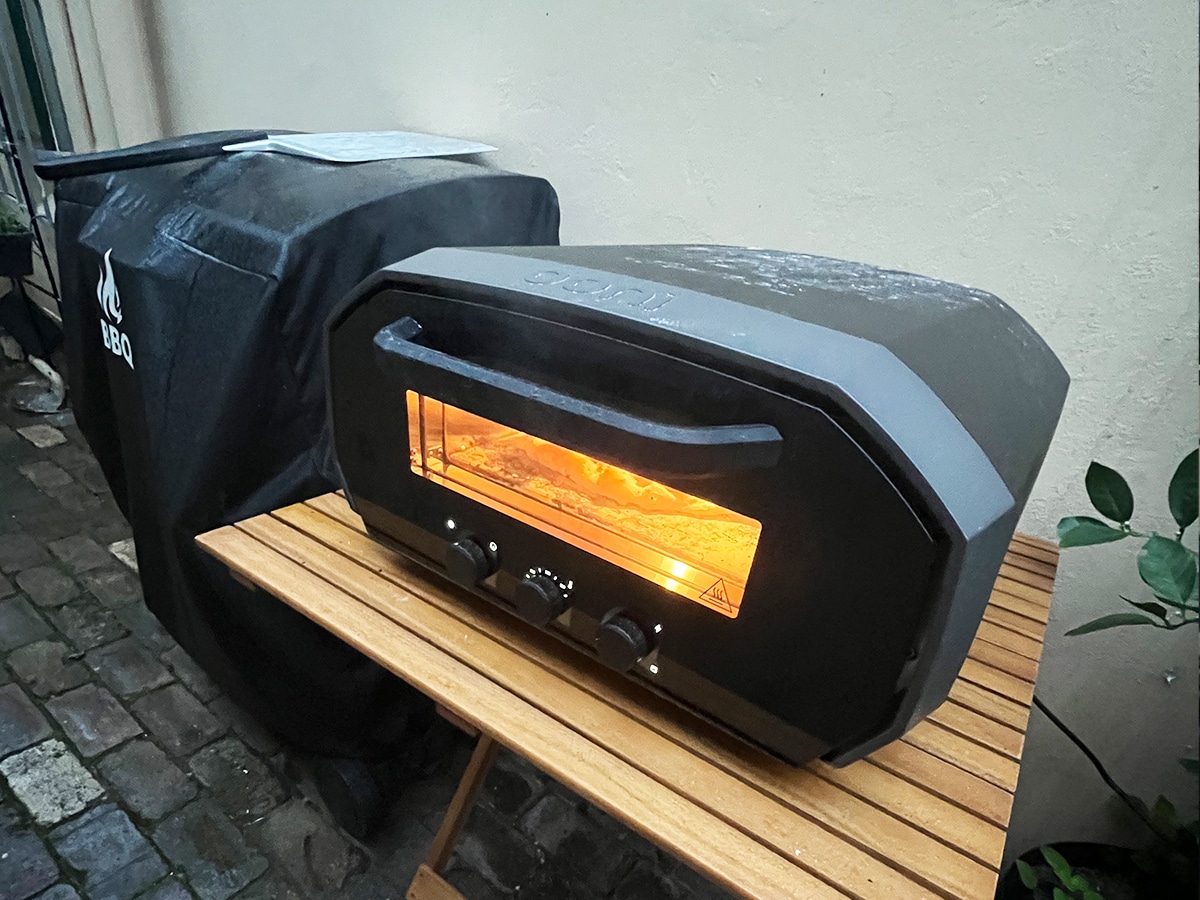 Cooking
When it comes time for cooking, the process is ridiculously straightforward. On the front of the Volt 12, you'll find three knobs that you can adjust and monitor in order to customise your cook. On the left is a timer, which while handy, has so far gone completely unused in our household. The middle knob dictates the temperature, which I've found to be best at around 350. Of course, different hydration and dough types will play an important factor in how you're pizza turns out, but as a general rule, anywhere between 350 and 400 seems to be the sweet spot for me.
On the far right is where things get a little interesting. Featuring a setting that Ooni refers to as 'Boost Mode', this knob is responsible for turbo-charging the heating process and giving you that little extra kick when it comes time to cater for a hungry household. You can also use this knob to switch heat back and forth between the top and bottom heating elements to adjust how the pizza stone bakes your meal. Again, this feature feels like it has some specific application, however, after three weeks with the Ooni Volt 12, I'm still yet to find what exactly that is.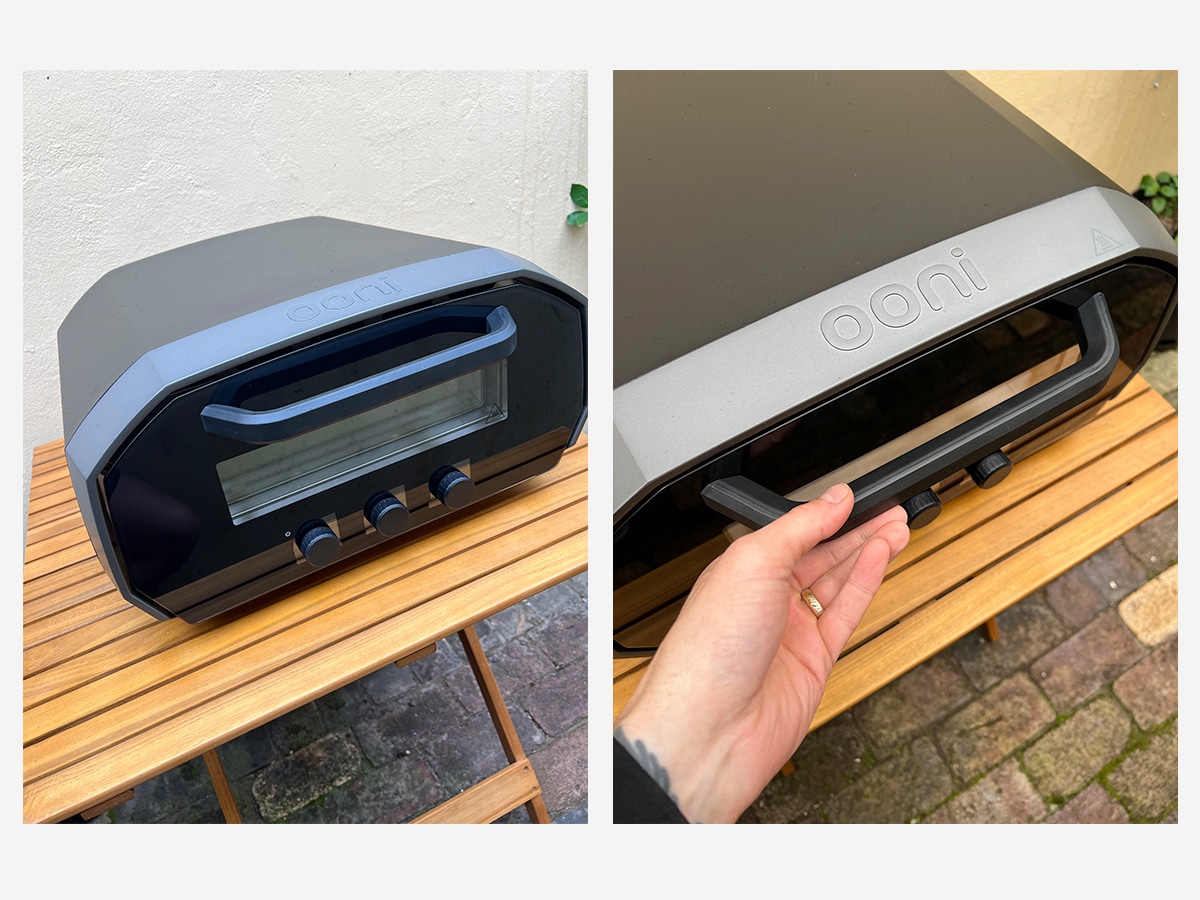 Heating
As mentioned, the use of electricity delivers a marked improvement in the realm of heating. While the previous wood-fuelled offerings arguably delivered a more authentic cooking experience, the Volt 12 cannot be beaten for balanced heating. By utilising electricity as its major power source, the oven guarantees an even surface for baking, which reduces the need for endlessly spinning your pizza once it's in, no matter how cool it may look to your friends.
---
Featured Video from Man of Many
---
One thing that genuinely struck me was just how quickly the Ooni Volt 12 heats up. Once I lock in the 400-degree temperature, I can head inside, get my ingredients ready and by the time I'm ready to go 15 minutes later, the pizza oven is ready to fire.
Of course, it's not always smooth sailing and there were a few failures along the way (mainly my fault, I'll admit), but that's half the fun. As a fan of more crispy pizza, I found that reducing the temperature gave me a more even cook without running the risk of burning the finished product or leaving things too doughy and undercooked. It's also worth pointing out that Ooni supplied an essentials booklet that provides some handy tips for cooking times and temperatures depending on your preferred style, but as I said, noodling around with the recipe is really the best part of cooking pizza.
One thing I would point out, however, is the amount of smoke that comes out of the Volt 12. While this is likely just the residual flour from the dough burning up, towards the end of your cook, the Vol 12 will star pumping out a solid stream of smoke. It will quickly dissipate, however, it's worth noting where in your house the smoke detectors are, if you choose to use it indoors.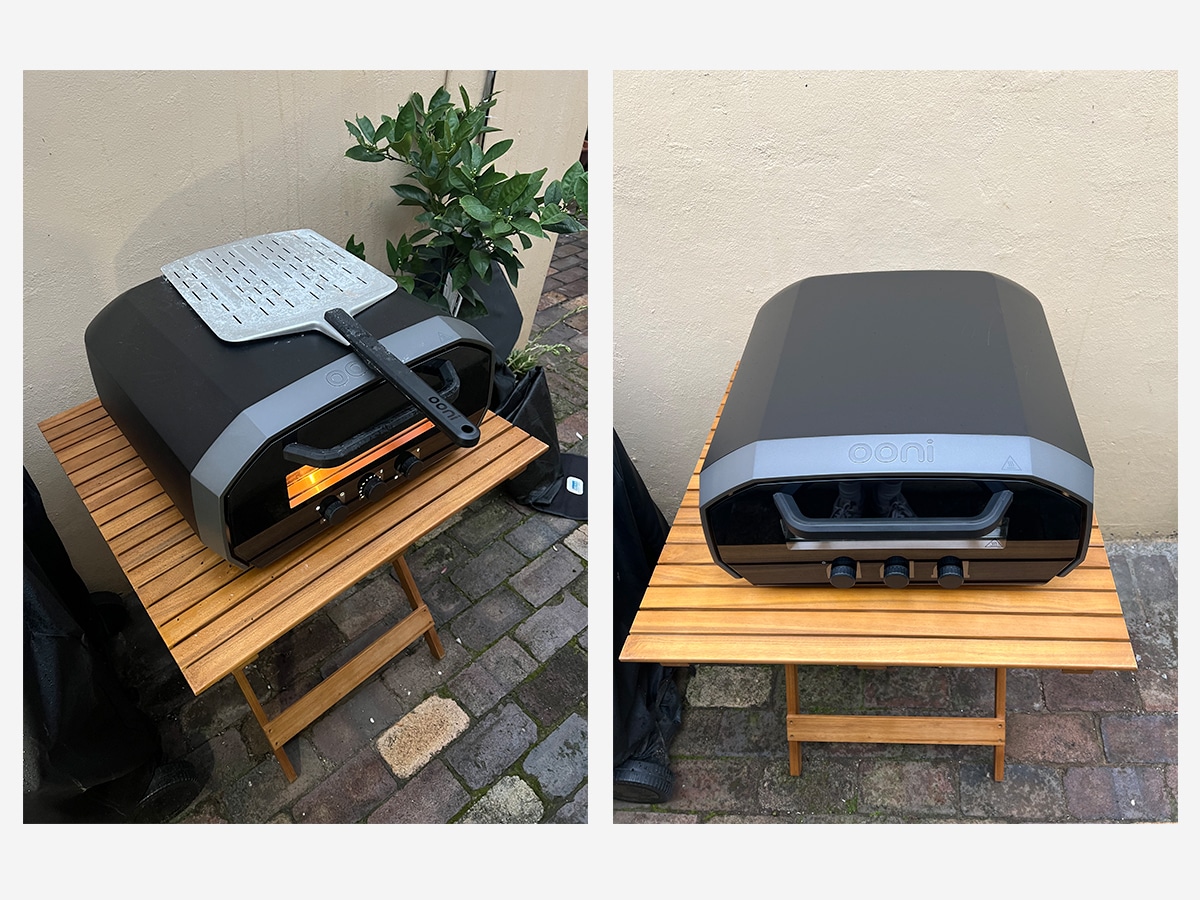 Features
Much like a Detroit deep dish, the Ooni Volt 12 is loaded to the brim with add-ons. While I found many of the features nice to have but not necessarily essential, it's certainly worth pointing out just how much work has gone into making the experience as intuitive and customisable as possible.
Boost Mode: A setting that enables you to transfer heat back and forth between the top and bottom heating sections as per your liking.
Improved Ergonomics: The new door hinge allows for ease of use when transferring pizzas to and from the oven. The guidebook even suggests having this door sit a little over the edge of the counter for best use.
Built-In Timer: With the built-in timer and temperature control, you are able to take complete control over your pizza cooking experience.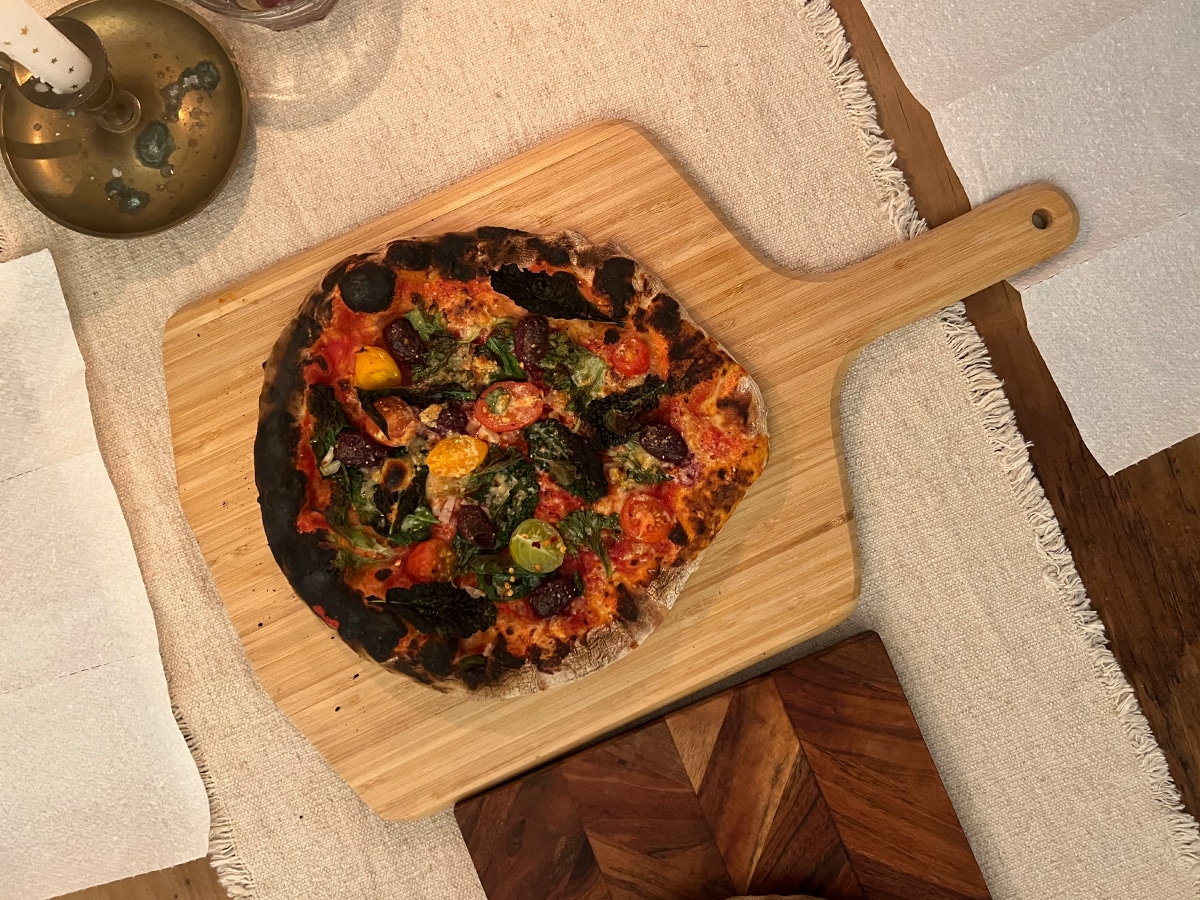 The Verdict
The Ooni Volt 12 really is in a league of its own. As arguably the only purpose-built indoor electric pizza oven, the new addition to the heralded lineup makes a strong argument for being the most versatile and portable offering on the market. The ease of set-up is amazing and the heating is borderline ludicrous, but it does come at a cost. Priced at around AUD$1,499, the Ooni Volt 12 is one of the most expensive pizza ovens on the market. The fact alone will be enough to turn some home-cooks off, but if quality pizza in a flash is something you value, the Volt 12 is practically unbeatable.
Disclaimer: The author of this post, Nick Hall, was provided an Ooni Vol 12 for the purposes of this review.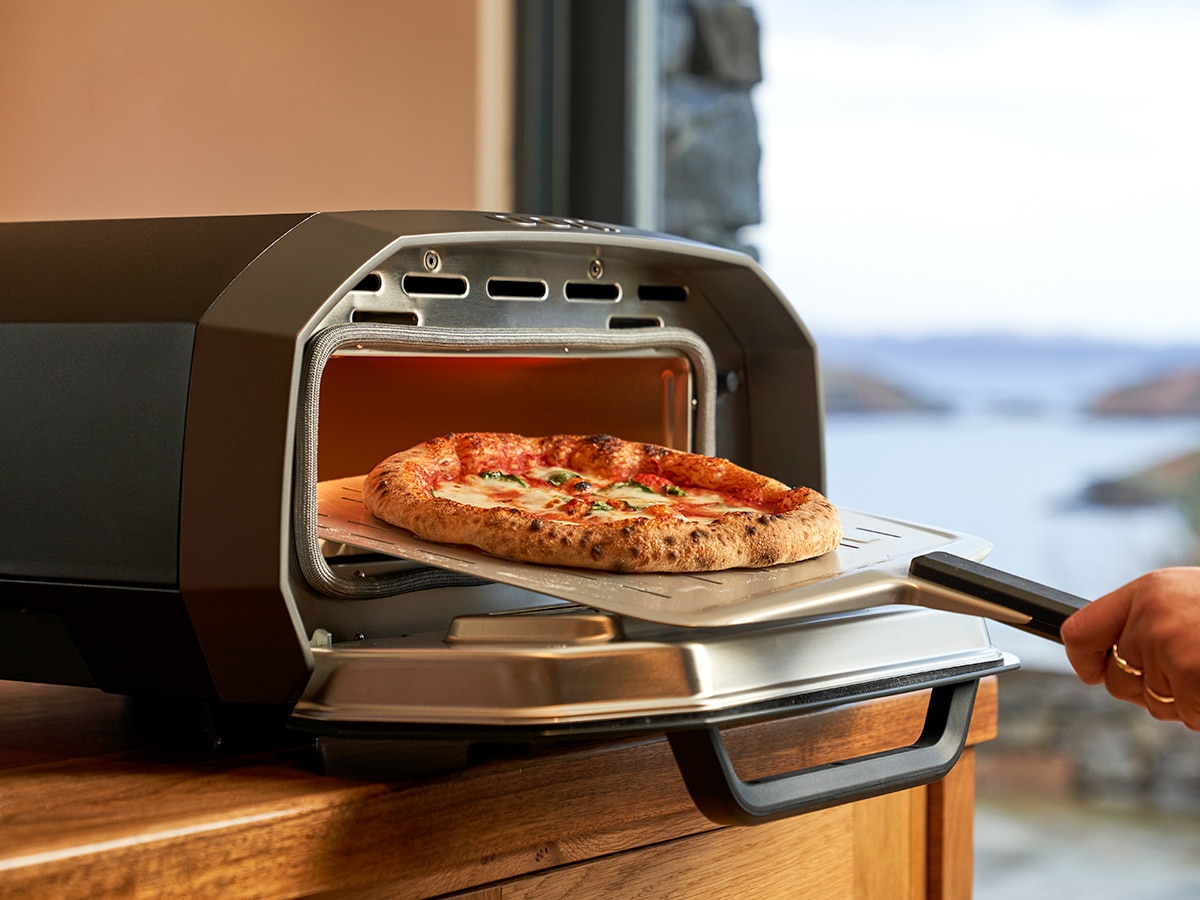 Ooni Volt 12 Electric Pizza Oven Specifications
Brand: Ooni
Model: Volt 12
Fuel source: Electric
Power: 1600 Watts
Voltage: 220-240 Volts
Dimensions: 61.7cm x 52.9cm x 27.9cm (24.2" x 20.8" x 10.9")
Weight: 17.8kg (39.2lbs)
Price: AUD$1,499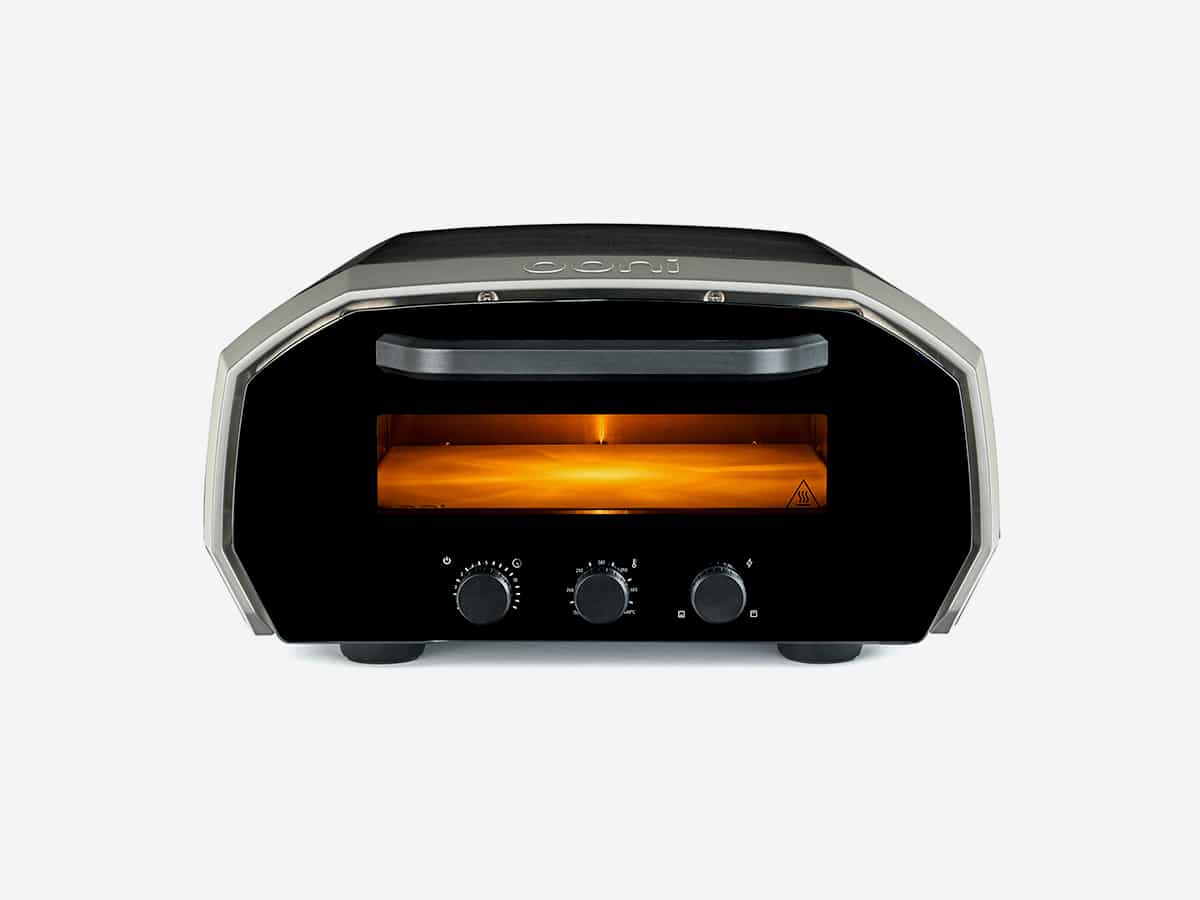 Ooni Volt 12 Electric FAQs
Why is Ooni Volt so expensive?
The Ooni Volt 12 electric pizza oven is one of the more expensive options on the market, however, it more than makes up for this in versatility. Whereas other models are subject to environmental conditions, the Volt 12 is portable enough to be taken on a trip and can be used year-round. Better still, the high-tech additions, such as the boost heating function are top-of-the-line.
What temperature is the OONI Volt 12?
The Ooni Volt 12 can reach temperatures as high as 850 °F (450 °C) in just 20 minutes. As a result, the electric pizza oven can bake Neapolitan-style pizza in just 90 seconds.
---
Featured Video from Man of Many