23 Best Interior Design Websites and Blogs
Nothing says you're living in style quite like a well-executed decor, but for that, you can usually use a little guidance. Enter the best interior design blogs, which will load and reload your brain with a variety of pictures, articles and ideas whenever you're in need. Want to do up the living room art deco style? Or maybe you're aiming for a spacious, minimalist layout. No matter what, the best interior design websites have it covered. Plus, even if you're not decorating, it's always fun to see what other people are up to these days.
Here are the 23 Best Interior Design Blogs – use them wisely.
You'll also like:
Could You Live in This Luxury Home in the Desert?
Kanye West Drops $79 Million on a Brutalist Beachfront Compound
150-Year-Old Barossa Homestead Transformed into a Luxury Escape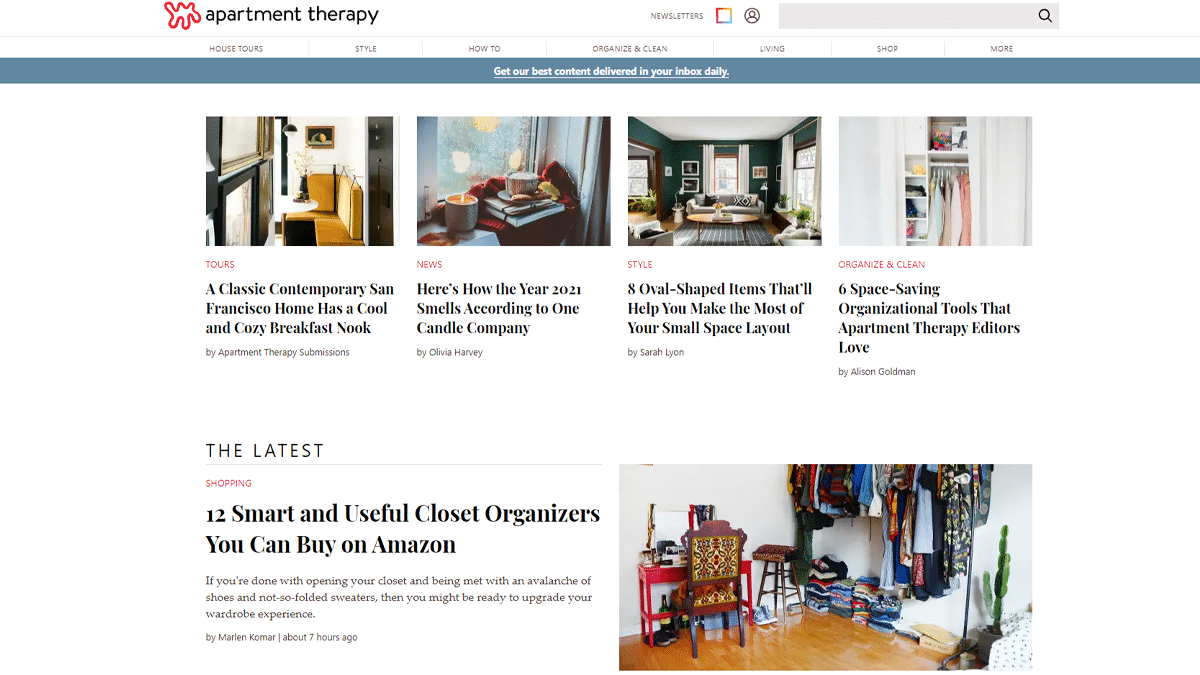 1. Apartment Therapy
One of the best interior design websites for those on a budget, Apartment Therapy is your indispensable resource for making the most out of your home and wallet. For over a decade, the site has delivered valuable solutions to millions of people all over the world, dispensing shopping guides, DIY how-to's, and general pointers alike. Suffice to say, throwing this site on the list was a no-brainer.
Founder: Maxwell Ryan, Oliver Ryan
Year Started: 2004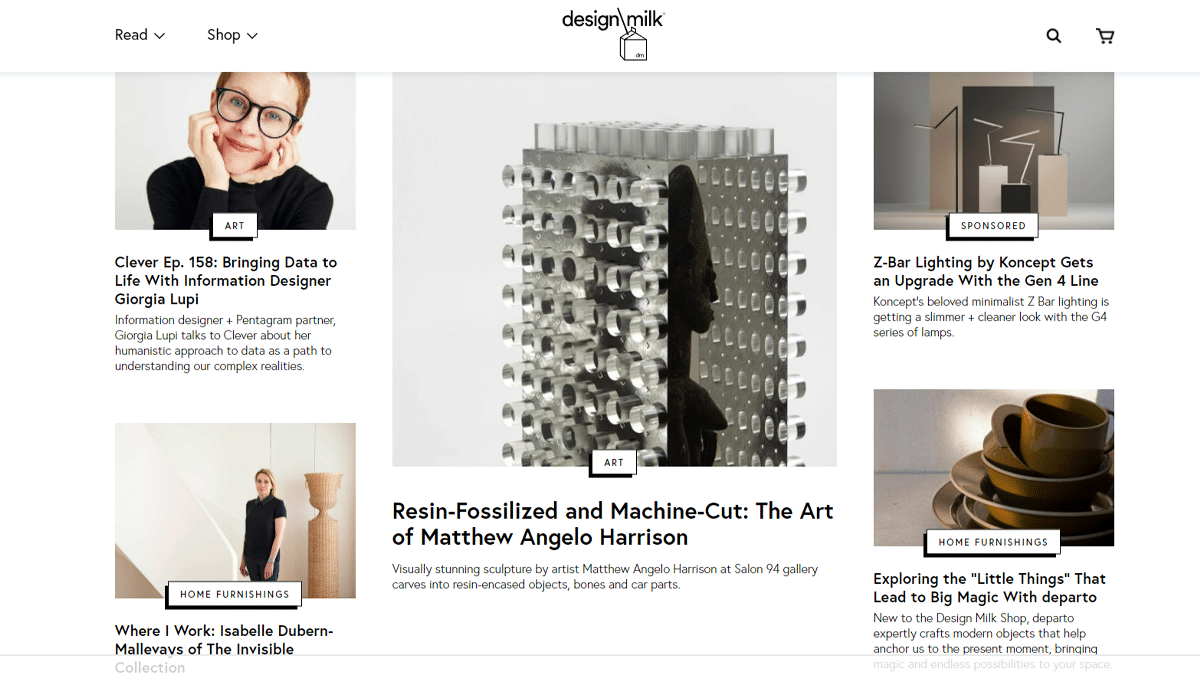 2. Design Milk
Like a cold glass of the creamy stuff, Design Milk keeps it fresh. That means bringing readers the latest in all things living, from art to interior design to fashion to everything in between. Thanks to a fun-loving staff and a regular rotation of addictive content, Design Milk remains not just one of the best interior design blogs, but one of the best lifestyle sites, period.
Founder: Jaime Derringer
Year Started: 2006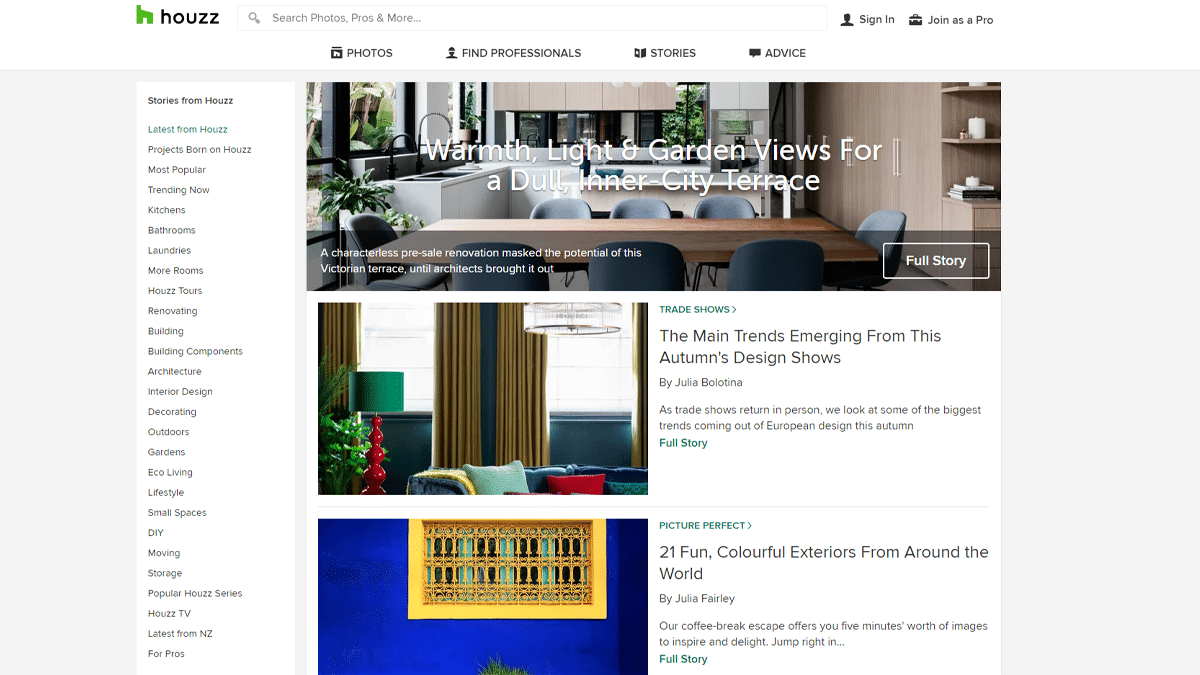 3. Houzz
Frustrated by the growing stacks of interior design magazines they'd accumulated, homeowners Adi and Alon created Houzz as the means to a better way. The popular online hub allows homeowners, professionals and enthusiasts from around the world to connect, post, share and motivate. It's the beauty of inspiration, minus the clutter, and one of the best interior design blogs to help get your project off the ground.
Founder: Adi Tatarko, Alon Cohen
Year Started: 2009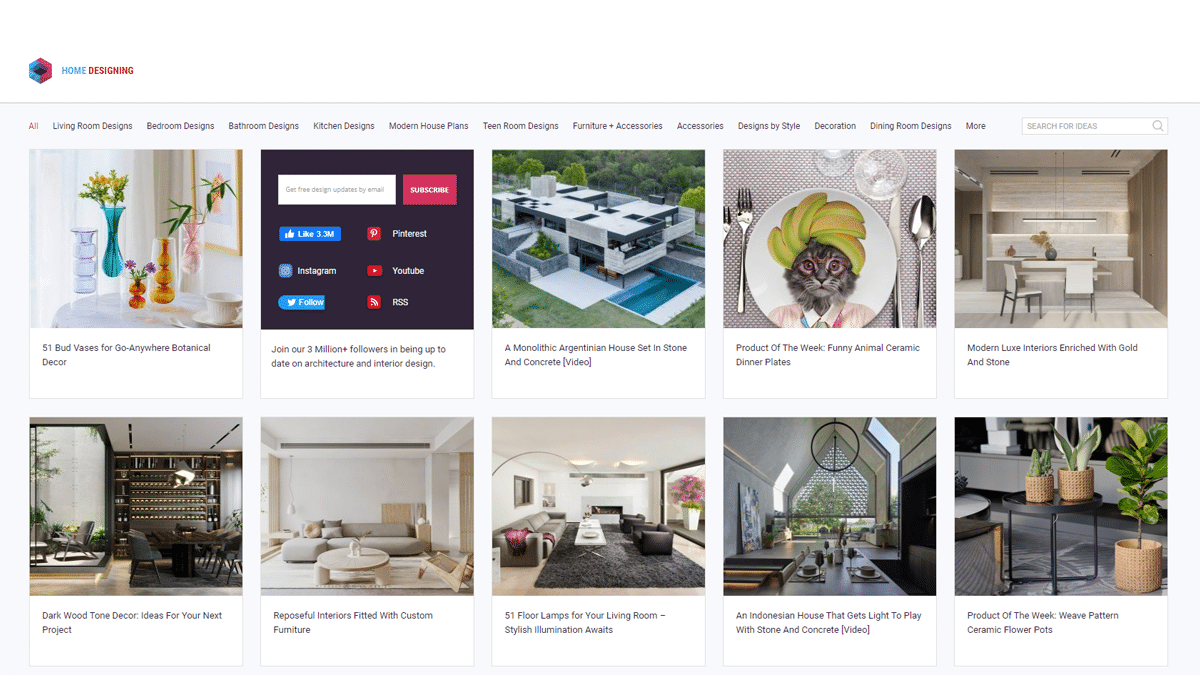 4. Home Designing
The objective at Home Designing is preciously straightforward: they want your home to be its best. That means dropping daily visuals of specific designs and hot trends from around the globe. Pair that with insightful writing and you end up with one of the best interior design blogs on the Internet.
Year Started: 2008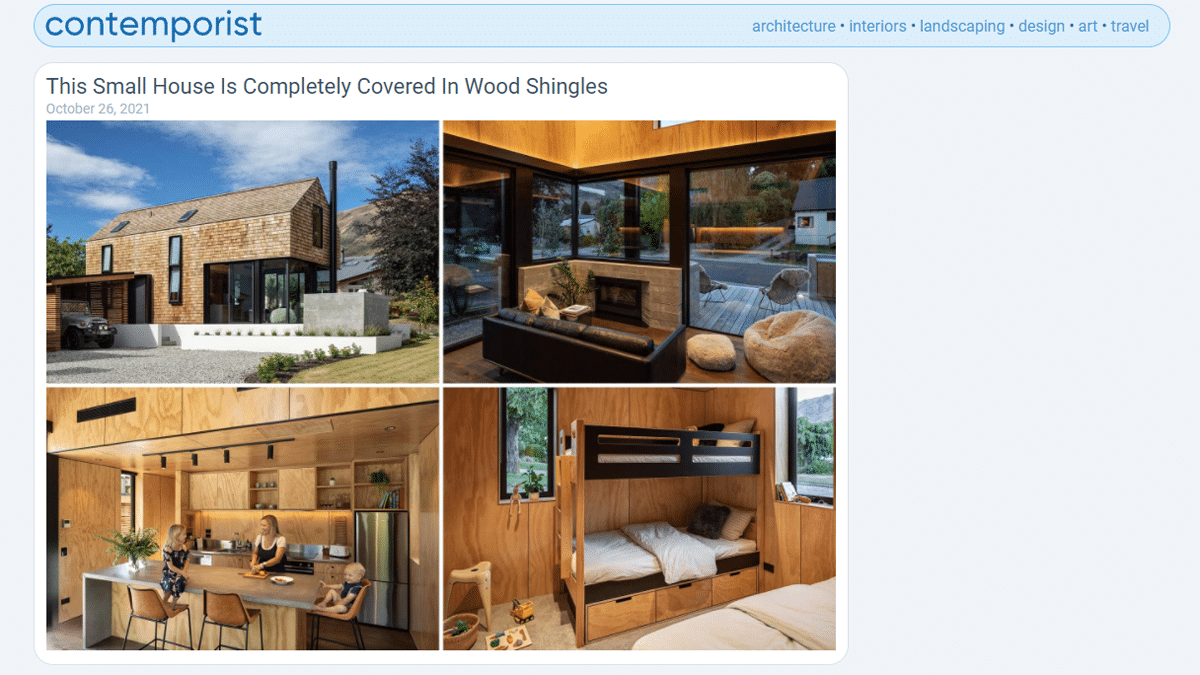 5. Contemporist
Taking its name to heart, Contemporist delivers resoundingly current content on a range of topics like art, travel and, of course, interior design. As such, the site remains an essential destination for industry professionals and enthusiasts alike. If it's happening now–as in this very moment–you'll find it on Contemporist before you find it anywhere else.
Year Started: 2007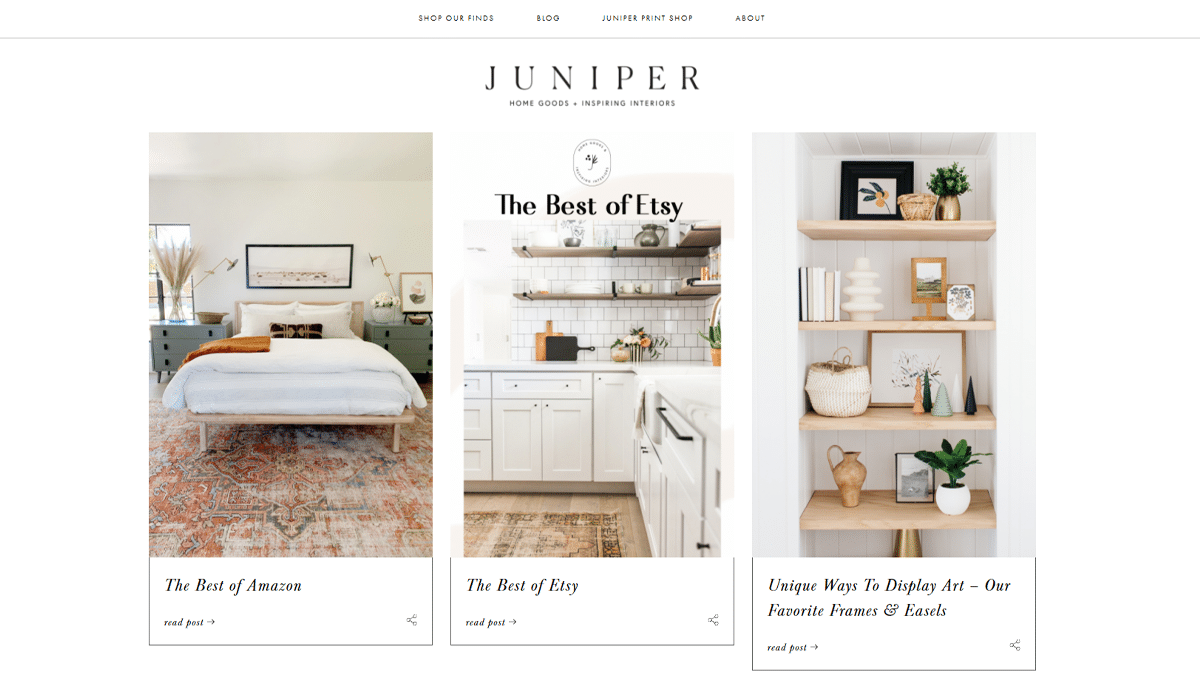 6. Juniper Home
As our list of best interior design websites and blogs goes to show, there's sometimes a skewed line between "blog" and "full-blown publication". Juniper Home does a bit of both, which gives it a welcoming human touch. Run by Arizona-based interior designer Jenny Komenda, the blog is like an approachable window into Jenny's favourite ideas, products and projects. Sometimes you just need to see eye-to-eye with one expert in order to land on the right design. Come here to meet that expert.
Founder: Jenny Komenda
Year Started: 2007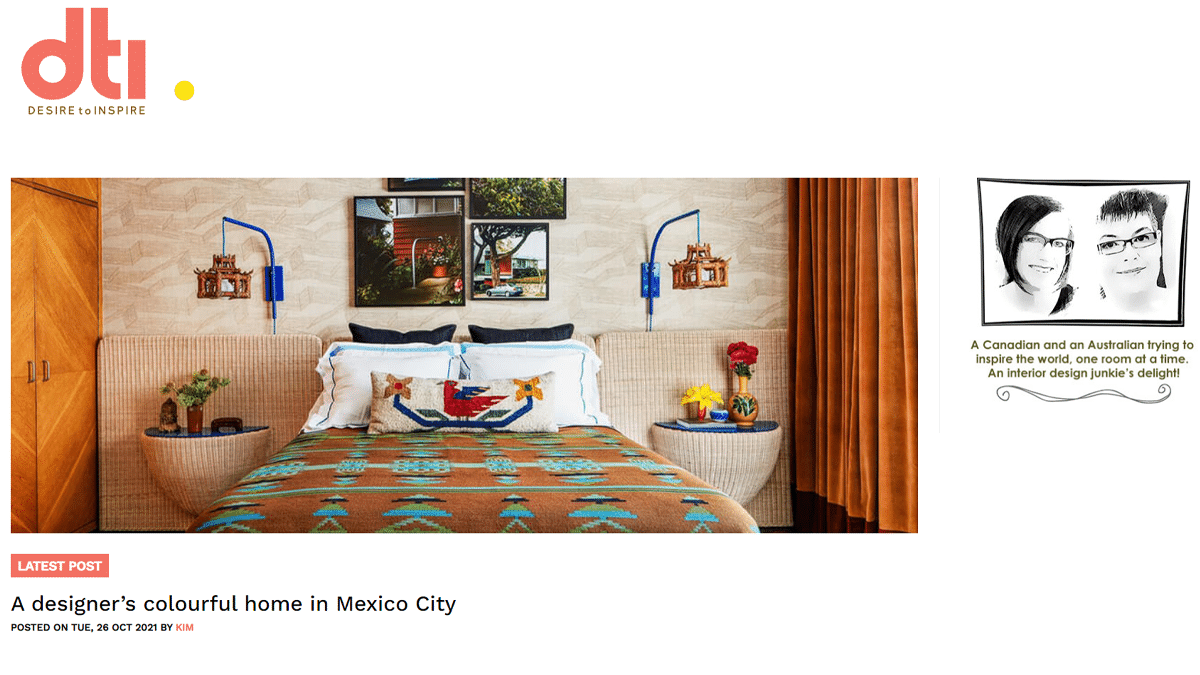 7. Desire to Inspire
Canada-based Kim and Australia-based Jo have never met in person, and yet their mutual love of decorating was so strong it spawned one of the best interior design blogs on the web. Indeed, Desire to Inspire is so passionate about its premise that you can't resist heeding the call.
Founder: Kim Johnson, Jo Walker
Year Started: 2010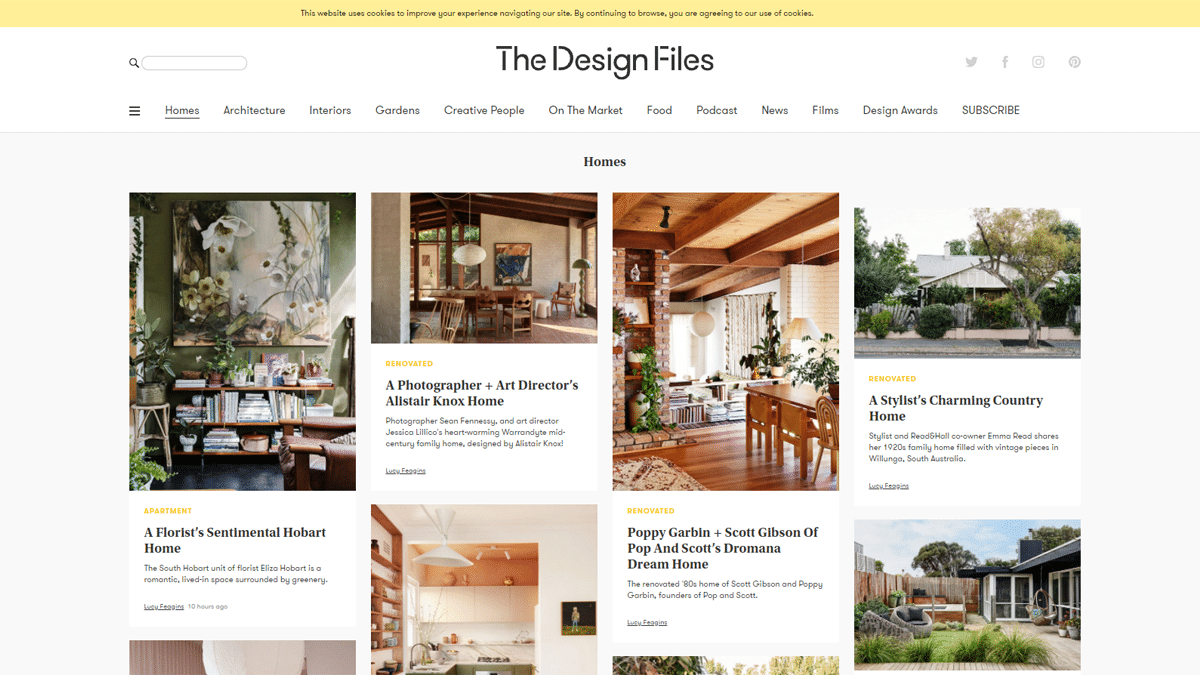 8. The Design Files
Stylist Lucy Feagins started The Design Files in 2008 and reaped acclaim more or less instantaneously. Years later, the top interior design blog remains a veritable resource, with the ongoing popularity to show for it.
Founder: Lucy Feagins
Year Started: 2008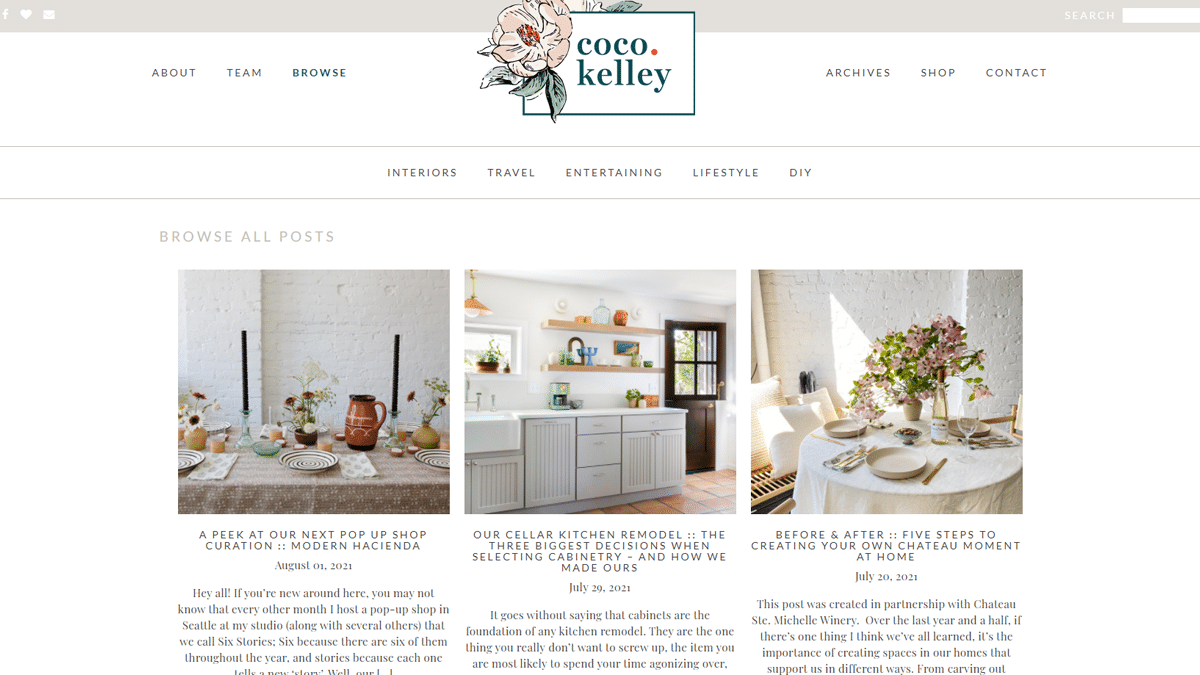 9. Coco Kelley
Since 2007, Coco Kelley has been curating design ideas, partnering with lifestyle brands and dispensing pointers to a heavily engaged audience. The site leaves no stone unturned, as evidenced by their extensive coverage and their foundational mantra: "Life is in the details. Style accordingly."
Founder: Cassandra LaValle
Year Started: 2007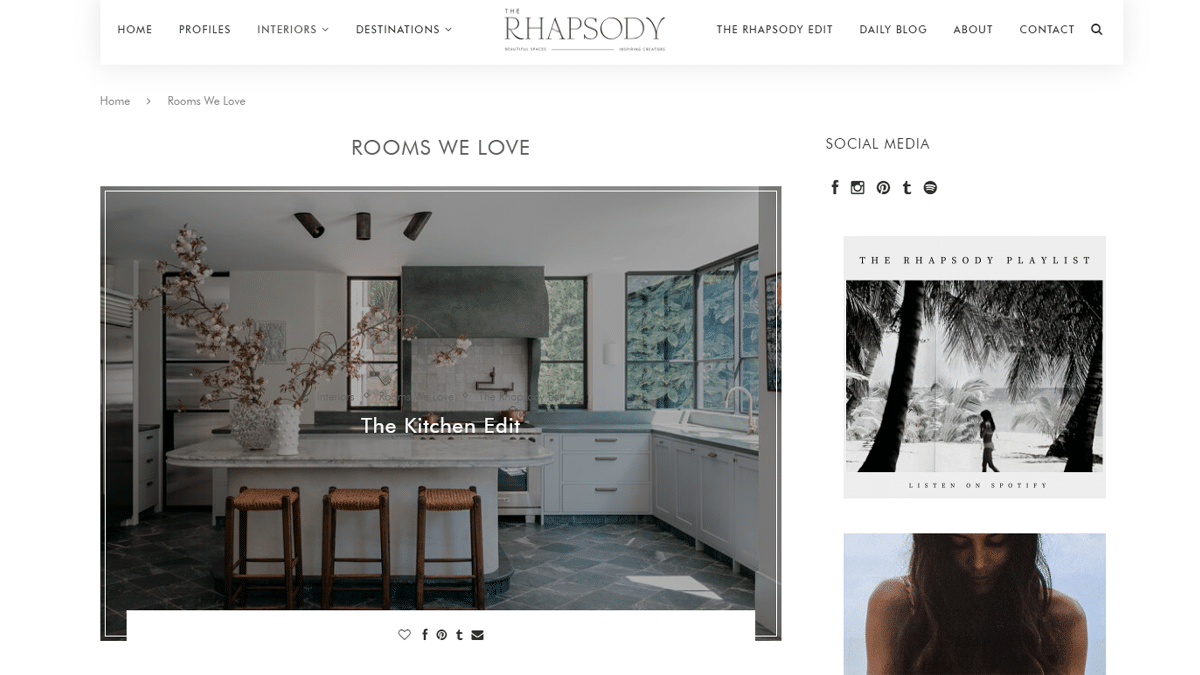 10. The Rhapsody
Primarily covering the 'bohemian luxe' style in all its eye-catching glory, top design blog The Rhapsody serves up a mouthwatering buffet of brilliant interior design features. However, what separates this legendary blog from the pack is that it digs beneath the flashy veneer to bring the bohemian luxe aesthetic within wallet's reach. That alone is more than enough to have us waxing rhapsodic.
Founder: Phoebe and Bly Carpenter
Year Started: 2015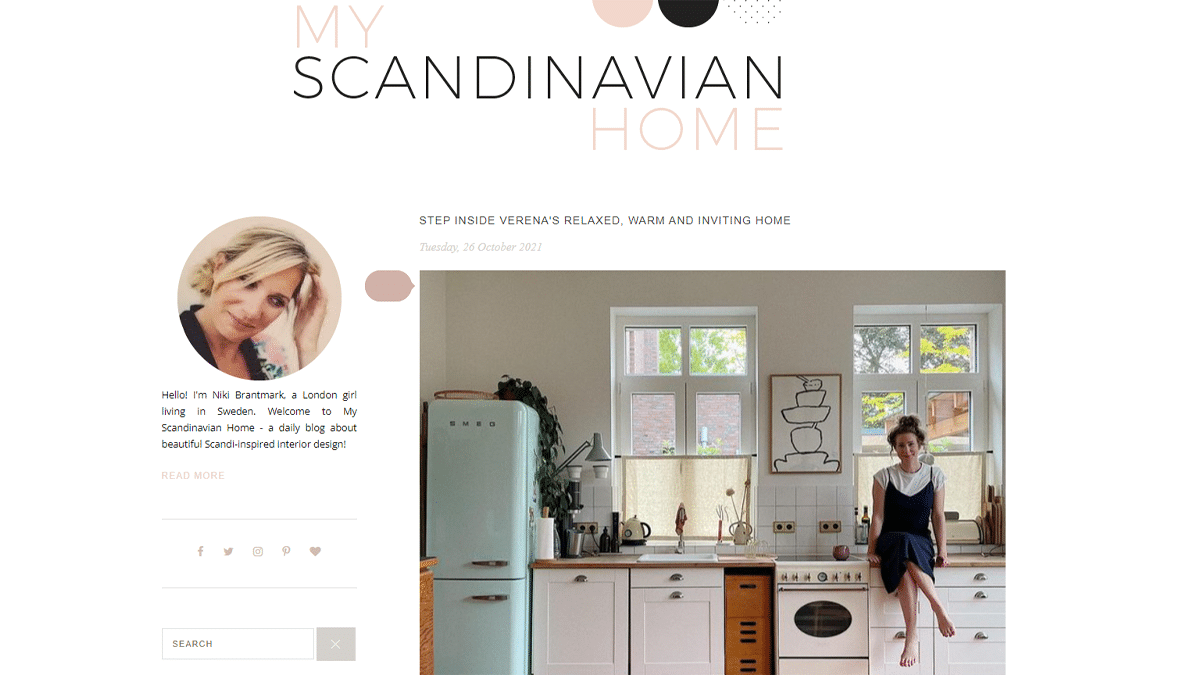 11. My Scandinavian Home
Defined in equal parts by its beauty, quality and simplicity, Scandinavian interior design is purposefully crafted to welcome and inspire. It's therefore no wonder that London gal Niki fell in love with the movement as soon as she moved to Sweden ten years ago. That prompted her to create My Scandinavian Home, which highlights the best in Scandinavian design with frequent nods toward adjoining vintage and industrial aesthetics.
Founder: Niki Brantmark
Year Started: 2011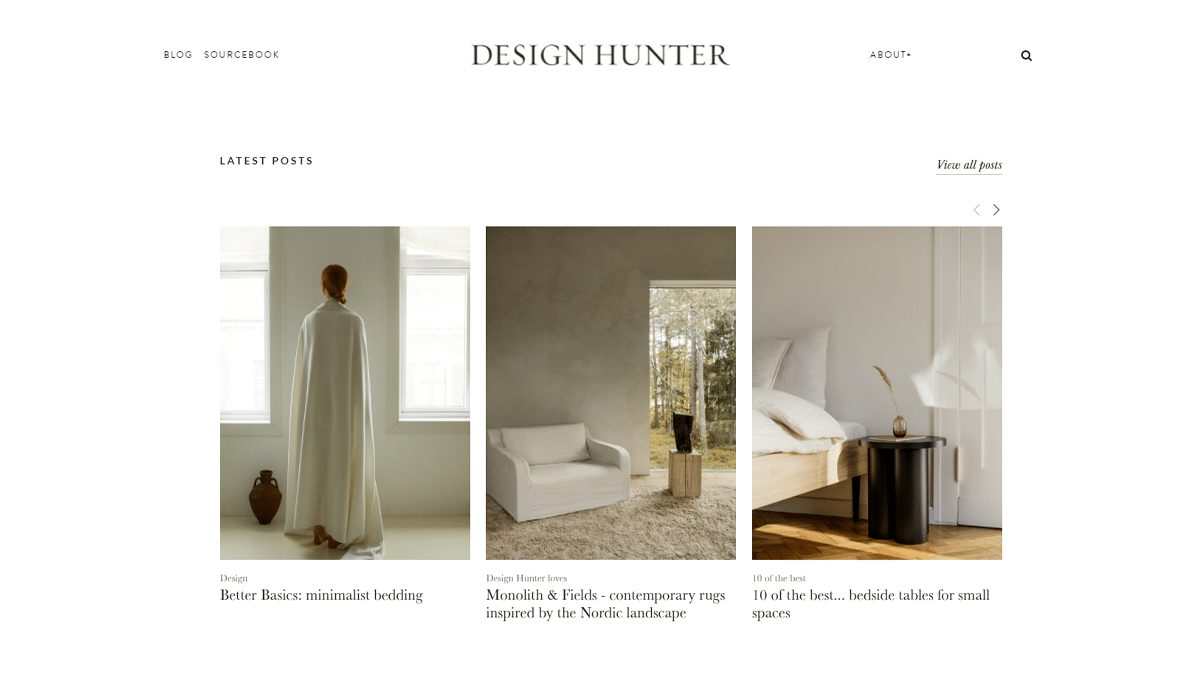 12. Design Hunter
Her name is Helen Powell and she's on the hunt for the latest and greatest in modern design. Since 2009, Helen has shared her spoils through Design Hunter, which goes big on photography and information alike. If you're likewise on the hunt for the best interior designs, look no further.
Founder: Helen Powell
Year Started: 2009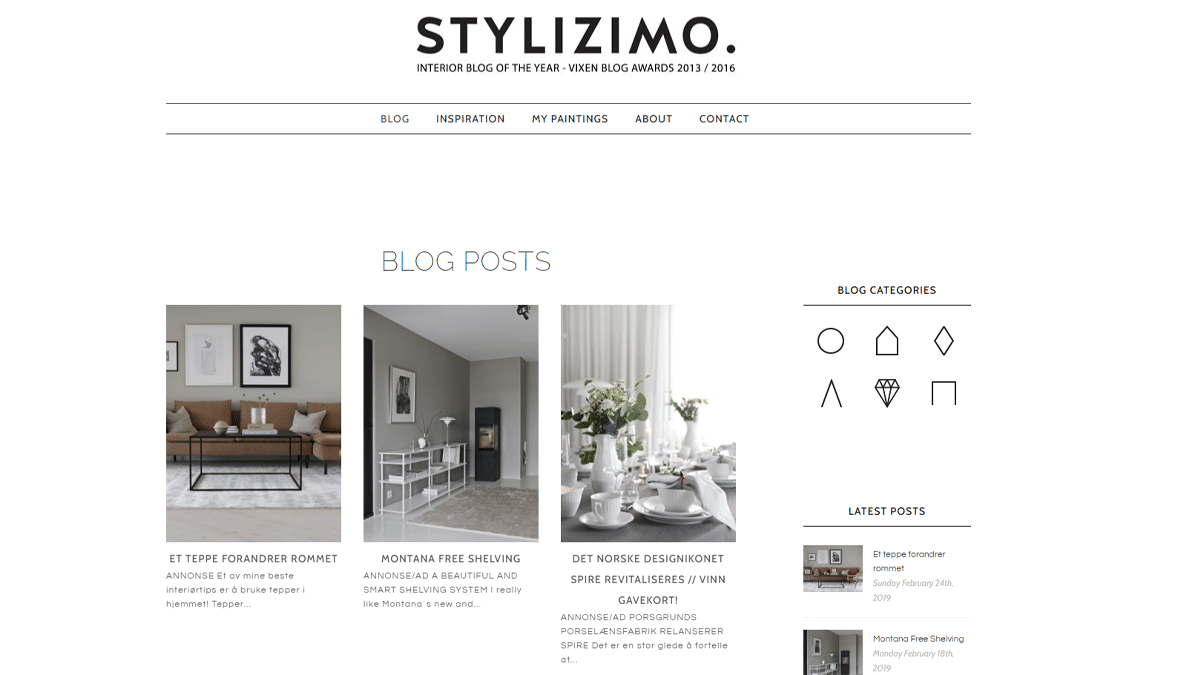 13. Stylizimo
What began as a hobby is now a full-time profession for a Norwegian girl named Nina. The talented painter and self-proclaimed interior design junky maintains Stylizimo, easily one of the best interior design blogs around. Nina takes most of the pictures herself, and even offers her favourite products up for sale in a shop section. Hence, Stylizimo is an authentic trip into Nina's world, and one definitely worth taking.
Founder: Nina Holst
Year Started: 2010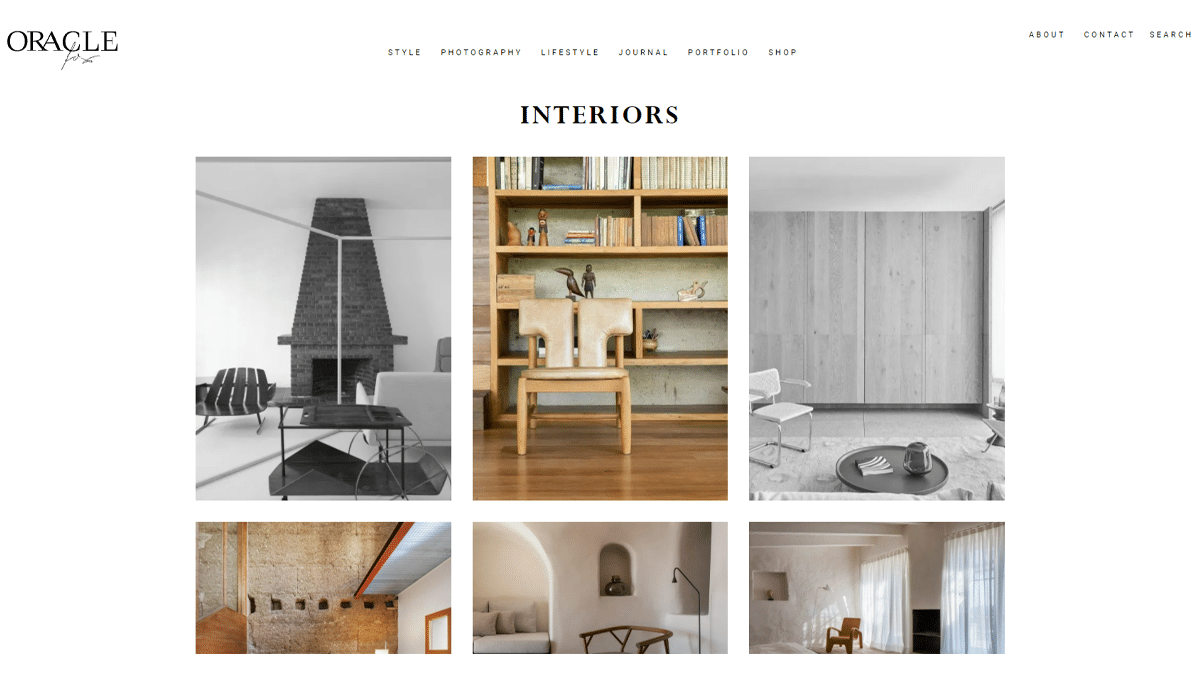 14. Oracle Fox
Amanda Shadforth is the Oracle Fox, an industry leader when it comes to fashion and interior designers alike. Join 1.5 million fellow readers by scoping Amanda's spectacular blog, which keeps you squarely in the know on all things piping hot.
Founder: Amanda Shadforth
15. Est Living
As a thriving community of designers, stylists, photographers, and writers, est prides itself on covering "global living with an Australian twist". That means scouring the planet for creative designs and styles that capture the Aussie spirit. The top blog also profiles Australian manufacturers and designers, exposing local talent to the world stage in the process. It all looks pretty sweet to us.
Founder: Sian MacPherson
Year Started: 2011
16. Trendir
Awash with gorgeous photography and sharp writing, Trendir keeps daily pace with the changes as soon as they happen. When it comes to decorating, you want to get trends while they're hot, and Trendir grabs those trends right out of the oven.
Year Started: 2005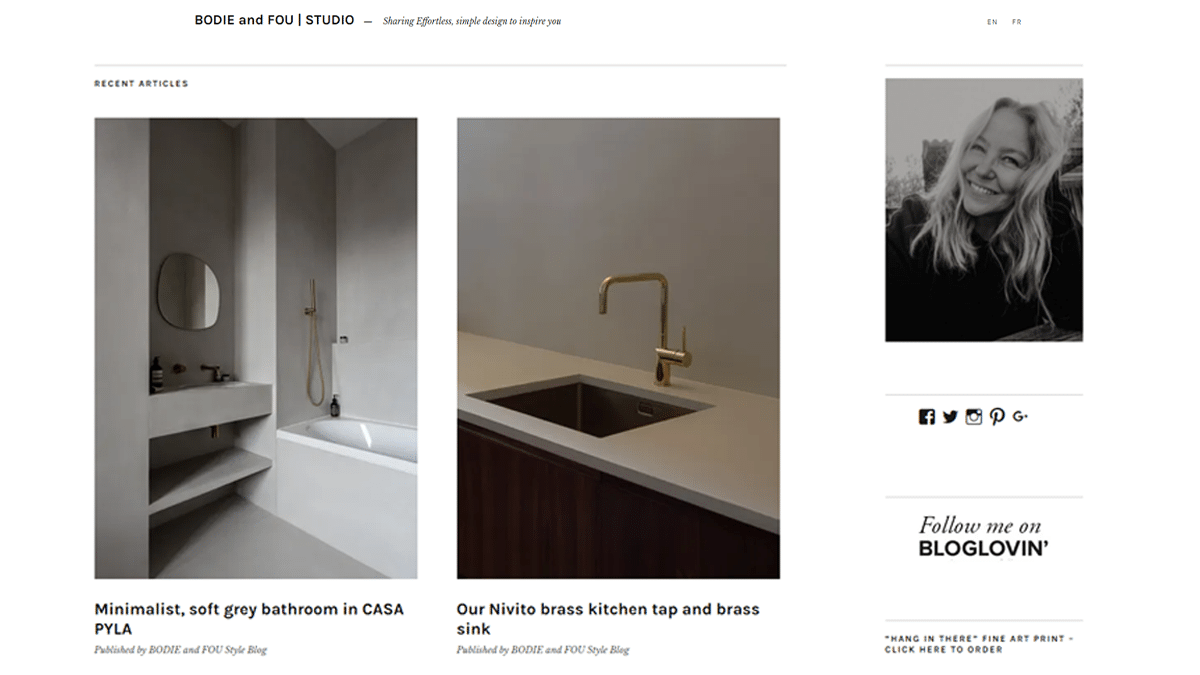 17. Bodie and Fou
Launched in 2007 on the heels of a popular concept store with the same name, Bodie and Fou is Karine Candice's brilliant foray into minimalist design and inspirational style. If, like Karine, you're perennially young at heart with a penchant for travel and decorating, you've come to the right place.
Founder: Karine Köng
Year Started: 2007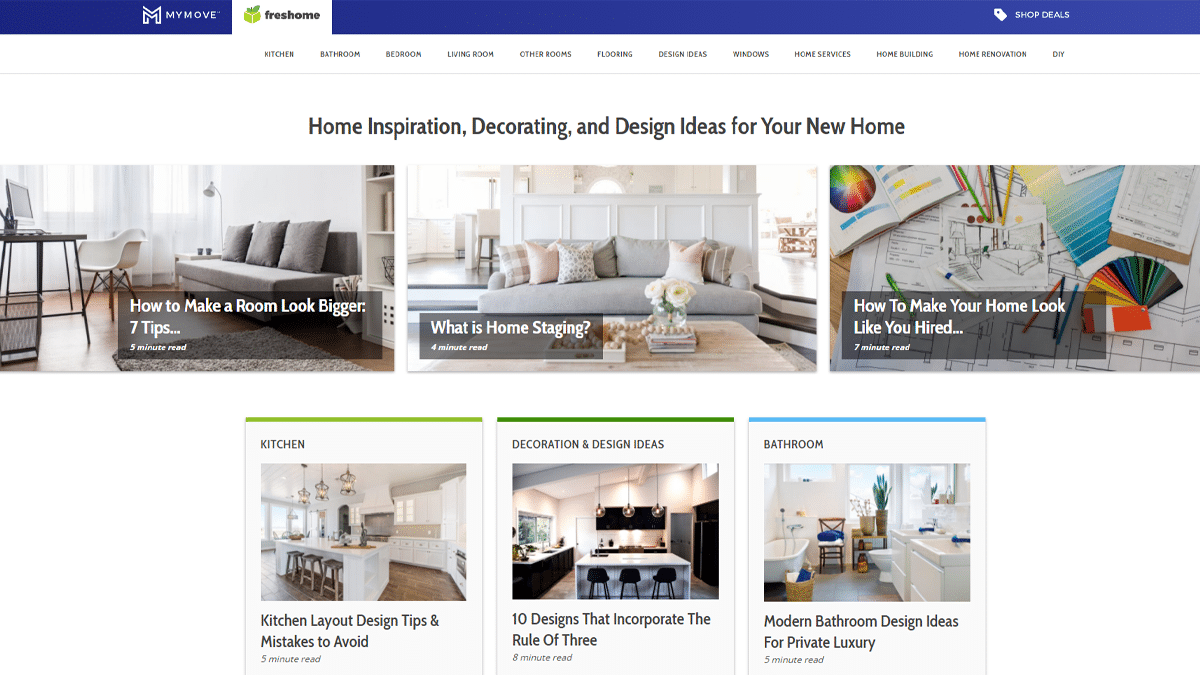 18. Freshome
With its fingers squarely on the industry's pulse, Freshome has become a premier destination for the latest in architecture and interior design. Put simply, you can come here with a blank slate and leave with a head full of ideas.
Founder: Micle-Mihai Cristian
Year Started: 2007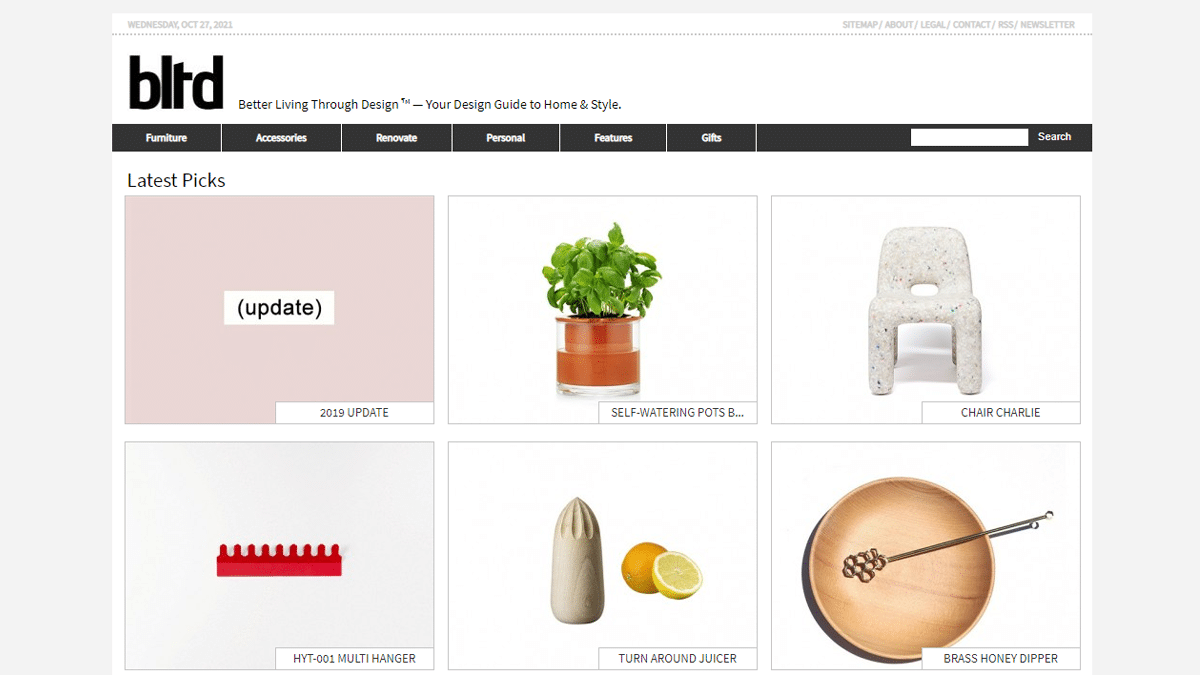 19. Better Living Through Design
Decorating and shopping go hand in hand, and Better Living Through Design is your one-stop resource for the best home furnishing products. The site scours the web all day long to bring readers the absolute cream of the crop, saving you copious amounts of time and putting your judgment in the hands of experts.
Year Started: 2005
General FAQ
What are some interior design sites like apartment therapy?
Design Milk is an interior design website similar to apartment therapy. They have profiles from designers, product focused articles and organisational information.
What website do interior designers use?
There are a number of sites that interior designers use, including Houzz, Design Milk and to a lesser extent Pinterest. Here you can get ideas, find professionals and even shop online to create the home you want.
You'll also like:
Could You Live in This Luxury Home in the Desert?
Kanye West Drops $79 Million on a Brutalist Beachfront Compound
150-Year-Old Barossa Homestead Transformed into a Luxury Escape