12 Best Standing Desks for Your Home Office
Standing desks can transform your home office and fix your back in the process. For office workers doing the typical 9 to 5, sitting at a desk all day tends to be par for the course. While this daily work habit may seem routine, your body disagrees. Here are the best standing desks for home office's guaranteed to provide you with lasting health benefits. Your back will thank you.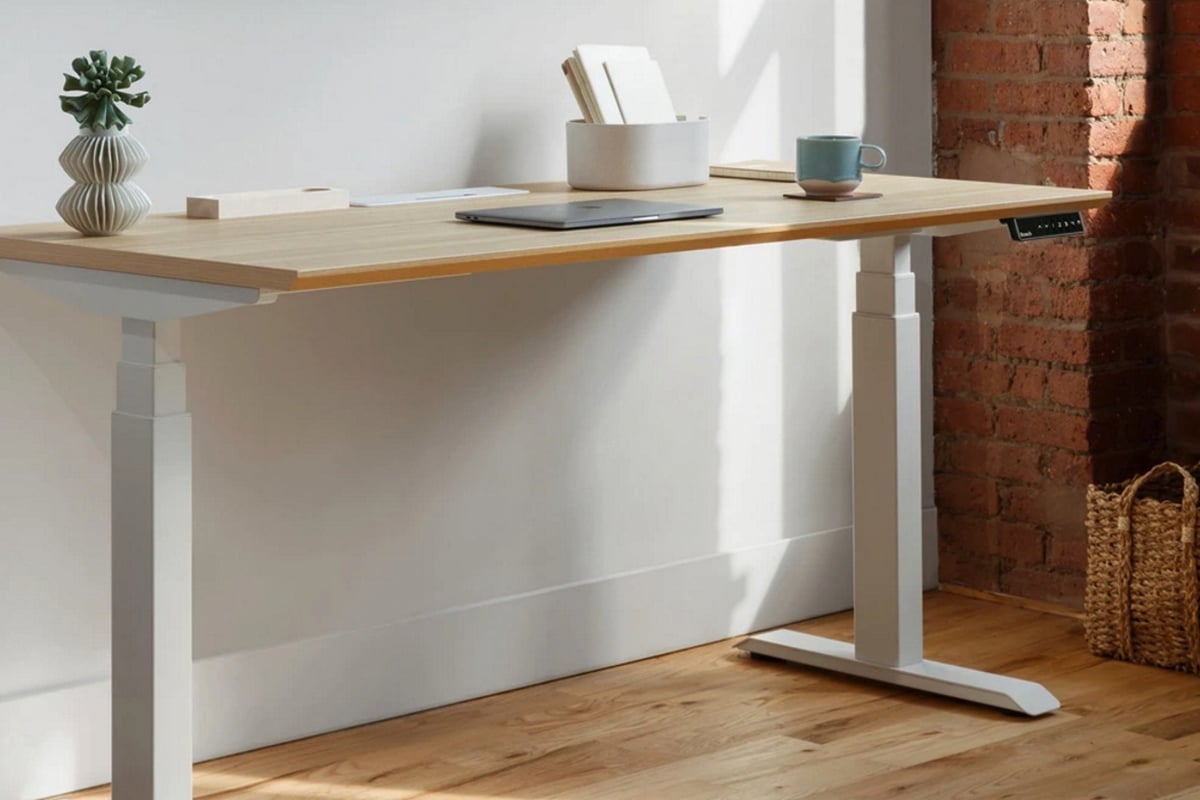 1. Branch Standing Desk
The Branch Standing Desk is one piece of furniture that looks almost as good as it functions. The dual-purpose standing desk features dual motors and three-stage columns for a quick, quiet raise. Better yet, the high-tech standing desk also comes with easy wire organisation with brushed cable grommet; centimetre-level adjustment and a keypad with four memory presets.
Material: Impact- and stain-resistant laminated melamine top, with coated 3mm steel legs
Style: Modern
Colour: Woodgrain, walnut, or white
Price: $699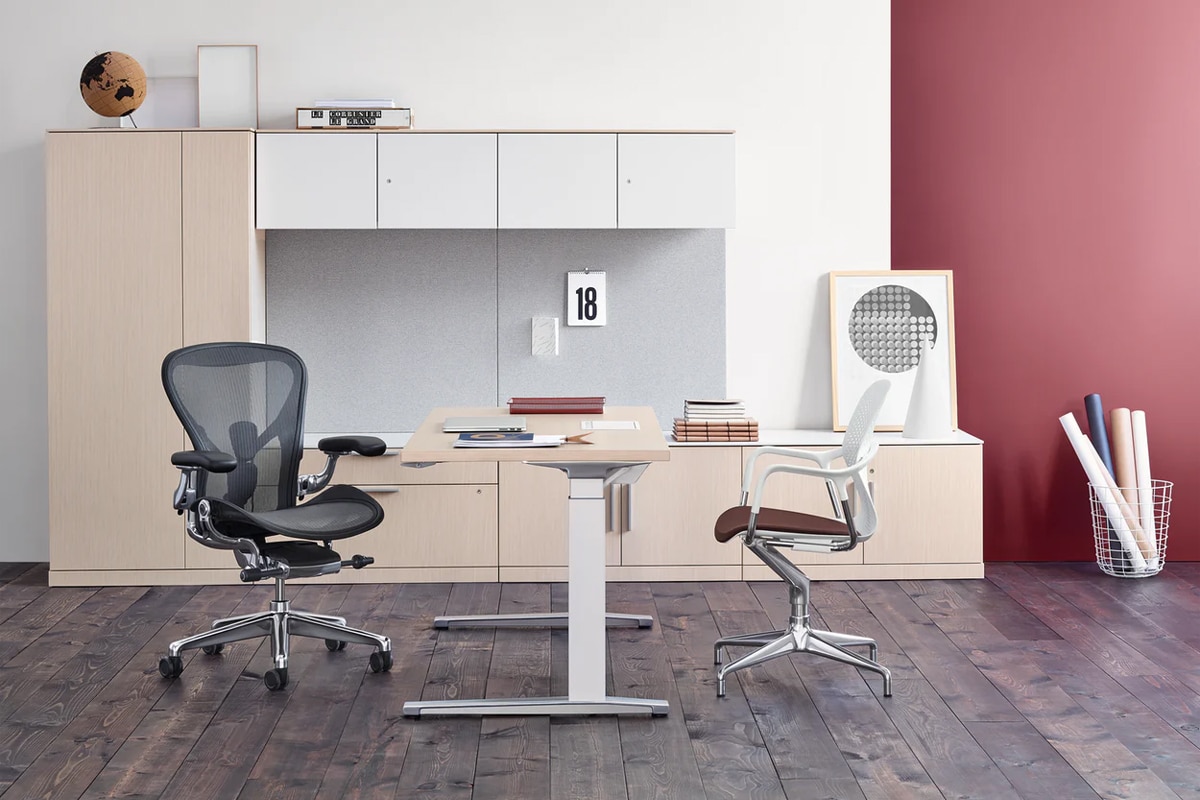 2. Herman Miller Renew Sit-to-Stand Tables
Herman Miller is a well-known name when it comes to ergonomic chairs, so it should come as little surprise that they are raising the bar when it comes to standing desks. 26 Best Custom Made Australian Furniture Brands a height-adjustable table that seamlessly adjusts to your preferred range of movement. This top-notch adjustable desk also adjusts from sitting to standing with ease.
Environmentally conscious purchasers will be thrilled to know that Renew's height-adjusting system uses less electricity than a cell phone charger, demonstrating that Herman Miller has paid attention to every detail in the crafting of this outstanding standing desk.
Finish/material: ash, light walnut, walnut, white
Price: from $1845
IKEA 'Small Format' Planning Studios Launch in Australia
---
Featured Video from Man of Many
---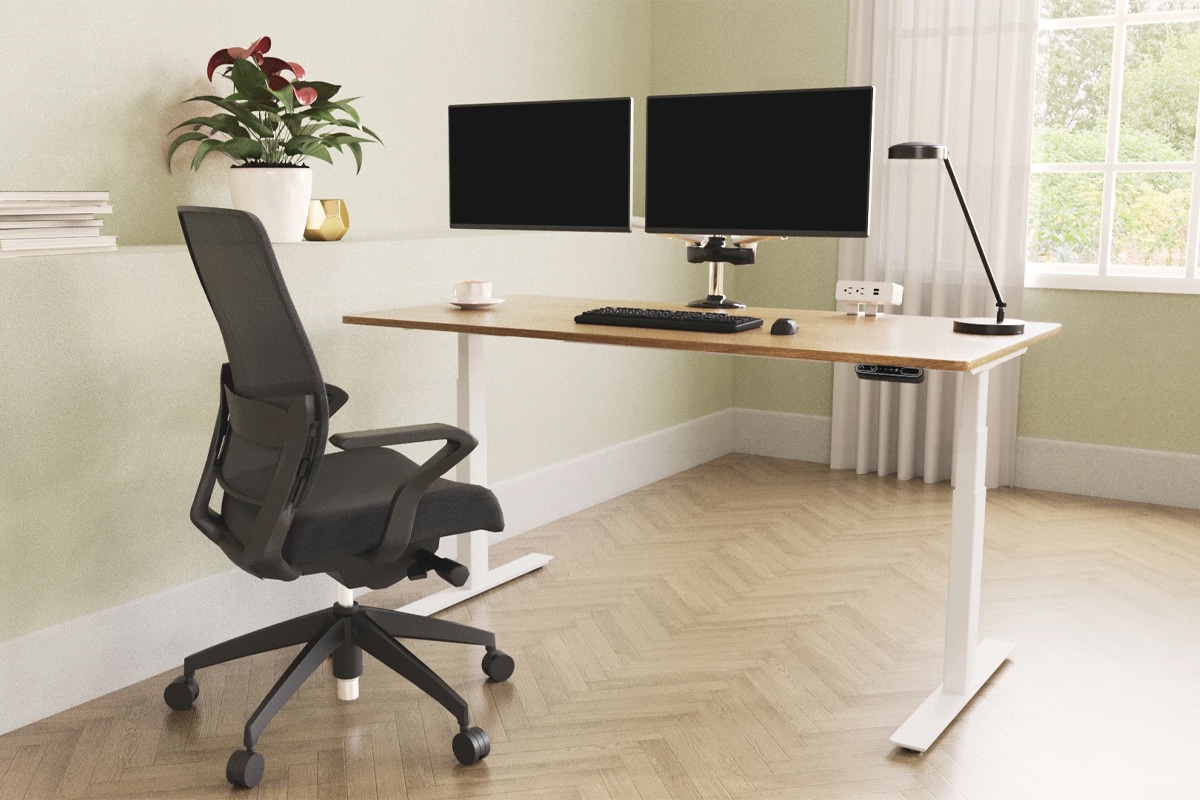 3. StandDesk Build Your Own
Sometimes, a pre-built standing desk may not have exactly what you want or need. If that is the case, consider the StandDesk which allows you to build your own standing desk from the ground up with a myriad of options. The deluxe is the most feature-packed desk on offer, replete with a memory-height controller, cable management tray and an intuitive two-button height controller.
Finish/material: laminate, bamboo, reclaimed & natural wood
Price: US$499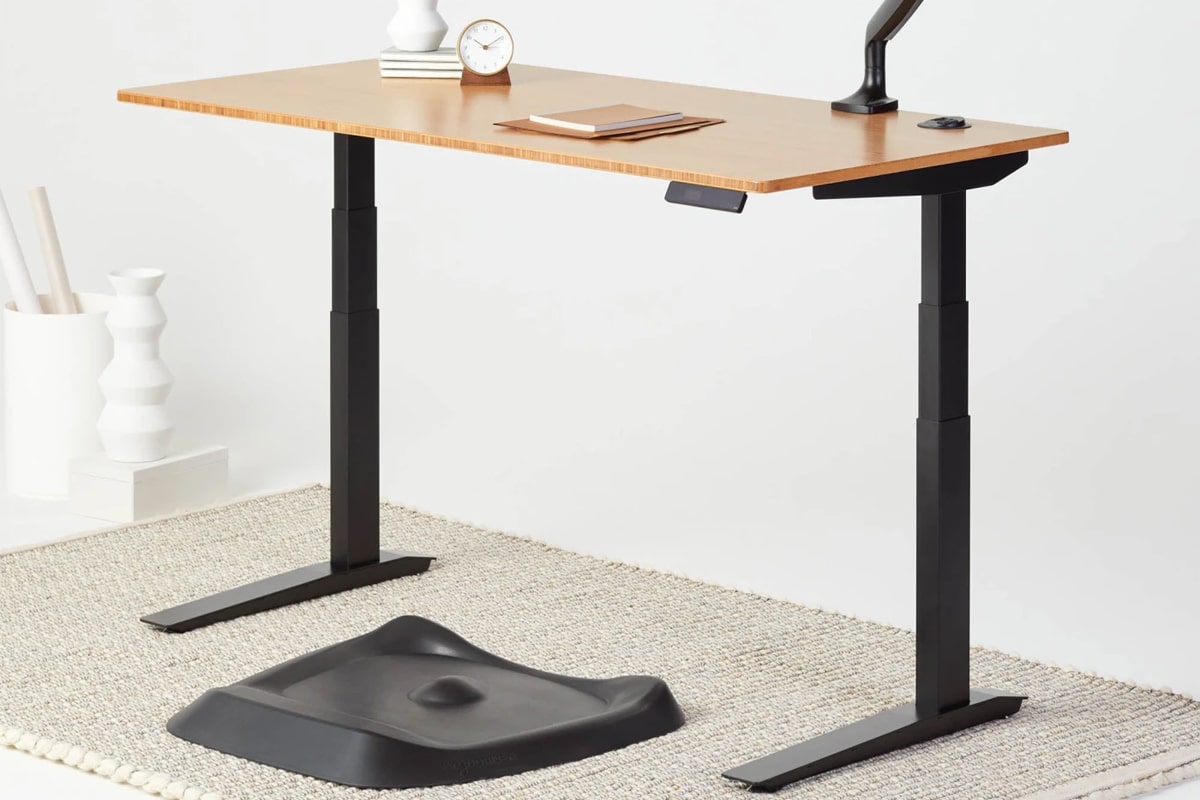 4. Jarvis Bamboo
The Jarvis Bamboo desk, as the name implies, helps your standing desk solution stay natural with a high-quality bamboo design. The standing desk can be customized based on your needs and office space, allowing for three widths and two separate shapes. With its customization and a great sense of style, the Jarvis Bamboo is a great choice for both the environmentally and aesthetically conscious.
Finish/material: eco-friendly bamboo
Price: $569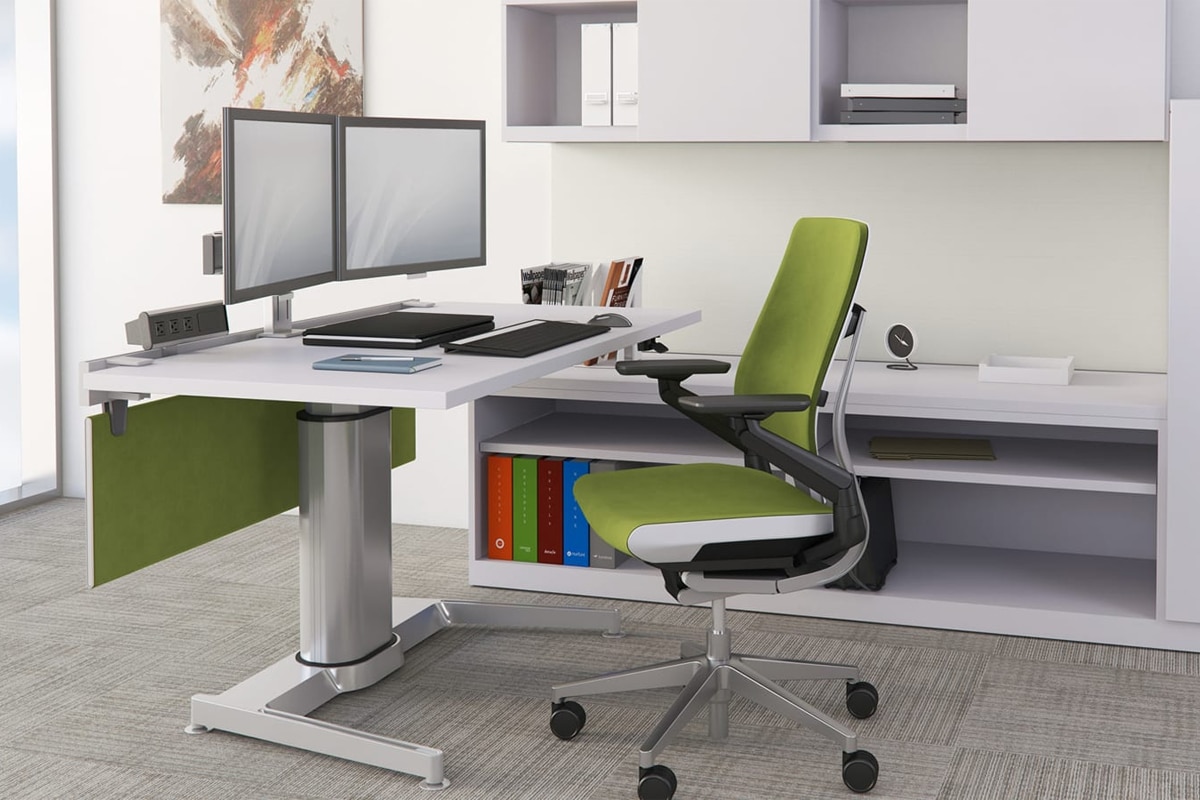 5. Steelcase Airtouch
The Steelcase Airtouch helps you seamlessly transition from sitting to standing, and best of all, it requires no electric power. As such, this steel case desk can literally be used anywhere, making it a great home office choice for anyone who wants the option of sitting or standing at the office as needed.
Finish/material: arctic white, natural cherry, winter on maple, chocolate walnut
Price: US$1889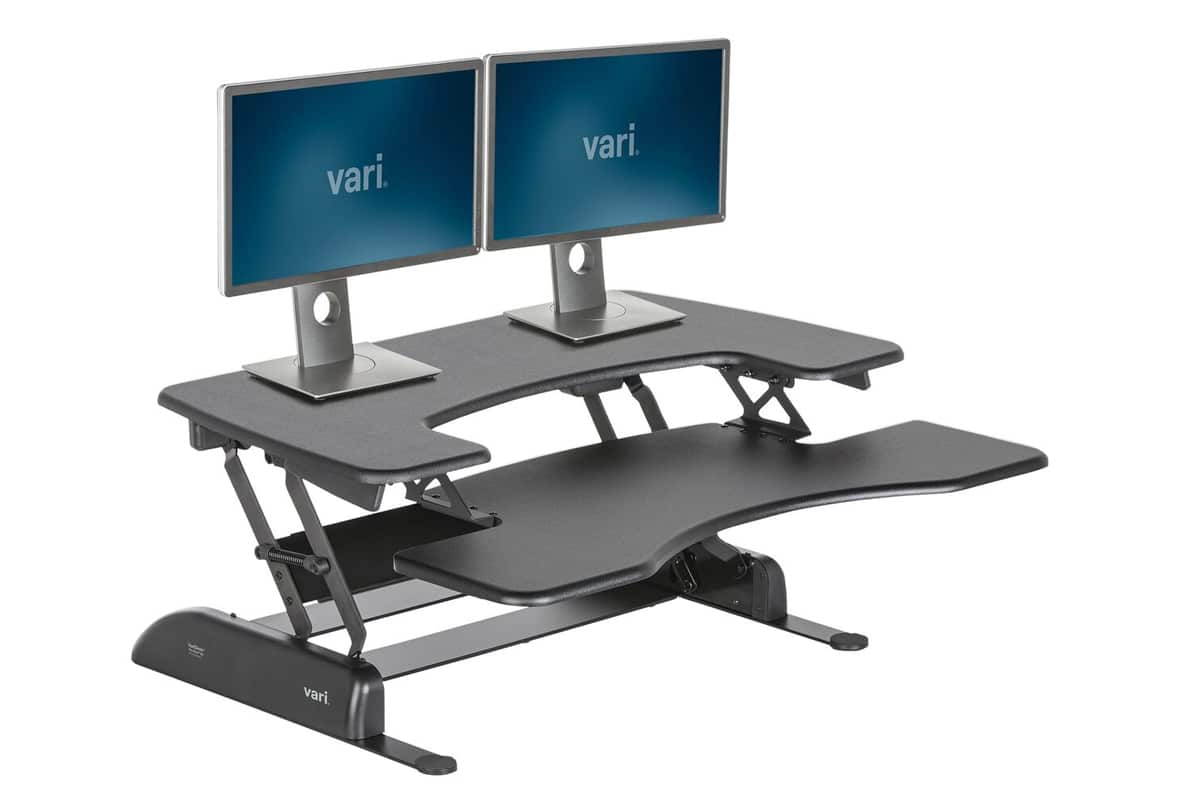 6. VARIDESK Pro Plus 36
The VARIDESK Pro Plus 36 is a desk designed to accommodate the largest of home office workspaces. Dual monitor setups work nicely with the 36 inches of real estate, and the desk includes VARIDESK's patented spring-assisted lift mechanism that helps the desk adjust to the perfect spot with ease. Best of all, the VARIDESK is designed to work with a pre-existing desk, making it the perfect choice for anyone who loves their home office desk but needs an innovative standing desk solution. VARIDESK makes a wide array of office furniture that can take your work from home situation to new heights.
Finish/material: black, white
Price: $395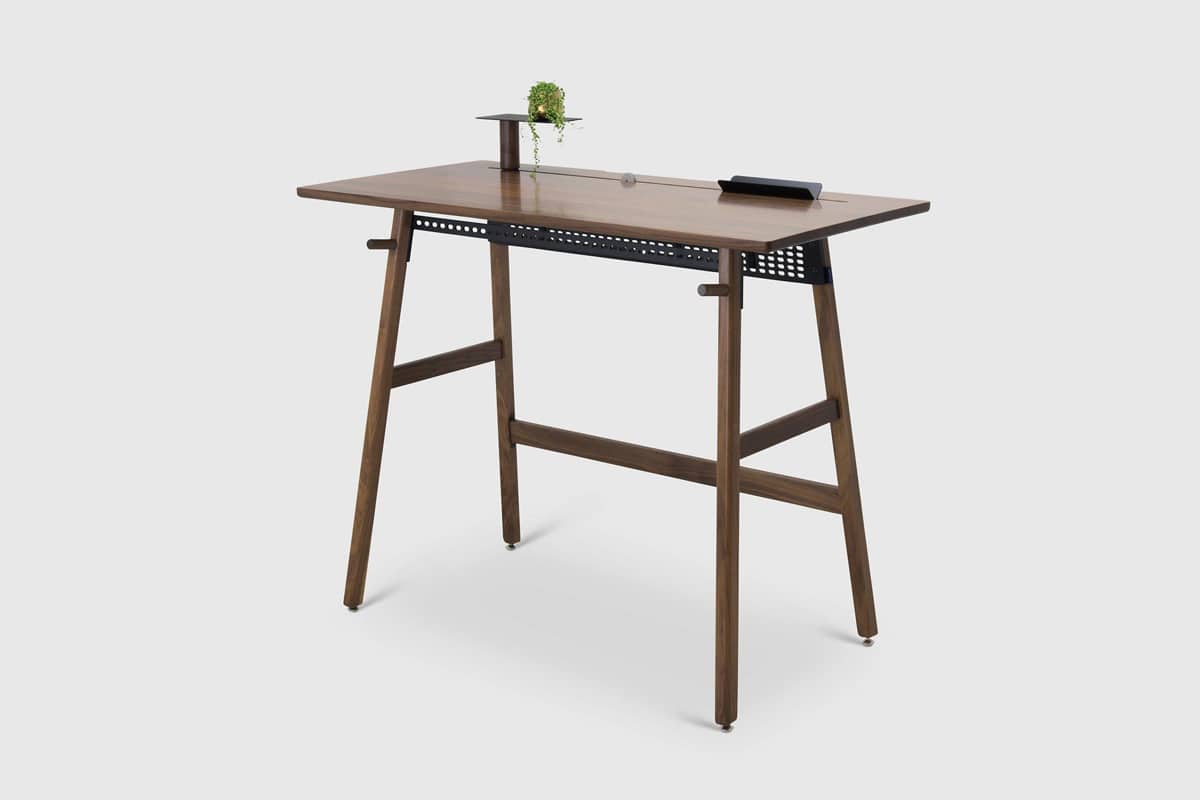 7. Artifox Standing Desk
Artifox's standing desk is perfect for writers since its standing desk is indeed modelled after a traditional writing desk. The minimalist design pairs nicely with the sturdy hardwood design to provide you with a sturdy standing desk design. Desirable features such as storage cabinets, a powder-coated writable surface, a mobile devices dock and adjustable legs add to the value.
Available in walnut or maple, the Artifox Standing Desk 01 is a simple and elegant hardwood desk solution that is built to last.
Finish/material: solid walnut, maple
Price: $2199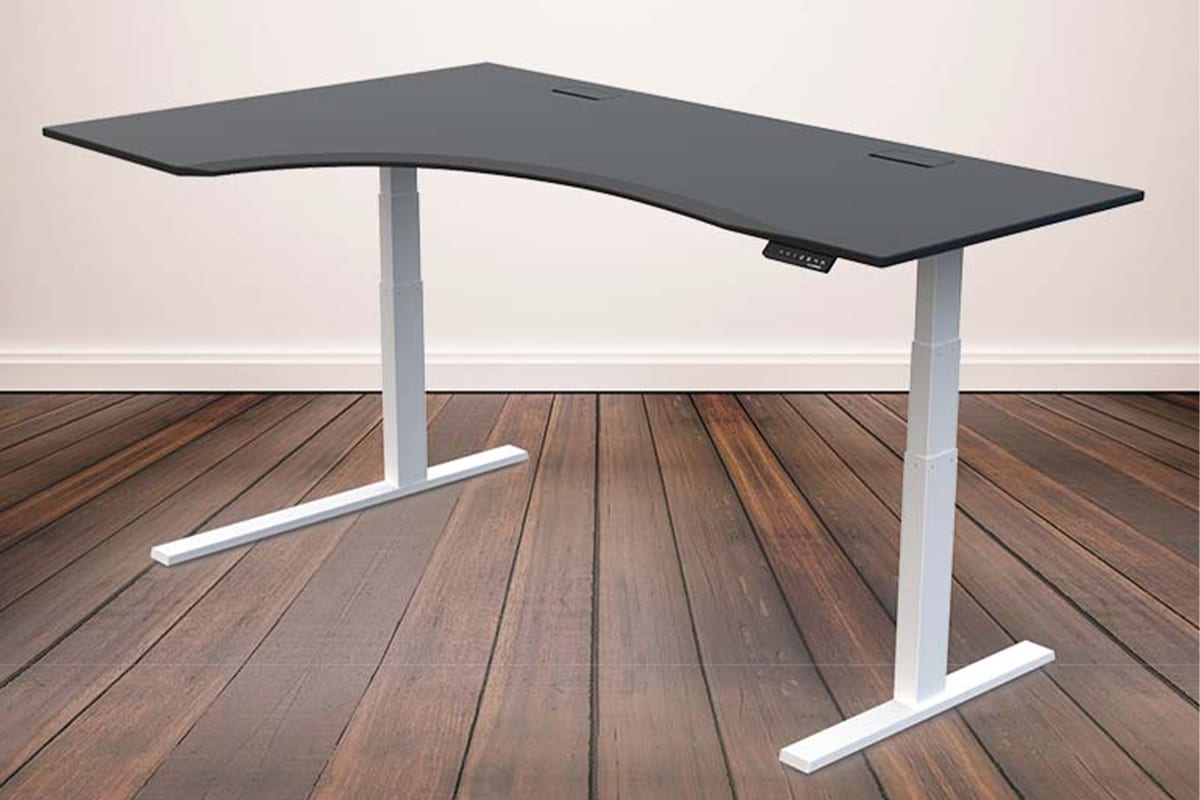 8. EvoDesk Studio L
Home office workers who also enjoy gaming need look no further than the EvoDesk Studio L. This desk provides fantastic ergonomic support for the wrist and forearm, and the desk is built with expansions and maximum adjustability in mind for any sit and stand lover. The finish on the desk includes thousands of light reflecting points, making it the perfect desk finish for a high-precision computer mouse, and the desk adjusts so that you can sit or stand as you so desire.
Price: $1699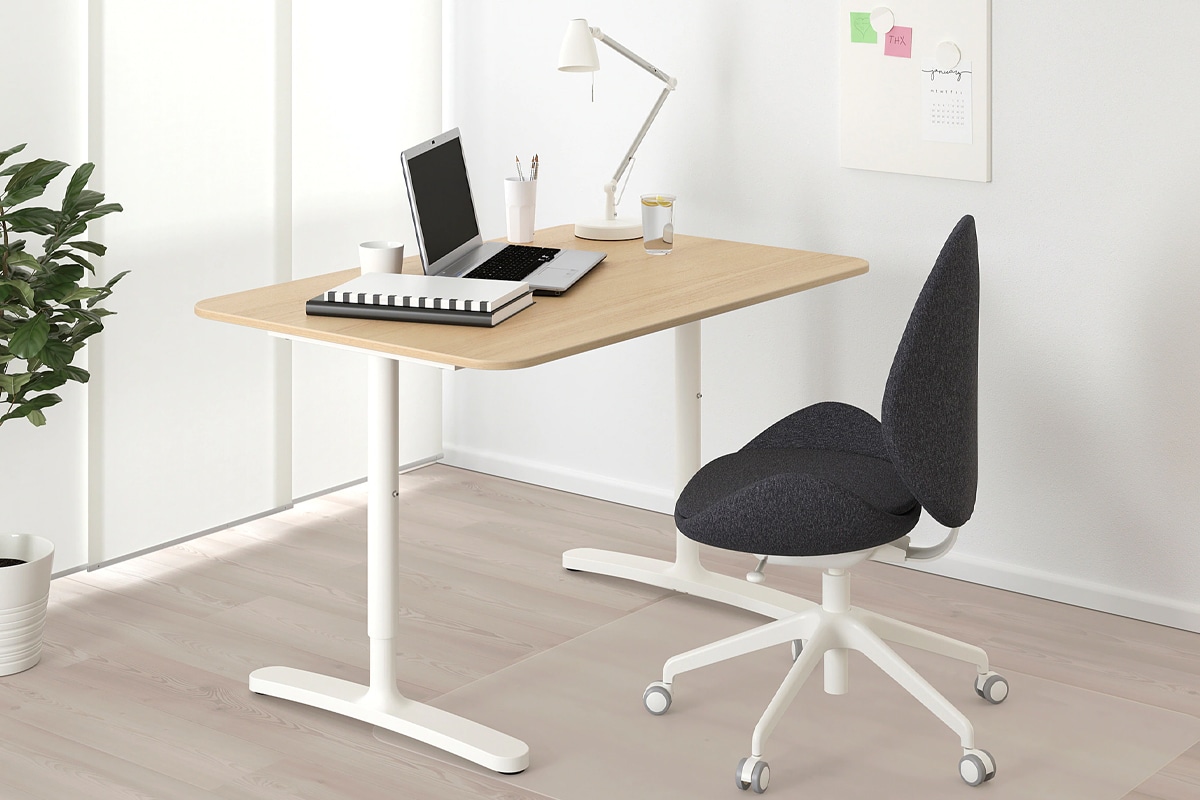 9. IKEA Bekant
The IKEA Bekant is another excellent sit/stand hybrid of a desk that adjusts from 22 to 48 inches and comes in a wide range of colours to suit your home office. The handy cable management net will also help you keep your home office tidy and neat. This ergonomic desk has a professional home office look that will instantly raise your cred.
Finish/material: black stained ash, white stained oak
Price: AU$229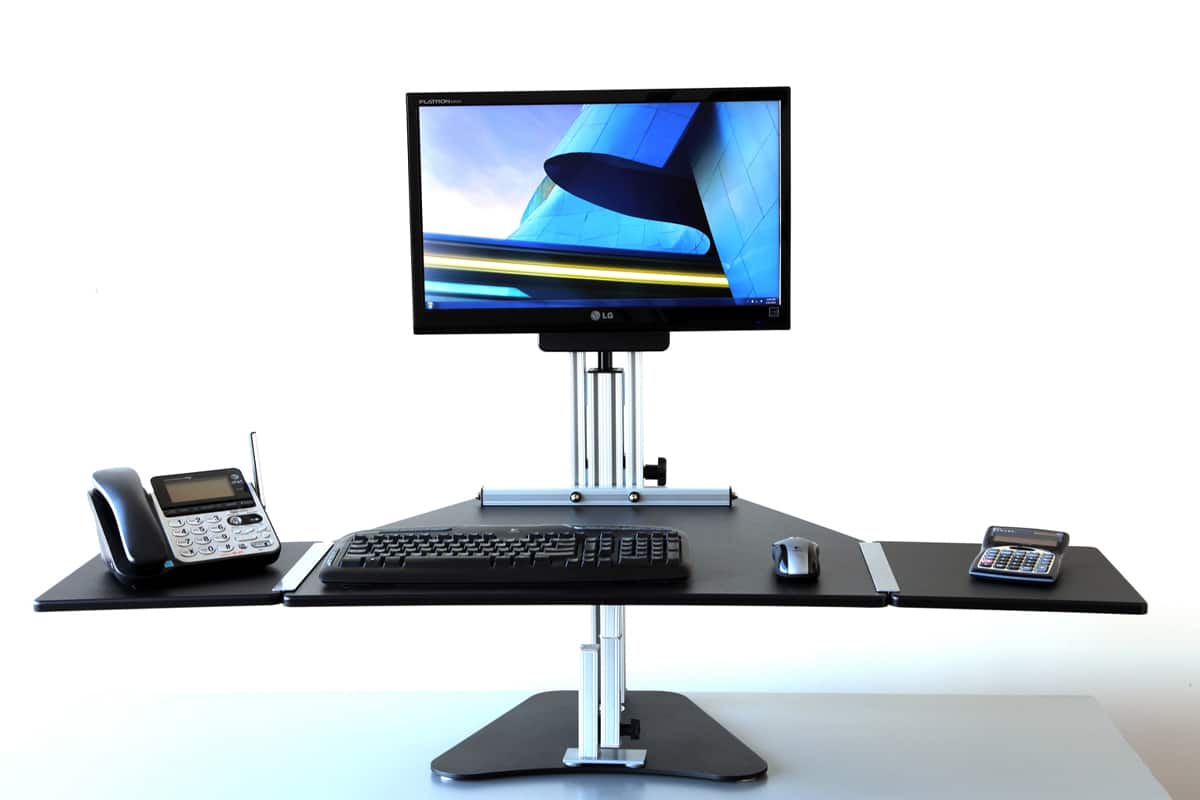 10. Ergo Desktop Kangaroo Pro
The Kangaroo Pro is all about adjustability, evident by its dual ergonomic work surface and monitor setup. The main work surface is 28″ wide by 24″ deep, providing you with all the workspace you should need to stay productive.
Optional add-ons are available as well, including a detachable side work surface and/or keyboard extension.
Finish/material: black, cherry, light maple, putty
Price: $499
You'll also like:
26 Best Desks for the Home Office
17 Best Office and Desk Chairs for Any Office
10 Best Desk Lamps for the Home Office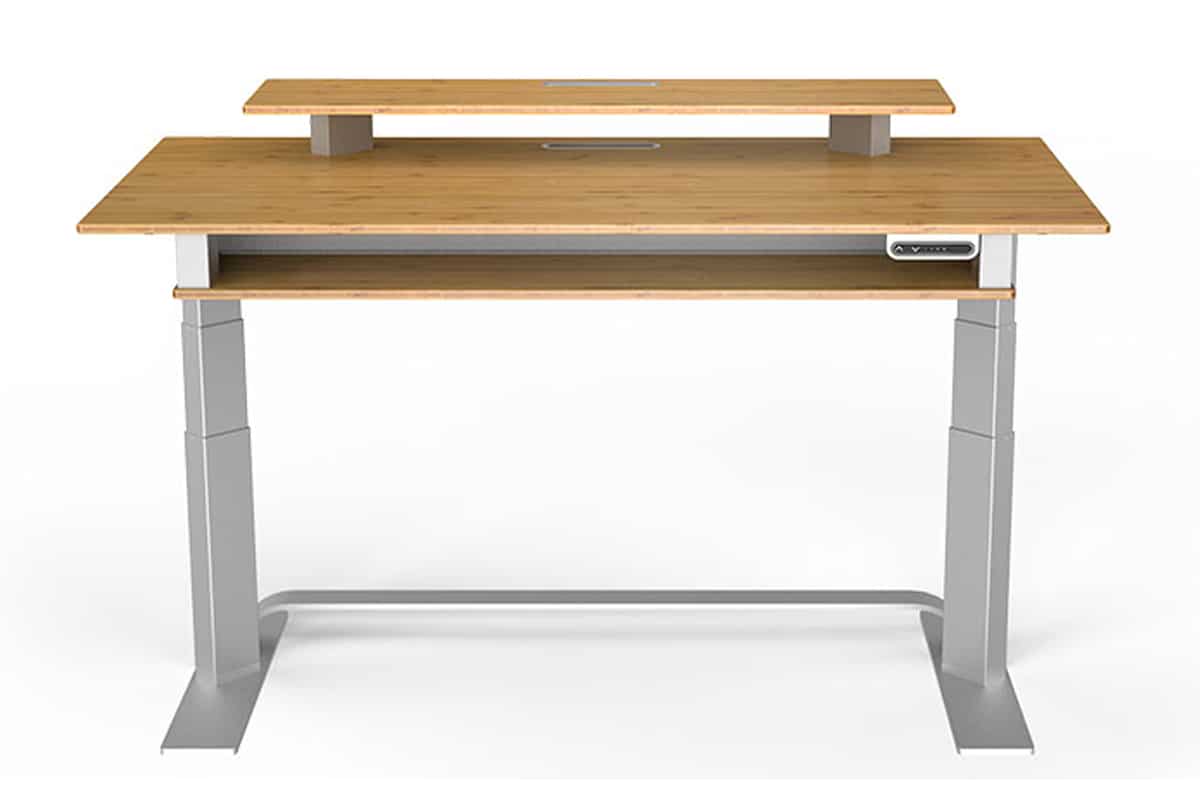 11. Xdesk Terra 2
The XDesk Terra 2 certainly deserves to be in the running for your next office desk. The sleek finish can be accentuated with upper and lower storage solutions that give the Terra a distinct and fresh look. This new standing desk model features a 40% stiffer frame that delivers more stability while optional integrated storage offers more storage capacity than any other desk before it.
Finish/material: bamboo
Price: $1847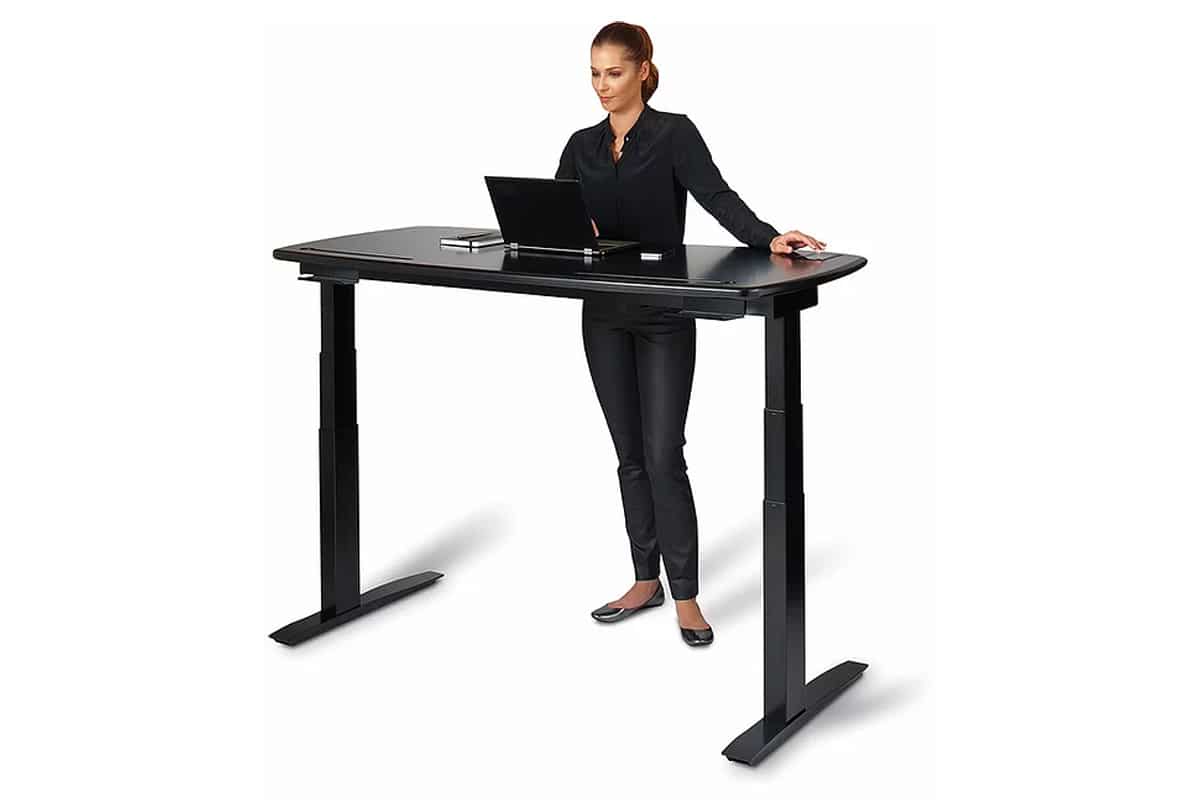 12. Stir Kinetic Desk M1
The Stir Kinetic M1 moves with you while you work, making it an easy recommendation for home office creators. The desk can literally sense your presence as you approach and wakes up ready to work when you are with its smart technology. The desk will even adapt to learn your preferences and tendencies, suggesting times to move that best sense your style and work habits. Any home office worker who wants to be on the cutting edge should place the Kinetic M1 on the home office wishlist. It looks a little like a countertop in the Apple store.
Finish/material: powder coat in white or black
Price: from $2990
You'll also like:
26 Best Desks for the Home Office
The Autonomous Smart Desk 2 is a Standing Desk that Won't Make You Feel Like a Loser
10 Best Desk Lamps for the Home Office
General FAQ
How long should you stand at a standing desk per day?
The less movement you have throughout the day, the more aches and pains you will have. Studies have shown that you should stand for at least 30 minutes per hour for health benefits.
Is it healthier to stand at your desk?
Standing at your desk can burn more calories, reduce aches and pains, and improve posture.
---
Featured Video from Man of Many