8 Best Men's Chairs for the Modern Gentleman's Pad
One true essential when it comes to the modern home is the men's chair or 'man chair', a term dubbed by Urban Dictionary and then defined as a "chair with all the bells and whistles". It's in this chair that the modern gent accomplishes a slew of sedentary tasks: watches the footy, reads the paper, enjoys a drop of red, sips on a chilled beer, cruises the net or simply ponders the tribulations of life. Hence, we thought it only fitting to share some of the best men's chairs from some of the best brands and retailers. May each chair duly serve as a throne upon which you, the king of the castle (i.e. den), sit and drink from your goblet (i.e. frosty mug) while eating fresh game (i.e. leftover chicken wings).
---
You'll also like:
2016 Christmas Gift Guide – The Homemaker
15 Best Standing Desks for the Home Office
15 Best Office Chairs for Ergonomic Bliss
---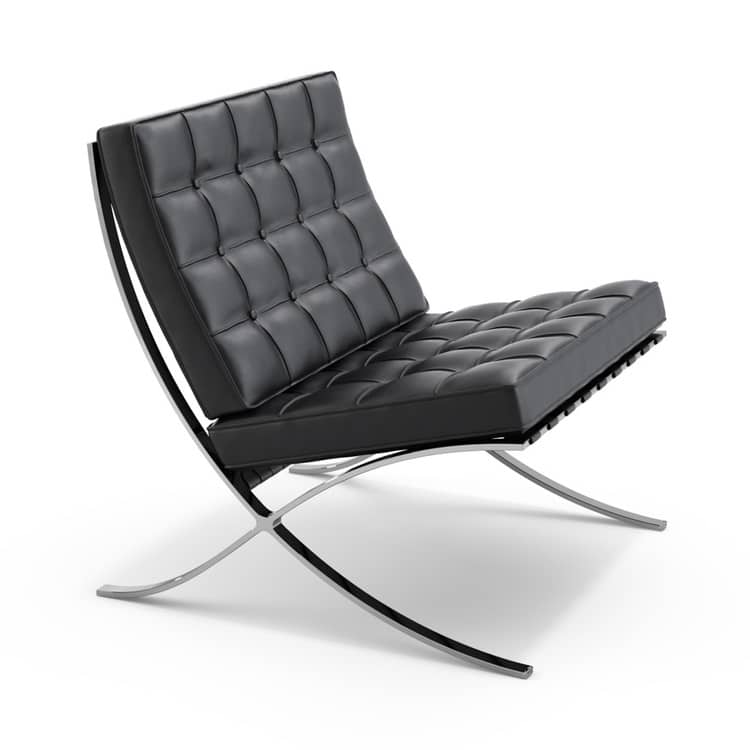 1. The Barcelona Chair by Ludwig Mies van der Rohe
The Barcelona Chair dates back to 1929 Germany and makes our list of best men's chairs for its perfect balance of design and functionality. The frame of the Barcelona Chair is made from one seamless piece of metal, giving a sleek and clean cut finish. The individually sewn leather panels, supported by elasticized gridding, gives a plush lounge feel, while supporting your back in all the right places. The angling of the Barcelona Chair further supports the natural curve of the back. However, above all the biggest plus of the Barcelona is it's functional, no-nonsense design. With many manufacturers introducing replica Barcelona Chairs into the market, the Barcelona Chair is available in a broad range of colours, fabrics and at a span of prices, making it budget and style accessible.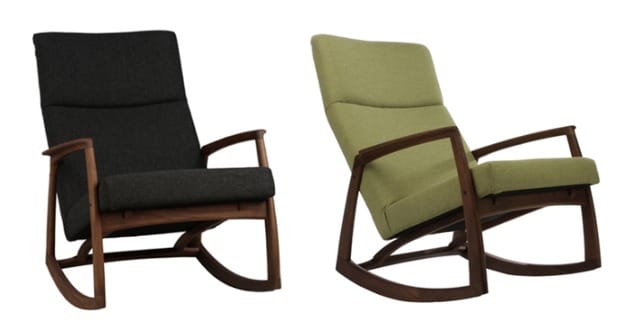 2. Edvard Danish Design Rocking Chair by Matt Blatt
Matt Blatt's Edvard Danish Design Rocking Chair is a simple yet stylish piece crafted from sturdy solid American walnut, and one of the best men's chairs. It features New Zealand wool upholstering & promises to be as a comfortable as it is stylish; an ideal place to kick back and relax. It makes our cut for the nostalgia a rocking chair brings and for the rustic aesthetic it offers, a great piece to tie into a modern abode for a touch of character.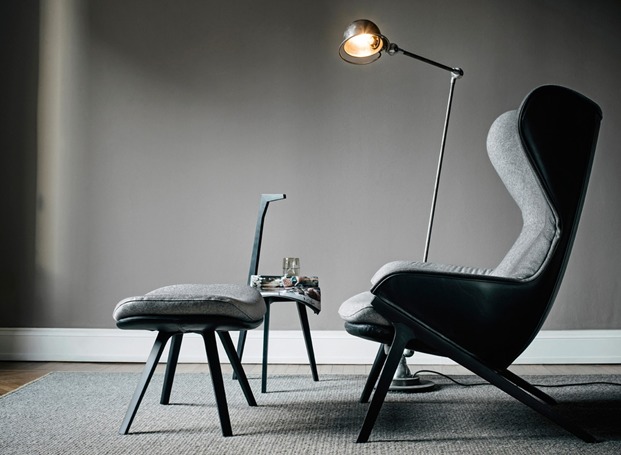 3. Cassina Chair by Patrick Norguet
Patrick Norguet's Cassina Chair is available in fabric or leather upholstering, it is a modern wingback chair that stands out for its comfort. Designed for relaxation, the aesthetic of the Cassina Chair respects classic traditions while infusing modern influences to create a contemporary wing back chair for a modern audience.  The shell of the Cassina chair is a soft foam with an iron frame and elastic seat straps. The base is available in polished aluminum alloy or matte black, chestnut brown or beige-grey painted aluminum. The seat cover is zip sewn, making it easily removable to clean. Colours can be personalised with the option of choosing different fabric and leather set combinations, based on style preferences.

4. Studio Armchair by Freedom Furniture
The Studio Armchair by Freedom Furniture is a Scandinavian-inspired armchair that exudes style and quality & doesn't break the bank. The Studio armchair makes our list of best men's chairs for it's sleek and sophisticated lines and classic pared-down shape. It features solid beech tapered legs & frame and slim profile cushions which give that 'sink into chair' feel.  Upholstered in stain-resistant Arena polyester fabric, the Studio armchair, is low maintenance and durable. The back cushions are filled with a foam and fibre mix, giving a soft comfortable feel, whilst also providing back support. The seat cushion is filled with high-density foam cores again reinforcing great postural support.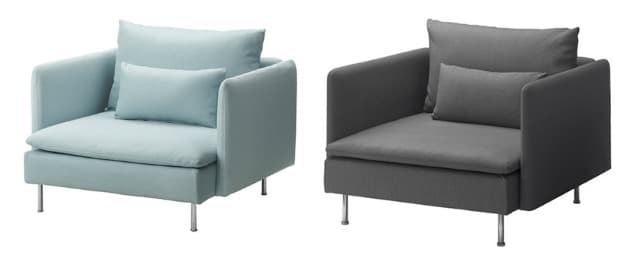 5. Soderhamn Armchair by Ikea
Sodernhamn by Ikea is another male throne that definitely doesn't break the bank. It makes the cut of best men's chairs for its focus on comfort and versatile appearance. Soderhamn features an elastic weave in the base and high resilience foam in the seat cushion. These in combination offer a comfortable and postural supporting seat with a slight, pleasant resistence. The highly durable upholstery material cover has a textural finish and soft feel & is zip removable for easy cleaning. The frame and armrest are made from plywood, fibreboard, and solid pine.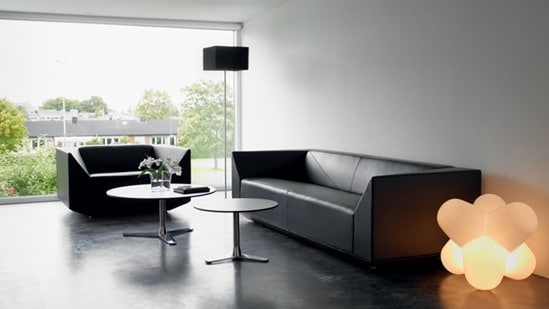 6. Ghost Armchair by Eero Koivisto
The Ghost chair by Eero Koivisto has been dubbed the easy chair as it is designed to be easily applied in the most varied home spaces, thanks to its cubist outer line. It was crafted on the rationale that rooms are in general square and furnishings most often look the best if they reflect a cubist expression. It makes our cut for it's perfect partnership of modern functionality with classic design. The Ghost Armchair combines cutting edge, modern faceted inner form with a classic exterior, the Bentley equivalent of a chair. The Ghost armchair is made of a wood base with cold foam and flameproof fiber. It incorporates a Nozag spring system for exceptional support and comfort.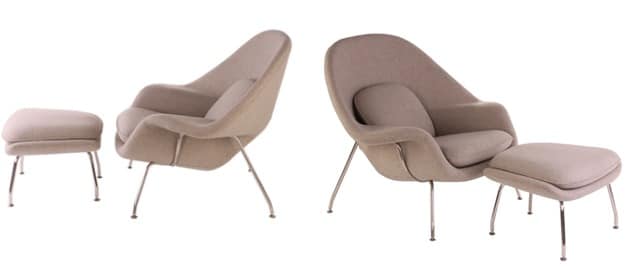 7. The Womb Chair by Eero Saarinen
As the name suggests, Eero Saarinen's Womb Chair was designed to envelop the sitter, creating a sense of coziness and comfort. The Womb Chair dates back to 1848 and is one of the most iconic and recognized representations of mid-century Scandinavian modernism. The Womb chair makes our cut for it's pure comfort, the high grade wool fabric upholstery, foam and cushion pads accentuate the molded fiberglass shell to create a chair of purely manly relaxation. Whilst the Womb Chair doesn't have as many replicas flooding the market as the Barcelona Chair, we have found a luxe to less option for the Womb Chair as well.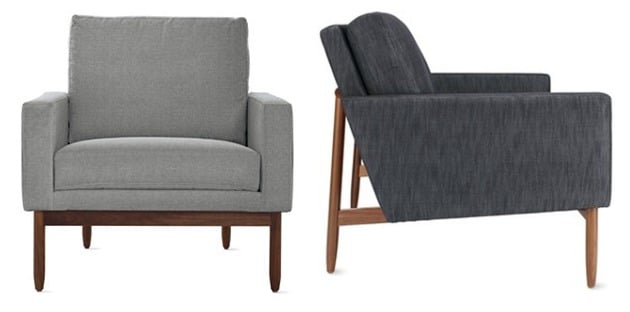 8. Raleigh Armchair by Jeffrey Bernett & Nicholas Dodziuk
Raleigh is a comfortable & modern armchair that draws from mid-century Danish design. The solid walnut frame brings visual lightness to the design. Raleigh's frame triangulates to the back of the chair giving an ergonomic seat back. Raleigh uses high-density, high-resilience polyurethane foam cushions, blended with feather and down back cushions for a seriously comfortable seat.
So there you have it, our top picks for your next throne of manliness!
Written By: Ali Muir
---
You'll also like:
2016 Christmas Gift Guide – The Homemaker
15 Best Standing Desks for the Home Office
15 Best Office Chairs for Ergonomic Bliss
---