Aquanaut Yacht Is the SUV of the Seas
The vast majority of our planet is covered in water, which means that a huge portion of it has been left unexplored. When land-dwellers were confronted with areas that seemed unreachable and couldn't be explored, they developed the SUV. Well now nautical adventurers are following suit with the Aquanaut Yacht by Officina Armare Design. The 60-foot catamaran is "heavily influenced" by SUVs, and it looks ready to sail the uncharted seas.
You'll also like:
Hermes Speedster Boat Redefines Efficiency and Luxury
James Packer is Selling His Monster Superyacht for $280 Million
Hermes Speedster Dayboat Reimagines the 1959 Porsche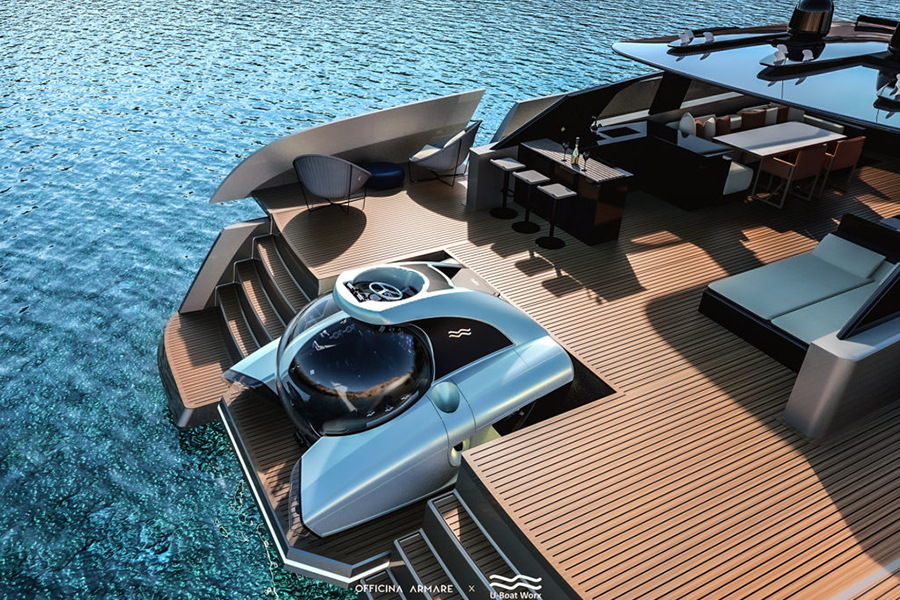 The Aquanaut Yacht was created with the help of U-Boat Worx, and much like an land-bound SUV, this vehicle comes with plenty of power. The yacht is equipped with two 8,000 horsepower Volvo Penta IPS 1050 engines. That much power has the propulsion pushing the twin deep-V hulls to a top speed of 45 knots, and a cruising speed of around 30 knots. Because of the design of the yacht, even at full speed she remains stable and in control—just what you want from an SUV whether on land or sea.
And like SUVs, the Aquanaut Yacht provides plenty of space in its open layout. The yacht features a large deck as well as a galley, a bar, and al fresco dining areas front and rear. You'll also find sunbeds and a Jacuzzi. It can accommodate 12 guests, and should you need even more space, you can deploy bulwarks when at anchor. Much like other SUVs, the Aquanaut Yacht is an impressive toy hauler. There's storage for plenty of toys and diving gear in its 60 foot length. But that's not all. U-Boat Worx has also contributed their mini-submarine, the Nemo, to the build. The Nemo is kept on a platform on the stern of the craft. Hydralics lower the sub into the water when you're ready to explore the unknown
Worth Avenue Yachts lists the Aquanaut Yacht, which will be built by Turkish boat yard Licia Yachts, for USD$3 million.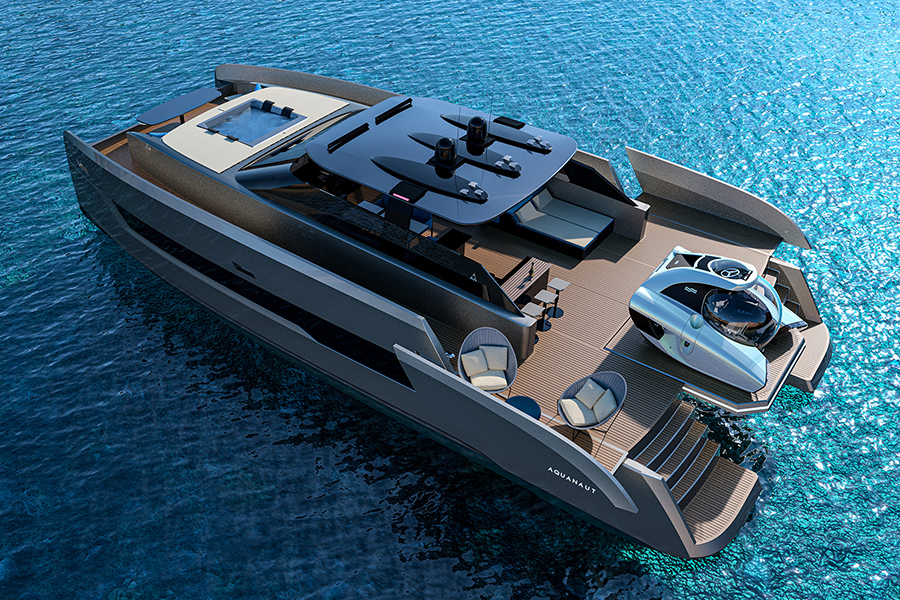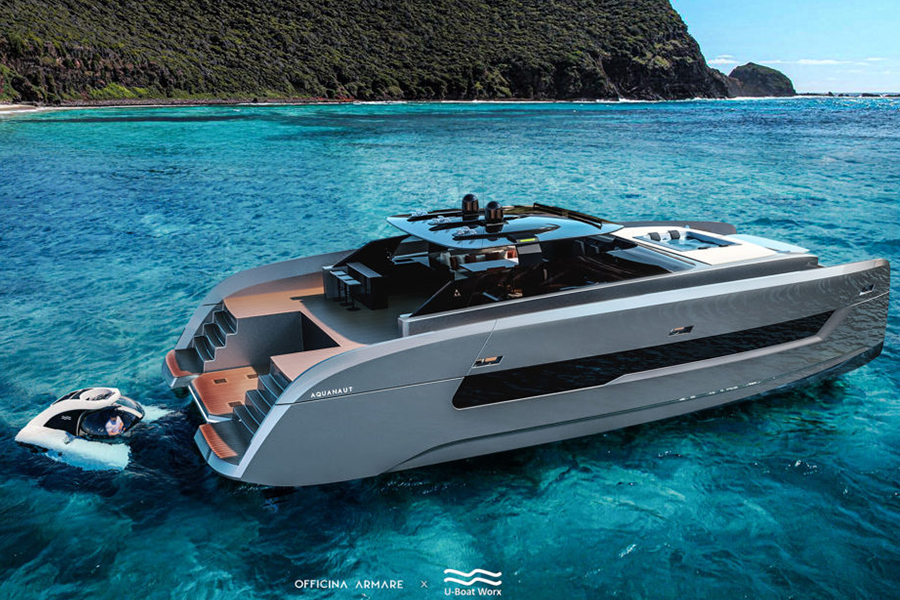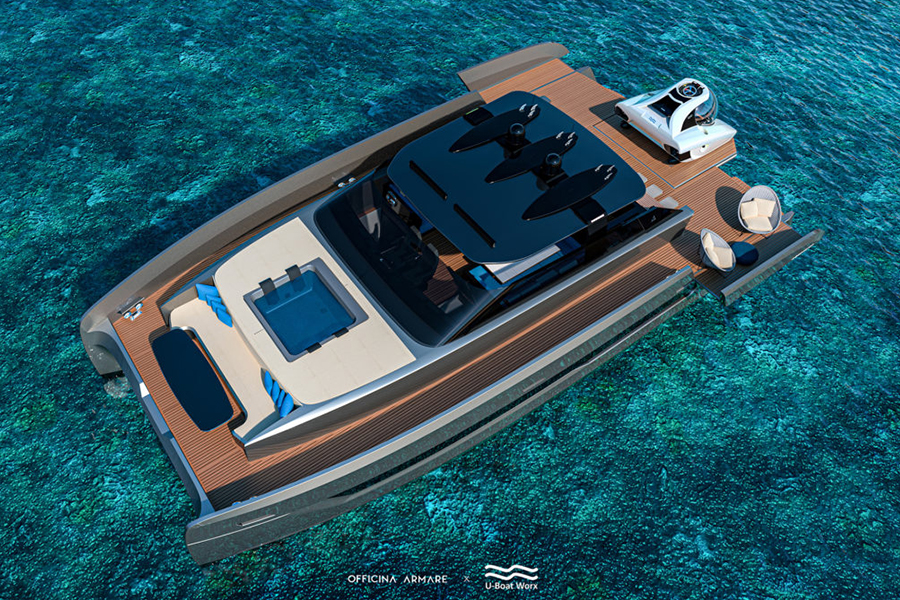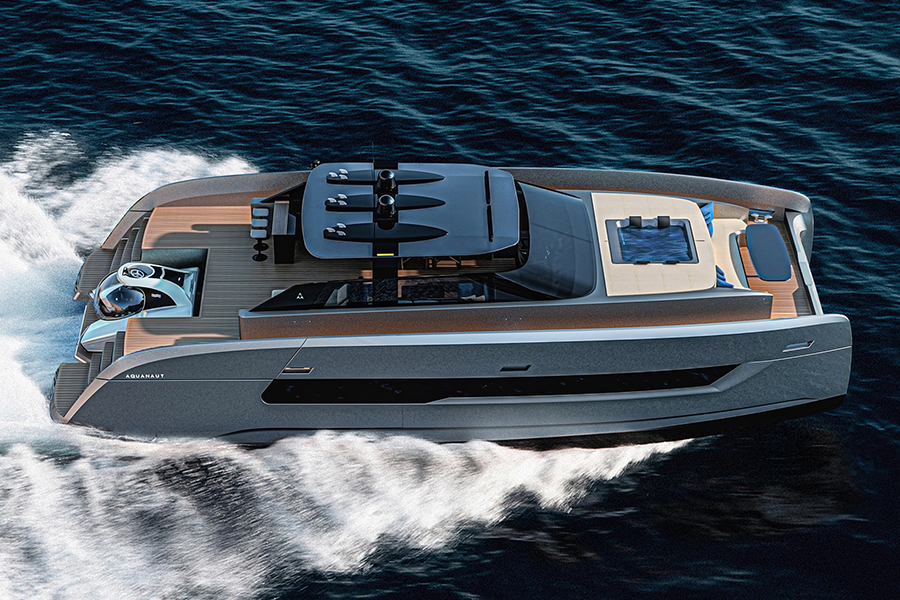 You'll also like:
Hermes Speedster Boat Redefines Efficiency and Luxury
Luxury on the High Seas – Top 7 Wooden Boats
Burgess' 'Ragnar' Yacht is a Modern-Day Norse Legend