12 Best Motorcycle Backpacks for the Daily Commute
Motorcycles and the people who ride them are steady, cool, adaptive and built to last so naturally the same should go for motorcycle backpacks. Today we're running down some of the best motorcycle backpacks on the market. The next time you hop on your chopper you can throw all your goods into one of these bags, strap up and hit the road in style. Just watch out for that car door swinging open on your right! Phew! Close one. Also, those of you who don't own motorcycles should still scope the list because these bags are sturdy and versatile enough to suit pretty much any adventure you can throw at them.
You'll also like:

13 Best Work Backpacks for Men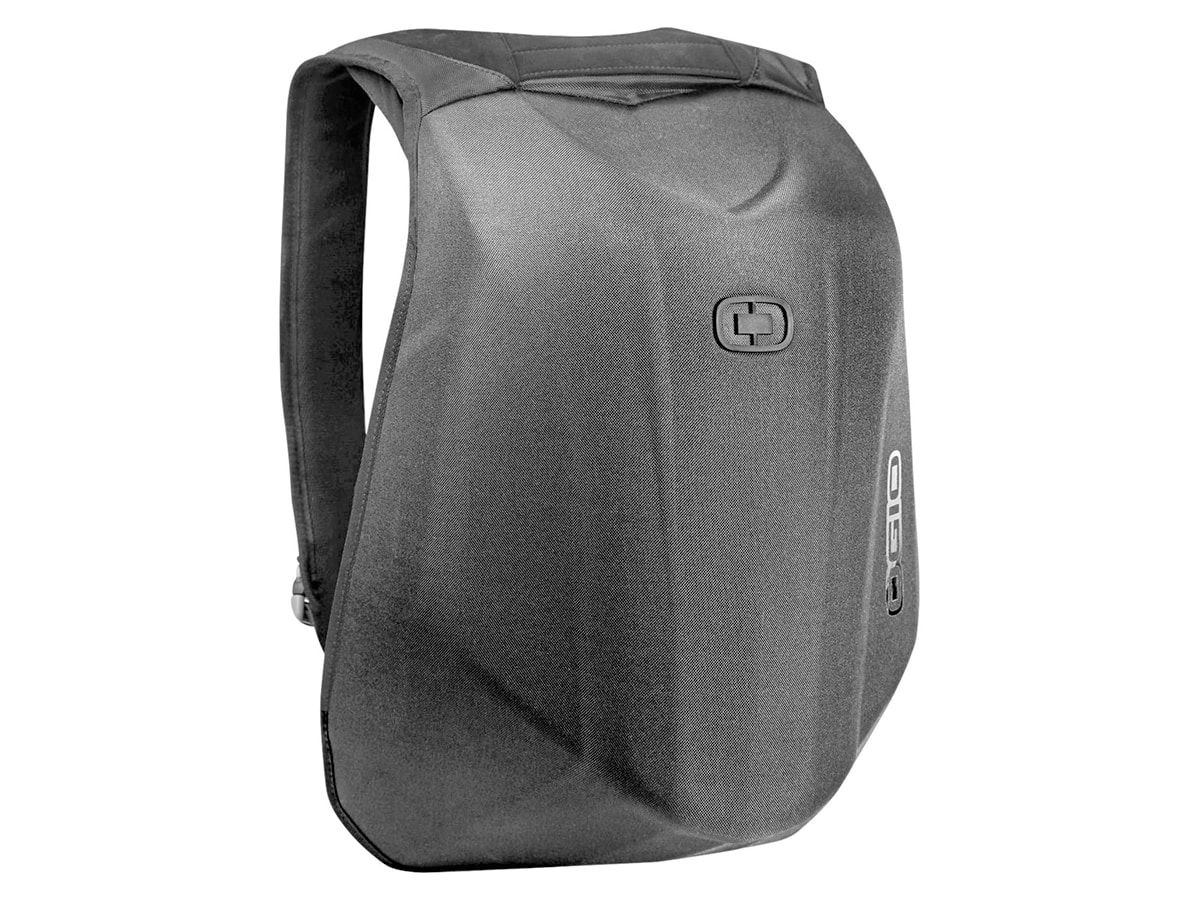 1. Ogio No Drag Mach 1
With a name like "Mach 1" and colours like "stealth" this already sounds like a bag built for the bold. The Mach 1 offers trusty ergonomics and durability by way of padded shoulder straps, a removable sternum strap, an aerodynamic carry handle, tons of room in the main compartment, plenty of pocket space, additional sleeves for things like tablets or laptops and a single shot moulded exterior made to withstand water and wind. These motorcycle backpacks were designed to conform to both the human body and the chopper that body is going on, meaning it won't scratch you or that sweet hog of yours.
Weight: 1 lbs.
Capacity: 1350 cubic inches
Color: stealth black
Price: from $119.18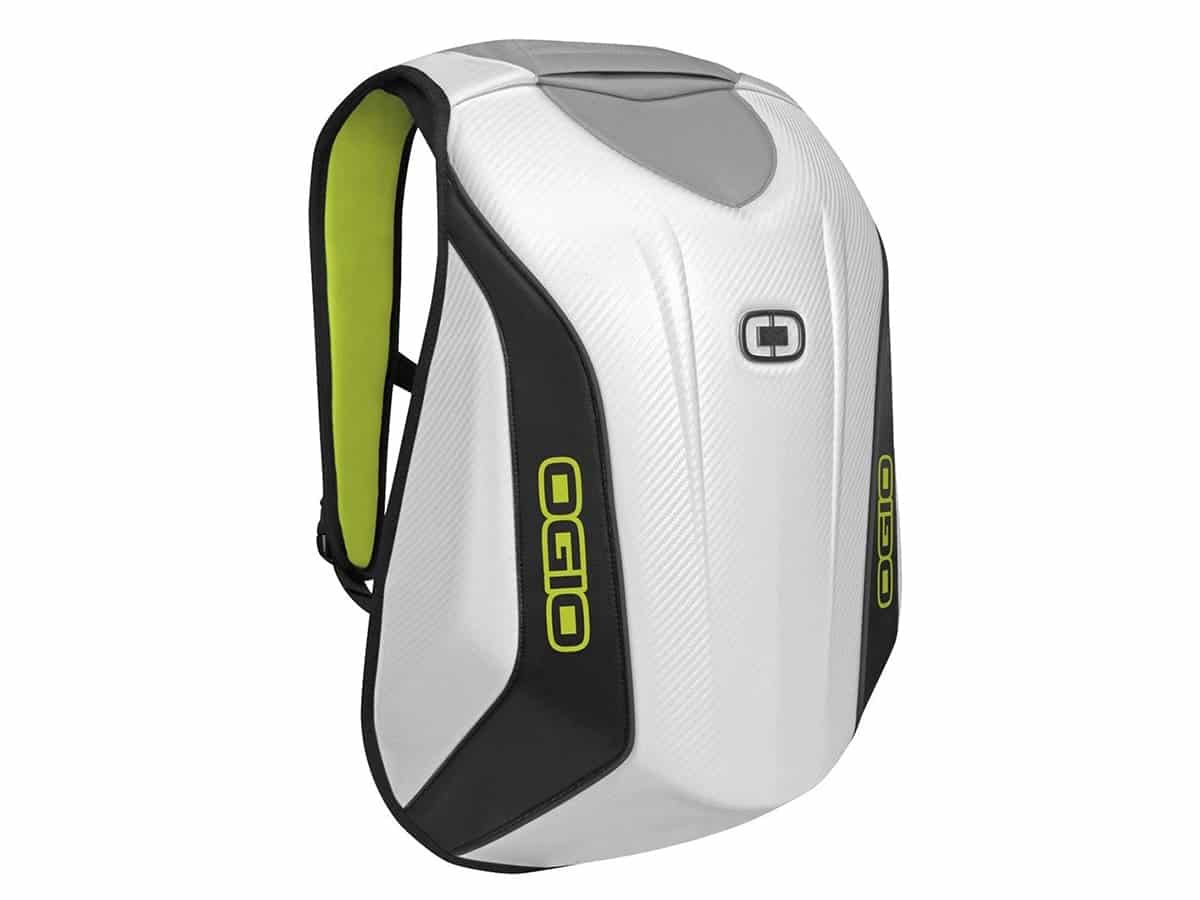 2. Ogio No Drag Mach 3
As any motorcycle owner knows: there's always room for an upgrade. Ogio knows the very same thing. Picking things up a notch from the Mach 1 is the Mach 3, which offers even more support, increased ventilation, reflective piping, added shoe storage compartments, a fleece-lined pocket for electronics, a red lining interior, a helmet carry strap and an organiser panel among other features. A few extra bucks can go a long way.
Weight: 2.7 lbs.
Capacity: 18.4 L
Color: white, stealth black
Price: from $169.99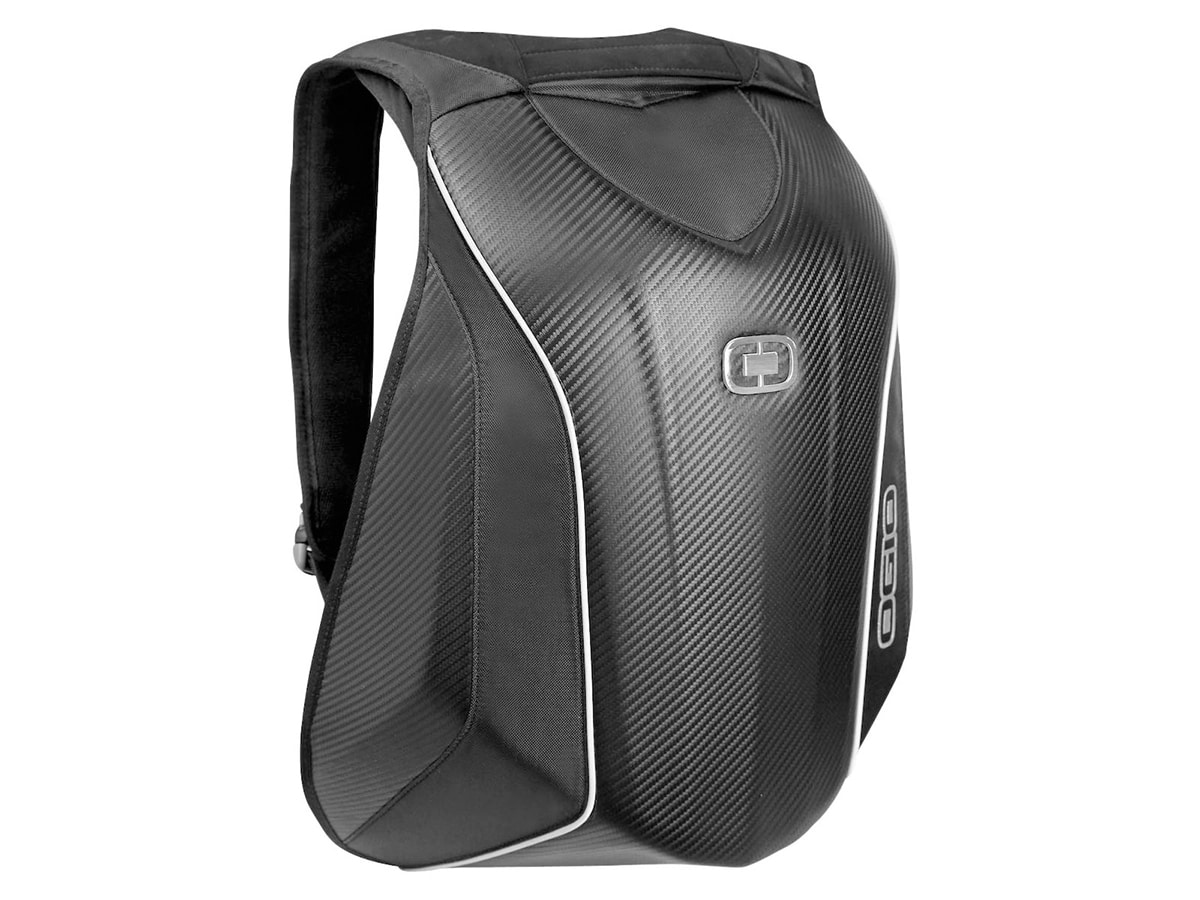 3. Ogio No Drag Mach 5
Just when you thought Ogio couldn't pack more features or upgrades into its moto bags, here comes the No Drag Mach 5. These top-shelf motorcycle backpacks flaunt a similar design to the Mach 3 with some notable improvements like a removable zippered fleece-lined hip accessory pouch and adjustable load dividers in the main compartment. In other words, picture an Ogio Mach 3 and add even more ergonomics, padding and storage room. Now you're truly riding in premium style!
Weight: 3.7 lbs.
Capacity: 22L, 24 L expanded
Color: stealth black, reflective silver, red, night camo, special ops
Price: from $199.99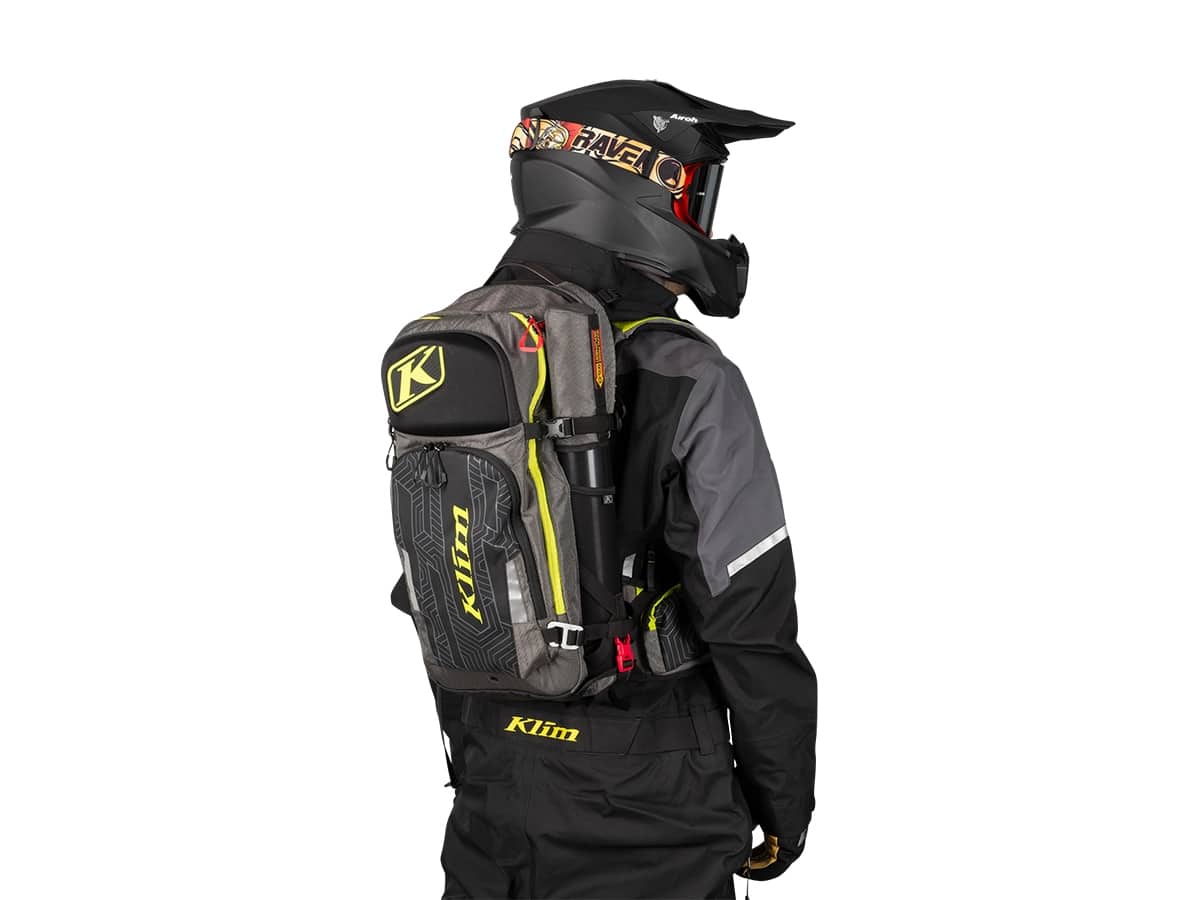 4. Klim Krew Pak Bag
One look at this beast and you know you're getting a bag that delivers. The Klim Krew Pak Bag brings industrial-strength durability, access and storage with features like a top-loading fleece-lined goggle pocket, external shovel blade storage for swift retrieval and side avalance probe storage. These are motorcycle backpacks made for hands-on riders who know their hogs inside and out and are never unprepared for anything that comes their way.
Color: lime, black
Price: from $179.99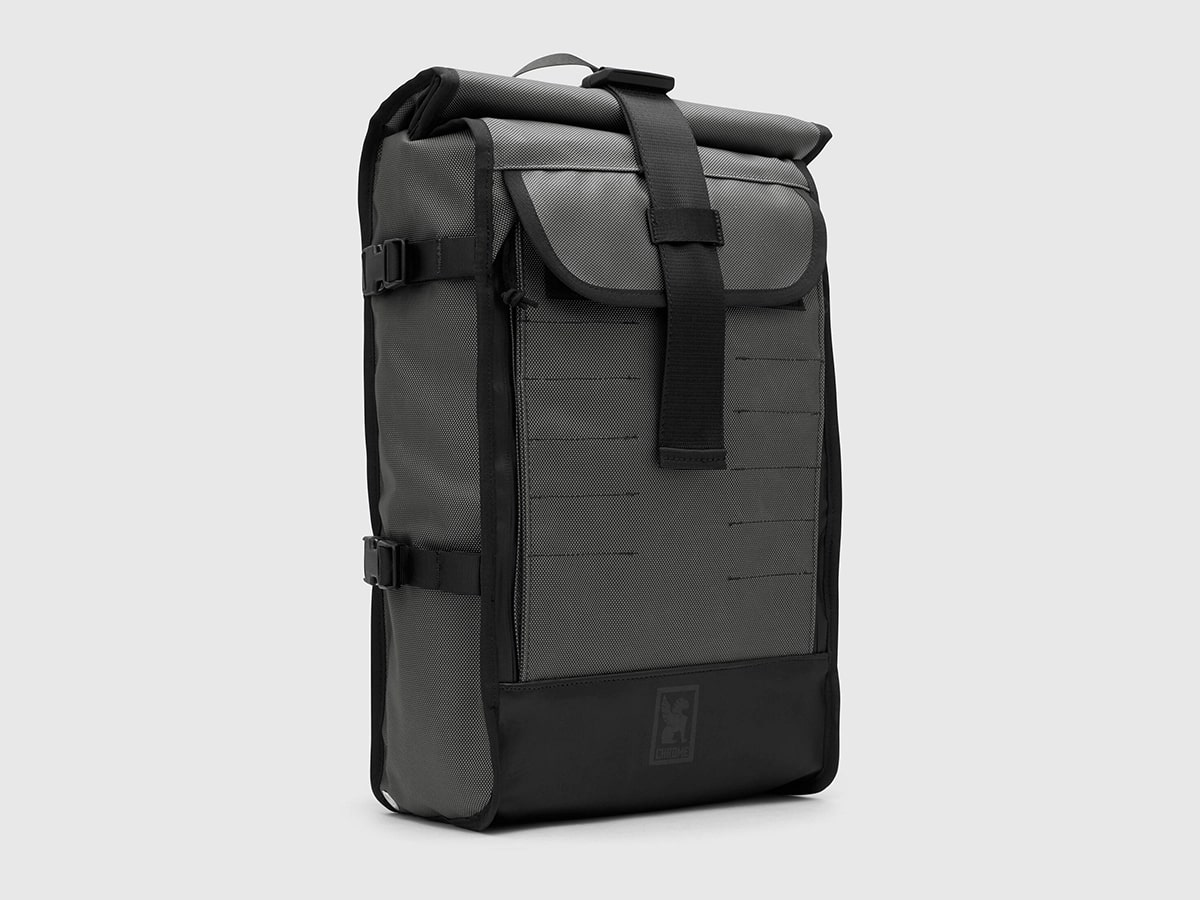 5. Chrome Industries Motor Barrage
The acclaimed waterproof messenger bag from Chrome emphasises supreme comfort and top-shelf ergonomics with stylish precision. It includes EVA foam at the back for increased breathability, a sternum strap and plenty of spacious pocket room among other things. Sleek and stunning.
Capacity: 34 L
Color: moto
Price: $500 AUD
6. Icon Squad 3
Hailed as a "tactical bag for the daily combat commuter", the Squad 3 from Icon is aimed at those who kneel before their mighty hog. In other words this was designed to be a true "biker's" backpack that could handle high speeds and rough terrains on a daily basis with absolute confidence. It flaunts sturdy nylon construction, the best in TPU hardware, a supportive chest strap system equipped with air mesh back padding and plenty of pocket room inside and out.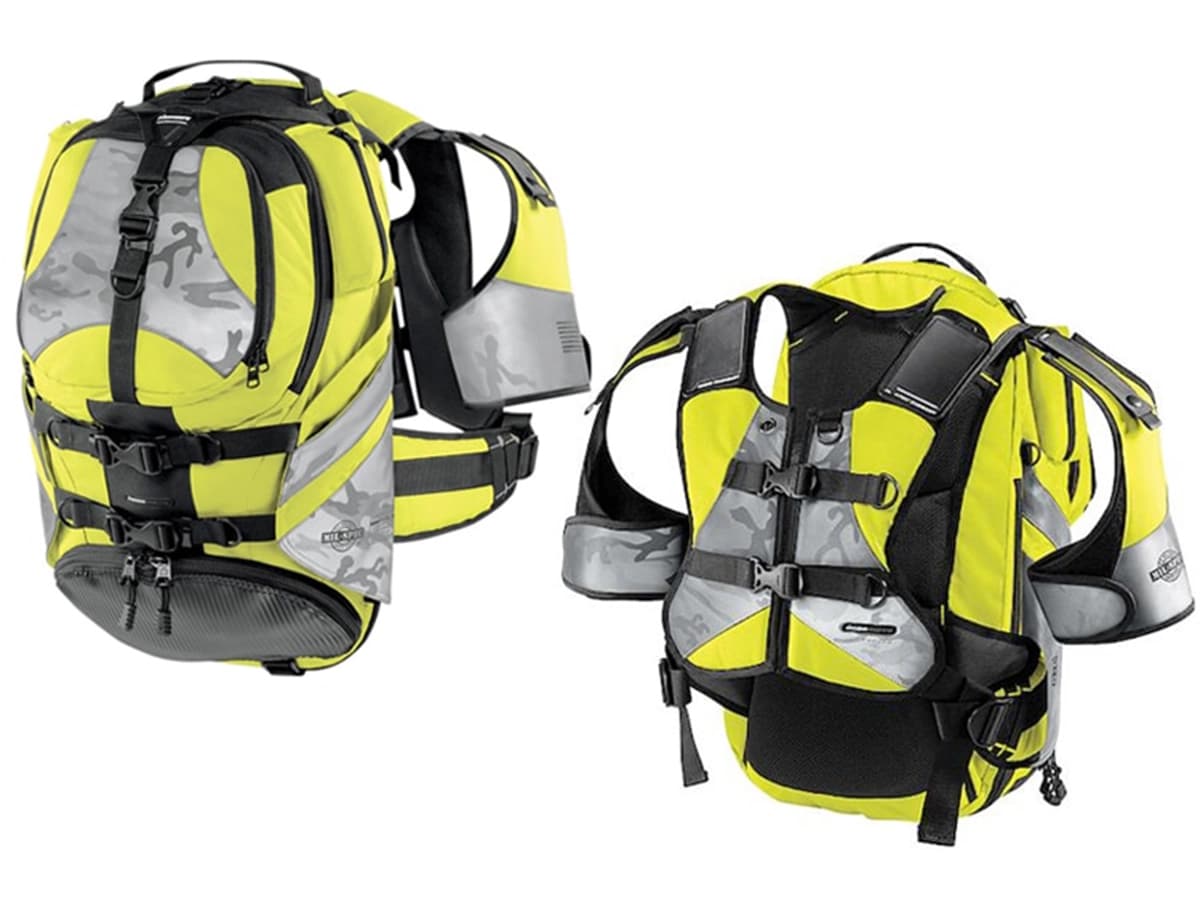 7. Icon Squad 2 Mil Spec
Touting features like upper arm straps, a nylon rib stop chassis and comfort fit closure, the Icon Squad 2 Mil Spec Backpack zooms past military PPE (personal protective equipment) requirements to the point where the accessory legally supplements high visibility vests or jackets. Now that's precision!
Capacity: 18 L
Color: orange
Price: $129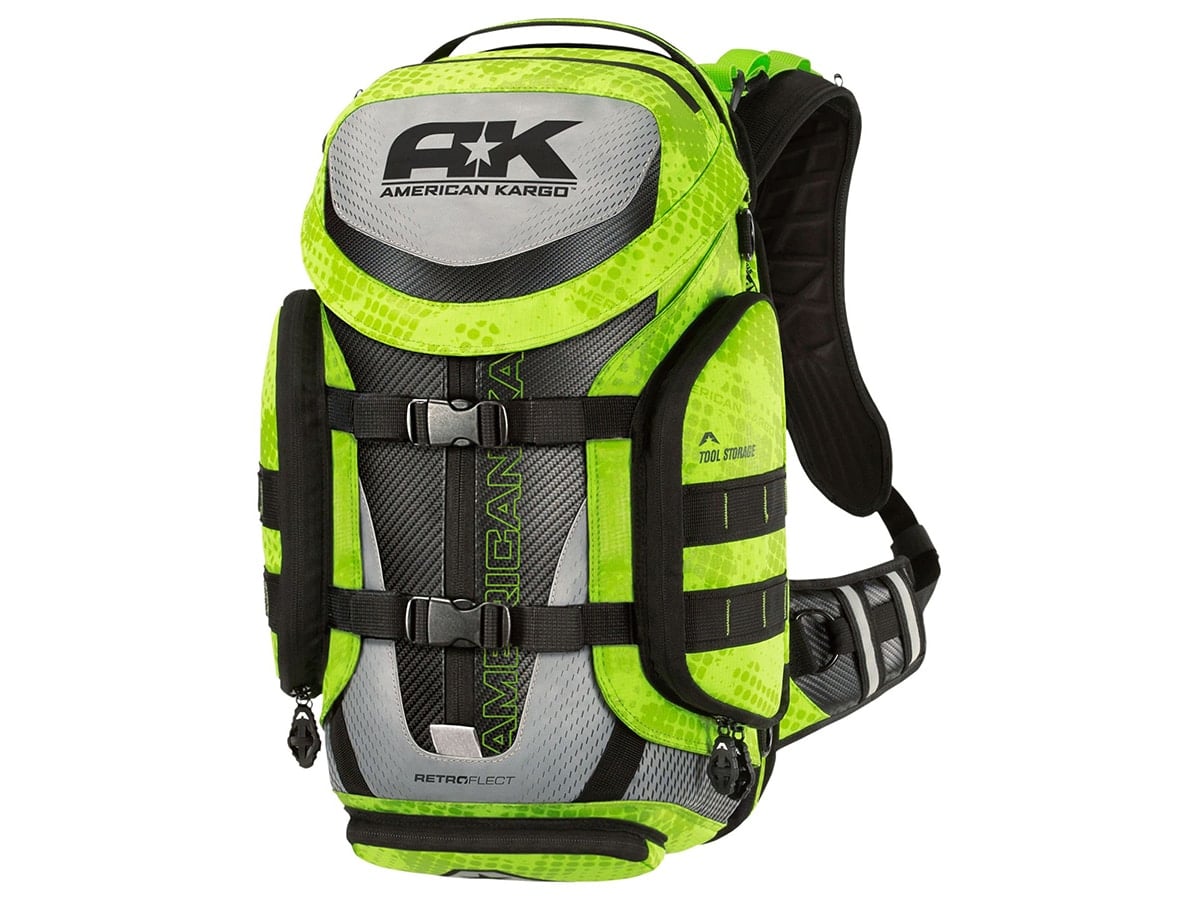 8. American Kargo Trooper
If you're a serious rider looking for perfect, all-inclusive motorcycle backpacks that cover essentially all the bases, look no further than the America Kargo Trooper. The backpack is such a highlight real of specs that to list them off might get tedious or almost start to sound like they're gloating. Let's just say if you're looking for a certain feature, they've included it. That means pocket room for every tool or accessory you can think of, materials that can withstand any environment, painstakingly durable construction and meticulous ergonomic design. Consider this "the one".
Color: black, stealth black, white, hi-viz yellow
Price: $189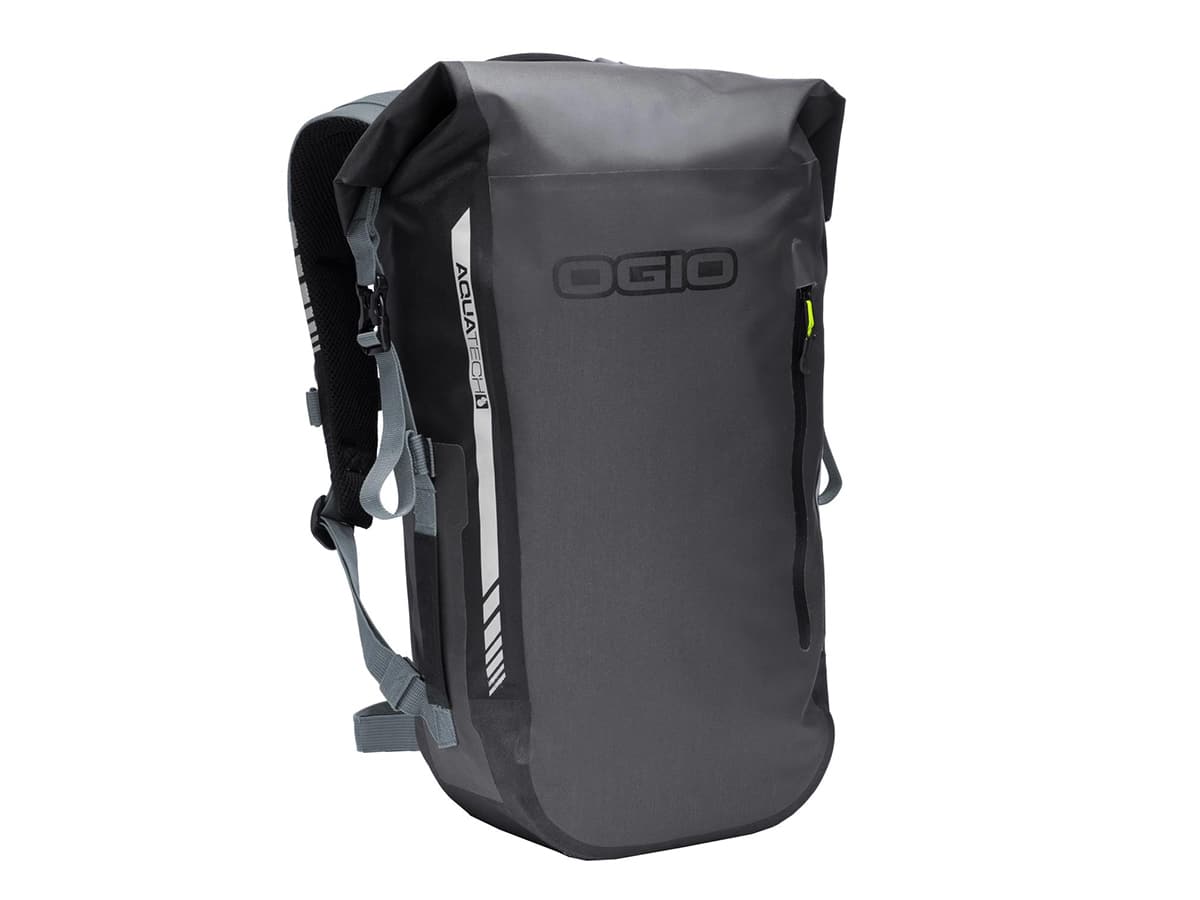 9. Ogio All Elements Pack
Ogio clearly knows a thing or two about motorcycle backpacks. The All-Elements is a versatile entry that duly left no detail behind. It looks great, feels great, and laughs in the face of harsh weather. Take it on the hog or into the wilderness and expect it to last.
Weight: 2.5 lbs.
Capacity: 1600 cubic inches
Color: black
Price: from $93.58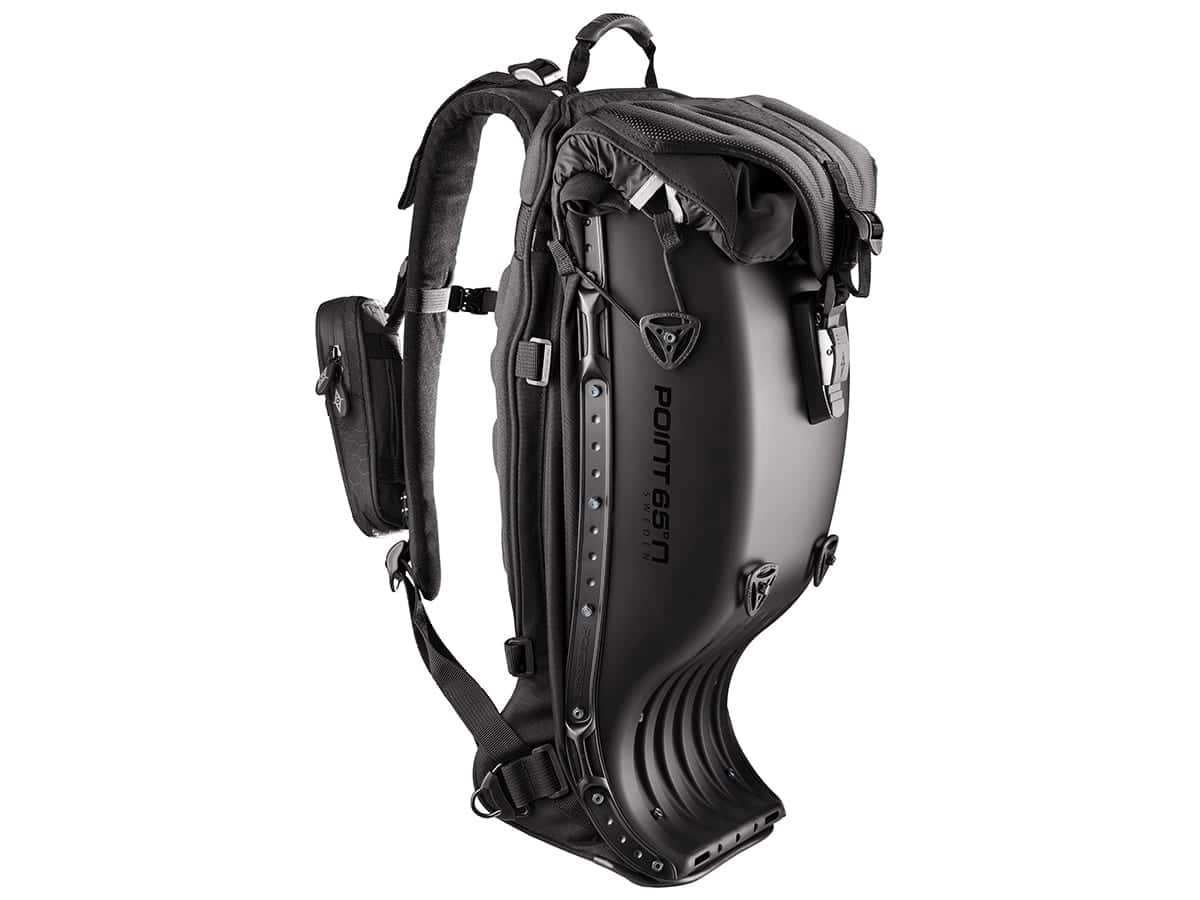 10. Point 65 Boblbee GTX 25L
Some brands really understand their demographic and Point 65 is certainly one of those brands. For evidence of the fact look no further than the Boblbee GTX 25L, which comes equipped with a shock-absorbent, ergonomic back plate made to protect your spine and back. That plate also features an aerodynamic dome and ventilation holes to reduce things like fluttering and perspiration. In spite of all that protection these motorcycle backpacks still manage to deliver premium comfort. This is a product that's truly got your back!
Weight: 4.5 lbs.
Capacity: 25 L
Color: phantom, igloo, spitfire, cobalt, diablo, lava, meteor
Price: $429.99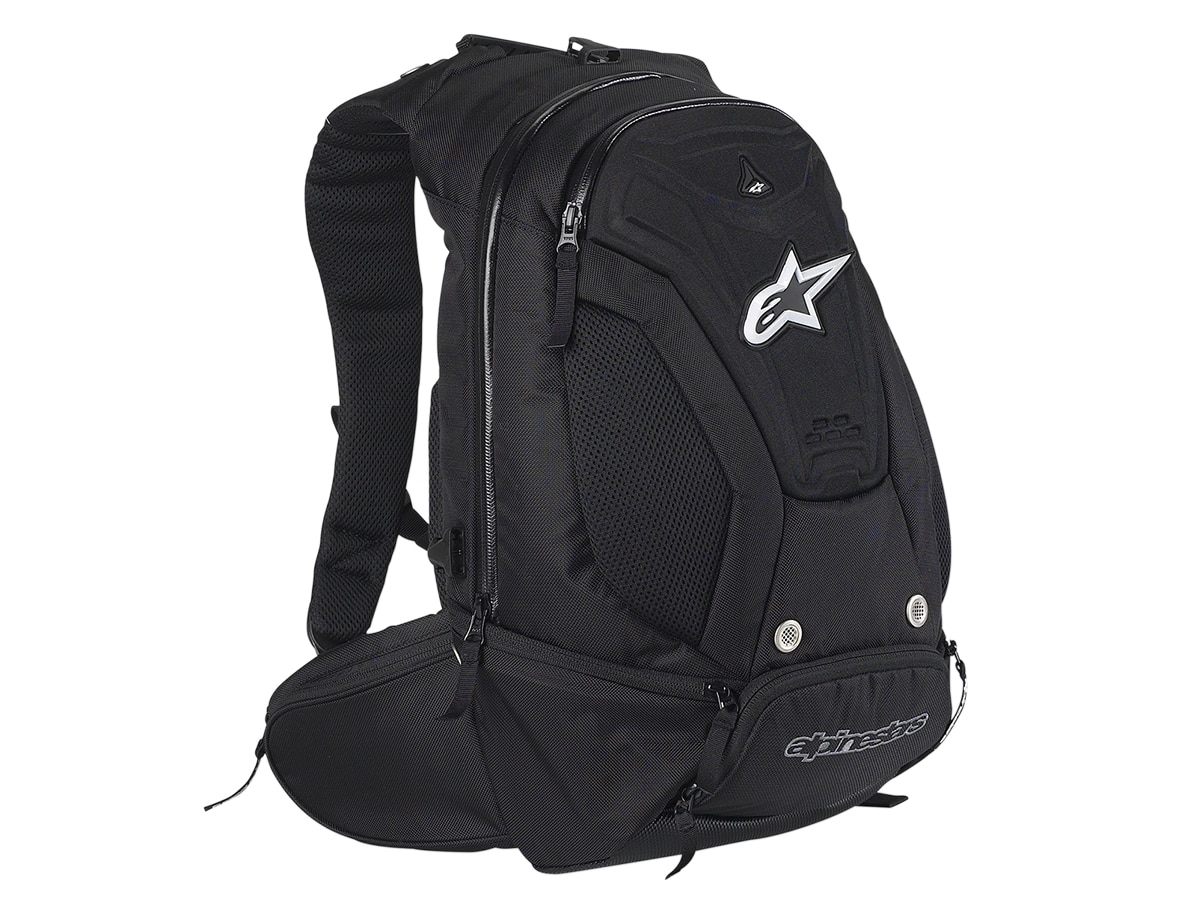 11. Alpinestars Charger R
Think customised. Think aerodynamic. Think innovative. That in essence is what the Charger R Backpack from Alpinestars is aiming for. The bag utilizes polyester construction, adjustable straps, anatomical padding at the back and plenty of other features to bring you an elevated tier of performance and support. It's also quite affordable.
Capacity: 18 L
Price: $129.95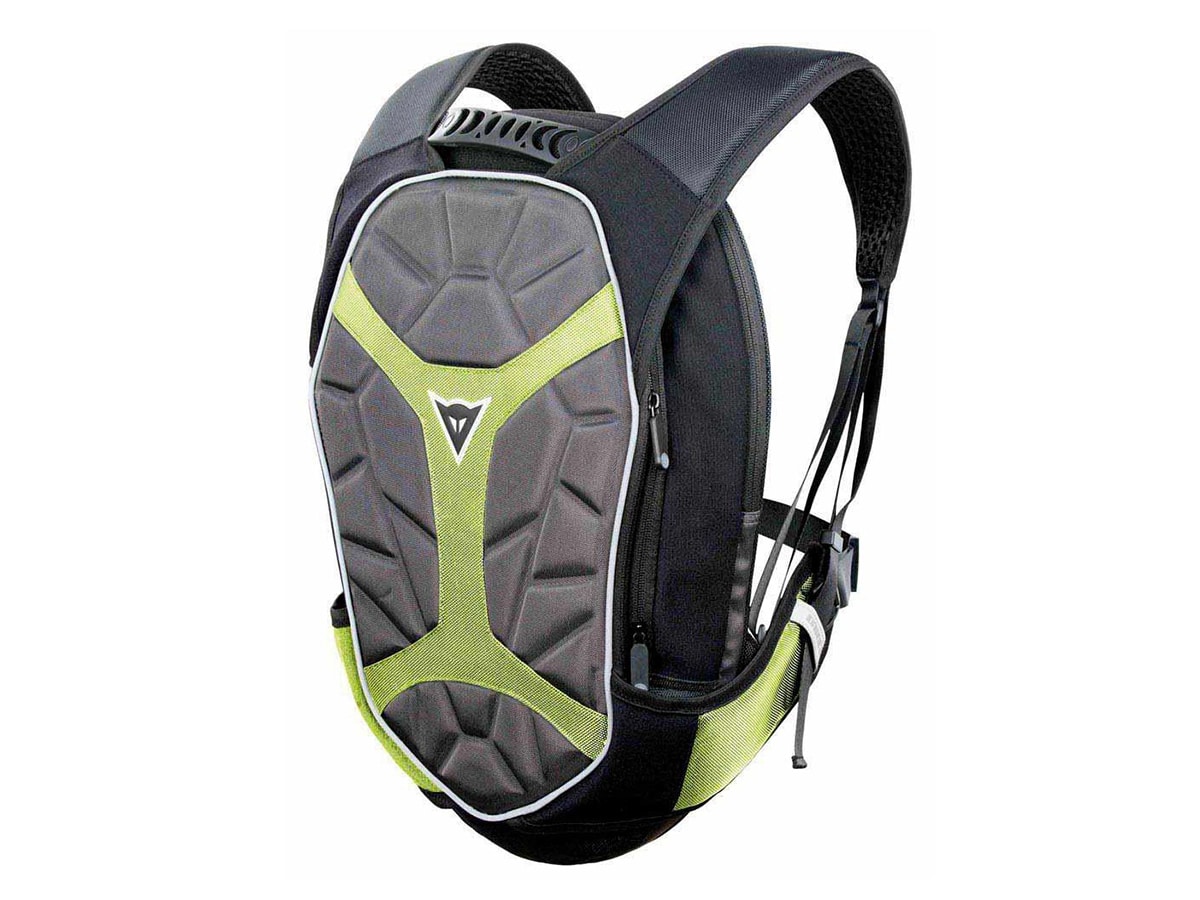 12. Dainese D-Exchange
Ask a biker why they ride and they might say "because it's liberating". The good folks at Dainese don't want to compromise the experience and so they designed a motorcycle backpack that keeps it stylish, light and simple. The D-Exchange includes a rain cover, adjustable straps, expandable storage room and plenty of pocket space. It doesn't want to bog you down because such a thing runs counter to why you bought a hog in the first place.
Capacity: 18-23 L
Color: black
Price: $89.98
You'll also like:

13 Best Work Backpacks for Men
General FAQ
What is the best motorcycle backpack?
A few of the best motorcycle backpacks are the Ogio No Drag Mach 1, Klim Krew Pak Bag, Chrome Industries Motor Baggage, and Icon Squad 3.
Are motorcycle backpacks dangerous?
If the backpack is not designed for motorcyclists it can be dangerous and cause imbalance or discomfort. If the rider falls, the backpack could potentially cause damage to the spine.