Given technology's current rate of acceleration, the best tech blogs and websites have the Herculean task of travelling at the speed of a Core i7 processor. And while the responsibility certainly offers no shortage of perks (as in all the free gadgets one could ever ask for), it also means staying consistently ahead of the curve by not just determining trends, but even setting them on occasion. After all, is a product or gadget really any good if a tech publication like The Verge or Wired doesn't say it is? Sometimes, perhaps, but a brand will have a hard time surviving if the best tech blogs aren't picking up what they're throwing down. Likewise, any savvy enthusiast owes it to himself to keep pace with the industry at large by checking in daily with the Internet's most viable sources. Here are the 10 Best Tech Blogs. May they guide you well.
This article is part of our Technology of Today series.
You'll also like:
10 Best Men's Gear Blogs
21 Best Watch Blogs
14 Best Architecture Blogs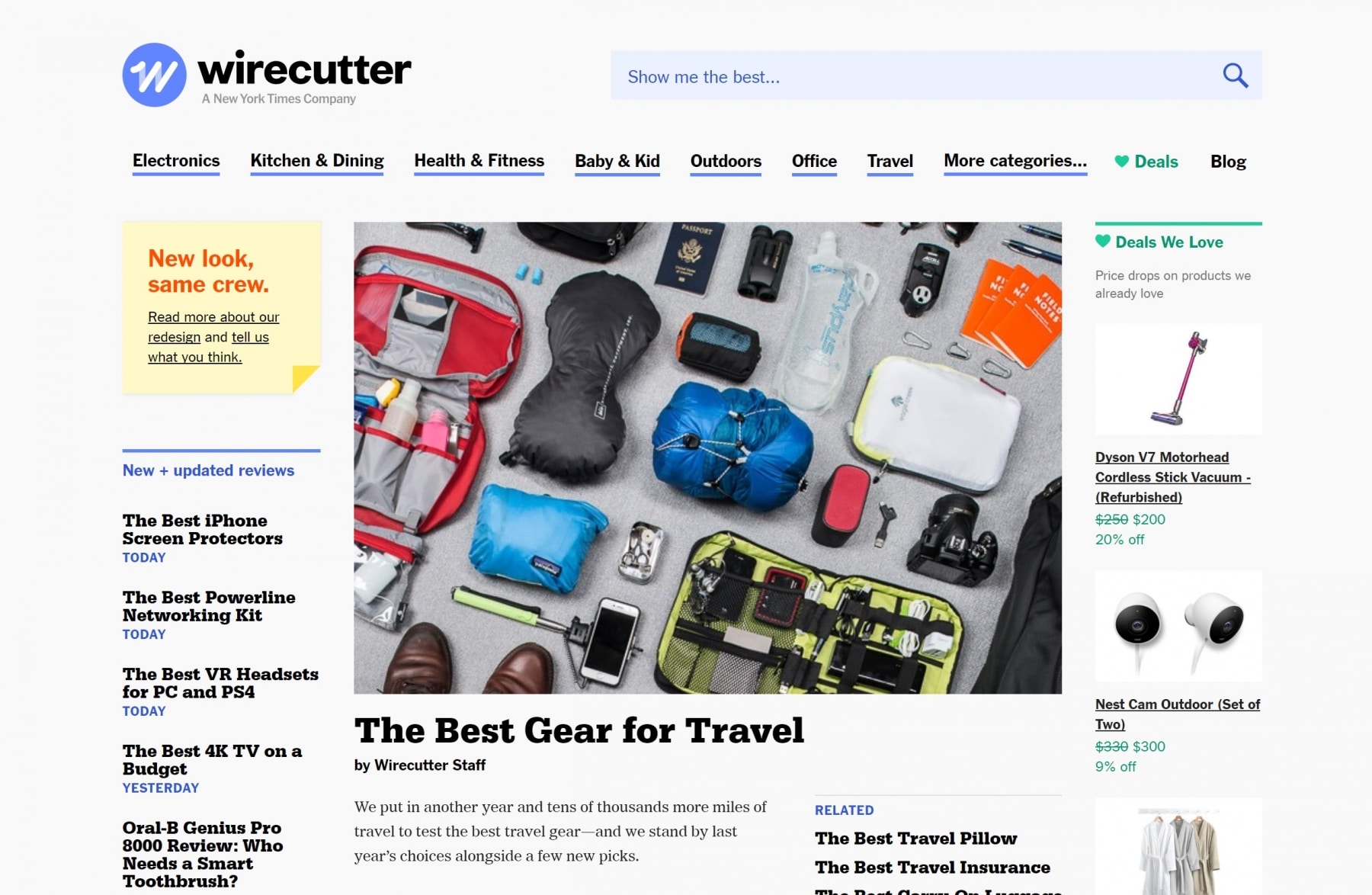 1. Wirecutter
Founded in 2011 and currently owned by the New York Times, Wirecutter samples all things gear and technology and then features the cream of the crop for your consideration. Its team consists of journalists, researchers and scientists alike, which helps explain the site's thoroughly broad coverage. If you're looking for the best of the best products in any given category (meaning everything from printers to computers to camping gear), see what Wirecutter has to say about it and then move forward accordingly. For that reason and more, this is one of the best tech blogs on the Internet.
Founder: Brian Lam
Year Started: 2011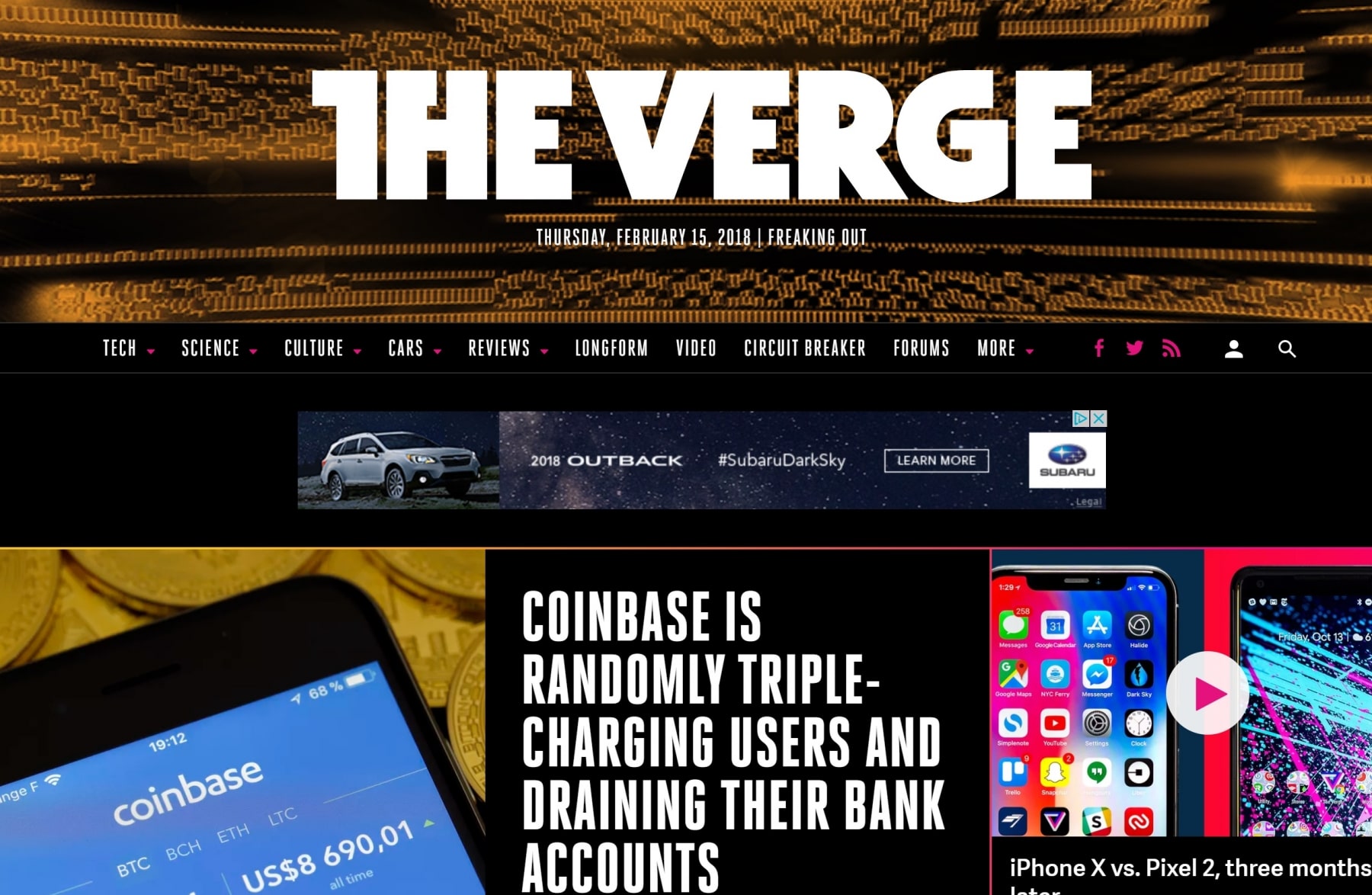 2. The Verge
More than just one of the best tech publications, The Verge is arguably the foremost authority on contemporary products and trends. Owned by Vox Media, the legendary tech blog seems to get its hands on literally every gadget, frequently before that gadget is released or even completed. In return for such unparalleled access, The Verge offers extensive coverage and no shortage of personal perspective. Accordingly, their reviews help make or break the future of technology itself.
Founder: Joshua Topolsky, Jim Bankoff, Marty Moe
Year Started: 2011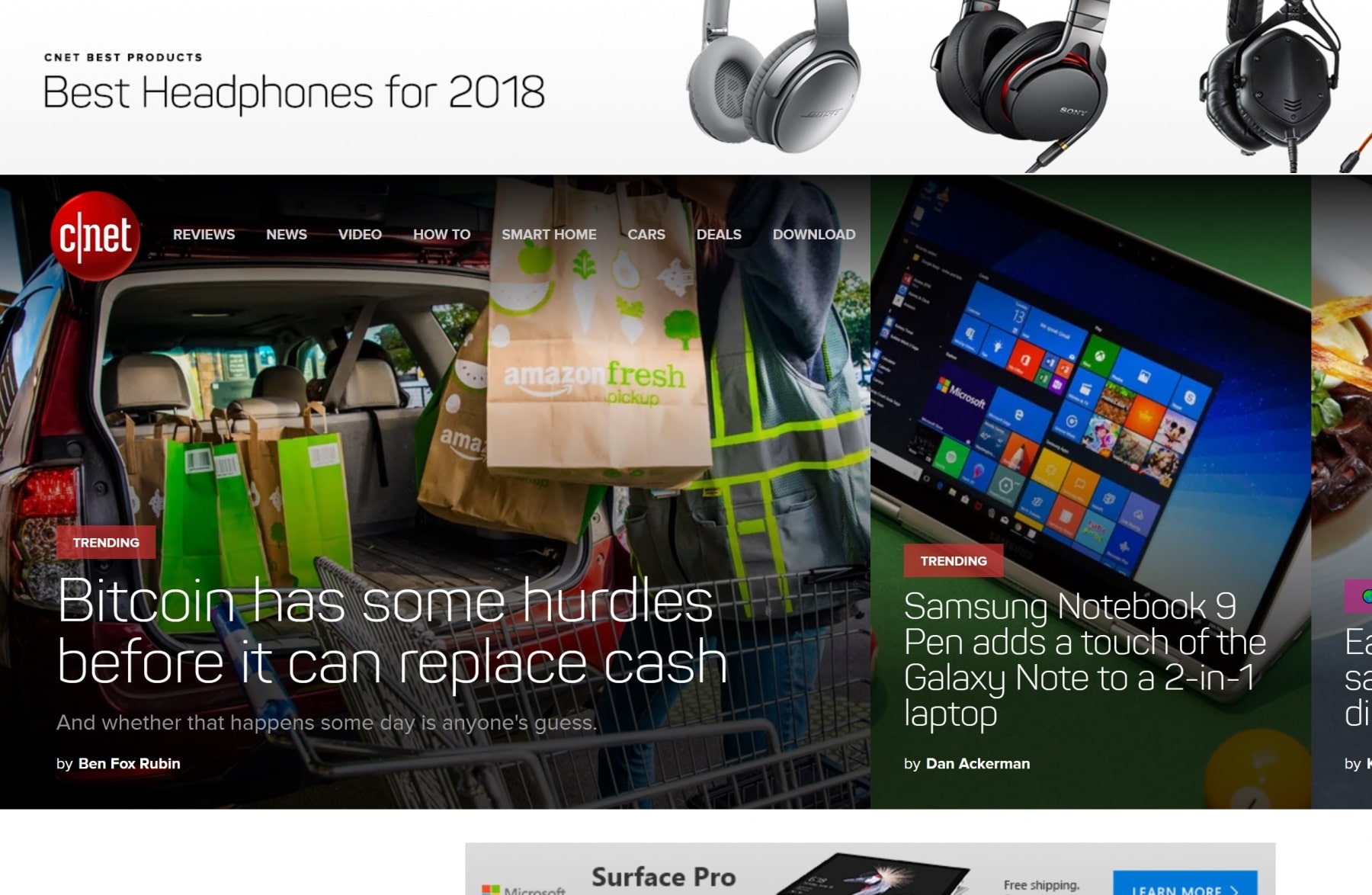 3. CNET
Following the latest in consumer technology with steadfast precision is CNET, one of the best tech websites you can find. Like some of the other best tech blogs on this list, CNET stays one step ahead of the curve by getting its hands on all sorts of incredible products, and offering unbiased reviews. That's joined by instructional videos, trusty guides and up-to-the-minute news on everything from science to sports.
Founder: Halsey Minor, Shelby Bonnie
Year Started: 1994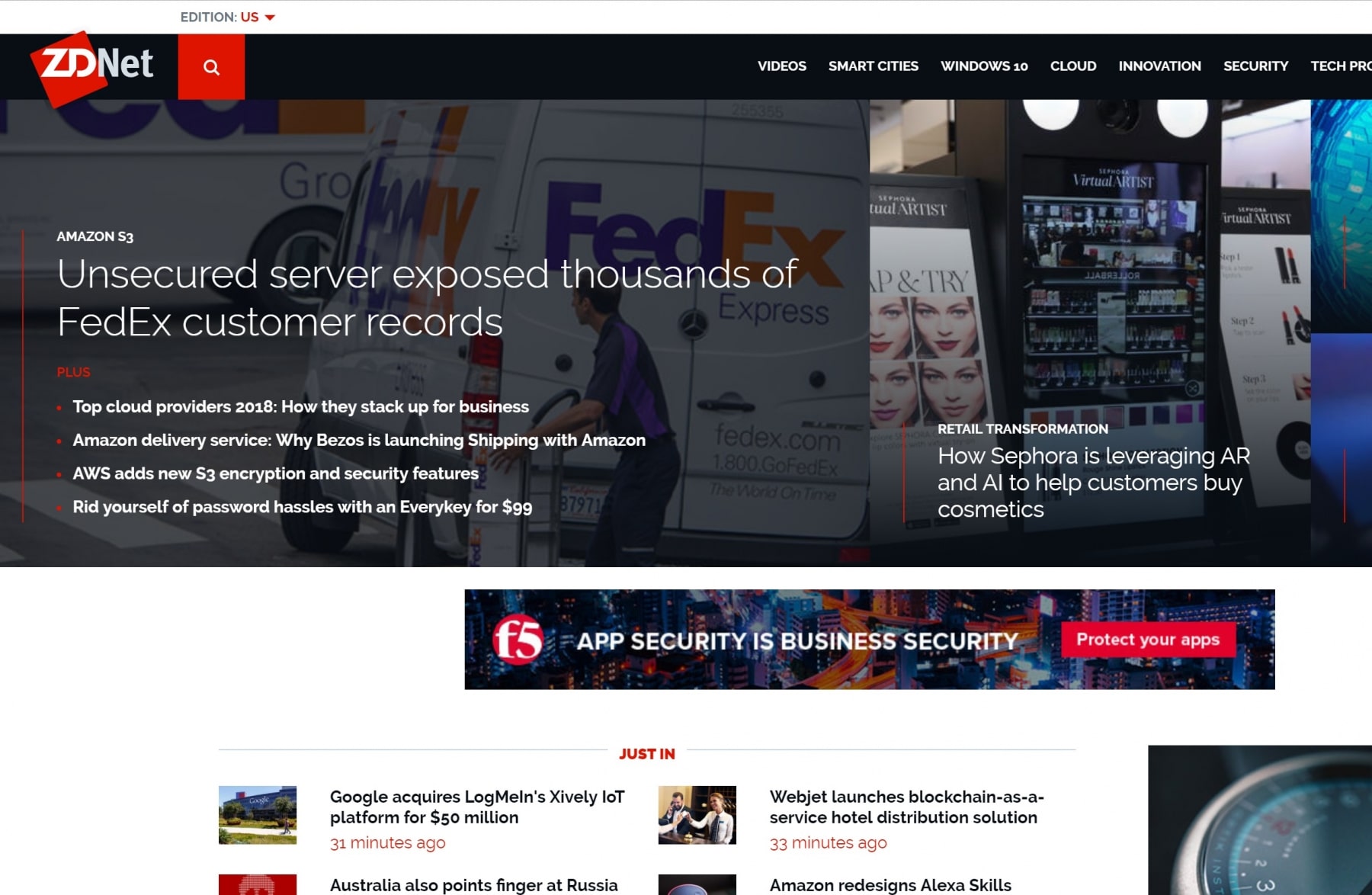 4. ZDNet
Those who work in tech know it's a fast-paced world, and they need a tech publication that can keep up. ZDNet is that publication. Owned by CNET Networks, the top tech website focuses on 24/7 news coverage for IT professionals and opportunity-seekers. Come here to find the latest in consumer trends or keep pace with business news as it's happening.
Year Started: 1991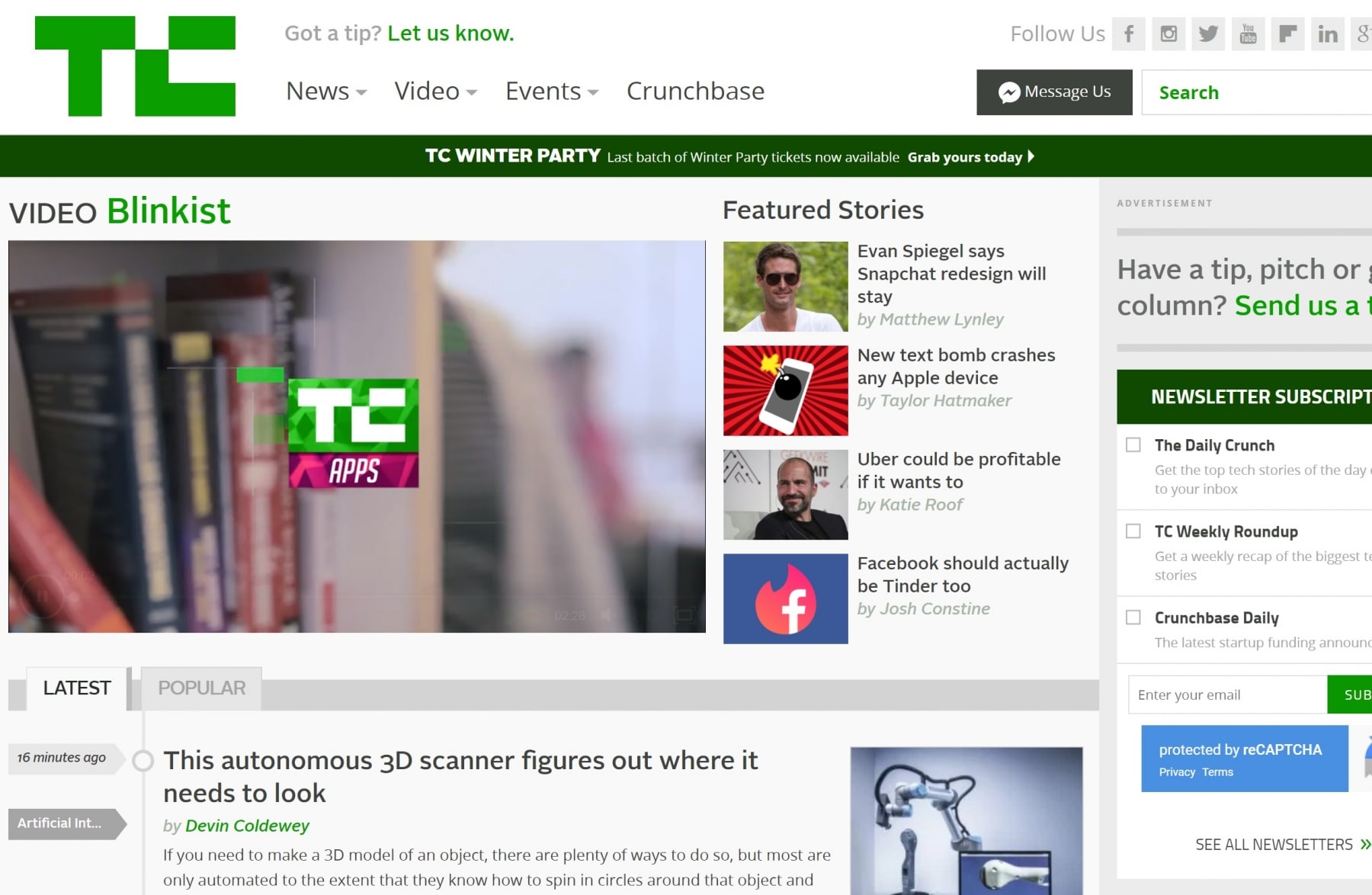 5. TechCrunch
Since 2005, TechCrunch has been one of the best technology blogs in the world, swiftly reporting on new start-ups, new developments and new products alike. In addition to its coverage–which reaches more than 12 million unique visitors a month–the site hosts major global events like the Disrupt series and The Crunchies awards. As if that wasn't enough, TechCrunch also established Crunchbase, an open database and statistical resource for investors and speculators alike. In other words, you're arguably not truly connected if you're not in some way part of the TechCrunch ecosystem.
Founder: Michael Arrington, Keith Teare
Year Started: 2005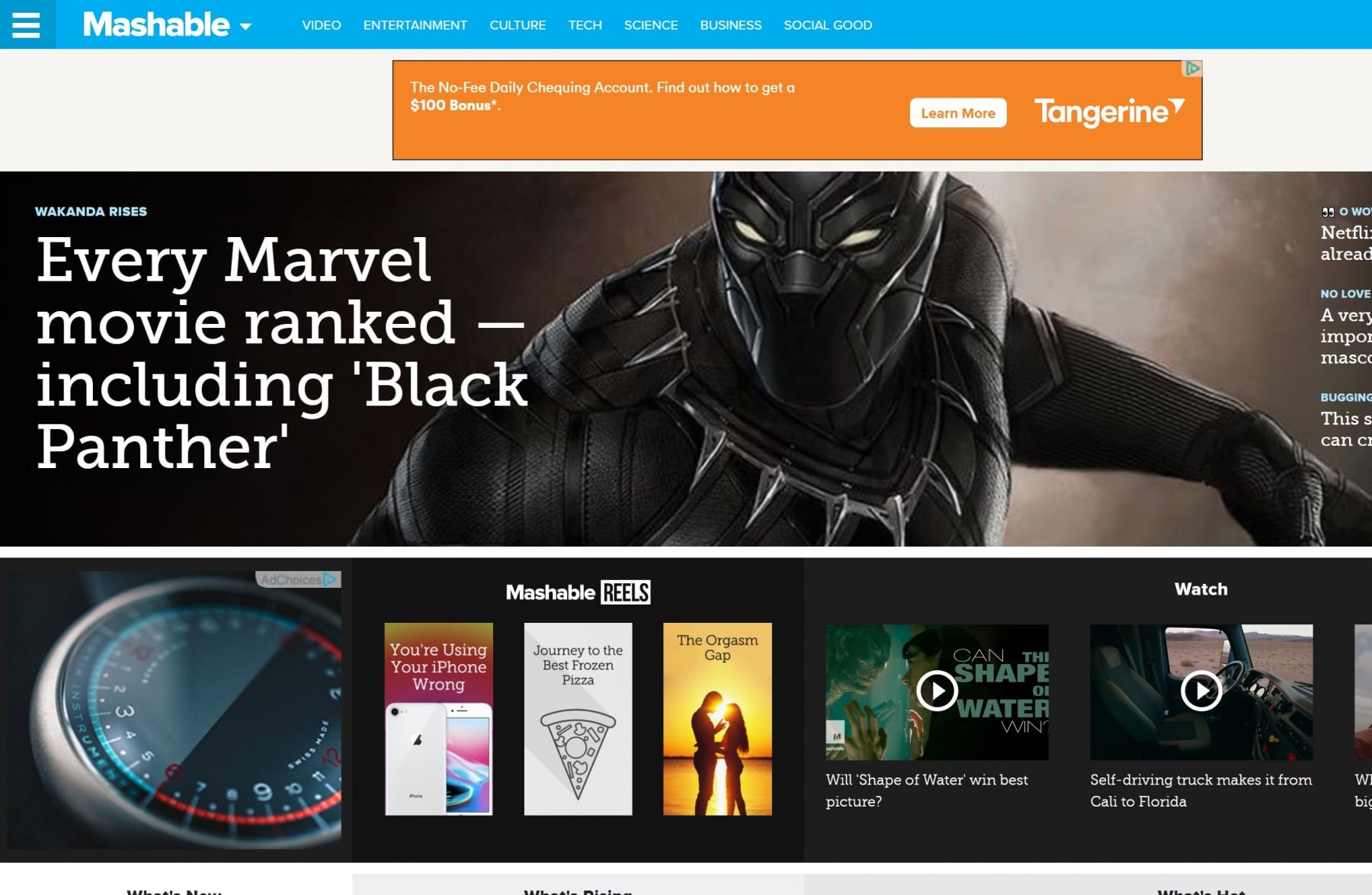 6. Mashable
For those who want to broaden their horizons beyond the tech sphere, look no further than Mashable. While savvy enough to run on its own proprietary technology, the site nevertheless makes a concerted effort not to pigeon-hole itself into a tech-heavy corner. That makes the platform a terrific destination for those who want to catch up on pretty much everything, meaning politics, movies, finance, travel and, of course, gadgetry. Also featured are a number of niche articles and perspectives that you won't find elsewhere. Suffice to say, Mashable is quite simply an ideal way to kill a few hours online.
Founder: Pete Cashmore
Year Started: 2005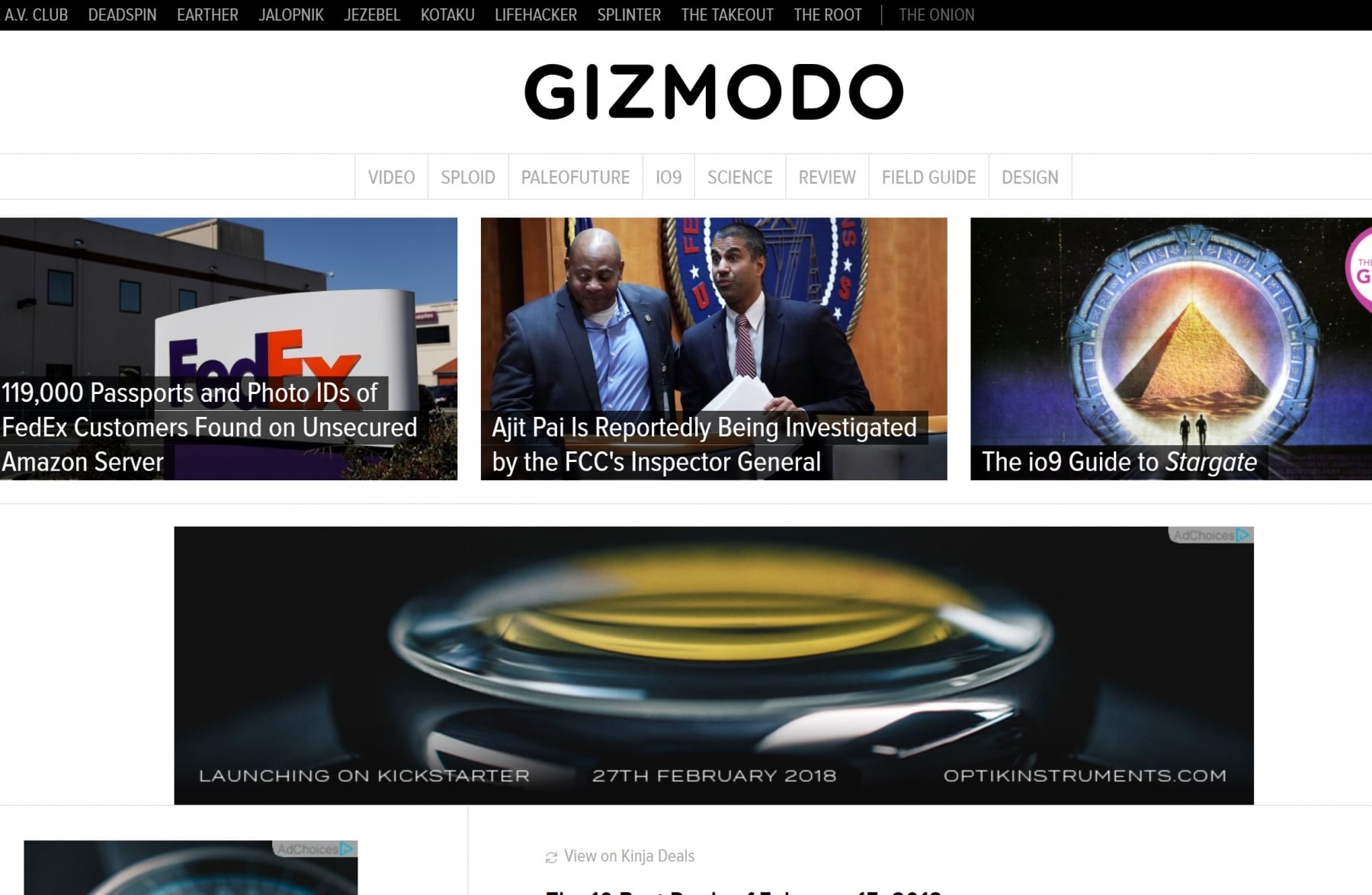 7. Gizmodo
"We come from the future," Gizmodo declares, providing more than enough content to back up its claim. The mega-popular tech blog and news site keeps its fingers on the pulse of the world and updates its readers accordingly. Worth noting is that, like most tech blogs, Gizmodo touts a progressive edge. In other words, those hoping to avoid politics might best take their reading elsewhere. Everyone else, however, is more than welcome to visit and engage.
Founder: Pete Rojas
Year Started: 2001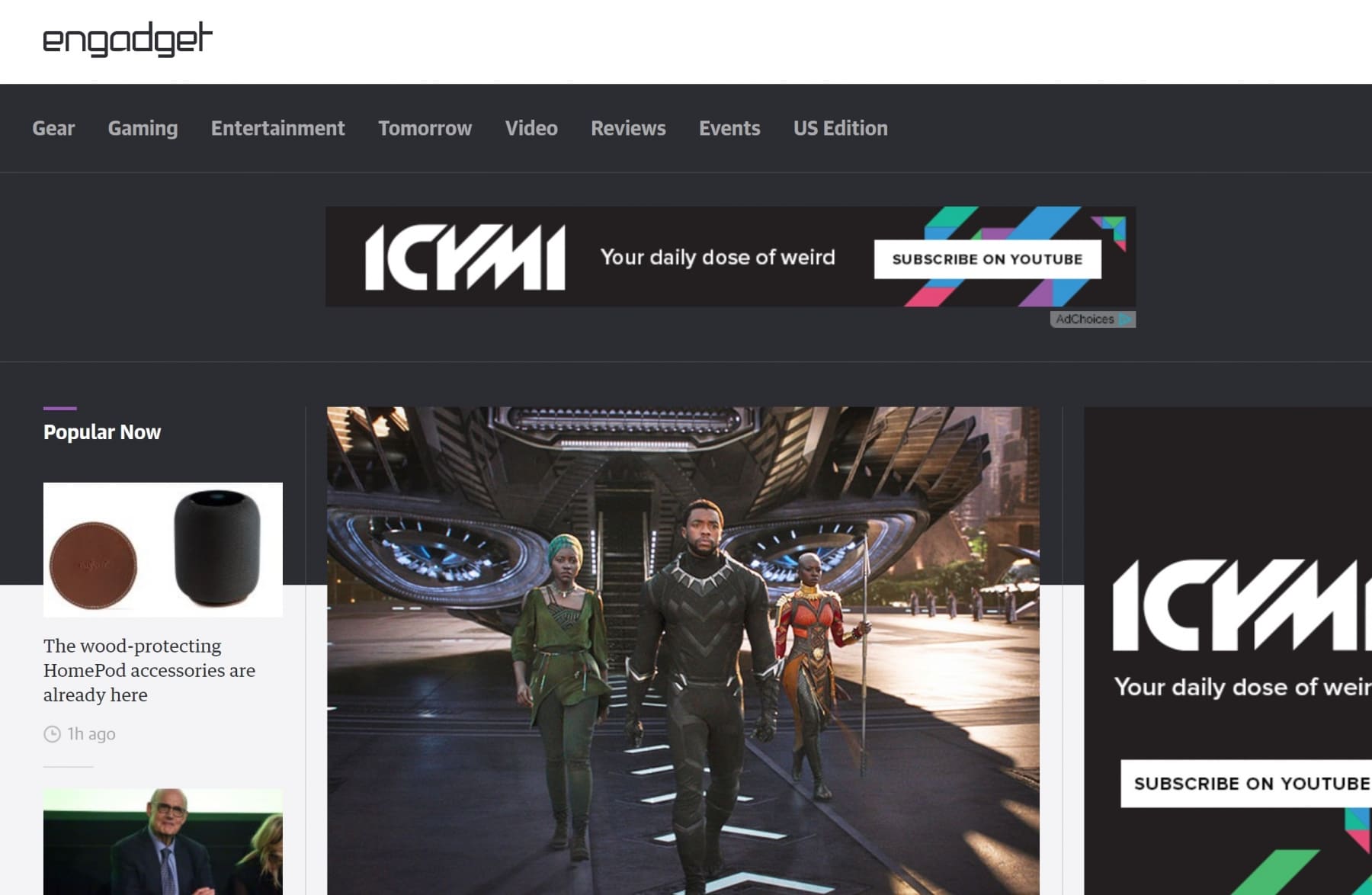 8. Engadget
Since 2004, Engadget has grown from a humble tech blog into a leading global news organisation with millions of readers and a broad, seasoned staff. Come here for the latest news and reviews in gaming, entertainment and tech, and leave both informed and satisfied. You can also use the site to dig in to the archives of some of the best, early tech publications like Joystiq and TUAW. Of course, if you'd rather keep your focus squarely on the future, Engadget is more than happy to oblige.
Founder: Pete Rojas
Year Started: 2004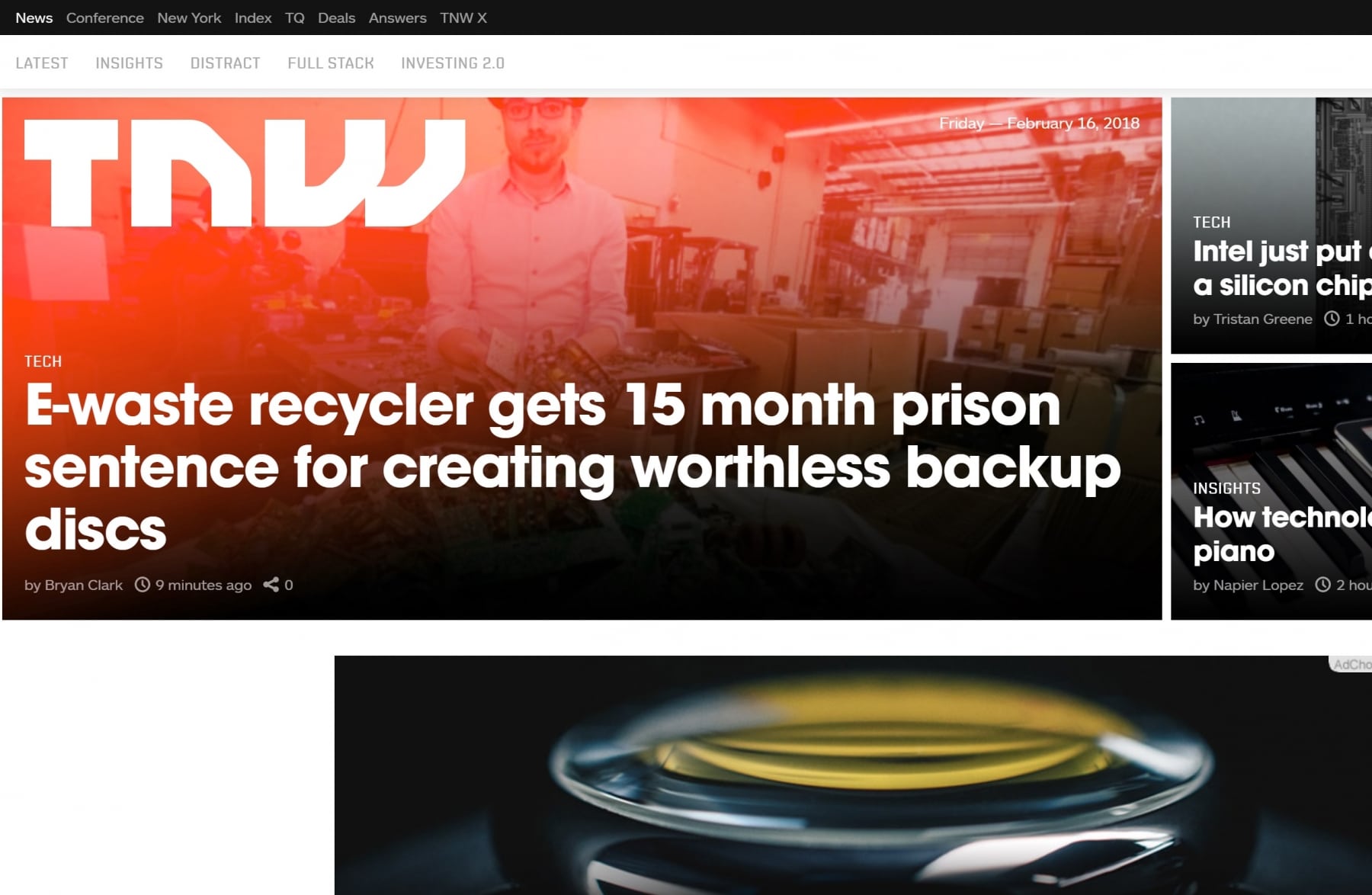 9. The Next Web
To help publicise a self-started tech conference in 2006, two dudes named Boris and Patrick created a website called The Next Web (or TNW). The event came and went, but the site continued to evolve, soon becoming one of the best technology blogs on the Internet. Nowadays, TNW is a full blown media company and formidable resource for all things tech and beyond, proving just how far an idea can travel with the right minds behind it.
Founder: Boris Veldhuijzen van Zanten, Patrick de Laive
Year Started: 2006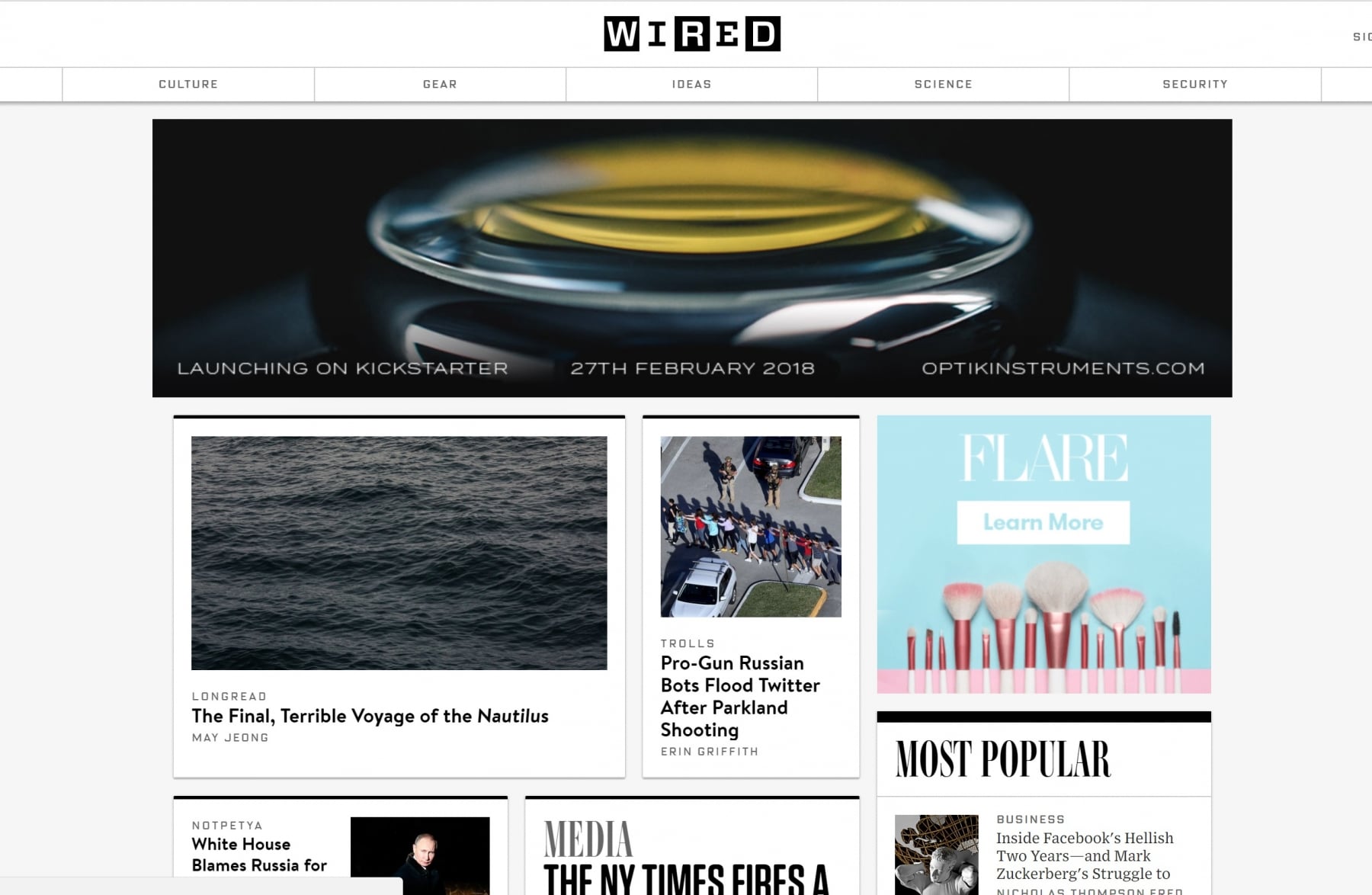 10. Wired
No list of the best tech websites is complete without Wired. The massively popular publication makes good on its name by being tapped in to every nook and cranny of the tech world, additionally being no stranger to topics like entertainment, culture, science, politics and social media. Comprehensive and informed, Wired is basically your gateway to the modern world itself.
Founder: Louis Rossetto, Jane Metcalfe
Year Started: 1993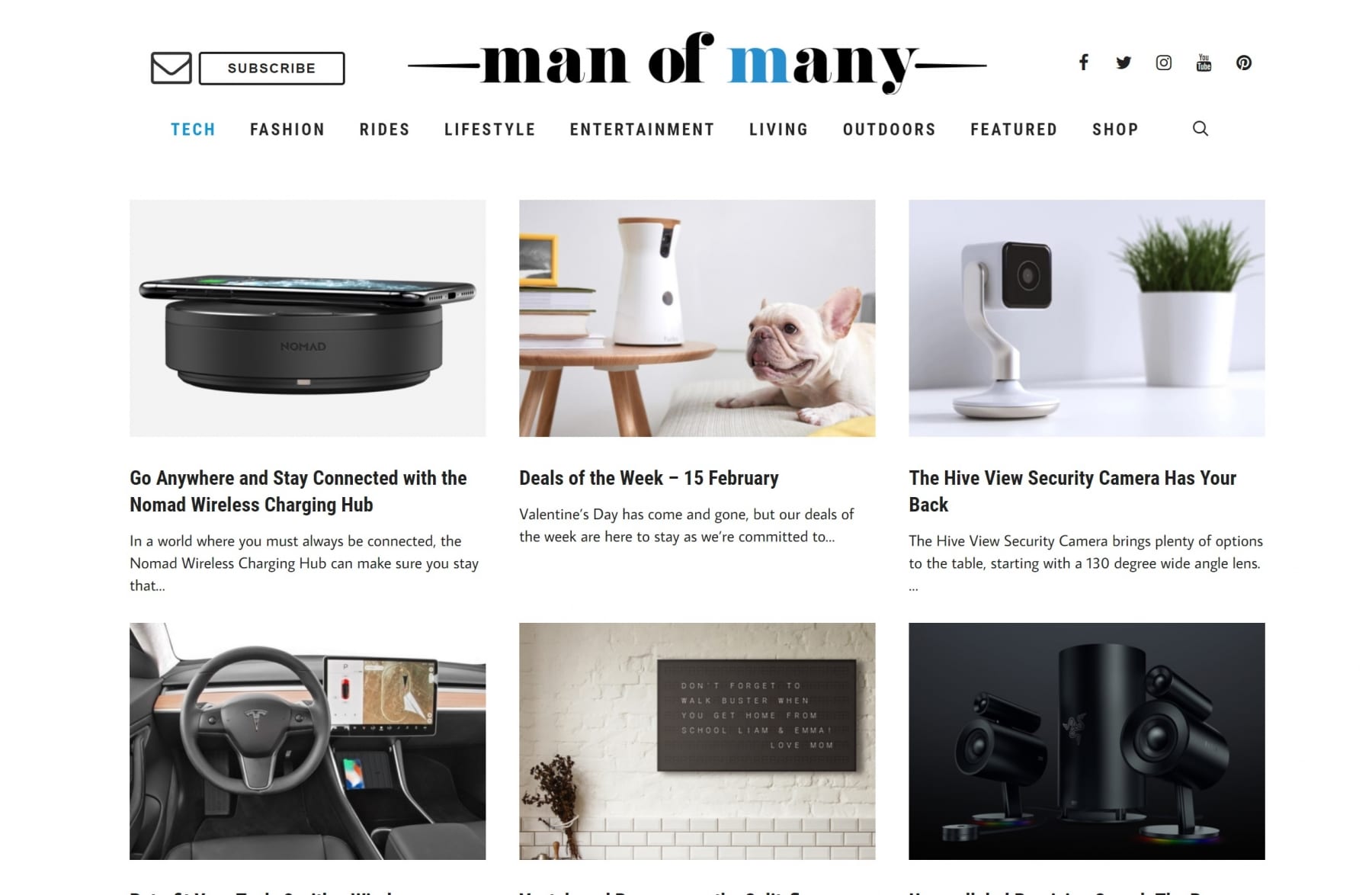 Bonus: Man of Many
As bona fide lovers of tech (not to mention culture, cars, entertainment, fashion and more), we here at Man of Many feel no shame in name-dropping ourselves as being one of the best tech blogs your eyes can come across. If it's hot and happening, you'll find it here. Trust us.
Founder: Frank Arthur, Scott Purcell
Year Started: 2013
This article is part of our Technology of Today series.
You'll also like:
16 Best Grooming Blogs, Sites & Magazines
15 Tasteful Websites for the Best Nudes
Top 10 Australian Men's Fashion & Lifestyle Sites and Blogs
Have you subscribed to Man of Many? You can also follow us on Facebook, Twitter, and Instagram.