14 Best Architecture Blogs
Whether you're an aspiring architect looking for sound advice, or merely an enthusiast scoping hot designs from around the world, there's no wrong reason to check out the best architecture blogs. Indeed, while architecture remains one of mankind's oldest art forms, that doesn't stop original ideas from emerging on a near daily basis. With the best architecture blogs at your disposal, you can keep pace with those ideas as soon as they surface, and maybe one day contribute an idea of your own. Here are the 14 Best Architecture Blogs. Use them as your career guide or as your daily dose of building porn. Again, there's no wrong way to do it.
This Article is part of our Home & Design Series
You'll also like:
Chris Hemsworth's House in Byron Bay is Huge
Stay Beneath the Stars in the Ultra-Minimalist Willow Cabin
10 Best Men's Gear Blogs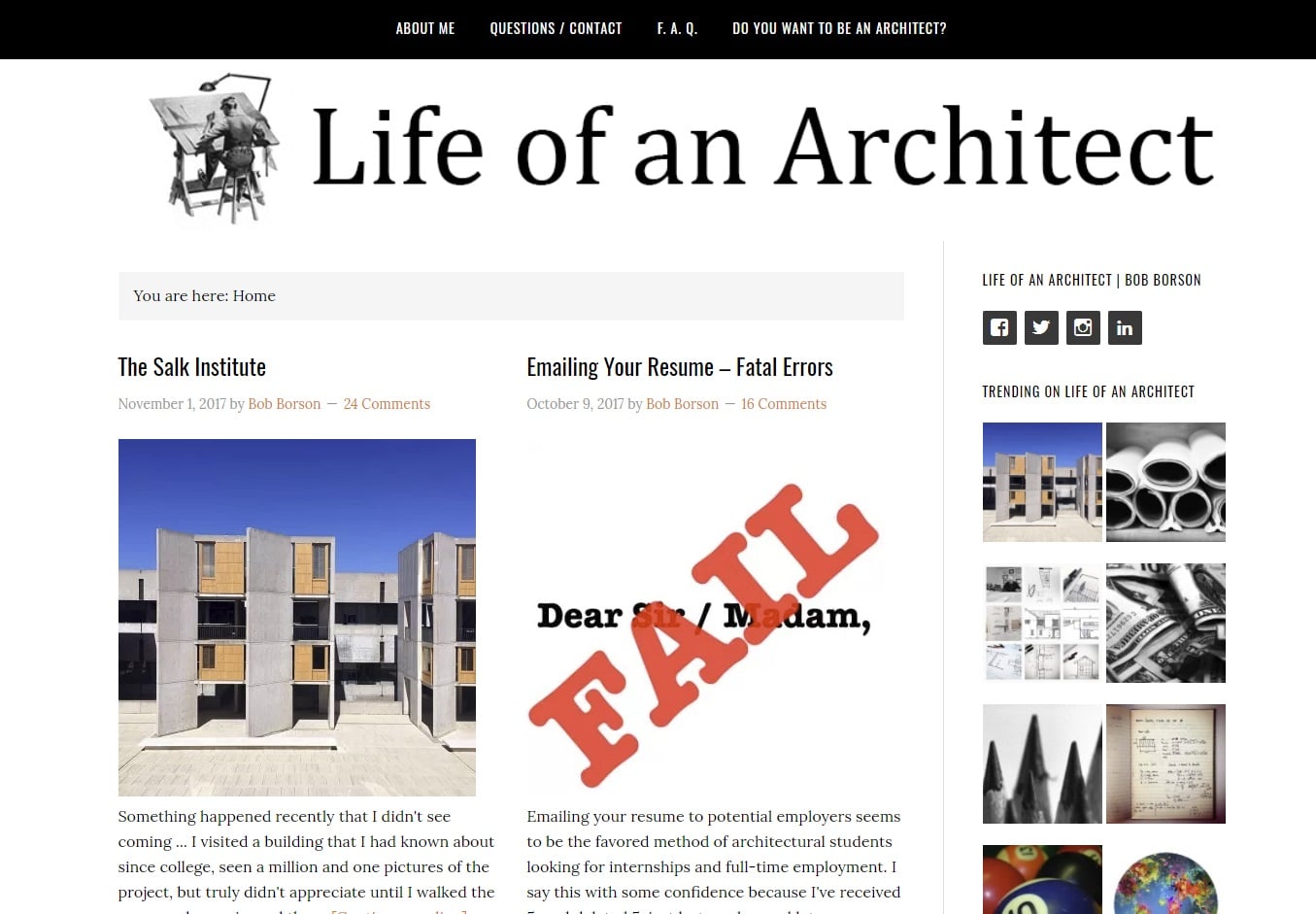 1. Life of an Architect
Bob Borson is an award-winning architect whose Texas firm works primarily with modern residential design. That makes Borson's blog, Life of an Architect, more or less exactly what it sounds like. If you want the latest in design, technology, education, culture and even social media, enhanced by a friendly, personal touch, accept no substitute.
Founder: Bob Borson
Year Started: 2010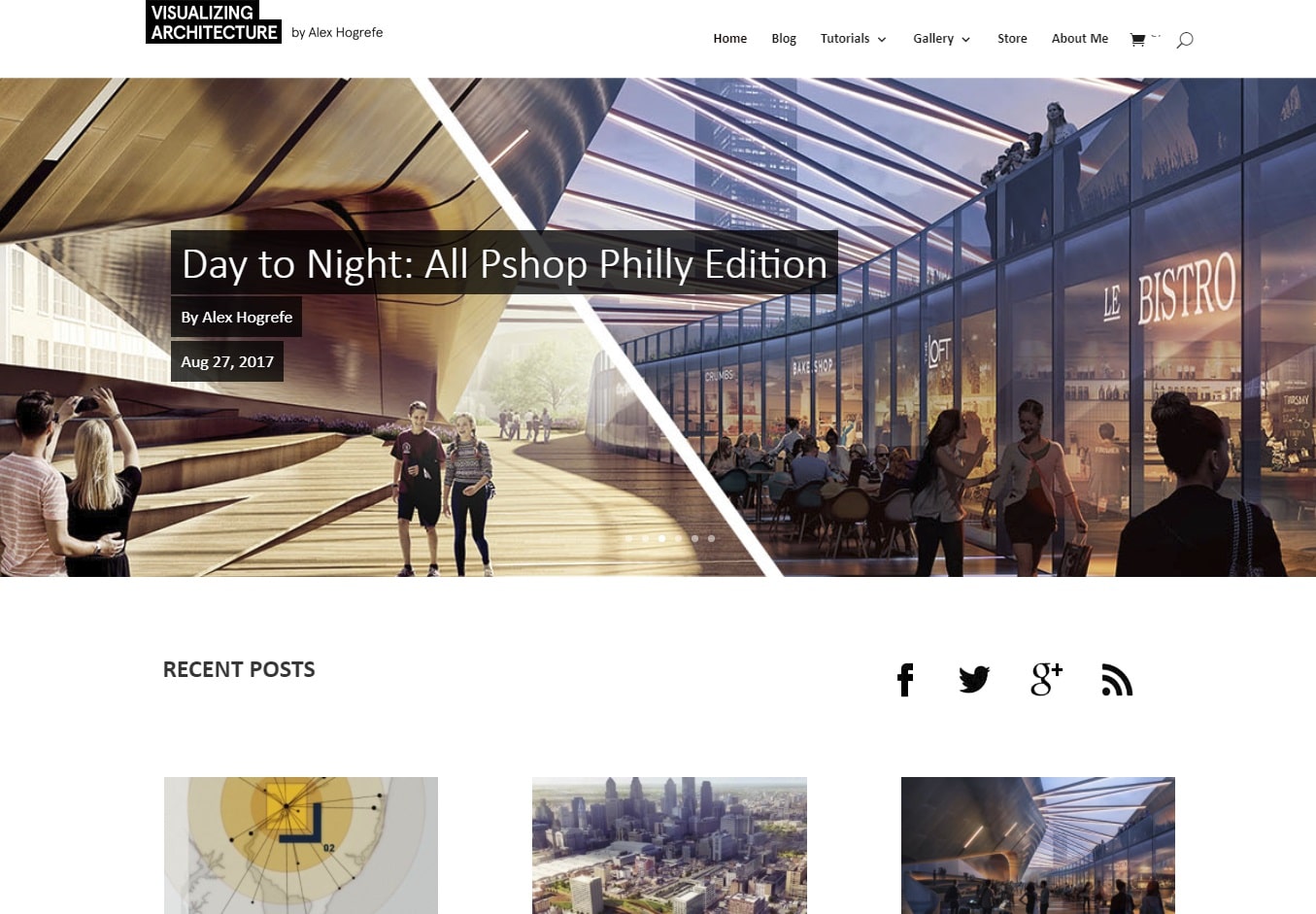 2. Visualizing Architecture
To call architecture a visual medium would be an understatement to say the least, however Visualizing Architecture truly runs with the concept. Founded by Alex Hogrefe, the site conceives various buildings, cities, bridges and other structures from the ground up, rendering sketches and 3D illustrations alike. As such, the blog offers a poignant window into both the process and creativity behind architectural projects, big and small. This is one of the best architecture blogs for those who truly want to understand design from a 21st century perspective.
Founder: Alex Hogrefe
Year Started: 2009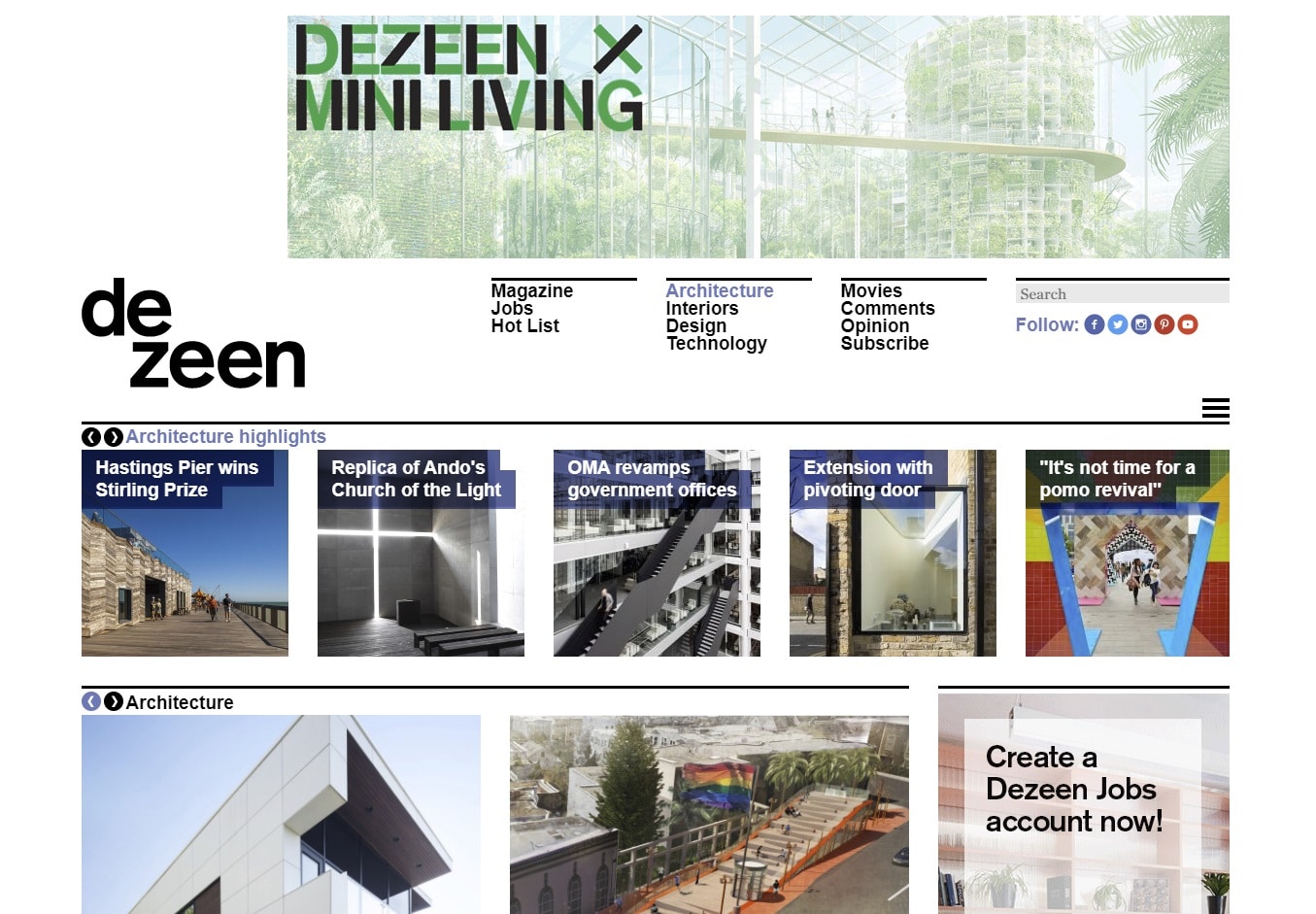 3. Dezeen
Massively popular and influential, Dezeen first launched in 2006 as a straightforward blog before growing into a full-blown online magazine that attracts over two million unique visitors a month. Far more than one of the best architecture blogs, Dezeen is a veritable institution complete with published books, a watch store and its own jobs section among other things.
Founder: Marcus Fairs
Year Started: 2006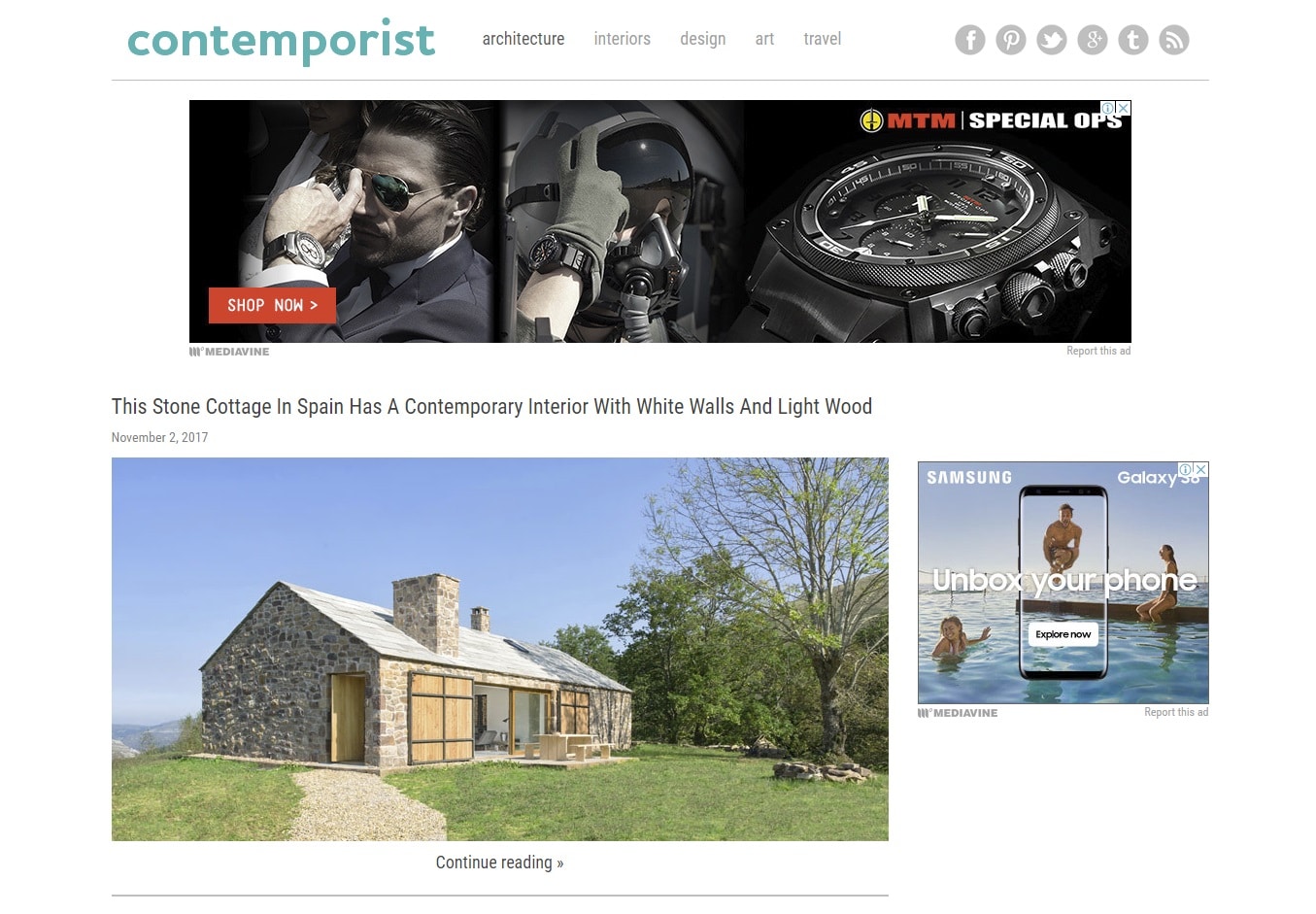 4. Contemporist
If it's new, exciting, and even loosely related to architecture, Contemporist is all over it. The popular blog keeps both architects and interior designers squarely in the know when it comes to new products and new designs alike. Also covered are peripheral arenas like culture, art and travel.
Year Started: 2007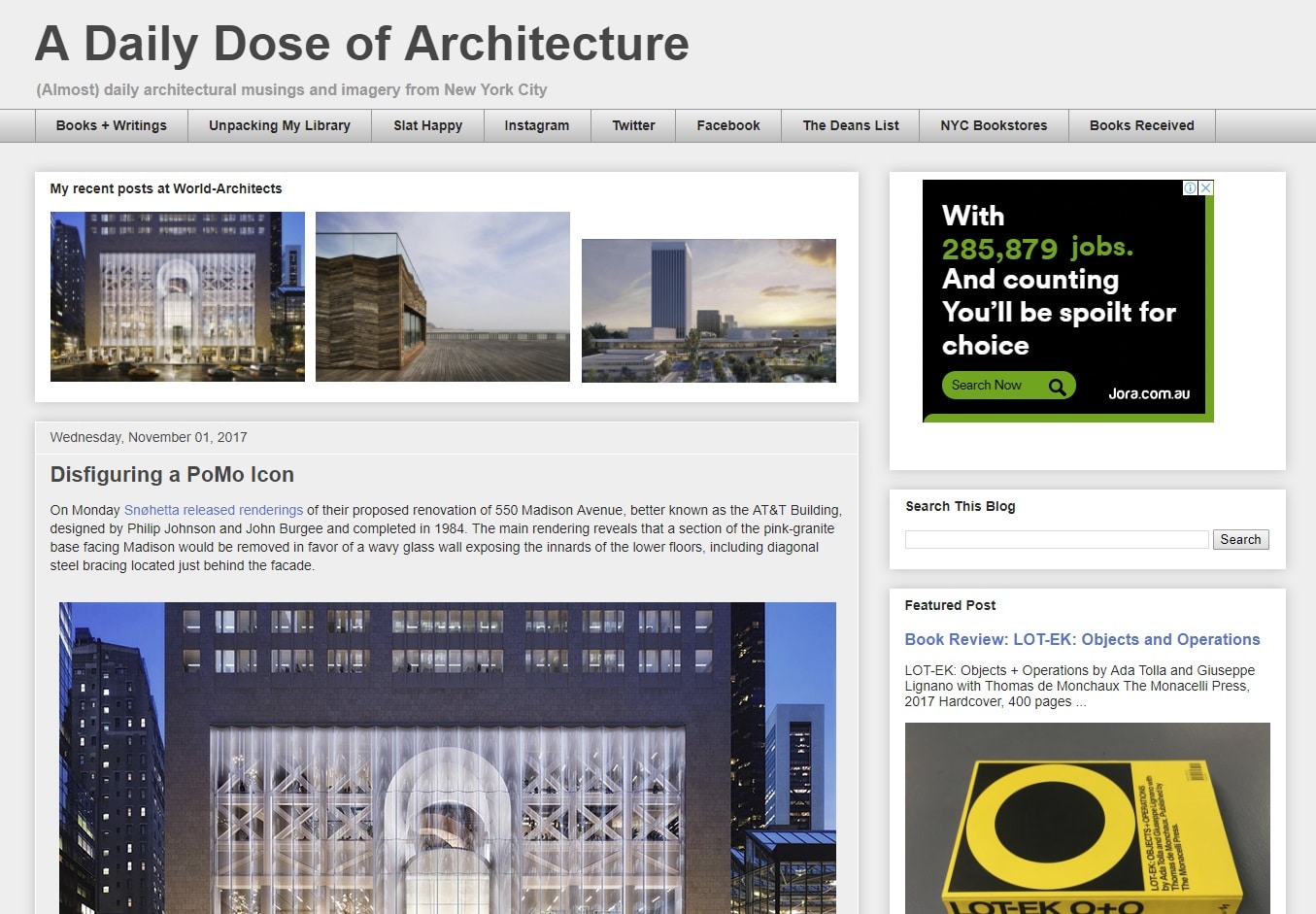 5. Daily Dose of Architecture
When in need of your architecture fix, a Daily Dose of Architecture is just what the doctor ordered (with an Rx symbol in the tab header to show for it). Run by John Hill, the top architecture blog delivers your daily helping of vivid imagery and approachable coverage.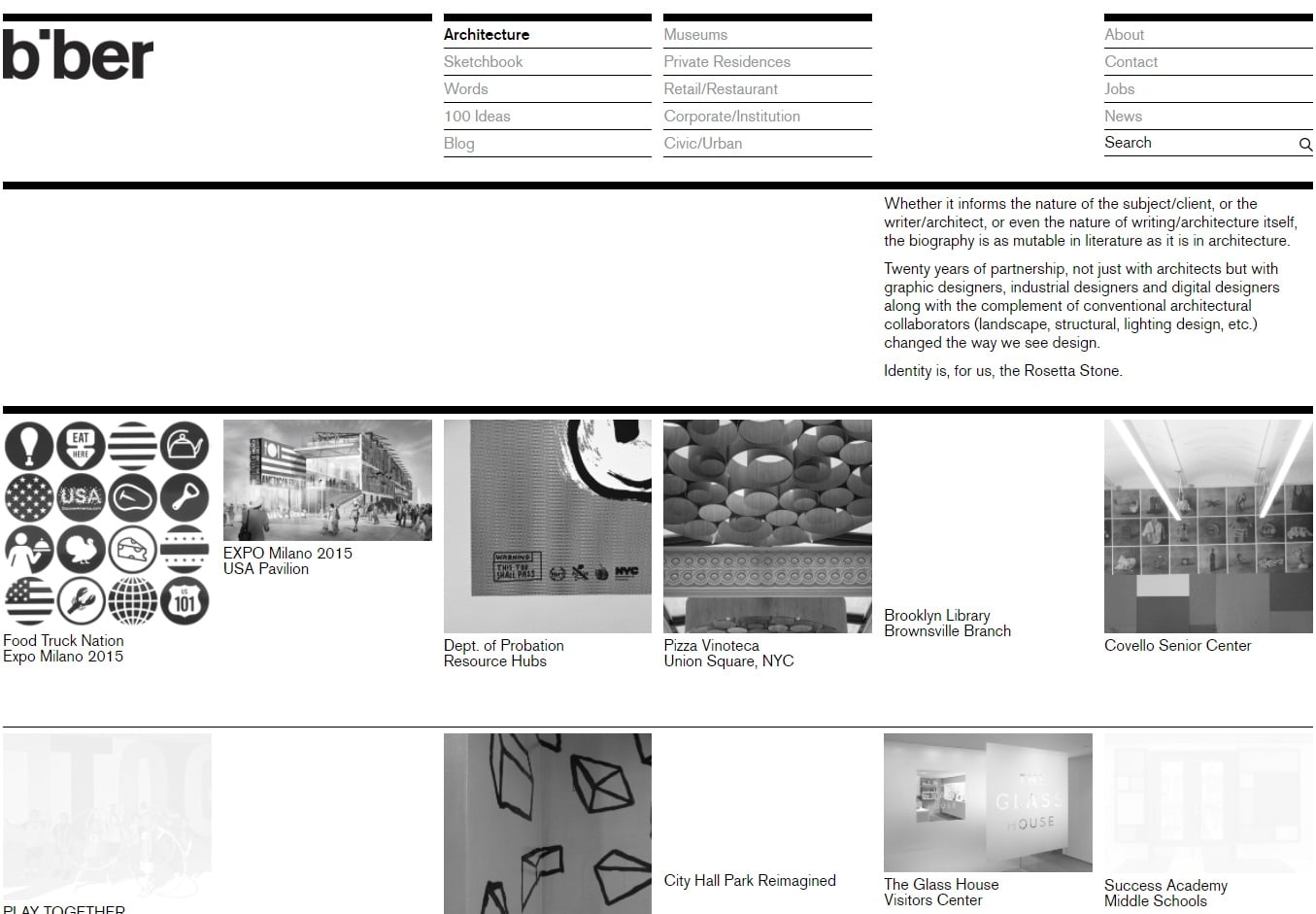 6. Biber
Biber Architects is a prestigious design-led firm consisting of a tight, seasoned team. Bolstered by the philosophy that every building tells the unique story of its creators, the firm maintains one of the best architecture blogs on the web in addition to a successful, brand-based business model.
Founder: James Biber
Year Started: 2010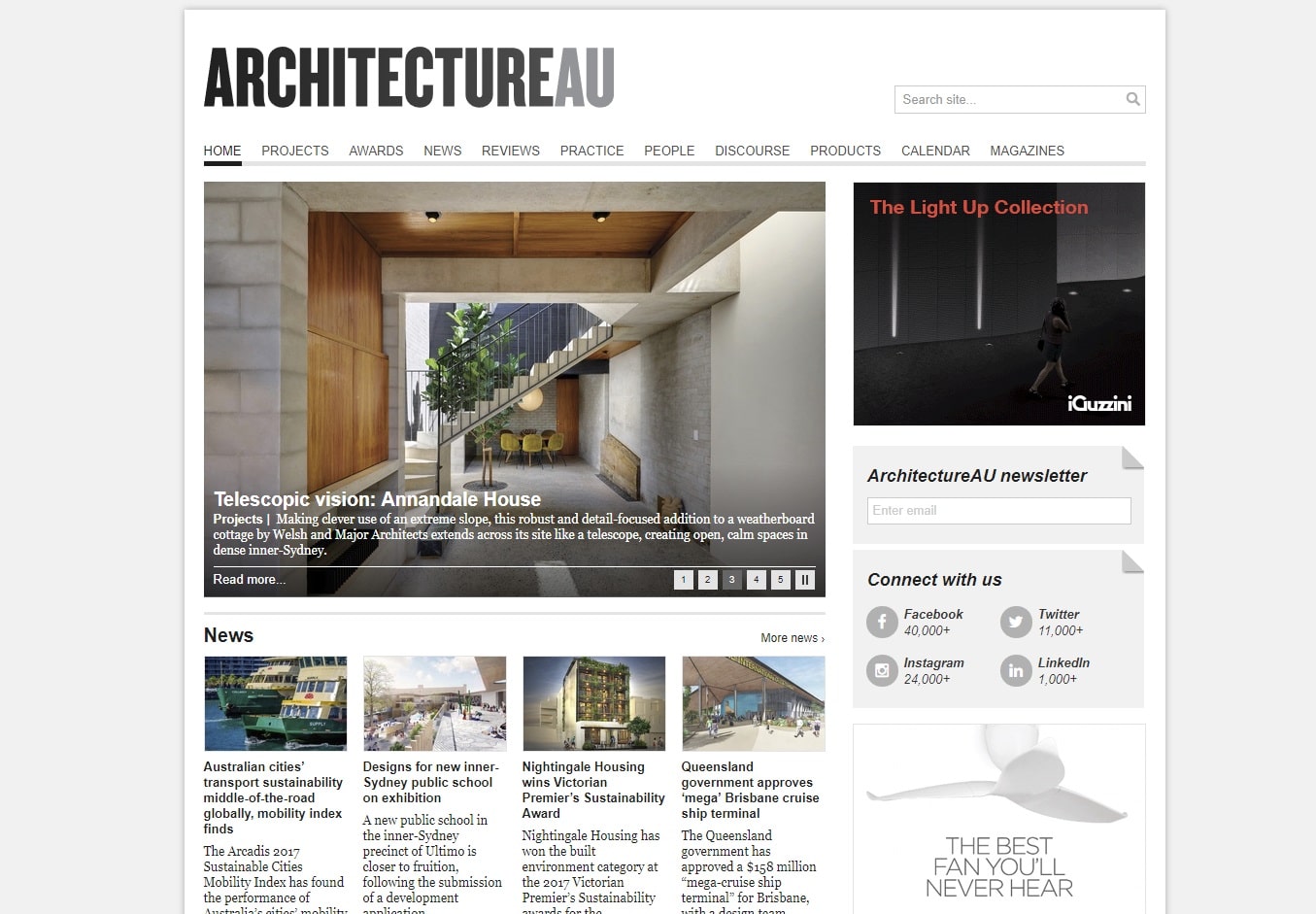 7. ArchitectureAU
One of the best architecture blogs after our own hearts, ArchitectureAU formidably covers our dear continent's shifting landscape of buildings, designs and people. The site culls content from Australia's top architecture magazines and thereby serves as an all-inclusive, indispensable resource. If it's happening in Australian architecture, you'll find it here.
Founder: Billard Leece Partnership
Year Started: 2011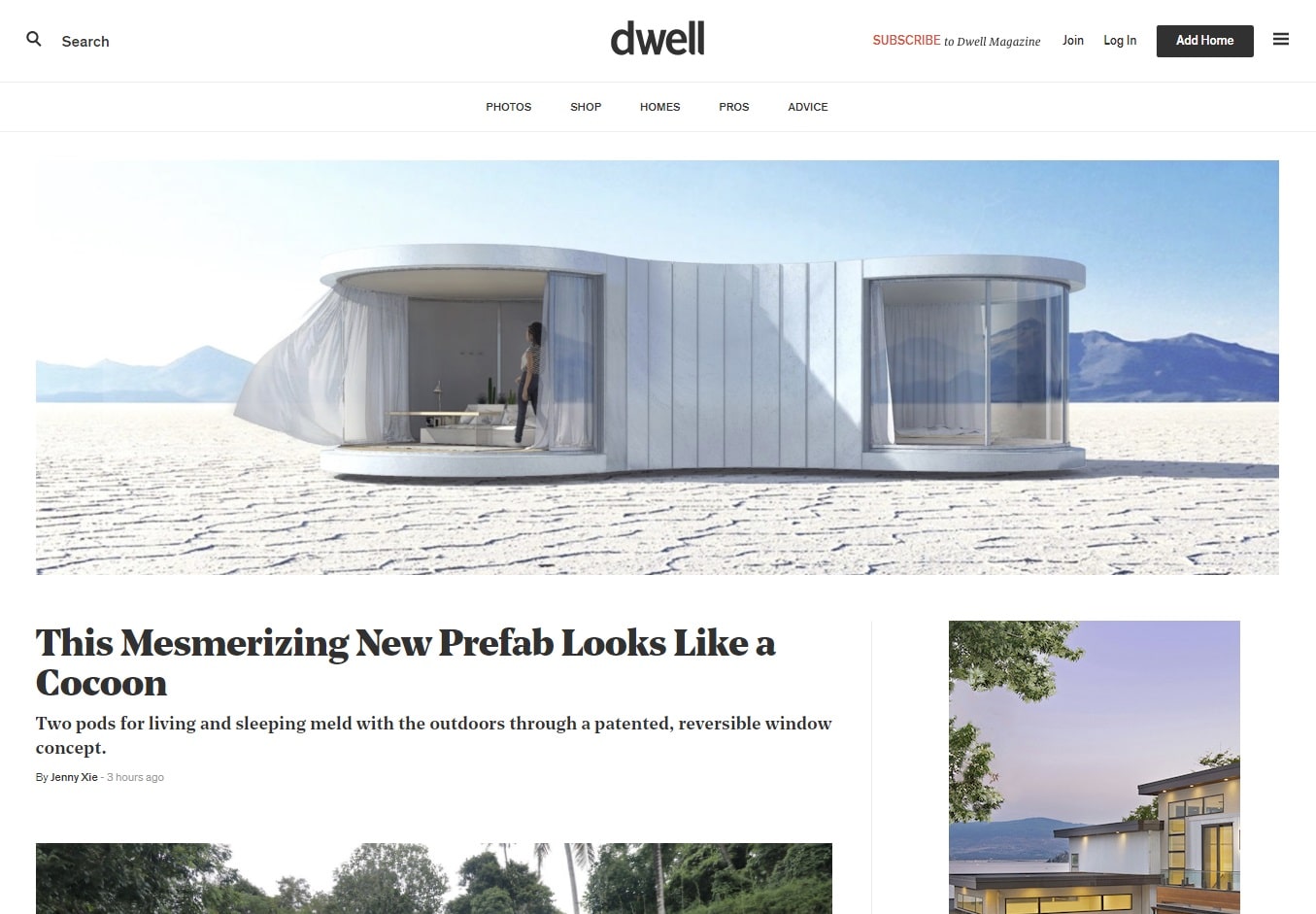 8. Dwell
Maintaining a supremely accessible layout, Dwell invites architects, designers and enthusiasts alike to come share in the process. That makes it not just one of the best architecture blogs, but also one of the most welcoming architecture communities you can find.
Year Started: 2000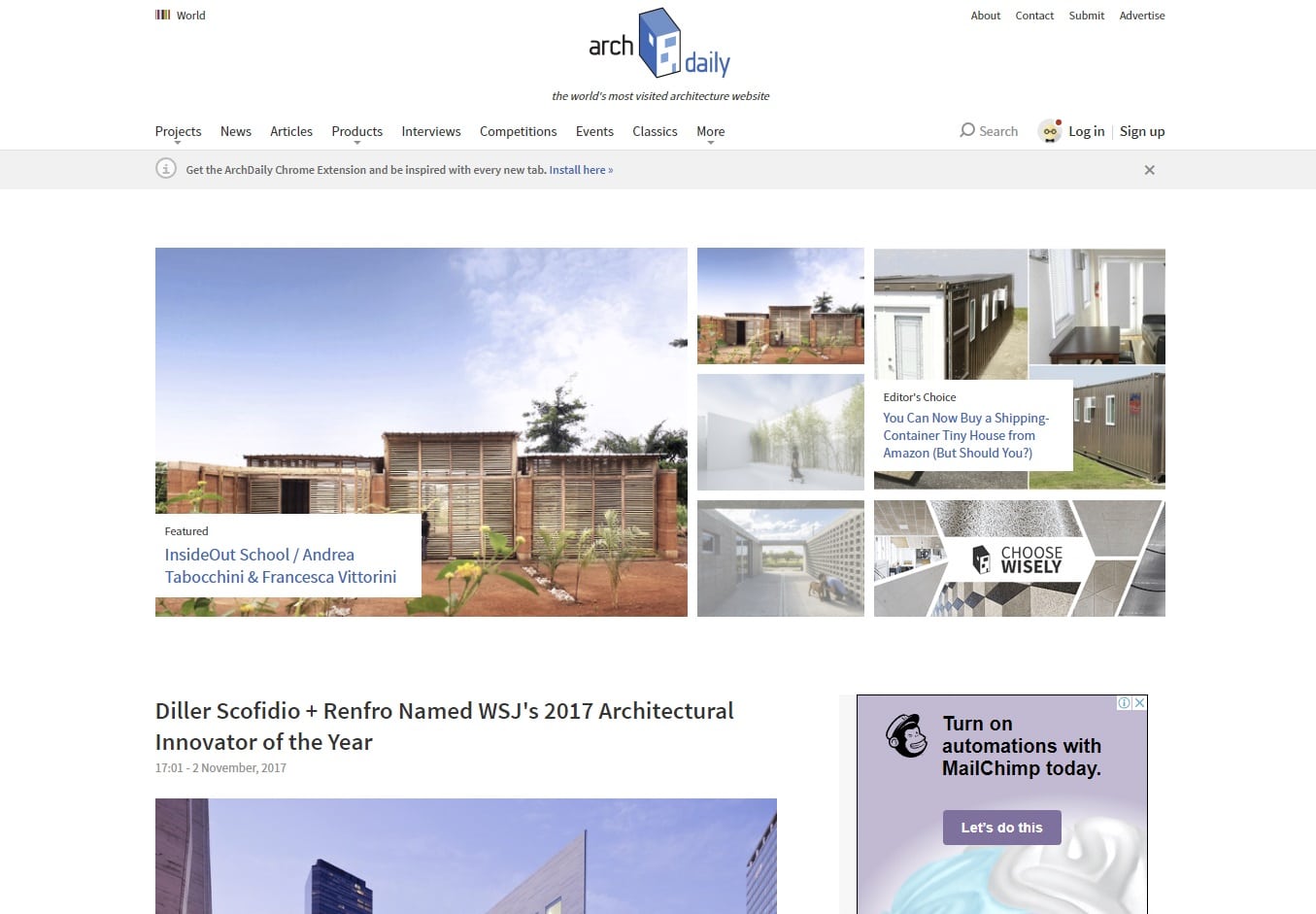 9. ArchDaily
Touted as the "world's most visited architecture site", ArchDaily is accordingly epic. Since 2008, this top architecture blog has been squarely tapped in, bringing readers vital information the moment it drops. Also featured on the site are interviews, events, products and competitions. Come here to lose yourself for hours.
Founder: David Basulto, David Assael
Year Started: 2008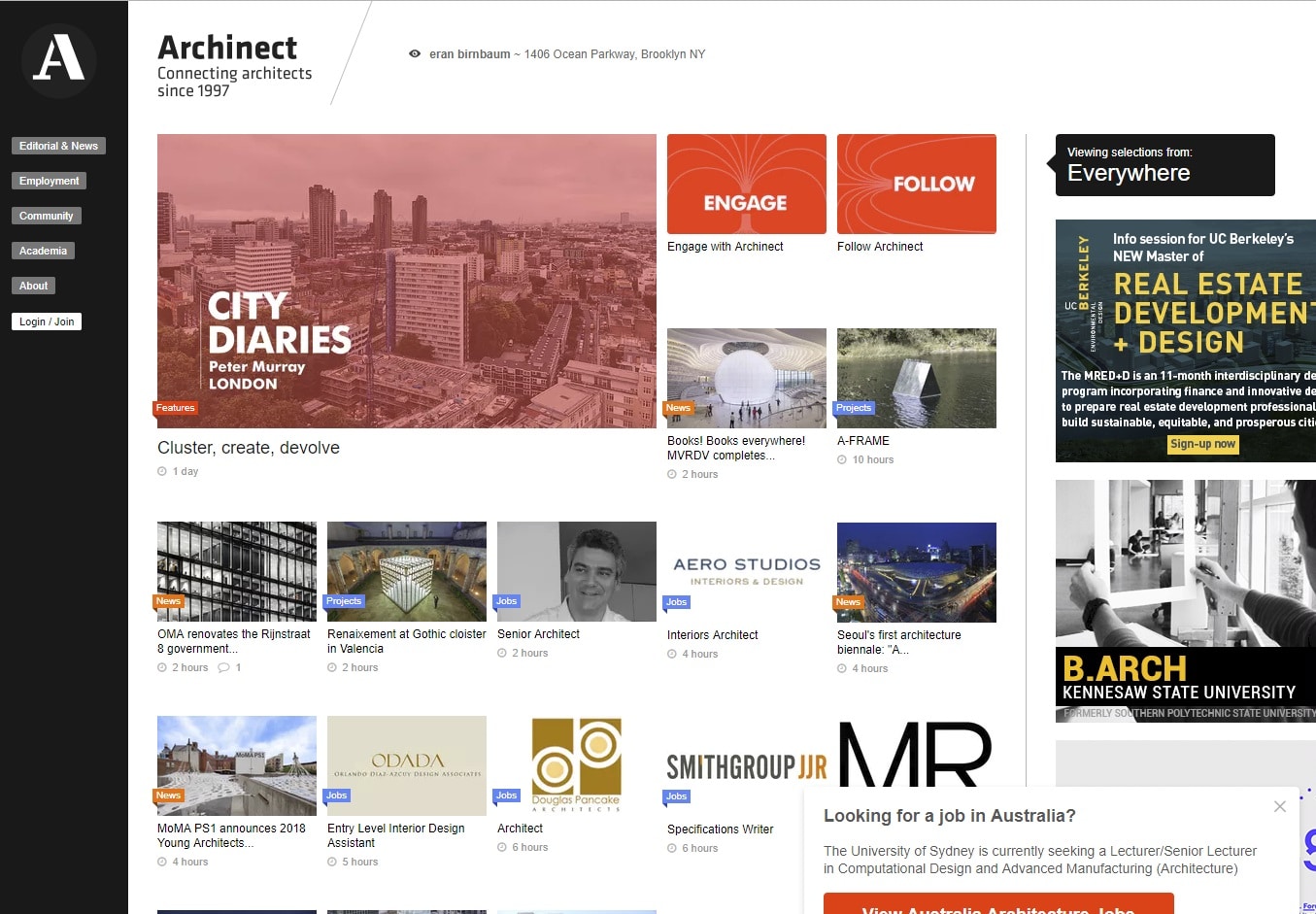 10. Archinect
Archinect has been in the game since 1997, making it one of the most seasoned online players around. With the admirable goal of connecting both experienced and aspiring designers from around the world, the site has become a prime destination for experts, enthusiasts and everyone in between.
Founder: Paul Petrunia
Year Started: 1997
11. WebUrbanist
Exercising a curatorial approach, WebUrbanist has earned itself a reputation as one of the best architecture blogs covering inventive and unusual projects. With frequent appearances in the mainstream press, and over 100,000,000 visitors to date, it's safe to say these folks have their instincts in the right place. .
Founder: Kurt Kohlstedt
Year Started: 2007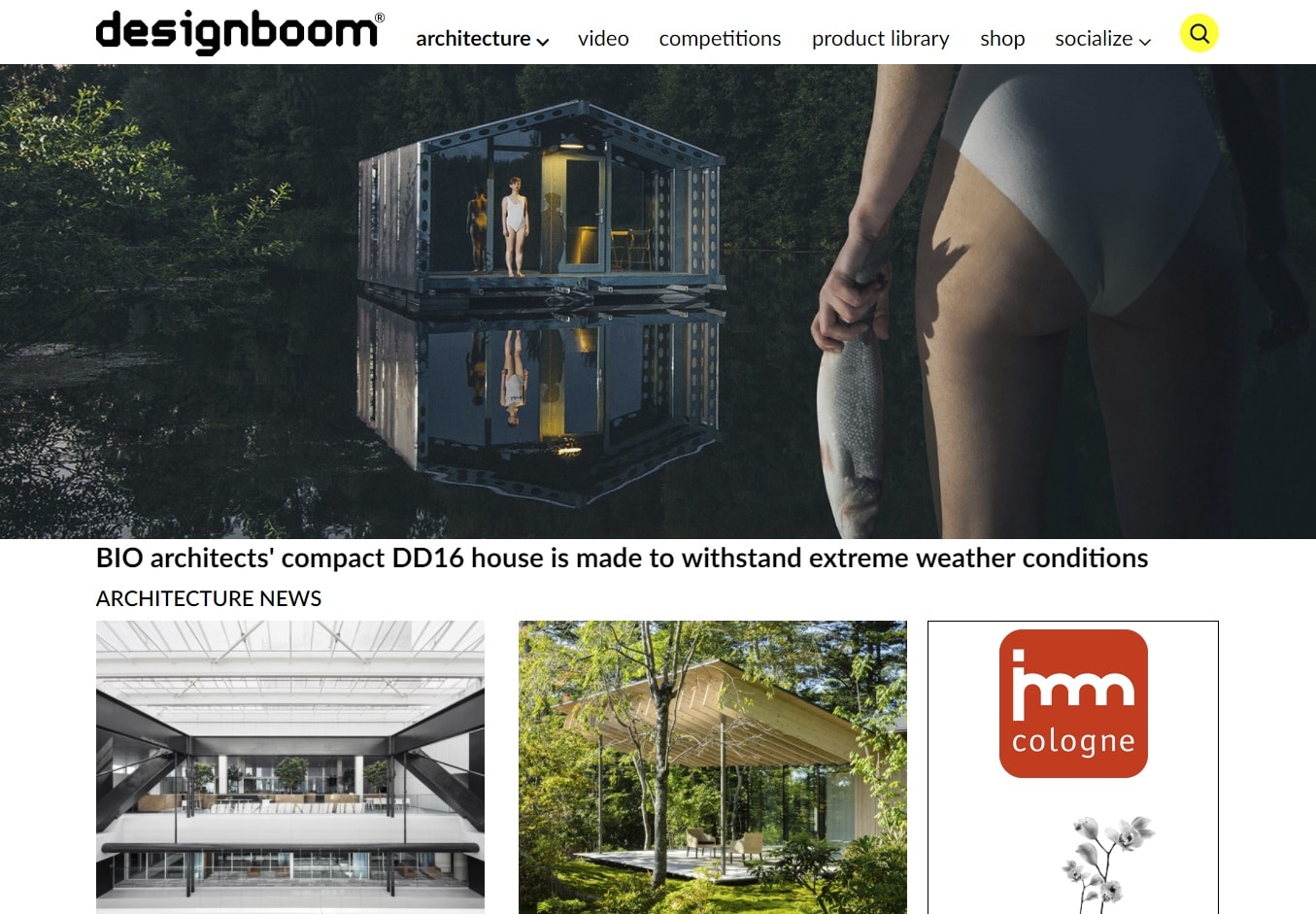 12. designboom
Based in New York, Milan and Beijing, designboom is a wildly popular, independently run publication offering top coverage and insightful critiques of the latest in contemporary architecture. That's joined by interviews, profiles and reader submissions. Architecture moves at a fast, global pace, and designboom doesn't miss a beat.
Founder: Birgit Lohmann, Massimo Mini
Year Started: 1999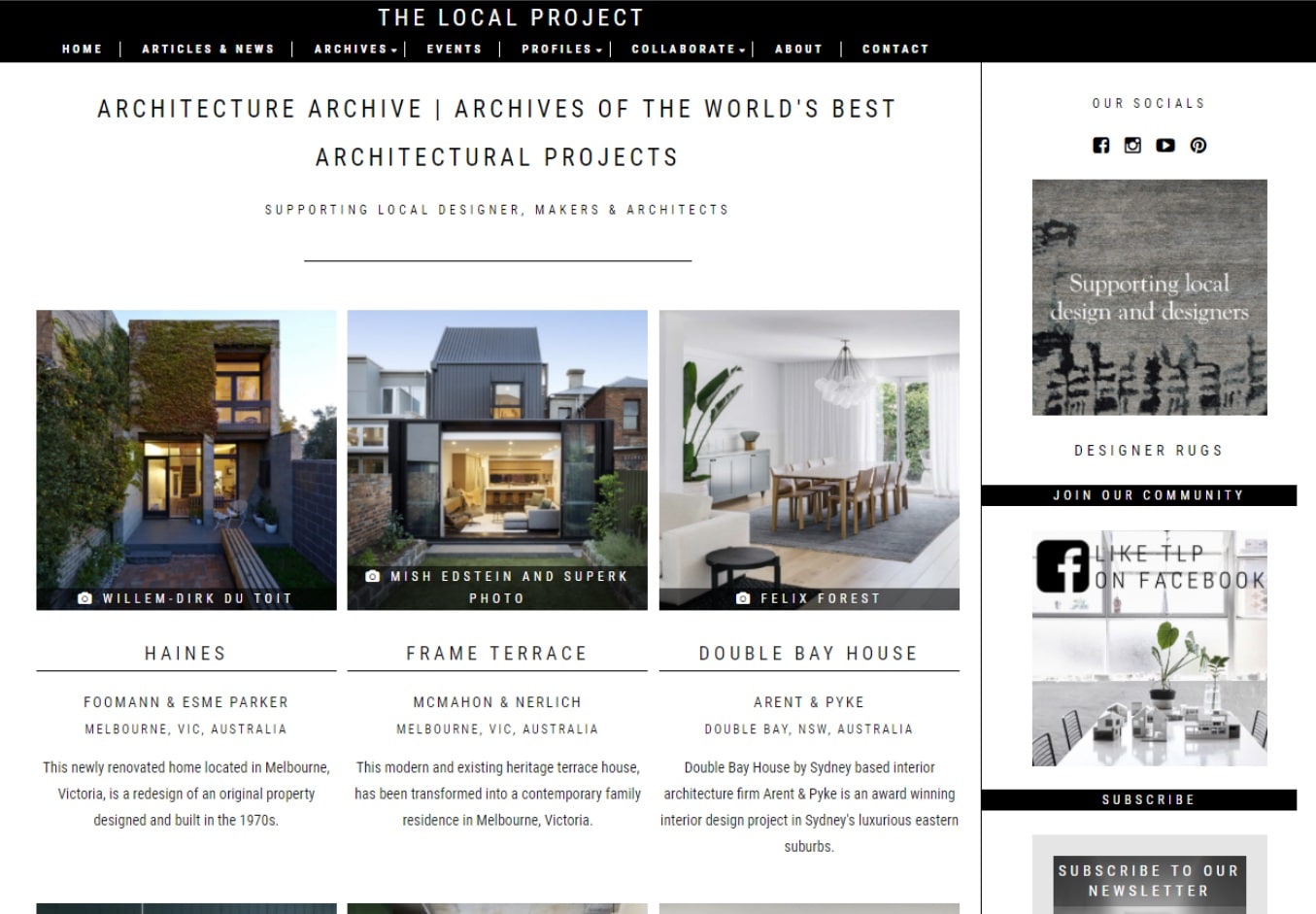 13. The Local Project
With its eyes primarily focused on the best in Australian architecture, The Local Project goes behind the scenes to introduce important players and projects alike. Far more than a place to scope the latest homes and buildings, the terrific site explores Aussie architecture from drawing board to completion. That's joined by intensive profiles and interviews with the industry's biggest names. The Local Project might be the best house architecture blog on the internet.
Founder: Aidan Anderson
Year Started: 2016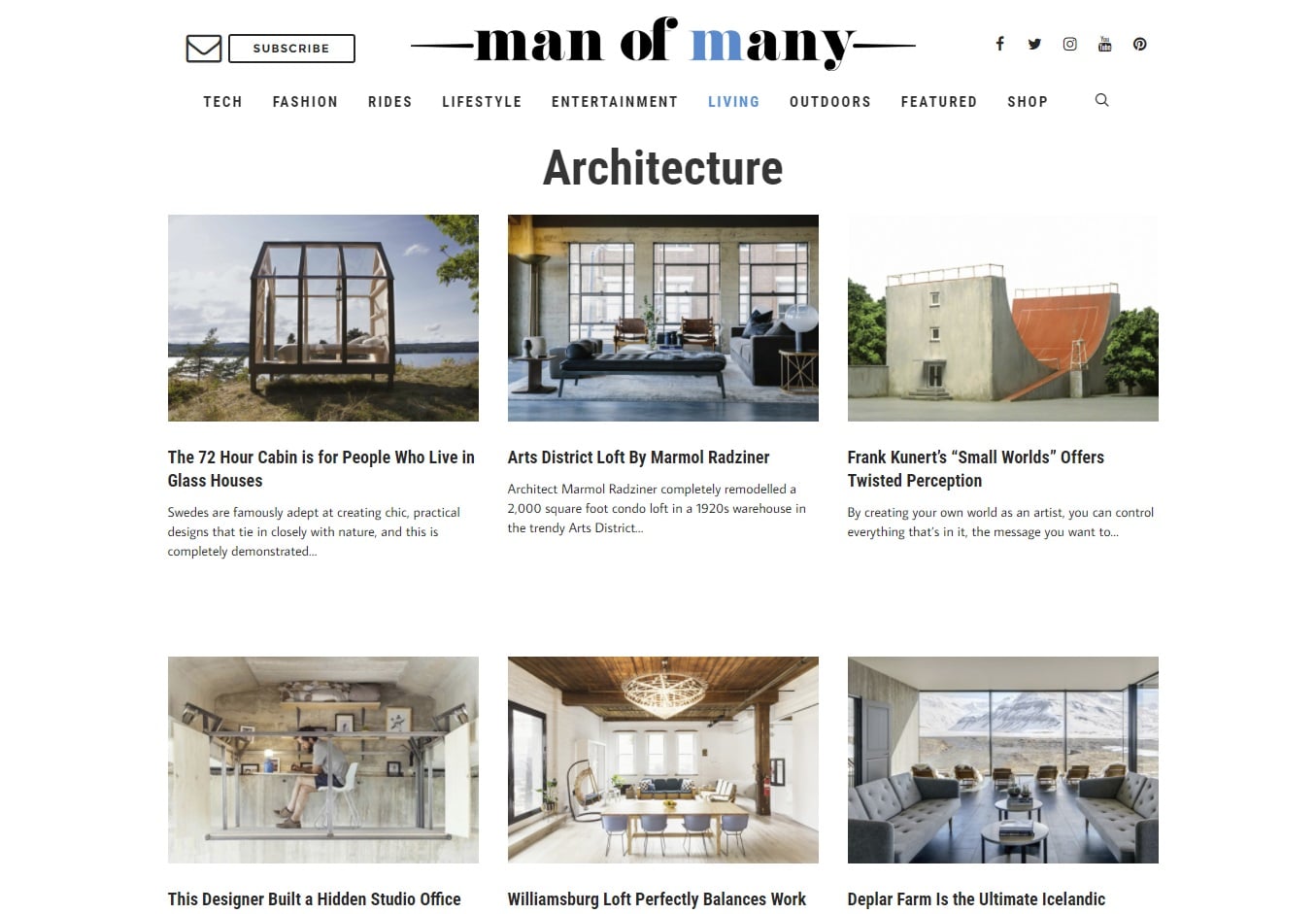 14. Man of Many – Architecture
Dont' forget to check out all of our architecture articles and stories in our Living category here – Architecture.
Founder: Frank Arthur, Scott Purcell
Year Started: 2013
This Article is part of our Home & Design Series
Have you subscribed to Man of Many? You can also follow us on Facebook, Twitter, Instagram, and YouTube.
You'll also like:
Avengers: Endgame Cabin is on Airbnb
Melbourne's Historic Jam Factory is Copping a $1.5 Billion Upgrade
10 Best Men's Gear Blogs