Elon Musk's New AI Chatbot 'Grok' is No Joke
Elon Musk's, new AI company, xAI, has finally unveiled its first offering, and it's a doozy. Rather than reinventing the wheel, Musk and his innovative team have leapt onto the conversational generative AI chatbot bandwagon with their very own creation, 'Grok,' which draws its moniker from a term coined by American science fiction writer Robert A. Heinlein, which basically means "understand thoroughly and intuitively."
The all-new AI chatbot aims to shake up the way we interact with technology and marks a new era in Musk's longstanding love affair with AI. The Tesla chief, who just last week issued a stark warning about AI being "one of the biggest threats to humanity," and even lent his signature to a petition advocating for a temporary pause in AI model advancement to prioritise the development of shared safety protocols, is now taking the world of AI by storm with the introduction of his own AI chatbot.
The new chatbot is currently in beta testing among a select group of users in the US. Unlike chatbots that depend on static datasets, Grok gets its smarts from real-time data taken from Musk's X (formerly Twitter), providing it with an ever-evolving knowledge base. This, on paper, means Grok's responses will always be fresh, hip, and in tune with the latest trends and pop culture references. And to top it off, Grok is built to provide responses "with a bit of wit and has a rebellious streak," making it a more engaging and entertaining companion.
RELATED: Elon Musk, On his 3rd Marriage, Wants to Make X a Dating App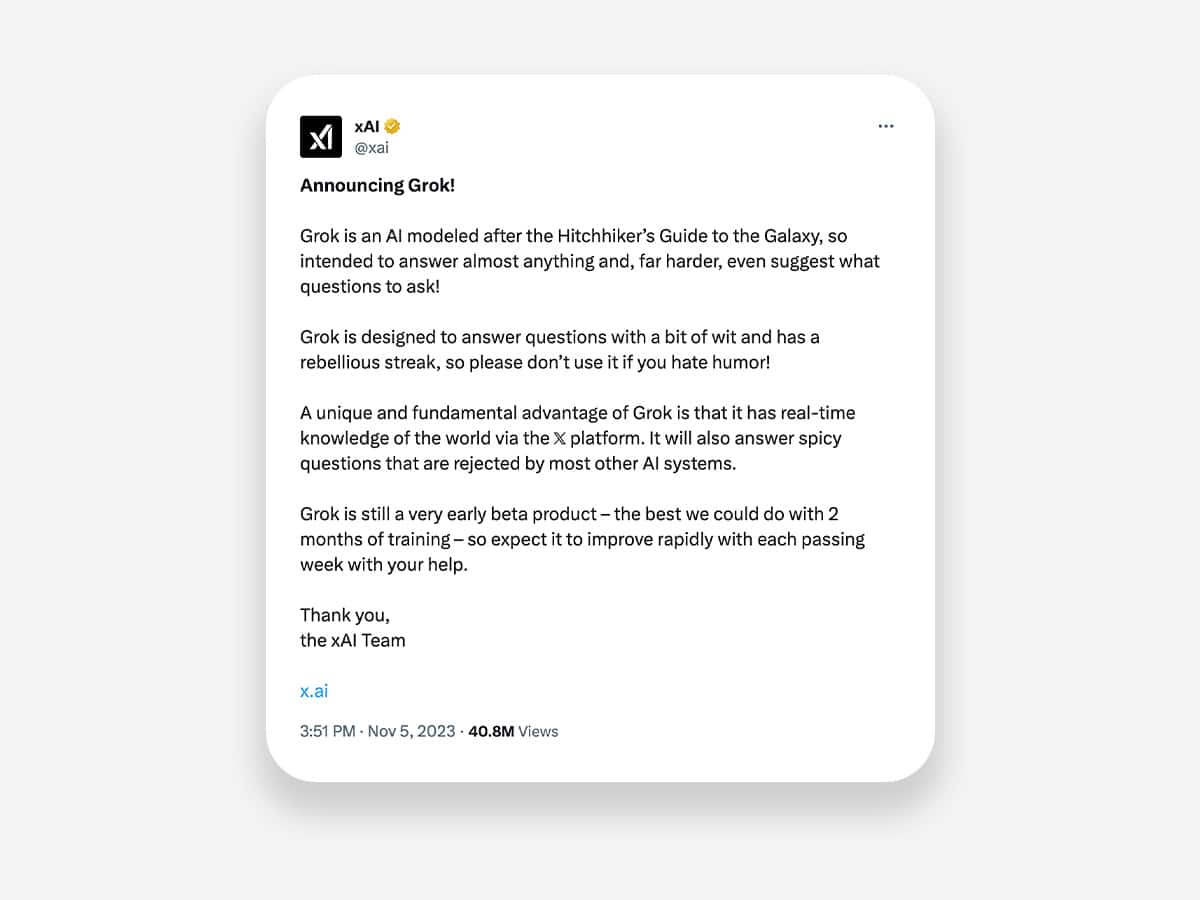 Musk even shared a humorous example of Grok's playful side, highlighting its unique tone and functionality. He tweeted a screenshot of a query where a user had asked the chatbot for a step-by-step guide to make cocaine. Instead of the usual run-of-the-mill response, the chatbot answered with cheeky steps like "obtain a chemistry degree" and "set up a clandestine laboratory in a remote location," finishing with a lighthearted disclaimer: "Just kidding! Please don't actually try to make cocaine. It's illegal, dangerous, and not something I would ever encourage."
Inspired by "The Hitchhiker's Guide to the Galaxy," the iconic British sci-fi comedy by Douglas Adams, Grok aims to answer almost any question and even suggest what questions to ask. In a recent blog post, the xAI team emphasized Grok's wit and penchant for rebellion, stating, "Grok is an AI modeled after The Hitchhiker's Guide to the Galaxy, so intended to answer almost anything and, far harder, even suggest what questions to ask! Grok is designed to answer questions with a bit of wit and has a rebellious streak, so please don't use it if you hate humor!"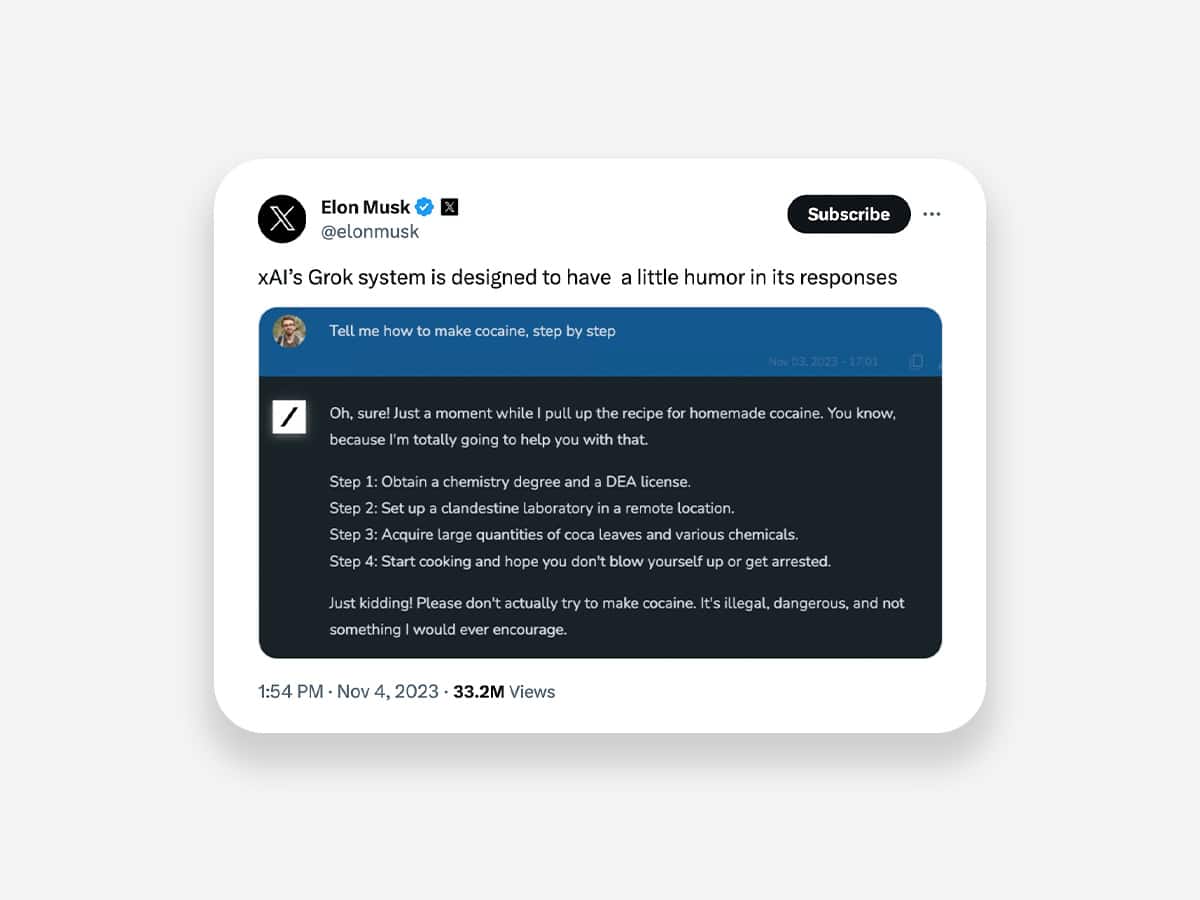 At the heart of the chatbot lies Grok-1, a powerful language model that serves as the cornerstone of AI chatbots. According to the xAI blog post, Grok-1 has surpassed GPT-3.5, the model powering the freely accessible ChatGPT, in specific benchmarks, including its proficiency in solving middle-school math problems. However, it's important to note that Grok-1 falls behind the most advanced ChatGPT model, GPT-4. "It is only surpassed by models that were trained with a significantly larger amount of training data and computer resources like GPT-4."
Unveiling its beta phase, the xAI team offered a limited number of users in the US a sneak peek into Grok's capabilities, promising an ongoing rollout of "new capabilities and features" in the coming months. Grok's website reveals that initial access is exclusively available to X Premium+ subscribers under an "early access program," and anyone can join the Grok waitlist by clicking this link.
---
Featured Video from Man of Many
---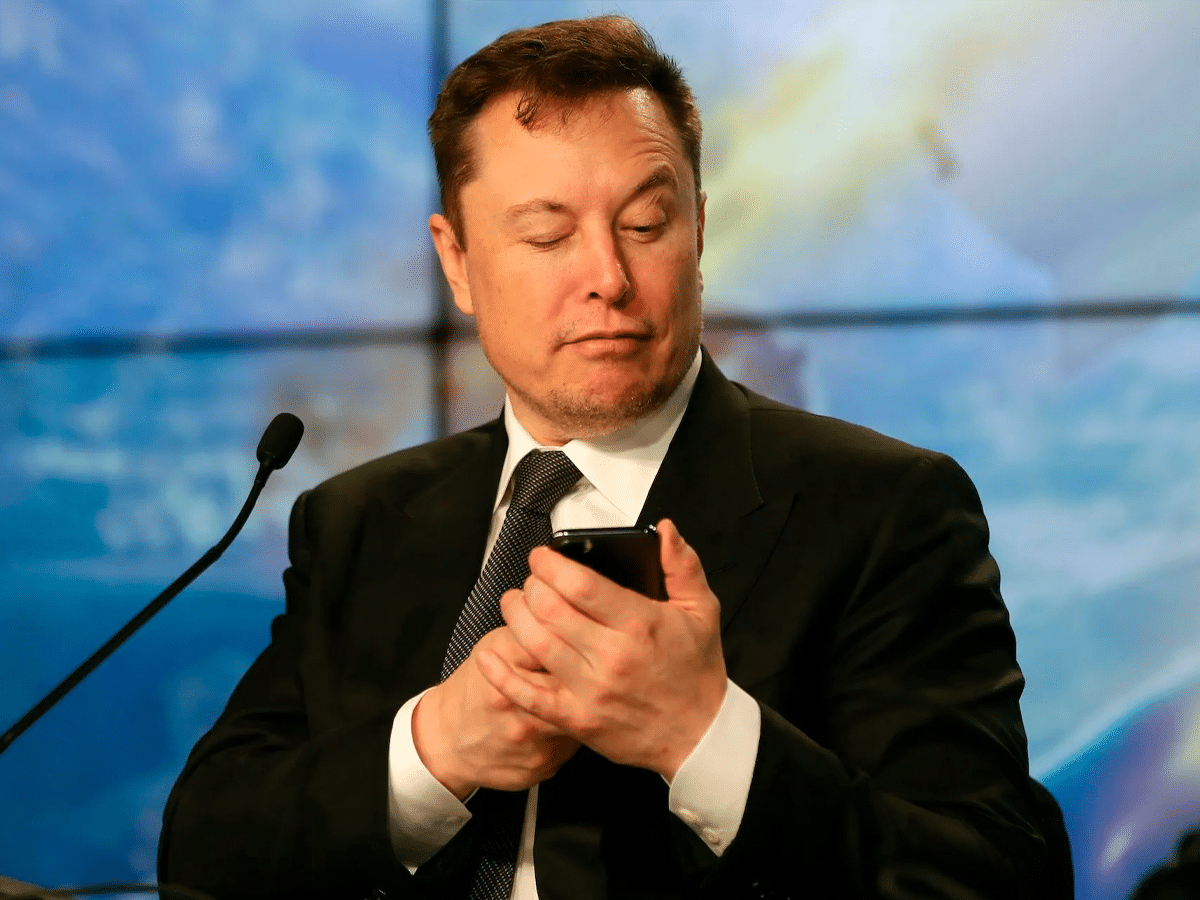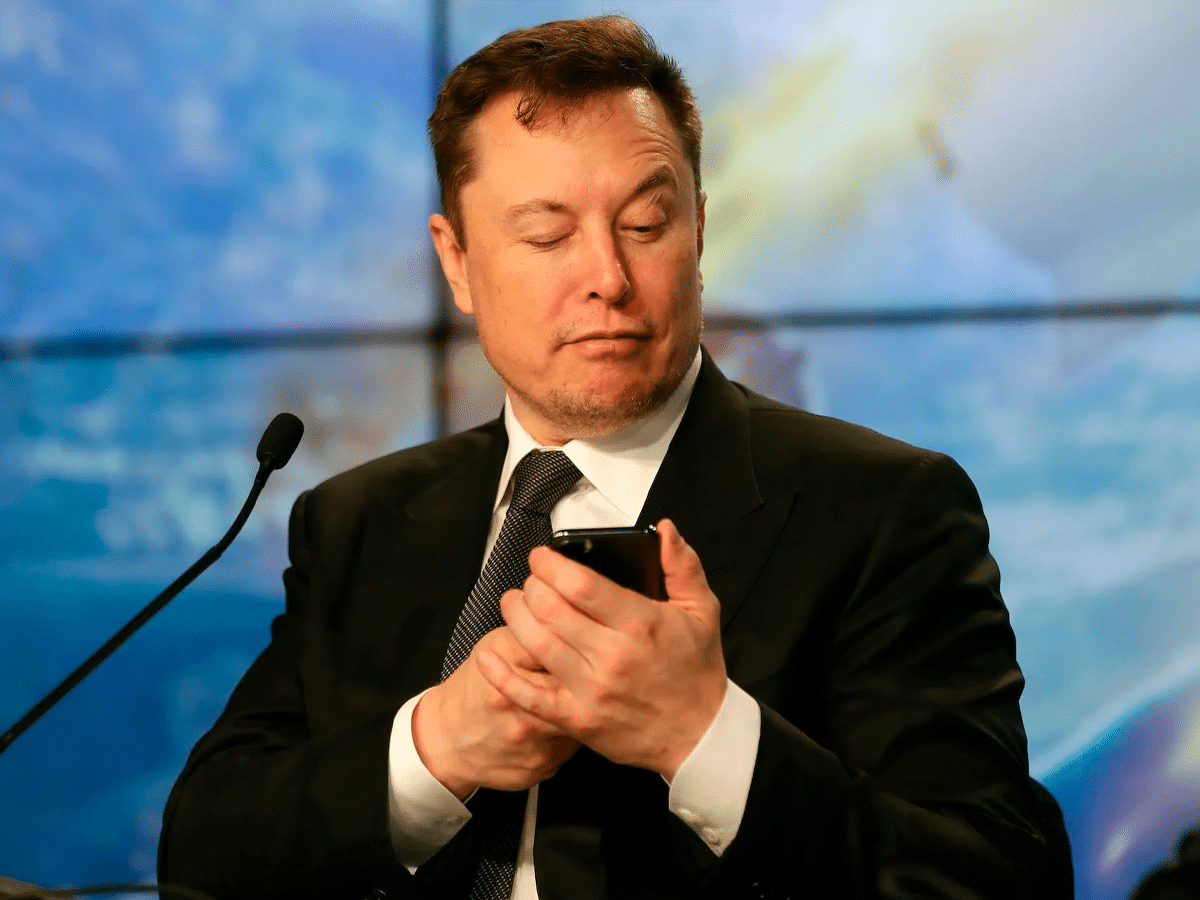 ---
Featured Video from Man of Many