LG StanbyME Go is an Entertainment System in a Briefcase
Elevate your on-the-go entertainment game. If you thought luxury was all about vintage watches, exotic cars, and limited edition scotch, think again. The world of high-end tech just levelled up with LG's latest entrant, the LG StanbyME Go (model 27LX5).
Related: LG Unleashes World's First Wireless 97-Inch OLED TV
Picture this: a 27-inch touch display crafted impeccably into a robust carrying case. But don't let its sleek exterior fool you. Beneath lies a powerful 20W four-channel speaker system, making sure that whether you're catching up on the latest season of that trendy show or indulging in an epic gaming session, your audio-visual experience is nothing short of immersive.
Now, recall those times you were chilling at a mate's backyard BBQ or setting up a beachside picnic, wishing for a bigger screen than your smartphone. LG's answered your prayers with this portable marvel. The StanbyME Go isn't just a screen; it's a statement. Designed with a built-in battery, you can enjoy up to three hours of uninterrupted entertainment. And the carrying case? Not just any accessory—it assures top-notch screen protection and offers a snug space for the minimalist remote control and power cable.
Adjustability is the name of the game here. From tilting the screen to find that sweet viewing spot, rotating it for a quick switch between landscape and portrait, to even laying it flat in 'Table mode' for a digital chess match or a virtual record spin, it's all about personal preference. Opening its case feels almost magical, as the screen automatically powers on, and a gentle close ensures it's off—a small yet considerate touch.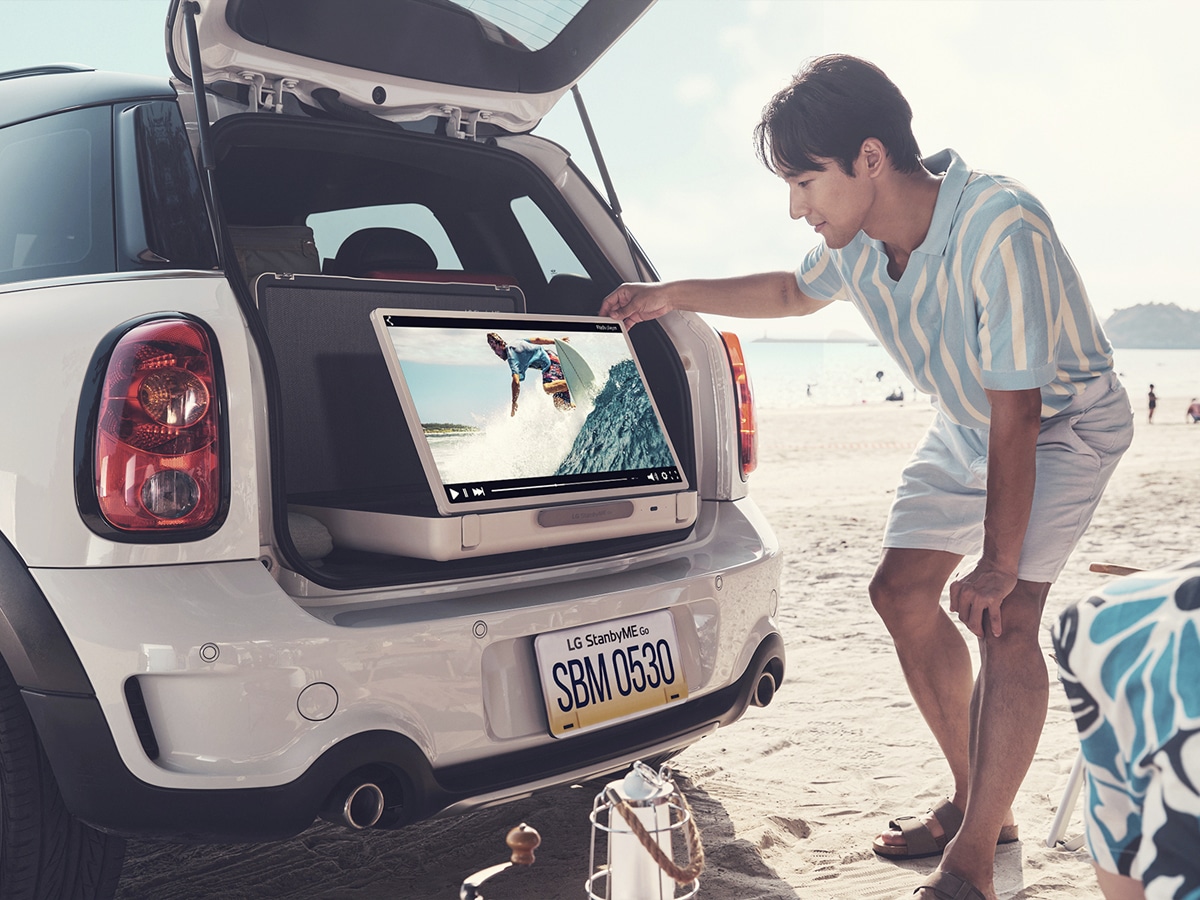 Worried about durability? Don't be. The LG StanbyME Go isn't some fragile piece of tech that crumbles at the first hint of adversity. It's passed 11 stringent U.S. military tests, proving it can withstand everything from extreme temperatures and salty sprays to accidental drops. And if you're the kind of bloke who enjoys a rich cinematic experience, the combined prowess of Dolby Vision and Dolby Atmos has got you covered.
However, its pièce de résistance has to be LG's proprietary webOS smart TV platform, allowing seamless connection to your iOS or Android devices. Voice recognition is the cherry on top, enabling you to multitask without breaking a sweat. Imagine launching apps or adjusting the volume, all hands-free, while you're whipping up your signature spaghetti bolognese.
Keen to see it in the flesh? If you're around Berlin from September 1-5, drop by IFA 2023. LG will be flaunting its latest lifestyle TVs, including the StanbyME Go and the intriguing LG OLED Objet Collection Posé. And if you're looking to snag one, keep your eyes peeled. The global rollout is set to commence soon, with Europe being one of the first on the list.
For the modern man with a penchant for luxury and a lifestyle on the move, the StanbyME Go is less of a want and more of a need. LG's not just offering a screen; they're redefining the essence of portable entertainment.