23 Best Superhero Movies of All Time, Ranked
If you've been to the cinemas at all in the past decade, chances are you've been caught in the throes of a superhero movie. Whether it's comic book caped crusaders from Marvel and DC or new additions that aren't considered canon, the best superhero movies have dominated our screens for years. But aside from simply being absolute money-makers, superhero films have changed the way cinema works. The spectacle has become larger, more expansive and with star power at an all-time high. Take Avengers: Endgame for example. The Marvel monster reeled in a whopping USD$2.797 billion at the box-office, making it one of the biggest films of all time. No longer are superhero movies just for kids, the genre has become that most important and popular film styles in the world. But why do we love them so much?
You'll also like:
25 Best Thrillers on Netflix Right Now
24 Best Horror Movies on Netflix Right Now
25 Best True Crime Documentaries on Netflix Right Now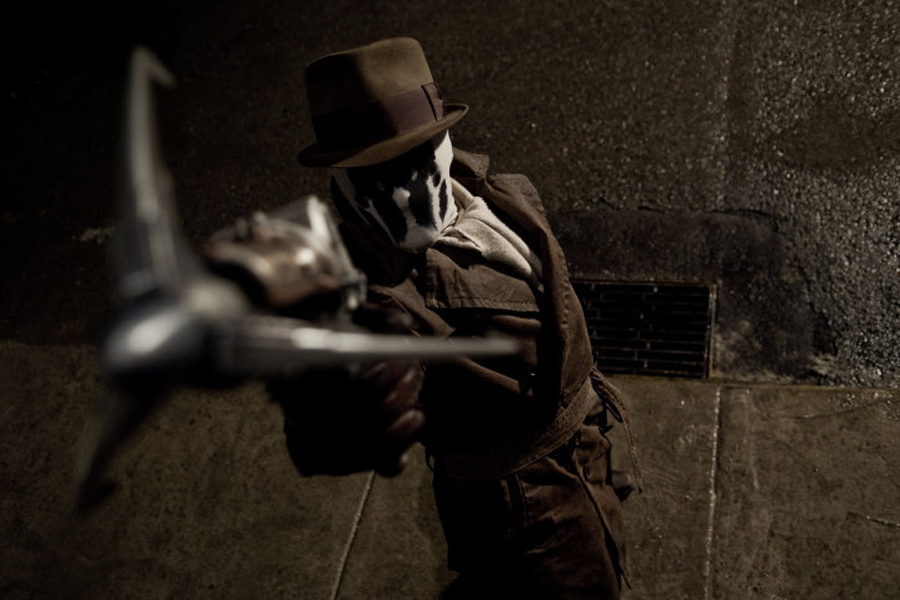 What Makes a Good Superhero Movie?
It goes without saying, but the best superhero movies are contingent on three main elements, one of which being the hero itself. If you want to put together the best superhero movie on the planet, here's what you'll need:
Hero – Where once the protagonist of the superhero film was an unfaltering beacon of pure innocence, the revolution of cinema has seen this change. The best superheroes now face the inner turmoil of dealing with bending the rules around what is acceptable and just. Like The Dark Knight, the really battle isn't between Batman and The Joker, it's between Batman and Bruce Wayne.
Villain – Equal to the role of the protagonist, comes that of the antagonist. A great superhero movie needs a killer villain, someone hellbent on murder, mayhem and massacre. Aside from simply aiming for world domination, the best villains have an air of logic. You must be sympathise with their motives, making you question if they really are the villain after all.
Powers – Here is where things get tricky. Do you prefer a superhero movie where the hero has a host of powers, like Superman, or where they are a mere mortal with an above average thirst for justice, like Batman. The choice is really up to you.
Best Superhero Movies
When it comes to charting the best superhero movies of all time, there is a lot to consider. Over the past few years we've seen comic book characters hit the big screen in a multitude of different ways, proving the power of a blockbuster action hit. With big-name actors stepping into the superhero arena almost daily, it's hard to keep up with the latest additions. But we've gone ahead and taken the liberty of putting the best of the best together. Derived from a mixture of critics' reviews, audience feedback and overall likeability, this is your guide to the iconic superhero films.
Here is a list of the 23 best superhero films of all time.
1. The Dark Knight (2008)
Christopher Nolan's 2008 classic The Dark Knight proves that sometimes, the sequel is better than the original. As the second instalment in his hit Dark Knight trilogy, Nolan introduced the world to a new era of Batman, set to a seedy backdrop of gangs, crime and government coercion. But perhaps The Dark Knight's great unveiling was that of Heath Ledger's Joker. The incredible performance is both menacing and terrifying in a way we hadn't seen Heath before. A breathtaking exploration of the human psyche, The Dark Knight perfectly captures Batman's inner turmoil and grapple with right and wrong. Easily one of the best superhero movies of all time, The Dark Knight will go down as a true genre-bending icon.
Release date: 16 July 2008 (Australia)
Director: Christopher Nolan
Box office: 1.005 billion USD
Budget: 180 million USD
2. Black Panther (2018)
Following the tragic passing of Chadwick Boseman, the role of Black Panther remains as relevant as ever. Following the story of King T'Challa, who, after the passing of his father returns to the fictional African nation of Wakanda to reclaim his birthright. With a powerful enemy at his heels, the nation must band together for unified freedom. While on the outside, Black Panther is a standard superhero movie, it broke new ground for the genre, tackling issues of race, religion and discrimination, making it one of the biggest and most influential Marvel films ever made.
Initial release: 29 January 2018 (Hollywood)
Director: Ryan Coogler
Box office: 1.344 billion USD (As of May 22, 2018)
3. Watchmen (2009)
Before it was a hit TV series, there was the Zack Snyder film. Watchmen tells the story of an ageing superhero gang attempting to reintegrate with society. However, when one of the team is brutally murdered, Rorschach, a vigilante, sets out to investigate the mysterious circumstances uncovering a raft of horrifying secrets. Like Black Panther, Watchmen tackles more than just your standard superhero tropes. Set to backdrop of the late 80s dystopia, we see insights into the Vietnam War, politics and the bargaining power of having a superhero team on your side. There is more than meets the eye to this one.
Initial release: 23 February 2009 (London)
Director: Zack Snyder
Budget: 120 million USD
Box office: 185.3 million USD
4. Batman: Mask of the Phantasm (1993)
Fans of Batman: The Animated Series will tell you that Mask of the Phatasm is the best Batman film ever made, and they have a pretty argument. Kevin Conroy's turn as The Dark Knight is among the best and for the first time ever, we see the connection between Bruce Wayne and Batman play out in full. Mask of the Phatasm is perhaps the only Batman film that treats the character as a complete person, delving into not only his background and history, but his emotions, motivations and insecurities. Even if you aren't a fan of animation, you can't deny that Mask of the Phatasm is one of the best superhero films of all time.
Initial release: 25 December 1993 (USA)
Directors: Eric Radomski, Bruce Timm
Featured song: Main Title: Batman: Mask of the Phantasm
Film series: Batman: The Animated Movie
Box office: 5.8 million USD
5. Logan (2017)
A different take on classic Wolverine character, Logan came straight out of left-field and stunned us all. Seeing Hugh Jackman return as the titular X-Men hero for the final time, Logan isn't your conventional superhero movie. Aged and weathered, the man formerly known as Wolverine must come out of retirement to escort a young mutant named Laura to a safe place. He meets with other mutants, who run from an evil corporation that has been experimenting with them, along the way, leaving Logan with horrible flashbacks to his own tortured past.
Release date: 2 March 2017 (Australia)
Director: James Mangold
Featured song: The Man Comes Around
Box office: 619 million USD
Budget: $97–127 million
6. Avengers: Endgame (2019)
The final instalment to the Marvel's Avengers franchise, Endgame is one of the biggest and best superhero movies of all time. Tackling the seemingly unbeatable Thanos, Tony Stark and the gang must sacrifice it all for the good of humanity. While the script isn't amazing by any stretch, there are some killer moments of action and heartbreak here. Just watch out for fat Thor.
Release date: 24 April 2019 (Australia)
Directors: Joe Russo, Anthony Russo
Box office: 2.798 billion USD
Budget: 356 million USD (2019)
7. Spider-Man: Into the Spider-Verse (2018)
An incredible approach to modern animation, Spider-Man: Into the Spider-Verse is one of the best superhero movies of all time, from a visual perspective alone. While it does follow the general Spider-Man conventions, in that the main character gains his powers after bring bitten by spider, Into the Spider-Verse takes viewers on a completely new adventure. Miles Morales protects the city, but he soon meets alternate versions of himself embroiled in an epic battle to save the multiverse.
Release date: 26 December 2018 (Australia)
Directors: Peter Ramsey, Rodney Rothman, Bob Persichetti
Film series: Spider-Man: Into the Spider-Verse
Box office: 375.5 million USD
8. Unbreakable (2000)
A superhero movie that doesn't let you know it's a superhero movie until about halfway through (sorry to ruin this for you). Unbreakable sees Bruce Willis pair up with M. Night Shymalan again for another mind-bending adventure. When David, a small-town security guard is left as the only survivor in a horrifying train crash that kills hundreds, people are shocked to find he has escaped miraculously unharmed. Over the coming weeks he meets a mysterious entity with a penchant for comic books who is convinced he might be a real-life superhero. Slowly, David's mask of anonymity begins to slip.
Release date: 30 November 2000 (Australia)
Director: M. Night Shyamalan
Film series: Unbreakable
Featured song: Visions
Screenplay: M. Night Shyamalan
9. Wonder Woman (2017)
Gal Gadot's turn as Wonder Woman in the 2017 film will go down as one of the most powerful representations of female strength in film. Playing Princess Diana of an all-female Amazonian race, Gadot uses her strength and intellect to rescue US pilot Steve. Upon learning of a incoming battle, she ventures into the world of men to stop Ares, the god of war, from destroying mankind.
Initial release: 14 August 2020 (Norway)
Director: Patty Jenkins
Budget: 200 million USD
Music composed by: Hans Zimmer
Producers: Gal Gadot, Patty Jenkins, Zack Snyder, Deborah Snyder, Charles Roven, Stephen Jones
10. Spider-Man 2 (2004)
While you might question how this one got so far up the list, let's take things back to the early noughties. Superhero movies used to have this sense of adventure and wonder about them that has been seemingly lost in The Avengers and more recent Marvel series. Spider-Man 2 proves there doesn't need to be big budgets or mass amounts of CGI, just a hero, a damsel and an eight-arm scientist hellbent on destroying the world.
Release date: 30 June 2004 (Australia)
Director: Sam Raimi
Featured song: Spider-Man 2 (Main Title)
Budget: 200 million USD
11. Thor: Ragnarok (2017)
When Taika Waititi took over the reins as Thor director, it seemed a little strange, but when Thor: Ragnarok was released, a little strange seemed like an understatement. The 80s-inspired hypercolour superhero movie sees Chris Hemsworth's Thor deprived of his mighty hammer Mjolnir and forced to compete in a gladiator contest to win his freedom. The only problem? He's coming up against an old, green friend.
Release date: 24 October 2017 (Australia)
Director: Taika Waititi
Featured song: Immigrant Song
Box office: 854 million USD
Budget: 180 million USD
12. Batman (1989)
Tim Burton's 1989 take on the Caped Crusader may seem a little dated by today's standards, but this film was an absolute box-office smash. Introducing the world to Jack Nicholson's Joker, a role which has reportedly earned him close to USD$100 million, the film has all the action and adventure elements we've come to love from Batman. It might not have the same appeal as Christoper Nolan's trilogy, but Burton's films are decidedly more open for adventure.
Release date: 31 August 1989 (Australia)
Director: Tim Burton
Box office: 411.6 million USD
Budget: 35 million USD
Featured songs: Batdance, The Batman Theme
13. Blade II (2002)
As far as vampire superhero movies go, there isn't a lot to choose from, but Blade II is by far the best. Seeing Wesley Snipes reprise his role as the roundhouse-kicking half-human Blade, this sequel pits the titular character against a new vampire community called the Reapers, who attack both humans and vampires. Blade, along with an elite vampire force, is asked to wipe out the Reaper's population. Insert kick.
Release date: 11 July 2002 (Australia)
Director: Guillermo del Toro
Box office: 155 million USD
Film series: Blade
14. Captain America: Civil War (2016)
The first of the real Marvel's Avengers cross-over films, Captain America: Civil War sees friction arise between the Avengers. When one group supports the government's decision to implement a law to control their powers, the other opposes it seeing the good guys turn on one another.
Release date: 28 April 2016 (Australia)
Directors: Joe Russo, Anthony Russo
Box office: 1.153 billion USD
Budget: 250 million USD
15. Iron Man (2008)
The movie that kick-started the MCU, Iron Man birthed our love of Robert Downer Jr as Tony Stark, an absolute masterstroke of casting. As the billionaire playboy philanthropist scientist, Stark is captured and imprisoned, forced to build weapons for an illegitimate cause. But rather than follow his captor's wishes, he constructs a high-tech armoured suit and blow sh*t up in trademark Stark fashion.
Release date: 1 May 2008 (Australia)
Director: Jon Favreau
Featured song: Driving With the Top Down
Box office: 585.3 million USD
Budget: 140 million USD
16. Avengers: Infinity War (2018)
The film that introduced us to Captain America with a beard, Avenger's: Infinity War saw the gang of heroes team to stop Thanos, an intergalactic warlord, from getting his hands on all the infinity stones. But the task is made all the more difficult by internal bickering, struggles from within and a lack of true leadership.
Initial release: 23 April 2018 (Los Angeles)
Directors: Joe Russo, Anthony Russo
Box office: 2.048 billion USD
Budget: 316 million USD (2018)
Film series: The Avengers
17. Guardians of the Galaxy (2014)
The first Guardians of the Galaxy film will go down as one of the more entertaining superhero movies of all time. Casting funnyman Chris Pratt as Star-Lord was a major win and having James Gunn take the reins completed the process, securing this intergalactic travel adventure as one of Marvel's best. With a team of unwilling heroes, including a talking raccoon and monstrous tree person, Star-Lord learns there is more life than good music, although that is important.
Release date: 31 July 2014 (Australia)
Director: James Gunn
Featured song: Come and Get Your Love
Box office: 772.8 million USD
Budget: : $232.3 million (gross); $195.9 million (net)
18. X-Men: Days of Future Past (2014)
An ambitious take on the X-Men series, Days of Future Past managed to approach some challenging topics with enough decorum to make it work. We're always sceptical when an existing franchise decides to add time travel to the mix (see Avengers), but X-Men did it with a level of believability and trademark action. The story follows Hugh Jackman's Wolverine, who travels back in time to stop Mystique from assassinating Bolivar Trask, whose death leads to the creation of the Sentinels. Where he expects to find his friend Charles Xavier awaiting him with open arms, he learns his mentor was not always as welcoming as he is now.
Release date: 22 May 2014 (Australia)
Director: Bryan Singer
Box office: 746 million USD
Budget: $200–220 million
Film series: X-Men
19. Deadpool (2016)
Ryan Reynolds reportedly worked for years to get this film done, even financing part of it himself, but 2016's Deadpool is testament to a good premise and a lot of hard work. With the funnyman leading the charge, this was the first time we really got to see Deadpool on screen in any major role. It tells the story of Wade Wilson, a mercenary dying of cancer who is experimented on by Ajax, a twisted scientist,who believes he can cure him and give him healing powers. However, the experiment leaves Wade disfigured and he decides to exact revenge. Hilarity and gratuitous violence ensues.
Release date: 11 February 2016 (Australia)
Director: Tim Miller
Featured song: Careless Whisper
Box office: 783.1 million USD
Screenplay: Rob Liefeld, Rhett Reese, Paul Wernick, Fabian Nicieza
20. Superman (1978)
The original and still one of the best superhero movies of all time, 1978's Superman tells the story of the all-American hero's origins. We learn how scientist Jor-El rocketed his infant son, Kal-El, to safety on Earth, charting the alien boy's unusual abilities and powers on his journey to becoming the ultimate hero. But every hero needs a villain and Gene Hackman's Lex Luther remains one of cinema's best. Rewatching this makes you realise just how perfect Christopher Reeve was as Clark Kent, and how a simple change of haircut can make you unrecognisable.
Release date: 21 December 1978 (Australia)
Director: Richard Donner
Featured song: Superman: Love Theme
Music composed by: John Williams
Box office: 300.5 million USD
21. Batman Begins (2005)
The first instalment of the Nolan-era Batman series was a major triumph. With Christian Bale leading the charge alongside an all-star cast that included Morgan Freeman, Gary Oldman, Katie Holmes, Michael Caine, Liam Neeson, Cillian Murphy and Tom Wilkinson, Batman Begins is the ultimate origin story. A slightly different take on the Bruce Wayne journey, we see Bale's Wayne as a far more vengeful and angsty youth, tortured by the loss of his parents and driven by a desire for justice. With Liam Neeson as his mentor, he learns the art of secrecy at The League of Shadows, only to watch its foundations crumble. Upon returning to Gotham, he sets out to salvage the once-great city his father helped build, but there is a new evil lurking in town.
Release date: 16 June 2005 (Australia)
Director: Christopher Nolan
Box office: 373.6 million USD
Budget: 150 million USD
Film series: The Dark Knight Trilogy
22. Joker (2019)
While you could certainly put this film higher on the best superhero movies list, Joker isn't really a film about heroes, more about tortured psychopaths who become villains. In the precursor to every Batman series ever, this release from Todd Phillips shows Joaquin Phoenix at his very best. As a failed comedian named Arthur Fleck, Phoenix seeks connection as he walks the streets of Gotham City. But as the world turns its back on him, Arthur fights back and in the heat of the moment does something shocking. Heavily influenced by the real-life story of The Subway Killer in New York in the mid 1980s, Joker is a powerful reminder of media attention and the mob mentality.
Initial release: 2 October 2019 (India)
Director: Todd Phillips
Box office: 1.074 billion USD
23. Kick-Ass (2010)
What happens when a comic-book geek with an above-average ability to get his ass kicked becomes a real-life superhero? That's essentially the plot of this hilarious and oddly brutal 2010 film. When high-schooler Dave sets out to become Kick-Ass, a real-life superhero, he is recruited by Big Daddy and Hit-Girl, two actual heroes who are attempting to dismantle an underworld empire. There are some funny bits and a lot of action, but it's worth watching the film for Chloe Grace Moretz's impressive work with a knife and Nicholas Cage's phenomenal acting – which is a phrase we rarely have to write. While not the best superhero movie ever made Kick Ass is one of the most fun.
Release date: 8 April 2010 (Australia)
Director: Matthew Vaughn
Featured song: Stand Up
Film series: Kick-Ass
Box office: 96.2 million USD
You'll also like:
25 Best Thrillers on Netflix Right Now
24 Best Horror Movies on Netflix Right Now
25 Best True Crime Documentaries on Netflix Right Now
General FAQs
How many movies are there in the Marvel Cinematic Universe?
At last count, the shared universe is at 23 films. The movies have been in production since 2007, however, there are at least 14 more films currently in production.
What is the highest grossing superhero movie of all time?
According to box-office statistics, the highest-grossing superhero film of all time is Avengers: Endgame which raked in over USD$2.797 billion.
Who is the highest paid actor from a superhero movie?
Surprisingly, the highest paid actor in a superhero movie isn't Robert Downey Jr or Chris Hemsworth. The title goes to Jack Nicholson, who negotiated a percentage deal of the total gross for his role as the Joker in the 1989 smash hit Batman. According to reports, Nicholson has earned just shy of USD$100 million for the performance.