Say what you will about British hospitality, but they certainly know how to do a send-off. Following the tragic passing of Her Majesty Queen Elizabeth II, thousands of mourners have descended on the town square to pay their respects and share countless (presumably very well embellished) stories about their interactions with the former Head of State. Widely regarded as everyone's pseudo second grandma, Liz had the world in the palm of her elderly, well-manicured and hardly ever used hand, so when she passed on September 8, the world was dragged kicking and screaming into a new Queen-less era. Many were shattered she was gone, others bemoaned Charles as a successor and a vast majority of Americans revealed they thought Freddie Mercury died years ago. Whatever the case and wherever you hail from, we can all agree on one thing – Matthew Magee, otherwise known as Royal Slenderman was the real MVP of the Queen's Funeral. Honestly, did anyone see this specimen of a man? Standing 7'3″, the former Duke of Kent Prince Edward's private secretary made Tall Paul look…well, not very tall at all.
Welcome to the Binge List, our culinary, cocktail-heavy expedition through the wide world of cinema. Curated by yours truly, this content series puts a sword to the best movies, beverages and meals on your binge-list, providing a full stay-home itinerary. Watching Joey Tribbiani tuck into a massive sandwich while sipping on a glass of Dr Pepper, what could be better? Maybe Rick Deckard's White Dragon noodles from the Ridley Scott sci-fi epic Blade Runner? Or perhaps sliding your fingers deep into Dwight Schrute's stapler-encasing Jello cake is more your style? Awkward sexual fantasies aside, film is full of great food moments and we're diving into a tasty one. Fire up the grill, slap on a streaming service and settle in – the menu has been set.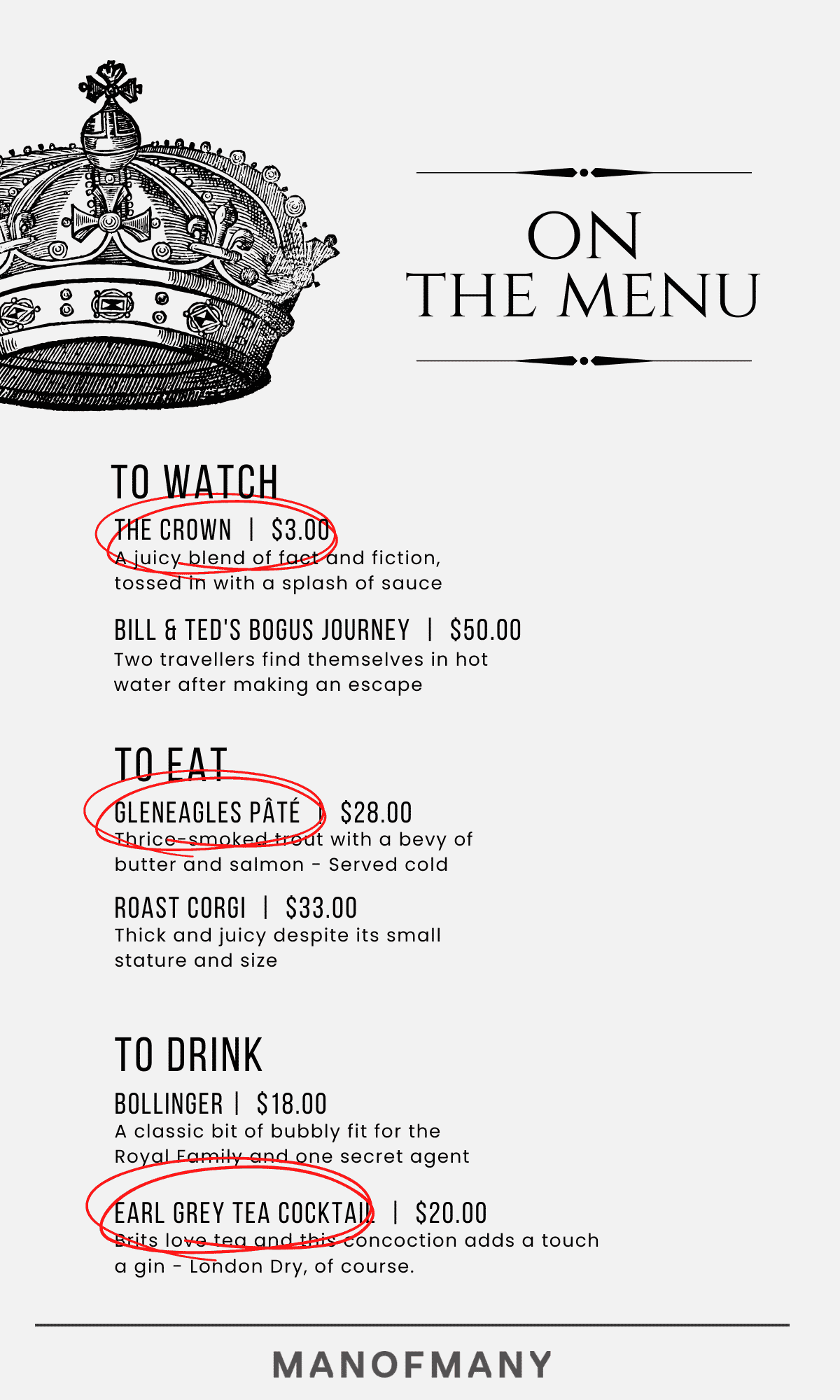 To Watch – The Crown
When it comes to celebrating The Queen on screen, there are any number of great movies to pick from. Helen Mirren's turn in the aptly titled The Queen is stellar, we've got young Liz in The Kings Speech, or a disgruntled older version in the Kristen Stewart Oscar-bait Spencer, but for honesty, pizzaz and overly beautified version of Charles, you can't go past The Crown. 
The hit Netflix series exploded onto screens back in 2016, with Claire Foy playing a fresh-faced "Lilibet", forced to take the throne at just 25 years of age. The first two seasons of the show chart the early years of Queen Elizabeth II's reign, with Foy's portrayal showing a tenderness and vulnerability that is rarely associated with the British monarch. For her efforts, Foy earned a Golden Globe, an Emmy and two Screen Actor Guild awards, while The Crown nabbed incredible streaming figures of 76 million households over a four-year period, according to Netflix data released in 2020.
"I just always accepted the fact that she had always been there my entire life," Foy told Vogue in 2016. "Sort of like your grandparents, you sort of accept that they were never young. Two of the most seismic things that happened to her happened at the exact same moment in her life. You can't underestimate what that does to someone; that amount of shock and trauma and responsibility. I never thought about that as a British citizen. I never considered the personal impact of the job."
Season three and four of The Crown saw Oscar-winner Olivia Colman take on the role of the iconic British Head of State in her older years, struggling with motherhood and the pressures of duty. And before you get all antsy about how The Crown is a show for middle-aged women, we know. In researching this Binge List, I watched more episodes of The Crown than I ever thought possible and at times, I wondered if it was all worth it. Full disclosure – it probably wasn't, but as a nice little titbit, I now have a lot more in common with my mother, so that's a plus, I guess.
Nevertheless, The Crown is an entertaining, if not completely fabricated watch and the numbers don't lie. The series has won a whopping 21 Primetime Emmy Awards across four seasons and enjoys a healthy 91% Fresh rating on Rotten Tomatoes. If you're looking for something entirely engrossing to watch, loaded with historical inaccuracies and lots of fantastic costuming, The Crown is, much like the newly crowned King Charles, a bonafide winner. Take that, naysayers.
To Eat – Gleneagles Pâté
You can't watch a good series without stuffing your face and what better way to pay tribute to the old girl than with a Queen Elizabeth II-inspired menu, littered with her favourite foods? Speaking to Hello!, Queen Elizabeth's former chef, Darren McGrady, revealed that The Queen, despite never being a foodie at heart, had a few staple favourites she loved to add to the rotation. In fact, the former royal culinary curator confirmed that her menus were prepared three days in advance so that the team could order the appropriate food in.
"The chefs would pick the menus and she would put a line through the ones she didn't want. Sometimes she'd put a line through it all and put something different," McGrady said.  "For a main course she loved game, things like Gaelic steak, fillet steak with a mushroom whiskey sauce, especially if we did it with venison. For a first course, she loved the Gleneagles pâté which is smoked salmon, trout, and mackerel. She loved using ingredients off the estate and so if we had salmon from Balmoral from the River Dee, she'd have that, it was one of her favourites."
The former royal chef worked for the family for 15 years until shortly after Princess Diana's death in 1997 and we take his input pretty seriously, so in a fitting nod to the Late Queen, we're putting her top pick back on the menu and so should you. Now, to be fair, before reading the ingredients and recipe, we had no idea what Gleneagles Pâté actually was. We simply assumed it was some kind of rich person's goo that is ceremoniously spread across the finest pumpernickel and served with a spot of tea, however, upon investigation, we realise that it's even more pompous than that. A rich three-smoked fish Pâté, this first course is a rambunctious approach to seafood that is, much like the old girl's wit, best served cold. These royals and their fancy condiments, am I right?
While should come as no surprise that the Queen's favourite food is unapologetically special, the Gleneagles Pâté dials things up to eleven. Rich with fishy flavours and loaded with good Omega 3 fats, the dish is characterised by its use of trout and salmon as key protein sources, not to mention the endless amounts of butter. While McGrady reveals that the Queen preferred to use ingredients off the estate (don't we all), you can actually make the dish relatively easily at home.
We've managed to track down an official recipe for the Gleneagles Pâté courtesy of McGrady himself. Best of all, you don't need a laundry list of servants in big fluffy hats to make it. Many of the ingredients we needed were already in our pantry, but for everything else, we turned to Uber Eats. The platform to go anywhere and get anything just bumped up its grocery and alcohol offering, dishing out $0 delivery on orders of $20 for Uber One members, and with foodie favourites Woolworths and IGA on-platform, you can make sure your pantry is stocked. Here's what you need to make Gleneagles Pâté.
Gleneagles Pâté – Ingredients
2 lbs smoked salmon, thinly sliced and divided
1 lb smoked trout
1 and 1/2 lbs unsalted butter, softened and divided into six sticks
1 tbsp finely chopped fresh dill
1 tsp lemon juice
1 lb smoked mackerel
1 tbsp finely chopped fresh chives
Note: Serves 8-10 people
Gleneagles Pâté – Recipe
Line a loaf tin with plastic wrap. Take half of the smoked salmon and line the sides and bottom of the loaf tin.
Overlap the top edge to allow the salmon will fold over and cover the filling.
Remove and discard the skin from the smoked trout, before putting it into a food processor along with 1/2lb of the butter to the processor.
Blend until smooth and add chopped dill and lemon juice.
Carefully spread the trout mixture into the tin on top of the smoked salmon.
Pop the tin in the freezer for 10 minutes.
Remove and discard skin from the mackerel, and place into the food processor.
Add butter and blend until smooth.
Remove the tin from the freezer, and spread mackerel mixture smoothly on top of the trout layer.
Replace the loaf tin in the freezer for 10 minutes.
Place remaining smoked salmon in the food processor.
Add remaining butter and chives to the processor and blend until smooth.
Take the tin from the freezer, and spread the smoked salmon on top of the mackerel.
Fold the overlapping pieces of smoked salmon over the top layer of the salmon spread and cover with plastic wrap
Place the mixture into the refrigerator and cool overnight.
Remove from fridge, slice the terrine into fingers and serve on crackers as a canape.
To Drink – Earl Grey Tea Cocktail
It doesn't get much more British than tea, so naturally, we're toasting to the top-end of town with a warm cuppa. But be warned, this ain't your grandmother's Earl Grey. Like we always love to do, we're elevating the drinking experience to a whole new level, dropping a dash of something cheeky in the kettle to keep things interesting.
This time around, we've turned to Sugar and Charm for a little inspiration. The cocktail experts have put together one tasty little number that transforms the classic Early Grey brew into something just a touch more magical, courtesy of a little gin, London Dry, of course, sourced from our local bottlo with a just few clicks on the Uber Eats app. The tasty British style of gin is the go-to for bartenders across the globe, so you'll be able to pick up a bottle in pretty much any retailer. For us, however, convenience is key, so once again, we had ours delivered directly to our door, courtesy of the legends at Uber Eats. Blending a mix of gin, lavender, lemon, and earl grey tea, the cocktail has a subtle finish with notes of sweetness and complexity on the palate, leading to a seriously refreshing finish. Well, I never!
Earl Grey Tea Cocktail – Ingredients
Earl Grey tea
1tbsp honey
15ml of lemon juice
30ml of London Dry Gin
1 lavender sprig
Ice
Earl Grey Tea Cocktail Recipe
Brew the Earl Grey tea in a pot
While the tea is boiling, prepare a mixture of honey simple syrup by heating honey in water until it has dissolved and cool in the fridge
Pour all of the ingredients into a cocktail shaker with ice
Shake well and strain into a glass
Garnish the drink with a sprig of lavender
There you have it. Turns out making a tasty Queen Elizabeth II-inspired menu isn't quite as difficult as you may have thought. Sure, it's needlessly fancy and might seem a bit dated by today's standards, but what's not to love about a little tradition? Like crumpets for breakfast and getting spanked by the Aussies in The Ashes, some things just belong to the British. Who are we to deny that? Cheers to Queen Liz, this one's for you.