In Australia, we call it a jaffle, the French prefer Croque Madame and the Brits love a toastie. But whatever you call two pieces of perfectly toasted bread separated by a generous serving of stretchy cheddar, edam or gruyere, we can all agree on one thing – There's nothing quite like a good grilled cheese. Effortlessly simple, the contrast of warm gooey textures plays perfectly against the hard, rigid crust to create something sensational. Whether you're flat broke or just tired of cooking, there's never a bad time to indulge in western culture's favourite winter warmer. And if grilled cheese is the ultimate adult comfort food, Jon Favreau's 2014 film Chef is its entertainment equal.
Welcome to the Binge List, our culinary, cocktail-heavy expedition through the wide world of cinema. Curated by yours truly, this content series combines the best movies, beverages and meals to add to your binge-list, providing a full stay-home itinerary. Watching SpongeBob lovingly prepare a Crabby Patty, what could be better? Maybe No-Face's feast from Spirited Away? Or perhaps shovelling Coraline's birthday cake from Neil Gaiman's animated hit Coraline in your mouth is more your style? Nightmares aside, film and TV are full of great food moments and we're diving into a tasty one. Fire up the grill, slap on a streaming service and settle in – the menu has been set.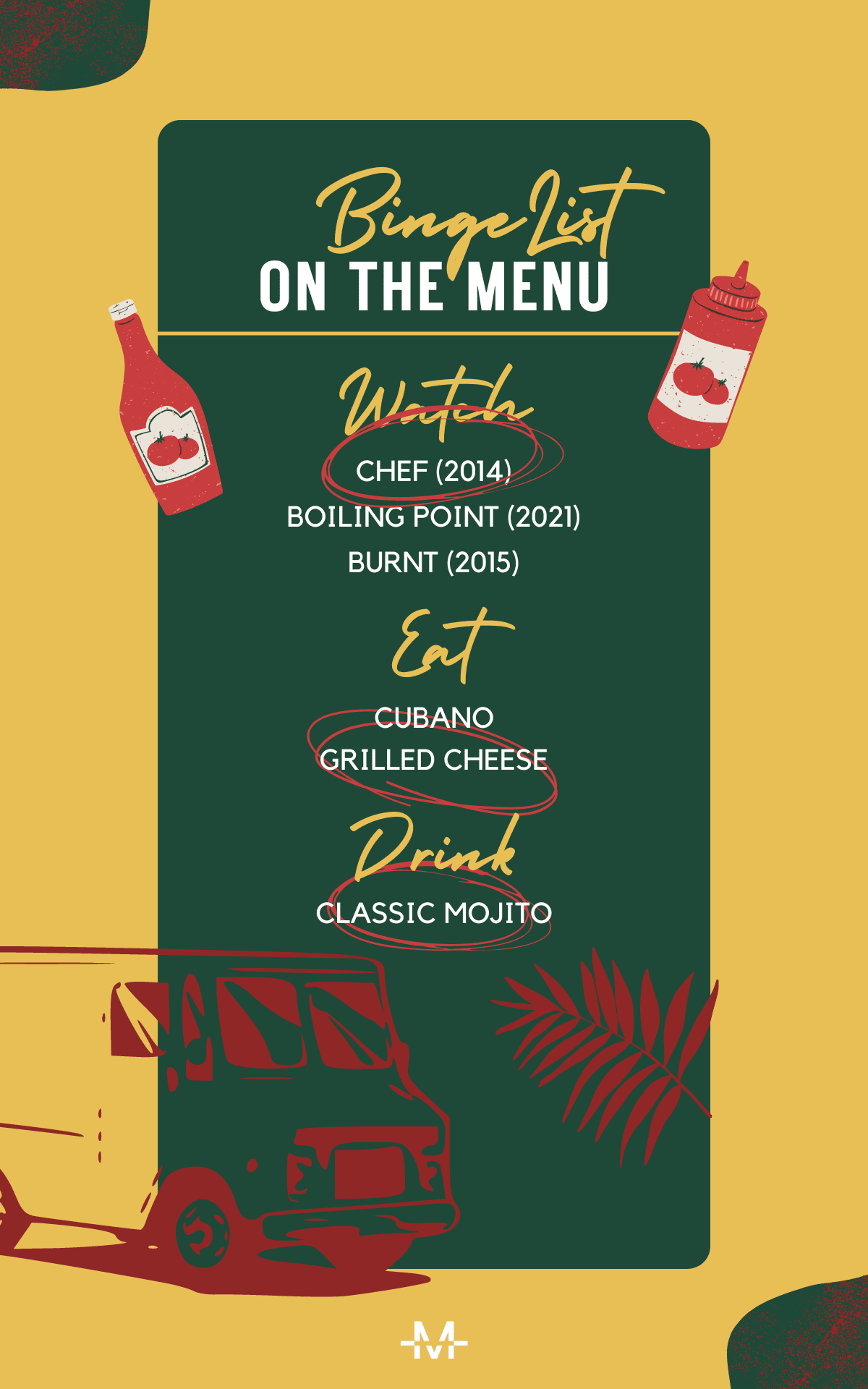 To Watch – Chef (2014)
Have you ever watched a film and when things start looking good for the main character, a tiny bit of dread enters your mind? Like things are going a little too well? You aren't alone. In fact, if you dissect modern cinema as a whole, there is a consistent formula for success – Good guy is established, he makes a big mistake before resolving the problem and completing his hero arc. In film circles, they refer to this as a 'Three-Act Structure' and it's pretty much the basis for every film ever made.
The funny thing about Jon Favreau's 2014 film Chef is that all the exposition and climax essentially happen in the first 15 minutes, meaning you're left with about 90 minutes of sweet, blissful resolution. Once that first quarter hour is up, it's nothing but absolute vibes all the way through to the end. How good!
The film follows Carl Casper, a remarkably talented head chef who is forced by his restaurateur boss (Dustin Hoffman) to recreate the same boring dishes time and time again. When a snooty reviewer takes offence to his rinse-and-repeat formula, Carl goes into an absolute meltdown, unleashing a barrage of four-letter words in a tirade that quickly goes viral and sees him shown the door. Jobless and devoid of purpose, Carl decides to reinvent himself, taking his culinary skills to the streets with the help of a Twitter account and a taco food truck.
On the surface, Chef appears to be a feel-good redemption story headlined by a stellar performance by Favreau as Carl, along with a few big-name cameos from Robert Downey Jr, Scarlett Johansson and Sofía Vergara, but it's really a love letter to great food. Throughout the film, we see Carl educate his son Percy about the joys of cooking, exploring everything from Cubano sandwiches to beignet doughnuts. There's even a very seductive scene where Carl treats Scarlett Johansson's Molly to a stunning pasta meal, eliciting a reaction that most men would die happy receiving, and it's not just great acting either.
---
Featured Video from Man of Many
---
Favreau worked with the owner of gourmet Korean-Mexican taco truck Kogi, Roy Choi, for the film, with the revered chef serving as a co-producer and overseeing all the food prepared on-screen. In an interview with Vulture, Favreau revealed that he shadowed Choi in his restaurants and worked as part of Choi's kitchen crew after training at a culinary school to ensure the authenticity of the outcome. Their connection was so strong that after Chef finished, the two reteamed for a Netflix docu-series, where they run through some of the meals made in the film as well as shining light on the culinary institutions shaping America's diverse food landscape.
Initial release: 7 March 2014
Director: Jon Favreau
Budget: USD$11 million
Producers: Jon Favreau, Sergei Bespalov
Nominations: Critics' Choice Movie Award for Best Actor in a Comedy
Box office: USD$46 million
The grilled cheese sandwich from Chef is a must make. That melted cheese and crunchiness is a mouthgasm. 🔥🔥🔥 pic.twitter.com/fCNkmzBVdG

— Colonel Angus (@thedewjosh) August 7, 2021
To Eat – The Chef Grilled Cheese
Trying to pick out one meal to focus on from Chef is no mean feat. Over the course of 90 minutes, we're treated to a near-endless buffet of delicious food, prepared lovingly by Favreau and his team of food-truck favourites. While the Cubanos that drive the storyline were an obvious choice, we went with something a little more simple – grilled cheese.
In a scene where Carl talks to his son about school, he turns a staple favourite into a culinary delight, fusing different types of cheese with thick-cut sourdough in a display of sandwich skill that would make any Subway artist nervous. Courtesy of Favreau and Choi themselves, we were able to track down that very recipe for your own enjoyment and best of all, you don't need a food truck to make it. Many of the ingredients we needed were already in our pantry, but for everything else, we turned to Uber Eats. The platform to go anywhere and get anything just bumped up its grocery and alcohol offering, dishing out AUD$0 delivery on orders of AUD$20 for Uber One members, and with foodie favourites Woolies Metro, QE Foodstores, IGA and plenty of local grocers on-platform, you can make sure your pantry is stocked. Here's what you need:
The Chef Grilled Cheese Ingredients
2 slices sourdough bread
1 slice gruyere
1 slice Parmesan
1 slice yellow cheddar
1 slice white cheddar
Softened unsalted butter, for brushing
Olive oil
The Chef Grilled Cheese Recipe
Baste bread slices on one side with butter.
Drizzle olive oil on a medium-hot griddle.
Put buttered bread slices on the griddle (butter side down).
Add cheese on one bread slice and move the bread around on the griddle as the cheese melts.
Check the colour of the bread slices – when golden brown, join the bread.
Butter the top of sandwich lightly again, flip, butter the new top of sandwich.
Keep moving sandwich around on the griddle for 4 – 5 min.
Keep checking for bread colour, it's easy to burn.
Lightly baste bread with more butter and enjoy!
To Drink – Classic Mojito
With the food menu sorted, it's time to turn our attention to the drinks and we've got a tasty one. Playing off the Cuban theme of the El Jefe food truck, we've opted for a Classic Mojito. Balanced and refreshing, this cocktail has stood the test of time and what's more, it's remarkably simple to make. With a dash of Cuban Ron, sourced from our local bottle-o with a just few clicks on the Uber Eats app, this fresh mix is a go-to for bartenders across the globe and we've tapped the very best. Going straight to the horse's mouth, we unearthed the official Mojito recipe as laid down by the International Bartenders Association. Here's what you need to make a Classic Mojito.
Classic Mojito Ingredients
45 ml White Cuban Ron
20 ml Fresh Lime Juice
6 pcs Mint Sprigs
2 tsp White Cane Sugar
Soda Water
Classic Mojito Recipe
Mix mint springs with sugar and lime juice.
Add splash of soda water and fill the glass with ice.
Pour the rum and top with soda water.
Light stir to involve all ingredients.
Garnish with sprigs of mint and slice of lime.
There you have it, turns out crafting a hot and fresh Chef itinerary, menu and drinks list is easier than you may have thought. Convincing studio executives that your two potential love interests are Scarlett Johansson and Sofía Vergara, on the other hand…How does Jon Favreau do it?
---
Featured Video from Man of Many